Home
1936 College Football National Championship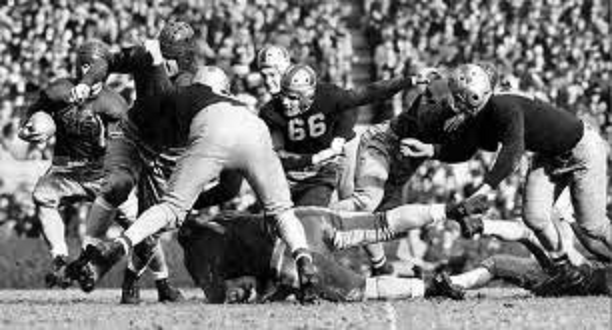 Pictured above is the 1937 Rose Bowl, where 8-1-1 Pittsburgh throttled 7-2-1 Washington 21-0. Pitt halfback Marshall Goldberg is about to rip a big gain around the corner, where big tackle Tony Matisi is blowing up a Washington defender. Neither Pitt player was All American this season, but both would be consensus AA in 1937. This was a big win for Pitt, who had finished #3 in the final AP poll, which ended before the bowls. #1 Minnesota (7-1) had only beaten Washington 14-7, and Pitt had already beaten Nebraska 19-6 (Minnesota only beat them 7-0) and Notre Dame 26-0 (Notre Dame beat Northwestern 26-6, who beat Minnesota 6-0)
.
In terms of comparative scores, the Rose Bowl was the last straw, and Pitt became the consensus choice for 1936 mythical national champion (MNC) in polls and magazines published after the bowl games.

However, all those post-bowl polls and magazines have disappeared into history, whereas the AP poll, in its first season this year, would become the gold standard of MNCs. As such, Minnesota is generally remembered as the "consensus" MNC of 1936, though both schools claim the title for this season. Here's how organizations listed in the NCAA Records Book, all except the AP poll selecting retroactively, see the 1936 mythical national championship (omitting math/computer ratings, which are not generally accepted as MNCs)

:



Minnesota

:

AP Poll, Helms, National Championship Foundation
Pittsburgh

:

CFB Researchers

There was a great deal of argument in the offseason over who the "true" MNC was. I think Pittsburgh would have moved to #1 in a post-bowl AP poll, but we'll never know for sure, so when I fixed the 1936 AP poll, I just moved Pittsburgh into a tie for #1 with Minnesota. I think either team could be ranked #1, and both should be considered co-champions of 1936. I go into more detail in my article on fixing the 1936 AP poll, but the argument between these 2 teams can be summed up as follows

:



For Pittsburgh, we have the key comparative scores listed above-- this was the main reason people at the time thought Pitt was better. They had a worse straight record, 8-1-1 to Minnesota's 7-1, but they also played a tougher schedule, and Pitt was 4-1-1 (.750) against teams ranked in the fixed AP top 25, while Minnesota was 2-1 (.667). So Pittsburgh actually had the better record when you take strength of schedule into account.

For Minnesota, there is the nature of the teams' losses. Minnesota's only loss came at #3 Northwestern, whereas Pitt lost to #14 Duquesne at home and they tied #15 Fordham on the road. Those are some ugly results for an MNC hopeful, and I think they give just enough reason for someone to rank Minnesota #1 (though I would go with Pitt myself).

The Other 5 MNC Candidates in 1936
Though Minnesota and Pittsburgh get all the MNC attention for 1936, and though they were indeed the most worthy, there were a total of 7 candidates worth looking at for this season. Rather than write up a full-blown summary of each, I'll briefly cover the other 5 candidates here, in order of where they finished ranked in the 1936 fixed AP poll (all rankings in this article come from that top 25 list except as noted otherwise).

#3 Northwestern 7-1
| | | |
| --- | --- | --- |
| Iowa (3-4-1) | 18-7 | |
| North Dakota State (4-5) | 40-7 | |
| Ohio State (5-3) | 14-13 | #20 |
| at Illinois (4-3-1) | 13-2 | |
| Minnesota (7-1) | 6-0 | #1 |
| Wisconsin (2-6) | 26-18 | |
| at Michigan (1-7) | 9-0 | |
| at Notre Dame (6-2-1) | 6-26 | #7 |
This is the closest Northwestern has ever come to winning an MNC. After upsetting #1 Minnesota 6-0 at home, Northwestern moved to #1 in the November 3rd AP poll, and they stayed there until #7 Notre Dame crushed them 26-6 in their finale. Still, Northwestern was the outright Big 10 champion this season, not Minnesota, and since both teams finished 7-1, Northwestern has a head-to-head argument for being ranked higher than Minnesota. On the other hand, Northwestern's case is much weaker against Pitt, who routed Notre Dame 26-0.

It would be logically viable to rank Pitt #1, NW #2, and Minnesota #3 for 1936, and I would be inclined to rank the teams that way myself, but Minnesota does have a case for being rated higher than Northwestern. Northwestern's win over Minnesota was a very close home win, and likely would have ended up a 0-0 tie if not for a roughing penalty that set up the game's only touchdown. In their other games, Minnesota clearly outperformed Northwestern, beating Michigan 26-0 (NW beat them 9-0), Wisconsin 24-0 (NW beat them 26-18), Iowa 52-0 (NW beat them 18-7), #8 Nebraska 7-0, and #9 Washington 14-7 (NW beat #20 Ohio State 14-13). Furthermore, Northwestern's "upset" loss to Notre Dame came in their finale, and by a very decisive score.

The timing and decisiveness of that loss knocks Northwestern out of the MNC hunt, but they have the best case of any of these other candidates, having actually beaten #1 Minnesota.

Hall of Fame coach Pappy Waldorf was in his 2nd season at Northwestern. This was the only Big 10 title he won there in 12 seasons 1935-1946, going 49-45-7. Previously, he had won 3 Missouri Valley titles at Oklahoma State 1929-1933 (34-10-7) and a Big 6 title at Kansas State in 1934 (7-2-1). That was KSU's only conference title in its history until Bill Snyder repeated the feat in 2003. Similarly, Waldorf's Big 10 title at Northwestern would be the last for the school until 1995. After Northwestern, Waldorf moved on to California, where he won 3 straight PCC titles 1948-1950, then took his only loss in the Rose Bowl to cap each of those seasons. He was 67-32-4 at Cal 1947-1956. Overall, Waldorf was 170-94-22 at 5 schools.

Key players for Northwestern were consensus All American guard Steve Reid (a Hall of Famer) and nonconsensus AA halfback Don Heap.

The only other time Northwestern has reached #1 in the AP poll was a 2-week stretch in the middle of 1962, under Hall of Fame coach Ara Parseghian.

#4 Santa Clara 8-1
at Stanford (2-5-2)
13-0
at Loyola-Marymount (6-3)
13-6
San Francisco (4-4-2)
15-7
at San Jose State (5-4)
20-0
Auburn (7-2-2)
12-0
#25
at Portland
26-0
at St. Mary's (6-3-1)
19-0
Texas Christian (9-2-2)
0-9
#16

Sugar Bowl


Louisiana State (9-1-1)

21-14

#5
Santa Clara had recently emerged as a strong football school under head coach Clipper Smith, who had played for Knute Rockne at Notre Dame. Smith went 38-22-4 at Santa Clara 1929-1935, beating Stanford once and Cal 3 times. They might have been ranked in an AP poll's top 25, had one existed, in 3 of those seasons. Hall of Fame coach Buck Shaw, also a Rockne player, took over for Smith this season and brought Santa Clara up to a whole new level. He went 47-10-4 1936-1942, but the big seasons were his first 2, as he finished both by upsetting a 9-win Louisiana State team in the Sugar Bowl. Santa Clara finished ranked in 5 of Shaw's 7 seasons there (original and fixed AP polls).

Santa Clara's 21-14 win over #5 LSU (9-1-1) in this season's Sugar Bowl gave Santa Clara something the candidates listed below didn't have

:

a win over a top 10 team. They also beat #25 Auburn (7-2-2) 12-0. They blew an MNC this year with a 9-0 loss to #16 Texas Christian (9-2-2) at home in their regular season finale. They did go 2-1 against top 25 foes, just like Minnesota did, but their loss was much worse, Minnesota's 2 wins came over top 10 teams, and Minnesota performed much better than Santa Clara did (Santa Clara won just 13-6 at unrated Loyola-Marymount).

Santa Clara's star player was nonconsensus AA quarterback Nello Falaschi, who went on to make 3 pro bowls as a player for the New York Giants.

#6 Alabama 8-0-1
| | | |
| --- | --- | --- |
| Samford (5-3-1) | 34-0 | |
| Clemson (5-5) | 32-0 | |
| Mississippi State (7-3-1) | 7-0 | #17 |
| Tennessee (6-2-2) | 0-0 | #23 |
| at Loyola-New Orleans (4-6) | 13-6 | |
| at Kentucky (6-4) | 14-0 | |
| Tulane (6-3-1) | 34-7 | |
| at Georgia Tech (5-5-1) | 20-16 | |
| Vanderbilt (3-5-1) | 14-6 | |
Alabama was an established Southern powerhouse, winning MNCs in 1925, 1930, and 1934. The school claims another for 1926 that I don't recognize. The only argument Alabama would have for this season is the fact that they had the best straight record of any major team. Their "big" win came 7-0 at home over #17 Mississippi State (7-3-1), and they were tied 0-0 at home by #23 Tennessee (6-2-2). Their schedule was weak, and they struggled against some bad teams, edging 4-6 Loyola-New Orleans 13-6 and 5-5-1 Georgia Tech 20-16. Really, other than their nice-looking record, they're not a candidate for an MNC this season at all.

Alabama fielded a pair of nonconsensus AA this season, guard Art White and halfback Joe Riley.

#10 Yale 7-1
| | | |
| --- | --- | --- |
| Cornell (3-5) | 23-0 | |
| Penn (7-1) | 7-0 | #11 |
| at Navy (6-3) | 12-7 | #19 |
| Rutgers (1-6-1) | 28-0 | |
| Dartmouth (7-1-1) | 7-11 | #13 |
| Brown (3-7) | 14-6 | |
| at Princeton (4-2-2) | 26-23 | #18 |
| Harvard (3-4-1) | 14-13 | |
Yale might have had a stronger argument for an MNC this season than Alabama did, but they weren't rated very highly because by this point in time, sportswriters held far less esteem for the old guard Eastern teams than they once did. I believe that if this season had played out exactly like it did, except 10-15 years earlier, a poll of sportswriters then would have ranked Yale much higher, possibly even as high as #1. This doesn't mean that the sportswriters of 1936 were wrong-- but their rating of Yale was heavily influenced by the fact that Yale and their frequent opponents had been performing poorly in intersectional games 1928-1935.

Yale's 1 loss came 11-7 at home to #13 Dartmouth (7-1-1), but they defeated #11 Penn (7-1) 7-0, #19 Navy (6-3) 12-7, and #18 Princeton (4-2-2) 26-23, the last 2 games on the road. That's 3 wins over top 25 teams, more than any other MNC candidate except Pittsburgh. However, the only reason we have to believe that any of these Eastern teams were any good is that Navy upset #6 Notre Dame 3-0 in Baltimore, and Navy lost to Yale, Penn, and Princeton. Penn did beat Michigan 27-7, but Michigan was 1-7 this season, so that win ended up being worthless. Dartmouth took an upset loss to unrated Holy Cross (7-2-1) at home, and Princeton was tied by unrated Harvard (3-4-1). Yale themselves only beat Harvard 14-13, and they also struggled to beat 3-7 Brown 14-6, so I think the 1936 sportswriters got their ranking of Yale largely right.

Yale was coached by Ducky Pond, who had played for their 8-0 MNC contender in 1923, and the team featured a pair of Hall of Famers and Heisman Trophy winners

:

end Larry Kelley won the Heisman this season, and quarterback Clint Frank won it the next.

#12 Duke 9-1
| | | |
| --- | --- | --- |
| (neutral site) Davidson (5-4) | 13-0 | |
| Colgate (6-3) | 6-0 | |
| at South Carolina (5-7) | 21-0 | |
| Clemson (5-5) | 25-0 | |
| Georgia Tech (5-5-1) | 19-6 | |
| at Tennessee (6-2-2) | 13-15 | #23 |
| (neutral site) Washington & Lee (4-5) | 51-0 | |
| at Wake Forest (5-4) | 20-0 | |
| at North Carolina (8-2) | 27-7 | #22 |
| North Carolina State (3-7) | 13-0 | |
Duke was headed by Hall of Fame coach Wallace Wade, who had won 3 school-claimed MNCs at Alabama 1923-1930. He then coached Duke to the school's greatest period of football success 1931-1941 and 1946-1950, going 110-36-7 there and winning 6 Southern Conference titles. If there had been an AP poll 1931-1935, Duke would have finished ranked a couple of times, and Wallace Wade led them to 6 ranked seasons after the poll's debut in 1936.

Duke was similar to Alabama this season

:

nice-looking straight record, but a weak schedule. And they took their loss 15-13 at #23 Tennessee (6-2-2), the team that tied 8-0-1 Alabama. Their one big win was 27-7 at #22 North Carolina (8-2). They also beat 6-3 Colgate 6-0 at home, but Colgate wasn't particularly good this season, so that score doesn't do Duke any favors.

Duke's star player was consensus AA halfback Ace Parker, a college and pro Hall of Famer.
Minnesota 1936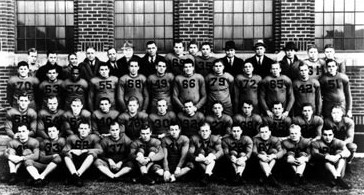 | | | |
| --- | --- | --- |
| at Washington (7-2-1) | 14-7 | #9 |
| Nebraska (7-2) | 7-0 | #8 |
| Michigan (1-7) | 26-0 | |
| Purdue (5-2-1) | 33-0 | |
| at Northwestern (7-1) | 0-6 | #3 |
| Iowa (3-4-1) | 52-0 | |
| Texas (2-6-1) | 47-19 | |
| at Wisconsin (2-6) | 24-0 | |
Minnesota had previously won MNCs in 1911, 1934, and 1935, so this season gave Minnesota 3 in a row. They are the last team that has accomplished that feat, and the only other team that has done it since the 19th century is Yale 1905-1907
(though Cornell claims 3 in a row 1921-1923, and California claims 4 in a row 1920-1923-- that overlap itself renders these claims unimpressive). I covered Minnesota's Hall of Fame coach, Bernie Bierman, in the 1934 article, and I covered most of this year's players in the 1935 article. Minnesota came into this season with a 24 game unbeaten streak, their last loss in 1932.

Departed from the 1935 team were a pair of nonconsensus All Americans, tackle Dick Smith and fullback Sheldon Beise, but everyone else who mattered was back this season. Hall of Fame tackle Ed Widseth was a unanimous AA, the only player to make a first team AA list this year. Future Hall of Fame coach Bud Wilkinson was moved from guard to quarterback
.
Minnesota's Season
Minnesota had been warming up against one Dakota school or another throughout the 1930s, but this season they dropped cupcakes from their schedule, opening instead with a tough challenge at Washington, who was 27-13-4 the previous 5 years. 37-40,000 fans showed up to see the home team take on the 2-time defending national champions. Washington put together a promising 65 yard drive in the opening quarter, but they were halted at the Minnesota 25. Minnesota's answering drive, on the other hand, fulfilled its promise. William Matheny ripped a 31 yard run to the Washington 22, and from there Minnesota drove it in, Whitman Rork scoring the touchdown to start the 2nd quarter
.

In the 3rd quarter, Minnesota let Washington back in the game with a fumble at their own 27. Washington completed a 4th down pass to keep the little drive alive, then threw a touchdown pass on 3rd down to tie the game up at 7-7. Washington later drove to the Minnesota 20, but threw an interception. In the 4th quarter, Washington fumbled a punt at their own 30, and that cost them the game. Halfback Julius Alfonse hit quarterback Bud Wilkinson with a 20 yard pass, then halfback Andy Uram hit end Ray King for the touchdown, and Minnesota won 14-7. Those 2 passes were the only ones Minnesota completed. Washington threw the ball a lot more, but did little better, hitting just 4 of 15. Alfonse grabbed 3 interceptions near his goal line, and Wilkinson had a couple of pass breakups. He also kicked both extra points.

Washington was later tied by 2-5-2 Stanford, but they won the rest of their regular season games to take the PCC's slot in the Rose Bowl, where they were stomped by Pittsburgh 21-0. That finished them at 7-2-1 and a #9 ranking in the fixed AP poll, but they didn't actually beat anyone, and might just as well have been a #25 team or even worse for all we know. The only reason to believe that they were top 10 is the fact that they played Minnesota so close, but it was the opening game for both teams, so I'd focus more on the Rose Bowl result myself, and rank them more like #25.

Next up for Minnesota was a home date with Nebraska, whom they were 13-2-2 against. This one was even tougher than the Washington game, and Minnesota's win was something of a miracle. 53,000 were left biting their nails until the final minute of play. The game was scoreless with 1:08 remaining and Nebraska punting. Bud Wilkinson fielded it at his 28, ran 5 yards, then lateraled the ball back to Andy Uram, who took it down the opposite sideline for an easy touchdown, no one near him.

Nebraska's best drive came in the opening quarter, a 27 yard run and a 22 yard catch off a batted pass getting them as far as the Minnesota 15. In the 3rd quarter, Nebraska hit a 27 yard pass to threaten again, but Minnesota end Ray King intercepted a pass at his own 4 on the next play. Minnesota outgained Nebraska 240 yards to 157 and 11 first downs to 3, but they thwarted their own promising drives by throwing 4 interceptions, one more than the number of completions they managed.

Nebraska also lost 19-6 to Pittsburgh at home, but they won the rest of their games to take the Big 6 title, finishing 7-2 and #8 in the fixed AP poll.

Following those struggles, Minnesota routed 1-7 Michigan 26-0 and 5-2-1 Purdue (unranked) 33-0, and they seemed to be back to their old juggernaut ways heading into 1936's game of the year.
The Winning Streak Finally Ends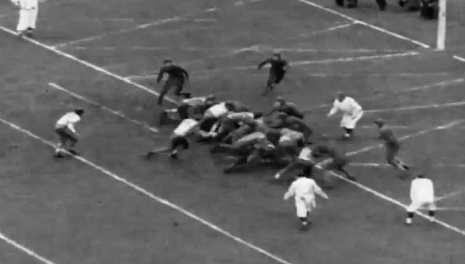 Minnesota carried a 28 game unbeaten streak into their bout at 3-0 Northwestern, their last loss way back in 1932, but the stars were aligned against them this week

:

it was Homecoming at Northwestern, and it was Halloween. You can watch the entire game, reduced to a trim 24 minutes, here. 47,000 attended.

The "Giants of the North" had their best chance to score in the opening quarter, following a 45 yard Andy Uram run on a fake punt on 4th down. That went to the Northwestern 15, but the drive advanced no further. Later in the quarter, end Ray King got off an 80 yard punt that put the ball on the Northwestern 7 yard line, and after Northwestern's returning punt, Minnesota had the ball at the NW 37. They picked up a first down on 4th and 2, but lost yards after that, and the first half saw no more threats by either team.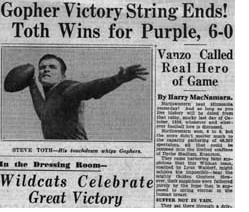 Rain fell in the 2nd half, and mud accumulated on jerseys

:

underdog weather. In the 3rd quarter, Minnesota had a punt bounce dramatically backward on them, giving Northwestern the ball at the Minnesota 46. Northwestern uncorked a 28 yard run, their best of the day, but that drive ended in a missed field goal. On Minnesota's next drive, they fumbled the ball away at their own 18. Minnesota's consensus AA tackle, Ed Widseth, was soon penalized for punching another player, and suddenly Northwestern had the ball at the 1. Early in the final quarter, on 3rd down, Steve Toth barreled into the end zone (pictured above). He missed the extra point, but Northwestern led 6-0.

In their ensuing drive, Minnesota hit a pass to Bud Wilkinson that carried to the NW 47, but a fumble ended the advance soon afterward. Andy Uram later escaped for a 32 yard run to the NW 28, and another first down pushed the ball to the 18, but then they lost yards, and a couple of passes into the end zone came up empty. With 5 minutes remaining, Minnesota almost pulled out another miracle a la the Nebraska game. Andy Uram lateraled the ball out to substitute back Rudy Gmitro just as Uram was being tackled, and Gmitro broke free for 43 yards and was in the clear when Northwestern back Fred Vanzo ran him down from behind, saving the game (this play comes at the 22:48 mark in the film). A Northwestern book claims that Vanzo was also the guy tackling Andy Uram at the start of the play, which would be pretty good if true, but it's not, as you can see in the game film.


Minnesota fumbled the ball away 2 plays later, and they never got hold of it again. They vastly outgained Northwestern in this game, but they were undone by turnovers and an inability to move the ball once they got inside the NW 20. Northwestern went on to win the Big 10 title outright, but they were slapped around 26-6 at #7 Notre Dame in their season finale, finishing 7-1 and ranked #3 in the fixed AP poll.

Minnesota stomped on 3 straight losing teams (average score 41-6) to finish the season.
Pittsburgh 1936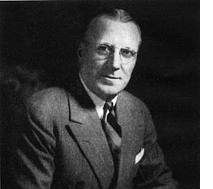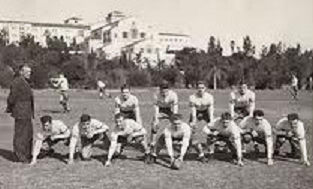 Ohio Wesleyan (1-6-2)
53-0
West Virginia (6-4)
34-0


at Ohio State (5-3)
6-0
#20
Duquesne (8-2)
0-7
#14
Notre Dame (6-2-1)
26-0
#7
at Fordham (5-1-2)
0-0
#15
Penn State (3-5)
34-7


at Nebraska (7-2)
19-6
#8

Carnegie (2-6)
31-14

Rose Bowl


Washington (7-2-1)

21-0

#9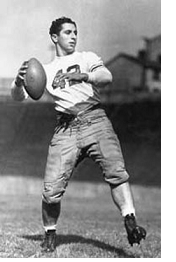 I sure have written a lot of team summaries for Pittsburgh in these national championship articles

:

1904, 1910, 1915, 1916, 1917, 1918, 1925, and 1931. I selected them as an MNC for 1916 and 1918, and the school claims those plus MNCs for 1915, 1929, 1931, and 1934 as well, attributing all 4 of those to selections by historian Parke Davis. They lost 47-14 to Southern Cal in the Rose Bowl following the 1929 season, so that one's a joke, and Parke Davis died before the 1934 season even began, so that one's completely ridiculous (they lost at home to 8-0 Minnesota that season, and this MNC claim appears to be a simple error in their media guide)
.

Hall of Fame coach Jock Sutherland (pictured above at left) had been a consensus AA guard at Pitt under Hall of Fame coach Pop Warner, and Pitt was 26-0 during Sutherland's playing years 1915-1917. He was 33-8-2 as coach at Lafayette 1919-1923, 2-2 against his mentor Pop Warner and Pitt. Lafayette claims a national championship for 1921 (which I don't recognize, though they were a strong contender). Sutherland replaced Pop Warner at Pittsburgh in 1924, and he went 111-20-12 there through 1938. He totaled 144-28-14 overall, putting him #11 in all-time FBS coaching win percentage. Pitt claims 5 MNCs during his reign, though I only see 2 (this season and the next).
You could argue forever whether Pittsburgh or Minnesota should have been #1 for the 1936 season, but there is little doubt that Pitt fielded the most talented team in the nation that year. Sophomore halfback Marshall Goldberg (pictured at left), a Hall of Famer, had a big impact in his first season. He returned a kickoff 87 yards for a touchdown against Carnegie and rushed for 117 yards against Notre Dame. He totaled 866 rushing yards this season and 6 touchdowns. In 1937 he was a unanimous AA and finished 3rd in the Heisman vote, and in 1938 he was a unanimous AA at fullback and finished 2nd in the Heisman vote. His 1957 career rushing yards remained a school record until Tony Dorsett broke it in the 1970s.

Pitt's other Hall of Famer was tackle Averell Daniell, a former walk-on who was the team's only consensus AA this season. His brother Jim, who played for Ohio State, is also in the Hall of Fame.

Guard Bill Glassford was a nonconsensus AA, and end Bill Daddio was named a nonconsensus AA in 1938. Daddio was the team's leading receiver, and he also served as a placekicker. He returned an interception 71 yards for a touchdown in the Rose Bowl, and is in the Rose Bowl Hall of Fame.

Tackle Tony Matisi was a big player for his time, 6' 2" and 230#, and he would be named a consensus AA in 1937.
Pittsburgh's Season
Pittsburgh had been playing very tough schedules for a couple of decades, and 1936 was no different. They liked to challenge teams who had great seasons to a game the following year, and they were willing to play those games on the road. That's what led them to Columbus, Ohio in their 3rd game, following a 53-0 warm-up over Ohio Wesleyan and a 34-0 rout of 6-4 West Virginia. Ohio State had gone 7-1 the previous season, their only loss coming 18-13 to 7-1-1 Notre Dame in a famous 4th quarter rally. They started this season by annihilating NYU (5-3-1) 60-0. Now, NYU did not finish ranked in the fixed AP poll for 1936, but they were good, and in fact they beat #15 Fordham, who tied Pitt this season. 71,000 filled the stadium for what was expected to be one of the best intersectional match-ups of the year.

Ohio State's marching band spelled "Ohio" in script for the first time at this game, but it was otherwise rather unmemorable for OSU. Pitt only won 6-0, but they completely dominated the game, outrushing the Buckeyes 251 yards to 77. They were stopped inside the OSU 5 yard line twice, whereas OSU only advanced past the

midfield

stripe once, reaching the Pitt 44 on their best drive. Still, OSU hung tough until a bad punt into the wind gave Pitt the ball at the OSU 34 midway through the 4th quarter. Substitute halfback Harold Stebbins scored a touchdown on a run from there. Pitt showed nothing but the most basic and primitive form of football, as they did not throw any passes or even lateral the ball in this game.

Ohio State lost a dramatic 14-13 game at #3 Northwestern the next week, and they lost 7-2 at #7 Notre Dame 2 weeks after that. They finished 5-3, and are ranked #20 in the fixed AP poll, but I would rank them more like #8 myself. They certainly outperformed #8 Nebraska and #9 Washington.

Duquesne
As happens to teams all too often-- and would happen to Pitt twice this season-- Pittsburgh followed a big win with a big letdown. A cold rain fell, and only 20,000 fans showed up to watch the debacle against Duquesne, who was making the "road trip" from just a few blocks down Forbes Avenue.

Pitt had 11 first downs to Duquesne's 3, but the yardage advantage was much closer, 150 to 134. Duquesne got more than half their yardage on one big play, as substitute back George Matsik got away for a 72 yard touchdown run in the 2nd quarter. That's all they would need for a 7-0 win. Pitt, who had thrown no passes at Ohio State the previous week, threw the ball 15 times trying to come back in this one, but they only completed 4 and gave up 3 interceptions.

Pitt drove to the Duquesne 14 before they were stopped in the opening quarter, and Duquesne drove to the Pitt 13 before losing a fumble. Pitt got another fumble at the Duquesne 28, and completed a pass to the 6, but they blew that opportunity with a fumble at the 3 yard line. In the 3rd quarter, Pitt drove to the Duquesne 30 before throwing an interception, and in the final quarter they drove 55 yards to the Duquesne 25 before throwing another.

This was Duquesne's first-ever win over Pittsburgh. They didn't handle winning a big game any better than Pittsburgh, as the next week they lost 2-0 at home to West Virginia Wesleyan (8-2, but unrated in the fixed AP poll). Then they lost 14-7 at Detroit (7-3, unrated) the week after that. But they recovered in the end, beating #24 Marquette (7-2) 13-0 in their regular season finale and #17 Mississippi State (7-3-1) 13-12 in the Orange Bowl. That finished Duquesne at 8-2 and #14 in the fixed AP poll.

Pitt didn't have much time to weep over the loss, because the next week they were hosting 3-0 Notre Dame, their 2nd bout in 3 weeks that was considered to be one of the biggest games of the year.

Notre Dame
70,000 fans came out to watch the home team deliver Notre Dame her worst loss since 1925 in a 26-0 romp. Pittsburgh outrushed Notre Dame 310 yards to 58, outgained them 354-84 in total yards, and they made 14 first downs to Dame's 4.

Pitt got things underway with a 14-play, 66 yard touchdown drive in the 2nd quarter, substitute back William Stapulis going over goal. Just before the half, halfback Bobby LaRue got loose for a 67 yard run, knocked out of bounds at the Notre Dame 3 yard line, but 2 runs failed to get further than the 1 before halftime arrived. That wasn't Pitt's only missed opportunity

:

they also came up empty on a field goal try and on a drive to the Notre Dame 8 yard line.

Marshall Goldberg, who rushed for 117 yards in this game, returned the 2nd half kickoff 48 yards to the Notre Dame 41. A holding penalty negated a 38 yard Stapulis touchdown, but he rebounded with a 44 yard touchdown pass to substitute end Fabian Hoffman. Early in the 4th quarter, Notre Dame was stopped at the Pitt 13, their only threat of the game. Pitt later drove 80 yards, Bobby LaRue picking up 39 on one dash, to a Marshall Goldberg touchdown dive. Pitt finished the scoring with a 45 yard interception return for a touchdown.

Notre Dame ended up being fairly erratic this season, as they often were between the reigns of Knute Rockne and Frank Leahy. They lost 3-0 to #19 Navy (6-3) in Baltimore, and they tied unrated Southern Cal (4-2-3) 13-13 in Pasadena, both big upsets, but they also defeated #20 Ohio State (5-3, and again, I would rate them #8) 7-2, they beat good-but-unrated Army (6-3) 20-6 in New York City, and above all, they handed #3 Northwestern their only loss in a 26-6 rout. When the dust cleared, they stood 6-2-1 and ranked #7 in the fixed AP poll. Notre Dame's upset loss followed their big win over Ohio State, and their upset tie followed their big win over Northwestern, so here we can see again the classic big win letdown at work. Speaking of which...

Fordham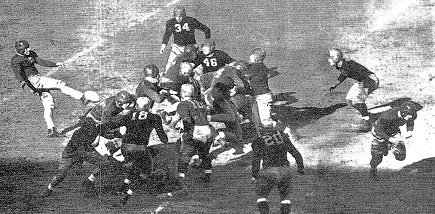 Pittsburgh vs. Fordham was college football's defining series of the mid-to-late 1930s. The teams met every year 1935-1941, going 2-2-3 against each other. In 1935, they tied 0-0 at the Polo Grounds in New York, and Pitt finished 7-1-2, Fordham 6-1-2. This year they met at the Polo Grounds again, and as the New York Times headline declared, they staged a re-enactment of the battle of 1935, slugging each other to another scoreless tie.

It was Halloween, the same day Minnesota was upset by Northwestern

;

57,000 spectators were on hand. This was the season Fordham's incredible line became known as the "Seven Blocks of Granite," the most famous of whom is now Vince Lombardi. The Lombardi Award, given to college football's best lineman or linebacker, is appropriately a block of granite. Frank Leahy was Fordham's line coach.

Pittsburgh advanced more often across midfield, but they only had one serious scoring threat, coming up a yard short of a first down at the Fordham 3 yard line. Fordham complemented their great defense with great punting, and booted the ball 55 yards out of their own end zone after that threat. Fordham's only sustained drive came late in the game, as they traveled from their own 19 to the Pitt 27 before they were halted.

Fordham's sights were set on a Rose Bowl invitation after this game, and they followed it up with a 15-0 win over 5-2-1 Purdue (unranked), but then they crashed and burned in their last 2 games, tying 5-4-1 Georgia (unranked) 7-7 and losing 7-6 to 5-3-1 NYU (unranked). That's why it's nice to have at least some offense to go along with a great defense and punter-- otherwise, one big play can beat you. Fordham finished 5-1-2, #15 in the fixed AP poll.

In 1937, Pittsburgh and Fordham would battle to a 3rd consecutive scoreless tie at the Polo Grounds, and Pitt would finish 9-0-1, Fordham 7-0-1. After that, Pitt had had enough of the Polo Grounds, and insisted on a home-and-home series. They finally beat Fordham 24-13 in Pittsburgh in 1938, Fordham's only loss that season.

Nebraska
After 4 straight games against opponents who were coming in unbeaten and untied, Pitt finally got a breather, beating 3-5 Penn State 34-7. But then it was right back into the frying pan, as they next traveled to 5-1 Nebraska, whom Minnesota had barely escaped with a last-minute miracle. Nebraska had already secured the Big 6 title with a 20-0 win over 6-2-1 Missouri. Pitt had been playing Nebraska every year since 1927, and they were 6-0-3 against the Cornhuskers, but all 3 ties had come in Lincoln.

Nebraska opened the scoring early in the 2nd quarter. The drive featured a 43 yard run, and it was capped by a 21 yard touchdown pass. Nebraska led 6-0, and 36,000 fans smelled an upset brewing. Little did they know that Nebraska would produce virtually 0 yards of offense the rest of the game, and that the touchdown was the only pass Nebraska would complete.

Pittsburgh got on the board late in the first half, after receiving a poor 22 yard punt at the Nebraska 44. They scored a touchdown from there in 5 plays, 240 pound substitute fullback Arnold Greene bulling into the end zone from 3 yards out. Greene had also hit substitute halfback John Urban with a 30 yard pass to get most of the way to the goal line. End Bill Daddio missed the extra point, but he quickly redeemed himself. With less than 2 minutes to play in the half, Daddio kicked off, then got down the field to make the tackle, force a fumble, and recover the ball at the Nebraska 30. The Nebraska returner was injured and helped off the field. Daddio then took an 11 yard pass from Urban, and the drive ended with John Urban running the ball in from the 7 on the last play of the half. Daddio again missed the extra point, but Pitt led 12-6.

In the 4th quarter, Marshall Goldberg sprung a 32 yard run, and Pitt pushed their way to the Nebraska 10, but Daddio missed a field goal try. Nebraska fumbled at their own 15 soon afterward, and Pitt finally put the game away with another Arnold Greene touchdown, putting the final score at 19-6. Pitt led in first downs 20-5, and they outgained Nebraska 321 yards to 97.

Nebraska beat 4-3-2 Kansas State 40-0, then went to Portland to down 4-6 Oregon State 32-14, finishing 7-2 and #8 in the fixed AP poll.

Pittsburgh returned home and beat 2-6 Carnegie 31-14, but their season was extended with an invitation to the Rose Bowl to play PCC champion Washington.

The Rose Bowl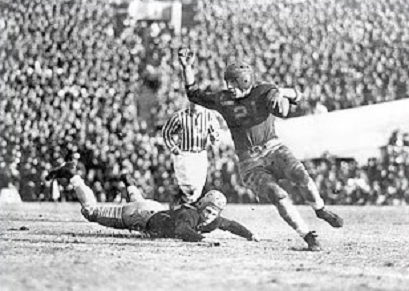 In those days, the Rose Bowl's PCC representative got to choose their opponent, and when Washington chose 7-1-1 Pittsburgh, their athletic office was flooded with angry letters from fans of 9-0-1 Louisiana State and 8-0-1 Alabama. Sportswriters for various Los Angeles newspapers piled on, deriding Pittsburgh mercilessly. Pitt, you see, was 0-3 in Rose Bowls, and they had been trounced 47-14 and 35-0 by Southern Cal in their last 2 appearances, following the 1929 and 1932 seasons. But if LSU and Alabama had wanted a Rose Bowl slot, they should have scheduled games against Ohio State, Notre Dame, Nebraska, and Fordham, like Pittsburgh did. Turns out that scheduling an all-rube nonconference schedule, then whining for an invite doesn't get you as far. Nor should it.

Pitt coach Jock Sutherland, determined to give a better showing than his last 2 trips, took the team to Los Angeles 2 weeks early to practice, and supplied his players with copies of every negative article written about them. After overwhelming Washington 21-0, the players cited those articles as their foremost motivation, so Sutherland was a

winning

coach who could say, "I guess they were reading their press clippings."

87,000 fans attended. You can see film of the game here. Pittsburgh scored in the opening quarter, Marshall Goldberg running for 22 yards (shown below), Bobby LaRue adding 25 more, and fullback Frank Patrick (shown running the ball in the picture above) bulling the ball over the goal line. End Bill Daddio kicked the extra point.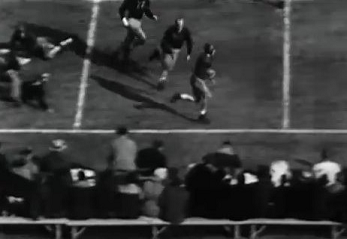 In the 3rd quarter, Bobby LaRue broke free again, running for 45 yards to the Washington 30. He was the game's leading rusher, 15 carries for 109 yards. That drive ended in Frank Patrick's 2nd touchdown. Bill Daddio kicked the extra point, and the game was as good as over at 14-0. But for good measure, Daddio returned a 4th quarter interception 71 yards for a touchdown (shown below), then kicked his 3rd extra point for the 21-0 final. Daddio was the game's MVP.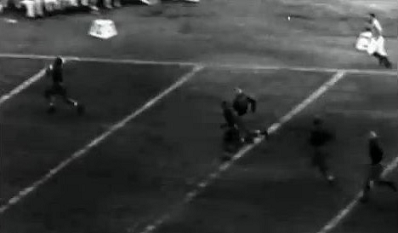 Pittsburgh had 11 first downs to 8 for Washington, and they outgained them 294 yards to 146 (243-48 rushing). Washington had just 2 good drives, reaching the Pitt 19 in the 2nd quarter and the 29 in the 4th. Washington finished 7-2-1 and #9 in the fixed AP poll, but as I said earlier, I think they were more like a #25 team.
Awards Ceremony
1936 #1:

7-1 Minnesota and/or 8-1-1 Pittsburgh


National Co-champion:

Minnesota or Pittsburgh if the other one is alone at #1


Contender:

7-1 Northwestern

These are the awards I have been handing out for each season, except seasons when there are no contenders. For this purpose, what I mean by a contender is a team that I think is very close to being worthy of sharing the national championship. A team that you could make an argument for, even if that argument is weak. But the contenders are teams that I myself do not see as national champions.
Northwestern qualifying as a contender here was a real tough call, and I could still go either way on it. Their problem is that I don't think they compare well to Pittsburgh at all. On the other hand, if 7-1 Minnesota is a co-national champion, it seems like 7-1 Northwestern, who beat them, should at least be considered a contender.
Grading the Selectors
I have been grading the NCAA Records Book's selectors for each season, and keeping a grade point average, so we can see who is relatively good at selecting national champions and who is not. And although I do not consider computer ratings to be legitimate national championship selectors, I have been including them in this section as well, just for comparison's sake.
I am grading on a scale of 0-5 (5 being the best).


3 math systems selected 9-1-1 Louisiana State #1

:

Williamson's system, Sagarin's original formula, and Sagarin's BCS formula (ELO-Chess).

Grade: 0.0


The College Football Researchers Association and the Boand and Houlgate math systems went with Pittsburgh.

Grade: 5.0



Everyone else selected Minnesota.

Grade: 5.0



Since this was the debut season for the massively successful AP poll, I'm going to start another grading period with 1936. Below is a reminder of how the systems did for the first 2 grading periods in college football history, 1901-1918 and 1919-1935.

Grade point averages 1919-1935
:
| | |
| --- | --- |
| 1) Boand (math system) | 4.26 |
| 2) College Football Researchers Association | 4.22 |
| 3) Poling (math) | 4.11 |
| 4) Helms | 4.09 |
| 5) Sagarin-ELO (math) | 4.06 |
| 6) National Championship Foundation | 3.96 |
| 7) Dickinson (math) | 3.49 |
| 8) Houlgate (math) | 3.35 |
| 9) Billingsley (math) | 3.34 |
| 10) Sagarin (math) | 3.28 |
| 11) Parke Davis | 2.77 |

How the systems that selected champions for 1901-1918 did

:



| | |
| --- | --- |
| 1) Houlgate (math system) | 4.5 |
| 2) Helms | 4.3 |
| 3) Parke Davis | 4.2 |
| 4) National Championship Foundation | 3.7 |
| 5) Billingsley (math) | 3.6 |