Home
1910 College Football National Championship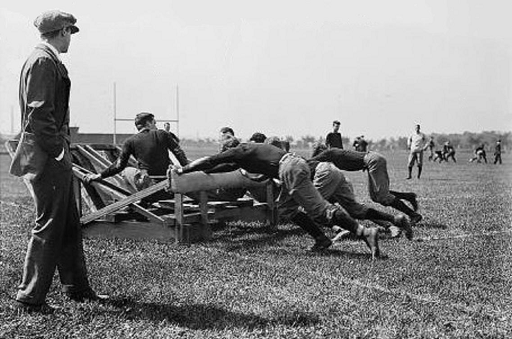 Pictured above is Harvard coach Percy Haughton directing his charges in training. 8-0-1 Harvard was/is the consensus choice as mythical national champion (MNC) of 1910.


Here is how the "major selectors" listed in the NCAA Records Book, all selecting long after the fact, see the 1910 college football national championship (omitting math/computer ratings, which neither I nor anyone else recognize as constituting titles)

:


Harvard

:

Helms,
National Championship Foundation (tie)
Pittsburgh

:

National Championship Foundation (tie)

You can click on the selector to read my review of that person or organization.

The NCF's selection of 9-0 Pittsburgh to share the title with Harvard, much like their choice of LSU to share the title with Penn in 1908, is curiously arbitrary. Pittsburgh played no top teams at all, so why choose them and not 7-0 Illinois, 7-0 Colorado College, 6-0 Colorado, 6-0 Washington, 9-0 Centre, or
8-0-1 Vanderbilt (like Harvard, their tie came at Yale)
?

Now I have to waste time summarizing Pitt and explaining why they are a poor choice as a national champion. But it doesn't seem fair to summarize them and not any of the other little big teams that went unbeaten. So I suppose I will go ahead and briefly discuss them all, as well as other notable teams, region-by-region. But don't get used to it. This is a one-season feature. Unfortunately, I just don't have time to summarize every unbeaten team in every season.

But let's get to it, starting with the only legitimate mythical national champion of 1910, Harvard.
All rankings in the following article, except as noted, come from my 1910 top 25, which is based on a hypothetical post-bowl AP poll (within logical reason of course)
.
Harvard 1910
| | | |
| --- | --- | --- |
| Bates (5-1-3) | 22-0 | |
| Bowdoin (6-1-2) | 32-0 | |
| Williams | 21-0 | |
| Amherst | 17-0 | |
| Brown (7-2-1) | 12-0 | #5 |
| at Army (6-2) | 6-0 | #7 |
| Cornell (5-2-1) | 27-5 | (#26-39) |
| Dartmouth (5-2) | 18-0 | #15 |
| at Yale (6-2-2) | 0-0 | #8 |
I wrote summaries of previous Harvard seasons for my 1901 and 1908 national championship articles. The great Percy Haughton, covered in that 1908 article, was still the coach in 1910. This was his 2nd of 4 national championships at Harvard. The only notable players in 1910 left over from the 1908 championship team were halfback Hamilton Corbett (a consensus All American in 1908, but not this year) and tackle Robert McKay (consensus AA 1910).

In addition to McKay, two other players were consensus AA in 1910, and both of them are in the College Football Hall of Fame

:

guard Bob Fisher and halfback Percy Wendell. Both would repeat as consensus AA in 1911.

Guard Wayland Minot had been a consensus AA in 1909 at halfback, and 3 other players were nonconsensus AA this season.
The Games
Harvard dominated most of their opponents in 1910, including a 12-0 win over 7-2-1 Brown (#5), 27-5 over 5-2-1 Cornell (#26-39), and 18-0 over 5-2 Dartmouth (#15).

6-2 Army gave Harvard more trouble, but Harvard prevailed 6-0. The touchdown was scored by captain and quarterback Paul Withington, who blocked a punt and returned it 40 yards -- it was the only touchdown scored on Army this season. Still, close as the final score was, and coming on a "fluke" play, Harvard dominated the game, rushing for 282 yards and 14 first downs to Army's 39 yards and 1 first down. The game was played almost entirely on Army's side of the field, but Harvard missed all of their 3 field goal attempts (two from 17 yards, one from 37). Harvard also ended drives with fumbles and penalties, once losing the ball at the Army 5. But Army never even snapped the ball on Harvard's side of the field.
Army defeated Yale and took their other loss to 8-0-1 Navy in their finale, and they are ranked #7 for 1910.

As usual, Harvard's toughest game ended up being their finale at rival Yale.

Yale had an uncharacteristic down season in 1910, coming into the game at 6-2-1, their losses to 2 teams Harvard had defeated (Army and Brown). On the other hand, Yale had gotten it together in their previous game, knocking off unbeaten Princeton 5-3 on the road. That left Princeton with a final record of 7-1 and cleared the way for Harvard to win the MNC.

In the week prior to the Princeton game, Yale had suddenly switched their offense to the "Minnesota shift," an offensive system developed by Yale grad Henry Williams at Minnesota. This made Princeton's scouting and preparation for Yale useless, and it made things more difficult for Harvard as well. And Yale was still playing for pride-- Harvard was their big rivalry game after all, and they were playing at home. And a "down" season for Yale just meant that they were a bottom-of-the-top-10 team rather than a top 5 team.

Yale was unable to knock off Harvard as they had Princeton, but they did hold Harvard scoreless in a 0-0 tie. Harvard halfback Percy Wendell had a good game, carrying 21 times for 103 yards, but neither team was able to generate much offense aside from his contributions. The best threats either team mounted ended in long, unlikely field goal attempts that neither could hit. That left Harvard with a blemished record, 8-0-1, but they were still widely considered the national champion at the time. Yale finished 6-2-2, and they are ranked #8 for 1910.

Pittsburgh 1910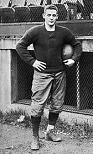 9-0
Pittsburgh
won every game by more than a touchdown, and also shut out every opponent (total score 282-0), which is likely why the National Championship Foundation selected them to share the MNC with Harvard. The coach was Joe Thompson, the star Hall of Fame halfback of their 10-0
1904
team. He went 30-14-2 as coach at Pitt 1908-1912.
The star of the 1910 team was captain and fullback Tex Richards (pictured at left), who scored 11 touchdowns. End Hube Wagner, who made the varsity this season as a freshman, is in the College Football Hall of Fame. Big center Ralph Galvin did the punting, kicking, and sometimes came back to carry the ball in short yardage situations. However, none of these players was ever a consensus All American, and I have not seen any All American list for 1910 that lists any player from this team, even as honorable mention. 7-0 Illinois, by contrast, had 4 nonconsensus AA players.
Pittsburgh played every game at home except for a neutral site game against Westminster, and their schedule did not include any team likely to have made a top 25 in 1910, though 2 opponents were close. One was 6-1-1 Georgetown, whom Pitt beat 17-0. Georgetown was tied by 4-0-2 North Carolina State, who was tied by 0-4-2 Villanova.
Their other notable win came 11-0 in their finale against 5-2-1 Penn State, who was also tied by 0-4-2 Villanova. So winless Villanova gravely damaged the value of both of Pitt's decent wins. It's too bad, because Penn State was usually a good team (likely top ten the year before and the year after this), and they did stomp on their other 5 patsies by an average score of 49-1 this season, but they were shut out by the only good teams they played (Pitt and 9-1-1 Penn), and as noted they suffered that inexplicable tie with Villanova at home.
Why Pittsburgh Does Not Merit National Championship Consideration for 1910
Actually, my reasoning here is similar to what I wrote concerning the NCF's selection of LSU in my
1908
article. Pitt's schedule is ridiculous for a supposed national championship contender, and there isn't much more to say than that. As I noted in that 1908 article, it is baffling that the NCF randomly picks teams like this, who played no one, when they have repeatedly ignored true powerhouse teams that performed better and/or played tougher schedules.
Sure, Pitt shut out every opponent, but so did 7-0 Illinois. It is a nice feat, but ultimately trivial, especially given that Pitt did not play a top 25 caliber opponent. Lots of teams from that era accomplished the "feat" of shutting out every unranked opponent they played in a season. Along with Pitt and Illinois, the following teams did it in 1910
:
Harvard, Michigan, Minnesota, Navy, Army, Princeton, and Lafayette.
Harvard suffered a tie at Yale, but Pitt did not even play a team anywhere near as good. Harvard's 4-0-1 record against top 25 caliber teams, though imperfect, is still far better than Pitt's 0-0 record against the same.

Because of their schedule, it is impossible to know how good or bad Pitt was. You could argue that for all we know, Pitt was better than Harvard, and that they would have beaten Harvard had the two teams played. It's possible (if very, very unlikely). But then, you could argue exactly the same thing about all of the other unbeaten teams I am about to go over. By that argument, you should select 7 to 10 teams to share the "national championship" every year during this era.

But as they say, if you want to be the best, you have to beat the best. Harvard beat 4 of the best, and tied another. In this arena, Pitt did not even play. Therefore, I do not see Pitt as a legitimate contender.

But then, like LSU 1908, Pittsburgh does not claim this so-called national championship. Good for them.

The View on Pitt in 1910
Writers in 1910 were even less inclined to take Pitt seriously. Grover Orton, writing about football in the "Middle States" (New Jersey, Maryland, Pennsylvania) for Spaulding's football guide after the season, ranked the Middle State teams as follows

:



1) Penn 9-1-1
2) Princeton 7-1
3) Navy 8-0-1
4) Lafayette 7-2
5) Carlisle 8-6
6) Pittsburgh 9-0

So he has Pitt in 6th place in just this one small region! My own rankings, based on a hypothetical 1910 AP poll, put Pitt at #12 nationally.
Other Eastern Teams 1910
The only other Eastern team that could possibly argue for a share of the MNC is Navy (#6), who matched Harvard's 8-0-1 record. However, Navy's schedule was not much tougher than Pittsburgh's this season. They played just one top 25 caliber opponent, beating Army 3-0. Their tie came 0-0 to Rutgers, a downright bad team that finished 3-2-3. Like Pitt, Navy did shut out every opponent, but that ugly tie takes them out of the race.
9-1-1 Penn (#2) was taken out of the race right off the bat, losing a shocking 8-5 upset to 6-1 Ursinus in their opener. And as mentioned, Yale took 7-1 Princeton (#10) out of the race 5-3 in Princeton's finale.
Midwest 1910
The "West," as the Midwest was called at the time, showed that 1909 was not a fluke, and that the region had caught up with the powerful East. For the second straight season, the Big 10 region had a winning record against the East, its major teams going 2-1-1 against the East's major teams, though the only significant result was a 0-0 tie between 3-0-3 Michigan and 9-1-1 Penn. But for the second straight season, the "West" was again unable to produce an MNC candidate. Unless you count 7-0 Illinois.
However, erratic 3-0-3 Michigan (#3), who alternated wins and ties against a very tough schedule, was nevertheless probably the best team in the "West." They opened with a 3-3 tie to Case (6-1-1, #26-39), then dealt 6-1 Michigan State (#17) their only loss 6-3. Then they tied 6-1-3 Ohio State 3-3 (#26-39), following that up with an 11-0 road win over 5-4-1 Syracuse. Then came the 0-0 tie at 9-1-1 Penn (#2), followed by a big 6-0 win over 6-1 Minnesota (#4) in their finale (their initial defense of the Little Brown Jug they had first won the previous season). All of Michigan's opponents had winning records, and overall their opponents were an amazing 38-6-3 when not playing Michigan.

Michigan went unbeaten this year because of a tremendous defense. They gave up a total of 9 points in 6 games, and never allowed a touchdown. But Michigan took 3 ties this year because of a horrendous offense. They scored a total of 29 points in 6 games, an average of just under 5 points a game! Opening opponent Case was supposed to be a warm-up game, as Michigan was 13-0 against them. The game was played with just 10 minute quarters. Similarly, Michigan had been 10-0-1 against Ohio State, so the ties that Case and Ohio State managed against Michigan this year were huge upsets, and celebrated like great wins at both schools.

Michigan's big wins, over 6-1 Michigan State and 6-1 Minnesota, both came on dramatic late touchdowns. The touchdown that beat MSU 6-3 came on a fake field goal attempt, and the touchdown that beat Minnesota 6-0 was set up by 2 tricky long passes that followed multiple laterals in the backfield.
Minnesota had looked very powerful before their loss to Michigan, romping on and shutting out every opponent, including a 27-0 win over 7-1 Nebraska (#19). This was the second season in a row that saw a perfect Minnesota season end in defeat to Michigan.
Illinois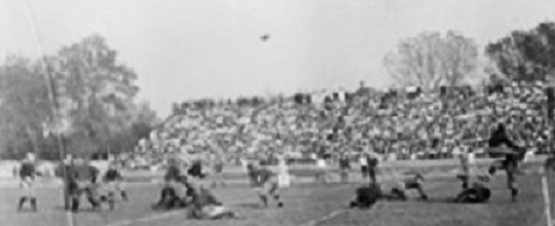 That brings us back to the Midwest's only potential MNC candidate, 7-0
Illinois
, who shared their first Big Ten title with Minnesota (Michigan was no longer in the league at this time). Illinois coach Arthur Hall was 27-10-3 at the school 1907-1912, and he was one of four coaches that had together directed the team to a 9-2-1 finish in 1904. Illinois had no consensus All Americans, but after the season,
Outing
magazine conducted a national poll of coaches, asking them who were the best players they had seen on opposing teams, and Illinois ended up having the most players named in the poll. Leading the way for Illinois was quarterback Otto Seiler, an all-conference selection for the second straight season who brought home Illinois' first Big Ten title with his toe.
Seiler, you see, won three different games in 1910 by kicking a field goal for a 3-0 final score. The first of these games occurred against Chicago in Illinois' first-ever homecoming game (the winning kick is shown in the blurry picture above-- you can see the ball in the air). Illinois claims to have invented the concept of the homecoming game, but half a dozen schools make the same claim, and Baylor, for one, appears to have held a homecoming game in the previous season. In any case, it was Illinois' first win over rival Chicago since 1901, so it was cause for great celebration amongst those who came "home" to witness it. However, though Chicago usually fielded a powerful team, they were quite bad this season, finishing 2-5. Minnesota beat them 24-0, and 5-2-1 Cornell beat them 18-0, so Illinois' 3-0 win doesn't actually do them any MNC favors.
Their next 3-0 win came at 6-1 Indiana (#21), and while that was Indiana's only loss, the win holds relatively little value because Indiana's schedule was lousy, and in fact Illinois was the only winning opponent they even played. Illinois' last 3-0 win was at 5-4-1 Syracuse, another win for the West against the East, but Syracuse was not good this season, their low point being a 0-0 tie with St. Bonaventure. Michigan won at Syracuse 11-0, and Yale and 4-2-1 Colgate beat Syracuse by more than Illinois did as well.
Illinois' schedule was even weaker than Pittsburgh's, as they did not play any team as good as Pitt victims Penn State and Georgetown. And while Illinois shut out every opponent, they did not perform nearly as well as Pitt. But they did not even perform as well as Michigan or Minnesota, and as such were probably the third best team in the Midwest (at best). Still, it was a banner year for Illinois, and they were on their way to becoming a power team later in the decade. Their 7-0 team in 1914 is

far

better than this one. I have Illinois ranked #11 for 1910.
South 1910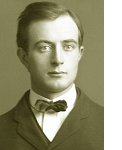 As usual, 8-0-1 Vanderbilt ruled the South in 1910,
led by Hall of Fame coach Dan McGugin (pictured at left) and All-Southern quarterback Ray Morrison, who went on to become a Hall of Fame coach himself (at 4 schools, most notably at Southern Methodist 1915-'16 & 1922-'34). Team captain Bill Neely, an end and halfback, was All-Southern, and his brother Jess would one day become a Hall of Fame coach as well. Tackle Ewing Freeland was All-Southern for 3 seasons, and he became a coach at TCU and SMU, but not a Hall of Famer. Guard William "Frog" Metzger was a unanimous All-Southern selection, and he also made Walter Camp's 3rd team All American list.

Like 8-0-1 Harvard, Vanderbilt took their one tie at Yale. They won all of the rest of their games by more than a touchdown (worth 5 points then, 6 with conversion), the highlights being a 9-2 win over 7-1 Mississippi (#26-39) and 23-6 over 8-2 Sewanee (#26-39). Neither would have made a top 25 at the time, but it is difficult to know how good they were due to the insular schedules they played. They might have been top 25 in quality. Still, they were certainly not as strong as Harvard's best opponents, and that is Vanderbilt's problem as far as sharing an MNC goes.
Vanderbilt's tie at Yale was celebrated as a major win back in Nashville, whereas Harvard's tie at Yale was mourned as a disappointment in Cambridge, and that illustrates an important difference here. Harvard had already beaten 2 teams that had beaten Yale, as well as another 2 teams in Yale's range. Therefore, their tie at Yale represented their worst game of the season. Vanderbilt, however, did not beat any such teams, and as such, their tie at Yale represented their best showing of the season. In other words, Vanderbilt's schedule just doesn't merit considering them co-champions with Harvard.
However, Vanderbilt's case is at least as strong as Pittsburgh's. Vandy's tie at Yale does not (or should not) hurt them in comparison to Pitt, because Pitt did not play a team nearly as good. And while Vandy did not shut out every opponent, what matters is that they won the rest of their games by more than a touchdown, just like Pitt did. Pitt opponents 6-1-1 Georgetown and 5-2-1 Penn State may have been better than Vanderbilt opponents 7-1 Mississippi and 8-2 Sewanee, but it is impossible to know for sure, and this much we do know
:
Georgetown and Penn State both suffered upsets (both wells poisoned, again, by 0-4-2 Villanova), whereas Mississippi only lost to Vandy, and Sewanee only lost to unbeaten teams. So I don't see any sense in selecting Pitt for a share of the MNC without also including Vanderbilt.
Vanderbilt and Pitt were very similar, both launching newfound success with unbeaten seasons in
1904
(I summarized both teams, as well as the career of Vanderbilt's great coach Dan McGugin, in that article). Both schools were good over the ensuing years, but struggled against power opponents. Pitt went 1-4 against Carlisle and Cornell (the win coming against Carlisle in 1909), and lost to Notre Dame in 1909 (the Midwest's best team that year). Vanderbilt went 0-6 against Michigan and Ohio State, but defeated Carlisle in 1906, and tied 9-2-1 Navy in 1907 (as well as Yale this season). So both teams had gotten their breakthrough win against Carlisle. But Vandy also got the two big ties, so they were perhaps more highly esteemed than Pitt at the time. I have Vanderbilt ranked #8 for 1910.
Centre
I mentioned that 8-2 Sewanee lost only to unbeaten teams. Aside from Vanderbilt, they also lost to 9-0 Centre, a tiny college in Kentucky with big aspirations. 9 years later, Centre will have fielded a national championship contender, and 11 years later, Centre will have become nationally famous for upsetting Harvard (often considered the greatest upset of all time, though I don't see it as much of an upset myself). Other than Sewanee, Centre's best win was 12-6 over 7-2 Kentucky. They also crushed weak Tennessee and Tulane teams, and the rest of their schedule consisted of minor schools. Were they as good as Vandy and Pitt? Probably not, but of course there's no way to know. They did beat Sewanee 19-0, slightly more than Vanderbilt beat them by, so it's possible. If Pitt and Vandy are "national champions," maybe Centre is too. I have Centre ranked #22 for 1910.

Centre's head coach was Syracuse grad Mark Beale Banks, who was only here 3 years, but went 6-1-1 in 1909 (beat Tulane and tied Tennessee), 9-0 this year, and 3-2-1 in 1911 (tied Tennessee). Banks moved on to a number of small colleges, and finally got a shot at the big time 1921-1925 at Tennessee, going a decent 27-15-3 there. For his career, Banks was 99-72-10.
The last notable team from the South to mention for this season is 6-1 Auburn, who had been playing well since 1907. They defeated 4 winning Southern teams in 1910, but they lost 9-0 at 5-2-1 Texas. I do not have Auburn ranked in the top 40 for 1910.
Rocky Mountains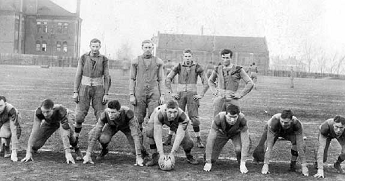 6-0
Colorado
(pictured at left) was led by Hall of Fame coach Fred Folsom, for whom Colorado's stadium is still named. He won 10 conference titles in 15 years at Colorado, going 77-23-2 there, and 106-28-6 overall with a 29-5-4 mark in 4 years coaching his alma mater, Dartmouth. That record places him on the list for all-time FBS coaching win percentage. 1910 is the second of three straight seasons that Colorado went unbeaten and untied.
Colorado dominated the Rocky Mountain region during Folsom's time, but they did not fare well against Missouri Valley teams, going 1-4 against Nebraska and 1-2-1 against Kansas 1902-1907 (they did not play any MVC teams 1908-1910). And the Missouri Valley did not fare well against the Big Ten region, and until 1909, the Big Ten region did not fare well against the East. So the Rocky Mountain region was at best a 4th tier region in terms of power. As such, it is hard (impossible?) to seriously consider this 6-0 Colorado team, who played no one outside their region, a national championship contender.
Even within their region, their schedule was weak, with only one winning opponent (4-2 Utah, whom they beat 11-0). But they did dominate that schedule, outscoring opponents 121-3. That's more than you can say for Rocky Mountain co-champion 7-0
Colorado College
, who edged Utah 21-17, Colorado Mines 8-0 (Colorado beat them 19-0), and Denver 6-5. I have Colorado ranked #18 for 1910, and Colorado College #20.
Colorado College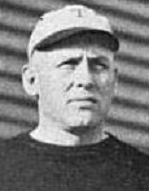 Colorado College did something Colorado did not in 1910-- they beat a strong Missouri Valley team, topping 10-1 Kansas State 15-8. KSU dealt 7-1 Arkansas their only loss, who dealt 8-1 Texas A&M their only loss. Colorado College thus sits atop a totem pole of pretty good teams, and given that Colorado outperformed Colorado College against 4 common opponents, we can safely assume that Colorado was at least as strong, if not stronger.
But neither can be taken seriously as an MNC contender, as Colorado College performed too poorly, and Colorado's schedule was too weak.

Colorado College went through a string of good head coaches in the first couple decades of the 20th century. First Wisconsin grad Bill Juneau came here for one season, 1904, and went 6-3-1. He would later attract attention at Marquette 1908-1911, going 19-5-7 there, and among the many coaching stops in his career, his other best seasons were 7-0 at Wisconsin in 1912 (strong MNC contender) and 9-0 at Texas in 1918, those also being his only conference titles won.

Juneau was followed by another Wisconsin grad, "Big John" Richards, who went 23-9-4 here 1905-1909. He later went an even more impressive 29-9-4 as head coach at Wisconsin, and for his career he was 58-21-8.

That brings us to 1910, Colorado College's first season in the Rocky Mountain conference, and the first year for new head coach Claude Rothgeb (pictured). He was an Illinois grad who who had gone a poor 4-11-1 at Colorado State 1906-1909 before Colorado College inexplicably hired him. But they made a good choice, because Rothgeb won the Rocky Mountain conference in his first year, the only conference title Colorado College ever won in football. This is also the only year Colorado College fielded a top 25 caliber team (though Rothgeb would come close again in 1916).

Rothgeb was here longer than the previous coaches, 1910-1918, and he went 41-18-2 (according to the school

;

the College Football Data Warehouse, which counts games against high schools that the college didn't count as "official," has Rothgeb at 48-18-3). Rothgeb then became an assistant coach at Texas A&M, then at Illinois.

Northwest
6-0
Washington
was a lot like 6-0 Colorado
:
they played no one outside their region, they were led by a Hall of Fame coach, and they were in the middle of a streak of unbeaten and untied seasons. However, both their coach and their winning streak were much more impressive than Colorado's. The coach was Gil Dobie (pictured at left), who went 58-0-3 at Washington 1908-1916-- you read that right, they did not lose a game in those 9 years.
Dobie also went 7-0 in 2 seasons at North Dakota State 1906-1907, so he didn't lose a game in his first 11 seasons as a coach. He took his first career loss while coach at Navy in 1917, in his 70th game. Dobie would end up at Cornell 1920-1935, and Cornell claims 2 national championships during his time. Through 1923, he was 112-5-3 in 18 seasons as a coach, for a blistering .947 winning percentage that no other coach in history can touch. His next 15 years did not go as well, dropping him to 182-45-15 for his career, but that still puts Dobie on the all-time FBS coaching win percentage chart (some sources give him 2 more wins for his career

;

details in the Addendum at the end of the article).
As for Washington's winning streak, they went unbeaten and untied 5 straight seasons 1909-1913, and went 63 games without a loss (59-0-4) between 1907 and 1917, an NCAA record that will never be broken, if only because no FBS team will ever play such weak schedules again. At least half of their games were played against high schools, athletic clubs, military base teams, or very minor football schools such as Whitman, Whitworth, and Puget Sound. And as Dobie's winning streak grew, he became ever more protective of it. After 1910, he refused to play teams on their home field. Against Oregon and Oregon State, for example, he would play them at home one year, and on a neutral field (Portland) the next. Other schools, such as Washington State, he would only play in Seattle. WSU made the trip a few years, then refused to play Washington after 1914 (until Dobie left, and home-and-home games could resume).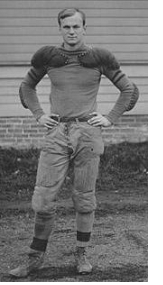 In 1910, Washington was led by quarterback Wee Coyle, who was 26-0-1 at Washington, and by end Warren "Wedge" Grimm (pictured at left), the team captain and a 3rd team All American selection by Walter Camp. Washington dominated most of the teams on their schedule, outscoring opponents 150-8, but they struggled to beat the only team that scored on them, Whitman, 12-8. Whitman's scores were set up by a pair of Washington fumbles early in the game.
You could conclude that Washington's case for sharing the mythical national championship is about the same as Colorado's, if a bit weaker due to the one poor performance (Colorado won all their games easily), but there is one difference. We know that the Rocky Mountain region was generally weaker than the Missouri Valley region because of games played between the two in the preceding decade. But we know nothing about how competitive the Northwest was compared to other regions, because no games had been played between the Northwest and other regions.
Someone could even argue that the Northwest was as strong as the East at this time, and no one could rebut the claim, because there is no data for argument. On that basis-- that we don't know for sure how strong or weak the Northwest was-- you could argue for Washington sharing the MNC in 1910 (as well as every other year during their winning streak!). However, my feeling, and the consensus view, is that a team and/or its region has to show what it can do against the best teams/regions of its time to be considered a contender. Going unbeaten and untied against an insular region makes a team a regional champion, not a "national" champion.
But Washington was not necessarily even the best team of the Northwest this season, as they did not play 4-1 Oregon. Oregon's loss came to the Multnomah Athletic Club, whom Washington did not play. In their other games, Oregon was at least as impressive as Washington against a similar schedule. They even whipped Puget Sound 114-0. Perhaps that's why Dobie decided to skip playing them this season. I have Washington ranked #16 for 1910.
Awards Ceremony
1910 #1:

8-0-1 Harvard


Contenders:

None

These are the awards I have been handing out for each season, except seasons when there are no contenders. For this purpose, what I mean by a contender is a team that I think is very close to being worthy of sharing the national championship. A team that you could make an argument for, even if that argument is weak. But they are teams that I myself do not see as national champions.

A third category is also possible

:

a "national co-champion" who is not #1, but who has done just enough to be considered a co-champion with the #1 team.

Of all the teams I've covered above, only Pittsburgh and Vanderbilt come close to "contender" status this year. But Pitt was 0-0 against likely top 25 teams, Vandy 0-0-1, and that just doesn't qualify as "contending."

Other unbeatens that I did not cover in the preceding article include 5-0 Arizona and 5-0 Howard.

Grading the Selectors
I have been grading the NCAA Records Book's selectors for each season, and keeping a grade point average, so we can see who is relatively good at selecting national champions and who is not. And although I do not consider computer ratings to be legitimate national championship selectors, I have been including them in this section as well, just for comparison's sake.
I am grading on a scale of 0 to 5, with 5 being the best.


The National Championship Foundation selected Harvard and Pittsburgh.

Grade: 2.5



Everyone else selected Harvard.

Grade: 5



Parke Davis is not listed as having made a pick for 1910 in the NCAA Records Book.

Grade Averages 1901-1910

:



| | |
| --- | --- |
| 1) Billingsley (math system) | 4.5 |
| 2) Houlgate (math) | 4.39 |
| 3) Parke Davis | 4.36 |
| 4) Helms | 4.2 |
| 5) National Championship Foundation | 3.2 |
Addendum
The College Football Data Warehouse and James Howell's all-time scores list give Washington coach Gil Dobie 2 more career wins, putting him at 182-45-15, and Wikipedia goes with this number as well. The NCAA has him at 180-45-15, and for now, that is the number I am going with. There are 2 games in contention here. The first is an alleged 69-0 win by North Dakota State over Mayville State in 1906 while Dobie was at NDSU. However, North Dakota State does not list this game in their media guide/record book, so until I am able to verify that an
official
game between these 2 schools actually took place (rather than an unplanned, informal scrimmage, for example), I am going to follow the NCAA's lead and not count it. And I may never get to North Dakota to properly research this one myself.
The second game up for debate is an alleged 15-0 win by Navy over the USS Utah while Dobie was at Navy in 1919. This game is not listed in Navy's media guide/record book, and I have done some research on it and have been unable to find it. The College Football Data Warehouse lists this game as having taken place one week after the Army game, and that right there makes it highly unlikely that this game, if it in fact took place, could possibly have been in any way "official." And the New York Times ran many articles about Navy after their win against Army in 1919, but no game against the USS Utah was mentioned in the entire month of December (or in November, or in January 1920).