Top 25 Rankings 1901-1935
1910 National Championship
Home
1910 College Football Top 25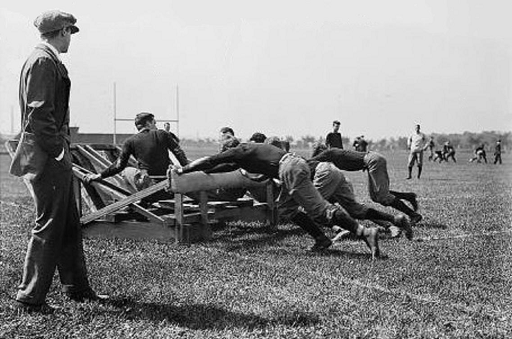 Pictured above is Harvard coach Percy Haughton directing his charges in training. Despite a tie with Yale in their finale, 8-0-1 Harvard would have run away with #1 in a 1910 AP poll.
I covered Harvard
in my 1910 national championship article, along with all of these teams

:

9-0 Pittsburgh, 7-0 Illinois, 8-0-1 Vanderbilt, 6-0 Colorado, 7-0 Colorado College, and 6-0 Washington.

Harvard #1
.
Pennsylvania, Michigan, and Minnesota
9-1-1 Pennsylvania was upset 8-5 in their opener by Ursinus (6-1, #14), and they tied Michigan at home late in the season. They won 20-0 at Brown (7-2-1, #5), 10-0 over Penn State (5-2-1), 18-0 over Lafayette (7-2, #13), and 12-6 over Cornell (5-2-1, #26-39). Michigan had a very strange season, as their 6 games went like this

:

tie, win, tie, win, tie, win. So they finished 3-0-3, which is equivalent to 4-1-1. In addition to Penn, Michigan tied Case (6-1-1, #26-39) in their opener and Ohio State (6-1-3, #26-39) in game 3, both very ugly for a highly-rated team, needless to say. But all 3 of Michigan's wins were pretty good

:

6-2 over Michigan State (6-1, #17), 11-0 at Syracuse (5-4-1), and most importantly, 6-0 over Minnesota in their finale.

That was Minnesota's only loss, putting them at 6-1 and probably costing them a national championship (which they earned the next season, in my opinion). Minnesota's wins were all shutouts, and no one aside from Michigan got within 17 points of them. But Michigan was easily the best team they played this year, as Minnesota's top wins came over Nebraska (7-1, #19) and South Dakota (6-2, #26-39).


Penn #2, Michigan #3, and Minnesota #4.
Brown, Navy, Army, and Yale
7-2-1 Brown took their losses to #1 Harvard and #2 Penn, and they were tied by Colgate (4-2-1, #25). They only had one win of note, but it was a big one, 21-0 at Yale (6-2-2, #8). They had one weak performance other than the tie, a 5-0 win over Rhode Island (5-1-1, unrated), but on the other hand, those were the only points Rhode Island gave up this season.

8-0-1 Navy had a terrific straight record, obviously, but their schedule was quite lacking and their performances rather unimpressive. Like Brown, they took an upset tie, but Navy's came to a very poor Rutgers team that went 3-2-3, tying Franklin & Marshall and Haverford, and losing to NYU and Washington (Maryland). Navy only played one top 25 caliber team all year, winning 3-0 over archrival Army (6-2, #7) in their finale. That game was played in Philadelphia, but Navy played all the rest of their games at home. They posted close wins over 2 unrated opponents. But on the plus side, Navy shut out every opponent this year.

In addition to Navy, 6-2 Army lost to #1 Harvard. Like Brown and Navy, Army had only one win of note, 9-3 over Yale.

As noted, 6-2-2 Yale took their losses to Brown (#5) and Army (#7). They tied 8-0-1 Vanderbilt (covered next), and in their finale they tied #1 Harvard for their biggest "win" of the year. Yale's actual wins included 12-6 over Syracuse (5-4-1), 19-0 over Colgate (4-2-1, #25), and the week prior to their big tie with Harvard, they won 5-3 at 7-1 Princeton (covered next).

Brown #5, Navy #6, Army #7, and Yale #8.

Brown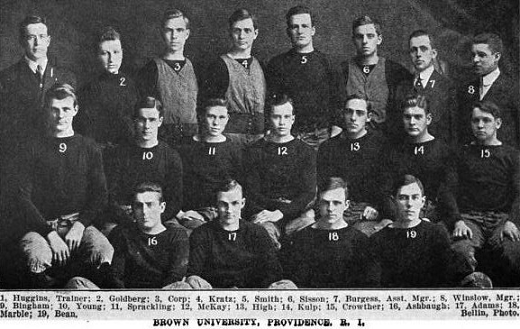 Brown's coach was Hall of Famer Edward Robinson, a Brown grad that went 140-82-12 there over 3 stints between 1898 and 1925. Throw in a few years at Nebraska and Maine, and he was 157-88-13 overall. This was Brown's 2nd strongest team ever, and Robinson also coached their best, the 1916 team that had the MNC in the bag until they were shocked by Colgate in their finale.

If there had been a Heisman Trophy in 1910, Brown quarterback Earl Sprackling would have won it, based almost entirely on his superhuman effort in Brown's monumental 21-0 victory over Yale this season. In that game, he kicked 3 field goals, hit 5 of 6 passes for 180 yards and a touchdown, rushed for 36 yards, returned punts for 150 yards, and returned kicks for 90, so he was responsible for a total of 456 yards. And this was Brown's first-ever win over Yale in 18 meetings. Sprackling was a consensus All American this year and next, and he is in the Hall of Fame.

Lost in his shadow was halfback James McKay, team captain and a nonconsensus All American.
Vanderbilt, Princeton, Illinois, and Pittsburgh
8-0-1 Vanderbilt may not have been rated higher than 7-1 Princeton in a 1910 AP poll, but given that they tied #8 Yale, while Princeton lost to Yale, obviously Vanderbilt

ought

to be rated higher. Vanderbilt's wins all came by more than a touchdown, and their victims included 7-1 Mississippi (#26-39), 8-2 Sewanee (#26-39), and 5-3 Georgia Tech.

7-1 Princeton, as noted, lost a close home game to #8 Yale in their finale. They shut out every other opponent they played, the best being 7-2 Lafayette (#13) and 5-2 Dartmouth (#15). They posted one close win over an unrated team.

7-0 Illinois was not yet as respected as they would be just a few years later, so there's no way they would have been rated higher than the

very

esteemed Princeton. And their results didn't merit being rated higher than Princeton anyway. Their best win was 3-0 at Indiana (6-1, #21), and they also won 3-0 over Syracuse in their finale, and though Syracuse was just 5-4-1 and not a top 40 team, this intersectional win nevertheless did attract attention. Illinois also won 3-0 over 2-5 Chicago at home, a poor performance. But on the plus side, in what appears to have been a theme in 1910, Illinois shut out every opponent.

9-0 Pittsburgh also shut out every opponent, and they won every game by more than a touchdown, so their performance was perfect. Their schedule, however, was practically worthless. Their best opponents were 6-1-1 Georgetown and 5-2-1 Penn State, neither of whom was top 40 caliber this year. Penn State tied 0-4-2 Villanova at home, and Georgetown tied North Carolina State, who tied Villanova. Most of Pitt's opponents were minor teams, and Pitt itself was considered a "mid-major" type team at this time (at best). Illinois, on the other hand, was solidly a major team.

Vanderbilt #9, Princeton #10, Illinois #11, and Pittsburgh #12.
Lafayette, Ursinus, and Dartmouth
7-2 Lafayette took their losses 18-0 at #2 Penn and 3-0 to #10 Princeton. They shut out every other opponent, including a 10-0 win over Ursinus. They posted one close win over an unrated opponent, which is the only rationalization for rating Pitt higher.

6-1 Ursinus isn't a name we're used to seeing in the top 25, probably because this is the school's only top 25 season in its history. The loss, as noted, came to Lafayette, but Ursinus pulled off one of the biggest wins of the season when they edged #2 Penn 8-5 in their opener. That was their only win of note, and they posted one close win over an unrated opponent. It should also be pointed out that Penn used their opener against Ursinus to see which of their reserves could prove most useful down the road, and only 2 of the players who saw action for Penn in that game went on to become starters this season.

5-2 Dartmouth may have been rated higher than this, maybe as high as #11, behind Princeton. The problem is, they accomplished very little this season. Their losses came 18-0 at #1 Harvard and 6-0 to #10 Princeton at home. And that--losing to Princeton by 6--is their best accomplishment of this season. Their 5 wins came over worthless minor teams (Mass, Vermont, Williams, Colby, and Amherst), and one of those games was close. No way Dartmouth belongs ahead of Ursinus, even if it was mostly Penn's backups that Ursinus beat.

Lafayette #13, Ursinus #14, and Dartmouth #15.

Ursinus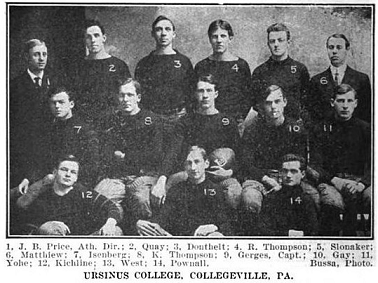 The head coach at Ursinus was John "Whitey" Price (upper left in picture above), who went 6-1-1 in 1909 and 6-1 this season, then crashed and burned over his next 3 seasons, ending up 27-21-2 at Ursinus 1908-1913. He recovered with a pair of good seasons at Trinity (Connecticut) 1914-1915, going 4-2-1 and 5-0-2, and for his career he was a pretty decent 65-37-13 at 4 minor schools.
Washington, Michigan State, Colorado, and Nebraska
Token team time, and we've reached the point in the top 25 where it's mostly just guesswork as far as estimating where a 1910 AP poll would have rated these teams. My first guess is 6-0 Washington, champion of the Northwest and unbeaten for the 3rd straight season. How good the Northwest was compared to the rest of the country, we'll never know.

Next we'll go with 6-1 Michigan State, who was considered a mid-major type team at this time (at best). They lost by only 3 points at #3 Michigan, their best result of the season. But they also won 17-0 over 4-1-1 Notre Dame and 3-2 at 6-1-2 Marquette, and both those teams were #26-39.

Then we've got 6-0 Colorado, co-champion of the Rocky Mountain region. They won every game by more than a touchdown, but their schedule was very weak.

And then we'll bring in 7-1 Nebraska, champion of the Missouri Valley. They took their loss 27-0 at #3 Minnesota. They won 12-9 over 6-2 South Dakota (#26-39), 27-0 over 4-3-1 Denver, and 6-0 at 6-1-1 Kansas. They also posted a weak 6-0 win over a minor team, Doane.

Washington #16, Michigan State #17, Colorado #18, and Nebraska #19.
Colorado College, Indiana, and Centre
7-0 Colorado College was our other co-champion of the Rocky Mountain region. They posted a close 21-17 win at 4-2 Utah, whom Colorado beat 11-0, and they posted an even closer 6-5 win at 4-3-1 Denver, whom Nebraska beat 27-0, and on that slim evidence, we'll place Colorado College behind Colorado and Nebraska. Colorado College did bring home a big intersectional win, though, 15-8 over 10-1 Kansas State (#23), who won 5-0 at 7-1 Arkansas, who won 5-0 over 8-1 Texas A&M. A pretty nice victory chain there
.

6-1 Indiana took their loss to #11 Illinois by just 3 points, a great effort, but there isn't much more to say on their behalf. Indiana beat 3 minor teams, then 3 major teams that went 2-5, 1-5, and 1-2-2. And one of those games was close.

9-0 Centre was the equivalent of a lower-division school, but they beat some majors, the best being 7-2 Kentucky and 8-2 Sewanee (yes, Sewanee was a major at this time). Sewanee was #26-39. Centre also beat 6-3 Cincinnati, Tennessee, and Tulane.


Colorado College #20, Indiana #21, and Centre #22.
Indiana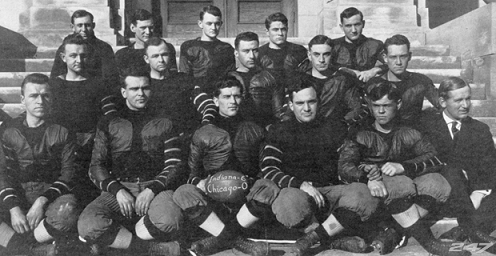 While Indiana struggled to get by 2-5 Chicago by the unimpressive score of 6-0, that win was huge for Indiana, because it was the first time they ever beat Stagg's "monsters of the midway." They had never even come within a touchdown of Chicago before. Also, while Indiana's Big 10 opponents were weak this year, going 3-1 in league play was unprecedented for them. Indiana had been 5-25-2 in league play before this season, and they had never won more than one league game in a season.

The head coach was James Sheldon (lower right in picture above), who had played at Chicago for Amos Alonzo Stagg
. He went 35-26-3 at Indiana 1905-1913, making him one of the few football coaches to manage a winning record there. But most of those wins came over minor schools, and in Sheldon's other 8 years at Indiana aside from this one, he only won 1 game in league play. Total.

Three players on this team were all-conference, and 4 made

Outing

magazine's list of the best players in the nation. Halfback Thomas Gill was on the Outing list, and he scored the touchdown that beat Chicago 6-0.
Kansas State, Trinity (Connecticut), and Colgate
Last slots. First up here is 10-1 Kansas State. They took their loss at Colorado College, and as previously noted, they won 5-0 at 7-1 Arkansas (#26-39), who beat 8-1 Texas A&M. KSU posted a weak 6-2 win at minor team Creighton. 8 of KSU's 11 opponents were minor teams.

7-1 Trinity (Connecticut) took their loss 17-0 at #7 Army. Their one big win was 23-0 at 4-2-1 Colgate. Otherwise, they were a minor team that played minor teams, and they had a couple of very weak performances in close wins at 4-4-1 Wesleyan and at 2-4-1 NYU. This is the only top 25 caliber team Trinity ever fielded, though they were very close in 1911.

In addition to Trinity, Colgate lost 19-0 to #8 Yale. Their one big accomplishment was a scoreless tie at #5 Brown. That stands out as an anomaly, since both of Colgate's losses were ugly, and they only won 6-5 at Rochester, but still, that tie was much more than the other candidates for this slot accomplished -- without also taking an upset loss or tie to a lower-ranked team.

Kansas State #23, Trinity (Connecticut) #24, and Colgate #25.

Kansas State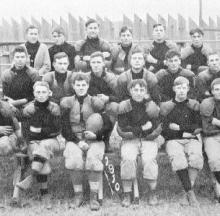 Kansas State's coach was Mike Ahearn (pictured at left), who had gone 7-2 in 1909, then wanted to retire from coaching, but his players begged him to come back for one more year. He did, and the result was this 10-1 season. He went 39-12 at KSU 1905-1910, giving him the highest winning percentage of any football coach in KSU history. Ahearn was later KSU's athletic director, 1920-1947, and he is the namesake of Ahearn Field House there.

Kansas was off the schedule this year for the first time since 1901 over an eligibility dispute. Kansas was in the Missouri Valley Conference, which had strict eligibility rules. Kansas State was not in the conference, and their eligibility rules were quite lax (they allowed up to 6 years eligibility). Kansas would no longer play KSU under those circumstances. KSU relented on the issue after this season, instituting stricter eligibility guidelines, so that the rivalry game could resume the next season. The series has been unbroken since then.

Team captain and halfback George Croyle rushed for 2196 yards in his career, and the other back, Harvey Roots, scored 19 touchdowns this season.

Trinity (Connecticut)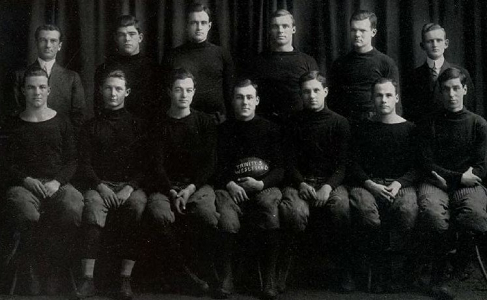 Trinity-Connecticut was coached by Ursinus grad Raymond Gettell (upper left in team picture). He went 34-10-6 here 1908-1913, then 17-10 at Amherst 1917-1920. He spent the rest of his career as a well-known political science professor and speaker. He ran a creative, experimental, wide-open offense at Trinity.

The star player was team captain and halfback Earl Ramsdell (holding the ball in team picture). He was an end 1907-1908, and caught most of his career 112 receptions in those years. Ramsdell still holds the school record for touchdowns in a game at 6, and for his career he scored 30 touchdowns.
Others Receiving Votes
Here are the teams closest to making this top 25. 5-0 Arizona and 5-0 Howard were too far removed from big time football to consider.
Case 6-1-1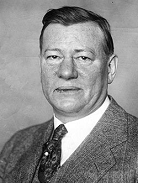 What a terrific season it was for the Ohio Athletic Conference! Akin to today's MAC, this conference usually did little more than supply cupcakes for the bigger schools to pad their win-loss records, but this year the OAC pulled off 3 big upset ties, Oberlin tying 5-2-1 Cornell, and both Case and Ohio State tying #3 Michigan. Prior to this season, Oberlin had been 0-8 against Cornell, Case had been 0-13 against Michigan, and Ohio State had been 0-10-1 against Michigan.

6-1-1 Case, short for Case Institute of Technology, would eventually merge with fellow Cleveland school Western Reserve in 1967 to form Case Western Reserve. Case only once fielded a top 25 caliber team, in 1903, but this season they were close. Their loss came 6-0 to Oberlin (covered next), which gave Oberlin the OAC title. Case maintained after the game that on the winning touchdown, the runner had clearly gone out of bounds, and so they stopped pursuing him. The referee, however, did not rule him out of bounds. Case's big "win" was their tie, of course, the 3-3 effort at #3 Michigan. Otherwise, their best wins came 14-10 over Ohio State (covered below) and 3-0 over 6-4 Western Reserve.

The tie with Michigan does not get Case into the top 25 because #25 Colgate tied #5 Brown, but took no losses or ties to unranked teams, whereas Case lost to unranked Oberlin. And Colgate almost certainly would have been ranked higher in a 1910 AP poll anyway.

Case's head coach was Wisconsin grad Joe Fogg (pictured), who went 25-8-4 here 1907-1910. Years later he founded the Cleveland Touchdown Club, which still gives an annual award in his name to the best college player in the Midwest. Case's star and captain was halfback Robert Twitchell, who was all-Ohio in 1909 and 1910.
Oberlin 5-1-2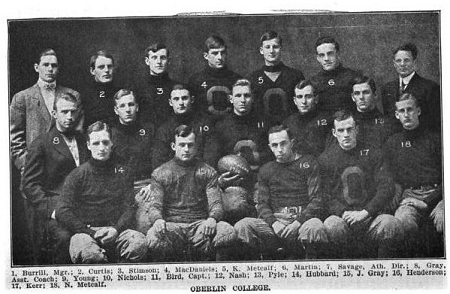 5-1-2 Oberlin took their loss 3-0 at home to 7-2 Akron, who was rather poor despite their nice-looking straight record. Akron lost to the only other good teams they played, 6-4 Western Reserve (not close to being ranked) and 4-1-1 Notre Dame (who trounced them 51-0). Oberlin's ties came to 5-2-1 Cornell (covered below), whom they had been 0-8 against, usually by big scores, and to Ohio State (covered next). Oberlin's big win came 6-0 at Case, giving Oberlin the OAC title. But that's only because Akron was not in the OAC (despite playing what looked like an OAC schedule), so Oberlin's loss to them didn't count in the OAC standings. Oberlin's other win of note was an 8-6 victory over 6-4 Western Reserve.

In national rankings, such as this one, Oberlin's loss to Akron, combined with their tie to Ohio State, leaves them logically belonging ranked behind Case despite the head-to-head result. I'm thinking both should be ranked about #30-35. Pretty good for Oberlin, but this isn't actually the school's best season -- they'll be ranked #25 for 1921. And Oberlin's coach in 1921 was a player on this 1910 team.

That would be tackle/end T. Nelson Metcalf (#18 in team picture, lower right). He went 6-1-1 as coach at Oberlin in 1913, then 19-3-1 here 1919-1921, which is obviously very impressive, but most of his career would be spent as an athletic director, first at Iowa State 1924-1933, then replacing Amos Alonzo Stagg at Chicago 1933-1956. He oversaw the ending of Chicago's football program and their consequent exit from the Big 10. And there was another future athletic director on this team. Quarterback J. Herbert Nichols (#10 in team picture) was all-Ohio, and after working as a referee for 23 years, he returned to Oberlin and served as AD 1935-1955.

Oberlin had won the OAC in 1909 too, but they had lost 8 of their 11 starters from that team, so this year's repeat was a bit of a miracle on the part of head coach Harvey Snyder. He was a Harvard grad who went 20-11-6 at Oberlin 1906-1910. Then he did less well at Western Reserve 1911-1913, going 13-11-5, before returning to Harvard to work as an assistant coach to Percy Haughton.

Ohio State 6-1-3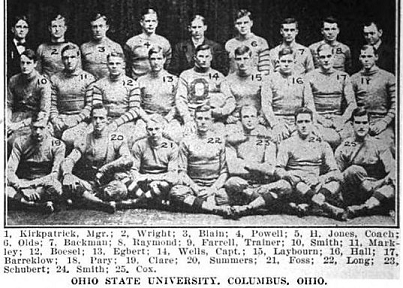 6-1-3 Ohio State was also in the OAC, competing with the likes of Case and Oberlin, but they were just a few years away from moving up to the big leagues by joining the Western Conference (Big 10). This year they took their one loss to Case (covered above), and the 3 ties came to #3 Michigan, to Oberlin (covered above), and to 3-4-2 Denison (a very weak team). The tie with Michigan was obviously their big "win," but they also won 6-0 over 6-4 Western Reserve and 23-0 over 6-3 Cincinnati.


Ohio State had a big-time coach stopping in for just this one season, Hall of Famer Howard Jones (middle of back row in team picture). A Yale grad, he had played for MNC teams in 1905, 1906, and 1907, and then he coached Yale to another MNC in 1909 just prior to coming to OSU. In the 1920s, he would win a national championship as Iowa's coach, then a couple more as Southern Cal's coach.


The key player this year was halfback Leslie Wells, who was team captain and all-Ohio.

Cornell 5-2-1
5-2-1 Cornell took their losses to #1 Harvard and #2 Penn, and they were tied by Oberlin (covered above). The Penn game was close, 12-6, and that is Cornell's best accomplishment of the season, as they didn't beat anyone of any value.
Mississippi 7-1
7-1 Mississippi took their loss at #9 Vanderbilt. Most of their wins were dominating, including an impressive 30-0 rout of 7-2 Mississippi State, but they mysteriously struggled to win just 2-0 over Tennessee Medical College, a team they played again later in the season and properly smashed 44-0. Ole Miss shut out every opponent but Vanderbilt.

The coach this year was Dr. Nathan Stauffer, who went 17-7-2 here 1909-1911. The star player was all-Southern tackle Earl Kinnebrew.

Sewanee 8-2
8-2 Sewanee, aka University of the South, took their losses to #9 Vanderbilt and #22 Centre. Like Ole Miss, they struggled in a game against Tennessee Medical, winning 6-0. Their best win was 15-12 over 6-2-1 Georgia, not nearly as impressive as Mississippi's best win. And since Ole Miss did better against Vanderbilt than Sewanee did, even if Sewanee was ranked in the top 25, it would have to be behind Ole Miss.

Arkansas 7-1
7-1 Arkansas lost 5-0 at home to #23 Kansas State. Their one big win came 5-0 at home over 8-1 Texas A&M (covered next). They posted a couple of weak performances, 13-12 over Southwestern (Texas) and 6-2 over Missouri-Rolla, both losing teams.

Texas A&M 8-1
8-1 Texas A&M, as noted above, took their loss 5-0 at 7-1 Arkansas. Their best win was 14-8 over 5-2-1 Texas. Like Arkansas, A&M struggled to get by 2-3-1 Southwestern (Texas).

South Dakota 6-2
6-2 South Dakota took their losses 17-0 at #4 Minnesota and 12-9 at #19 Nebraska. The close Nebraska loss was their best accomplishment, as they did not beat anyone of any value this season. But their wins all came by more than a touchdown, so their performance was strong.

Oregon 4-1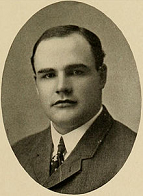 4-1 Oregon took their loss to the Multnomah Athletic Club, a team made up of former college players, mostly from the Northwest, but also from Wisconsin, Notre Dame, and Eastern schools. Otherwise, Oregon performed about as well as #16 Washington, so the reality is, if Washington was one of the 25 best teams of 1910, Oregon likely was as well. Oregon rolled up 114 points on one patsy, and they won 29-0 over 4-2 Idaho and 12-0 at 3-2-1 Oregon State.

Oregon's head coach was Bill Warner (pictured), a Hall of Fame player at Cornell 1899-1902, and mostly famous for being Pop Warner's brother (and frankly, that is what got him into the Hall of Fame). His coaching career was much, much shorter than his brother's was, and he was just here at Oregon 2 seasons, going 4-1 this year and 3-2 the next.

The star player was quarterback Earl Latourette, a 2-time all-Northwest player who later became chief justice of the Oregon Supreme Court. His brother was the quarterback for the Multnomah Athletic Club, the team that beat Oregon. Halfback C. M. Taylor was selected by Walter Camp as a 3rd team All American.

Wabash 4-0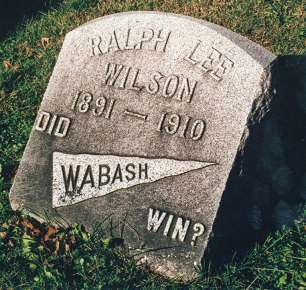 4-0 Wabash probably doesn't belong here, as they barely won 3-0 at 1-5 Purdue, their only game against a major opponent, but they were unbeaten and untied, and they did shut out every opponent in their short season. They also had a Hall of Fame coach in Jesse Harper, soon to make a name for himself at Notre Dame.

Wabash suffered a tragedy in their 4th game at St. Louis, when halfback Ralph Wilson took a blow to the head, and died the next day. The team voted to end the season at that point, which is why Wabash only played 4 games. Wilson had been knocked unconscious on the field, but regained consciousness briefly back at the hotel, and he asked, "Did Wabash win?" These were allegedly his final words, and they have become something of a hallowed bit of lore at Wabash ever since. They are still printed on a sign in the Wabash locker room, as well as on Wilson's grave.

Notre Dame 4-1-1
4-1-1 Notre Dame took their loss 17-0 at #17 Michigan State, and they tied at 6-1-2 Marquette (covered below). Their big win came by the eye-opening score of 51-0 over 7-2 Akron, which matters mostly because Akron upset Oberlin (covered above), and since Oberlin beat Case and tied Cornell and Ohio State, you could therefore rank Notre Dame and Marquette ahead of all those teams. Of course, that would still leave Notre Dame and Marquette outside the top 25.

Marquette 6-1-2
6-1-2 Marquette took their loss by just 3-2 to #17 Michigan State. Their ties came to 4-1-1 Notre Dame (covered above) and to 4-3-1 Denver. Since Utah (covered next) routed Denver 20-0, you could rank Utah ahead of both Marquette and Notre Dame. Marquette's wins all came by more than a touchdown, but those opponents were all minor teams of no importance.

Utah 4-2
4-2 Utah makes a 3rd Rocky Mountain conference team getting mention here. The other 2, Colorado and Colorado College, are both in the top 25, and they're the teams that dealt Utah their losses. The Colorado College game was close, 21-17. Utah defeated 4-3-1 Denver 20-0, which is what gets Utah on this list, because Denver tied 6-1-2 Marquette (covered above), who tied 4-1-1 Notre Dame (also covered above). Utah also gave 5-2 Utah State both of their losses, as they opened and closed the season against them. Utah had 3 all-conference players, one of whom, fullback Henry Richardson, scored a late touchdown and kicked the extra point to beat Colorado Mines 6-0.
1910 Top 25
1) Harvard 8-0-1
2) Pennsylvania 9-1-1
3) Michigan 3-0-3
4) Minnesota 6-1
5) Brown 7-2-1
6) Navy 8-0-1
7) Army 6-2
8) Yale 6-2-2
9) Vanderbilt 8-0-1
10) Princeton 7-1
11) Illinois 7-0
12) Pittsburgh 9-0
13) Lafayette 7-2
14)
Ursinus 6-1
15) Dartmouth 5-2
16) Washington 6-0
17) Michigan State 6-1
18) Colorado 6-0
19) Nebraska 7-1
20) Colorado College 7-0
21) Indiana 6-1
22) Centre 9-0
23) Kansas State 10-1
24) Trinity (Connecticut) 7-1
25) Colgate 4-2-1

Others Receiving Votes
:
Case 6-1-1
Oberlin 5-1-2
Ohio State 6-1-3
Cornell 5-2-1
Mississippi 7-1
Sewanee 8-2
Arkansas 7-1
Texas A&M 8-1
South Dakota 6-2
Oregon 4-1
Wabash 4-0
Notre Dame 4-1-1
Marquette 6-1-2
Utah 4-2