Home
1916 College Football National Championship


A pair of Hall of Famers

:

Pittsburgh center and captain Robert Peck alongside head coach Pop Warner. 8-0 Pittsburgh would have been #1 in a 1916 AP poll by a landslide.


Here is how the "major selectors" listed in the NCAA Records Book, all selecting long after the fact, see the 1916 college football national championship (omitting math/computer ratings, which neither I nor anyone else recognize as constituting titles)

:


Pittsburgh

:

Helms
, National Championship Foundation,
Parke Davis
(tie)
Army

:
Parke Davis
(tie)

9-0 Army is a mythical national championship (MNC) contender, but they might not have even finished #2 in an AP poll that year. 8-1 Colgate, though they took a loss, could have ended up #2, and they are also a contender for at least a share of a 1916 MNC.

And for the second year in a row, we have a pair of Northwest contenders

:

7-0-1 Oregon and 6-0-1 Washington tied each other, and Oregon defeated 7-3-1 Penn 14-0 in the Rose Bowl.

Not in contention, mostly due to schedule, are 10-0 Tulsa and 7-0 Ohio State, but I will summarize both teams below. Tulsa easily led the nation in scoring with 566 points, and Ohio State won their first Western Conference (Big Ten) title, but neither team played an opponent that would have finished in a top 25 in 1916. And Ohio State was likely not even the best team in the Western Conference.

For the third year in a row, Minnesota suffered their one blemish to Illinois, a 14-9 loss, but this time it was a monumental upset. Minnesota's average score in their 6 wins this year was 57-2. They beat 4-2-1 Wisconsin 54-0, and Wisconsin lost to Ohio State 14-13 and tied Illinois. They beat Chicago 49-0, and Chicago beat Illinois 20-7. Illinois finished just 3-3-1, but even though Minnesota might have been the best team in the country in 1916, Illinois was just poison to them.

Illinois jumped to an early lead on Minnesota, then spent the rest of the game stalling as much as possible. There was no 30 second clock in those days, and though there were penalties for delay of game, players could stop to tie their shoes or adjust their equipment-- and the clock (or pocketwatch) kept running. So Illinois' Hall of Fame halfback Bart Macomber found the "need" to tie his shoes after every play, relace his shoulder pads, etc. He took forever calling the signals on offense, and on defense he was very slow to untangle from the piles. Writers at the time said he deserved an award for his acting abilities.


All rankings in the following article, except as noted, come from my 1916 top 25, which is based on a hypothetical post-bowl AP poll (within logical reason of course)
.
Pittsburgh 1916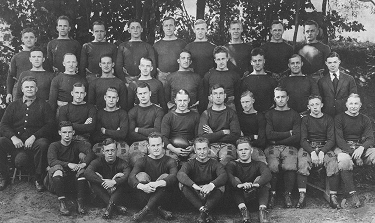 | | | |
| --- | --- | --- |
| Westminster (2-5-1) | 57-0 | |
| at Navy (6-3-1) | 20-19 | #25 |
| at Syracuse (5-4) | 30-0 | (#26-35) |
| Penn (7-3-1) | 20-0 | #13 |
| Allegheny (4-2-1) | 46-0 | |
| Washington & Jefferson (8-2) | 37-0 | #16 |
| Carnegie (4-3) | 14-6 | (#36-60) |
| Penn State (8-2) | 31-0 | #20 |
I summarized previous Pittsburgh teams in my national championship articles for 1904, 1910, and 1915, but this 1916 edition is the first Pittsburgh team that I recognize as a national champion. Almost all of the key players from the 1915 team returned this season, and I covered them and head coach Pop Warner in the 1915 article. Hall of Fame center Bob Peck was the captain, and he repeated this season as consensus All American at his position. Other returning starters included end James "Pat" Herron (Pitt's other consensus AA this season), guard Jock Sutherland (consensus AA 1917, and later a Hall of Fame coach), halfback James DeHart (nonconsensus AA), and halfback/kicker Andy Hastings (nonconsensus AA). Hastings led the team in scoring for the third straight year, and finished his career with a total of 1527 rushing yards.


But this team saw a big upgrade with its array of new starters this season, headlined by Hall of Fame fullback George "Tank" McLaren, who had started the last 2 games of 1915, and would be consensus AA in 1918. An unstoppable line plunger, he was allegedly never tackled for a loss in 4 years of play. For his career, he totaled 183 points and 1920 rushing yards.
Tackle Claude "Tiny" Thornhill was a nonconsensus AA, guard Dale Sies would be consensus AA in 1917, and end Clifford Carlson would be nonconsensus AA in 1917. Like Jock Sutherland, Carlson would go on to become a Hall of Fame coach at his alma mater, albeit in basketball. He coached Pitt 1922-1953, going 367-247 and winning 2 national championships.

This season's 8-0 Pitt team outscored their opponents 255-25, which is rather similar to the 247-26 total posted by the 8-0 Pitt team of 1915. However, this year Pitt played twice as many top 25 caliber opponents as they had played the previous season, and even 5-4 Syracuse was a stronger opponent than all but 2 they had played in 1915. Furthermore, this season there was not a Cornell to worry about in contention for #1, though 8-1 Brown came very close before Colgate ambushed them in their finale. But I'll get to that when I cover Colgate.
Pittsburgh's Season
Pittsburgh's only challenge this season came in their second game at Navy, and they were fortunate to win the game at all. They vastly outgained Navy, pulling off many runs of 30 to 60 yards, but they also fumbled often and had trouble fielding punts, and that gave Navy short fields to work with. Both teams scored 3 touchdowns, but Pitt's Andy Hastings was 2 of 3 on extra points, Navy 1 of 3, and that handed Pitt a 20-19 decision. Navy finished the season 6-3-1, and I have them ranked #25 for 1916.


Most of Pitt's games after that were huge routs. They won 30-0 at Syracuse (5-4), McLaren scoring 2 touchdowns and Hastings kicking 3 extra points and a field goal. Syracuse was held to 4 first downs. Walter Camp was in attendance, and later proclaimed Pitt to be "the greatest eleven in America."
They won 20-0 over rival Penn (7-3-1, #13), Hastings scoring a touchdown, 2 extra points, and 2 field goals. Hastings was out for the next game against Washington & Jefferson (8-2, #16), but it made no difference as Pitt romped 37-0 behind a ramped-up passing attack and a big game by halfback James DeHart.

For the third year in a row, Pitt played their next-door neighbor, Carnegie, as a warm-up game before their finale against rival Penn State. Carnegie had visions of becoming a big-time football school, and this season they scheduled Yale and Cornell in addition to Pitt. They lost to all 3, but stomped on their minor-school opponents to finish 4-3. Hastings was still out, and this time Pitt struggled mightily on offense. They scored early on an 82 yard fumble return touchdown, and Tank McLaren scored a 2nd quarter touchdown that was set up by a 26 yard pass, but Pitt managed no scoring threats after that, and in fact the game was played on Pitt's side of the field the rest of the way. But Bob Peck had a great game on defense, and the only score Carnegie could muster was a 30 yard touchdown pass on a fake field goal early in the 4th quarter, leaving Pitt the 14-6 winner.


Andy Hastings returned to the line-up for the Thanksgiving Day game against Penn State, the last game of his career, and he made it a fitting finale. He had a 75 yard touchdown run, 2 long touchdown passes, 2 field goals, and hit all 4 extra point tries, leading Pitt to an easy 31-0 win. Penn State had no scoring threats. They finished 8-2, their other loss coming 15-0 at Penn, and I have them ranked #20 for 1916. Most of their victories were routs of minor schools, their one notable win being a 10-7 decision at 6-2-1 Lehigh (who was not close to top 25 caliber).
Colgate 1916
| | | |
| --- | --- | --- |
| Susquehanna (4-5) | 34-0 | |
| Maine (0-4-3) | 28-0 | |
| at Illinois (3-3-1) | 15-3 | (#26-35) |
| Rhode Island (3-4-1) | 33-0 | |
| Springfield (5-2-1) | 27-14 | (#36-60) |
| at Yale (8-1) | 3-7 | #5 |
| at Syracuse (5-4) | 15-0 | (#26-35) |
| at Brown (8-1) | 28-0 | #4 |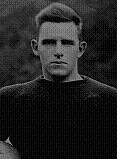 For years Colgate had been the little team that could, and was already a bit of a darling in the Eastern press, all thanks to head coach Laurence Bankart, a Dartmouth grad who went 28-7-3 in his short career at Colgate in 1910 and 1913-1916. In his first year, Colgate beat Syracuse and tied 7-2-1 Brown. After 2 years off, Bankart returned in 1913, and his team tied Cornell and beat Yale, finishing 6-1-1. By this point, everyone was aware of them, but they beat 8-2 Cornell in 1914, and they beat Army and Yale in 1915, finishing 5-1
. Colgate would continue to field strong teams through 1932, when they went 9-0, earning a national championship selection for that season from Parke Davis.

Colgate's 1916 team featured 3 consensus All Americans, 1 more than Pitt

:

quarterback Oscar Anderson and tackles Clarence Horning and Belford West. Anderson, who had been a nonconsensus AA selection at halfback the previous season, was a good passer, rusher, and kick returner, and later played pro football. Horning was the captain, and also played in the pros. West (pictured) would repeat as consensus AA in 1919, and is in the Hall of Fame. He was also a good passer, and a very strong kicker, booting a 52 yard field goal against Syracuse in 1919.

Colgate finished 8-1, losing to 8-1 Yale, who lost to 8-1 Brown, whom Colgate defeated. But these may well have been the 3 best teams in the country, and Colgate is easily separated from the other two because they played both on the road, stomped on Brown, and they dominated Yale despite taking a close loss.
Colgate's Season

Colgate's first big game was a trip to Illinois, who had not lost in 3 years. This was a highly anticipated intersectional matchup, though Illinois would end up down this year, finishing 3-3-1. Still, the Illini would go on to upset 6-1 juggernaut Minnesota, and they

barely lost 7-6 to 7-0 Ohio State a week after their game against Colgate. Illinois had injury problems, and could not cash in on scoring opportunities, while Colgate had success both running and passing, and led at half 9-0. Colgate added an 18 yard touchdown pass after a blocked punt, and Illinois kicked a 4th quarter field goal to save face, but Colgate won 15-3.





Colgate cruised to 5-0 heading into a much bigger game at Yale, whom they had beaten twice in the previous 3 years, and Yale was thus ready for war in this one. Yale was also 5-0, beating 4-3 Carnegie 25-0 (Pitt beat them 14-6), Virginia 61-3, 6-2-1 Lehigh 12-0, 7-2 Virginia Tech 19-0, and 8-2 Washington & Jefferson 36-14. Colgate dominated the game, earning 18 first downs to Yale's 11, but they were hindered by penalties, totaling 95 yards to Yale's 30, and Colgate fans who had made the trip taunted the referees throughout the game

.



In a crucial stand early in the game, Yale stopped Colgate on downs right at the goal line, and Colgate led just 3-0 on a Belford West field goal going into the 4th quarter. Yale's punting (44 yard average) helped them keep it close, and while Colgate also punted well (37 yard average), they had 2 disastrously poor punts that went off the side of halfback Charles Hubbell's foot in the 4th quarter. The first led to no score, but the second, which went out of bounds at the Colgate 20, led to a Yale touchdown pass and subsequent 7-3 final score. Yale dominated play in the 4th quarter, missing 2 field goals, one hitting the uprights, the other hitting the crossbar.



Yale was romped 21-6 by 8-1 Brown in their next game, but they finished up with wins over 6-2 Princeton and 7-3 Harvard, so their 8-1 record came against a very impressive schedule-- probably the toughest in the country (8 winning opponents in 9 games).

Colgate's next real test was at Syracuse, whom head coach Bankart was 2-1-1 against in their 4 previous meetings. Syracuse only finished 5-4 in 1916, but they were a rival, and had won 38-0 the previous season, dealing Colgate their only loss, as well as scoring the only points Colgate gave up that year. Colgate already had an eye on their next game at unbeaten Brown in 2 weeks, and so they put their passing and finesse game away and showed nothing but line plunges at Syracuse, despite the fact that Syracuse sported a much bigger line. Colgate made no substitutions in this game, but their defense was impregnable, they greatly outpunted Syracuse, and Oscar Anderson had a good day returning punts, so the game was played almost entirely on Syracuse's side. Colgate led 8-0 on a safety and 2 Belford West field goals, one from 48 yards out, and they added a touchdown on the last play of the game for the 15-0 final score.

Brown



Brown was 8-0 coming into the Thanksgiving Day finale against 7-1 Colgate, and they were already practically conceded the Eastern championship over Pitt and Army by the press, as no one had come close to them, or even scored a touchdown on them, and they had won at Yale 21-6 and at Harvard (7-3) 21-0. Indeed, had they beaten Colgate by any score, they would be the mythical national champion of 1916, and it would be hard to see a reason for Pitt or Army to share the imaginary title. Brown was led by Hall of Fame (college and pro) halfback Fritz Pollard, who would go on to become one of the first black players in the NFL, and whom Walter Camp called "one of the greatest runners these eyes have ever seen."

But after their loss to Yale, Colgate had dedicated the rest of their season to beating Brown, and they took up residence outside Providence for a week before the game to practice. Gameday delivered a cold, heavy rain that turned the field into mud, and as such they merely repeated their gameplan against Syracuse

:

all line plunges. So although they had played Syracuse that way so as not to tip the offense they were practicing to scouts, it ended up being the best possible preparation they could have had for the Brown game, and they ironically ended up showing scouts

exactly

what they were going to do against Brown.

Colgate completely dominated the game, winning 28-0 and shocking followers of the sport nationwide. Fritz Pollard was stopped cold on offense, though he starred for Brown on defense. Colgate scored a touchdown in each quarter, Anderson the offensive star. Tackle Belford West scored on a 30 yard fumble return, and kicked 4 extra points. Halfback Charles Hubbell had a great day punting, and also chipped in a touchdown.

Army 1916
| | | |
| --- | --- | --- |
| Lebanon Valley (5-4-1) | 3-0 | |
| Washington & Lee (5-2-2) | 14-7 | #24 |
| Holy Cross (4-5) | 17-0 | |
| Trinity-Connecticut (1-5) | 53-0 | |
| Villanova (1-8) | 69-7 | |
| Notre Dame (8-1) | 30-10 | #12 |
| Maine (0-4-3) | 17-3 | |
| Springfield (5-2-1) | 17-2 | (#36-60) |
| (NYC) Navy (6-3-1) | 15-7 | #25 |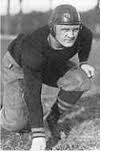 Army went 9-0, just as they had in 1914
, and I covered their coach, Charles Daly, in that article. This was an almost completely different team from the 1914 edition, but Hall of Fame center John McEwan still manned the middle. He had been a consensus All American in 1914, but was relegated to the second team by Pitt's Hall of Fame center Bob Peck in 1915 and 1916. McEwan later coached successfully at Army, Oregon, and Holy Cross.

Army had another Hall of Famer at halfback, Elmer Oliphant (pictured), and I covered him in the 1914 article, though he was just a substitute on that team. This year he led the team in scoring with 112 points, and was Army's only consensus AA (he would repeat as consensus AA in 1917). He was a multi-sport star, and set a world record in the 220 yard low hurdles on grass.

Tackle Biff Jones gives Army a third player who made the Hall of Fame, but he was inducted as a coach, going 87-33-15 at Army, LSU, Oklahoma, and Nebraska. He and McEwan both won at least 70% of their games as coaches.

Fullback Gene Vidal provided Army a line-hitting counterpoint to Oliphant, and he also handled the punting and split kicking duties with Oliphant. Vidal had been the star player for South Dakota 1913-1915, and is best known now as the father of writer Gore Vidal.

Army's Season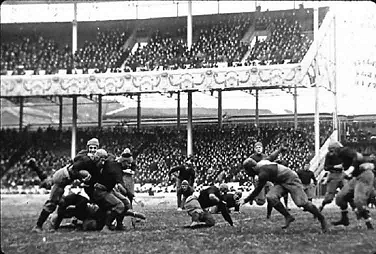 Army opened with a highly unimpressive 3-0 victory over Lebanon Valley. Vidal hit the field goal late in the first half, after just missing a 30 yard try in the first quarter. There were many penalties on both teams, but Army was the worst offender. Oliphant was Army's leading rusher, Vidal had some big gains, and McEwan was the defensive star at roving center. Lebanon Valley was not at all a strong team, finishing 5-4-1, including losses by 47-0 to 5-2-2 Dartmouth and 27-14 to 2-6-1 Lafayette, but they did tie 6-2-1 Lehigh.

In their next game, Army hosted Washington & Lee, a team that had been on the rise for years. Army scored early to lead 7-0, and it looked like that would be all they needed, because Army tackled W&L runners behind the line all game long. Oliphant and McEwan had great defensive games. But W&L hit 2 long passes in the 2nd quarter to reach the Army 4, and were then able to push the ball over for the tying touchdown on 4th down. The score stayed 7-7 until Army finally put over another touchdown in the 4th quarter to win 14-7. Washington & Lee finished 5-2-2, but it was a strong season for them, as they beat 6-3-1 Navy 10-0, tied 8-0-1 Georgia Tech and 3-2-2 Rutgers, and they gave 8-2 Washington & Jefferson a great game before losing 10-6. Some newspapers, considering the Virginia school to be "Southern," named them co-champions of the South with 8-0-1 Georgia Tech and 8-0-1 Tennessee, since their losses and other tie came against Eastern opponents. I have W&L ranked #24 for 1916.

Although Washington & Lee was considered a strong opponent, Army's lack of offense and propensity for errors in their first 2 games lowered the expectations for their season considerably. A 17-0 win over 4-5 Holy Cross did little to temper concerns with the offense, but then they scored 53 on Trinity (Connecticut) and 69 on Villanova, and while those teams were quite bad, the offense kept rolling in their biggest game of the year against 4-0 Notre Dame.


Notre Dame had beaten them in 1913 and 1915, and was on the verge of passing Army up as a football power. But not this year. Notre Dame scored first on a 45 yard field goal, but Army answered with 2 of their own in the second quarter, giving them a 6-3 halftime lead. Notre Dame retook the lead 10-6 in the third quarter, then Oliphant hit Vidal on a long pass that went to the Dame 1, and after an Army penalty, Vidal caught a touchdown pass to finish the aerial drive. Army continued to throw the ball all over the field in the 4th quarter, and the game became a rout, a mirror image of Notre Dame's pass-happy upset of Army in 1913. McEwan once again had a great game on defense, and Biff Jones was cited as a standout as well. Vidal scored 3 touchdowns and a field goal, while Oliphant kicked 2 field goals and 3 extra points, the duo providing all the points in Army's 30-10 win.


Notre Dame finished 8-1, and no one else came close to them, or even scored on them (average score in their wins 40-0). Their schedule was weak, but they did win 20-0 at Missouri Valley champion Nebraska (6-2). I have the Irish ranked #12 for 1916.

Over the next 2 games, Army returned to the weak offense and sloppy play that had marked their early games, beating Maine 17-3 and Springfield 17-2, but their substitutes played at least half of each game. The subs started against Maine, but the regulars had to come in to secure the win. The regulars started against Springfield (a decent 5-2-1 team), but went out at halftime with a 17-0 lead. After that, poor tackling and much fumbling were exhibited by the subs.


Which brings us to the big finale against Navy, played this year before 45,000 fans at the Polo Grounds in New York (as pictured above). Oliphant returned the opening kickoff 83 yards, setting up his own touchdown run. He added a field goal, and Vidal caught a touchdown pass, and Army led 15-0 at half, after which they packed it in, focusing on defense and punting the rest of the way. But they didn't focus enough, as Navy blocked a punt for a touchdown to close the scoring at 15-7. Navy finished 6-3-1, including an embarrassing opening tie with Dickinson and a loss to 5-2-2 Washington & Lee, but overall they had a good season, starting with the fact that they lost by a mere extra point to 8-0 Pittsburgh. They defeated 9-1 Georgetown 13-7, 6-2 Maryland 14-7, and 6-3 Georgia 27-3, and I have Navy ranked #25 for 1916.

Pittsburgh vs. Colgate vs. Army
Here are the significant games for the Eastern contenders in 1916. I'll discuss the Western contenders after I deal with the East.
The opponent rankings
come from my 1916 top 25, which is based on a hypothetical post-bowl AP poll (within logical reason of course)
.
Pittsburgh 8-0

Colgate 8-1




Army 9-0

| | | |
| --- | --- | --- |
| at Navy (6-3-1) | 20-19 | #25 |
| at Syracuse (5-4) | 30-0 | (#26-35) |
| Penn (7-3-1) | 20-0 | #13 |
| Washington & Jefferson (8-2) | 37-0 | #16 |
| Carnegie (4-3) | 14-6 | (#36-60) |
| Penn State (8-2) | 31-0 | #20 |

| | | |
| --- | --- | --- |
| at Illinois (3-3-1) | 15-3 | (#26-35) |
| Springfield (5-2-1) | 27-14 | (#36-60) |
| at Yale (8-1) | 3-7 | #5 |
| at Syracuse (5-4) | 15-0 | (#26-35) |
| at Brown (8-1) | 28-0 | #4 |

| | | |
| --- | --- | --- |
| Lebanon Valley (5-4-1) | 3-0 | Unranked |
| Washington & Lee (5-2-2) | 14-7 | #24 |
| Notre Dame (8-1) | 30-10 | #12 |
| Springfield (5-2-1) | 17-2 | (#36-60) |
| (neutral) Navy (6-3-1) | 15-7 | #25 |

Pittsburgh defeated their other 2 opponents by an average of 52-0, Colgate defeated the rest of their opponents by an average of 33-2, and Army defeated the rest of theirs by an average of 39-1.

The New York Times published a ranking of the top 15 Eastern teams December 3rd, before Penn lost in the Rose Bowl to Oregon, and the relevant teams were ranked as follows

:

1) Pitt, 2) Colgate, 3) Brown, 4) Yale, 5) Army, 8) Penn, 11) Navy, 13) Penn State, 14) Washington & Jefferson. I would likely rate the top 5 Eastern teams the same way the Times did, but I suspect that a national poll in 1916 would have found Army at #2, simply because writers outside the East, unlikely to have seen the teams or paid close attention to their performance, would have been apt to go for Army and their 9-0 straight record over 8-1 Colgate, 8-1 Brown, and 8-1 Yale. Still, I agree with the 1916 New York Times that Pittsburgh and Colgate were the two most worthy teams, so let's start with those 2, then discuss Army's case afterward.

Pittsburgh vs. Colgate
Pittsburgh obviously has one huge advantage over Colgate

:

they went unbeaten and untied, and Colgate did not. On top of that, Pitt defeated 4 top 25 caliber opponents, while Colgate defeated just 1, losing to the other one they played.

Of course, the 2 "rated" teams Colgate played were far stronger than the 4 Pitt played, and that's what makes this tricky. Colgate's loss came to a top 5 opponent, whereas Pitt did not play any team close to that strength. In fact, given that Colgate dominated 8-1 Yale on the road, and barely lost, I would deem it a better performance than Pitt's 1-point win at 6-3-1 Navy, who would have finished ranked about #25. And nobody aside from Yale came close to Colgate. Would Pitt have won at Yale? We'll never know, but since Pitt did not face a comparable challenge, it doesn't seem fair to hold Colgate's loss at Yale against them in comparison to Pitt.

As such, let's disregard Colgate's loss at Yale, and in return disregard Pitt's poor performance against Navy. Now the question is, which is more impressive, beating 4 teams that would rank #13-25, or defeating just 1 team that would rank in the top 5? Common sense may tell you that it is tougher to beat 4 good teams than it is to beat 1

really

good team, but let's turn to cold, hard math, and do a little study on this matter.

A Little Study on this Matter
I tabulated the records of top 5 teams against variously ranked opponents over the last 10 years (2001-2010), using for this purpose my own fixed AP polls, because-- let's face it-- they're a lot more accurate than the original AP polls. In the last 10 years, top 5 teams (final ranking, of course) were 74-6 against teams ranked #16-25, which is a winning percentage of 92.5%. Therefore, the chances of a top 5 team defeating four #16-25 teams is 73.2%. And the chances of a top 5 team defeating another top 5 team is of course 50%, meaning that it is actually

significantly

tougher for a top 5 team to beat another top 5 team than to defeat 4 #16-25 ranked teams.

Of course, one shouldn't expect the power of college football teams to be linear, but rather to run on a curve that gets steeper the higher up the rankings you go. There is thus a much bigger difference between a team ranked #5 and another ranked #20 than there is between a team ranked #20 and one ranked #35.

But just in case the college football world is relevantly different today than it was 100 years ago, I also looked at teams likely to have been ranked top 5 over ten years 1907-1916, and their record against teams likely to have been ranked #16-25 was 48-1-5. That's a winning percentage of 93.5%, very close to today's figure. Furthermore, top 5 caliber teams from those 10 years took a total of 4 losses and 13 ties to teams likely to have been ranked #6 or below, while they took a total of 24 losses and 14 ties to fellow top 5 teams. Needless to say, that is a huge difference given the number of games they played against each.

The point of all this? Colgate's 28-0 win at Brown was more impressive than Pitt's wins over Navy, Penn, Washington & Jefferson, and Penn State put together. Furthermore, Colgate played all of their tough games on the road, whereas Pitt played most of theirs at home.

Pittsburgh vs. Colgate Conclusion
The two teams played one common opponent, Pitt winning 30-0 at Syracuse, Colgate 15-0. But neither was threatened by Syracuse, so Pitt's extra style points don't mean much. In fact, given that Colgate ran all line plunges against Syracuse, and that their starting 11 played the entire game, their outcome was at least as impressive as Pitt's. Not so impressive was Pitt's 14-6 win over Carnegie, a team Yale beat 25-0. And even Pitt's most impressive win, 37-0 over Washington & Jefferson, was practically matched by Yale in their 36-14 win over the Presidents. It's quite possible that Colgate, Brown, and Yale were all better than Pitt. We'll never know.
The facts show that Colgate's season was at least as impressive as Pitt's, and therefore these two should be considered co-national champions. Either would be a valid choice for #1 as well. If your standards are loose, you can throw in Brown and Yale as co-champions too, since Colgate, Brown, and Yale defeated each other in a circle, and all three were very impressive this season. However, as I said earlier, it is all too easy to separate Colgate from the other two, since they stomped Brown 28-0 in their finale, and dominated Yale in a close 7-3 loss (Brown beat Yale 21-6). They also played both on the road, and no one aside from Yale came within a touchdown of Colgate.
But don't close the book on the 1916 mythical national championship yet, because it's time to take up 9-0 Army's case.
Army's Case
Army's 3-0 win over Lebanon Valley is by far the worst performance of the 3 teams in contention here, and they followed that up with a close 14-7 win over 5-2-2 Washington & Lee (#24). However, those were their first 2 games, and after that no one came within a touchdown of them. And Pitt had a poor performance of their own, surviving by a missed extra point against Navy, a team Army dominated and beat by more than a touchdown (15-7). In addition, Pitt's 14-6 win over Carnegie is similar to Army's 14-7 win over Washington & Lee-- Carnegie just missed an extra point. But Washington & Lee was a much stronger opponent than Carnegie (W&L beat Navy 10-0), and furthermore Pitt's game against Carnegie came in their next-to-last game. In the end, if Pitt had a performance advantage over Army, it wasn't much at all.

Army defeated 3 top 25 caliber opponents, which is in the same range as Pitt's 4. But Army's big schedule argument is 8-1 Notre Dame, whom they beat 30-10. Dame's schedule was weak, but they steamrolled every other team they played, outscoring them 282-0, and that did include a 20-0 win at 6-2 Nebraska, impressive payback for their only loss the previous season. Due to their schedule, we don't know if Notre Dame was the 22nd best team in the country or the 6th best, but they almost certainly would have finished ranked higher in an AP poll than any team Pitt played.

Army played every game at home except their neutral site game against Navy, while Pitt at least played a couple of good teams on the road. Because of this, their 3-0 Lebanon Valley win, and the mystery of just how good Notre Dame was, I don't see Army as a legitimate #1 team (unlike Colgate), but these split hairs do not seem enough to eliminate Army from a share of the national championship. Let's compare Army 1916 to Nebraska 1915, whom I deemed to fall just short of sharing the 1915 MNC with Cornell.

Army 1916 vs. Nebraska 1915
Army's opening 3-0 win over Lebanon Valley hurts them in comparison to Nebraska 1915, since Nebraska routed all of their lesser opponents, but everything else favors Army 1915

:



Both teams gave Notre Dame their only loss, but Nebraska beat Notre Dame by a missed extra point, 20-19, while Army beat them 30-10.

Notre Dame struggled to beat a couple of their opponents in 1915, including a 6-0 home win over a mediocre South Dakota team, but in 1916 Notre Dame routed every opponent but Army.

Army defeated 2 other top 25 caliber opponents (Washington & Lee and Navy), whereas Nebraska 1915 beat no other rated opponent but Notre Dame.

Nebraska 1915 was being compared to a Cornell team that dominated every opponent, including a win over 8-1 Harvard, the presumed 2nd best team in the country, whereas Army 1916 is being compared to a Pitt team that had a razor close win over 6-3-1 Navy, an 8-point win over 4-3 Carnegie, and that beat no top 10 caliber opponents at all.
As you can see, there is a huge gap between Army 1916's case for sharing an MNC and Nebraska 1915's case. On the other hand, there is very little difference between the cases for Pitt and for Army in 1916.

So move over Pittsburgh and Colgate, I'm putting Army on the throne with you. This is our first 3-way national championship. Or will it be more than 3? Time to look at the Northwestern contenders.
Oregon 1916
Willamette (4-2)
97-0


Multnomah AC
28-0
at California (6-4-1)
39-14
Washington (6-0-1)
0-0
#7
(Portland) Washington State (4-2)
12-3
at Oregon State (4-5)
27-0
at Multnomah AC
27-0

Rose Bowl


Penn (7-3-1)

14-0

#13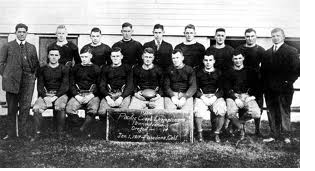 Oregon was headed up by Hall of Fame coach Hugo Bezdek, who had been born in Prague, and had been the fullback for Chicago's 1905 national championship team. He went 30-10-4 at Oregon in 1906 and 1913-1917, and overall he went 127-58-16, including stints at Arkansas 1908-1912 and at Penn State 1918-1929. Bezdek led Oregon to the Rose Bowl this season, and he must have enjoyed it, because he also coached the Mare Island Marines in the Rose Bowl following the 1917 season, and he took Penn State to the Rose Bowl following the 1922 season.

Typical of the far-flung Northwestern teams of this time period, Oregon had no consensus All Americans, but tackle John Beckett made Walter Camp's 3rd team AA list, and he is in the Hall of Fame. Beckett was the captain, played some halfback (rushing for 100 yards in 20 carries against Oregon State), and he also handled the punting. He joined the Marines after this season, and was the captain of Bezdek's Mare Island Marines in the following year's Rose Bowl, making him the only person to be captain in 2 Rose Bowls. He served in the Marines for 50 years, and coached various base teams to an overall record of 56-19-3.

Quarterback Charles "Shy" Huntington was the team's passer and placekicker. He succeeded Bezdek as Oregon's coach 1918-1923, going 26-12-6 and taking Oregon back to the Rose Bowl following the 1919 season.

Shy's brother, fullback Hollis Huntington, played every minute of 3 different Rose Bowls

:

with Oregon following the 1916 and 1919 seasons, and with Mare Island following 1917. His brother, of course, was his coach in 1919. He rushed for over 100 yards and was the MVP of the 1918 Rose Bowl for Mare Island, and he led Oregon with 122 yards on 29 carries in the 1920 Rose Bowl.

Oregon routed their opening 3 opponents, including a 39-14 win at 6-4-1 California, then had 2 weeks to prepare for their game of the year against Washington, who was begrudgingly making their first trip to Eugene in 8 years. Oregon, as well as Oregon State and Washington State, had refused to play Washington in 1915 because of their unwillingness to visit other teams' home fields. Washington had not lost since 1907, and Oregon was unable to end their streak this year, though they did gain a 0-0 tie that was celebrated as a win in Eugene and Portland. The game was played on a muddy field that was submerged under a pool of water, rendering both offenses impotent.

Oregon won their next 3 games without threat, finishing 6-0-1, but
due to at least one ineligible player for Oregon,
Washington was awarded the Pacific Coast championship. Oregon, however, was invited to play in the Tournament of Roses game, because the cost of a train ticket to Los Angeles was significantly less from Eugene than from Seattle.

Tournament of Roses Game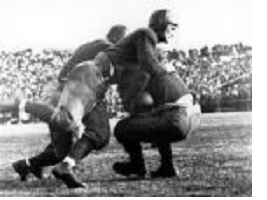 This year's Eastern representative at the Tournament of Roses game was Pennsylvania, coming in at 7-2-1. In mid-October, Penn's faculty had already approved a trip West to play Cal over the Christmas holidays, but that game was supplanted by this one. 26,000 fans attended, a huge jump from the number at the previous year's rainy game. Penn was a heavy favorite to win, even amongst Western newspapers and coaches. Penn coach Bob Folwell was so confident that he invited Oregon coach Hugo Bezdek to a Penn practice, and showed him a reverse double pass play. Oregon then used that very play to score the game's opening (and ultimately deciding) touchdown.

Penn drove 3 times inside the Oregon 10 with no points to show for it, and the game was largely a punting contest, scoreless until late in the 3rd quarter, when Shy Huntington threw a 15 yard touchdown pass using Penn's gimmick play. Oregon added a touchdown in the 4th for the 14-0 final score. In addition to the touchdown pass, Shy Huntington kicked the extra points and picked off 3 Penn passes.

That left Penn at 7-3-1, an improvement over the previous year's Eastern invitee, Brown, as Penn was at least top 25 caliber. However, Penn was at most the 8th best team in the East (where the New York Times ranked them in December), and a post-bowl national AP poll would have found Penn ranked no higher than #13, so they provide little boost to Oregon's case for sharing the 1916 MNC. To gain that share, Oregon really needed to beat Washington, which they came a point away from doing. Although Washington had not lost in 9 years, they were a drag on Oregon because they played nobody else of value this season, and only won 14-7 at home over a mediocre Cal team.


7-0-1 Oregon may have been as strong a team as Pittsburgh, Colgate, or Army (though I highly doubt it), but a 14-0 win over a #13 team and a tie with another unbeaten team that did nothing else of value do not add up to an MNC. And although the final scores may not seem so far apart, Oregon's 14-0 win over Penn was not as impressive as Pitt's 20-0 win over Penn. Oregon outgained Penn 242 yards to 230, giving up 198 yards on the ground. Pitt outgained Penn 290 yards to 114, giving up just 48 rushing.
Washington 1916
| | | |
| --- | --- | --- |
| Ballard Meteors | 28-0 | |
| Bremerton Navy | 62-0 | |
| Whitman | 37-6 | |
| at Oregon (7-0-1) | 0-0 | #6 |
| Oregon State (4-5) | 35-0 | |
| at California (6-4-1) | 13-3 | |
| California (6-4-1) | 14-7 | |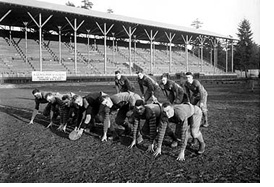 This is the last of a record 9 straight unbeaten seasons for Washington and their coach, Gil Dobie. I previously covered them in my articles for 1910, 1913, and 1915. This year guard Louis Seagrave was a nonconsensus All American, Washington's first.

After the 1915 season, in which Oregon, Oregon State, and Washington State refused to play Washington, Gil Dobie had attempted to resign and cash in his growing fame for a more lucrative and higher profile position back East, but University president Henry Suzzallo talked him out of it. He needn't have bothered, because by the end of the 1916 season, Suzzallo would fire Dobie despite his 9 seasons without a loss. But Dobie was likely gone anyway. There was nothing more he could prove at Washington.

The incident that led to Dobie's firing was the University's suspension of tackle Bill Grimm for cheating on a test. Grimm's fellow players, who felt that the suspension was too harsh a punishment, went on strike in the week before the Thanksgiving Day game against Cal. Dobie had nothing to do with instigating the player strike, but he publicly supported the striking players, thus sealing his departure. The striking players were talked into returning in time to defeat Cal 14-7, but Dobie was fired for failing to instill character in his charges. His departure was great for Dobie, who went on to Navy and then to Cornell, where he won 2 MNCs, but it was not so great for Washington, which immediately fell from atop the West Coast football world.

Washington finished 6-0-1 in 1916, but they only played 3 winning college teams, tying 7-0-1 Oregon and twice beating 6-4-1 Cal, 13-3 on the road and 14-7 at home. Far from an MNC worthy season.
Ohio State 1916
| | | |
| --- | --- | --- |
| Ohio Wesleyan (2-3-2) | 12-0 | |
| Oberlin (0-7) | 128-0 | |
| at Illinois (3-3-1) | 7-6 | (#26-35) |
| Wisconsin (4-2-1) | 14-13 | (#26-35) |
| Indiana (2-4-1) | 46-7 | |
| at Case (5-5) | 28-0 | |
| Northwestern (6-1) | 23-3 | (#26-35) |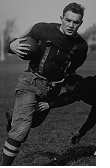 This was 7-0 Ohio State's first Western Conference (Big Ten) title, and their first perfect season. They had joined the conference in 1913, which also happened to be their first year under Hall of Fame head coach John Wilce, formerly an all conference fullback and captain at Wisconsin. Wilce coached at Ohio State 1913-1928, going 78-33-9 and winning 3 conference titles, but the heart of his career was 1916-1920, when he went 31-5-1, won all 3 of those titles, and took Ohio State to the 1921 Rose Bowl. A practicing doctor, John Wilce was a professor at Ohio State's medical school for 31 years after retiring as a football coach, and OSU's student health center is named for him. He coined the phrase "intestinal fortitude."

Ohio State's star player was Hall of Fame halfback Charles "Chic" Harley (pictured), the school's first consensus All American. He repeated as consensus AA in 1917, and after a year serving in WWI, returned in 1919 to become a 3-time consensus AA. He was great in every area-- offense, defense, punting, and placekicking-- and in addition to football, he lettered in baseball, basketball, and track. He scored 201 points in his career, and his 8.74 points per game is still the most scored by any Buckeye in history. In 1919 he led Ohio State to their first ever win over Michigan by snagging at least 3 interceptions (though many sources say it was 4).

Tackle Bob Karch was a nonconsensus AA, and later an NFL referee for 40 years, landing him in the referee wing of the NFL Hall of Fame. End Charles Bolen would be consensus AA in 1917. Fullback/halfback Fred Norton was OSU's first 4-sport letter-winner, and though his primary job was to block for Harley, he got to have some fun in a couple of routs, scoring 5 touchdowns in a 128-0 win over Oberlin and 6 in just one half against Indiana, a 46-7 win. Norton carried a 4.0 gpa, and unfortunately died in WWI.

Ohio State's Season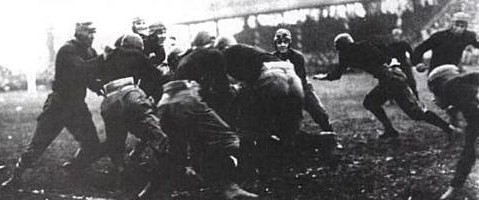 Ohio State opened with a modest 12-0 win over Ohio Wesleyan, Harley debuting with 87 yards, but they followed that up with an explosive 128-0 win over Oberlin, the school record for points. Next up was a trip to Illinois, who was coming off a 15-3 loss to Colgate, but who had not lost in conference play since 1913. Illinois Hall of Fame coach Robert Zuppke started the same year as Wilce did at OSU, 1913, and came into the game at 17-3-3 to Wilce's 16-5-2, and 1-0-1 against Wilce head-to-head. In 1914, Illinois had gone 7-0, winning the Big Ten as well as a share of the MNC, and in 1915, they had gone 5-0-2, a tie at Ohio State knocking them out of a share of the Big Ten title with 6-0-1 Minnesota.

Illinois thoroughly dominated the game, but
they missed 4 field goals, lost the ball on downs at the OSU 6, and had another deep threat stopped by an interception, so they
only led 6-0 on a pair of field goals, opening the door for Chic Harley to steal victory away in the final minutes. And with 1:10 remaining, 4th and 3 at the Illinois 15, Harley ran right through that door for a touchdown. He then put on a pair of shoes that were block-toed for kicking, and booted the extra point for a 7-6 win.

Illinois became Ohio State's chief rival, and the teams met in their finales from 1919 until the 1930s. Robert Zuppke ended up going 9-5-1 against John Wilce, but after Wilce retired following the 1928 season, Zuppke only went 2-11 against Ohio State over the rest of his fading career, and interest in the series waned. Michigan thus emerged as OSU's new chief rival, and became their new finale game in 1935, a tradition that has, of course, continued to this day.

In 1916, Illinois finished 3-3-1, losing 20-7 to 3-4 Chicago and tying 4-2-1 Wisconsin, but they pulled off a monumental 14-9 upset at juggernaut Minnesota (6-1), enabling OSU to win the conference outright.

Ohio State had 2 weeks to prepare for Wisconsin (the game pictured above), who had beaten them 3 years in a row, giving them their only loss in 1915 by a score of 21-0. 12,500 fans attended, a record for the state of Ohio, and the game was as dramatic as the previous against Illinois. Wisconsin scored first on a touchdown pass in the 2nd quarter, but Chic Harley answered with a 27 yard touchdown run and extra point to tie the game 7-7. It remained that way until the 4th quarter, when Harley returned a punt 80 yards for a touchdown and added the extra point. Wisconsin then drove to a touchdown, scoring on 4th and 1, but they missed the extra point, and OSU won 14-13. Fans came down and carried Chic Harley off the field in celebration.

Wisconsin finished 4-2-1, losing 54-0 at 6-1 Minnesota and tying 3-3-1 Illinois in their finale. They beat no one of value, and are not a top 25 caliber team for 1916.

Conference Championship Game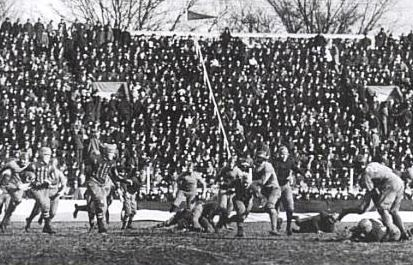 Ohio State routed a couple of lightweights, Indiana and Case, bringing them to their finale with Northwestern. Both teams were 6-0, so this game was for the conference championship, something no one could have expected before the season. Northwestern had not had a winning season in 11 years, and had gone 2-5 in 1915 and 1-6 in each of the 2 seasons prior to that. However, their 6-0 record this season had been built on a
very
weak schedule, as they did not play Minnesota, Wisconsin, or Illinois. The only winning opponent they had played was 4-3 Iowa, whom they only beat by 7, and they also struggled to beat 2-4-1 Indiana by 7, so Ohio State was a big favorite to win. Still, Northwestern put up quite the fight before the floodgates opened on them in the 4th quarter.
Ohio State led 3-0 at half on a 34 yard Harley field goal, but Northwestern tied the game up 3-3 early in the 4th quarter, and that's when Chic Harley opened up a Costco-sized can of maximum strength whoop-ass (that's him with the ball and a can opener in the picture above). He ran for 63 and 15 yard touchdowns, then threw a 28 yard pass to set up another touchdown, and Ohio State won the game and conference championship 23-3.

Northwestern was finished at 6-1, but with no wins over anyone that mattered, they are not a top 25 caliber team for 1916.
Not an MNC Candidate
This was a huge season in Ohio State history, but as should be obvious, they did not at all have an MNC type season. None of their 7 opponents would/should have finished in a top 25 had there been an AP poll in 1916, and they got by 2 of them by the skin of their teeth. And then there is the fact that Ohio State and Colgate both played at Illinois in consecutive weeks, and while Colgate won 15-3, Ohio State got dominated and was quite fortunate to escape with a 7-6 win.
Tulsa 1916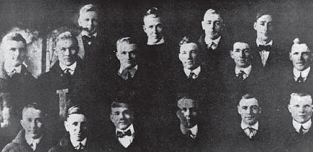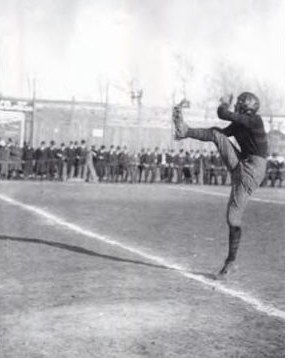 10-0 Henry Kendall College, now known as Tulsa, outscored their opponents 566-40, blowing well past Oklahoma's 472 points for best in the nation. Their coach, Sam McBirney, was a successful banker who coached Kendall on the side, and he took them from 0 to 60 very quickly. He first coached the school in 1908, going 2-3, but things took off when he returned to the helm in 1914. They went 6-2 that year, losing to Oklahoma State and Oklahoma, then 6-1-1 in 1915,
tying Oklahoma State and
losing to Oklahoma (by just 1 point), and this season they beat both of their in-state rivals, along with everyone else on their schedule. That was it for McBirney, who had skyscrapers and a financial empire to build, and he retired on top of the state's football scene, 10-0 this season and 24-6-1 overall.

But McBirney left Kendall College in good hands, because he hired high school coach Francis Schmidt as assistant coach in 1916, and after serving in WWI for 2 years, Schmidt returned to Kendall as head coach in 1919, leading the team to a couple more unbeaten seasons in his first 2 years. Unfortunately for Tulsa (the name of the school as of 1920), the future Hall of Fame coach was hired away by Arkansas after just 3 years, then by Texas Christian, and finally by Ohio State.

Tulsa was as pass-happy as Bennie Owen's Oklahoma teams. McBirney and Schmidt crafted a short passing attack in which the forward passes really worked like running plays, so the "West Coast" offense was already ancient by the time it was "invented" by Bill Walsh more than half a century later.

The schedule was incredibly weak, with no one of any real value on it, but we can at least be certain that Tulsa was the champion of the state this season. And Oklahoma looked like a world-beater when Tulsa went to Norman to play them. OU was riding an 18 game winning streak, was 3-0 this season, and had just won their last 2 games 107-0 and 140-0. But Tulsa shut them out 16-0, and Oklahoma went on to finish 6-5. Tulsa's only close game this season was a 17-13 home win over 4-4 Oklahoma State. After the season, prominent Tulsa businessmen worked to get a game between Tulsa and Notre Dame, which really would have shown what Tulsa could do, but the effort failed.
Tulsa was led on the field by quarterback Ivan Grove (pictured punting), who would be the nation's leading scorer in 1919 with 196 points (one source says 194). He amassed a ridiculous 463 points in his career 1914-1916 and 1919, a total that was not surpassed until Travis Prentice piled up 468 at Miami-Ohio in the 1990s. Grove went on to serve as an assistant coach under Schmidt at Tulsa and Arkansas, then became a revered long-time athletic director at Hendrix College in Arkansas. That school's mascot, Ivan the Warrior, is named for him. He is enshrined in Halls of Fame for Tulsa, Arkansas sports, the NAIA, and the Helms Foundation.
Awards Ceremony
1916 #1:

9-0 Pittsburgh and/or 8-1 Colgate


National Co-champion:

9-0 Army (and Pitt or Colgate if the other is alone at #1)


Contenders:

None

These are the awards I have been handing out for each season, except seasons when there are no contenders. For this purpose, what I mean by a contender is a team that I think is very close to being worthy of sharing the national championship. A team that you could make an argument for, even if that argument is weak. But the contenders are teams that I myself do not see as national champions.

7-0-1 Oregon was very close to making the grade as a "contender," and I suppose that 6-0-1 Washington would have had to come along with them, but that is precisely Oregon's problem. While Oregon's season looks impressive, Washington's does not.

This is the first season for which I have selected 3 mythical national champions, and all 3 come from the East. Not a surprise, because the East was quite dominating in intersectional play this year. The region did go 0-1 against the West Coast due to the Rose Bowl, but that was a match-up of the #1 West Coast team against the #8 East team. Other significant games

:



9-0 Army 30-10 over 8-1 Notre Dame.

7-2 Michigan lost to 7-3-1 Penn and 6-2 Cornell, but got a 14-13 home win over 5-4 Syracuse.

8-1 Colgate 15-3 at 3-3-1 Illinois (significant only because Illinois beat 6-1 Minnesota and lost by 1 point to 7-0 Ohio State).

5-2-2 Washington & Lee won 10-0 at 6-3-1 Navy, but lost to 9-0 Army and 8-2 Washington & Jefferson, and was tied by 3-2-2 Rutgers, putting them at 1-2-1 against the East. But W&L tied 8-0-1 Georgia Tech.

7-2 Virginia Tech and 6-2 Maryland each took both of their losses to Eastern teams.

6-3-1 Navy 27-3 over 6-3 Georgia.
In games featuring major teams, the East went 4-1 against the Great Lakes region (and minor Eastern team Tufts went to Indiana and won 12-10 too), 2-0 against the South, and 11-1-1 against the mid-Atlantic.

Grading the Selectors
I have been grading the NCAA Records Book's selectors for each season, and keeping a grade point average, so we can see who is relatively good at selecting national champions and who is not. And although I do not consider computer ratings to be legitimate national championship selectors, I have been including them in this section as well, just for comparison's sake.
I am grading on a scale of 0-5 (5 being the best).

Parke Davis selected Army and Pittsburgh.

Grade: 4.6



Everyone else selected Pittsburgh.

Grade:

5



Grade Averages 1901-1916

:



| | |
| --- | --- |
| 1) Houlgate (math system) | 4.4 |
| 2) Helms | 4.23 |
| 3) Parke Davis | 4.21 |
| 4) National Championship Foundation | 3.52 |
| 5) Billingsley (math) | 3.51 |

Parke Davis' grade was a tough decision, given that he chose Army and not Colgate. I understand that most people will always select an unbeaten team over a 1-loss team, but that thinking is overly simplistic and ignorant of the impact of differing schedules. Army compares well enough to Pitt, but they actually compare less well to Colgate. On the other hand, Davis shouldn't be punished too much relative to the other selectors for splitting the title, considering that I think it should be split too, and he did select 2 of the 3 teams I think should share it, whereas the others selected just 1.