Home
1905 College Football National Championship
Pictured above is Michigan at Chicago in 1905, the biggest game the West had seen to that point. 27,000 watched 11-0 Chicago give 12-1 Michigan their first loss in 5 years, and score the only points Michigan gave up in 1905, winning 2-0 on a late safety.

For the first time in the 20th century, Michigan is therefore not a national championship contender, though it is still a West vs. East debate. This time, it is 11-0 Chicago vs. 10-0 Yale. As always, it was the Eastern champion who was perceived at the time as the national champion, but latter-day organizations once again prefer the Western Conference (Big 10) champion.


Here is how the "major selectors" listed in the NCAA Records Book, all selecting long after the fact, see the 1905 college football national championship (omitting math/computer ratings, which neither I nor anyone else recognize as constituting titles)

:



Yale

:

Parke Davis
Chicago

:

Helms, National Championship Foundation

You can click on the selector to read my review of that person or organization.

When it comes to winning a mythical national championship, Chicago 1905 has a couple of huge advantages over the Michigan teams of 1901-1904. For one thing, they beat Michigan, who stomped on and shut out every other team they played. But Chicago also played 6 other major opponents, all from the Western Conference, which was far more than Michigan had played in any of those 1901-1904 seasons. Furthermore, the Western Conference, and the West in general, was stronger in 1905 than ever before, with more of the major teams separating themselves from the minor college and high school teams around them.

There were no games in 1905 between major Western and Eastern teams, so all we have to go on is the general trend, which saw the East dominate the West prior to 1905. However, Chicago gave 3 teams their only loss, and Yale did not beat any such opponent. And Chicago's schedule overall is much closer to Yale's than Michigan's was to the schedules of the Eastern champions 1901-1904. So it looks like we have a split title here.


All rankings in the following article, except as noted, come from my 1905 top 25, which is based on a hypothetical AP poll (within logical reason of course)
.
Yale 1905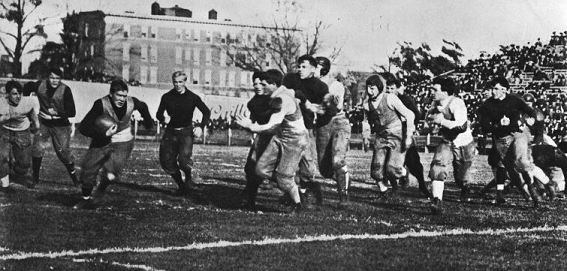 | | | |
| --- | --- | --- |
| Wesleyan (7-2-1) | 27-0 | (#26-35) |
| Syracuse (8-3) | 16-0 | #24 |
| Springfield (3-5) | 29-0 | |
| Holy Cross (6-3) | 30-0 | (#26-35) |
| Penn State (8-3) | 12-0 | #23 |
| Army (4-4-1) | 20-0 | #15 |
| at Columbia (4-3-2) | 53-0 | (#26-35) |
| Brown (7-4) | 11-0 | #18 |
| Princeton (8-2) | 23-4 | #10 |
| at Harvard (8-2-1) | 6-0 | #5 |
Having already won national championships in 1900 and 1902 (and bogusly named the champion of the 1901 season by Parke Davis 30 years later), Yale claims another 3 straight national championships starting with this 1905 season. I wrote summaries of previous Yale seasons for my 1902 and 1904 national championship articles. The coach for 1905 was Jack Owsley, but Walter Camp was still the advisory coach.

Hall of famer Tom Shevlin returned at end, and was named a consensus All American for the third time (1902 and 1904 the other times)
. Three other players were consensus AA in 1905

:

guard Roswell Tripp, halfback Howard Roome, and quarterback Guy Hutchinson. Only Harvard had as many consensus AA as Yale did in 1905.

Also returning was halfback Paul Veeder (pictured above carrying the ball), who would be consensus AA in 1906. He was a good punter/kicker, and a great defensive back. Three other players would also be named consensus AA in later seasons, one of whom came to Yale with his brother as a package deal.

Hall of Fame Brothers
Howard and Thomas A. D. (Tad) Jones played at Yale 1905-1907, going 28-0-2 and winning those 3 straight national championships. Then they both launched Hall of Fame careers as head coaches. Tad had been the more successful of the two as a player, being named consensus AA in 1907 at quarterback, but Howard was the more successful coach.

Howard Jones won at least 5 school-claimed national championships as a coach. The first was at Yale, where he went 10-0 in 1909, including a 15-0 victory over Syracuse, who was coached by his brother Tad. That was the first game in which brothers coached against one another. He went 42-17-1 at Iowa 1916-1923, including consecutive 7-0 seasons in 1921 and 1922. In 1922 he faced and defeated his brother again, who was coaching at Yale. It was the first victory by a Western team in New Haven. But his greatest fame came at Southern Cal 1925-1940, when he went 121-36-13 and won 4 national championships claimed by USC (but only 2 of them are legitimate). In all, he went 194-64-21 as a coach.

Tad Jones did most of his coaching at Yale, in 1916 and from 1920 to 1927. The highlights were an 8-0 season in 1923 and 7-1 in 1927, and the school claims a national championship for that last season. He went 57-15-4 at Yale.
1905 Season
Yale cruised through a schedule that was very deep in good opponents (9 of the 10 they played were top 35 caliber), shutting out everyone until the big season-ending games against Princeton and Harvard.

Princeton (8-2) proved to be as little trouble as everyone else, but at least they scored before falling 23-4. Tackle Robert Forbes, who would be consensus AA in '06 at end, scored two touchdowns, and Howard Roome scored another.

The game at Harvard (8-2-1) was not so easy, and the only challenge they faced that season. 43,000 fans were in attendance at Harvard Stadium. The game was tied up 0-0 at the half. Late in the game, Tom Shevlin returned a fumble to the Harvard 31, and six plays later Forbes scored the only touchdown in a 6-0 win.
Chicago 1905
| | | |
| --- | --- | --- |
| North Division High | 26-0 | |
| Lawrence (7-3) | 33-0 | |
| Wabash (4-5) | 15-0 | |
| Beloit (3-6-1) | 38-0 | |
| Iowa (8-2) | 42-0 | (#26-35) |
| Indiana (8-1-1) | 16-5 | #21 |
| at Wisconsin (8-2) | 4-0 | #6 |
| at Northwestern (8-2-1) | 32-0 | (#30-50) |
| Purdue (6-1-1) | 19-0 | #21 |
| Illinois (5-4) | 44-0 | (#30-50) |
| Michigan (12-1) | 2-0 | #3 |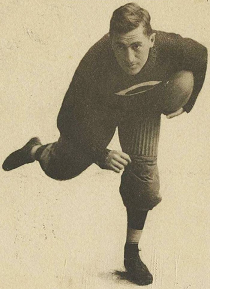 The Chicago Maroons were coached by the legendary Amos Alonzo Stagg, a Hall of Famer as both a player (at Yale) and coach. The 1888 Yale team he played for outscored opponents 698-0. He went 224-111-27 in 41 seasons at Chicago 1892-1932, winning 7 conference titles and 2 national championships. Overall he was 314-199-35 in 57 seasons, fifth all time in major football coaching wins. He is credited with inventing all of the following

:

the huddle, quick kick, hidden ball trick, man in motion, backfield shift, statue of liberty play, lateral, fake punt, end around, double reverse, tackling dummy, helmets, numbers on jerseys, and padded goalposts.
Stagg played and coached other sports too, and is also in the basketball Hall of Fame. He invented the batting cage and overflow troughs for swimming pools.
Chicago University's football teams were the original "Monsters of the Midway" (the Midway being a park running through campus), and they were the originators of the "C" now found on the Chicago Bears' football helmets.
The star player in 1905, and considered one of the greatest players of this decade, was Hall of Fame quarterback Walter Eckersall (pictured), a consensus All American three straight years 1904-1906. In high school he set the Illinois record for the 100 yard dash at 10.0 seconds, a record that stood for 25 years. Chicago was 25-2-1 while he started 1904-'06. He kicked 5 field goals against Illinois in 1905 and also against Nebraska in 1906. Unfortunately, he was not much of a student, and it was a continual challenge to keep him academically eligible. When his football eligibility expired, the school cut him loose and would not allow him to enroll for any more classes. After that he became a prominent referee and writer, and was considered the foremost expert on Western football.
End Mark Catlin was the only other consensus AA, but two other players were eventually inducted into the Hall of Fame, albeit as coaches.

One was fullback Hugo Bezdek. Born in Czechoslovakia, Bezdek is the only person ever to coach an NFL team as well as manage a Major League Baseball team, and he went 127-58-16 as a college football coach, taking 3 different teams to the Rose Bowl. He went 30-10-4 at Oregon, including 7-0-1 with a 14-0 Rose Bowl win over Penn in 1916. He went 29-13-1 at Arkansas, including a 7-0 season in 1909. He gave Arkansas their "Razorback" nickname. He also went 65-30-11 at Penn State, the best season being 7-1 in 1919 (a potential national championship). Bezdek also set the world record in the 50 yard high hurdles in '03, and won the low hurdles at the 1904 Olympics in St. Louis.
Jesse Harper was the other future Hall of Fame coach, best known for mentoring Knute Rockne at Notre Dame in the next decade.
1905 Season
Like Yale, Chicago cruised through most of their schedule, and also shut out all but one opponent. That opponent was 8-1-1 Indiana, who scored a touchdown in a 16-5 Chicago win. 6-1-1 Purdue, who tied Indiana, was not so lucky, losing 19-0. The Maroons also crushed 8-2 Iowa 42-0 and 8-2-1 Northwestern 32-0.

The first struggle came at Wisconsin (8-2) in the midseason. Phil King had returned to coach Wisconsin this season (details on him in my 1901 article), and they were suddenly much stronger again, losing 12-0 to Michigan, but winning at 10-1 Minnesota in a great game, 16-12, in front of 22,000 fans. The closest anyone else got to Minnesota was 9-2 Nebraska, who lost 35-0! I consider Wisconsin to be a top ten team for 1905. Eckersall missed 2 field goals in the first half, leaving Chicago and Wisconsin scoreless at the break. In the second half, Chicago blocked a Wisconsin field goal attempt, then Eckersall ripped a 30 yard run in the ensuing drive to set up his own game winning field goal. Final score 4-0.

The big game, of course, was the finale against the last of Michigan's "point-a-minute" teams (the other four "point-a-minute" teams are covered in each of my previous national championship articles). Michigan came into the game 12-0, having outscored their opponents 495-0. They had not lost since 1900. This was the biggest game the West had ever seen, and even Yale's Walter Camp came out to see it. It is the most famous game of that decade today, and much has been written about it. You can read about it in some detail here.

Neither team was able to generate much offense (they both totaled 120 to 140 yards), so it was a punting duel between Chicago's Walter Eckersall and Michigan's John Garrels. Late in the game, Eckersall was back to punt, but ran for a first down instead. Chicago put together 3 more first downs before the drive ended, but the field position they gained enabled the game winning play. Eckersall punted, Michigan's Denny Clark caught the ball in his own end zone, and he then proceeded to make what proved to be the fatal error

:

he tried to return it. He was hit after a couple of yards, then Chicago's Mark Catlin drove him back into the end zone for a safety (there was no clear forward motion rule at that time).


The Chicago crowd went wild. The Michigan sideline was stunned. None of the players had ever tasted defeat at Michigan. For Denny Clark, there could be no solace. Castigated for his mistake near and far, even by his own coach, Fielding Yost, Clark left school and disappeared. He reportedly committed suicide in Portland, Oregon, some 30 years later, leaving a note that hoped his "final play" would make up for the life-defining mistake he made in 1905.

Yale vs. Chicago in 1905
Here are the significant games for each team in 1905.
The opponent rankings
come from my 1905 top 25, which is based on a hypothetical AP poll (within logical reason of course)
.
Yale 10-0
Chicago 11-0

| | | |
| --- | --- | --- |
| Wesleyan (7-2-1) | 27-0 | (#26-35) |
| Syracuse (8-3) | 16-0 | #24 |
| Holy Cross (6-3) | 30-0 | (#26-35) |
| Penn State (8-3) | 12-0 | #23 |
| Army (4-4-1) | 20-0 | #15 |
| at Columbia (4-3-2) | 53-0 | (#26-35) |
| Brown (7-4) | 11-0 | #18 |
| Princeton (8-2) | 23-4 | #10 |
| at Harvard (8-2-1) | 6-0 | #5 |

| | | |
| --- | --- | --- |
| Iowa (8-2) | 42-0 | (#26-35) |
| Indiana (8-1-1) | 16-5 | #21 |
| at Wisconsin (8-2) | 4-0 | #6 |
| at Northwestern (8-2-1) | 32-0 | (#30-50) |
| Purdue (6-1-1) | 19-0 | #21 |
| Illinois (5-4) | 44-0 | (#30-50) |
| Michigan (12-1) | 2-0 | #3 |

Yale defeated their one other opponent 29-0, and Chicago defeated the rest of their opponents by an average of 28-0.

One of the most prominent football writers of the time, Caspar Whitney, ranks the relevant teams like this

:

Yale #1, Harvard #2, Chicago #4, Princeton #6, Army #7, Brown #9, and Columbia #12.

I don't actually think Whitney was adept at rating teams, and don't endorse his top 20. I merely bring it up to demonstrate the prevailing feeling of that time. But this list in particular is almost completely lacking in any logical sense. Like 8-2-1 Harvard being ranked ahead of 12-0-1 Penn, despite

losing

to Penn.

Much of what I have written in my four previous national championship articles for 1901-1904 holds true here. The East was consistently the strongest region, dominating the West in the few relevant games played between teams of each region in prior years. However, while Yale's schedule was very deep in good teams in 1905, it was not so deep in

great

teams as previous Eastern champions had faced. And Chicago's schedule was by far the toughest played by any Western team with a perfect record to this point.

And while there were no relevant East-West games in 1905, we can see that the West had its best and deepest year yet in 1905. So maybe if there had been East-West games in 1905, the West would have fared well. We shall never know.

The West
How deep was the West in 1905? Aside from Chicago and Michigan, there was 8-2 Wisconsin, who as indicated was much stronger with the one-year encore of head coach Phil King. I also mentioned 10-1 Minnesota, who obliterated everyone they played except Wisconsin. In fact, they look to have been every bit as good as they had been in 1903 and 1904, when they went unbeaten and were national championship contenders.

Chicago victims Indiana (8-1-1) and Purdue (6-1-1), who tied each other, were stronger than they had been, finally dominating the minor schools on their schedules. Both won by big scores, unthreatened except by Chicago and by each other.

8-2 Iowa lost to Chicago 42-0 and to Minnesota 39-0, but they romped on the rest of their schedule, winning all 8 games by more than a touchdown. 9-2 Nebraska lost to Michigan 31-0 and to Minnesota 35-0, but they too romped on the rest of their schedule, including an 18-0 win over 8-1 Colorado. And Colorado stomped on all of their other opponents, except for one "close" 15-0 win over 10-1 Kansas. And Kansas won all but one of their other games by more than a touchdown, including a 34-0 win over 7-2 Oklahoma.

Even 6-3 Iowa State and 5-4 Illinois lost to no one other than the aforementioned teams. And on top of all that, Michigan beat the best team of the South, 7-1 Vanderbilt, 18-0. The closest anyone else got to Vandy was a 33-0 loss by Texas. Vanderbilt beat Alabama 34-0, Tennessee 45-0, Auburn 54-0, Clemson 41-0, and Southern power Sewanee 68-4.

So Chicago 1905 is sitting atop a very deep and solid pyramid of power. As good as the East? Probably not. But given that the West was clearly stronger in 1905 than ever before, it is at least possible.

Yale vs. Chicago Conclusion
This is as close to a toss-up as we've seen yet. In the end, even if you choose to believe that the West was as good as the East in this particular season, there is this fact

:

Yale had one close game, and Chicago had two. Chicago's close games came against top ten opponents, but Yale played 2 such opponents just like Chicago did.

On the other hand, Chicago opponent Michigan may well have represented a tougher test than any Yale faced. Harvard was tied by 7-1-2 Dartmouth, who was in turn upset by 5-4 Colgate. And Princeton lost to Dartmouth.


So what we have here is indeed a split title, and more equal, I think, than even the Michigan-Yale split in 1902.
Awards Ceremony
1905 #1:

11-0 Chicago and/or 10-0 Yale


National Co-champion:

Chicago or Yale if the other one is alone at #1


Contenders:

None.

These are the awards I have been handing out for each season, except seasons when there are no contenders. For this purpose, what I mean by a contender is a team that I think is very close to being worthy of sharing the national championship. A team that you could make an argument for, even if that argument is weak. But they are teams that I myself do not see as national champions.

Let's also have a round of applause for 8-0 Stanford, who at least won the California championship.

Grading the Selectors
I have been grading the NCAA Records Book's selectors for each season, and keeping a grade point average, so we can see who is relatively good at selecting national champions and who is not. And although I do not consider computer ratings to be legitimate national championship selectors, I have been including them in this section as well, just for comparison's sake.
I am grading on a scale of 0 to 5, with 5 being the best.


Parke Davis selected Yale. Grade

:

5



Everyone else selected Chicago.

Grade: 5



Grade Averages 1901-1905

:



1) Helms
Houlgate (math system)

4.1
4.1

3) Parke Davis
4.0
4) Billingsley (math)
3.9
5) National Championship Foundation
3.4