Home
1902 College Football National Championship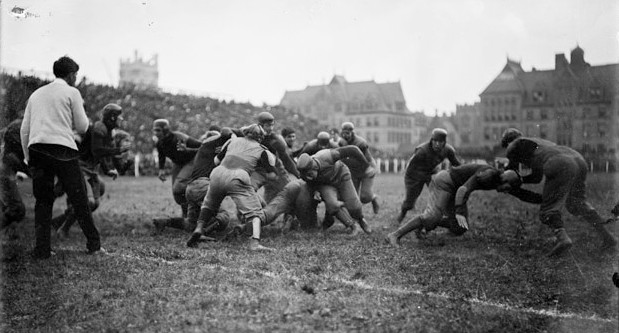 Pictured above is the 1902 Michigan-Wisconsin game, played in Chicago on November 1st. It ended up being Michigan's toughest game of the year, a 6-0 win.

The 1902 national championship breaks down just like the 1901 championship did

:

Michigan vs. the best team of the East. But this time around, almost everything that went against Michigan in 1901 came out in their favor:

The East was still the strongest region, but this time, the East's best team, Yale, did not have a perfect record. They were 11-0-1, whereas Michigan was 11-0.
Michigan did not play the other best teams in their own conference in 1901, but this time they did, beating 14-1 Chicago, 9-2-1 Minnesota, and 6-3 Wisconsin.

This time Michigan played more teams that would have been top 25, and more importantly, they beat a potential top ten opponent in Chicago and/or Minnesota.
The writers of the time still looked Eastward, however, and Yale was widely regarded as the best team in the nation, and routinely referred to as the "champion" of college football. They were, in fact, more highly esteemed than 1901 Harvard, who had been a perfect 12-0.

But here is how the "major selectors" listed in the NCAA Records Book, all selecting long after the fact, see the 1902 national championship (omitting math/computer ratings, which neither I nor anyone else recognize as constituting titles)

:



Michigan

:

Helms, National Championship Foundation, Parke Davis (tie)
Yale

:

Parke Davis (tie)

You can click on the selector to read my review of that person or organization.

We can safely say that Michigan will be getting at least a share of the national championship this season. That leaves Yale as the subject of all the questions. Should Yale be #1? Should they share #1? Should Yale be #2, but national co-champion? Or should Yale not be a national champion at all? My analysis and answers lie below, following a review of the two teams and their 1902 seasons.


All rankings in the following article, except as noted, come from my 1902 top 25, which is based on a hypothetical AP poll (within logical reason of course)
.
Yale 1902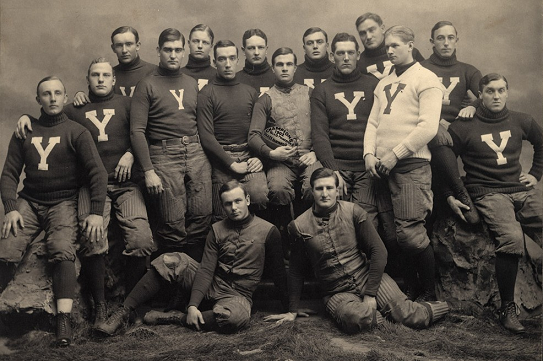 | | | |
| --- | --- | --- |
| Trinity-Connecticut (0-4) | 40-0 | |
| Tufts (4-6-1) | 34-6 | #11 |
| Amherst (7-3) | 23-0 | |
| Wesleyan (3-6-1) | 35-0 | |
| at Brown (5-4-1) | 10-0 | #14 |
| Vermont (5-3-2) | 32-0 | |
| Penn State (7-3) | 11-0 | (#26-33) |
| Syracuse (6-2-1) | 24-0 | #10 |
| at Army (6-1-1) | 6-6 | #4 |
| Bucknell (6-4) | 36-5 | |
| at Princeton (8-1) | 12-5 | #5 |
| Harvard (11-1) | 23-0 | #3 |
Yale was the unquestioned and unparalleled king of college football. They had dueled with Princeton for the mythical title of best team through 1885, but by 1886 they had captured the throne, and would remain there for 23 more years. In their last decade on the throne, 1900-1909, they went 100-4-5 and won what was considered to be 6 national championships at the time.

Of these 6 national championships 1900-1909, this 11-0-1 team of 1902 was sometimes regarded as the best, even though 3 of the others were unbeaten and untied. Princeton great John DeWitt declared it the best Yale team he had ever witnessed. In an article in 1920, writer William Hanna declared it to be the best team he had ever seen in 28 years of watching football.

Yale had 7 consensus All Americans, and an 8th would be named in 1903, but the reason for this team's high regard is that it was the only year that the following Yale greats all started on the same team

:

halfback George Chadwick, tackle James Hogan, and Tom Shevlin, who played tackle, halfback, fullback, and end.

George Chadwick
Chadwick had also been a consensus All American on the 1900 Yale championship team that went 12-0, and was the captain of this '02 edition. But his fame in early decades really boiled down to just one game
:
the 1902 Princeton game, where he scored on two long touchdown runs to secure a hard-fought 12-5 win (details below).

Chadwick was very fast, and like Michigan's Willie Heston, he was known for being able to stop on a dime and quickly cut back full speed the other way. But he was not at all a featured ball carrier, as Yale evenly distributed carries amongst their backs, ends, and particularly their tackles.

Probably for that reason, Chadwick is not in the college football Hall of Fame, whereas James Hogan and Tom Shevlin are.

James Hogan
Huge for his time at 210 pounds, Hogan lettered four years 1901-1904, and was a consensus All American 3 straight years 1902-'04. He was born in Ireland to a working class family that moved to America when he was young. He had to work to pay his way through Exeter, then had to work to save up enough for Yale. He was thus 28 when he graduated, but it wasn't long after he arrived at Yale that he didn't have to work to pay his way anymore.
By the time he was a senior, Hogan's tuition, room, and board were paid, and he had a $100 scholarship, a share of the Yale baseball gate, and a commission on every package of cigarettes sold in Yale's stadium. On top of that, at the end of his senior season, boosters presented him with a bonus gift of a 10 day vacation in Cuba. Still, unlike most paid players from the time, Hogan actually attended classes, worked hard, headed the debate team, and graduated with honors.
Hogan was one of the most famous players of the decade. He was a tremendous defensive player and generally unstoppable as a ball carrier in the middle of the line. But he did not get along well with Yale's biggest star, Tom Shevlin, another Irishman who was nevertheless very much Hogan's opposite.
Tom Shevlin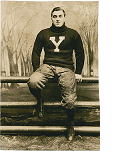 The son of a wealthy family from Minnesota, Tom Shevlin dressed in expensive clothes, carried a gold-headed cane, and in a time when cars were new, he had the best and most expensive in town. He liked to race it and once had a warrant issued for his arrest for reckless driving. The most famous football player of his time, and probably the biggest celebrity in general, there are a lot of great stories about Shevlin, some of which are recounted in summary in his
Wikipedia article
.
At 195 pounds, Shevlin was powerful, versatile, and fast (he ran 100 yards in under 11 seconds). He started at four different positions as a freshman in 1902, but settled at end for most of the rest of his career. As great on defense as Hogan, he made an All American list all four years, and was a consensus choice in 1902, 1904, and 1905.

Shevlin was boastful and conceited, and that rubbed half his fellow players and students the wrong way. He was elected captain for his senior year by only a single vote, and outgoing captain James Hogan did not, as was customary, shake his hand in congratulations. Shevlin was also not invited to become a member of Skull and Bones (of which Hogan was a member), or of any of the secret societies, costing him a $100 bet he had made with another student who was apparently better informed.

The Rest of the Team
Yale's great strength was its "Irish Line," named for Irish players Hogan, Shevlin, tackle Ralph Kinney, guard Edgar Glass, and end Charles Rafferty. I don't know if center Henry Holt and guard George Goss were actually Irish (my thanks to Dave Choate for letting me know that his relative Edgar Glass had a grandfather born in Ireland). Averaging over 200 pounds in 1902 and 1903, this was easily Yale's biggest line of their glory years, and much bigger than opposing lines.

Kinney and Holt were 2-time consensus All Americans. Consensus AA Edgar Glass, along with Hogan and Shevlin, was the heart of the defense, and Glass was also adept at pulling ball carriers forward through tacklers. Rafferty would not be consensus AA until the following season, when he was named captain. Goss was never consensus AA, but was nicknamed "The Strong Man" because he was the strongest member of the team.


The backfield was not nearly as talented as the line. All four starters were named to at least one All America list, but aside from Chadwick, the only consensus AA in 1902 was quarterback Foster Rockwell, who was also selected in 1904. He was the field general, calling the plays. And while Edgar Glass pulled ball carriers forward, Rockwell's job was to push them from behind. He also sometimes grabbed them and swung them around into an unexpected hole that had just opened up in the line.
Walter Camp
Each year, the coach at Yale was a new former player, generally one who had graduated the previous Spring. But Walter Camp was the "advisory coach" at Yale through 1906, although he continued to help out through at least 1909. As his presence lessened, Yale's fortunes would decline, and after 1909 they no longer ruled over college football.

The "Father of American Football," Walter Camp was the most influential person in the evolution of early football rules. He also published numerous books and articles that popularized the sport, and his All American list was the most widely published, best known, and most influential of the first few decades of the 20th century.

1902 Season
Yale defeated every opponent by more than a touchdown (5 points, conversion for 6 at that time) except one
:
6-1-1 Army (#4). Led by Hall of Famers Charles Daly and Paul Bunker, Army had tied 11-1-1 Yale in 1901 and also given national champion Harvard their toughest game. In 1902, they tied Yale again, 6-6. Army would also deal Yale its only loss in 1904, knocking them out of the national championship.
The key to the 1902 result was a disagreement before the game. Army wanted to play 20 minute halves, while Yale argued for at least 25 minutes. Regulation time for major teams playing each other was 35 minutes per half, but of course, shorter games greatly favor the underdogs. Yale acceded to Army's wishes, and it cost them the win, as Army tired out in the second half, and Yale was driving to a likely score as time ran out.
Both teams scored touchdowns in the first half. Yale followed a 40 yard punt return with a series of runs into the line for the opening score, and Army answered with a big break, a blocked kick they recovered at the Yale 5 and cashed in for the tying touchdown with 2 runs. It was Army's only scoring opportunity, as they produced no offense in this game, and were greatly outgained by Yale. But Yale lost a fumble deep in Army territory late in the first half, and lost another scoring chance on a penalty in the second half. Late in the game, with Army tired out, Yale drove steadily from their own 10 to the Army 20, when time was mercifully called, leaving the score at 6-6.
But Harvard had already beaten Army in 1902, so Yale could still win the championship of the East by sweeping their final two games against unbeatens Princeton and Harvard. Princeton proved to be the far tougher of the two games.

Princeton was 8-0, playing at home, and was considered to have an impregnable defense. Thomas Alva Edison was there to film the game, making it the first football game to be captured on film. Walter Camp had created a new play that Yale had been working on all season, but had not shown yet, saving it for Princeton or Harvard, as the need arose.

With Princeton's defense playing as well as advertised, and Princeton leading 5-0 on a 50 yard John DeWitt field goal, the need arose. The play involved the entire line moving to the right, with ball carrier George Chadwick running right behind them. Then he cut back left and hit the left side of the line between Holt and Goss. Holt and Goss were supposed to keep tight together until they felt Chadwick hit them, then part to spring him.




Chadwick popped out of seemingly nowhere and ran for a 57 yard touchdown and 6-5 lead (pictured above). That would be all they needed, but Chadwick scored another cutback touchdown from midfield in the second half for the 12-5 final score. Princeton was finished at 8-1, and I have them ranked #5 for 1902.

That left the much anticipated finale against 11-0 Harvard (#3), the defending champion and winner of 23 straight games. The New York Times called it "the great championship football game of the season." But the game was anticlimactic, as Yale pounded Harvard 23-0. James Hogan scored two touchdowns, and the other tackle, Ralph Kinney, scored one.
Michigan 1902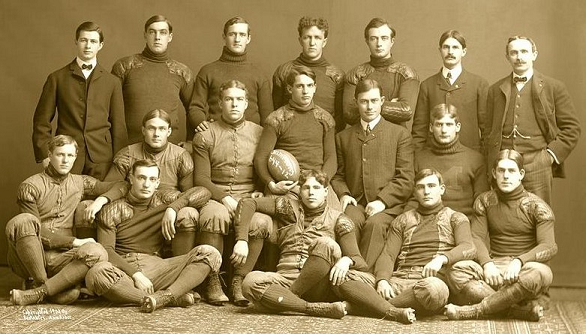 | | | |
| --- | --- | --- |
| Albion (4-6) | 88-0 | |
| Case (6-3) | 48-6 | |
| Michigan State (1-5-1) | 119-0 | |
| Indiana (3-5-1) | 60-0 | |
| (neutral site) Notre Dame (6-2-1) | 23-0 | #21 |
| Ohio State (6-2-2) | 86-0 | |
| (neutral site) Wisconsin (6-3) | 6-0 | #9 |
| Iowa (5-4) | 107-0 | |
| at Chicago (14-1) | 21-0 | #7 |
| Oberlin (4-4) | 63-0 | |
| Minnesota (9-2-1) | 23-6 | #8 |
Details of Michigan's great coach and players can be found in my review of the 1901 national championship. Most of the players from the 1901 team returned, the losses being fullback Neil Snow and tackles Hugh White and Bruce Shorts.

One tackle spot was ably filled by Joseph Maddock, an all-conference player in 1902 and 1903. He was also the punter and a powerful short-yardage ball carrier. The other tackle spot was a problem area, with six different players starting there.

The 1901 team had won their games by an average of 50 points per game, but the 1902 team actually outdid that by more than a touchdown, winning by an average of 57.5 per game. In total they outscored opponents 644-12. That is the best of the "point-a-minute" teams 1901-1905, and of course the school's best ever.

They beat Michigan State 119-0 and Iowa 107-0. But unlike 1901, one team did come within a touchdown of them

:

6-3 Wisconsin (#9), who fell 6-0 at a game played at Marshall Field in Chicago.

This was a matchup of teams that had gone unbeaten and untied in 1901, with much speculation as to who would have won had they played. Wisconsin, unlike Michigan, had lost most of their 1901 players, but interest in this game still ran high, and 22,000 fans jammed into Marshall Field for the game, with many more trying to get in. A temporary grandstand collapsed under the weight of 1000 people, twice its capacity, injuring 32.

Michigan controlled the game, but managed only one touchdown. Halfback Al Herrnstein did most of the work on that drive, but Willie Heston scored the capping touchdown (Herrnstein had scored 6 touchdowns against Ohio State the previous week). Most of the game was played on Wisconsin's side of the field, with Michigan once being held on downs at the Wisconsin 1.





That game prepared them for the Western Conference championship game against unbeaten Chicago (#7) on the same field. Michigan won that one much more easily, 21-0. Their finale against powerful Minnesota (9-2-1, #8) was also little challenge, a 23-6 win (the game pictured above).
Yale vs. Michigan in 1902
Here are the significant games for each team in 1902.
The opponent rankings
come from my 1902 top 25, which is based on a hypothetical AP poll (within logical reason of course)
.
Yale 11-0-1

Michigan 11-0

| | | |
| --- | --- | --- |
| Amherst (7-3) | 23-0 | #11 |
| at Brown (5-4-1) | 10-0 | #14 |
| Penn State (7-3) | 11-0 | (#26-33) |
| Syracuse (6-2-1) | 24-0 | #10 |
| at Army (6-1-1) | 6-6 | #4 |
| at Princeton (8-1) | 12-5 | #5 |
| Harvard (11-1) | 23-0 | #3 |

| | |
| --- | --- |
| (neutral site) Notre Dame (6-2-1) 23-0 | #21 |
| (neutral) Wisconsin (6-3) 6-0 | #9 |
| at Chicago (14-1) 21-0 | #7 |
| Minnesota (9-2-1) 23-6 | #8 |

Yale defeated the rest of their opponents by an average of 35-2, Michigan by an average of 82-1.

One of the most prominent football writers of the time, Caspar Whitney, ranks the relevant teams like this

:

Yale #1, Harvard #2, Army #3, Michigan #4, Princeton #5, Brown #7, Amherst #10, Minnesota #15, Syracuse #16, Chicago #18, and Wisconsin #19.

I don't actually think Whitney was adept at rating teams, and don't endorse his top 20. I merely bring it up to demonstrate the prevailing feeling of that time. Chicago and Minnesota would both make my own top ten, as well as the top ten of Western writers.

Much of what I wrote for Harvard vs. Michigan for 1901 applies here as well. The East was a stronger region in general, and Yale played a far tougher schedule in any sense. And Michigan's greater propensity for running up the score is irrelevant.

But Michigan played a tougher schedule than they had the year before, while still outperforming the 1901 team's scoring mayhem. That one game against Wisconsin does show a vulnerability that Michigan never showed in 1901, but on the other hand, Wisconsin, Minnesota, and Chicago in 1902 were better than any opponent Michigan played in 1901.

But the big difference between 1901 and 1902 is that Yale has that tie with Army in '02, whereas Harvard was perfect in '01. So it's the classic case of the team with the tougher schedule but worse record (Yale) against the team with the weaker schedule but better record (Michigan).

Similar to 1901, it would be interesting to see where, exactly, modern day organizations that single out Michigan for 1902, without even mentioning Yale, would rank Army, Harvard, and Princeton in a top 25 for 1902. I don't believe they stopped to think about it at all, because I don't see how those teams would finish outside the top 5 or 6 of any rational list. And given that fact, how do you select Michigan alone as the "national champion"? Yale may have that tie blemishing their record, but Michigan did not play a team as strong as Army (or Harvard or Princeton).

Yale vs. Michigan Conclusion
With little to no intersectional play in 1902, comparing the two is almost like comparing two teams from entirely different sports. All we know is that the East was better than the West both before and after this time, and specifically that Michigan performed poorly against the East before and after their 1901-1905 period. But this was Michigan's strongest of the five teams, and the only one that defeated the other best team in their own conference.

In the end, you can make a case for either, and thus they're both worthy of sharing the "national championship." But all we can really be certain of is that they are regional champions

:

Yale of the East and Michigan of the West.

Or can we? Like Wisconsin in 1901, there was actually another Western team with a perfect record.
Nebraska 1902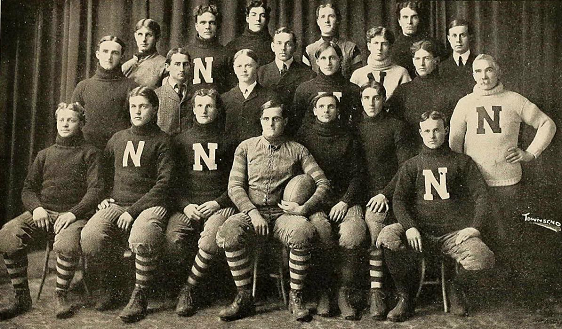 Lincoln High School
27-0
Doane
51-0
at Colorado (5-1)
10-0
(#26-33)
Grinnell (2-7-2)
17-0
at Minnesota (9-2-1)
6-0
#8
(neutral site) Missouri (5-3)
12-0
Haskell (8-2-1)
28-0
Kansas (6-4)
16-0
Knox (9-2)
7-0
#19
Northwestern (6-6)
12-0
Nebraska was 10-0 in 1902 and shut out every opponent. Their coach, like Wisconsin's in 1901, was a Princeton graduate. W. C. Booth was 46-8-1 1900-1905, the highlight being a 27 game winning streak that ran from 1901 to 1904.

The star player was halfback John Bender, who played five years 1900-1904. Such were the eligibility standards of the time (or lack thereof). He once refused to take the field against Minnesota until he had been properly paid. Bender is in the American Indian Athletics Hall of Fame. He was Nebraska's scoring leader with 8 touchdowns, one more than fullback Orley Mickel collected.

Bender also went on to coach at 6 schools over the next couple decades, and interestingly, he was indirectly or directly responsible for giving three different schools their current nicknames

:

the St. Louis Billikens, the Kansas State Wildcats, and the Houston Cougars.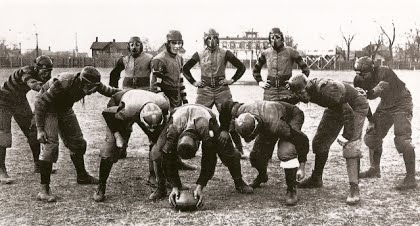 Nebraska was deep in linemen, and featured a number of older players, including a couple of Spanish-American War veterans and a player who had been teaching for four years. They played a "frightful" style, something they had in common with Yale. "Frightful" was the common euphemism of that time for a team that played overly rough. A popular account of the Yale-Harvard game tells of a Yale player literally strangling a Harvard ball carrier until he dropped the ball. For Nebraska's part, Northwestern's coach complained about Nebraska kicking his downed players in the face and otherwise mistreating them in a 12-0 Nebraska win.

The Season
Nebraska only played two opponents who were top 25 caliber. Their biggest game was at rival Minnesota (9-2-1, #8), who generally had their way with Nebraska (they played almost every year 1900-1913, with Minnesota going 10-2-1 in that time). Thousands of Nebraska fans took the train to watch the game in Minneapolis. Nebraska quarterback Maurice Benedict missed 3 field goals, but Nebraska staged a long, slow drive late in the game, capped by Bender scoring a touchdown with 2 minutes left for a 6-0 win.

Their other top 25 opponent was 9-2 Knox (#19). Nebraska beat them in the mud 7-0 in Lincoln, with Bender scoring the game's only touchdown. Knox did come close to ending Nebraska's shutout streak, driving the ball inside the Nebraska one before being stopped on downs. Nebraska also won at 5-1 Colorado 10-0 and against 8-2-1 Haskell 28-0.

Nebraska applied for membership in the Western Conference (Big Ten) at the end of the season, but they were denied, as they would be several more times over the next couple of decades.

Michigan vs. Nebraska in 1902
Nebraska's 6-0 win over Minnesota was not as impressive as Michigan's 23-6 win over the same team. On the other hand, it was similar to Michigan's 6-0 win over Wisconsin. But that brings up another point

:

Michigan played 3 top teams from the West (Chicago being the other), and won easily in two of those games. Nebraska played just one and barely won.

Nebraska opponent Knox was good, but not much better than Notre Dame. And while Nebraska beat Knox 7-0, Michigan beat Notre Dame 23-0.

Nebraska was all about defense, and shut out every opponent. Maybe they could have done the same to Michigan had they played (though I very much doubt it). But given the difference in schedules and performance, there is no good reason for Nebraska to share the title with Michigan (let alone Yale).
Awards Ceremony
1902 #1:

11-0-1 Yale, or Yale in a tie with 11-0 Michigan


National Co-champion:

Michigan if Yale alone is #1


Contender:

10-0 Nebraska

These are the awards I will be handing out for each season, except seasons when there are no contenders. For this purpose, what I mean by a contender is a team that I think is very close to being worthy of sharing the national championship. A team that you could make an argument for, even if that argument is weak. But they are teams that I myself do not see as national champions.

If you were to pick only one team to be #1 in 1902, I think that team would have to be Yale, due to the regional trend of strength at that time and Yale's vastly tougher schedule. In other words, I think that #1 would either have to be Yale alone or both teams in a tie. But not Michigan alone.

Finally, a tip of the hat to two other teams worth mentioning that had perfect records in 1902

:

8-0 California and 9-0 South Dakota.

Grading the Selectors
I will be grading the NCAA Records Book's selectors for each season, and keeping a grade point average, so we can see who is relatively good at selecting national champions and who is not. And although I do not consider computer ratings to be legitimate national championship selectors, I will go ahead and include them in this section as well, just for comparison's sake.
I will be grading on a scale of 0 to 5, with 5 being the best.


Parke Davis selected Yale and Michigan.

Grade: 5



Every other organization selected Michigan.

Grade: 4.2



Grade Averages 1901-1902

:




1) Billingsley (math system)
4.6
2) Houlgate (math)
National Championship Foundation
Helms

2.7
2.7
2.7
5) Parke Davis
2.5