Home
1901 College Football National Championship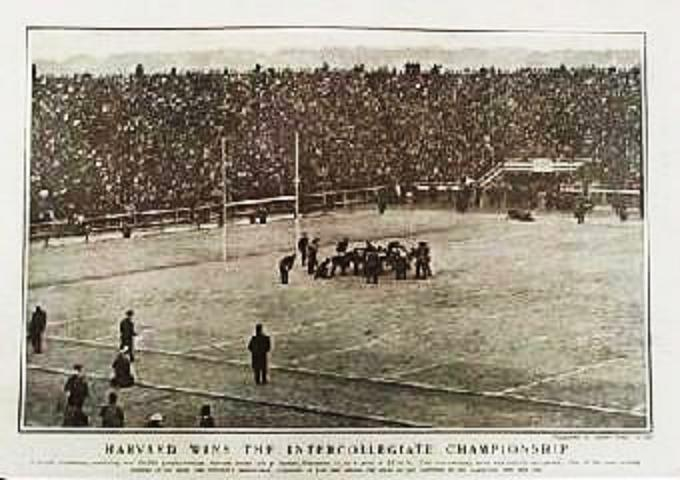 Pictured above is the biggest game of the 1901 season, Harvard-Yale, as published that year in Harper's Weekly. The caption tells you all you need to know about who was considered national champion at the time
:
"HARVARD WINS THE INTERCOLLEGIATE CHAMPIONSSHIP." Indeed, had there been an AP poll in 1901, Harvard would have been #1 by a landslide.

However, organizations choosing national champions decades later beg to differ. Here is how the "major selectors" listed in the NCAA Records Book, all selecting long after the fact, see the 1901 college football national championship (omitting math/computer ratings, which neither I nor anyone else recognize as constituting titles)

:



Michigan

:

Helms, National Championship Foundation
Yale

:

Parke Davis

You can click on the selector to read my review of that person or organization.

I will not be seriously addressing Parke Davis' alleged selection of Yale, except to say this

:

12-0 Harvard defeated 11-1-1 Yale 22-0.

Until sometime around the turn of the 21st century, when Billingsley's math formula tabbed Harvard #1, the NCAA Records Book did not even list Harvard as being selected as a champion by anyone at all for 1901. Imagine if, 100 years from now, virtually everyone considered Utah to be the national champion of 2004, rather than Southern Cal. Not to mention Utah 2008, Boise State 2006 & 2009, etc.

The question is, who is right? The Eastern-biased "experts" of 1901, who had no doubt that 12-0 Harvard was the best? Or the "experts" of many decades after the fact, who prefer 11-0 Michigan so much that they do not even see Harvard as sharing the title? Or are they both only half-right, and Michigan and Harvard should be considered co-champions?

For some seasons, there are no certain answers to such questions. For this 1901 season, however, there is an easy and unequivocal answer. Peruse the details of the 1901 season below with me, and you too shall have no doubt as to who the rightful national champions of 1901 are.


All rankings in the following article, except as noted, come from my 1901 top 25, which is based on a hypothetical AP poll (within logical reason of course)
.
Harvard 1901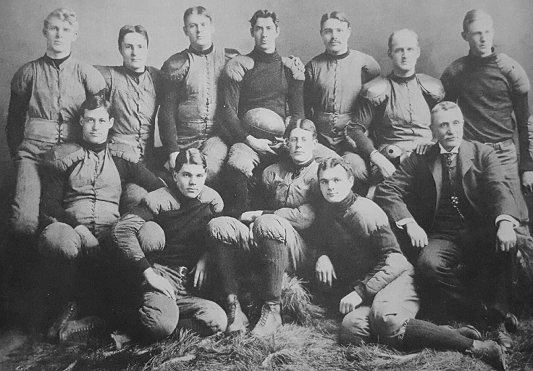 | | | |
| --- | --- | --- |
| Williams (6-4) | 16-0 | #16 |
| Bowdoin (2-7) | 12-0 | |
| Bates (3-3) | 16-6 | |
| Amherst (4-6-2) | 11-0 | |
| Columbia (8-5) | 18-0 | #12 |
| Wesleyan (3-6-1) | 16-0 | |
| at Army (5-1-2) | 6-0 | #5 |
| Carlisle (5-7-1) | 29-0 | |
| Brown (4-7-1) | 48-0 | |
| at Penn (10-5) | 33-6 | #13 |
| Dartmouth (10-1) | 27-12 | #9 |
| Yale (11-1-1) | 22-0 | #4 |

Harvard's new young coach, Bill Reid, had just graduated the previous Spring. When Harvard defeated Yale at the end of the season to cap a perfect 12-0 campaign, he became the first person to have beaten Yale as both a player and coach. He would return in 1905 as Harvard's first salaried coach, going 18-3-1 over two seasons, but he saw them as complete failures because of a pair of losses to Yale. Reid is best remembered now as being instrumental in saving college football when it was in danger of being banned following the 1905 season due to a rash of player deaths.

Harvard had a seriously silly

eight

consensus All Americans in 1901, all but 3 of their starters (Michigan, by contrast, had only one All American, but the selectors were Easterners). The best of them were fullback Thomas Graydon, tackle Oliver Cutts, and end Dave Campbell. I once saw Graydon listed by

Sports Illustrated

as one of the three best players of the decade 1900-'09 (Michigan's Willie Heston, introduced in the Michigan section below, was another), but I don't know what they were basing that on.

Oliver Cutts was a 28 year-old law school student, having previously played for 3 years as an undergraduate at Bates. This sort of thing was common back then

:

Michigan star Willie Heston, for example, played 3 years for San Jose State, then 4 years for Michigan. Cutts was Harvard's best lineman, and in fact a New York Times article from a decade later refers to him as one of the greatest linemen to have ever played the game.

But the only Hall of Famer on the team was Dave Campbell. A three-time consensus All American, Campbell was Harvard's captain and best defensive player. Harvard went 32-1-1 in his three years as starter, with the loss and tie coming to Yale in the two previous seasons. In what proved to be the play of the year in 1901 for Harvard, Campbell improvised a lateral play to beat 5-1-2 Army (#5) 6-0 late in the game.

That was the only game in which Harvard was threatened. Their other big wins came in their last two games, 27-12 over 10-1 Dartmouth (#9) and 22-0 over 11-1-1 Yale (#4). Yale, of course, was the biggest win of all. It was only the 10th time Yale had lost since the scoring system was introduced in 1883, and Yale was 208-10-8 between then and the end of the 1901 season. Harvard outscored their opponents in 1901 by a total of 254-24. But if you think those numbers are impressive, wait until you see Michigan's...

Michigan 1901
Albion (7-4-1)
50-0
Case (2-7)
57-0
Indiana (6-3)
33-0
(#26-27)
Northwestern (8-2-1)
29-0
#14
Buffalo (4-2)
128-0
Carlisle (5-7-1)
22-0
at Ohio State (5-3-1)
21-0
Chicago (8-6-2)
22-0
Beloit (5-3-3)
89-0
(neutral site) Iowa (6-3)
50-0
#20

Rose Bowl


Stanford (3-2-2)

49-0
This was legendary Fielding "Hurry Up" Yost's first year as coach at Michigan. He was 165-29-10 in 25 seasons at Michigan, is credited with as many as 6 national championships, and won 10 conference titles (it would have been more had Michigan not withdrawn from the league for about a decade). Overall he was 198-35-12 at 5 schools, putting him in the top 10 for best all-time FBS coaching win percentage. It should be noted that the NCAA has him at 196-36-12, but I and most researchers believe the NCAA to be wrong here-- for the details on the 2 games in question, see the "AfterAfterword" section at the end of this article.

In any case, the heart of Yost's career was his first 5 years at Michigan, 1901-1905. These were known as the "point-a-minute" teams, outscoring opponents by an eye-popping 550-0 in 1901, and 2821-42 from 1901 to 1905 (that point total may be 2823

:

see the addendum at the end of this article for the details). Latter-day organizations give Michigan a national championship for each of Yost's first four years here, 1901-1904, and the school claims all four. Michigan went 55-0-1 during this time before they lost the last game of the 1905 season, and that is the second-longest unbeaten streak in major college football history.

Yost came to Michigan from Stanford, where he was let go because of a new rule that the coach had to be a Stanford graduate. But he had also been an assistant coach at San Jose State while he was coaching at Stanford, which was important because he took San Jose State's star halfback, Willie Heston, with him to Michigan. Heston thus played 3 years at San Jose State, then another 4 years at Michigan 1901-1904. But again, that sort of thing was common in those days.

Willie Heston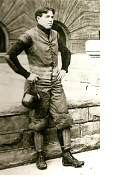 Although Jim Thorpe and Red Grange are generally considered the best players of college football before World War II, Willie Heston has some impressive supporters. In 1925, when Grange was being proclaimed by nearly the entire football world as the best ever, Fielding Yost begged to differ, saying that Heston was the best player to that point. Yost being his former coach, his testimonial may not mean much, but Pop Warner (who coached Thorpe) and Knute Rockne reportedly agreed with him.

The Wikipedia article on Heston claims that Walter Camp and Grantland Rice proclaimed Heston to be the best player they ever saw, but I do not recall having seen evidence of this myself. While it is possible that Rice saw Heston play, it seems unlikely (being a young postgraduate living in the South at the time). It seems even less likely that Camp saw him play. However, I have no doubt that both touted his greatness at one time or another, whether they actually saw him play or not.

Like Red Grange, Willie Heston ran a 10 second 100 yard dash. He scored 20 touchdowns in 1901, and amassed 72 touchdowns 1901-'04, still the school record. He would later be named a consensus All American in 1903 and 1904, the first player outside the East to be named more than once. He is one of two Hall of Famers on this team.


The Rest of the Team
The other Hall of Famer on the team, and Michigan's only consensus All American in 1901, was fullback Neil Snow. He scored 5 touchdowns in the inaugural Rose Bowl following the 1901 season, good for 25 points (touchdowns being worth 5 points at that time), both still Rose Bowl records. He was considered the star of the team that year.

Quarterback Boss Weeks called the plays (coaches never did at that time), halfback Everett Sweeley was a good kicker, and tackle Hugh White was the team captain. The other tackle, Bruce Shorts, was Michigan's best lineman, even though he was allegedly playing through the 1901 season with appendicitis.

Did I say there were two Hall of Famers on this team? Technically, there was actually a third. Nine Michigan players from the point-a-minute teams 1901-'05 would go on to coach football teams, most for just a year or two. One of them, however, went on to become a Hall of Fame coach

:

guard Dan McGugin. He went to Vanderbilt in 1904 and immediately turned them into the best team in the South, finishing with a record of 197-55-19 over 30 years.
Steamrolling Opponents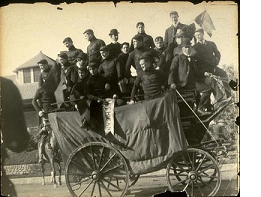 En route to outscoring their opponents 550-0, Michigan scored a high of 128 on Buffalo, and in their significant wins they defeated 8-2-1 Northwestern (#14) 29-0, 6-3 Indiana (#26-27) 33-0, and 6-3 Iowa (#20) 50-0.
The closest anyone got to them was 5-3-1 Ohio State, who fell 21-0, but 8-6-2 Chicago and 5-7-1 Carlisle were close to that, each losing 22-0.

After the regular season, 8000 to 8500 spectators watched Michigan best 3-2-2 Stanford 49-0 in the first ever Rose Bowl, though the game would not be called that until 1923. Michigan's 49-0 rout of Stanford following the 1901 season would have been worse had the game not been mercifully ended 8 minutes early. Neil Snow was the game MVP with his 5 touchdowns on 107 yards. Willie Heston added 170 yards on 18 carries, but no touchdowns. Albert Herrnstein, usually an end but playing halfback in the Rose Bowl, contributed 97 yards and a touchdown. Stanford lost 9 fumbles, and Michigan outgained them 527 to 67 yards. The game was such a mismatch that the next Tournament of Roses football game was not held for 14 years. Pictured above is the team in the Tournament of Roses parade, and the actual game is pictured below.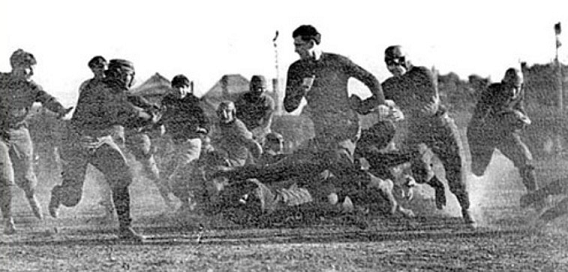 Yost was merciless. He ran a hurry-up offense, and in fact got his nickname, Hurry Up Yost, due to the way he continually shouted "Hurry Up!" between plays during both practice and games. Quarterback Boss Weeks often called out the next play while still in the pile after a tackle, and the team hustled to the line to snap the ball as soon as possible after each play.

Yost expected maximum effort and maximum speed regardless of score. Once, while Michigan was on the way to pummeling his alma mater West Virginia 130-0 in 1904, Yost ran onto the field after a West Virginia first down to scold his players for allowing it to happen, and exhort them to play harder.

Harvard vs. Michigan in 1901
Looking at the profiles of the teams above, it is easy to see why latter-day organizations consider Michigan to be the national champion of 1901. They had an all-time great coach (Yost) and player (Heston), outscored opponents 550-0 compared to Harvard's 254-24, played in the first Rose Bowl, and Michigan went on to become one of the greatest football programs of all time, whereas Harvard was done as a football power by the mid-1920s. So Michigan has by far the greater name value for people today looking back at 1901.

But why did people in 1901 consider Harvard the best? As I implied earlier, for the same reason that people in 2004 believed that Southern Cal was the national champion of 2004 and not Utah. The same reason people in 2009 universally agree that Alabama is the national champion of 2009 and not Boise State. The Western Conference, as the Big Ten was called, was seen in 1901 the way the Western Athletic Conference is seen today.

Here are the significant wins for each team in 1901.
The opponent rankings
come from my 1901 top 25, which is based on a hypothetical AP poll (within logical reason of course)
.
Harvard 12-0
Michigan 11-0

| | | |
| --- | --- | --- |
| Williams (6-4) | 16-0 | #16 |
| Columbia (8-5) | 16-0 | #12 |
| at Army (5-1-2) | 6-0 | #5 |
| at Penn (10-5) | 33-6 | #13 |
| Dartmouth (10-1) | 27-12 | #9 |
| Yale (11-1-1) | 22-0 | #4 |

| | | |
| --- | --- | --- |
| Indiana (6-3) | 33-0 | (#26-27) |
| Northwestern (8-2-1) | 29-0 | #14 |
| (neutral site) Iowa (6-3) | 50-0 | #20 |






Harvard defeated the rest of their opponents by an average of 22-0, Michigan by an average of 55-0. Both teams did actually play a common opponent, 5-7-1 Carlisle. Harvard beat them 29-0 and Michigan beat them 22-0.

One of the most prominent football writers of the time, Caspar Whitney, ranks the relevant teams like this

:

Harvard #1, Yale #2, Michigan #3, Army #5, Columbia #11, Penn #12, Dartmouth #14, Williams #15, Northwestern #16, and Iowa #19. He has another Michigan opponent, Chicago, at #18, but at 8-6-2 and with a loss to a high school and ties with 5-3-3 Beloit and 4-4-1 Purdue, it is unlikely that anyone else would have ranked them.

I don't actually think Whitney was adept at rating teams, and don't endorse his top 20. I merely bring it up to demonstrate the prevailing feeling of that time.

The main point, as you can clearly see above, is that there is no comparison between the schedule Harvard faced and the schedule Michigan faced. Harvard dealt three schools their only loss

:

5-1-2 Army, 10-1 Dartmouth, and 11-1-1 Yale. Army's two ties came against 9-1-1 Princeton and Yale. Yale defeated Princeton.

When Harvard met Yale at season's end, it was considered to be for the national championship, and if there had been an AP poll in 1901, Yale might well have finished #2. That is because they were considered to be the top program in college football. They were the national champion of the previous season, and as stated before, they were 208-10-8 from 1883 to 1901 with at least 9 national championships.

It would be interesting to see where, exactly, modern day organizations that single out Michigan for 1901, without even mentioning Harvard, would rank Army, Dartmouth, Yale, and Northwestern (who was tied by 5-3-3 Beloit) in a top 25 for 1901. I don't believe they stopped to think about it at all, because any way you slice it, Harvard played 3 top 10 teams, Michigan none.

But with so few intersectional games in 1901, perhaps the real issue here is the presumed superiority of the East. Was the East really so much better than the West?

Michigan vs. the East
The short answer is yes, the East really was so much better than the West. In the ten years prior to 1901, Michigan was 1-7 against Eastern teams, the lone win coming against a 6-4-1 Cornell team. Overall, Michigan was 1-16 against the East before 1901. The rest of the Big Ten actually fared a bit better, going 2-7-1 against the East.

So writers had good reason to assume that the East was better in 1901. "But," you say, "Fielding Yost arrived at Michigan in 1901. They were not the same team that lost to all those Eastern teams in the 1890s." Good point.

But Yost, hungry to prove his team's might to Eastern writers and teams, began to schedule major Eastern teams in 1906. Over the next three seasons, Michigan went 0-4 against Eastern teams, and those were the only losses Michigan suffered those years. Michigan played 30 Eastern teams 1906-1918, and went 12-15-3 against them.

"But," you say, "That was

after

Michigan's 1901-1905 point-a-minute teams, which went 55-1-1 and were nearly unbeatable. Michigan was not as good after 1905." Perhaps so. But here's the problem with that idea

:

while Michigan was going 12-15-3 against Eastern teams 1906-1918, they went 57-4-4 against everyone else on their schedule (omitting one tie in a game against Michigan alumni). Now, 57-4-4 is worse than 55-1-1, but it isn't

much

worse. In fact, I would say that it is intriguingly close.

Would their 12-15-3 record against major Eastern teams also be only a bit better had they played them 1901-1905?

Here is more food for thought

:

there were seven seasons 1906-1918 when Michigan's only losses came to Eastern opponents. So if Michigan had not played major Eastern teams during that time, and had just stuck to their regional schedule with maybe a couple of minor Eastern teams thrown in, like they did 1901-1905, they might be claiming seven more "national" championships 1906-'18!

In any case, this much is clear

:

Michigan's schedule was

far

weaker than Harvard's in 1901. The only argument Michigan has left is those big numbers they ran up on opponents. 550-0 is rather convincing looking back from today.

Running Up the Score
Of course, how seriously are we supposed to take the fact that Michigan chose to run up the score on opponents long after games were decided, and Harvard did not? This was not an issue of ability, it was an issue of sportsmanship. None of the following Eastern powers ever scored 100 points in a game after 1900
:
Harvard, Yale, Princeton, Penn, Pittsburgh, Army, and Dartmouth. But they are all named as national champions at least once 1901-1927, and the group totaled 27 national championship selections in that time.
However, dozens of teams outside the East scored 100 points in a game, teams from every level and region of football, from Montana to Arizona to Baylor to Southern Miss to Wabash.
Michigan was not the first team to score as high as 550 points, nor the first to score or win by an average of at least 50 points per game, nor the first to go unbeaten, untied, and unscored upon. All of those things had been done before, and would be done again many times in the next few decades.

As an example, Minnesota scored 656 one year and 725 another during Michigan's point-a-minute years. Tulsa averaged more than 1901 Michigan's 50 per game at least three times just before and after WWI. Yet none of those Minnesota and Tulsa teams, all unbeaten, are considered national champions.

Big Scoring Teams That Flopped
History has shown again and again that you cannot look at something like Michigan's 50-0 average score over lesser teams in a lesser conference/region and say, "Wow, Harvard and Yale wouldn't have had a chance against them."

Georgia Tech under John Heisman is a perfect example. They scored the record of 222 on a team in 1916. In 1917, they went 9-0 and won by an average score of 54.6 to 1.9. Pittsburgh was 10-0 that year, but did not win their games by nearly as much, and there was a lot of debate about which team was the best. Both had played 9-2 Penn, with Georgia Tech beating them 41-0 and Pitt only winning 14-6, so most people presumed Georgia Tech to be the best. Today they are the unanimous choice as national champion for 1917.

But in 1918, Georgia Tech appeared to be even better, winning six games by an average score of 77-0 (which blows away Michigan 1901). This time, however, they met Pitt to settle the debate. And Pitt, though they again paled scoring-wise compared to Georgia Tech, won the game 32-0.

I am not saying that this proves that Harvard would have beaten Michigan in 1901, or even that Pitt would have beaten Georgia Tech in 1917.

What it proves is that a team could run up the score on their own region and still lose (badly) to the best team in the East.
In other words, it proves that Michigan's 550-0 is

practically irrelevant

as an argument for a national championship.

But Georgia Tech 1918 is just one example. If you've seen enough on this issue, skip the following bulleted list and move on to the conclusion. But if you want more examples, here comes a random assortment for you

:



In 1920 Georgia Tech dominated their own region, 8-0 by an average score of 38.6 to 0.8, but again lost to Pitt. The next year they were again 8-0 against their own region plus 4-5 Rutgers (average score 44.1 to 3.5), but lost to Penn State. The next year they were 7-0 against their region, but lost to Navy and Notre Dame. That makes a total of four more national championships Georgia Tech could be claiming 1918-'22 had they not played Eastern powers or Notre Dame!
Colorado 1905 was 8-0 against Rocky Mountain teams (44.9 to 1.3), but lost to Nebraska 18-0.
Rice 1916 beat SMU 146-3, but still lost to Texas 16-2 and finished third in the SWC.
Texas 1906 dominated their own region (9-0), but lost to Vanderbilt 45-0. In 1913 they were 7-0 in their region, but lost to Notre Dame 30-7. The next season, they only played teams in their region, went 8-0, and one computer system has them #1 for that season. But the season after that they played Notre Dame again and lost again, 36-7.
Oklahoma scored 107 and 140 in two games in 1916, then played real teams and finished 6-5. They scored 179 and 99 in two games in 1917, yet finished 6-4-1-- and were shut out 3 times and held to 14 or less 7 times! They scored 157 in 1919, then went 4-2-3 in the rest of their games.
Vanderbilt, coached by 1901 Michigan guard Dan McGugin, had many years when they dominated the South, but were tripped up by Michigan or a power team from the East. In 1904 they only played their region, going 9-0 by a total score of 474-4. The next year was more of the same, except that they also played Michigan and lost 18-0. Three times Michigan gave Vanderbilt their only loss, and another year Vandy finished 8-0-1 when Michigan tied them. In 1910 they were 8-0-1, and did not play Michigan, but were tied by 6-2-2 Yale. In 1912 they again did not play Michigan, but took their only loss against Harvard.
Harvard vs. Michigan Conclusion
So let's recap. Harvard played in a much stronger region. And even if you go ahead and wrongly assume that the West was as good as the East, Harvard played 3 top ten teams, and Michigan played none. Because Michigan's best opponent, Northwestern, would still not make a top ten. Michigan had a losing record against Eastern teams both before and after this time. And Michigan's 550-0 proves little to nothing, as history has demonstrated. What argument does Michigan have left?

Logically irrelevant arguments, such as their name value today, the greater fame of their coach and players that results from that, and the fact that they stomped a bad Stanford team in the Rose Bowl, a game that was irrelevant (outside California and perhaps Michigan) at that time. It all gives new meaning to the phrase "History is written by the Victors."

It is true that we can never know whether or not Michigan would have beaten Harvard had the two teams played, but you could say the same thing about North Dakota State, who was 7-0 in 1901. More pertinently, you could say the same thing about Utah and Southern Cal in 2004.

Maybe you think, "Yeah, but Utah did not outscore their opponents 550-0 in 2004." True, but no one does that anymore. From 1901 to 1930, many teams averaged a higher score differential than that. But in 2004 Utah actually did accomplish something that almost no one does anymore. They are one of only two teams in the last 40 years that defeated every opponent by more than a touchdown (Nebraska '95 being the other). So relative to their time, they were perhaps even more impressive than Michigan 1901.

At this point there can be no doubt that Harvard can claim a national championship for 1901. The only question is whether or not Michigan should be considered a co-champion. And I would say this

:

If you consider Utah 2004 and Boise State 2009 to be national champions, then yes, you could consider Michigan to be one in 1901 also. If not, then you don't have any reason to consider Michigan to be co-champion in 1901.

In the end, the main thing is that Harvard defeated the other top teams in their own region (Yale, Army, Dartmouth), which also happened to be the best region. If Michigan had at least played and beaten the other top teams in their own region, then I would give them the benefit of the doubt and consider them co-champion for 1901. But Michigan did not even play the other two top teams

in their own conference

:

9-1-1 Minnesota and 9-0 Wisconsin.

And 9-0 Wisconsin, the 1901 Big Ten co-champion, brings up another issue...

Wisconsin 1901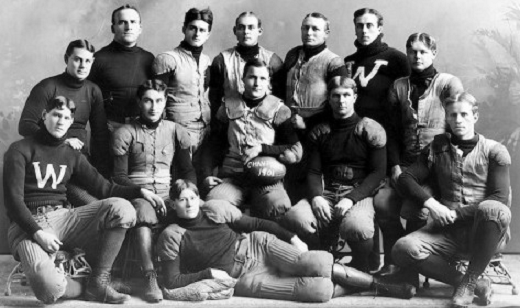 | | | |
| --- | --- | --- |
| Milwaukee Medical | 26-0 | |
| Hyde Park High School | 62-0 | |
| (neutral site) Beloit (5-3-3) | 40-0 | |
| Knox (8-3-1) | 23-5 | |
| Kansas (3-5-2) | 50-0 | |
| Nebraska (7-2) | 18-0 | #19 |
| Iowa State (2-6-2) | 45-0 | |
| at Minnesota (9-1-1) | 18-0 | #8 |
| at Chicago (8-6-2) | 35-0 | |
The forgotten team. No national championship mention. No consensus All Americans. No Hall of Famers. Well, maybe one, kind of...

Their coach, Phil King, is in the Hall of Fame as a player, as he had been an All American quarterback at Princeton in the 1890s, once scoring 11 touchdowns in a single game. When he arrived at Wisconsin in 1896, he turned them into the dominant team in the Big Ten. In his first six years, King's teams won 3 Big Ten titles, and had a winning record against every Big Ten team they played, including Michigan. They were 52-6-1 in that time, with two of those losses coming to Eastern powers and a third coming to Wisconsin alumni.

And 1901 was by far his best team, and possibly Wisconsin's best ever. They were never threatened in 9 games and outscored their opponents 316-5. It may not be 550-0, but then, Phil King did not strive to run up scores against already-beaten opponents. What matters is that, like Michigan, no one came close to them.

Also like Michigan, a number of Wisconsin players went on to coach other teams. Two of them became notable coaches. One was halfback/end Eddie Cochems, who scored 3 touchdowns in a 35-0 win over Chicago this season, including a 100 yard kickoff return (although I have also seen a source credit this touchdown to end Bill Juneau).

Cochems is best remembered now as the coach of the first team to throw a forward pass

:

St. Louis, on September 5, 1906. He was also the first coach to base his offense on the forward pass, and it was very successful. St. Louis went 11-0 in 1906 and outscored opponents 407-11, leading the nation in scoring.

Wisconsin end Bill Juneau also found success as a coach, going 80-36-11 at five schools, including 7-0 at Wisconsin in 1912 and 9-0 at Texas in 1918. He may or may not have scored the 100 yard kickoff return touchdown against Chicago in 1901 that is generally credited to Cochems, but he did kick a field goal and five extra points in that game. And 5 for 5 on extra points was a rare success in those days.

The Wisconsin-Minnesota game was expected to be the game of the year in the Big Ten, as both had been powerful the year before, when 10-0-2 Minnesota won the conference title with a 6-5 victory over 8-1 Wisconsin, and both teams were returning most of their starters. Coming into their 1901 game, 7-0-1 Minnesota had shut out all 8 of their opponents, and 7-0 Wisconsin had shut out all but one of theirs. But despite the build-up, that 1901 game turned out to be a dud, with Wisconsin winning handily 18-0, all points scored in the first half. Team captain and tackle Arthur Curtis, who would later become a department head at Northwestern's medical school, scored 2 touchdowns. Minnesota finished 9-1-1, and I have them ranked #8 for 1901.

Still, as expected, the winner of that game won the Big Ten. But no one expected what Yost did at Michigan to share the title.

Michigan vs. Wisconsin in 1901
So this was the debate amongst Midwestern writers and football fans at the time

:

Michigan vs. Wisconsin. Michigan scored more, albeit to an irrelevant degree, since Wisconsin was never threatened either. Michigan played more winning teams than Wisconsin did, but the best opponent Michigan played was 8-2-1 Northwestern (#14), whereas Wisconsin actually played a team that could have been ranked in the top ten that year

:

9-1-1 Minnesota (#8).
Minnesota defeated Northwestern 16-0, beat another three potentially rated opponents (7-2 Nebraska, 6-3 Iowa, and 8-2 Illinois) by a similar score, and shut out every opponent they faced except Wisconsin, who, again, beat Minnesota 18-0.
Wisconsin's schedule was thin, with only two potential top 25 opponents (#19 Nebraska being the other one

;

Wisconsin also beat them 18-0), but that one win against Minnesota is something Michigan's resume cannot match

:

a victory over a top-notch opponent.

Michigan and Wisconsin played two common opponents. Michigan beat Beloit 89-0, and Wisconsin beat them 40-0. Michigan beat Chicago 22-0, and Wisconsin beat them 35-0. You'll notice that Michigan scored more against one and Wisconsin scored more against the other. Not that it matters, as none of those games were competitive.

No one can know what would have happened had the teams played, but here are some facts that cast doubt on anyone merely assuming that Michigan would have won. Although Michigan went 55-1-1 1901-1905, rolling up all those huge scores, they only went 1-1-1 against the other best team in their conference

:

a win over 14-1 Chicago in 1902, a tie with 14-0-1 Minnesota in 1903, and a loss to 11-0 Chicago in 1905. In addition to Wisconsin in 1901, they did not play 13-0 Minnesota in 1904. That 1-1-1 record indicates a 50% chance of beating Wisconsin in 1901.

Furthermore, the two teams did play the next year. And even though Michigan returned almost their entire team, and performed even better than they did in 1901 (outscoring a tougher schedule 644-12), and Wisconsin graduated much of their team, and declined to being a good 6-3 team, Michigan only won that game 6-0. That does not bode well for their chances in 1901.

The View in 1901
Ralph Hoagland, perhaps the leading writer on Midwestern football at the time, had this to say about Wisconsin

:

"...the 1901 eleven may be recorded as the best to have represented Wisconsin

;

it ranks with the foremost teams the West has seen." Hoagland, like Wisconsin coach Phil King, played his football at Princeton, so there may have been some bias for a fellow alumnus there. But he had much praise to heap on Michigan that season too. And his all-conference team had an equal 4 players from both Wisconsin and Michigan.

If it sounds like these two teams' accomplishments end up being about equal, that is because they were. Which makes it very strange that 100 years later, Michigan is considered the national champion for 1901, and no one seems to know a single thing about Wisconsin. The people who actually watched these teams play in 1901 would be baffled by it.

Because of that win against Minnesota, I think Wisconsin has more of an argument for sharing a title with Harvard than Michigan does. But the main point is, if you consider Michigan to be a co-champion with Harvard in 1901 (and thus also believe that Utah 2004 and Boise State 2009 are national co-champions), then I just don't see how you can fail to also include Wisconsin as a third national champion in 1901.

Anyway, it's time to hand out the trophies...

Awards Ceremony
1901 #1 and sole national champion:

12-0 Harvard


Contenders:

11-0 Michigan and 9-0 Wisconsin

These are the awards I will be handing out for each season, except seasons when there are no contenders. For this purpose, what I mean by a contender is a team that I think is very close to being worthy of sharing the national championship. A team that you could make an argument for, even if that argument is weak. But they are teams that I myself do not see as national champions.

In this case, as I have said already, I think that to recognize Michigan in 1901, you must also recognize Wisconsin in the same year, not to mention Utah in 2004 and Boise State in 2009. It all depends on how stringent your definition of a "national champion" is. I think it is good to have ties for the national championship in the many seasons where it is merited, but if you have too many ties, the term "national championship" becomes even more hollow than it already is. It disappears.

A third category is also possible

:

a "national co-champion" who is not #1, but who has done just enough to be considered a co-champion with the #1 team. For example, if Wisconsin had beaten a couple more top 25 caliber teams, and especially if one of them was at least a mid-level Eastern opponent, such as 9-3 Lafayette or 7-2 Syracuse, I would then consider Wisconsin to be a national champion, but not #1. As for Michigan, they needed to play at least one top 10 caliber opponent.

And if Wisconsin and Michigan had played each other (I once read that they considered a game after the season, but could not agree on a time and place), the winner would definitely be national co-champion, and in fact almost certainly share the #1 spot with Harvard. A win against the other is the crucial missing ingredient for both Wisconsin and Michigan.

Grading the Selectors
I will also be grading the NCAA Records Book's selectors for each season, and keeping a grade point average, so we can see who is relatively good at selecting national champions and who is not. And although I do not consider computer ratings to be legitimate national championship selectors, I will go ahead and include them in this section as well, just for comparison's sake.
I will be grading on a scale of 0 to 5, with 5 being the best.


Billingsley's system is the only selector that listed Harvard at all.

Grade: 5



Helms, Houlgate (another math system), and the National Championship Foundation all selected Michigan.

Grade: 1.1



Parke Davis selected Yale, or at least is listed as having done so.

Grade: 0



On a side note, I have seen another four computer ratings for 1901 not listed in the NCAA Records Book, and two of them had Harvard at #1, one had Wisconsin, and one had Michigan.

As for Helms and the NCF picking Michigan (alone), it really makes me wonder what kind of research these organizations put into their selections. Did they even look at Harvard? It really is a lot like some organization 100 years from now ignoring 2009 Alabama in favor of Boise State. And did they look at Wisconsin?

I get the feeling they didn't. My hunch is that they saw the name MICHIGAN at 11-0, the name YOST, the opponent STANFORD in the ROSE BOWL, the total score 550-0, and never bothered to look at the details or at any other team.
Afterword: History As Written by the Victors
From Wikipedia about Michigan in 1901
:
"Michigan finished the season 11-0 and was considered the national champion."

I have never read a single source from 1901 who considered Michigan to be the national champion, whereas I have seen many 1901 sources refer to Harvard as such. The above quote should be edited as follows
:
"Michigan finished the season 11-0, and forty years later the Helms Foundation selected them as 1901 national champion."
From Encyclopedia.com
:
"Michigan in 1901 and 1902 managed to take the national championship away from the Ivy League."

Again, Michigan did not manage to do so until 40 years after the fact. And this quote makes it sound like they actually beat Harvard in 1901 and Yale in 1902. But actually, Michigan "managed to take the national championship away from the Ivy League" not on the field of play, but via erasure and revision.

Perhaps 100 years hence, Wikipedia will assert that Boise State finally captured the national championship away from the SEC in 2009. And none of us will be around to laugh.
AfterAfterword: History as Written by the NCAA
As I stated in the article, the NCAA has Michigan coach Fielding Yost at 196-36-12 for his career, while most researchers have him at 198-35-12. The difference comes down to 2 games. The first is a game he coached at San Jose State at the end of the 1900 season. The NCAA does not consider him to have been the official coach for that game, but he was the head coach in every sense of the word, and San Jose State lists him as such in their media guide/record book (he was the last of 3 head coaches there that season). SJ State won that game, leaving Yost 1-0 as coach at San Jose State, and that gives him 1 more win than the NCAA recognizes.
The second game in contention is a match between Nebraska and William Jewel while Yost was coach at Nebraska in 1898. The NCAA has Nebraska at 7-4 that season, with a loss to William Jewel, while everyone else has Nebraska at 8-3, with a win over William Jewel. And by everyone else, I mean the Nebraska media guide/record book, wikipedia, the College Football Data Warehouse, James Howell's all-time scores website, and every researcher I have seen discuss the matter at all.
Me, I'm going with 198-35-12. But either way, Fielding Yost was without doubt one of the greatest football coaches of all time.

Addendum
In 2009, John Kryk, author of

Natural Enemies

, discovered that Michigan scored a safety in their 1903 game with Ferris State that was mistakenly not counted in the final score that has been recorded for that game ever since. So instead of 88-0, it should have been 90-0. Michigan still records the score as 88-0, but now they have an asterisk next to it, with an explanation. But if you add those 2 points in, Michigan's total for 1901-1905 becomes 2823 points.