Home
1904 College Football National Championship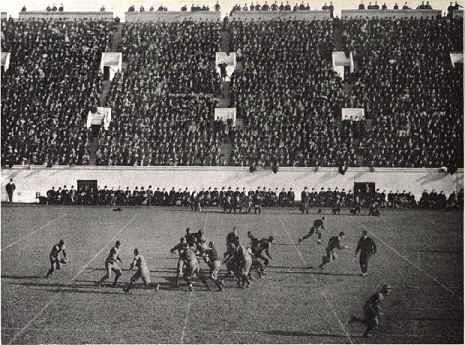 Pictured above is Pennsylvania at Harvard in 1904. It was 12-0 Penn's biggest game of the season, and they won 11-0. But perhaps the star of this photo is the venue. Built the year before, Harvard Stadium was the first concrete stadium.

For the fourth consecutive year, it's Michigan vs. the best team of the East for the mythical national championship (MNC), though the Eastern champion has been a different team each of the four years. This time it was 12-0 Penn's turn in the limelight. However, some writers at the time insisted that 10-1 Yale was the "real" Eastern champion despite an upset loss to Army, so I'll be giving them a look too.

And for the second consecutive year, Michigan shared the Western Conference title with Minnesota. Michigan was 10-0, and Minnesota was 13-0 (and rolled up their own "point-a-minute" numbers). There are a couple of impressive darkhorses to take a peek at too.


But here is how the "major selectors" listed in the NCAA Records Book, all selecting long after the fact, see the 1904 college football national championship (omitting math/computer ratings, which neither I nor anyone else recognize as constituting titles)

:



Michigan

:

National Championship Foundation (tie)
Pennsylvania

:

Parke Davis, Helms, National Championship Foundation (tie)

You can click on the selector to read my review of that person or organization.

Looks like Penn is a winner. And I'll end half the drama again by agreeing with everyone else here. Penn is a mythical national champion in 1904. The question is, can Michigan claim a share? Or Minnesota? Or even Yale, who, despite taking a loss, would have gotten the second-most first place votes had there been an AP poll at the time?


All rankings in the following article, except as noted, come from my 1904 top 25, which is based on a hypothetical AP poll (within logical reason of course)
.
Pennsylvania 1904
| | | |
| --- | --- | --- |
| Penn State (6-4) | 6-0 | (#26-31) |
| Swarthmore (6-3) | 6-4 | #15 |
| Virginia (6-3) | 24-0 | |
| Franklin & Marshall (0-10) | 34-0 | |
| Lehigh (1-8) | 24-0 | |
| Gettysburg (5-3-2) | 21-0 | |
| Brown (6-5) | 6-0 | (#32-50) |
| Columbia (7-3) | 16-0 | #13 |
| at Harvard (7-2-1) | 11-0 | #6 |
| Lafayette (8-2) | 22-0 | #14 |
| Carlisle (10-2) | 18-0 | #12 |
| Cornell (7-3) | 34-0 | #23 |
Harvard, Yale, and Princeton, the Eastern champions 1901-1903, as well as almost every year since American football had been invented, were known as the "Big Three." The term "Big Three" was not an official athletic organization, just a popular and press-driven name. But when people of this time referred to a "Big Four," they were generally adding Penn to the Big Three. Penn first rose to greatness under Hall of Fame coach George Woodruff (top 5 in all-time FBS winning percentage) 1892-1901, winning consensus championships in 1895 and 1897.

Penn's 1904 coach, Dr. Carl Williams, had been the captain and quarterback of the 1895 championship team, which went 14-0, and Penn was 38-3 during his three years as a player. He was 60-10-4 as coach at Penn 1902-1907, and
was a practicing optometrist when he wasn't coaching
.

In 1904, Penn was lightly regarded in terms of talent compared to Yale, but over the next few years, people came to realize how deep with top-notch players this Penn team was.

Hall of Famers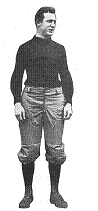 Penn 1904 featured four members of the College Football Hall of Fame, the most of any team I've covered thus far.

One of them, however, was inducted as a coach rather than as a player. Fullback Andy Smith was a consensus All American in 1904, and was particularly strong on defense, but his greatest fame would come as coach of California's "Wonder Teams," who went unbeaten five straight seasons 1920-1924. Overall he was 116-32-13 at three schools.

Penn's best player of this decade, end Bill Hollenback (pictured), would miss the 1905 season with a broken leg, then come back as a consensus AA in 1906 and 1908 at fullback. Jim Thorpe, whose Carlisle team played Penn to a tie in 1908, called him "my greatest and toughest opponent." Hollenback played pro football and coached at Penn State, the highlight there being a 16-0-1 run 1911-1912, contending for the MNC both seasons.

Quarterback Vince Stevenson, like Andy Smith, was a consensus All American in 1904. He was small, 5' 9" and 148 pounds, but he was a great open-field runner whose specialty was hurdling would-be tacklers. I have read countless writers from the time marveling at his leaping and elusive runs with the ball. Sounds like he was fun to watch. Stevenson was also considered to be very smart, creative, and a great gameday coach (sideline coaches were not allowed to call the plays at that time). He was especially adept at dissecting and outguessing opposing offenses.

The fourth Hall of Famer was center and captain Bob Torrey, a consensus AA in 1905. A great defensive player, Torrey is credited by most older sources as the first "roving center," a center that played back off the line on defense (the original middle linebacker). This later became standard for most college football teams. However, later sources, and modern ones such as wikipedia, credit Michigan center Germany Schulz (who will be introduced as a freshman below) with inventing the roving center. But this is just another example of Michigan successfully rewriting history, as Torrey was roving before Schulz even enrolled at Ann Arbor.

There were actually two other Hall of Famers on this team. Guard Frank Piekarski, Penn's third consensus AA in 1904, is in the Polish-American Sports Hall of Fame, and was the first Polish All American. He scored 3 touchdowns in a 34-0 season-ending win over Cornell. End Garfield Weede, a non-consensus All American, saw his season end with a broken leg against Gettysburg. He is in the Kansas Sports Hall of Fame as a player and coach, going 70-37-10 at Washburn and Pittsburgh colleges in Kansas.

The Rest of the Team
Tackle Otis Lamson, strong on defense and as a ball carrier, would be consensus All American in 1905. Guard August Ziegler would be consensus AA in 1906 and '07. Halfback Marshall Reynolds was a nonconsensus AA in 1904. He was a great punter and kicker who could kick equally well with either foot.

In all, ten players from this team would make an All American list in their careers.

1904 Season
Penn's defense was tremendous from start to finish this season, as that was their focus. Opening opponent Penn State (6-4, #26-31), usually a patsy, was a program on the rise who went on to have a good season, and they had their sights set on beating Penn. They could not move the ball on Penn's defense, but succeeded in holding Penn scoreless themselves for almost the entire game. Penn scored a touchdown with only a minute left to win 6-0.

The next opponent, Swarthmore (6-3, #15), was deja vu all over again

:

usually a patsy, suddenly strong this season, sights set on bringing down Penn. Swarthmore was the only team that scored on Penn in 1904, losing just 6-4. The next season, this game would be a bloodbath--literally. Allegedly, a picture of a player's mangled, bloody face from that game would become exhibit A in the movement to abolish football in 1905. Penn would win that one too, finishing 12-0-1, while Swarthmore would finish 7-1.

For this 1904 game, Penn punted on first down the entire first half because they wanted to work on their defense. Swarthmore hit a 42 yard field goal just 2 minutes into the game, but those were the last points they (or anyone in 1904) were able to get. Penn started to move the ball in the second half, and drove 65 yards for their touchdown. Coach Williams saw Swarthmore as a good opportunity to toughen his team up, and he arranged for two scrimmages with Swarthmore during the following week. Penn reportedly dominated the scrimmages. Then they dominated their next four opponents.

The opening games aside (games Penn treated as practice for the "real" games ahead), Penn's toughest game came in a midseason bout with Brown (6-5, #32-50). And a bout it was, with unusually rough play on both sides ("rough" being the euphemism of the time for kicking, slugging, choking, etc.). Penn scored an early touchdown that held up for the 6-0 win, then Brown outplayed them the rest of the way. But Brown could not score, their best effort ending at the Penn 15 with a fumble. Penn did most of the fumbling in this game, but they were aided by Brown's weak punting.

Penn then cruised through the meat of their schedule without a real threat.

The most important game was at 7-2-1 Harvard (#6), Penn winning 11-0 on great efforts from Piekarski and Stevenson, the latter scampering for several long runs that constituted most of the offense. Penn's other big wins were 16-0 over 7-3 Columbia (#13), Stevenson getting off 3 long runs to score or set up touchdowns, 22-0 over 8-2 Lafayette (#14), and 18-0 over 10-2 Carlisle (#12).
Yale 1904
| | | |
| --- | --- | --- |
| Wesleyan (3-7) | 22-0 | |
| Trinity-Connecticut (1-6) | 42-0 | |
| Holy Cross (2-5-2) | 23-0 | |
| Penn State (6-4) | 24-0 | (#26-31) |
| Springfield (4-4-1) | 6-0 | |
| Syracuse (6-3) | 17-9 | (#26-31) |
| at Army (7-2) | 6-11 | #7 |
| at Columbia (7-3) | 34-0 | #13 |
| Brown (6-5) | 22-0 | (#32-50) |
| at Princeton (8-2) | 12-0 | #8 |
| Harvard (7-2-1) | 12-0 | #6 |
I covered Yale in my article on the
1902 national championship
. End Tom Shevlin, tackle James Hogan, guard Ralph Kinney, and quarterback Foster Rockwell, Yale's four consensus All Americans in 1904 (the most of any team), all started on that 1902 team. The 1904 coach, Charles Rafferty, had been an end on that team. But Walter Camp was still the advisory coach.
Another five players were nonconsensus All Americans, and a further five players would be consensus AA in later seasons. Among these were backs Lydig Hoyt and Paul Veeder, both good kickers. Yale may have been the deepest and most talented team in the East, but they were upset at 7-2 Army (#7) in one of the most famous games of the decade.
In that game, Army's offense went nowhere, but they still scored twice in the first half. The first was a blocked Veeder punt returned for a short touchdown. Yale dominated the half, but repeatedly fumbled to end drives into Army territory. Near the end of the first half, Yale fumbled at the Army 5, and the ball was returned 105 yards for a touchdown. Army thus led 11-0 at the half. Yale continued to dominate the second half, but also continued to fumble the ball away, giving Army two field goal attempts, both missed. Yale finally got it together late in the game, moving through Army easily for a long touchdown drive, scored by Kinney. When Yale got the ball back, they moved through Army with ease again, but time was called with the ball on the Army 8 yard line, preserving an 11-6 win for Army.
The Army game followed two other poor performances, a 6-0 win over Springfield (4-4-1) and a 17-9 win over Syracuse (6-3, #27-31), neither opponent being particularly tough that season. So the Army upset was the end of a midseason 3-game slump.
After that, they handled their opponents with ease, beating their season ending rivals Princeton (8-2, #8) and Harvard (7-2-1, #6) by identical scores of 12-0. Kinney blocked a punt in the Princeton game that was returned for a touchdown.
Penn vs. Yale in 1904
Those writers of the time who favored Yale as the Eastern champion argued that Yale was the best team, and that Army had just gotten lucky against them. And Yale was, after all, one of the "Big Three," and had beaten the other two members of the Eternal Triangle, Princeton and Harvard, whereas Penn had just beaten Harvard. Also, Penn and Yale played four common opponents, with Yale winning by more against each of them. Yale beat Penn State 24-0, while Penn beat them 6-0

;

Yale beat Columbia 34-0, Penn 16-0

;

Yale beat Brown 22-0, Penn 6-0

;

Yale beat Harvard 12-0, Penn 11-0.

But the common opponent comparison is extremely misleading. Both Penn and Yale struggled in 3 games, but 2 of Penn's 3 are represented by their common opponents, compared to none for Yale. And Yale's Columbia outcome was their best game, whereas none of Penn's best games are included amongst the common opponents. As for the Harvard game, 1 point is not a relevant difference anyway, but Penn played them on the road, Yale at home.

Penn's 3 struggles were all against good teams, and they were all wins. Yale's 3 struggles, on the other hand, included an actual loss, and one of them came against a team that was just bad (4-4-1 Springfield). Furthermore, even if they did not play Princeton, Penn played 9 major winning opponents, Yale 7. And unlucky or not, the fact is that Yale lost to Army. I myself would not even consider Yale a contender.

But this wasn't actually much of a controversy even at the time. Most writers and fans considered Penn the Eastern champion in 1904, and Yale itself conceded the title to Penn. Still, if there had been an AP poll in 1904, Yale would have finished second, ahead of 10-0 Michigan and 13-0 Minnesota.
Michigan 1904
| | | |
| --- | --- | --- |
| Case (7-2) | 33-0 | |
| Ohio Northern (7-2-1) | 48-0 | |
| Kalamazoo (1-6) | 95-0 | |
| Physicians & Surgeons | 72-0 | |
| at Ohio State (6-5) | 31-6 | |
| American Medical | 72-0 | |
| West Virginia (6-3) | 130-0 | |
| at Wisconsin (5-3) | 28-0 | #24 |
| Drake (5-4) | 36-4 | |
| Chicago (10-1-1) | 22-12 | #9 |
I covered Michigan's great coach, Fielding Yost, and their best player, halfback Willie Heston, in my review of the 1901 national championship, and I also wrote Michigan team summaries for both 1902 and 1903. The main losses from the 1903 team were end Curtis Redden and tackle Joseph Maddock. The important returnees were Heston, who was a consensus All American for the second straight year, and 230 pound tackle John Curtis. The team saw a lot more rotation of different players starting, and players switching positions almost weekly, than Michigan had experienced in the previous 3 years, but the results were the same. This time they outscored opponents 567-22.

Most of the new players did not amount to much, but 3 were of interest. The first was Walter Rheinschild, a Californian whose recruiting was a big national story. While in high school, tales of his football talent grew to mythical proportions, and there was a bidding war among colleges to gain his services, including an offer of $2200 from Dartmouth (according to Rheinschild). He chose Michigan, but both he and the school maintained that he was not paid at all to attend. Rheinschild did not ever play up to the level of his recruiting reputation, and was just a reserve on this 1904 team. But in 1907, after a year-long academic suspension, he had a very good season at tackle.

John Garrels started at end for half the season, but did not letter. He would become an excellent player in 1905 and '06, and would win a silver medal in hurdles and a bronze in the shotput at the 1908 Olympics.

Then there was the big man, Michigan's most famous player of this decade other than Heston...

Germany Schulz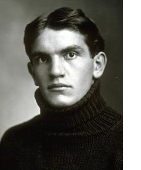 Adolph "Germany" Schulz is considered the greatest center of his time, and a 1951 National Football Foundation poll named him the greatest center of all time. He is credited with inventing the spiral snap and the roving center (as was Penn's Bob Torrey, as noted above). Very big and fast, he was tremendous on defense and kick coverage. He was also dogged by controversy throughout his career at Michigan, and newspapers continued digging up stories for a few years after he had left the school.
Schulz was a 21 year old who worked in a steel factory when he was recruited, and had reportedly been paid to play for a number of amateur and professional teams, leaving him ineligible according to most college's standards. And he was, to be kind, not scholastically gifted, which made keeping him academically eligible a challenge. Reforms swept throughout college football after the 1905 season, and Michigan withdrew from the Western Conference to avoid the bulk of these reforms, but their own faculty fought for reforms from within, rendering Schulz academically ineligible for 1906 (like Rheinschild). He was back on the field in 1907, then cost Michigan reentry into the Western Conference in 1908 when he returned for a fourth year (the Western Conference allowed only 3 years eligibility after 1905). For all that, he was ruled academically ineligible again that fall, and Yost was unable to settle the matter and get him on the field until late October. But he made it through the rest of the 1908 season, promptly abandoning all pretense of his "studies" thereafter.

So Schulz was the centerpiece of bad press for Michigan, involving a number of players, that would continue for six more years, when their quarterback was found to have played the entire 1909 season without attending classes. That led to all the old improprieties being dug up again throughout the 1910 offseason.

Schulz is described by all who played him as a giant of a man who could also move very fast. Reports put him at a pretty consistent 6'4" or 6'5", but references to his playing weight are all over the map, from a low of 200 pounds (as a freshman), to the more typical reports of 230#, to 250#, and up to a high of 285#. He was consensus All American only one season, 1907, but his legend grew over time
.

1904 Season
Michigan's fourth "point-a-minute" team again rolled up the big scores, including a curious 130-0 mauling of Yost's alma mater West Virginia. He must have had some issue with his old school, because he was famously adamant about his team winning this game by as much as humanly possible. Unfortunately, Michigan's schedule was incredibly weak this season, the weakest of any of the "point-a-minute" teams. They only played 2 conference opponents, and in fact those were the only major football teams they faced at all (Ohio State and West Virginia were minor schools, playing mostly other minor schools, at that time). Their two game schedule consisted of a 28-0 win at 5-3 Wisconsin (#24) and a 22-12 win against 10-1-1 Chicago (#9) at home.

Chicago featured two consensus All Americans, the first time a team from the West had more than one in a season. And they had a third player who would be consensus All American in 1905. But unfortunately, they were tied at home in a big upset by 9-2-1 Illinois (#21), drastically reducing the value of Michigan playing and defeating them. Illinois lost to 9-3 Nebraska (#22), who was not nearly as strong as they had been in 1902 and 1903, when they had back-to-back perfect seasons. Nebraska lost to unrated Colorado. So the well was poisoned.
Minnesota 1904
| | | |
| --- | --- | --- |
| Twin Cities Central High | 107-0 | |
| South Dakota (4-2-2) | 77-0 | |
| Carleton | 65-0 | |
| North Dakota | 35-0 | |
| Iowa State (7-2) | 32-0 | |
| Grinnell (1-6-1) | 146-0 | |
| Nebraska (9-3) | 16-12 | #22 |
| Lawrence | 69-0 | |
| Wisconsin (5-3) | 28-0 | #24 |
| at Northwestern (8-2) | 17-0 | #20 |
| at Iowa (7-4) | 11-0 | |
| at Shattuck | 75-0 | |
| at St. Thomas | 47-0 | |



I covered Minnesota in my

1903

article. They lost their best players from that team, tackle Fred Schacht and end Ed Rogers, but rolled right along, finishing 13-0 and outscoring their opponents 725-12, which got them a lot of national attention. That was-- and still is-- the second most points ever scored by a major (FBS) college football team in a season. Harvard 1886 holds the record of 765 points. As a result of the publicity, Minnesota might have edged out Michigan for a higher ranking if there had been an AP poll (Caspar Whitney ranked them higher, as covered below). However, Minnesota played 3 more games than Michigan did, and the fact is that on a per game basis, Michigan outscored Minnesota 56.7 to 55.8.





Minnesota's schedule wasn't much better than Michigan's. They did play 5 major teams, compared to 2 for Michigan, and 3 of their opponents were top 25 caliber, compared to 2 for Michigan, but none of their opponents were as strong as #9 Chicago. Minnesota's best wins were 17-0 at #20 Northwestern (who lost to Chicago 32-0) and 28-0 over #24 Wisconsin (the same score Michigan put on them). Minnesota was rather unimpressive in an 11-0 win at 7-4 Iowa, and even more unimpressive in a come-from-behind 16-12 home win over #21 Nebraska, who, as previously mentioned, was not as good as they had been the previous two years

.



It's that Nebraska game, and to a lesser degree the Iowa game, that separates Michigan from Minnesota. Michigan was not threatened by any opponent. And Michigan victim Chicago was a much tougher team than anyone Minnesota played (Chicago beat Wisconsin as well as Northwestern). So unlike 1901, when nothing really separated Michigan and Wisconsin, and 1903, when the same could be said for Michigan and Minnesota, in 1904 you can select Michigan over Minnesota for Minnesota's one weak game against Nebraska and Michigan's one big win over Chicago.





On the other hand, Minnesota was Nebraska's biggest rival, the team they most wanted to beat every year (while Wisconsin was Minnesota's biggest rival). And though Nebraska was not great, they were very good (they were 9-3, and beat Illinois, who tied Chicago). And Nebraska was the only team that came within a touchdown of Minnesota, and in fact they were the only team that scored against Minnesota. So it was clearly just one bad game, and thus there is plenty of reason to believe that Minnesota was about equal to Michigan.





But back on the first hand, one bad game is more than Michigan had. So I'm boiling this national championship analysis down to Michigan vs. Penn.
Penn vs. Michigan in 1904
Unfortunately, there isn't much to analyze. Here are the significant games for each team in 1904.
The opponent rankings
come from my 1904 top 25, which is based on a hypothetical AP poll (within logical reason of course)
.
Penn 12-0
Michigan 10-0

| | | |
| --- | --- | --- |
| Penn State (6-4) | 6-0 | (#26-31) |
| Swarthmore (6-3) | 6-4 | #15 |
| Brown (6-5) | 6-0 | (#32-50) |
| Columbia (7-3) | 16-0 | #13 |
| at Harvard (7-2-1) | 11-0 | #6 |
| Lafayette (8-2) | 22-0 | #14 |
| Carlisle (10-2) | 18-0 | #12 |
| Cornell (7-3) | 34-0 | #23 |

| | | |
| --- | --- | --- |
| at Wisconsin (5-3) | 28-0 | #24 |
| Chicago (10-1-1) | 22-12 | #9 |

Penn defeated the rest of their opponents by an average of 26-0, Michigan by an average of 65-1.

One of the most prominent football writers of the time, Caspar Whitney, ranks the relevant teams like this

:

Yale #1, Penn #2, Harvard #5, Minnesota #7, Michigan #8, Chicago #10, Lafayette #12, Wisconsin #13, Carlisle #14, Columbia #18, and Brown #20.

I don't actually think Whitney was adept at rating teams, and don't endorse his top 20. I merely bring it up to demonstrate the prevailing feeling of that time. He was obviously among those who favored Yale as best, dismissing their upset loss. And he was also a bit overly impressed by Minnesota's scoring total, ranking them higher than Michigan. And note how far back he has both Minnesota and Michigan. This is an example of why neither team would have had a chance at #1 in an AP poll in 1904.

Much of what I wrote for Harvard vs. Michigan for 1901 applies here as well. The East was a stronger region in general, and Penn played a far, far tougher schedule in any sense. And Michigan's greater propensity for running up the score is irrelevant.

East vs. West
In addition to the East vs. West numbers I gave in my 1901 article, the East continued to dominate the West 1901-1904, though significant games were few. 10-5 Penn beat 8-6-2 Chicago 11-0 in 1901, though that game was barely significant, Chicago not being particularly strong that season. In 1903, 6-2-1 Army beat 12-2-1 Chicago 10-6, which was significant precisely because Army was down that season, and it was their only win of value. Also in 1903, 11-2-1 Carlisle beat 10-1-3 Northwestern 28-0.

In 1904, there was only one significant East vs. West game, but it was a big one that got nationwide publicity, largely because it was held at the 1904 World's Fair in St. Louis. The game featured the best Indian school of the West, Haskell of Kansas, against the best Indian school of the East, Carlisle of Pennsylvania. Carlisle was coached by Minnesota's 1903 star and captain, Ed Rogers. Haskell came in at 8-0, having dominated the Missouri Valley, including a 23-6 win over 8-1-1 Kansas and a 14-6 win over 9-3 Nebraska. Carlisle was 9-2, having lost to top ten teams Penn and Harvard, but with no wins of value. On the way to St. Louis, Carlisle stopped in Columbus and their second team stomped on 6-5 Ohio State 23-0 (Michigan beat them 31-6). Haskell arrived in St. Louis early and their second team stomped on Washington-Missouri 47-0 on the same day.

12,000 spectators were in attendance, along with press from across the nation, but after Haskell took a quick 4-0 lead on a field goal, the game quickly became a farce. Carlisle moved at will on offense and shoved Haskell backward on defense, winning the game 38-4. That East-West result presents us with the following chain

:

Penn beat Carlisle 18-0, Carlisle beat Haskell 38-4, Haskell beat Nebraska 14-6, Nebraska beat Illinois 16-10, and Illinois tied Chicago 6-6. Michigan beat Chicago 22-12. Minnesota beat Nebraska 16-12. Victory chains are, of course, more worthless the longer they are. But it is interesting, and it at least tells us a little bit more than no East vs. West games would. And it only adds to the numbers that slowly grew each and every year.
Penn vs. Michigan Conclusion
Michigan would actually play Penn every year 1906-1917. The first 3 games were Michigan losses, 17-0, 6-0, and 29-0, despite the heroic efforts of Germany Schulz. In both 1906 and '07, their only loss came to Penn, and in 1908, their only loss aside from Penn came to Syracuse 28-4. In fact, in 1907, Michigan beat every other opponent they played by more than a touchdown, and shut them all out as well, and they were hosting Penn in the game they lost 6-0. But after Penn's Big Bill Hollenback graduated in 1908, Michigan caught up with Penn, and they ended up going a respectable 4-6-2 against Penn in that 12 year series.

But what really matters is 1904, and the difference in schedules here is simply ridiculous. This time, Michigan is not so much like Utah 2004 and Boise State 2009 as they are Marshall 1999. So if you consider 13-0 Marshall (AP #10) to be national co-champion with 12-0 Florida State in 1999
, then sure, you could consider Michigan co-champion in 1904. They might have been as good as Penn in 1904. I myself highly doubt it, but we'll never know. What we do know is that Michigan chose to play a schedule made up almost entirely of minor opponents. They really needed to play and defeat 13-0 Minnesota, whom they tied 6-6 the previous season. Michigan was in a 9 team conference, but only played 2 conference opponents. That is weak.

But let's turn our attention now to a couple of other teams who had perfect records, though neither is really a national championship contender...

Pittsburgh 1904
| | | |
| --- | --- | --- |
| Grove City (3-4-4) | 12-0 | |
| Mount Union (2-6) | 67-0 | |
| Westminster (4-3-2) | 38-0 | |
| Geneva (1-4-2) | 30-0 | |
| Susquehanna (2-5) | 40-0 | |
| California-Pennsylvania | 40-0 | |
| Waynesburg (0-6-1) | 83-0 | |
| West Virginia (6-3) | 53-0 | |
| Bethany (West Virginia) | 21-0 | |
| Penn State (6-4) | 23-5 | (#26-31) |
In 1904, the University of Pittsburgh was known as the Western University of Pennsylvania, and it was considered a sister school of Penn in Philadelphia. The WUP would adopt their current name in 1908.

Like a lot of small-time Eastern football schools, Pittsburgh decided in the early 20th century that they wanted to build themselves into a major football power. Penn State and Swarthmore, among many others, were on the same drive. Pitt hired head coach Arthur Mosse away from Kansas in 1903, and he brought half a dozen Kansas players along with him, but they finished 0-9-1 that first season. Undaunted, Pitt kept working, recruiting hard (which in those days required cold hard cash more than anything else), nabbing good players from other small schools, and they had one of the great turnarounds in college football history in 1904, going 10-0.

The star was Hall of Fame halfback Joe Thompson, who was recruited away from Geneva college. An Irishman who came to America at age 18, he had been 27-2-3 in 3 years at Geneva as a player-coach, and went 26-6 in a further 3 years at Pittsburgh 1904-'06. He then coached at Pitt 1908-'12, the highlight being a 9-0 season in 1910 in which they shut out every opponent. The National Championship Foundation selects them as a national champion for that season. He was later awarded the Congressional Medal of Honor for his heroism in World War One.

Pitt outscored their opponents 407-5 in 1904, but the only major opponent they played was 6-4 Penn State (#26-31), winning 23-5. National champion Penn only beat PSU 6-0, so that looks good for Pitt. But their schedule makes Pitt a non-contender. If Michigan 1904 is like Marshall 1999, Pitt 1904 is more like an unbeaten division 2 team. But Pitt would continue to get better over the years, reaching the top of college football a decade later with the arrival of Hall of Fame coach Pop Warner.
Vanderbilt 1904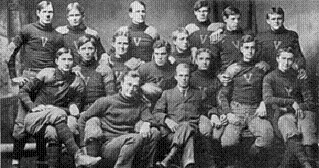 | | | |
| --- | --- | --- |
| at Mississippi State (2-5) | 61-0 | |
| Georgetown-Kentucky | 66-0 | |
| Mississippi (4-3) | 69-0 | |
| Missouri S&T (4-1-1) | 29-4 | |
| Centre (1-7) | 97-0 | |
| Tennessee (3-5-1) | 22-0 | |
| Nashville (1-7-1) | 81-0 | |
| at Central (Kentucky) | 22-0 | |
| Sewanee (7-1) | 27-0 | (#26-31) |
Hall of Fame coach Dan McGugin, a guard on a couple of Michigan's "point-a-minute" teams, had an immediate impact at
Vanderbilt
, going 9-0 and outscoring opponents 474-4 in his first season there. He was 197-55-19 in a long 30 year career at Vanderbilt, putting him on the list for top all-time FBS coaching win percentage, and he won 10 conference championships. They have not won a conference title since. This 1904 team is the only unbeaten and untied team in Vanderbilt history. No one came close to them, but the schedule was weak, with the one big game being a 27-0 victory over 7-1 Sewanee (#26-31) in their finale.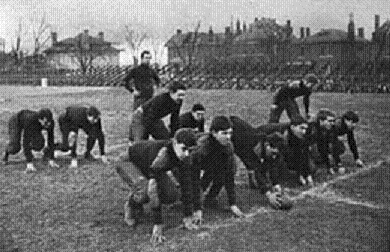 Vanderbilt ruled the South under McGugin, at least for the first half of his tenure. Over his first ten years, Vanderbilt went 71-3-2 against all opponents except major teams from the Big Ten and Eastern regions, whom they went 1-9-2 against. McGugin played his mentor and former coach Fielding Yost frequently over the years, but never won. This included four straight losses to Michigan over the following four seasons, giving Vandy their only loss in 3 of them. But McGugin and Yost were more than friends and competitors, they were family. They married sisters, and were thus brothers in law.
Despite the 1-9-2 record against major Big Ten and Eastern teams, Vanderbilt experienced unprecedented success against such opponents for a Southern team. They beat a very strong 9-3 Carlisle team 4-0 at home in 1906, tied 9-2-1 Navy 6-6 in 1907, and tied 6-2-2 Yale in 1910. Even those ties were celebrated like huge wins in Nashville.
Awards Ceremony
1904 #1:

12-0 Penn


Contenders:

10-0 Michigan and 13-0 Minnesota

These are the awards I have been handing out for each season, except seasons when there are no contenders. For this purpose, what I mean by a contender is a team that I think is very close to being worthy of sharing the national championship. A team that you could make an argument for, even if that argument is weak. But they are teams that I myself do not see as national champions.

A third category is also possible

:

a "national co-champion" who is not #1, but who has done just enough to be considered a co-champion with the #1 team.

Michigan is a certain contender, while Minnesota barely qualifies (if at all... I went back and forth on including them). I think Michigan should definitely be rated ahead of Minnesota in any case.

Grading the Selectors
I have been grading the NCAA Records Book's selectors for each season, and keeping a grade point average, so we can see who is relatively good at selecting national champions and who is not. And although I do not consider computer ratings to be legitimate national championship selectors, I have been including them in this section as well, just for comparison's sake.
I am grading on a scale of 0 to 5, with 5 being the best.
The National Championship Foundation selected Penn and Michigan.

Grade: 3.6
Billingsley selected Minnesota. Grade

:

0.5



Every other organization selected Penn.

Grade: 5



Grade Averages 1901-1904

:




1) Helms
Houlgate (math system)

3.83
3.83

3) Parke Davis
3.75
4) Billingsley (math)
3.70
5) National Championship Foundation
3.0