Home
1903 College Football National Championship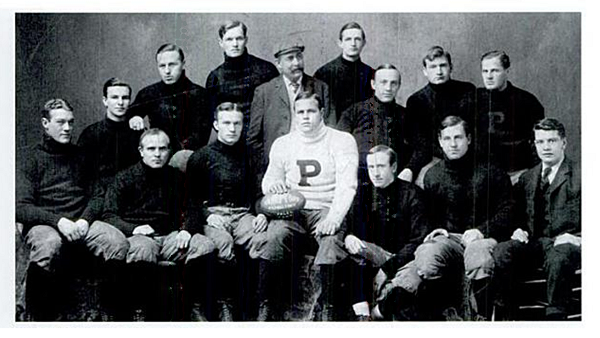 Princeton's star and captain, John DeWitt, showed up for their 1903 team photo in his torn-up gameday jersey, and the photographer, disapproving, went to find something else for him to wear. All the photographer could find that would fit is the bulky white sweater with a black P pictured above. Like many potentially irrelevant accidents in college football history, this became a tradition, and thereafter at Princeton, the captain of a championship team was entitled to wear the white sweater. In this same season, the other two national championship candidates experienced their own accident-come-tradition when Michigan left their water jug on the field in Minneapolis.

It's becoming a broken record
, but for the third year in a row, the national championship comes down to the best team in the East vs. Michigan. Except this time, 11-0 Princeton is the Eastern champion, and this time, 11-0-1 Michigan was tied by 14-0-1 Minnesota. As a result, Princeton is a nearly unanimous selection for 1903, even among latter-day selectors

:



Princeton

:

Helms,
Parke Davis
, National Championship Foundation (tie)
Michigan

:

National Championship Foundation (tie)

You can click on the selector to read my review of that person or organization.

The National Championship Foundation's selection of Princeton and Michigan without also including Minnesota is, to be kind, not very bright. But it makes bald their bias and willful ignorance, which in turn casts doubt on their selection of Michigan all four years 1901-1904.

I'll forego most of the drama here and agree with everyone that Princeton is a national champion for 1903. The only drama left is whether or not they are

the

national champion of 1903. Can Michigan and Minnesota take a slice of the pie?


All rankings in the following article, except as noted, come from my 1903 top 25, which is based on a hypothetical AP poll (within logical reason of course)
.
Princeton 1903
| | | |
| --- | --- | --- |
| Swarthmore (6-4) | 34-0 | |
| Georgetown (7-3) | 5-0 | #20 |
| Gettysburg (0-8-2) | 68-0 | |
| at Brown (5-4-1) | 29-0 | (#26-30) |
| Lehigh (9-2-1) | 12-0 | #15 |
| Carlisle (11-2-1) | 11-0 | #9 |
| Bucknell (4-5) | 17-0 | |
| Dartmouth (9-1) | 17-0 | #5 |
| Cornell (6-3-1) | 44-0 | #18 |
| Lafayette (7-3) | 11-0 | (#26-35) |
| at Yale (11-1) | 11-6 | #2 |
Harvard won the East in 1901, Yale in 1902, and the third member of the "Big Three" (also known as the "Eternal Triangle"), Princeton, won in 1903. At the time, these three teams were considered to have won every "national championship" in college football history except two seasons when Pennsylvania snuck in for a title (1895 and 1897). And even in those two seasons, Parke Davis refuses to accept reality and selects Yale to share the titles with Penn.

Princeton was coached by A.R.T. ("Doc") Hillebrand, a Hall of Fame player at Princeton who as a coach went 27-4 in three years at his alma mater. But more than any other national championship candidate from this decade, Princeton depended on one great player, Hall of Fame guard John DeWitt. A
consensus All American for the second straight season, if there had been a Heisman Trophy in 1903, DeWitt would have won it, especially after his heroics in the season finale at previously unbeaten Yale. He was a great all-around player, and even a strong ball carrier, but he was best known for his extraordinary punting and drop-kicking. He could drop-kick 50 yard field goals from all angles. Princeton was 28-2-1 the three years DeWitt started, both losses coming to Yale.

The other two consensus All Americans were end Howard Henry and halfback J. Dana Kafer. But more important than those two was 23 year old freshman tackle James Cooney, who would be a consensus AA in 1904 and '06. Like many stars at many colleges of the time, he was recruited to Princeton with scholarships and job offers. Further showing the power of having football talent, Cooney, the son of a coal miner from Scranton, Pennsylvania, went on to become Princeton's 1907 class president, and later the president of the Scranton Coal Company.

A defense-and-kicking team, Princeton outscored opponents 259-6 in 1903, shutting out every team they faced before their finale at Yale. They were tested early in a 5-0 win over 7-3 Georgetown (#20), the only team aside from Yale to come within a touchdown of them. Their major wins before Yale were 12-0 over 9-2-1 Lehigh (#15), 11-0 over 11-2-1 Carlisle (#9), and 17-0 over 9-1 Dartmouth (#5).
That Dartmouth team was the best in their history to that point, as they romped over their other 9 opponents, including #8 Harvard, #13 Holy Cross, and #14 Amherst. But Princeton beat them easily, with DeWitt getting off 60 yard punts as well as an 80 yard kickoff return. Cooney scored two touchdowns and Kafer scored one.

In the end, 10-0 Princeton traveled to New Haven to meet 10-0 Yale in a game that would decide the Eastern championship.

Princeton vs. Yale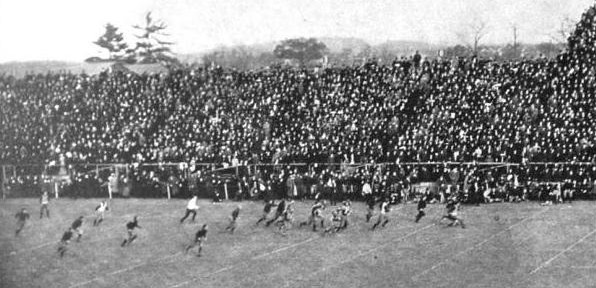 Like 1902, Princeton-Yale was again the game of the year, and Thomas Edison was again there to film it. You can read about Yale's great players, and the previous year's clash between Princeton and Yale, in my article on the 1902 national championship. Yale, who finished 11-1, thrashed every team they played in 1903 except Princeton, including 36-10 over 8-2 Holy Cross (#13), 25-0 over 9-1 Columbia (#7), and 16-0 over 9-3 Harvard (#8).

Yale controlled the game from the start, but Princeton pulled out a win on the strength of John DeWitt's legendary performance. Yale tackle James Hogan scored a touchdown early to cap a 50 yard drive in which he did most of the ball carrying. Another Yale drive ended with a fumble at the Princeton 20. Late in the first half, Yale lined up for a field goal attempt, but John DeWitt blocked it and returned the ball 75 yards for a touchdown (pictured above), then kicked the extra point. On that miracle, the teams went into the half tied, despite Yale dominating.

In the second half, Yale recovered a Princeton fumble and steadily drove to the goal line, but the ball was pulled out of James Hogan's hands just before he crossed over for what would have been a touchdown. This was the second miracle for Princeton, and would prove to be the difference in the game. Yale had another field goal attempt blocked later in the half.

Princeton produced little to no offense in this game, but through defense and kicking they had managed 3 long DeWitt field goal attempts. All had missed. But on Princeton's last chance, with the game nearly over, he did not miss, hitting a 53 yard field goal that split the uprights and shot several yards higher than the crossbar. That gave Princeton the lead 11-6, and three plays later it was over. DeWitt scored all 11 of Princeton's points, and signs on campus read "DeWitt 11, Yale 6."

Michigan 1903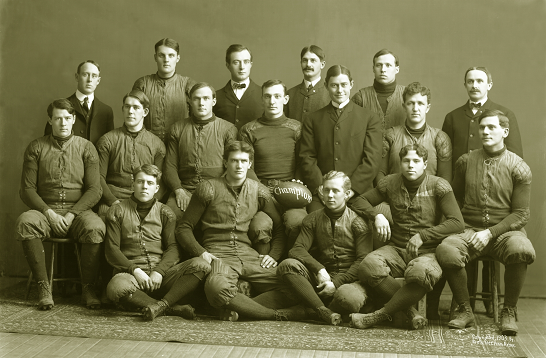 | | | |
| --- | --- | --- |
| Case (8-1) | 31-0 | #21 |
| Albion (3-3-2) | 76-0 | |
| Beloit (3-7) | 79-0 | |
| Ohio Northern (7-5) | 65-0 | |
| Indiana (4-4) | 51-0 | |
| Ferris State (1-3) | 88-0 | |
| Drake (5-3) | 47-0 | |
| at Minnesota (14-0-1) | 6-6 | #3 |
| Ohio State (8-3) | 36-0 | |
| Wisconsin (6-3-1) | 16-0 | #17 |
| Oberlin (4-4-1) | 42-0 | |
| at Chicago (12-2-1) | 28-0 | #12 |
Details of Michigan's great coach and players can be found in my reviews of the 1901 and 1902 national championships. Most of the players from the 1902 team graduated, but their best, halfback Willie Heston, remained, and he was finally named a consensus All American in 1903. Also returning were end Curtis Redden, the
newly crowned 1903 captain,
and tackle Joseph Maddock, both unanimous all-conference players this season.

But there were 7 new starters, and though Michigan still rolled up a lot of points in outscoring opponents 565-6, it wasn't nearly so many as in 1902, and they were tied 6-6 by the only team to score on them, Minnesota (Note

:

Michigan may have scored 2 more points in 1903 than they have been credited with. Details in the addendum after this article).

Like Princeton, Michigan had a freshman starting at left tackle, John Curtis. He would go on to become all-conference 3 straight years 1904-'06. He weighed in at a huge 230 pounds, played great defense, was a good short-yardage ball carrier, and would eventually assume the kicking duties. In 1905 he would tally 15 touchdowns and kick 24 extra points.

Guard Henry Schulte would find greater fame as Nebraska's track and field coach, winning 15 conference titles in his 20 years there, and becoming the namesake of Nebraska's Schulte Fieldhouse (recently knocked down to make way for the Tom and Nancy Osborne Athletic Complex).


End Frank Longman was not particularly significant as a player, but he is worth mention for his part in the infamous Michigan-Notre Dame "cold war," a sort of unplayed rivalry that lasted for 68 years after 1909, except for two games the teams played during World War II. Longman was the coach of Notre Dame when they beat Michigan in 1909, and for a variety of reasons, this sparked a hatred for Notre Dame that Michigan coach Fielding Yost never really got over. Michigan canceled the next year's game with them at the last minute, and Yost refused to play them again. There is actually far more to the story than that, for which I recommend John Kryk's book

Natural Enemies

.

Michigan had two big games in 1903, both on the road. The first was the tie with 14-0-1 Minnesota. The other was their season finale at 10-2-1 Chicago (#12), which they won handily, 28-0 (Edison also filmed this game). The only team that came closer to them than that, other than Minnesota, was 6-3-1 Wisconsin (#17), who fell 16-0 in Ann Arbor. Michigan also dealt Case (8-1, #21) their only loss 31-0 in the season opener.

Minnesota 1903
| | | |
| --- | --- | --- |
| Minneapolis Central High | 21-6 | |
| St. Paul Central High | 36-0 | |
| Minneapolis Eastern High | 37-0 | |
| Carleton | 29-0 | |
| Macalester | 112-0 | |
| Grinnell (5-4) | 39-0 | |
| Hamline | 65-0 | |
| Iowa State (8-1) | 46-0 | #22 |
| Iowa (9-2) | 75-0 | #24 |
| Beloit (3-7) | 46-0 | |
| Michigan (11-0-1) | 6-6 | #3 |
| at Lawrence | 46-0 | |
| at Illinois (8-6) | 32-0 | |
| at North Dakota State (5-1) | 11-0 | |
| Wisconsin (6-3-1) | 17-0 | #17 |
A Hall of Famer, Dr. Henry Williams was the coach at Minnesota for 22 seasons 1900-1921, going 136-33-11 and winning 8 conference titles. Four more of his teams also went unbeaten, and two more are also national championship candidates

:

1904 and 1911. Minnesota had a 35 game unbeaten streak 1903-'05.
Including one season as coach at Army, Williams' career winning percentage of .786 puts him on the list for top all-time FBS coaching win percentage.


Williams played for Yale 1887-1890 with Chicago's great coach Amos Alonzo Stagg. He invented the tackle-back offense and the Minnesota shift, forerunner of Knute Rockne's Notre Dame shift. When he wasn't coaching football, he practiced gynecology the other 9 months of the year. He is the namesake of Minnesota's basketball arena.

The Players
There were two Hall of Famers on this team. The first was end and captain Ed Rogers, who was in his 7th year of playing college football, the first four coming at Carlisle. He did the kicking too, and supplied the extra point that tied Michigan. The other was Bobby Marshall. He was a freshman, and did not letter this season, but he saw a lot of playing time as a substitute end, and in fact was sent in as a fresh blocker for the final drive that tied Michigan. Marshall was one of the first black players in the Western Conference, and the second African American to play professional football. He was also a professional baseball player and coach for 3 decades.

But their star and best player, oddly enough, is not in the Hall of Fame. Tackle Fred Schacht was a consensus All American this season, Minnesota's first. He was their best lineman, but they were not able to use him on the line much on offense because he was also their best ball carrier. Very tough to bring down, he did most of the rushing work in a 17-0 win over rival Wisconsin and scored 2 touchdowns.

Quarterback Sig Harris, also the punter and returner, was third-team All American on Walter Camp's list in both 1903 and '04. Minnesota's best defensive stopper, Harris was assigned to shadow Michigan great Willie Heston, and he tackled Heston all game long, stifling half of Michigan's offense. After graduation, Sig Harris served as Dr. Henry Williams' only assistant coach through 1920. In the 1930s, Harris delivered Minnesota's halftime pep talk for Michigan games.

Center Mose Strathern would be a non-consensus All American in 1904, when he was captain of a 13-0 Minnesota team. End Lloyd Burdick was a 25 year old law student who also taught at a business school on the side. He wrote numerous books, mostly about the Sioux (he spoke Sioux fluently), and he served as a congressman for North Dakota 1935-'45.

Minnesota and Michigan both fielded 6 first-team All-Western players.

The Season
Minnesota outscored opponents by a Yost-like 656-12 in 1903 (but they were just getting warmed up, and would blow well past that figure in 2 fewer games the next season). They gave Iowa State (8-1, #22) their only loss 46-0, beat rival Wisconsin (#17) 17-0, and overwhelmed 9-2 Iowa (#24) 75-0, the most points they had ever scored on a Western Conference team to that point. They also gave North Dakota State their only loss in 2 years. NDSU was coached 1902-1903 by Eddie Cochems, who had played for Wisconsin's 1901 MNC contender, and who would go 11-0 in 1906 as coach at St. Louis, the first team to ever throw and complete a forward pass. If the 11-0 score in Minnesota's win at NDSU is any indication, NDSU may have been the best team Minnesota played this season other than Michigan.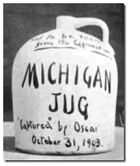 But the only game on the schedule that really mattered was Michigan, who was coming in on a 29 game winning streak. Played on Halloween day, the game was "broadcast," in a strange fashion, back to Ann Arbor and other cities via a phone line. It was a defensive game, with no scoring in the first half. A Michigan touchdown in the second half looked like it might hold up for the win, but late in the game, the Michigan line started to yield, and Minnesota drove for the tying touchdown. When the extra point tied the game, pandemonium ensued, with most of the crowd of 20,000 storming the field. Amidst the chaos, and with darkness descending, the Minnesota and Michigan captains met and agreed to call the game with about three minutes remaining.

This is the game where Michigan left behind their water jug, now known as the "Little Brown Jug," though it was neither little nor brown. Minnesota kept the jug as a trophy to celebrate their tie. When the teams next met, in 1909, they played for possession of the jug, and have done so ever since.
Princeton vs. Michigan and Minnesota in 1903
Here are the significant games for each team in 1903.
The opponent rankings
come from my 1903 top 25, which is based on a hypothetical AP poll (within logical reason of course)
.
Princeton 11-0
Michigan 11-0-1
Minnesota 14-0-1

| | | |
| --- | --- | --- |
| Georgetown (7-3) | 5-0 | #20 |
| at Brown (5-4-1) | 29-0 | (#26-30) |
| Lehigh (9-2-1) | 12-0 | #15 |
| Carlisle (11-2-1) | 11-0 | #9 |
| Dartmouth (9-1) | 17-0 | #5 |
| Cornell (6-3-1) | 44-0 | #18 |
| Lafayette (7-3) | 11-0 | (#26-35) |
| at Yale (11-1) | 11-6 | #2 |

| | | |
| --- | --- | --- |
| Case (8-1) | 31-0 | #21 |
| at Minnesota (14-0-1) | 6-6 | #3 |
| Wisconsin (6-3-1) | 16-0 | #17 |
| at Chicago (12-2-1) | 28-0 | #12 |

| | | |
| --- | --- | --- |
| Iowa State (8-1) | 46-0 | #22 |
| Iowa (9-2) | 75-0 | #24 |
| Michigan (11-0-1) | 6-6 | #3 |
| Wisconsin (6-3-1) | 17-0 | #17 |

Princeton defeated the rest of their opponents by an average of 40--0, Michigan by an average of 60-0, and Minnesota by an average of 47-1.

Much of what I wrote for Harvard vs. Michigan for 1901 applies here as well. The East was a stronger region in general, and Princeton played a far tougher schedule than either Michigan or Minnesota in any sense. And Michigan and Minnesota's greater propensity for running up the score is irrelevant. Especially in this case, as Princeton played a defense and field position game.

There were two major East vs. West games in 1903. 11-2-1 Carlisle (#9) gave 10-1-3 Northwestern (#16) their only loss 28-0, and 6-2-1 Army (#11) clipped 12-2-1 Chicago (#12) 10-6. The latter is particularly telling, as it was Army's only significant win of the season, and they were not among the East's ten best teams in 1903. So the West had clearly not yet caught up with the East.

With 8 potential top 25 opponents, Princeton's schedule makes this a non-race, especially considering the fact that they beat what was probably 1903's best team in Yale, and on the road no less. Minnesota and Michigan both performed very highly, but they did so in what was essentially a lower division of football. My conclusion for the 1901 national championship can be repeated here. If you consider Utah to be a national co-champion of 2004, and Boise State of 2009, then you can consider Michigan and Minnesota to be national co-champions of 1903. And like Michigan and Wisconsin in 1901, what Michigan and Minnesota both needed in 1903 to gain some benefit of the doubt was for one of them to defeat the other. The tie leaves them both short of a national championship resume.

As for comparing Michigan to Minnesota in 1903, they could not look more equal. They tied each other, rolled up similarly large scores against similar schedules, and even scored virtually the same amount of points in their games against Wisconsin. As absurd as it was for organizations to recognize Michigan as a national champion in 1901 and not Wisconsin, it is even more ridiculous to recognize Michigan for 1903 and not Minnesota.


But like 1902, there is a darkhorse candidate, and it's the same team...

Nebraska 1903
Lincoln High School
23-6
Grand Island
64-0
South Dakota (2-5)
23-0
at Denver (6-7)
10-0
Haskell (7-2)
16-0
#23
Colorado (8-2)
31-0
at Iowa (9-2)
17-6
#24
Knox (4-7)
33-5
at Kansas (6-3)
6-0
Bellevue
52-0
Illinois (8-6)
16-0
Nebraska finished 11-0 in 1903, their second straight perfect season. You can read about their coach and players in my article on the 1902 national championship. This year's team was a bit stronger as far as personnel goes, but they did not defeat an opponent nearly as powerful as Minnesota was in 1902, they did not shut out every opponent as they had in 1902, and they barely beat Kansas, who wasn't bad, but would not have made anyone's top 25. Still, that was the only time they were threatened, outscoring their opponents 291-17.

Most of the players were the same, but halfback Johnny Bell outscored star halfback John Bender this time around, 11 touchdowns to 10. And there was a new halfback, the well-named Earl Eager. The smallest player on the team, Eager's ball-carrying consisted of being literally thrown over the line of scrimmage in a play Nebraska called the "dog." Which makes you wonder how people were treating their dogs out on the frontier.

Nebraska beat 7-2 Haskell (#23) 16-0, 9-2 Iowa (#24) 17-6, and 8-2 Colorado 31-0. In their finale, they beat another Western Conference (Big 10) team, 8-6 Illinois, 16-0, all of the points coming in the second half. But Minnesota beat Iowa 75-0 and Illinois 32-0, far better than Nebraska's performance against those teams.

And Nebraska's struggle at unrated 6-3 Kansas was the sort of poor performance neither Michigan nor Minnesota suffered in 1903. Nebraska was stymied in that game, but stopped five Kansas scoring threats, then won 6-0 on a 75 yard John Bender touchdown.

While Nebraska had a perfect record, and you can thus argue that no one knows what would have happened if they had played Princeton, Michigan, or Minnesota in 1903, you could say the same thing about 4-0 Arizona State, or any number of unbeaten and untied teams in any season. Nebraska's thin schedule and one poor performance are enough to discard them as a candidate for the 1903 mythical national championship.
Awards Ceremony
1903 #1:

11-0 Princeton


Contenders:

11-0-1 Michigan and 14-0-1 Minnesota

These are the awards I will be handing out for each season, except seasons when there are no contenders. For this purpose, what I mean by a contender is a team that I think is very close to being worthy of sharing the national championship. A team that you could make an argument for, even if that argument is weak. But they are teams that I myself do not see as national champions.

A third category is also possible

:

a "national co-champion" who is not #1, but who has done just enough to be considered a co-champion with the #1 team.

Again, my reasoning here ends up being the same as it was for the 1901 national championship. And unlike 1902, Nebraska does not merit being listed as a contender this time around.

Grading the Selectors
I will be grading the NCAA Records Book's selectors for each season, and keeping a grade point average, so we can see who is relatively good at selecting national champions and who is not. And although I do not consider computer ratings to be legitimate national championship selectors, I will go ahead and include them in this section as well, just for comparison's sake.
I will be grading on a scale of 0 to 5, with 5 being the best.


The National Championship Foundation selected Princeton and Michigan.

Grade: 3



Everyone else selected Princeton.

Grade:

5



Grade Averages 1901-1903

:




1) Billingsley (math system)
4.7
2) Helms
Houlgate (math)
3.4
3.4
4) Parke Davis
3.3
5) National Championship Foundation
2.8
Addendum
In 2009, John Kryk, author of Natural Enemies, discovered that Michigan scored a safety in their 1903 game with Ferris State that was mistakenly not counted in the final score that has been recorded for that game ever since. So instead of 88-0, it should have been 90-0. Michigan still records the score as 88-0, but now they have an asterisk next to it, with an explanation.