Home
1911 College Football National Championship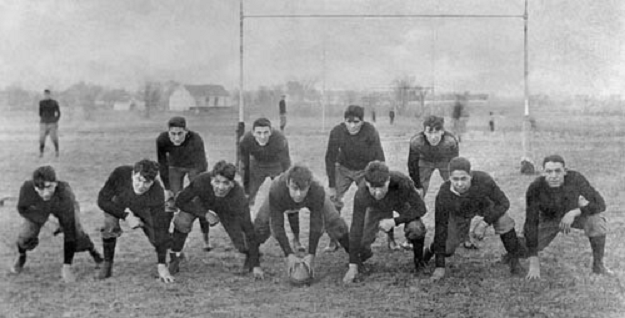 Pictured above is the starting 11 for the Carlisle Indian Industrial School, which featured the best backfield of 1911. Those players were, from left to right, Alex Arcasa, Hall of Fame quarterback Gus Welch, Possum Powell, and the greatest college football player of all time, the legendary Jim Thorpe.

The East had at least 3 mythical national championship (MNC) contenders in 1911

:

11-1 Carlisle, 8-0-1 Penn State, and 8-0-2 Princeton. 6-0-3 Navy is a potential 4th candidate, as they tied both Penn State and Princeton. The "West," which had not produced a viable candidate since Chicago in 1908, was dominated by 6-0-1 Minnesota, and they are certainly a candidate for the 1911 MNC.


Here is how the "major selectors" listed in the NCAA Records Book, all selecting long after the fact, see the 1911 college football national championship (omitting math/computer ratings,
which are not generally accepted as MNCs
)

:


Princeton

:

Helms,
Parke Davis
, National Championship Foundation (tie)
Penn State

:

National Championship Foundation (tie)

You can click on the selector to read my review of that person or organization.

Oddly enough, the two candidates that look most worthy to me are the two that were not selected, Carlisle and Minnesota. Selecting Penn State and Princeton to share the title is a bit awkward, since 6-0-3 Navy tied them both, begging the question, why not also include Navy and make it a trio? Navy did suffer an ugly tie against a weak Western Reserve team, but then Princeton suffered an equally ugly tie against a weak Lehigh team.

Who Would Have Won a 1911 AP Poll?
In each of my articles for the 1901 through 1910 national championships, you may have noticed that I pointed out which team would have been voted #1 had there been an AP poll at the time. Those choices were easy to make for those ten seasons, because there was an overwhelming and heavily acknowledged "best team" in the press each year. However, in 1911, that was not the case, and I don't think we can know who would have been voted #1.

College football historian Bob Kirlin believes that Princeton would have been voted #1 had there been an AP poll in 1911. You can see a list of which teams he thinks would have been voted #1 in a hypothetical AP poll for each season 1876-1935 here. While I agree with his picks for 1901-1910 (they are all readily obvious), I disagree with quite a few of his picks after that, starting with 1911. I don't know who would have been voted #1 in an AP poll in 1911, but neither does he. It's

impossible

to know. But my guess would be Minnesota or Carlisle, with Princeton at #3.

In any case, I'll address a hypothetical 1911 AP poll, and why I doubt that Princeton would have been voted #1 in such a poll, in more detail later in this article. For now, it's time to get to know the Eastern MNC candidates a little better.
All rankings in the following article, except as noted, come from my 1911 top 25, which is based on a hypothetical post-bowl AP poll (within logical reason of course)
.
Carlisle 1911
| | | |
| --- | --- | --- |
| Lebanon Valley (2-7) | 53-0 | |
| Muhlenberg (5-4) | 32-0 | |
| Dickinson | 17-0 | |
| Mount St. Mary's | 46-5 | |
| at Georgetown (7-1-1) | 28-5 | #11 |
| at Pittsburgh (4-3-1) | 17-0 | (#26-32) |
| at Lafayette (8-2) | 19-0 | #18 |
| at Pennsylvania (7-4) | 16-0 | #14 |
| at Harvard (6-2-1) | 18-15 | #7 |
| at Syracuse (5-3-2) | 11-12 | #20 |
| at Johns Hopkins (4-5) | 29-6 | |
| at Brown (7-3-1) | 12-6 | #13 |
The Carlisle Indian Industrial School, located in Carlisle, Pennsylvania, was founded by the U. S. Army in 1879 for the purpose of assimilating Native Americans into mainstream American society. It was primarily a vocational school, its academics on the level of a high school. The Army closed it down in 1917.

1911 was a big year for Carlisle football, but the school had been fielding powerful teams for years
, and they were already nationally famous. They first beat Penn in 1899, and from 1902-1911, they went 5-4-1 against Penn (then generally regarded, by Eastern writers at least, as the 4th best football school, behind Yale, Harvard, and Princeton). They beat Cornell in 1902 and Army in 1905, the latter a game that carried heavy overtones of the still freshly remembered Indian Wars of the 1800s. They beat mighty Harvard in 1907 and Navy in 1908.

But they also ventured outside the East, traveling to play the nation's best teams in every region, including 8 games in Ohio, 6 in Virginia, 5 in Chicago (against 4 different Western Conference teams), 4 in Washington DC, 3 each in Minnesota and California, 2 each in Utah and St. Louis, as well as games in Michigan, Arizona, Tennessee, Nebraska, and Colorado. You have probably read many a time that Notre Dame was the first team to travel far and wide for intersectional games, but the Carlisle Indians had been doing it long before Notre Dame ever left the Midwest for a single game. And at the end of all those long train rides, what did Carlisle accomplish? They went 30-6-1 in all their games outside the Northeast, and became nationally recognized and respected. They also brought in the best Native American players from across the entire country, many of whom had come out to watch them during their trips out West.

Altogether, playing incredibly tough schedules and almost all road games, Carlisle had gone 84-26-3 1902-1910, and they would step it up to 33-3-2 1911-1913, including 11-1 this season.
Pop Warner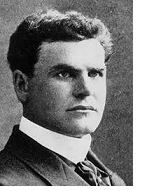 Much of Carlisle's success can be attributed to their Hall of Fame head coach, Glenn "Pop" Warner. He coached at Carlisle 1899-1903 and 1907-1914, going 114-42-8. He is credited with inventing the tackling dummy, screen pass, and shoulder and thigh pads, but his greatest innovation was the single wing formation, which would dominate college football offenses between the World Wars.

Pop Warner's next stop after Carlisle would be Pittsburgh 1915-1923, where he went 60-12-4 and is credited with 3 national championships (I agree with 2 of these). After that, it was on to Stanford 1924-1932, where he went 71-17-8, coached in 3 Rose Bowls, and is credited with another national championship (I disagree).

Overall he finished 319-106-32 at 6 schools, setting a record for coaching wins that was later broken by Paul "Bear" Bryant and is now held by Joe Paterno.


Carlisle's 1910 team had been an unusually poor 8-6, 1-6 against major teams, but a chance meeting on the streets of Anadarko, Oklahoma in the Summer of 1911 would bring the Indians back to glory in a hurry. Former Carlisle All American end Albert Exendine ran into Jim Thorpe there, a reunion of players from the 1907 team that finished 10-1 and first beat Harvard. But Thorpe had been a scrawny kid back then, and Exendine was amazed to see how big Thorpe had grown since leaving Carlisle after the 1908 season. He immediately called Pop Warner and told him what he saw, and Warner wrote to Thorpe inviting him to return to Carlisle and finish out his eligibility, enticing him with a promise to train him for the 1912 Olympics after the football season. Thorpe agreed, and Warner sent someone out to retrieve the most important football recruit (or in this case, re-recruit) of his career.

Jim Thorpe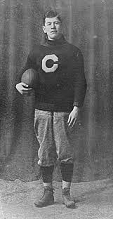 Halfback Jim Thorpe is simply the greatest college football player of all time, and with the modern shift to two platoon football and specialists, his level of play can never again be approached. He was a tremendous ball carrier, defensive back, placekicker, and punter-- during a time when the kicking game was paramount (and thus great kickers were far more prized and lionized than they are today).
He played halfback at Carlisle 1907-1908 and 1911-1912, scoring a career 53 touchdowns and 421 points, the team posting a record of 43-5-3 in his years. He was a consensus All American in each of his last 2 seasons, and between them, he went to Stockholm and won gold medals in the decathlon and pentathlon at the 1912 Olympics. The King of Sweden told him that he was the greatest athlete in the world, to which Thorpe allegedly replied, "Thanks, King!"
He was big (6 feet, 185-190#), strong, and fast (10 second 100 yard dash), and he was a one-man track team for Carlisle, equally adept at the shotput, long jump
, high jump, sprints, and hurdles. He even won the 1912 collegiate ballroom dancing championship.
Thorpe went on to play pro football for 14 years, pro baseball for 7 (20 counting his time in minor league play), and threw in a little pro basketball for good measure. He is enshrined in Halls of Fame for college football, pro football, track and field, and the Olympics. So he is not only the greatest college football player of all time, he is one of the greatest athletes of all time.


More books and articles have been written about Jim Thorpe than about any other football player from the ancient days (and more are published every year), but most of them are brimming with fiction rather than fact. If you are interested in reading about his life-- and it is a story well worth reading-- I highly recommend that you start with Robert Wheeler's 1981 book Jim Thorpe

:

World's Greatest Athlete. The book was assiduously researched and corrects a

lot

of false information that has been passed down from one sportswriter to the next over the decades (much of which dominates internet pieces about Thorpe to this day). I have not read Kate Buford's recent book (published October 2010), but I do know that she had access to Wheeler's voluminous interviews with primary sources, and that she goes into more detail on his pro baseball career and his post-athletic careers, such as his time as a movie extra playing Indians in Hollywood.

The Rest of the Team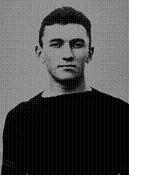 Jim Thorpe's best friend and roommate, quarterback Gus Welch (pictured at left), is also in the College Football Hall of Fame. He was Pop Warner's coach on the field, calling the plays, as he was very smart-- an Honors student who later graduated from the Dickinson School of Law.
He was also a master motivator. He once punched guard Elmer Busch in the face when Elmer wasn't looking, then pointed to the other team as the culprits, causing Busch to play like a madman the rest of the game. Another time he sunk his teeth into Busch's leg in a pile, also blaming it on the other team, and inspiring the same angry, pumped-up play.
Jim Thorpe was the only consensus All American on this team, but two other players made a list of the nation's best players published by
Outing
, fullback Possum Powell and end Sampson Burd (his descendants, rodeo performers today, now spell it "Bird"), who was the team captain. Elmer Busch would make Camp's second team AA in 1913, and he is in the American Indian Athletic Hall of Fame (perhaps he has Welch to thank for these honors).
Tackle William "Lone Star" Dietz later
coached Washington State to a 17-2-1 record 1915-1917, taking WSU to the Rose Bowl after the 1915 season, where they beat up on Brown 14-0 (still their only Rose Bowl win). He also coached the Mare Island Marines in the Rose Bowl during World War I. He totaled 70-47-6 at 5 schools, coached the Boston (now Washington) Redskins for 2 years, and also served as an assistant to Pop Warner at Stanford (ending up at the Rose Bowl again with a third team).
Interestingly, Dietz was succeeded as coach of Washington State by Carlisle teammate Gus Welch, who went 16-10-1 in four years there. And Welch was succeeded at WSU by another Carlisle Hall of Famer, Albert Exendine, star of the 1907 team.
If Carlisle had a weakness, it was their small line, smaller than the lines of all of their major opponents. Because of this, their opponents generally aimed to power the ball right at them in the middle. This strategy proved unsuccessful, however, and many of the points scored on Carlisle came through "playing for the breaks"
:
fumbles, interceptions, blocked kicks. On the plus side, their line was much faster than opposing lines. Carlisle's other potential weakness was a lack of depth-- their major opponents had 2-3 full elevens to rotate, but Carlisle usually only traveled with 16-17 players.
Carlisle's Season
Carlisle opened the season by feasting on four cupcakes, all at home. Then the real season began, and their next 8 games would all be on the road, 6 of them against top 25 caliber teams. First up was Georgetown, and Gus Welch was sent down ahead of time to scout their practices.
Georgetown had been mostly irrelevant through 1909, but they suddenly emerged in 1910 under head coach Fred Nielsen, a Danish immigrant and former player for Nebraska. He had previously coached George Washington to a 9-1-1 record, and went 14-2-2 at Georgetown 1910-1911, 7-1-1 each season. Nielsen's real job was with the State Department, so his coaching career (a hobby, really) ended up being thin. But Georgetown, given the taste of winning football, later hired as coach former Carlisle great Albert Exendine, who kept the success going, and so Georgetown was often a top 25 caliber team 1910-1922. The glory days slowly faded away after that, and the school even dropped the sport for a while.
But in 1911, expectations were sky-high, stoked by the previous year's 7-1-1 finish. And Georgetown did turn out to be significantly better in 1911, though not better enough to stay with Carlisle. Possum Powell scored 2 touchdowns, both set up by Thorpe runs, and Carlisle won easily, 28-5. Georgetown only gained 5 first downs, scoring their touchdown on a blocked punt, but they went on to have their best season to that point, tying 6-1-1 Army (who beat Yale) and crushing the rest of their opponents. They finished 7-1-1 again this season, but higher ranked at #11.
Carlisle followed that game up with 2 more easy wins, 17-0 at Pittsburgh (4-3-1, nearly rated) and 19-0 at Lafayette (8-2, #18). Thorpe put on quite the kicking show at Pitt. As per Pittsburgh newspapers, all of his punts were 50 to 70 yards, and he was the first person downfield to grab the ball or tackle the receiver each time. He also caught one of his own punts on the fly amidst a group of Pitt players, shook off would-be tacklers, and ran the remaining 20 yards for a touchdown (legal then). No one had ever seen anything like it, and an eruption of nationally published articles about Thorpe followed, proclaiming him "the most versatile athlete ever known" and "one of the best halfbacks in the history of the game." He allegedly had no punt shorter than 70 yards against Lafayette the next week.

Next up was their big game at rival Penn (7-4, #14). Jim Thorpe was out with a bad ankle sprain, but Penn was also missing their best player, and Carlisle won this game just as easily as the others, 16-0. Gus Welch had an 85 yard touchdown, Lone Star Dietz a 27 yarder, and Alex Arcasa a short one. Penn had no scoring threats.

Next up was an even bigger game.

The Harvard Game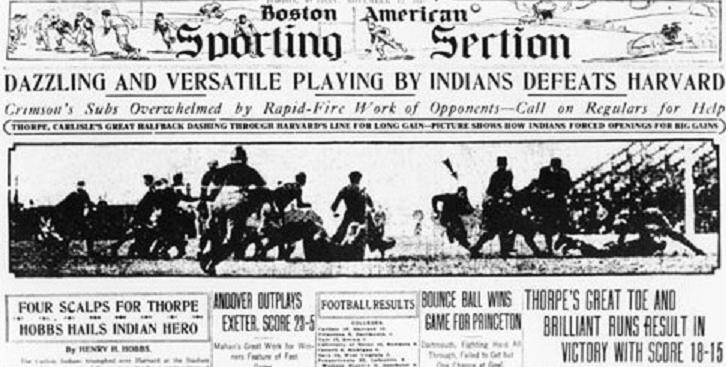 Here's a great picture of Jim Thorpe (pointed out with a helpful arrow graphic) carrying the ball for a "long gain," published in the now-defunct Boston American. Much has been written about this game over the decades, little of it factually correct. For example, if you google "Jim Thorpe," you can find hundreds of websites that will tell you that Thorpe scored all 18 points in Carlisle's 18-15 victory. He didn't quite. He kicked 4 field goals and an extra point, but did not score the touchdown (that's why he's credited with only "four scalps" in the newspaper above). You might also read that Jim Thorpe demanded the ball, then carried it 9 straight times on the one touchdown drive. Well, he did demand the ball, but he only carried it twice for 30 yards on that drive. Aside from the final score, modern day accounts vary quite a bit on what happened in this game.

Fortunately for us, the various newspapers of the time varied little on the facts in their game summaries, so that is what we'll stick with here.


Harvard coach Percy Haughton was away in New Haven on gameday, scouting archrival Yale. He had instructed his assistants to start the second string, as the starters were still beaten up from Harvard's previous game at Princeton, an 8-6 loss, and he wanted them to be healthy for the following games against Dartmouth and Yale. The hope was that the starters would not have to play much, if at all, but Carlisle foiled that plan.
Jim Thorpe's ankle was still injured in the week heading into the Harvard game, and doctors advised at least one more week of rest, but Thorpe refused to sit down for this one. He played with his leg
wrapped tightly in bandages from toe to knee.


Thorpe was primarily used as a blocker and decoy in the first half. He kicked a 13 yard field goal in the first quarter for a 3-0 lead, and after a Harvard field goal tied it, he kicked a 43 yarder in the second quarter to regain the lead. But a Thorpe fumble at midfield led to a long touchdown run from scrimmage, giving Harvard a 9-6 halftime lead. The third quarter was all Carlisle, driving for a touchdown to re-take the lead (the 1911 New York Times boxscore credits the touchdown to Possum Powell, while another source gives it to Alex Arcasa), and Thorpe booting a 37 yard field goal late in the third quarter to make it 15-9.

That's when Harvard's starters took the field, but although they were fresh, and Carlisle was fatiguing (they only brought 16 players), Harvard's fresh eleven went nowhere, and eventually a poor punt gave Carlisle the ball at the Harvard 50. The ensuing drive led to Jim Thorpe's final field goal, a 48 yarder that flew over the top of one of the uprights (the other three were right down the middle). According to the New York Times, all four of Thorpe's field goals would have been good from 15-20 yards further back.

That gave Carlisle a seemingly insurmountable 18-9 lead. Harvard center Bob Storer blocked a punt and returned it for a touchdown, closing the gap to 18-15, but that's all Harvard's starters could muster, as they were simply unable to move the ball on offense. In addition to doing all the kicking, Thorpe ended up with more than half his team's carries and yards. Harvard coach Percy Haughton later said, "I realized that here was the theoretical superplayer in flesh and blood."

Harvard had come into the game at 5-1, having lost to Princeton the week before, and they would finish the season 6-2-1, tying Yale in their finale.

The Rest of the Season
There was great celebration back in Carlisle, Pennsylvania, but it was short lived, for the team went from the highest of highs to the lowest of lows in just one week, losing their next game 12-11 at Syracuse (who finished 5-3-2, #20). Who could have foreseen such a thing? Well, Pop Warner could and did, predicting to reporters that his team would lose. The press just laughed. Probably because he had made the same prediction before each of the previous four games.

The game was played in high wind and frigid rain, turning the field into a sea of ankle-deep mud and thereby negating Carlisle's great speed advantage. Furthermore, Gus Welch had injured his back late in the Harvard game, and was unable to start. Jim Thorpe scored 2 touchdowns, but missed one of the extra points, a mistake he still rued decades later. Syracuse set up one touchdown with a fumble recovery and scored another on a punt return, hitting both vital extra points. Carlisle had two long drives deep into Syracuse territory that came up empty.

Carlisle got a much needed break the next week, the starters only playing for two offensive series, and two Thorpe touchdowns, in a 29-6 win at Johns Hopkins.

The finale was the newly annual Thanksgiving Day game at Brown (7-3-1, #13), and the weather was a repeat of the Syracuse game

:

cold rain and mud, though the rain turned to snow in the second half. Brown captured one break, a blocked punt for a touchdown, but they were unable to manufacture a second touchdown as Syracuse had, and fell to Carlisle 12-6. Brown was unable to push any drive further than the Carlisle 38. Thorpe rubbed mud off his shoes to kick 2 field goals, 27 and 33 yards, and he
also uncorked an 83 yard punt.
Gus Welch, healthy again, ran for a 55 yard touchdown. It was 11-1 Carlisle's first ever win over Brown.
Princeton 1911
| | | |
| --- | --- | --- |
| Stevens (1-7-1) | 37-0 | |
| Rutgers (4-4-1) | 37-0 | |
| Villanova (0-5-1) | 31-0 | |
| Lehigh (5-5-1) | 6-6 | |
| Colgate (3-6) | 31-0 | |
| at Navy (6-0-3) | 0-0 | #4 |
| Holy Cross (4-5) | 20-0 | |
| Harvard (6-2-1) | 8-6 | #7 |
| Dartmouth (8-2) | 3-0 | #12 |
| at Yale (7-2-1) | 6-3 | #7 |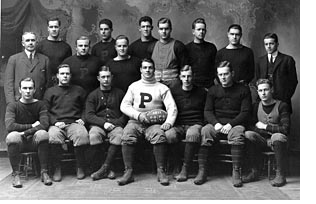 I covered previous Princeton teams for my articles on the 1903 and
1906 national championships, and I covered their Hall of Fame coach, Bill Roper, in the 1906 piece.

Princeton and Yale had the most consensus All Americans in 1911 with 3 each. In fact, of the 11 players on the consensus AA team that season, 9 either played for Princeton or for a Princeton opponent.

Princeton's three consensus AA were guard Joseph Duff, end Sanford White, and tackle Ed Hart. Sanford White became famous for two long touchdown returns and a safety that pulled out close wins over Harvard and Yale. Hart was the team captain (for the second straight year), and is thus the one wearing the white sweater in their team photo. He was famous for his great strength, and is the only one of the three in the Hall of Fame.

Princeton's other Hall of Fame player was halfback and punt return specialist Hobey Baker. He was an even better hockey player, and is also in the Hockey Hall of Fame. He was a substitute this season, but he turned in big plays that salvaged a tie against Lehigh and a win against Dartmouth, and he played quite a bit in Princeton's season finale at Yale (returning 13 punts). He would be a key starter the next 2 seasons, scoring 92 points in 1912 and serving as captain in 1913.

Quarterback Talbot Pendleton had been consensus AA in 1910, and he pulled off a 110 yard kickoff return against Rutgers, a record that, of course, can never be broken.


Fullback Wallace DeWitt, who handled the punting and placekicking, made Outing's list of the nation's best players.

Princeton's Season
Princeton's season did not start out very promising, as they were tied 6-6 by one of their supposed cupcakes, Lehigh (5-5-1). Lehigh was rather weak, easily handled by the other top 25 caliber teams they played (Army 20-0, Lafayette 11-0, and Georgetown 28-3), losing also to Bucknell and Swarthmore, and barely getting by teams like Ursinus and McDaniel. But interestingly enough, Lehigh was coached by a former Princeton All American, Howard Reiter. He had gone 22-35-7 as coach of Wesleyan 1903-1909, and he then went 7-11-2 at Lehigh 1910-1911, after which his coaching career was over. But perhaps he knew enough about his alma mater to gain a strategic edge in this huge upset tie.
Lehigh did have one other thing going for them
:
Hall of Fame quarterback Vince Pazzetti, whom Reiter brought with him from Wesleyan. With Reiter no longer the coach, Lehigh (and Pazzetti) would blossom in 1912, going 9-2 behind big-play running by Pazzetti (though Princeton would get their revenge 35-0).
In 1911, Lehigh was scheduled for a Wednesday game between two Saturday games (also against cupcakes, Villanova and Colgate). Wednesdays are when most major Eastern teams held their 1st string vs. 2nd string live scrimmages, and Princeton looked at Lehigh as little more than practice (and said as much to reporters before the game). Princeton had a traditionally prescribed schedule
:
their season always opened the last Saturday of September and always ended exactly seven weeks later, in mid-November. That's only 8 Saturdays, so to play more than 8 games, which Princeton generally felt was a good idea to get them ready for the meat of their schedule in the second half of the season, as well as for the money it brought in, they usually scheduled some mid-week games in early October. This season, they had played Rutgers the previous Tuesday. So they opened with 5 games in 15 days, all against warm-up level teams. The second half of the season, against real opponents, was Saturday-only.
Lehigh upset the apple cart in 1911, and the next season Princeton held just one mid-week game (with Rutgers, a game they had already contracted), and thereafter they played no more.
As for the game itself, it was played on a field of mud, conditions that always favor the underdog. Lehigh scored early on a 45 yard interception return for a touchdown, and Princeton could find little offense in the mud, fumbling often. Their second string fared better, and in the second half, Hobey Baker scored from 55 yards out to gain a tie out of the fiasco.
Far less shocking was Princeton's 0-0 tie at Navy (finished 6-0-3, also tying 8-0-1 Penn State), who had gone 8-0-1 the previous season. Navy featured a couple of Hall of Famers, fullback/halfback Jack Dalton (a consensus AA who beat Army 3-0 this season with a 35 yard field goal) and tackle John Brown (consensus AA in 1913 and a future admiral). They also had a pair of nonconsensus AA guards. Navy suffered an embarrassing tie of their own the week after the Princeton game, held scoreless by 4-2-4 Western Reserve (comparable to a 6-4 MAC team today).
Princeton had the advantage in the first quarter, Pendleton getting some good gains, but then their offense disappeared, the game becoming an even stalemate in the second and third quarters. In the fourth, Navy took control as Jack Dalton started to outpunt Princeton's DeWitt by 5-10 yards per exchange, and the ball was in Princeton territory throughout. But Princeton's defense hung tough, and Navy could not get near their goal. On the final play, Navy lined up for a 30 yard field goal, but Princeton blocked it to salvage another tie.
Princeton did little else of merit in their first 7 games, and as such their 1911 season rests entirely on an impressive and highly improbable 3 straight wins over Harvard, Dartmouth, and Yale to close out 8-0-2, despite producing little to no offense in all three games.

The Big Three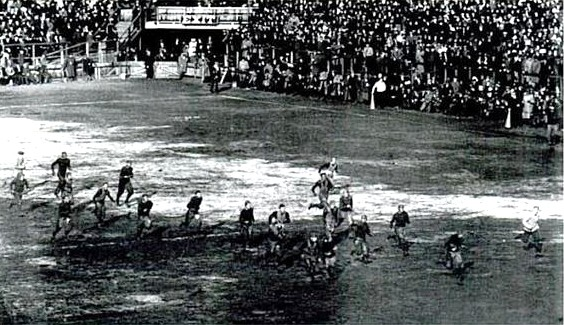 The "Big Three"-- Princeton, Yale, and Harvard-- was not a formal conference, just what everyone called them. But while Yale played both Harvard and Princeton every year, Princeton and Harvard had not played each other for 15 years before they met in 1911. It was therefore a highly anticipated game. Harvard, coming into town at 5-0, was a heavy favorite over 5-0-2 Princeton.


Princeton advanced no offense in this game, but they didn't have to. Joe Duff blocked a short field goal attempt, and Sanford White returned it 90 yards for a touchdown (pictured above). Later, a 50 yard Wallace DeWitt punt went over a Harvard returner's head, and as he went back to get it at the 2 yard line, Sanford White drove him back and downed him behind goal for a safety, which proved to be the winning points in the big 8-6 upset win.

Harvard ran their star back Percy Wendell into the Princeton line like a battering ram all game long, believing that they could wear Princeton down, but it never happened. Their fourth quarter touchdown was set up by a forward pass. Missed field goal attempts proved costly, particularly the 10 yard attempt that was blocked and returned the length of the field by the game's hero, Sanford White. F. Scott Fitzgerald, a prep student at the time, wrote next to the game's ticket stub in his scrapbook, "Sam White decides me for Princeton." Harvard lost to Carlisle the following week and tied Yale in their finale, finishing 6-2-1 and ranked #7.

Dartmouth
Next up was Dartmouth, also coming to town unbeaten (8-0), albeit over an exceedingly weak schedule. This was Hall of Fame coach Frank Cavanaugh's first of six seasons at Dartmouth, his record 42-9-3 in that time. Princeton's 3-0 win in this game goes in the miracle category, and in fact can barely be considered a win at all.

Princeton once again produced no offense. Dartmouth missed 3 field goal attempts, one of them very close, and the game looked to be heading to a scoreless tie in the 4th quarter. Then Hobey Baker recovered a fumbled punt at the Dartmouth 35, opening the door for Princeton's miracle. Wallace DeWitt attempted a 45 yard field goal that he had very little chance of making, and indeed, the ball hit the ground far from the goalposts. But it bounced, then bounced again, then took a high hop on the third bounce, just high enough to flop over the crossbar.

This had never happened before. The referee consulted his rulebook, and since it did not specify that a field goal attempt was no good if the ball hit the ground first, he ruled the goal good. This ruling was as fortunate for Princeton as the improbable bounce itself, for the same thing happened on the same day in a game between Andover and Exeter, and the referee in that game ruled the try no good.

Dartmouth lost another close game to Harvard in their finale the next week to finish at 8-2 and ranked #12. After the season, a new rule was adopted specifying that a field goal attempt was no good if the ball hit the ground along the way.
Yale
With 33,000 fans in the stands, Princeton turned the hat trick in their finale at Yale, Sanford White again providing the heroics. This time, White picked up a fumble and returned it 65 yards for a touchdown, dragging a tackler the last 4 yards to deliver the 6-3 win. At one point during this hard-fought, muddy game, Princeton guard Joe Duff told his captain, Ed Hart, that he could no longer stand on his left leg. Hart replied, "That's all right, go back and play on your right one!"

Like so many games in the East this season, this one was played in ankle-deep mud, leading to many fumbles of the wet ball (the game-winning fumble return came on a mishandled pitch-out). For the third game in a row, Princeton showed no offense at all. All 4 quarters were played on Princeton's side of the field (their punter, DeWitt, averaged less than 28 yards on 36 punts). So how could they possibly win? They won because they kept Yale out of the end zone, and more importantly because Yale captain and consensus All American Art Howe hit only 1 of 7 field goal attempts, none of which were as long as 40 yards

.

The misses were from 25, 35, 15, 23, 35, and 20 yards out. The 25 yard attempt hit the crossbar. The field goal he did hit was from 30 yards out.

This was 8-0-2 Princeton's first win over Yale since their national championship season of 1903. Yale players and coaches refused to talk about the game with reporters afterward, or to ever speak of it again. They tied 0-0 at Harvard in their finale the next week to finish 7-2-1, having earlier lost 6-0 at 6-1-1 Army. I have them tied with Harvard at #7 for 1911.

Penn State 1911
| | | |
| --- | --- | --- |
| Geneva (0-6-1) | 57-0 | |
| Gettysburg (4-5) | 31-0 | |
| at Cornell (7-3) | 5-0 | #15 |
| Villanova (0-5-1) | 18-0 | |
| at Pennsylvania (7-4) | 22-6 | #14 |
| St. Bonaventure | 46-0 | |
| Colgate (3-6) | 17-9 | |
| at Navy (6-0-3) | 0-0 | #4 |
| at Pittsburgh (4-3-1) | 3-0 | (#26-32) |
Penn State's head coach was Bill Hollenback, a Hall of Fame fullback for rival Penn during two national championship runs (1904 and 1908).
He coached Penn State to unbeaten seasons in each of his first three years, going 5-0-2 in 1909, 8-0-1 in 1911 (his brother coached them to a 5-2-1 mark in 1910), and 8-0 in 1912. His success tailed off quite a bit in the next two seasons, but he still finished 28-9-4 in 5 years at PSU, and more importantly, 2-1-1 against his alma mater, the first wins PSU had ever achieved against Penn.

Penn State had a very talented team in 1911 (as well as 1912), and although none of the players were ever consensus All Americans, three of them are in the Hall of Fame

:

end Dexter Very, fullback/halfback Pete Mauthe, and quarterback Eugene "Shorty" Miller.

Dexter Very was the captain. He started every game at right end for four years, and was a referee for many years afterward. Pete Mauthe, who would be captain of the 1912 team, handled punting and placekicking duties, and his 35 yard field goal captured a 3-0 win at Pittsburgh in Penn State's finale. He would kick a 51 yard field goal against Pitt in 1912, a school record that stood for 63 years. Very and Mauthe started together 1909-1912, and the team went 26-2-4 in that time. Shorty Miller (5'5"), a dangerous open field runner, completes the Hall of Fame trio, and with all three starting 1911-1912, the team went 16-0-1 (and is a mythical national championship contender for both seasons).

Tackle Dick Harlow would also make the Hall of Fame, but as a coach (149-69-17 at PSU, Colgate, McDaniel, and Harvard). He was also a professor of ornithology. The other tackle, Dad Engle, had been in the backfield 1909-1910, and was still used as a good ball carrier in the middle. He was the uncle of Hall of Famer Rip Engle, Joe Paterno's predecessor as coach of Penn State.

Penn State's Season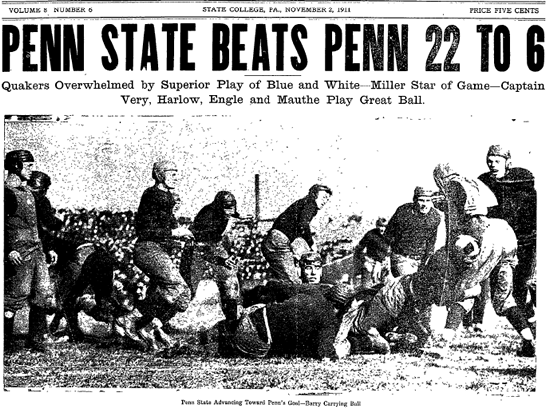 Penn State devoured a couple of cupcakes (by a combined 88-0), the real season beginning with their trip to Cornell (7-3, #15). The key to this game was Cornell losing more than half their team to injury. Cornell was down a starter coming in, and they lost another 5 starters over the course of this game, most of them early. Still, neither team could mount much of an offense aside from one drive each. Cornell lost a fumble at the Penn State 25, and Penn State lost the ball on downs at the Cornell 2 (wasting a 20 yard Pete Mauthe run that got it there). But Penn State didn't need an offense. With Cornell punting from their own 20, Dick Harlow blocked the kick, and Dad Engle recovered it for the touchdown and 5-0 win.

But as far as Penn State's coach and players were concerned, the only game on the schedule was Penn (7-4, #14). PSU had broken through for a tie against their tormentors in 1909, Bill Hollenback's first season as coach, but they were 0-16-1 in the series coming into this game. They let all that frustration out with a torrent of points, scoring 3 touchdowns and a safety to lead 20-0 before the first quarter was over. Shorty Miller returned the opening kickoff 95 yards for a touchdown, and later added a 35 yard touchdown run. Penn scored a touchdown of their own late in the opening quarter, then put in their second string backfield, who stopped the bleeding, but the game was already over. PSU won 22-6, and this game turned the tide in the series, for PSU went 18-9-3 against Penn from 1911 on.

After the Penn game, Penn State played like a team that had lost its raison d'etre. They were unimpressive in a 17-9 win over 3-6 Colgate (whom Princeton beat 31-0), and barely survived in their season finale at 4-3-1 Pitt, winning 3-0 on a 35 yard Pete Mauthe field goal (Carlisle beat Pitt 17-0).

And then there was the one blemish on their record, the scoreless tie at Navy in their next to last game. Navy (6-0-3) was a top ten caliber team, also tying MNC contender Princeton. Problem was, Penn State did not play

that

Navy team. Since Navy's game with archrival Army was the week after Penn State's visit, Navy held their entire starting lineup out of the PSU game so as not to risk their health. They wouldn't even let the starters suit up, thereby avoiding any temptation to put them in as the game progressed.

Yet Penn State could threaten the Navy goal but once, giving the ball up on downs at the Navy 3. Mud slowed down PSU's Shorty Miller (his longest gain 25 yards), but he was, as usual, most of his team's offense.

As for the next week's Army-Navy game? Army was 6-0-1 coming into it (with a big win over Yale), and if there had been an AP poll in 1911, they would have almost certainly been ranked #1 (passing up 7-0-1 Penn State, 5-0-1 Minnesota, and 9-1 Carlisle this week, as all three teams took their tie or loss in the same weekend). Undaunted, Navy won 3-0 on Hall of Famer Jack Dalton's 35 yard field goal (he had beaten them 3-0 on a field goal the previous year too).

Carlisle vs. Princeton vs. Penn State
Here are the significant games for the Eastern candidates in 1911.
The opponent rankings
come from my 1911 top 25, which is based on a hypothetical AP poll (within logical reason of course)
.
I'll get to Western champion Minnesota after I've dealt with the East.


Carlisle 11-1
Princeton 8-0-2

Penn State 8-0-1

| | | |
| --- | --- | --- |
| at Georgetown (7-1-1) | 28-5 | #11 |
| at Pittsburgh (4-3-1) | 17-0 | (#26-32) |
| at Lafayette (8-2) | 19-0 | #18 |
| at Penn (7-4) | 16-0 | #14 |
| at Harvard (6-2-1) | 18-15 | #7 |
| at Syracuse (5-3-2) | 11-12 | #20 |
| at Brown (7-3-1) | 12-6 | #13 |

| | | |
| --- | --- | --- |
| Lehigh (5-5-1) | 6-6 | Unranked |
| at Navy (6-0-3) | 0-0 | #4 |
| Harvard (6-2-1) | 8-6 | #7 |
| Dartmouth (8-2) | 3-0 | #12 |
| at Yale (7-2-1) | 6-3 | #7 |

| | | |
| --- | --- | --- |
| at Cornell (7-3) | 5-0 | #15 |
| at Penn (7-4) | 22-6 | #14 |
| at Navy (6-0-3) | 0-0 | #4 |
| at Pittsburgh (4-3-1) | 3-0 | (#26-32) |

Carlisle defeated the rest of their opponents by an average of 32-2, Princeton by an average of 31-0, and Penn State by an average of 29-2. Those numbers look pretty equitable, but Penn State had a couple of late-season performance problems against "unrated" teams, edging 4-3-1 Pitt by only 3-0 (Carlisle beat Pitt 17-0) and sleepwalking past Colgate 17-9 (Princeton beat Colgate 31-0).

In fact, let's go ahead and enter that as the first piece of evidence in the case against Penn State.

The Case Against Penn State
Looking over the above schedules and results, you can see that Penn State played the weakest schedule of the three teams, but they also have the best record of the three. And while Princeton was tied by a poor Lehigh team, and Carlisle lost 12-11 to a Syracuse team that would barely make a top 25 (and probably wouldn't make it at all without the win over Carlisle, though they did tie Michigan), Penn State's only blemish was a road tie with a team that would rank about #4 in the final poll, and whom Princeton had also tied. All of that looks good for Penn State at least sharing a mythical title with the other two.

The problem is that, as previously noted, Penn State did not play the Navy team that tied Princeton, beat 6-1-1 Army, and was a solid top ten team. The Navy starters who accomplished all that did not play a single down against Penn State, resting for the big Army game. So the question is, how good was Navy's second string? Most major Eastern teams went 2-3 deep in top-notch players, but did Navy? We can't know for sure, but I would suppose not. Navy was very strong behind Jack Dalton, a great back on both sides of the ball, as well as a great punter and kicker. They went 8-0-1 in 1910 and 6-0-3 in 1911. But with his departure, the team would drop to 6-3 in 1912 against a much weaker schedule (losing to Lehigh, Swarthmore, and Bucknell, and barely getting by some bad teams), and they would field a top 25 caliber team only once over the next five years.

So the Navy team Penn State tied was likely not a top 25 caliber team, and therefore that result is every bit as damaging as Carlisle's loss to Syracuse and Princeton's tie with Lehigh. But Penn State does not have the impressive wins the other two have, and in fact they did not defeat a top ten opponent, as Carlisle and Princeton did.

In the end, Penn State played like a national champion only once, in their 22-6 win over Penn. Their next best result, the 5-0 win at Cornell, who was missing more than half their starters, and which was earned by a blocked punt for a touchdown, is more the performance of a #10 team than of a national champion. Their struggles down the stretch with Colgate, Navy's substitutes, and Pitt heavily corroborate that notion.

So Penn State is the first team we're going to eliminate from the 1911 MNC derby, a pretty easy choice, really. The National Championship Foundation (NCF), of course, is wrong yet again. What else is new? But like LSU (1908) and Pitt (1910), Penn State does not claim this "title." At this point, I have to wonder why the NCAA publishes the NCF's "national championship" selections in the Record Book at all. The NCF's selection of 1911 Penn State is not the joke that their 1908 LSU and 1910 Pitt picks are-- 1911 Penn State actually accomplished something-- but it is becoming clearer with each season I summarize that the NCF's selection process operated completely free of any real research (or thought) at all.

Carlisle vs. Princeton
11-1 Carlisle and 8-0-2 Princeton basically have the same record (in the loss column), since 8-0-2 equates to 9-1. Princeton's tie with Navy is a much better result than Carlisle's loss at Syracuse, but their home tie with Lehigh is a much worse one. That may appear to balance out, but Carlisle's record is the result of one upset, whereas Princeton's comes from two. In other words, Carlisle had one bad game, while Princeton had two, which does not balance out.

The teams should be compared game-to-game (that is, one game to one game). If we start with Carlisle and Princeton's worst games, that would be Carlisle's loss and Princeton's tie with Lehigh. In general, a tie is better than a loss (against equitable opponents, a tie is a half game better). However, I contend that Princeton's home tie with Lehigh is worse than Carlisle's 12-11 loss at Syracuse, given where the games were played, plus the fact that Syracuse was a better opponent (Lehigh did nothing this season

except

tie Princeton, whereas Syracuse tied 5-1-2 Michigan). Princeton's "upset" tie with Navy should therefore not be compared to Carlisle's loss to Syracuse (the Lehigh tie already does that), and is really just a second upset for Princeton, where Carlisle suffered no other upset or even a poor performance in a win.

Carlisle therefore has the advantage when comparing their blemishes. Princeton needs to make up the ground with their wins, and the question now is whether or not Princeton's three straight wins over Harvard, Dartmouth, and Yale are better than Carlisle's wins over Georgetown, Pitt, Lafayette, Penn, Harvard, and Brown. And those lists sure don't look good for Princeton, who defeated half as many winning teams as Carlisle did.

Furthermore, while Harvard, Dartmouth, and Yale were all strong teams, and on the surface, Princeton's consecutive wins over them are impressive, they become much less impressive when you look closer at how those games actually played out (as per Princeton's season summary above). Their best effort was an evenly played game with Harvard, won 8-6 on a 90 yard return of a blocked field goal try. Against Dartmouth, they got a dubious 3-0 win when a ridiculously bad field goal try became "good" on the third bounce (and which a subsequent rule fix made no longer possible). Their entire game with Yale was played on their side of the field, but they were given the win on an unforced fumble returned for a touchdown, and an unblocked

six

Yale field goal tries of less than 40 yards that missed the mark.

That looks less like the play of a champion than it does someone winning a coin toss, then hitting the lottery two weeks in a row. Princeton simply had no offense at all. In their four games against good opponents, their offense scored

zero

points (even their bouncing field goal was set up by a fumble recovery), and gained almost no yardage.

Carlisle, on the other hand, did not win any of their games by a fluke play, and they dominated their opponents in all 11 of their wins, 6 of which came over winning teams, 5 against top 25 caliber opponents. However, similar to the Penn State-Navy game, Harvard started their substitutes against Carlisle, and thus Carlisle did not defeat the same Harvard team Princeton did.

Carlisle's Harvard Win vs. Princeton's Harvard Win
I don't actually think this issue matters much, given that Carlisle played and defeated so many more strong teams than Princeton, and performed so much better. It would matter more if Carlisle had lost to or tied Harvard, but of course then the whole Carlisle-Princeton debate would be moot anyway.


There is no doubt that Princeton defeated a stronger Harvard team than Carlisle did. However, the difference isn't actually that much, and when you take into account that Princeton played Harvard at home and Carlisle played them on the road, plus the fact that Carlisle dominated Harvard and Princeton did not, there is almost no

performance

difference at all.

Unlike the Penn State-Navy case, the Harvard starters did take the field against Carlisle for the 4th quarter, and despite the fact that the Carlisle players were worn out by that point, Harvard's starters could not move the ball on them, and in fact fared worse in that department than their second string had. Furthermore, Harvard coach Percy Haughton was a heavy substituter anyway, and half the guys who started against Carlisle had played significant portions of Harvard's game against Princeton (one of whom was the drop-kicker whose 10 yard field goal try was blocked by Princeton for a touchdown, and another being the guy who let a punt get past him for what turned into a safety-- and Princeton won 8-6). And two of Harvard's "subs" who started against Carlisle went on to start against Dartmouth/Yale.

The real issue is that Harvard's starters were still beaten up from the previous week's Princeton game, which had followed another tough game against Brown. That's why they were ineffective against Carlisle when they came into the game. Their best back, Percy Wendell, was not healthy, and had to be replaced again not long after he came in. Of course, Carlisle was beaten up too, having played twice as many consecutive tough opponents, and all on the road. Their best back, Jim Thorpe, was playing on a bad ankle bandaged tightly to the knee.

And yet Carlisle, unlike Princeton, thoroughly dominated Harvard in every regard but the scoreboard. New York Times 1911

:

"The score, however, does not show how thoroughly the Indians outplayed Harvard... Speed, speed, and more speed came in the Carlisle plays, and the Harvard team was outfought at every angle." And unlike Princeton, they did it on the road.

Eastern Championship Conclusion
So even if we grant that Princeton beat a better Harvard team, it wasn't

much

better, and the differing sites of the game and performances make the two results fairly equitable. Princeton is left with two highly unimpressive wins over strong teams (Yale and Dartmouth), and Carlisle is left with much more impressive wins over twice as many strong teams (not counting Pitt as "strong" here-- they were like a good unrated team).

And then there is Georgetown. They were 7-1-1, losing only to Carlisle. They tied Army (who beat Yale), and easily defeated the rest of their opponents. That

at

least

puts them in Yale's range in terms of strength. Yet while Princeton was outplayed by Yale, needing a fluke play for the win, Carlisle stomped on Georgetown 28-5. All 11 of Carlisle's wins were more dominating than Princeton's 3 wins over winning opponents. Even their 12-6 win at Brown (7-3-1, #13-16) was more dominating than the score looks. They vastly outgained Brown, driving to a touchdown and 2 field goals, while Brown could not drive any further than the Carlisle 38. Brown blocked a kick for their only points.

So let's sum up

:



1) Princeton's home tie with Lehigh is a worse result than Carlisle's 12-11 loss at Syracuse. At the very best for Princeton, the results are equitable.
2) Princeton has a second upset, the tie with Navy, and Carlisle has no such second upset.
3) Carlisle defeated 6 winning opponents to 3 for Princeton, and all 6 were road games compared to 1 for Princeton.
4) Carlisle dominated all 5 top 25 caliber opponents they beat, and all on the road, while Princeton needed flukes and amazing luck to survive against their 3 such opponents, 1 on the road.
5) This is incorporated in #4, but it needs its own place

:

Princeton's bouncing "field goal."

Frankly, I don't see any argument at all for Princeton. Even their 3 best wins, all razor-close and over teams that would rank #7-12, look more like the performances of a #6 team than those of a #1 team. Carlisle, on the other hand, played like a #1 team

at least

9 times in 12 outings, and I would say 11 times in 12. I don't think this race is even close, but if it seems like I've analyzed to death a decision that should have been a no-brainer, it's only because Princeton is the consensus choice as 1911 national champion, and in fact no organization listed in the NCAA Records Book selects Carlisle at all.

Here, however, where facts and logic yet reign, Princeton is hereby eliminated from MNC contention. Carlisle is our only Eastern representative for the mythical 1911 crown. Our last step will be to compare their accomplishments to those of the Western representative. But first, let's get to know the 1911 Western Champion a little better.
Minnesota 1911
| | | |
| --- | --- | --- |
| Iowa State (6-1-1) | 5-0 | #22 |
| South Dakota (7-1) | 5-0 | #25 |
| Nebraska (5-1-2) | 29-6 | #19 |
| at Iowa (3-4) | 24-6 | |
| Chicago (6-1) | 30-0 | #9 |
| at Wisconsin (5-1-1) | 6-6 | #10 |
| at Illinois (4-2-1) | 11-0 | (#33-45) |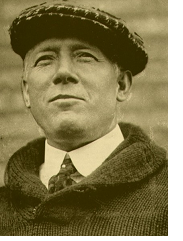 I've covered previous Minnesota teams for my 1903 and 1904 national championship articles, and I covered their Hall of Fame coach, Henry Williams, in the 1903 piece. By 1911, Henry Williams (pictured at left) had become one of the best known and most respected coaches in football (he even had his own widely-published All American selections this season). His "Minnesota shift" innovation (the now-standard shifting of players during the count, then snapping right when they've gotten into place) was sweeping across the country. In fact, after years of rebuffing his offers to help them implement the shift, Williams' alma mater Yale had even adopted it (renamed the "Yale shift"). This was a shocking development at the time, because the Old Eastern dogs simply did not like learning new tricks from their Western pups.

Minnesota 1911 had no Hall of Fame players and no consensus All Americans, though tackle James Walker had been consensus AA in 1910. The other tackle, Leonard Frank, appears to have been their best player (newspapers consistently singled him out in their game summaries in 1911), but he only made his coach's AA list.

The team's other star was quarterback Ralph Capron, who made Outing's list of the best players. He was the big-play threat in the open field, and handled the punting.

Halfback Reuben Rosenwald was a nonconsensus AA (not on Williams' list), and was all-conference. Fullback Earle Pickering was the team captain, and later became the athletic director at Vermont and Arkansas.

Williams' players were always being sought out as head coaches by other schools, and two substitute ends from this team went on to become notable head coaches. The first was Hall of Fame coach Clark Shaughnessy, who went 151-114-18 at a number of schools, including Tulane, Chicago, Stanford, and Pittsburgh. He is most famous for repopularizing the now-standard T-formation while at Stanford in 1940. The other future coach was Ossie Solem, who went 162-117-20, primarily at Drake, Iowa, and Syracuse. His record is better than Shaughnessy's, but he didn't invent (or reinvent) anything, and so he is not in the Hall of Fame.

Minnesota had gone 6-1 in each of the two previous seasons, losing their finale (and water jug) to Michigan each year. This year they did not play Michigan (which is too bad for them, since Michigan had a down year), but they still finished with one blemish at 6-0-1 en route to their third straight Big Ten title. Through 1911, Henry Williams was an eye-popping 92-11-8 in 12 seasons at Minnesota.

Minnesota's Season
The early season returns did not show much promise for Minnesota's prospects in 1911. First they struggled to beat Iowa State 5-0 in the rain, scoring their touchdown in the second half. The next game against South Dakota started better, with Ralph Capron breaking 3 long runs to set up an early touchdown, but then the game became a slugfest, and ended with the same 5-0 score. Minnesota fans were in full panic, but what no one knew in those first couple of weeks was that neither Iowa State nor South Dakota were patsies anymore.

Iowa State, then called Ames College, had been steadily improving under head coach Clyde Williams, and 1911 turned out to be their breakthrough season. Clyde Williams was one of the greatest Iowa Hawkeye players of all time, and it is a wonder to me that he is not in the Hall of Fame. His 1899 Iowa team went 9-0-1, outscoring opponents 257-5 and tying Western Conference champion Chicago, the only team to score on them. That got Iowa an invitation to the Western Conference (now the Big Ten), and they won a share of the conference title in their first year, going 7-0-1 in 1900 and outscoring opponents 311-12. Iowa never lost a game with Clyde Williams starting at quarterback, 23-0-3 over his 4 years.

As coach of Iowa State, he went 32-15-2 over six seasons 1907-1912, and shared the Missouri Valley Conference title with Nebraska in 1911 and 1912. After that, Williams quit coaching, and Iowa State's run at glory ended immediately thereafter.
Iowa State's stadium was named for Clyde Williams from 1915-1975.
In 1911, they finished 6-1-1, tying perennial MVC bully Nebraska, so their only loss was that opener to Minnesota.

South Dakota was another team on the rise, and they finished out the 1911 season at 7-1, so like Iowa State, their only loss came to Minnesota. After years of failure against rival Nebraska, South Dakota had finally broken through with a tie in 1909. They set their sights on Minnesota in 1910, losing 17-0 (but only 12-9 to Nebraska, finishing 5-2). Obviously they came much closer against Minnesota in 1911, and in 1912 they would actually beat Minnesota 10-0 (but lose to Michigan by only 7-6, finishing 5-1). South Dakota fielded strong teams 1910-1914, going 25-9-1 while taking on powerful opponents (in addition to Minnesota, Nebraska, and Michigan, they also played Notre Dame and Michigan State during this time). It is the only window of big-time football success in the school's history.

After Minnesota's struggles against their supposed warm-up opponents, there was much worry about the third game with Nebraska. Minnesota played Nebraska almost every year, and almost always won, but the Cornhuskers were considered a huge step up from Iowa State and South Dakota (Nebraska ruled the Missouri Valley, and was on a run that would go to 8 straight conference titles). Minnesota was ready for a battle this time, but found none, romping Nebraska 21-3. Earle Pickering caught a touchdown pass (Minnesota had a strong passing game). The Cornhuskers would finish the season 5-1-2, tying Iowa State and mighty Michigan, so they make a third straight opponent who lost only to Minnesota this season.


Minnesota then went to Iowa (the only losing team on their schedule) and dispatched them 24-6. Up next was a big one-- Amos Alonzo Stagg's unbeaten Chicago Maroons were coming to Minneapolis.

But the game was anticlimactic, a 30-0 victory for Minnesota that was complete domination. Minnesota had no substitutions in this game, and it was the most impressive win by any team in the nation this year. Capron scored a touchdown and often launched into big gains. Rosenwald scored 2 touchdowns and picked off 2 forward passes. Leonard Frank tackled the Chicago runners one after the next. Minnesota even kicked 3 field goals, something they rarely otherwise tried and weren't particularly good at. Chicago shook off the embarrassment and went on to beat Cornell (7-3, #15) and Wisconsin (5-1-1, #10) to finish the season 6-1 and ranked #9. They make a fourth team who lost only to Minnesota.

The Bitter End
Just like Carlisle, Minnesota followed their biggest win with their only blemish of the season. To make the comparison complete, it was a road game played in terrible field conditions, and on the same day as Carlisle's loss to Syracuse. The opponent was Wisconsin, who was coming into the game at 4-0.
Wisconsin had somehow been made aware that Minnesota's team captain, Earle Pickering, had played professional baseball during a previous Summer. After investigating the rumor, Wisconsin informed Minnesota, who vociferously denied the charge, and refused to bar Pickering from play. Wisconsin declared that in that case, Minnesota should stay home, because Wisconsin would not play them. A
fter a game of chicken, Minnesota relented and withdrew Pickering the Wednesday before the game, but there was a great bitterness over it that lasted beyond this season. Reuben Rosenwald was elected the new captain.
Drizzling rain all day on Friday froze into ice that night, and the next day was bitterly cold, so the field remained a sheet of ice throughout the game. Accounts paint a comic masterpiece. The players slipped, slid, and fell about, and fumbles were constant, including multiple changes of possession within single plays. For all that, the game is described as an exciting, entertaining, and highly dramatic one.
Things started out swimmingly for Minnesota, as Frank Capron returned the opening kickoff 90 yards for a touchdown. But that was it for Minnesota, because neither team could mount an offense on the ice. The 6-0 lead held up until the 4th quarter. Minnesota was punting, and the referee sounded his horn during play to indicate a penalty (which was on Minnesota). Most of the players for both teams stopped, thinking that the play had been blown dead. It had not been blown dead, however, and Wisconsin's star quarterback, John "Keckie" Moll, returned the punt for a touchdown with no blockers and only one person trying to tackle him (Ralph Capron, who slipped on the ice and fell). Everyone else stood and watched. It is a bit remindful of the key play in the winning drive of the BCS title game for the 2010 season, when Auburn's Michael Dyer was gifted with a 37 yard gain because everyone thought he was down.
In any case, the game was tied up 6-6, and it looked to be finishing that way with only seconds left and Minnesota throwing a desperate pass downfield. Keckie Moll, however, struck again, intercepting the pass and taking it the other way. Leonard Frank gave chase, and just did get him out of bounds at Minnesota's 1 yard line. There was only time for one more play, but Minnesota held, and the game finished 6-6. Frank's chasedown and tackle of Moll at the goal line saved Minnesota's unbeaten season, and won Minnesota an outright Big Ten title, because Wisconsin lost their last game 5-0 at Chicago, finishing the season 5-1-1 and ranked #10. Keckie Moll beat out Ralph Capron for the all-conference quarterback position. He would take over as Purdue head coach in the middle of next season, going 3-0-1, but unfortunately he died of typhoid soon afterward.
Minnesota rebounded to win at Illinois (4-2-1) 11-0, scoring 2 touchdowns in the second half to finish the season 6-0-1.

Carlisle vs. Minnesota
Now let's drop that Carlisle schedule down here again and compare the significant games for Carlisle and Minnesota in 1911.


Carlisle 11-1
Minnesota 6-0-1

| | | |
| --- | --- | --- |
| at Georgetown (7-1-1) | 28-5 | #11 |
| at Pittsburgh (4-3-1) | 17-0 | (#26-32) |
| at Lafayette (8-2) | 19-0 | #18 |
| at Penn (7-4) | 16-0 | #14 |
| at Harvard (6-2-1) | 18-15 | #7 |
| at Syracuse (5-3-2) | 11-12 | #20 |
| at Brown (7-3-1) | 12-6 | #13 |

| | | |
| --- | --- | --- |
| Iowa State (6-1-1) | 5-0 | #22 |
| South Dakota (7-1) | 5-0 | #25 |
| Nebraska (5-1-2) | 21-3 | #19 |
| Chicago (6-1) | 30-0 | #9 |
| at Wisconsin (5-1-1) | 6-6 | #10 |
| at Illinois (4-2-1) | 11-0 | (#33-45) |

Carlisle defeated the rest of their opponents by an average score of 32-2, and Minnesota defeated their one other opponent 24-6 (Minnesota's opponent was a major team, however, while Carlisle's other 5 opponents were not).

At first look-over, these schedules and results appear to be pretty close, with Carlisle coming out ahead in most regards. Minnesota's 6-0-1 record equates to 13-1, which isn't much different from Carlisle's 11-1, so we could call their straight records fairly equitable. Strength of schedule? Carlisle defeated 5 top 25 caliber teams, Minnesota 4, and Carlisle's "rated" opponents would have been rated much higher on average. On top of that, Carlisle played all 7 of their winning opponents on the road (that column of "at, at, at" next to their schedule just looks killer), while Minnesota played only 2 of their 6 winning opponents away from home. Performance was about the same, but Carlisle gets a slight edge here too, outscoring their winning opponents by an average of 11.9 points compared to 11.5 for Minnesota.

However, a closer look changes the view, and in Minnesota's favor.

A Closer Look
First of all, their straight records are definitely

not

equitable. All 7 of Minnesota's opponents were major teams, whereas Carlisle played 5 minor teams (Lebanon Valley, Muhlenberg, Dickinson, Mount Saint Mary's, and Johns Hopkins). Take those 5 warm-up teams off Carlisle's schedule, and Carlisle is 6-1, a half game worse than Minnesota's 6-0-1. Alternatively, add those warm-up schools to Minnesota's schedule, and they go 11-0-1, a half game better than Carlisle's 11-1 (and Minnesota would have been a better, sharper, and deeper team, their second string playing a lot more minutes). Either way you want to look at it, Minnesota has the better actual record.

Not only that, but Minnesota's advantage here is stronger than just half a game, because 5-1-1 Wisconsin (the team that tied Minnesota) was a

lot

better than Syracuse (the team that beat Carlisle). Even if Carlisle had not missed that critical extra point against Syracuse, and thereby finished 11-0-1 instead of 11-1, Minnesota would still have the advantage here because of the difference between Wisconsin (5-1-1 and #10) and Syracuse (5-3-2 and #20).

Strength of Schedule
As for strength of schedule, the above comparisons were based on where a hypothetical AP poll would likely rank their opponents. But take another look at Minnesota's opponents. They gave 4 teams their only loss. Their 6 winning opponents were 33-2-4 when they weren't playing Minnesota, and that is just remarkable. Take away their games against each other (Iowa State tied Nebraska, and Chicago beat Wisconsin and Illinois), and those 6 teams went 31-0-2 against all outside teams, which is beyond remarkable.


It's hard to say how good teams like Iowa State and South Dakota were. What we do know is the following. Michigan went 1-1-1 against Penn, Cornell, and Syracuse, teams whose average ranking would have been about #16 this year, meaning that Michigan's power level was about #16 (over those 3 games, at least). Nebraska tied Michigan, Iowa State tied Nebraska, and South Dakota looks to have been about the same as Iowa State in terms of power. So it is certainly possible that Nebraska, Iowa State, and South Dakota were about #16 in terms of power too, regardless of where AP voters would have ranked them. Therefore, Carlisle's slate of opponents may not have been much stronger than Minnesota's. Without more games between the East and West, we cannot know for sure.
Performance
And performance? The performance of these two teams is so close only because of Minnesota's 5-0 wins in their first two games, their only close wins of the year. This brings up two issues. First, Minnesota obviously improved on the season, and in fact by game 3 they romped 21-3 over Nebraska, a team on a level with (and likely better than) Iowa State and South Dakota. Carlisle also had 2 close wins, and both of them, along with their upset loss, came in their last 3 games.

Minnesota had no idea that Iowa State and South Dakota would be so good this season. Those teams were supposed to be the warm-ups to the bigger games to follow. A chance to shake off the rust, to practice the new plays and formations, and to give the reserves a lot of work to find out who could prove useful down the road (and weed out those who wouldn't be useful). Carlisle got four such warm-up teams (the aforementioned Lebanon, Muhlenberg, etc.) before their real season started at Georgetown. Minnesota did not get that.

Because of that, it is unfair to compare Minnesota's first 2 performances to any of Carlisle's, who did not play good teams in their first games. I'm not saying that Minnesota's first 2 performances don't count, only that they should be greatly de-emphasized due to a lack of comparable games on Carlisle's part. Do that, and Minnesota has the better performance of the two.
Minnesota's 30 point win over Chicago (6-1, #9) was a better scoring margin than Carlisle posted against any major team at all, let alone a highly rated one.

Carlisle vs. Minnesota Conclusion
These teams had played each other three times in the recent past, Carlisle venturing to Minneapolis each season 1906-1908. Carlisle won the first two games, Minnesota the third.

The big thing here in 1911 is Carlisle's loss to Syracuse, and not just because Syracuse was such a poor team to lose to. Minnesota beat Nebraska 21-3, Nebraska tied Michigan, and Michigan tied Syracuse. Minnesota also beat Illinois 11-0, who beat St. Louis 9-0, who tied Syracuse. So there are two separate chains that hurt Carlisle in comparison to Minnesota. Minnesota's upset tie with Wisconsin, however, is safely contained in a closed circuit. What I mean by that is that Wisconsin lost only to Chicago, who lost only to Minnesota. No other team defeated or tied any of the three.

I think that puts Minnesota ahead of Carlisle right there. To overcome it, Carlisle would need a significant strength of schedule and/or performance advantage (like playing twice as many winning/top 25 caliber opponents, or Minnesota barely beating all their opponents, etc.). And it just isn't there.

So Minnesota should be #1. You can compare them to Princeton and Penn State too, if you like, and they hold up just as well. Princeton has a worse record (2 ties), defeated fewer winning and top 25 caliber teams, and performed

far

worse. Penn State has the same record as Minnesota (in the loss column... or tie column, as it were), but their tie came against Navy's second string, which as I indicated would likely not be a top 25 team at all. Minnesota also defeated more winning and "rated" teams than PSU, and unlike PSU, beat a top 10 caliber opponent (Chicago).

The only question left is whether or not Carlisle merits sharing the MNC with Minnesota, and that is a tough one. Really, you could go either way on it, but I would say yes. They did play at least one more "rated" opponent than Minnesota, but more importantly, this

:

at, at, at, at, at, etc. Playing 8 road games with no break, 7 of them against good teams, 6 against top 25 caliber teams, is beyond grueling. Also, it is quite possible that Brown, Lafayette, and Penn were significantly better than South Dakota, Iowa State, and Nebraska. We can't really know for sure, so it seems to me that a shared MNC between the best teams of the West and East is appropriate here.

Hypothetical AP Poll for 1911
As promised, here are my thoughts on how an AP poll would have shaken out in 1911. College football historian Bob Kirlin, as I mentioned, thinks Princeton would have been voted #1. But I am sure that the reason he thinks so is because the most important football authorities and writers of 1911 thought Princeton was the best. Problem is, those guys (Walter Camp, Caspar Whitney, and Parke Davis, for example) were far Easterners who worshiped at the altar of the Big Three schools. And yes, if there was a poll conducted
only
of writers living within a few hours' train ride from New York, Princeton would have almost certainly been voted #1. But who cares about a poll like that? It's as useful as a poll of writers living within a couple hours of Minneapolis.
Constructing a hypothetical AP poll for 1911 is only worthwhile if you're doing it on a national basis, with fair geographical representation, like the poll of today. Sure, the East might have more voters than comparably sized regions due to population and number of "major" football schools, but their voters should still be vastly outweighed by those in the rest of the country.
But we'll start with the East. Walter Camp's top 5 looked like this
:
1) Princeton, 2) Minnesota, 3) Penn State, 4) Yale, 5) Carlisle. Rating his own team #4 is quite a joke (they lost to 6-1-1 Army, who lost to 6-0-3 Navy, both of whom had better records than Yale too), but otherwise you get some idea on how the Eastern vote would have gone. The far Eastern vote, at least. Voters in the rest of the East, such as in Harrisburg or Pittsburgh, would be apt to view Carlisle and Penn State differently, likely at Princeton's expense. But moving on to the rest of the country, things just get worse for Princeton's chances.
The West
First of all, writers in the Great Lakes region were already fed up with nationally published Eastern writers, and frequently made fun of their Eastern bias (particularly concerning their All American-- often All Eastern-- teams). While an Old Guard Eastern team would surely have topped a national AP poll every year up until 1910, the backlash was building, and this is the year it certainly would have been unleashed, for Minnesota was 6-0-1, Princeton 8-0-2, and Minnesota's schedule and performance were better to boot. Western writers were also keenly aware that the West had been beating the East lately in the few games played between the regions.
In games between major Western teams and major Eastern teams, the tide had turned 2 years ago, when the West went 4-0-1 against the East (the significant wins being 6-1 Michigan at 7-1-2 Penn, and 7-0-1 Notre Dame at 6-2-1 Pitt). The West then went 2-1-1 in 1910, and this season they went 2-1-3. That's three winning records in a row (and they weren't done-- the West would go 2-2 against the East in 1912 and 5-0 in 1913).
The 1911 East-West games were as follows
:
5-1-2 Michigan going 1-1-1 against Penn (7-4), Cornell (7-3), and Syracuse (5-3-2); 6-1 Chicago defeating 7-3 Cornell; 6-0-2 Notre Dame tying 4-3-1 Pitt; 0-5-1 Villanova tying 7-0-2 Marquette. Additionally, 5-3-2 Syracuse beat 5-3-2 Ohio State, but OSU was in the Ohio Athletic Conference, playing teams like Otterbein, Ohio Wesleyan, Kenyon, Miami-Ohio, Case, and Western Reserve, and they were not a major team in 1911. Syracuse also tied Saint Louis, but they too were not a major team at the time (it was therefore an embarrassment for Syracuse). And in another game pitting a minor Western team against a major Eastern team, Western Reserve, a mediocre OAC team, tied powerful Navy.
Minnesota would have topped every ballot in the so-called West, from the Great Lakes region to the Great Plains (Missouri Valley) region. And I don't even see Princeton finishing #2 in those regions. Let's talk about Carlisle.

Carlisle Coast to Coast
Carlisle, and particularly Jim Thorpe, were by far the biggest national stories of 1911. Voters nationwide would have been more familiar with them and their exploits than with any other team outside the voters' own regions. Furthermore, Carlisle had traveled across the entire country over the previous ten years, winning about 80% of those games, so potential voters coast-to-coast would have had a chance to see them actually play, and play well. And this was their best team yet.

It's hard to say how much of an effect bias against an Indian school would have had on the vote. While writers engaged in plenty of "fun" Indian stereotypes in articles about them, they always showed tremendous respect for their greatness as a football team. Still, I suppose it would have had an effect on some voters (I'm thinking it did with Walter Camp's opinion of them). But I doubt that it would have been enough to make up for the huge advantage they had over Princeton in nationwide familiarity. It would have likely hurt them more against Minnesota, who had the better record.

Other Factors
Voters today make too much out of straight records-- would it really have been different in 1911? I doubt it. And Minnesota's 6-0-1 record would have looked better than Princeton's 8-0-2.

Another key factor is that Princeton's season ended November 18th. Minnesota and Carlisle were still playing-- and winning-- after that. And the two weeks between Princeton's finale and the final poll would have given voters too much time to read/hear about what actually happened in Princeton's last few games. Which was not impressive.

It's all speculation. It's possible that Princeton could have won out, depending on the vote in the mid-Atlantic, South, Rockies, Southwest, and Northwest. But it seems highly unlikely to me. My (well-researched) guess is as follows

:

1) Minnesota, 2) Carlisle, 3) Princeton.

As for Penn State, I think they likely would have ended up ranked behind Navy, and possibly Chicago too. They simply had not built up the national name value that the other contenders had. And they played poorly down the stretch. After tying Navy's second team, they would have remained ranked ahead of Navy. But the next week, Navy beat a 6-0-1 Army team that would probably have been rated #1 at the time, and I think that result would have powered Navy past Penn State. Similarly, Chicago defeated what would have been a very highly ranked 5-0-1 Wisconsin team (who tied Minnesota), and I'm thinking Chicago would have wound up #4 (but I dropped them to #9 for 1911).
Awards Ceremony
1911 #1:

6-0-1 Minnesota


National Co-champion:

11-1 Carlisle


Contenders:

8-0-2 Princeton, 8-0-1 Penn State, and 6-0-3 Navy

These are the awards I have been handing out for each season, except seasons when there are no contenders. For this purpose, what I mean by a contender is a team that I think is very close to being worthy of sharing the national championship. A team that you could make an argument for, even if that argument is weak. But they are teams that I myself do not see as national champions.

Navy is the first contender that I haven't written a full team summary for. Hey, call me lazy, but this article is already far longer than any of my others. I included some information about Navy in the Princeton section. I have a hard time seeing them as a national champion, but they tied Princeton and Penn State, so if you're going to include those two, I can't see excluding Navy (who also beat a very good 6-1-1 Army team).

I have seen 3 computer ratings for 1911 not listed in the NCAA Records Book, and two of them had Minnesota #1 (one of which had Chicago #2 and Wisconsin #3), while the other had Carlisle #1.

And a tip of the cap to three regional "champions" with perfect records in 1911

:

6-0 Colorado, 7-0 Washington, and 8-0 Oklahoma.

Grading the Selectors
I have been grading the NCAA Records Book's selectors for each season, and keeping a grade point average, so we can see who is relatively good at selecting national champions and who is not. And although I do not consider computer ratings to be legitimate national championship selectors, I have been including them in this section as well, just for comparison's sake.
I am grading on a scale of 0-5 (5 being the best).
The National Championship Foundation selected Princeton and
Penn State
.

Grade: 0.7



Everyone else selected Princeton.

Grade:

1.2



Grade Averages 1901-1911

:



| | |
| --- | --- |
| 1) Billingsley (math system) | 4.2 |
| 2) Houlgate (math) | 4.07 |
| 3) Parke Davis | 4.04 |
| 4) Helms | 3.9 |
| 5) National Championship Foundation | 3.0 |

Parke Davis' selection of Princeton is no surprise, as he was a Princeton graduate. He would also select them as "champion" of 1920 (Cal the consensus choice), 1922 (this one's legit), and 1933 (Michigan the unanimous selection otherwise). I have very little respect for his selections anyway.

Helms' selection of Princeton, and worse, the NCF's selection of Princeton and Penn State, are more disappointing, and although we have no idea why they made the choices they did, or what their methods were, it certainly does appear as though they did nothing more than look at a list of scores. And 1911 is a great example of a season when just looking at a list of scores is not enough, and can even be misleading. I very much doubt that they had any idea that Princeton beat Dartmouth on a dubious bouncing field goal, or that they were

vastly

outplayed by Yale, and won by watching 6 field goals miss the mark, one hitting the crossbar. I am certain that the NCF had no idea that Navy's starters didn't play a single snap against Penn State. Those things you can

only

know through research, and yeah, it is

very

time-consuming, but frankly, you just should not be selecting national championships for long-ago seasons without it.

On a simpler level, looking at a list of scores also doesn't really tell you how good the opponents were. Someone could look at Princeton's wins over Harvard and Yale, for example, and conclude that that alone made Princeton the best, since Harvard and Yale were the best teams of "the time." After all, either Harvard or Yale was the best team in the country practically every year before 1911 (and the other was often second-best), and Harvard would go unbeaten for 3 straight years after 1911. But in 1911, both Harvard and Yale lost to other teams besides Princeton, and

at best

would/should have ranked #7 to #9 on the season.

And you could easily look at Minnesota's schedule and dismiss opponents like Iowa State and South Dakota out of hand, even though those teams ended up losing only to Minnesota, finishing a combined 13-2-1. But did Helms and the NCF even know that? Back when they were making their selections, getting schedules and results for all schools in 1911 was a

lot

harder than it is now (with the handy dandy internet). I know that firsthand. Did they contact South Dakota and Iowa State and request their 1911 records/results? I highly doubt it.

To sum up, I don't think these organizations were even doing the most

basic

research for their selections (getting the records/results for all the opponents of the contenders). Let alone the full research needed to do a good job (game summaries and other week-to-week information from that time, as gathered by combing through 1911 newspapers and magazines).