Top 25 Rankings 1901-1935
1911 National Championship
Home
1911 College Football Top 25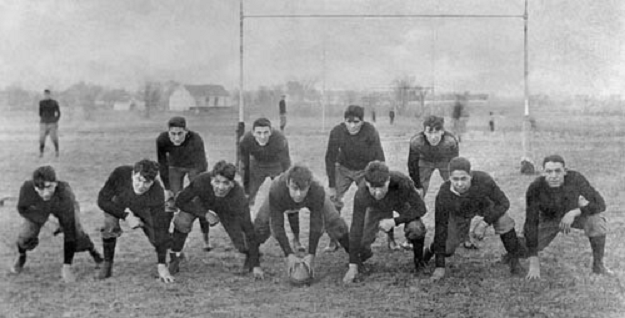 Pictured above is the starting 11 for the Carlisle Indian Industrial School, which featured at halfback the greatest college football player of all time, the legendary Jim Thorpe (in the backfield on the right). Carlisle went 11-1 this season, and I selected them to share the 1911 mythical national championship with 6-0-1 Minnesota.


I covered these 2 teams, as well as MNC contenders 8-0-2 Princeton and 8-0-1 Penn State,
in great detail in my 1911 national championship article. As I said in the article, I think a national AP poll would have gone with Minnesota #1, Carlisle #2, and Princeton #3, but even if it didn't, that's the way these teams

should

be ranked.

If there had been an AP poll in these early years, and if Minnesota did finish #1 in it this season, they would have been the first team from outside the East to ever finish #1.

Minnesota #1, Carlisle #2, and Princeton #3.
Navy and Penn State
As discussed in my 1911 national championship article, I think 6-0-3 Navy would have ended up ranked higher than 8-0-1 Penn State. The 2 teams tied each other, but Navy held their starters out of the game so that they'd be healthy against Army the next week. And there was a huge drop-off between Navy's starters and their backups this year. Navy's other 2 ties came to #3 Princeton, a higher-ranked team, and to unrated Western Reserve, a weak minor team. Navy's big win came 3-0 over #6 Army (6-1-1). Penn State's best wins came over #14 Penn (7-4) and #15 Cornell (7-3). The rest of Navy's wins all came by more than a touchdown, whereas PSU edged unrated Pitt (4-3-1) 3-0 in their finale. So Navy being rated higher works fine.


Navy #4, Penn State #5.

Navy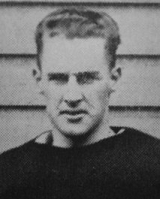 Navy's coach was Douglas Howard, who went 25-7-4 here 1911-1914. He was awarded the Navy Cross for his service in World War 1, and in World War 2 the Navy named a ship after him.

This season Navy fielded four players who made first team All America lists. Two of them are in the Hall of Fame

:

tackle John Brown and fullback/halfback Jack Dalton (pictured above). Dalton kicked a 35 yard field goal this season to beat Army 3-0. The other AA players were the guards, Ray Wakeman and George Howe.
Army, Yale, and Harvard
6-1-1 Army, as noted, took their loss 3-0 to #4 Navy. The tie came to 7-1-1 Georgetown (#11). Their big win was 6-0 over 7-2-1 Yale.

Yale took their other loss to #3 Princeton. All of their wins came by dominating scores, including 12-0 over 5-3-2 Syracuse (#20), 33-0 over 6-1-2 Virginia Tech, and 15-0 over 7-3-1 Brown (#13). They tied 6-2-1 Harvard 0-0 in their finale. Harvard took their losses to #2 Carlisle and #3 Princeton. They won 20-6 over 7-3-1 Brown (#13) and 5-3 over 8-2 Dartmouth (#12). Because Yale and Harvard tied each other, and because their seasons were so similar, we'll just leave them tied here.

Army #6, Yale and Harvard tied for #7.
Chicago, Wisconsin, Georgetown, and Dartmouth
6-1 Chicago might have been rated as high as #4 in a 1911 AP poll, but their performances were just not good enough to merit better than this spot. They were blown out 30-0 at #1 Minnesota, whereas the losses taken by Harvard and Yale were all very close. And Chicago had 3 close wins, one over an unrated opponent, while Yale had no close wins, and Harvard had one, but against #12 Dartmouth. Chicago's best wins came 6-0 over #15 Cornell (7-3) and 5-0 over 5-1-1 Wisconsin in their finale.

Wisconsin's tie was against #1 Minnesota. All of their wins came by more than a touchdown, but none of those teams held any value.

7-1-1 Georgetown took their loss 28-5 to #2 Carlisle, and like Wisconsin, they tied a higher-rated team, #6 Army. Their one win of note was 9-0 over 8-2 Virginia.

8-2 Dartmouth lost very close games at #3 Princeton and at #7 Harvard. They did not beat a good team, and they struggled to get by 4-5 Holy Cross.

Chicago #9, Wisconsin #10, Georgetown #11, and Dartmouth #12.

Georgetown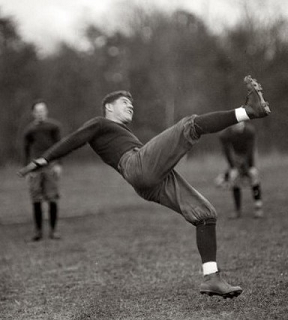 Georgetown had been mostly irrelevant through 1909, but they suddenly emerged in 1910 under head coach Fred Nielsen, a Danish immigrant and former player for Nebraska. He had previously coached George Washington to a 9-1-1 record, and he went 14-2-2 at Georgetown 1910-1911, 7-1-1 each season. Nielsen's real job was with the State Department, so his coaching career (a hobby, really) ended up being thin (45-21-4 at 4 schools). But Georgetown, given the taste of winning football, later hired as coach former Carlisle great Albert Exendine, who kept the success going, and so Georgetown was often a top 25 caliber team 1910-1922. The glory days slowly faded away after that, and the school even dropped the sport for a while
.

The star player for Georgetown this season was halfback Harry Costello (pictured above), who made first team All America lists this year and next.
Brown, Pennsylvania, Cornell, and Michigan
7-3-1 Brown took their losses to #2 Carlisle, #7 Yale, and #7 Harvard, and they took an upset tie to unrated Trinity-Connecticut (6-0-2). Their one big win came 6-0 at 7-4 Penn.

Penn's other 3 losses came to #2 Carlisle, to #5 Penn State, and by a score of 11-9 at 5-1-2 Michigan. But Penn defeated 7-3 Cornell 21-9, and Cornell defeated Michigan 6-0. So these 3 teams defeated each other in a circle. Since Michigan took upset ties to 2 lower-ranked teams, and because their win was the weakest of this circle (and Penn's was the best), we'll go with Penn > Cornell > Michigan.

In addition to Penn, 7-3 Cornell lost to #5 Penn State and #9 Chicago. In addition to Michigan, they defeated 4-3-1 Pittsburgh (#26-32). 5-1-2 Michigan took their upset ties to 5-1-2 Nebraska (#19) and 5-3-2 Syracuse (#20). In addition to their victory over Penn, Michigan won 9-8 over 8-1 Vanderbilt (#17) and 15-3 at 5-1 Michigan State (#26-32).

Brown #13, Pennsylvania #14, Cornell #15, and Michigan #16.
Vanderbilt, Lafayette, Nebraska, and Syracuse
8-1 Vanderbilt lost by just 1 point at #16 Michigan, and they blew away everyone else they played, including a 17-0 win over 7-1-1 Georgia (#26-32).

8-2 Lafayette took their losses to #2 Carlisle and #14 Penn. They struggled repeatedly to get past unrated opponents, but they brought home a big 10-0 win at 5-3-2 Syracuse.

5-1-2 Nebraska took their loss to #1 Minnesota, and they tied 5-1-2 Michigan (#16) and 6-1-1 Iowa State (#22). They rolled up 117 points in one game, and they won 29-0 at 4-2-2 Kansas. I find Nebraska being rated behind Lafayette very dubious due to Lafayette's repeated poor performances, but I do think a 1911 AP poll would have preferred Lafayette, and since they did beat a rated opponent, and Nebraska did not, I suppose I can hold my nose and let the hypothetical AP poll voters of 1911 have this one.

5-3-2 Syracuse took their losses to #7 Yale, to unranked Springfield (7-1), and to the aforementioned Lafayette. They balanced their upset loss out with the biggest win by any team this year, 12-11 over #2 Carlisle, dealing them their only loss. Syracuse tied a higher-rated team, #16 Michigan, but they also tied unrated St. Louis (7-1-2), whose other loss and tie came to unrated teams. Obviously, Syracuse was highly erratic this season. The St. Louis tie, their most miserable performance, came in their finale. Syracuse also posted 3 close wins over unrated opponents (Hobart, Rochester, and Ohio State).

Vanderbilt #17, Lafayette #18, Nebraska #19, and Syracuse #20.
Washington, Iowa State, Colorado, Oklahoma, and South Dakota
Token team time! Here is where we recognize teams from outlying regions that posted nice records. We start with 7-0 Washington, who produced their 3rd straight perfect season and 4th straight unbeaten season (that streak would go to 9 years). The closest anyone got to them this year was 17 points, but as I say for every year during this time, we just have no idea how Pacific Northwest football compared to football anywhere else.

Next we have 6-1-1 Iowa State, who could definitely be ranked higher than this.
They lost just 5-0 at #1 Minnesota, and their tie came to #19 Nebraska. On the other hand, they didn't actually beat a team that held much value, and struggled twice against unrated teams.

6-0 Colorado was this year's Rocky Mountain Champion, and this was their 3rd straight perfect season. They won 9-0 at 5-1-1 Utah, and they posted one close win over an unrated opponent.

8-0 Oklahoma was champion of the Southwest. They won 3-0 at 4-2-2 Kansas and 6-3 at 5-2 Texas in their finale.

And finally we have 7-1 South Dakota. Like Iowa State, South Dakota lost just 5-0 at #1 Minnesota. They won 10-0 over 5-2-1 Denver, and they posted one close win over an unrated opponent. The other candidates for this spot were 5-1 Michigan State and 6-0-2 Trinity-Connecticut. But MSU's 12-point loss to #16 Michigan was not as good as South Dakota's 5-point loss to #1 Minnesota, and South Dakota defeated a good team, while MSU did not. As for Trinity, they tied #13 Brown, but they also took a terrible tie with 1-3-3 NYU. Like MSU, they did not defeat a good team, and they posted 2 close wins over unrated opponents.


Washington #21, Iowa State #22, Colorado #23, Oklahoma #24, and South Dakota #25.

Iowa State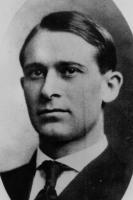 Iowa State, then called Ames College, had been steadily improving under head coach Clyde Williams (pictured), and 1911 was their breakthrough season. Clyde Williams was one of the greatest Iowa Hawkeye players of all time, and it is a wonder to me that he is not in the Hall of Fame. His 1899 Iowa team went 9-0-1, outscoring opponents 257-5 and tying Western Conference champion Chicago, the only team to score on them. That got Iowa an invitation to the Western Conference (now the Big Ten), and they won a share of the conference title in their first year, going 7-0-1 in 1900 and outscoring opponents 311-12. Iowa never lost a game with Clyde Williams starting at quarterback, 23-0-3 over his 4 years.

As coach of Iowa State, he went 32-15-2 over six seasons 1907-1912, and shared the Missouri Valley Conference title with Nebraska in 1911 and 1912. Those are still the only conference titles ISU has ever won in football. After 1912, Williams quit coaching, and Iowa State's run at glory ended immediately thereafter.
Iowa State's stadium was named for Clyde Williams from 1915-1975.
Colorado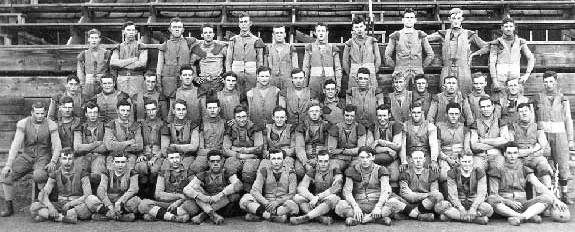 Colorado's coach was
Hall of Famer Fred Folsom, for whom Colorado's stadium is still named. He won 10 conference titles in 15 years at Colorado, going 77-23-2 there, and 106-28-6 overall with a 29-5-4 mark in 4 years coaching his alma mater, Dartmouth. That record puts him on the list for all-time best FBS coaching win percentage.
Colorado dominated the Rocky Mountain region during Folsom's time, but they did not fare well in their few intersectional games, going 1-5 against Nebraska, Kansas State, Oklahoma, and Washington.
Oklahoma
Oklahoma's coach was Hall of Famer Bennie Owen, a Kansas grad who had played for Fielding Yost in 1899. Owen coached at Washburn (Kansas) in 1900 and at Bethany (Kansas) 1901-1904, defeating Oklahoma in 1903 and 1904. Oklahoma hired him away, and he went 122-54-16 there 1905-1926, winning 2 conference titles in the SWC and 1 in the MVC. However, he only went 59-48-11 against major schools

while at Oklahoma

;

10-11 against major Texas schools and 20-29-8 against major Missouri Valley teams (Kansas, Kansas State, Missouri, and Nebraska). He was 8-8 against Texas. Overall, he finished 155-60-19 for his career. Bennie Owen is the namesake of Oklahoma's playing surface, Owen Field.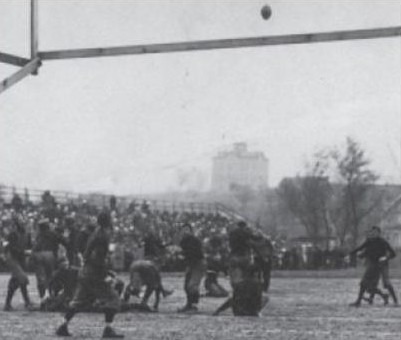 Oklahoma's star player this season was halfback Fred Capshaw. He kicked a field goal to beat Kansas 3-0 (as shown above), and he scored a touchdown and kicked the extra point to beat Texas 6-3. This season was the first time Oklahoma ever beat Kansas (0-7 before) and Missouri (0-2 before)
.
Others Receiving Votes
Here are the teams closest to making this top 25. 5-0 Utah State, 7-0 New Mexico State, and 5-0-1 Florida were too far removed from big time football to consider.
Michigan State 5-1
As discussed above, 5-1 Michigan State lost 15-3 to #16 Michigan. They did not defeat an opponent of any value, and they struggled to escape 0-5-3 DePauw.
Trinity (Connecticut) 6-0-2
As discussed above, 6-0-2 Trinity-Connecticut tied #13 Brown and 1-3-3 NYU. They did not beat an opponent of much value, and they struggled twice against bad minor teams.

Springfield 7-1


7-1 Springfield pulled a big 9-5 upset win at #20 Syracuse, but they also lost 3-0 to 3-4-1 Amherst. They beat no one else of value, and they struggled in one win, against 3-4-1 Williams.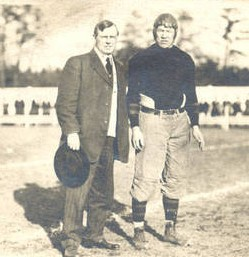 Springfield College (Massachusetts), then known as YMCA College, was helmed by longtime coach James McCurdy (pictured above with Jim Thorpe, whom Springfield played against in 1912). He graduated from Springfield in 1890, then coached the football team 1896-1903 and 1907-1916. In his first stint he went 23-15-8, and the 2nd time around he went 48-27-6. His 1914 team was close to top 25 caliber as well.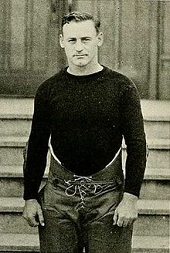 The star player this year was halfback/quarterback Les Mann (pictured), who went on to much greater fame as a Major League Baseball player 1913-1928. In Springfield's big 9-5 upset of Syracuse, Les Mann scored a touchdown on a 90 yard punt return and kicked a 40 yard drop-kick goal. Against Carlisle and Jim Thorpe in 1912, he hit 10 of 12 passes and kicked 3 extra points and a field goal. The Springfield student newspaper claimed he could drop-kick goals from 50 yards out, and that he had a 55 yard punting average.

Pittsburgh 4-3-1
4-3-1 Pittsburgh took their losses to #2 Carlisle, #5 Penn State, and #15 Cornell. They tied 6-0-2 Notre Dame (covered next), and they won 12-0 over 6-4 Washington & Jefferson.
Notre Dame 6-0-2
6-0-2 Notre Dame tied 4-3-1 Pitt (covered above) and 7-0-2 Marquette. They did not beat a good team, and they struggled to get past 3-3-1 Wabash.

Swarthmore 6-1-1
6-1-1 Swarthmore took their loss 11-5 to #18 Lafayette, and they were tied by 2-5-2 Delaware. Their big win came 9-8 at 8-2 Virginia, who won 22-6 over 7-1 VMI and 28-0 over 6-1-1 North Carolina.

Georgia 7-1-1
7-1-1 Georgia took their loss 17-0 at #17 Vanderbilt, and they were tied by 5-2-1 Auburn. Georgia defeated 5-2-2 Alabama, 6-3-1 Sewanee, and 6-2-1 Georgia Tech.
1911 Top 25
1) Minnesota 6-0-1
2) Carlisle 11-1
3) Princeton 8-0-2
4) Navy 6-0-3
5) Penn State 8-0-1
6) Army 6-1-1
7) Yale 7-2-1
Harvard 6-2-1
9) Chicago 6-1
10) Wisconsin 5-1-1
11) Georgetown 7-1-1
12) Dartmouth 8-2
13) Brown 7-3-1
14)
Pennsylvania 7-4
15) Cornell 7-3
16) Michigan 5-1-2
17) Vanderbilt 8-1
18) Lafayette 8-2
19) Nebraska 5-1-2
20) Syracuse 5-3-2
21) Washington 7-0
22) Iowa State 6-1-1
23) Colorado 6-0
24) Oklahoma 8-0
25) South Dakota 7-1

Others Receiving Votes
:
Michigan State 5-1
Trinity (Connecticut) 6-0-2
Springfield 7-1
Pittsburgh 4-3-1
Notre Dame 6-0-2
Swarthmore 6-1-1
Georgia 7-1-1