Home
1906 College Football National Championship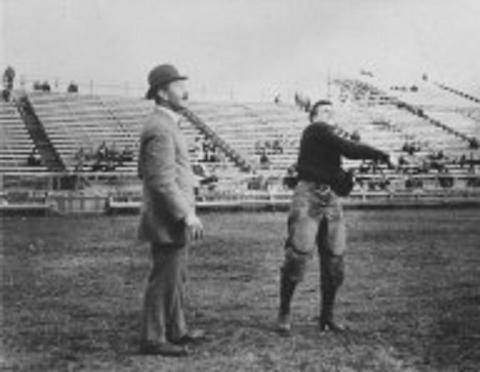 Pictured above is advisory coach Walter Camp and halfback Hugh Knox of Yale during practice in 1906. And if you're wondering why Knox was practicing throwing the football, it's because the forward pass was just legalized this season.

Major Changes in College Football for 1906
The forward pass was just one of many changes in college football in 1906, all coming in response to a growing outcry against the violence (and to a lesser extent, the "professionalism") of college football. Indeed, college football had been on the verge of being nationally banned following the 1905 season. Some schools, including all of the major California schools, dropped football altogether. Many others drastically reduced the number of games they played. The Western Conference (Big 10) cut the number of games they played in half, and also instituted stringent eligibility standards.

And then there were the major rules changes. In addition to the introduction of the forward pass, teams now had to gain 10 yards to get a first down (rather than 5), games were reduced from 70 minutes to 60, and referees were urged to enforce various roughness penalties that were already in the rulebook (but too often ignored).

The 1906 National Championship Race
There is no Western team that is a contender for the 1906 national championship (the last time this happened was 1900). Michigan finally started playing Eastern powers, and took their only loss 17-0 to Penn (who was only 7-2-3). 4-1 Minnesota lost to another Eastern power, 9-3 Carlisle, by the same 17-0 score. Those two scores also cast some doubt on the validity of Western teams as national championship contenders 1901-1905.

But back to 1906. 4-1 Chicago and 9-1 Iowa State lost to Minnesota, while 8-1 Vanderbilt and 8-1 Ohio State lost to Michigan. 9-1 Texas lost to Vanderbilt 45-0. Wisconsin did go 5-0, but against an

incredibly

weak schedule that did not include Minnesota, Chicago, or Michigan. As such, they are simply not a contender at all. Neither is 11-0 St. Louis, but they were an interesting team, and I will recap them below.

So it all comes down to the Eastern champions, 9-0-1 Yale and 9-0-1 Princeton, who tied each other 0-0 in Princeton's finale. Writers at the time overwhelmingly considered Yale the best team in the nation.


But here is how the "major selectors" listed in the NCAA Records Book, all selecting long after the fact, see the 1906 college football national championship (omitting math/computer ratings, which neither I nor anyone else recognize as constituting titles)

:



Yale

:

Parke Davis
Princeton

:

Helms, National Championship Foundation

You can click on the selector to read my review of that person or organization. This 1906 season figures prominently in my reviews of Helms and the NCF.

That is because their choice of Princeton as a stand-alone champion makes little sense, and can only be explained by poor research. But you can look at the facts below and judge for yourself.


All rankings in the following article, except as noted, come from my 1906 top 25, which is based on a hypothetical AP poll (within logical reason of course)
.

Yale 1906
| | | |
| --- | --- | --- |
| Wesleyan (2-4-1) | 21-0 | |
| Syracuse (6-3) | 51-0 | #17 |
| Springfield (1-5-3) | 12-0 | |
| Holy Cross (4-3-1) | 17-0 | |
| Penn State (8-1-1) | 10-0 | #4 |
| Amherst (3-3-1) | 12-0 | |
| at Army (3-5-1) | 10-6 | |
| Brown (6-3) | 5-0 | #16 |
| at Princeton (9-0-1) | 0-0 | #2 |
| Harvard (10-1) | 6-0 | #3 |
I wrote summaries of previous Yale seasons for my 1902, 1904, and 1905 national championship articles. Yale lost all 4 of their consensus All Americans from the 1905 team, but they still had another 4 consensus All Americans in 1906

:

end Robert Forbes, guard L. Horatio Bigelow, halfback/fullback Hugh Knox, and halfback Paul Veeder (also the punter and kicker). End Clarence Alcott and quarterback Tad Jones would be consensus AA in 1907. Three more players were nonconsensus AA in 1906, including Samuel F. B. Morse, who would go on to build the famed Pebble Beach golf course.
Yale's Season
Yale shut out every opponent they faced in 1906 except 3-5-1 Army, long a pesky thorn in Yale's side. Army played a very difficult schedule, and was much better than their record would seem to indicate. The cadets lost to 10-1 Harvard 5-0 and to 9-0-1 Princeton 8-0, and they always saved their best game for Yale. Still, no one expected them to so thoroughly stonewall Yale, who nevertheless won 10-6 in West Point for what the New York Times called "the luckiest victory in her history." Yale could not manage a single first down in this game, and trailed 6-0 at the half, but they blocked a punt for a touchdown, then hit a field goal with less than 2 minutes left.

Army themselves only tallied 120 yards rushing, and but 4 first downs, mostly in the first half. Their touchdown came on a 50 yard drive that featured a 30 yard pass to the Yale 20, from where they drove it over the goal. Minutes after that touchdown, Army drove inside the Yale 10, but lost the ball on downs. Late in the half, Army hit another pass to the Yale 20, but time ran out after 2 runs. That was it for Army's offense, as they were stymied in the second half.

Yale's offense did no better, but they dominated the second half through punting and returns. Yale's punter, Paul Veeder, gained advantage on frequent kick exchanges, then Clarence Alcott blocked a punt from Army's 15, grabbing the ball as it caromed off of his chest, and ran it in for the tying touchdown. Veeder's 40-50 yard punts kept the ball in Army territory for most of the half. Yale blocked another Army punt at their 18, but lost the ball on downs. A Hugh Knox 50 yard punt return brought the ball to Army's 25, but they were stopped again. Relegated to the fact that they could not gain a first down, Yale resorted to field goal tries. Morse missed one, then Veeder missed one following a 30 yard Alcott punt return.

Finally, with little time left, Hugh Knox made a great play on a difficult catch of a punt at Army's 35, and Yale lined up for their last shot. It was Horatio Bigelow's turn, the third player to take a crack at a winning field goal, and he came through with the deciding points from a difficult angle.

Prior to the Army game, Yale's best win was 10-0 over 8-1-1 Penn State. PSU shut out every other opponent they faced in 1906, and with big wins over Carlisle (#5) and Navy (#7), I have them ranked #4 for 1906. Yale also blasted 6-3 Syracuse (#17) 51-0.

But after the Army game, Yale struggled for the second straight week, beating Brown (6-3, #16) at home by a mere touchdown, 5-0. Brown outplayed Yale in the first half, outrushing them 150-20 yards, but Veeder's 50 yard punts saved Yale, and Brown couldn't quite score. Brown drove from their 30 to the Yale 17 before being stopped, and later drove to the Yale 23. Late in the first half, Yale turned the tide with a Knox 60 yard punt return to the Brown 5, but Yale was held on downs there. The second half was Yale's, Morse capping a drive with a touchdown early, and Yale playing it safe from there on out.

Princeton Game
26,000 fans came to watch 9-0 Princeton host 8-0 Yale in Princeton's finale. The game was dominated start-to-finish by Yale, but ended in a 0-0 tie.

Princeton had only one threat in the game, getting to the Yale 20 early before turning the ball over on a pass attempt (an incomplete pass resulted in a loss of possession then). Yale returned the favor by turning the ball over at the Princeton 7 on a pass completion that was ruled illegal. Late in the first half, Yale's Paul Veeder missed a crucial 25 yard field goal attempt.

The second half was a stalemate for a long time, and then Yale started to move the ball. Veeder missed another field goal attempt. Then late in the game, Yale mounted their first long drive against a tiring Princeton defense, but time was called with the ball at the Princeton 15. Princeton's season was over, but Yale had to play their second straight "game of the season" seven days later.

Harvard Game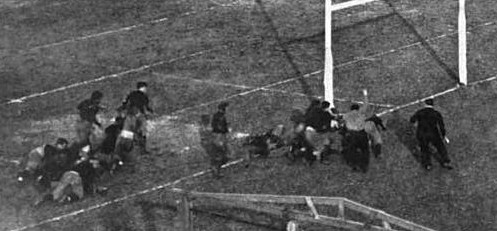 32,000 fans gathered in New Haven to watch 8-0-1 Yale play 10-0 Harvard for what was considered at that time to be the national championship.

Like Princeton the week before, Harvard mounted only one threat, and it was also early in the game. But their field goal attempt was blocked.

Yale's first threat followed a 50 yard punt return by Hugh Knox. He initially dropped the punt, but picked it up and returned it to about Harvard's 10 yard line. Yale's offense was held there, and they lined up for a field goal attempt. But it was a fake, with Paul Veeder rolling out, then throwing the ball back across the field to a wide-open Clarence Alcott. Unfortunately, Alcott dropped an easy touchdown, and Harvard took possession.

This play was repeated in Yale's next 2 possessions

:

fake field goal, Veeder throwing to Alcott at the same spot. On the second attempt, Harvard intercepted the pass. But on the third attempt, Alcott jumped high amongst a throng of defenders and came down with the ball at the Harvard 3 yard line for a first down. Tom Roome, substituting for Hugh Knox, scored a touchdown 2 plays later (pictured above), giving Yale a 6-0 lead they would not relinquish. Here is how the New York Times described the ensuing pandemonium

:





"The scene that followed Roome's touchdown can only be pictured by those who have seen football crowds in the throes of the wild delirium that stirs them when their favorite team manages to win its way behind the goal line of a desperate foe. The mad Yale cohorts executed the frantic dances, with accompanying incoherent shouts, more wildly than they had ever done it before. It was as though victory had been won from the most formidable foe Yale has met this year. The great eastern stand, given over entirely to Yale supporters, was a waving mass of color. Those on the field fairly went beside themselves.

"

That was just the first half, but it was all the scoring there would be in the game. Harvard advanced no threats in the second half. Yale missed 2 field goals, and then, similar to the Princeton game the week before, they mounted a long drive in the closing minutes, pushing the ball to Harvard's 10 before time was called.

Princeton 1906
| | | |
| --- | --- | --- |
| Villanova (3-7) | 24-0 | |
| Stevens (3-3-2) | 22-0 | |
| Washington & Jefferson (9-2) | 6-0 | #19 |
| Lehigh (5-5-1) | 52-0 | |
| at Navy (8-2-2) | 5-0 | #7 |
| Bucknell (3-4-1) | 32-4 | |
| (NYC) Cornell (8-1-2) | 14-5 | #6 |
| Dartmouth (6-3-1) | 42-0 | |
| at Army (3-5-1) | 8-0 | |
| Yale (9-0-1) | 0-0 | #1 |

This was Bill Roper's first of 17 seasons coaching his alma mater. He went 89-28-16 in 3 stints at Princeton, 1906-'08, 1910-'11, and 1919-'30. Overall he was 112-38-18 at 4 schools, including 7-0-1 at Missouri in 1909. He is still the winningest coach in Princeton history, and he coached two other Princeton teams that are considered to be national champions

:

8-0-2 in 1911 and 8-0 in 1922 (I disagree with the 1911 claim).



Princeton's best player, tackle James Cooney, played on their 1903 national championship team. I covered him and that team in my article on the

1903 national championship.

Cooney was one of Princeton's 3 consensus All Americans (one less than Yale), the others being end Caspar Wister and quarterback Edward Dillon.





Three more players would be consensus AA in later years, including Hall of Fame fullback Jim McCormick, who was a consensus AA in both the season before and the season after this one.

He was supplanted on most AA lists this season by Yale's Paul Veeder.



Princeton's Season
Princeton struggled in two wins, scoring just one touchdown in each

:

at home over 9-2 Washington and Jefferson (#19) and at 8-2-2 Navy (#7). The Washington & Jefferson game was played on a wet, slippery field that severely hampered both offenses. Princeton's touchdown came early, following a punt return to the W&J 20. Wister caught a pass to go the rest of the distance, Cooney added an extra point, and Princeton held it up for the 6-0 win. The game at Navy was scoreless at half, Navy missing a field goal and blocking Princeton's try. Princeton drove for a McCormick touchdown early in the second half, securing the 5-0 win, and they were driving at the Navy goal again when time was called.

Princeton's biggest win came 14-5 over 8-1-2 Cornell (#6). It was, of course, Cornell's only loss. But prior to their game against Yale, the Princeton effort that raised the most eyebrows was a 42-0 whipping of 6-3-1 Dartmouth (unrated). Similar to Yale's 51-0 defeat of Syracuse, it was an unusual amount of points for one Eastern power to pile up against another. Wister scored 2 of the touchdowns, and McCormick kicked 5 extra points.

Then came their game of the year against Yale, as described in the Yale section above.
Yale vs. Princeton in 1906
Here are the significant games for each team in 1906.
The opponent rankings
come from my 1906 top 25, which is based on a hypothetical AP poll (within logical reason of course)
.
Yale 9-0-1
Princeton 9-0-1

| | | |
| --- | --- | --- |
| Syracuse (6-3) | 51-0 | #17 |
| Penn State (8-1-1) | 10-0 | #4 |
| at Army (3-5-1) | 10-6 | Unrated |
| Brown (6-3) | 5-0 | #16 |
| at Princeton (9-0-1) | 0-0 | #2 |
| Harvard (10-1) | 6-0 | #3 |

| | | |
| --- | --- | --- |
| Washington & Jefferson (9-2) | 6-0 | #19 |
| at Navy (8-2-2) | 5-0 | #7 |
| (neutral) Cornell (8-1-2) | 14-5 | #6 |
| Dartmouth (6-3-1) | 42-0 | Unrated |
| at Army (3-5-1) | 8-0 | Unrated |
| Yale (9-0-1) | 0-0 | #1 |

Yale defeated their other opponents by an average of 15.5-0, and Princeton defeated the rest of their opponents by an average of 32.5-1.

With comparable schedules and results, equal records, and the tie against one another, it makes sense for Yale and Princeton to share a national title for 1906. But if you want to split hairs and rank only one of these teams #1, or name only one of them the "champion," it should be easy to see that Yale is the only sensible choice here.

The big difference, of course, is Yale's win over 10-1 Harvard. It's what separates their schedule, and their season, from Princeton's. And it's that win that had everyone at the time declaring Yale the best.

Furthermore, Yale clearly dominated their game with Princeton, despite it being played on Princeton's home field.
St. Louis 1906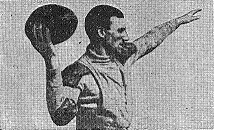 St. Louis went 11-0, and outscored their opponents 407-11 (leading the nation in scoring), but their schedule was not nearly tough enough to merit national championship consideration. They played only 2 major schools, beating 2-3 Iowa 39-0 and 7-2-2 Kansas 34-2.
But St. Louis is noteworthy because they were the first college team to attempt a forward pass, on September 5, 1906, in a game at Carroll College. That fell incomplete, but they were also the first college team to

complete

a forward pass, and that one went for a 20 yard touchdown, sparking a 22-0 victory over Carroll. More importantly, St. Louis 1906 was the first team to base its offense on the forward pass, and it was spectacularly successful.
Their coach was Eddie Cochems, the star of the great 1901 Wisconsin team I covered in my article on the
1901 national championship
. He took 16 players to a training camp in Wisconsin in the summer and drilled two players in throwing the football, but end/halfback Brad Robinson (pictured), who played for Wisconsin in 1903, would be the team's passer. Robinson's best game came against Iowa, when he completed 8 of 10 passes for 4 touchdowns.
Unfortunately, St. Louis' passing attack was not as successful in subsequent seasons, and therefore their offense did not really catch on nationwide. As a result, until recent years, St. Louis 1906 had been completely forgotten, and most people considered Notre Dame 1913 to be the first offense with a significant passing attack. In fact, you can still find plenty of ill-informed writers making that claim about Notre Dame 1913. But St. Louis 1906 came first.
Awards Ceremony
1906 #1:

9-0-1 Yale alone, or Yale and 9-0-1 Princeton in a tie


National Co-champion:

Princeton if Yale is #1 alone


Contenders:

None.

These are the awards I have been handing out for each season, except seasons when there are no contenders. For this purpose, what I mean by a contender is a team that I think is very close to being worthy of sharing the national championship. A team that you could make an argument for, even if that argument is weak. But they are teams that I myself do not see as national champions.

Kudos

:

in addition to 11-0 St. Louis and 5-0 Wisconsin, Washington State also had a perfect record, finishing 6-0 and shutting out every opponent.

Grading the Selectors
I have been grading the NCAA Records Book's selectors for each season, and keeping a grade point average, so we can see who is relatively good at selecting national champions and who is not. And although I do not consider computer ratings to be legitimate national championship selectors, I have been including them in this section as well, just for comparison's sake.
I am grading on a scale of 0 to 5, with 5 being the best.

The correct answer for 1906 is either

Yale

alone or

Yale and

Princeton

sharing the title. A shared title would be preferable, but Princeton alone just does not make sense.

Parke Davis and Billingsley selected Yale. Grade

:

5



Helms and the National Championship Foundation selected Princeton.

Grade: 2



Houlgate's system mysteriously does not have a selection listed in the NCAA Records Book for this season.

Grade Averages 1901-1906

:



| | |
| --- | --- |
| 1) Parke Davis | 4.2 |
| 2) Billingsley (math system) | 4.12 |
| 3) Houlgate (math) | 4.06 |
| 4) Helms | 3.7 |
| 5) National Championship Foundation | 3.2 |