Home
1922 College Football National Championship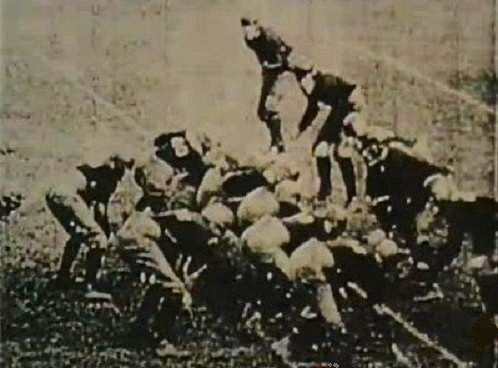 Pictured above is 1922's game of the year, Princeton at Chicago. It was the first game to be nationally broadcast on radio, and it was considered, then and for decades afterward, one of the greatest football games ever played. Princeton rallied for 2 late touchdowns and an improbable 21-18 win, prompting Grantland Rice, who was there covering the game, to dub Princeton the "Team of Destiny."

The name stuck, and the phrase has now become a common term for any sports team that improbably wins close game after close game. Princeton struggled to win all but 2 of their games, but when the dust had cleared, they stood 8-0 against the toughest schedule played by any of this season's contenders. They were not considered the best or most talented team in college football in 1922, and would certainly not have been favored against any other top 5 team, but they probably would have finished #1 in an AP poll had there been one at the time.

Still, 8-0 Cornell and 9-0 California were generally considered to be better teams, and performed far better, smashing every foe they faced. Cornell had been 8-0 the previous season, and Cal had not lost a game since 1919, so both teams would have been ranked much higher than Princeton in an AP poll to start the season. It's possible that one or both would have finished higher than Princeton as well, but Princeton was such a captivating story for the press that I think it likely that they would have edged the other 2 out for the top spot. Regardless, all 3 teams are contenders for the 1922 mythical national championship (MNC). But that is only half the field.

1921 gave us a difficult 5 contenders to sift through, but 1922 goes one better, giving us half a dozen teams to consider. My choice for the 1921 MNC, Iowa, produced a second straight 7-0 finish and Big 10 title in 1922. Sharing that title was 6-0-1 Michigan, who was tied by 8-0-1 Vanderbilt, our 6th and final contender.
Here is how the "major selectors" listed in the NCAA Records Book, all selecting long after the fact, see the 1922 college football national championship (omitting math/computer ratings, which neither I nor anyone else recognize as constituting titles)

:

8-0 Princeton

:
CFB Researchers
,
National Championship Foundation
(tie),
Parke Davis (tie)
8-0 Cornell

:
Helms
,
Parke Davis (tie)
9-0 California

:
National Championship Foundation
(tie)

So Princeton's "Team of Destiny" is the consensus choice among retroactive selectors, just as they probably would have been at the time.
All rankings in the following article, except as noted, come from my 1922 top 25, which is based on a hypothetical post-bowl AP poll (within logical reason of course)
.
Princeton 1922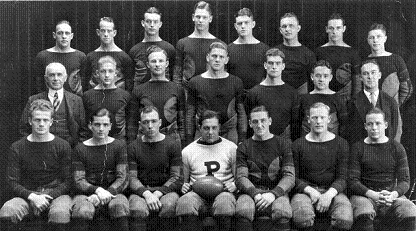 | | | |
| --- | --- | --- |
| Johns Hopkins (5-4-1) | 30-0 | |
| Virginia (4-4-1) | 5-0 | |
| Colgate (6-3) | 10-0 | #25 |
| Maryland (4-5-1) | 26-0 | |
| at Chicago (5-1-1) | 21-18 | #8 |
| Swarthmore (3-5) | 22-13 | |
| at Harvard (7-2) | 10-3 | #9 |
| Yale (6-3-1) | 3-0 | #10 |
Princeton's veins held college football's bluest blood. They have been retroactively selected as "national champions" of 20 seasons in the 1800s, edging out Yale for the most, and the school claims them all. In the 20th century, they had won national championships in 1903 and 1906, and the school claims another two for 1911 and 1920, but I disagree with both of those claims. Princeton's coach in 1922, Hall of Famer Bill Roper, had also been the coach for those 1906,
1911
, and
1920
seasons, and I covered him in most detail in the 1906 article.


Princeton's 1922 team had no significant players left over from their 6-0-1 championship contending team of 1920, and in fact they returned only 3 starters from the 1921 team. The new lineup was also much smaller than usual, averaging 5' 11" and 180 pounds. Princeton was thus relatively lightly regarded coming into the season, and expectations were low.
Their only consensus All American in 1922 was tackle Herb Treat, a transfer from Boston College. End Howard "Howdy" Gray and fullback/punter Jack Cleaves were nonconsensus AA. A couple of backups would be nonconsensus AA in 1924. Guard Burr "Whoops" Snively would become a lacrosse and hockey coach, as well as football line coach, for 33 seasons at a number of schools, and the University of New Hampshire named their hockey arena for him in 1965. He would be elected Princeton's captain for the 1923 season. Though a guard, Snively was a very good passer, and was used in that capacity quite often.

No Hall of Famers among the lot. Their coach, Bill Roper, was famous for not having a playbook, as he believed that "football is 90% fight," and this year's team typified that philosophy better than any other that he coached.
Princeton's Season
Princeton had no trouble dispatching Johns Hopkins 30-0, but their second game against 4-4-1 Virginia was another story. A driving rain put the clamps on both offenses, and Princeton won 5-0 on a 23 yard field goal and safety. They missed 15 and 18 yard field goals
.


In their next game, they were largely outplayed by 6-3 Colgate, but still came away with a 10-0 win. Jack Cleaves, starting at halfback this game, returned an interception 70 yards for a touchdown in the 2nd quarter, and he caught a 28 yard pass from Whoops Snively late in the 4th quarter to set up a 20 yard field goal for the final margin. Colgate drove to the Princeton 7 in the first quarter, but Cleaves knocked away their 4th down pass into the end zone, and
they drove to to the Princeton 3 in the 3rd quarter before throwing another 4th down incompletion. Colgate outgained Princeton in every area except punting, where Cleaves, again, had a good game. They rushed for 181 yards to Princeton's 36, and picked up 6 first downs to Princeton's 3.

Colgate lost to the 3 good teams they played, but they stomped on 6 scrubs by an average score of 48-4, and I have them ranked #25 for 1922.

Chicago
On October 28th, Princeton went out West to face Chicago, and it was the first football game to be broadcast on radio. Football fans loved intersectional matchups in those days, and this was the biggest one scheduled for 1922, so anticipation for the game was high nationwide before it was even played, and the teams delivered a spectacular game that exceeded all expectations.

Chicago had won 9-0 at Princeton the previous season, and they were expected to win even more easily at home this time, since Princeton had so little experience returning and had looked so mediocre in the first half of 1922
. 32,000 fans squeezed into Stagg Field, and they watched their team take an 18-7 lead into the 4th quarter, dominating as advertised. Chicago drove to a touchdown on the game's opening possession, star back John Thomas carrying the ball 7 times in 10 plays for 37 yards, and they led 6-0. Thomas had a great game, and scored all 3 of Chicago's touchdowns. Princeton answered the opening drive with a promising one of their own, but it ended with a missed 32 yard field goal attempt. Late in the 1st quarter, Princeton guard Whoops Snively hit a 45 yard pass to end Howdy Gray that took them to the Chicago 7, and early in the 2nd quarter Princeton cashed that opportunity in with a 4th down touchdown, taking the lead 7-6.

Chicago responded on their next drive, pushing their way through the line all the way to the end zone to recapture the lead, 12-7. Princeton later recovered an onside punt at the Chicago 35, but had a 25 yard field goal attempt blocked, and they fumbled the ball away at the Chicago 20 late in the half, so 12-7 it remained at halftime. In the 3rd quarter, Princeton drove to the Chicago 13 before being stopped. Princeton halfback Jack Cleaves had a great day punting, but one bad kick gave Chicago the ball at the Princeton 28, and the Maroons drove for a touchdown from there, putting them up 18-7 and seemingly ending the game. But the 4th quarter belonged to Princeton.

Princeton got back into the game thanks to a punting disaster on Chicago's part. The snap to the punter hit him in the shoulder and caromed away, straight into the arms of Princeton end Howdy Gray, who took it unopposed for a 42 yard touchdown, closing the gap to 18-14. Princeton later took possession at the Chicago 42, then took advantage of a couple of key penalties to drive for a touchdown and the lead, 21-18. But as they had the last time Princeton took the lead, Chicago responded on their next drive. Though they had almost exclusively run the ball up to that point, Chicago hit 3 passes to move the ball to the Princeton 6 yard line, but then they ran it into the line 4 times, coming up less than a yard short of a touchdown in the end. Chicago coach Amos Alonzo Stagg was furious with his players, as he had been exhorting them all week not to get conservative with the play calling at the goal line, and 3 passes had gotten them there in the first place. But players called the plays during games in those days, so he was but a helpless spectator for the game's final fatal minutes.

The game had been a complete role reversal, as Chicago was supposed to be the fancy passing team, but ran 53 times for 167 yards, passing but 5 times for 40. Meanwhile, Princeton, known as an old fashioned line plunging team, ran it 32 times for 46 yards and threw it 13 times for an enormous 140.

Chicago went on to finish 5-1-1, and would have been ranked about #8 in a final AP poll, but it is hard to know how good they actually were. They beat 5 poor teams and were tied by 4-2-1 Wisconsin. Wisconsin would probably have been rated about #16, but they beat 4 poor teams and they lost 13-0 to 2-5 Illinois. So neither Chicago nor the team that tied them beat anyone, and both were probably overrated by writers of the time. I would probably rate Chicago more like #20, and Wisconsin #30.

Harvard
Princeton's next game was a warm-up against Swarthmore the week before their big trip to Harvard. They held their starters out of the game, and the substitutes struggled to a 22-13 win. They drove the ball up and down the field, but were hampered by penalties and fumbles, and were stopped twice at the Swarthmore 4 yard line in the 4th quarter. Swarthmore scored first, but Princeton built a 19-6 lead at halftime. The second string was replaced with the 3rd string for the 2nd half, and Swarthmore closed the gap to 19-13 before a Princeton field goal put the game out of reach.

The trip to Harvard looked to be even more daunting than the trip to Chicago. Harvard was 7-0, and no one had come within a touchdown of them. They had beaten 8-2 Centre 24-10, 6-3 Dartmouth 12-3, and 7-2 Florida 24-0, and they were heavy favorites to beat Princeton. Among the stadium record 52,000 who attended the game were Yale's starters, scouting both teams while their substitutes were back home beating Maryland 45-3.


Harvard returned the game's opening kick-off to the Princeton 44, then drove to a field goal try that was blocked by the hero of the game, unheralded Princeton tackle Pink Baker. But a bad Princeton punt gave Harvard another try, and they hit that one to lead 3-0
. Harvard later drove to the Princeton 20 before missing on another field goal attempt. Pink Baker struck again in the 2nd quarter, forcing and recovering a fumble at the Harvard 25. A subsequent triple pass play took it to the 2, from where Princeton crashed over goal for all the points they would need to win the game. Harvard captain and quarterback Charley Buell was knocked out of the game in the 2nd quarter, and that was huge because he was a talented passer and key to Harvard's offense, which disappeared after they lost him. A Harvard fumble at their own 30 set up a 34 yard Pink Baker field goal early in the 3rd quarter, and that made the 10-3 final score. Princeton controlled the half, but Baker missed 3 field goal attempts.

Harvard was upset 3-0 by 6-2-1 Brown the following week, but rebounded with a 10-3 win at archrival Yale to finish 7-2. Like Chicago, they would have been ranked in the top 10 of an AP poll in 1922 (about #9), but unlike Chicago they were legitimately that good. Princeton had not won at Harvard since 1896.
Yale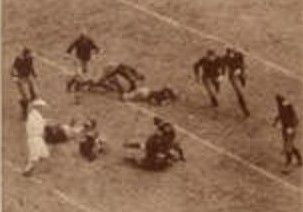 That brought Princeton to their finale hosting Yale, and though Yale was 6-1-1, 7-0 Princeton was nevertheless once again the underdog. Yale's loss had come to 7-0 Iowa, their tie to 8-0-2 Army, and they had beaten 6-2-1 Brown 20-0 and 9-1 North Carolina 18-0. But 56,000 watched their Tigers win 3-0, sweeping Yale and Harvard for the first time in 11 years and finishing unbeaten and untied for the first time since 1903.

The game was scoreless at the half, but Princeton tackle Herb Treat returned the 2nd half's opening kickoff to his own 35, and the winning drive was launched from there. Halfback Jack Cleaves threw a 13 yard pass and ran for 7. Big backup halfback Bob Beattie then broke tackles for a vital 28 yards, and that set up the 18 yard field goal that won the game. A 2nd quarter attempt had hit the goal post's upright.

Yale had a number of scoring chances, but their best came in the 1st quarter, when they recovered a Princeton fumble at the Tiger 35 yard line, then drove to the Princeton 1 before losing the ball on downs. In the 3rd quarter they drove to the Princeton 24, then threw an interception. In the 4th quarter, they had a 35 yard field goal attempt blocked, then missed 3 desperate 55 yarders down the stretch.

Yale lost to Harvard 10-3 the next week, putting them at 6-3-1 in the end, but their schedule was very tough, and they would have been ranked about #10 by a 1922 AP poll.

Princeton has posted a silent film made by their class of 1923 on Youtube, and it includes clips of the 1922 Chicago, Harvard, and Yale games (the Chicago clips are buried in the film, but can be found starting at about the 11:42 mark).
Cornell 1922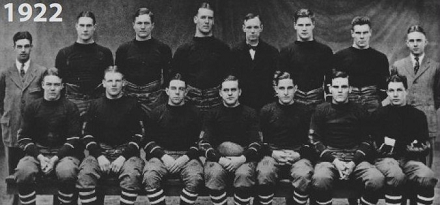 | | | |
| --- | --- | --- |
| St. Bonaventure (3-4-1) | 55-6 | |
| Niagara | 66-0 | |
| New Hampshire (3-5-1) | 68-7 | |
| Colgate (6-3) | 14-0 | #25 |
| Columbia (5-4) | 56-0 | |
| (NYC) Dartmouth (6-3) | 23-0 | (#26) |
| Albright (6-3) | 48-14 | |
| at Penn (6-3) | 9-0 | #17 |
This was the middle year of 3 straight 8-0 seasons for Cornell, and more than that, no one came within a touchdown of them in those 3 years until the last game of the 1923 season, won 14-7 at Penn. Cornell had previously won one MNC, in 1915
, and they were possibly the best team of 1921, though I chose Iowa to stand alone for that MNC. I discussed most of this team's players and their Hall of Fame coach Gil Dobie in the 1921 article-- every significant starter from that team returned in 1922, led by Hall of Fame backs Eddie Kaw and George Pfann. In a 1922 AP poll of 15 Eastern writers' All Eastern selections, Kaw was the only unanimous choice. Cornell and Princeton both placed 2 first teamers on that list, but Cornell placed a pair of players on the 2nd team list as well, Princeton none.

The one big addition to this year's starters was another Hall of Famer, tackle Frank "Sunny" Sundstrom, who had been a backup in 1921. He would be named a nonconsensus All American in 1923, and later served as a congressman for New Jersey 1943-1949.
Cornell's Season
Cornell's schedule was tougher this time than it had been in 1921, but it was still essentially just a 3 game schedule, and none of those 3 teams would have been ranked near the top 10 of an AP poll, so it was nothing like the schedule Princeton faced.


The first real opponent was 6-3 Colgate, and Cornell played them the week after Princeton did, so it makes for the best comparison between the 2 teams. Cornell scored a touchdown in the opening quarter after an awful Colgate punt from their own end zone gave Cornell the ball at the Colgate 13 yard line. In the 2nd quarter, Cornell drove to the Colgate 12, where they were stopped on downs, and later they drove 80 yards for a touchdown, making it 14-0 at halftime. That was the end of the scoring, though Colgate mounted their one scoring threat in the final minutes of the 4th quarter. They hit 3 passes for 50 yards, but Cornell back Eddie Kaw ended the drive with an interception at his own 5 yard line.

Cornell dominated this game, gaining 15 first downs to Colgate's 8, whereas Princeton, as noted above, only gained 3 first downs in their game against Colgate.

After feasting on another cupcake, Cornell's next real game was against 6-3 Dartmouth in New York City, and the venue was a good strategic choice, because all the important Eastern sportswriters were there. This game might have enabled Cornell to hold on to #1 over Princeton if there had been an AP poll in 1922. 40,000 attended, the biggest crowd ever for a game in New York other than Army-Navy, and Cornell put on a clinic. Eddie Kaw was particularly spectacular, scoring on a 55 yard run, hitting some passes, punting well, and playing great defense. His interception at the Dartmouth 30 set up Cornell's last touchdown. Cornell won the game 23-0, and gained 20 first downs to Dartmouth's 5.

Dartmouth also lost 12-3 to Harvard, and they were upset 6-3 by 6-3 Vermont, but they beat 6-2-1 Brown 7-0 in their finale, which would have put them in the bottom of a top 25.
After one last cupcake, Cornell finished the season with their annual Thanksgiving Day game at 6-3 Penn. 55,000 attended this one. The game was again all Cornell, but Penn did a good job of keeping them out of the end zone, and they mostly put the clamps down on Eddie Kaw, but that just allowed Cornell's other star back, George Pfann, to have a big offensive day. Cornell was stopped at the Penn 3 and 6 yard lines in the first half, but scored on a 32 yard field goal for a 3-0 lead. They finally crossed the goal line for a touchdown in the 3rd quarter, but missed a couple of field goals down the stretch, so the final score remained 9-0. Cornell outrushed Penn 285 yards to 125, and gained 16 first downs to Penn's 2 (one newspaper gave them 4, which might have been including 2 by penalty).

John Heisman's Penn team lost 9-7 to 6-3-1 Alabama and 7-6 to 8-2 Pitt, but they beat 5-2 Navy 13-7 and Rose Bowl bound 6-4-1 Penn State 7-6. They would have been ranked about #17 by a 1922 AP poll.
Princeton vs. Cornell
Let's start with the imaginary Eastern "title" before working our way Westward. Here are the significant games for Princeton and Cornell in 1922.
The opponent rankings
come from my 1922 top 25, which is based on a hypothetical post-bowl AP poll (within logical reason of course)
.
Princeton 8-0
Cornell 8-0

| | | |
| --- | --- | --- |
| Virginia (4-4-1) | 5-0 | Unranked |
| Colgate (6-3) | 10-0 | #25 |
| at Chicago (5-1-1) | 21-18 | #8 |
| Swarthmore (3-5) | 22-13 | Unranked |
| at Harvard (7-2) | 10-3 | #9 |
| Yale (6-3-1) | 3-0 | #10 |

| | | |
| --- | --- | --- |
| Colgate (6-3) | 14-0 | #25 |
| (NYC) Dartmouth (6-3) | 23-0 | (#26) |
| at Penn (6-3) | 9-0 | #17 |

Princeton beat their "unranked" opponents by an average of 21-3, and Cornell beat theirs by an average of 59-5.

It's pretty clear that this comes down to Princeton's tougher schedule vs. Cornell's much better performance. This is similar to the 1921 debate, 7-0 Iowa vs. 8-0 Cornell, and I chose Iowa's better schedule as the winner of that debate. However, this time around Cornell has several factors in their favor

:



I don't think there's any question that Cornell had the better team, and they certainly would have been heavy favorites had they played Princeton, but then Princeton won 3 times against heavy favorites. Princeton faced a pair of teams that would have been ranked top 10 on the road, and Cornell faced nothing of the kind. I would rank Cornell ahead of Princeton myself, but you could go either way on this one, and so I'm going to declare these 2 teams to be co-champions of the East
.

Now let's see how they hold up against other regions' champions.
Iowa 1922
| | | |
| --- | --- | --- |
| Knox (3-6) | 61-0 | |
| at Yale (6-3-1) | 6-0 | #10 |
| at Illinois (2-5) | 8-7 | |
| Purdue (1-5-1) | 56-0 | |
| Minnesota (3-3-1) | 28-14 | |
| at Ohio State (3-4) | 12-9 | |
| Northwestern (3-3-1) | 37-3 | |

In 1922 Iowa went 7-0 for the second straight season, and I selected them as mythical national champions of 1921. I covered their Hall of Fame coach, Howard Jones, in that article. Iowa lost most of their best players from that team,
including Aubrey Devine, Duke Slater, and Lester Belding, all Hall of Famers or consensus All Americans, so they were not expected to repeat as Big 10 champions, but repeat they did behind Hall of Fame fullback Gordon Locke (pictured at left). Locke was the captain and a consensus AA-- in fact, he was a unanimous first-team AA choice on major national lists. He scored Iowa's touchdown in an 8-7 win at Illinois this season, then took over at quarterback when Iowa's starter was lost to injury and scored 2 touchdowns in a 12-9 win at Ohio State.

A pair of linemen returned who made nonconsensus AA this season, and a pair of new players were pretty good, though nowhere near as good as the great trio of players who had graduated. End John Hancock would be named a nonconsensus AA at tackle in 1924, and while Aubrey Devine's replacement at quarterback, Leland Parkin, never made a first-team AA list, he had a very good season before he was lost to injury. In Iowa's biggest game, a 6-0 win at Yale, Locke was made a nonfactor, and it was Parkin who starred. The New York Times heaped lavish praise on him for both his inside and outside running, as well as his passing ability. He also gained most of his team's yards in the 8-7 win at Illinois.

Parkin would run for a huge 864 yards as a senior in 1924, lugging the ball 25 times a game.
Iowa's Season
After a 61-0 warm-up over Knox, Iowa traveled East for a big intersectional game at Yale. This was a matchup of coaches who were brothers, Iowa's Howard Jones vs. Yale's Tad, and both are in the Hall of Fame as well. Iowa won 6-0, quarterback Leland Parkin scoring from Yale's 9 yard line on 4th and goal in the 2nd quarter. Yale did a great job of taking Gordon Locke out of this game, so Parkin did most of the work on the drive to get to the 9 in the first place. Yale drove to the Iowa 19 in the 3rd quarter, but lost yardage from there and missed a 30 yard field goal. In the game's final minutes, Yale put together a string of first downs to work the ball to Iowa's 17, but lost it on downs there.

As indicated in the Princeton summary above, Yale finished 6-3-1 and would have ranked about #10 in a final AP poll for 1922. But Yale had been 8-1 in 1921, and came into this game 3-0, so if there had been an AP poll in 1922, Iowa might have been rated #1 in the following poll. Unfortunately, Iowa did not play another winning team, and barely got by a couple of the losers they did play, so Princeton, Cornell, and California would almost certainly have passed them up long before the final AP poll was released.

The week after their trip to Yale, Iowa traveled to Illinois, who finished 2-5 but nevertheless gave Iowa their toughest game of the season. Illinois' passing offense dominated the game for 3 quarters (the 1st, 2nd, and 4th), but they were continually stopped at about the Iowa 20 yard line, and Iowa end Max Kadesky nabbed 3 interceptions, so Illinois managed just one touchdown catch. For the second straight week, Iowa back Gordon Locke was stopped almost the entire game, but he scored Iowa's lone touchdown following one of Kadesky's interceptions. The difference that won the game was Iowa tackle Karl Engeldinger blocking an Illinois punt that the punter recovered in his end zone for a safety, making the final score 8-7.

Iowa next rolled over 1-5-1 Purdue 56-0, Kadesky returning an interception 80 yards for a touchdown, then rolled some more over 3-3-1 Minnesota 28-14. It was Iowa's 5th straight win over Minnesota, though they had been 0-11 against them prior to the streak, and would be 4-18 against them afterward through 1944. Locke and Parkin continually ripped the Gophers for big gains on the way to a 28-7 halftime lead, Locke scoring 3 of the touchdowns. But Parkin was lost for the season in this game, and to minimize the damage Iowa played their backups throughout the 2nd half. Minnesota scored their first half touchdown following a fumbled punt, and added a touchdown pass in the game's closing minutes.

Minnesota also lost to 4-2-1 Wisconsin and 6-0-1 Michigan, and they were tied by 3-3-1 Northwestern. They would not have made a national top 25, but they were rather respected by Midwestern writers, placing 4 players on various AA lists (2 first team and 2 second team).

Locke moved to quarterback for the ensuing trip to 3-4 Ohio State, Iowa's first ever appearance there, and he scored 2 touchdowns for the 12-9 win, but Iowa struggled mightily without Parkin. The winning touchdown was set up by a muffed punt. Like Minnesota, Ohio State was mediocre but overrated, placing 3 players on various AA lists.

Iowa finished the season with a 37-3 rout of 3-3-1 Northwestern, Locke scoring 4 touchdowns.
Iowa's Case for Sharing an MNC
My defending national champion does not at all look the part of a national champion in 1922. Like 1921, they played just one winning team, but this time it was 6-3-1 Yale rather than 10-1 Notre Dame, and that right there is a huge difference. Their 2 best players from 1921 were gone, and they performed much worse this time around, getting by a pair of losing teams by the skin of their teeth.

Cornell played a better schedule and dominated every opponent, and though Princeton performed almost as weakly as Iowa did, and fared no better than Iowa did against Yale, Princeton's games at Chicago and Harvard, let alone their game against 6-3 Colgate, place their schedule too far beyond Iowa's
.

So, no repeat MNC for Iowa. An easy elimination
.
Michigan 1922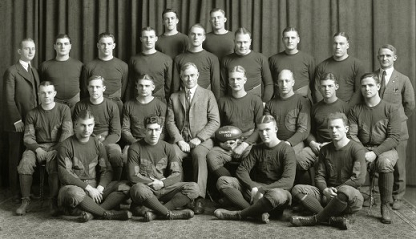 | | | |
| --- | --- | --- |
| Case (2-8) | 48-0 | |
| at Vanderbilt (8-0-1) | 0-0 | #5 |
| at Ohio State (3-4) | 19-0 | |
| Illinois (2-5) | 24-0 | |
| Michigan State (3-5-2) | 63-0 | |
| Wisconsin (4-2-1) | 13-6 | #16 |
| at Minnesota (3-3-1) | 16-7 | |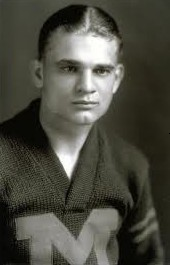 Michigan and their legendary coach Fielding Yost previously contended for mythical national championships in 1901, 1902, 1903, 1904, and 1918, though I only selected them as champions for 1902 and 1918. I covered Yost in more detail in the 1901 article, but he was 165-29-10 at Michigan 1901-1923 and 1925-1926, and his overall record at 5 schools puts him in 7th place in all-time FBS coaching win percentage. He would place 1st by a country mile for all-time biggest ego, which goes to explain why he's sitting at the center of the team picture above. He continued as Michigan's athletic director through 1940, and there is no question that Michigan would not be what it is today without him.

Michigan went 6-0-1 this season, tying 8-0-1 Vanderbilt, and they continued their unbeaten streak with an 8-0 finish in 1923. The star player during these 2 years was Hall of Fame halfback Harry Kipke (pictured at left), a consensus AA in 1922 and nonconsensus AA in 1923, when he was supplanted on almost every AA list by the great Illinois back Red Grange. Just 155 pounds, Kipke was a good runner and receiver and a great punter, and would be elected captain for 1923. He became head coach at Michigan in 1929, and had a tremendous 4-year run 1930-1933, going 31-1-3 and winning 4 Big 10 titles and 2 potential MNC, but things fell apart after that (12-22 1934-'37), and he finished 46-26-4 in his 9 years at the helm.

Center Jack Blott would be consensus AA in 1923, and later Michigan's line coach for 23 years, 1924-1933 and 1946-1958. Notice that Kipke's decline as head coach at Michigan coincided with Blott's departure as line coach, and when Blott returned to coach Michigan's line in 1946, they won 25 straight games 1946-'49 and brought home 2 more potential MNC. Blott was a good kicker, and his field goal would beat Vanderbilt 3-0 in 1923. That same season he recovered a muffed punt for a touchdown to beat Iowa 9-3.

Three more players were nonconsensus AA this season

:

end and captain Paul Goebel, his opposite end Bernard Kirk, and quarterback Irwin Uteritz. Goebel, an honors student, had been nonconsensus AA in 1921, and made 5 first team AA lists this season. At 6' 3", he was a favorite receiver, but his greatest strength was on defense. He started just 5 games due to a serious knee injury, and played in a knee brace that limited his playing time in even those games, but by all accounts it was amazing (and perhaps stupid?) that he was playing at all with the injury. He went on to play 4 years in the pros, and was named all-pro twice.

The other end, Bernie Kirk, had played for Notre Dame's 9-0 team in 1919. He died in a car accident in December, just before 3 AA lists were released with his name on them, similar to the fate of his old Notre Dame teammate George Gipp.

Quarterback Irwin Uteritz was just 5' 7" and 140 pounds, but he could run, pass, and kick. In 1923 he would throw 60 and 16 yard touchdowns against Ohio State.

Guard Edliff "Butch" Slaughter would be nonconsensus AA in 1923 and 1924, and became semi-famous for a game-saving tackle in a 6-3 win over Wisconsin in 1923.

Versatile fullback Frank Cappon never made an AA list, but he made All Western lists at 4 different positions 1920-1922. He went into coaching, and was best known as Princeton's basketball coach for 22 seasons, for which he was inducted into the Helms Foundation College Basketball Hall of Fame.

Michigan's Season
After opening 48-0 over Case, Michigan went down to Vanderbilt for the biggest game in Vanderbilt history to that point and came away tied 0-0. I'll discuss that game in detail in the Vanderbilt summary below, since there is little else to say about their season, and it was really their big day, being the first game played in Vanderbilt's new stadium. Vanderbilt finished 8-0-1, and their 8 wins were all by more than a touchdown, including 20-10 at 7-2 Texas, 14-6 at 8-2 Tennessee (no 2 point conversion in those days), and 9-0 over 6-3 Kentucky. None of those teams would have made a national top 25, but Vanderbilt would have been ranked in a final top 10.

The next week, Michigan traveled to Ohio State, who had beaten Michigan 3 years in a row, for the dedication game of Ohio Stadium (though 2 games had already been played there). The new stadium was then the largest in the Midwest, and 75,000 fans, a record for a game outside the East, showed up to watch Michigan throttle the home team 19-0. Former Ohio State players dating back to 1890 ringed the sidelines around the field for the big day. Michigan coach Yost, quarterback Uteritz, and captain Goebel had scouted Ohio State's 5-0 opening day win over Ohio Wesleyan the day the rest of Michigan's team was beating Case 48-0.

Despite the "easy" win, the game was rough on Michigan, as they lost 2 starters to broken bones, and this was also the game when Paul Goebel's knee got wrecked. He had quite a game before that, playing great defense, blocking a punt, and kicking a field goal for a 3-0 1st quarter lead, and he kept playing after he was injured, but he had to be carried off the field after 3 quarters. Harry Kipke had a great game too, picking off 2 passes, scoring 2 touchdowns on a 25 yard run and a 35 yard catch, and kicking a 38 yard field goal in
the 4th quarter
that made the final score 19-0. Ohio State threw up 20 passes, but 10 fell incomplete and 3 fell into the wrong arms.

This was not a strong Ohio State team, finishing 3-4, but as noted in the Iowa summary above, they were still well-respected by Midwestern writers, and of course 7-0 Iowa struggled to beat this same team 12-9. Furthering this comparison, the next week Michigan won 24-0 over 2-5 Illinois, whom Iowa only beat 8-7. Bernie Kirk had a big game for the Wolverines against Illinois, recovering a fumble at the Illinois 18 to set up one touchdown and scoring another on an 80 yard kickoff return.

Michigan's toughest game aside from the trip to Vanderbilt was a home date with 4-2-1 Wisconsin in front of 42,000 fans. Yost, Uteritz, Goebel, and Kipke had scouted Wisconsin during their bye week the previous Saturday. The game was scoreless at the half, but Michigan's passing game set up a touchdown for a 7-0 lead after 3 quarters. Kipke added a long touchdown catch in the 4th for a game-sealing 13-0 lead, but Wisconsin went to the air for a late touchdown, the first points Michigan gave up this season, and that made the final score 13-6. I have Wisconsin ranked #16 for 1922.

That brought Michigan to their finale, the battle for the Little Brown Jug at 3-3-1 Minnesota. The Gophers delighted their 23,000 fans with an early touchdown, set up by a Harry Kipke fumble at the Michigan 9 yard line, and Kipke's running was well stonewalled, but he went to the air in the 2nd quarter. Kipke first threw 3 passes that carried the ball to the Minnesota 2, and though Michigan went back to the ground game there and turned it over on downs at the 1, Minnesota's subsequent punt went awry, giving Michigan the ball at the 17, and that led to a Kipke touchdown run. Another touchdown was set up by a surprising 44 yard ramble by fullback Frank Cappon, and Michigan led 13-7 at the half. Jack Blott put the game away with a 20 yard field goal in the 4th quarter, and Michigan brought the Little Brown Jug back home and wrote "16-7" on it.
Vanderbilt 1922
| | | |
| --- | --- | --- |
| Middle Tennessee (2-6) | 38-0 | |
| Henderson State (2-7) | 33-0 | |
| Michigan (6-0-1) | 0-0 | #4 |
| (Dallas) Texas (7-2) | 20-10 | |
| Mercer (5-6) | 25-0 | |
| at Tennessee (8-2) | 14-6 | |
| Kentucky (6-3) | 9-0 | |
| at Georgia (5-4-1) | 12-0 | |
| Sewanee (3-4-1) | 26-0 | |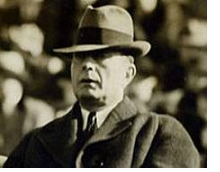 Vanderbilt was actually the premiere power of the South for much of the long reign of their Hall of Fame head coach Dan McGugin (pictured at left), who went
197-55-19 in 30 years here 1904-1933 (#24 in all-time FBS winning percentage). I discussed his career in more detail in my 1904 national championship article (Vanderbilt was 9-0 that year, McGugin's debut season). Vanderbilt had gone 7-0-1 in 1921, and they followed that up with an 8-0-1 finish this season.


Vanderbilt's star player in 1922 was the "Blonde Bear," Hall of Fame end/tackle Lynn Bomar, a nonconsensus AA this season and consensus AA in 1923. He was the team's top receiver, but his greatness lay in his defense and blocking.

Halfback and captain Jess Neely is also in the Hall of Fame, albeit as a coach, primarily at Clemson 1931-1939 and Rice 1940-1956, going 207-176-19 in 40 years as a head coach. He wound up back at Vanderbilt as athletic director 1967-1971. He was 1922 Vanderbilt's best passer.

Fullback Henry Wakefield would be a nonconsensus AA in 1923 and consensus AA in 1924.

Vanderbilt's Season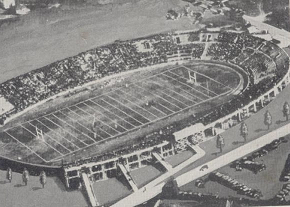 Vanderbilt's season revolved around their October 14th home date with Michigan, the inaugural game of the South's first football-only stadium, Dudley Field (pictured above). That Saturday was proclaimed "Stadium Day," with a parade in the morning and 3 airplanes flying over the crowd of 18,000 prior to the game. One of the planes dropped the game ball, which Dan McGugin caught after it bounced. McGugin was a Michigan grad who had played for Michigan coach Fielding Yost, and the two had married sisters, so they were family as well, and that is why Michigan had deigned to take this trip down South in the first place.

McGugin had taken Vanderbilt up North to play at Michigan 7 times over the years, but they lost all of those games. Before this one, he told his players, "You are going against Yankees, some of whose grandfathers killed your grandfathers in the Civil War." He didn't bother to mention that his own father had been an officer in the Union Army.

Vanderbilt could not move the ball against Michigan in this game, but they were just able to keep Michigan off the scoreboard to secure a 0-0 tie that was celebrated as Vanderbilt's greatest victory. Michigan's closest threat came in the first half, when a bad punt gave them the ball at the Vandy 27. They drove to the 2, then lined up for a field goal on 4th down, but it was a fake. Michigan star Harry Kipke took the ball around end, but he was stopped less than a foot short of the goal line. Michigan had one more scoring chance, but missed a field goal try in the 4th quarter.

Michigan went on to finish 6-0-1, as described in the preceding section about them. Vanderbilt finished 8-0-1, and no other opponent came within a touchdown of them. The significant wins

:

20-10 over 7-2 Texas in Dallas, 14-6 at 8-2 Tennessee, 9-0 over 6-3 Kentucky, and 12-0 at 5-4-1 Georgia. None of those teams were, however, among the top teams of the South, as discussed in the next section.
Michigan and Vanderbilt's Case for Sharing an MNC
Neither Michigan nor Vanderbilt defeated a team as strong as Iowa victim Yale, but they both performed far better than Iowa. This is particularly clear when comparing Michigan and Iowa, since they played in the same conference and shared 3 common opponents. Iowa got by 2-5 Illinois and 3-4 Ohio State by the hair on their chinny chin chins, whereas Michigan routed both teams. So Michigan and Vanderbilt make stronger contenders than Iowa. However, neither played a strong enough schedule to compare well with the accomplishments of Princeton or Cornell.


Other than Vanderbilt, Michigan played just 1 opponent that would have made an AP poll's top 25 had there been one in 1922. That game was a 13-6 win over 4-2-1 Wisconsin. However, Wisconsin's power level is questionable, as their 4 wins came over nobodies, and they lost 13-0 at home to 2-5 Illinois. They did tie 5-1-1 Chicago in their finale, but Chicago's 5 wins came over weak teams as well

:

the only winning team the Maroons beat was 5-4-1 Georgia. I would rate Wisconsin around #30 myself.

As established above, Princeton played 4 top 25 caliber opponents and Cornell played 3. Furthermore, Princeton played 3 top 10 caliber opponents, so their schedule was far beyond Michigan's. Cornell's was not so far ahead, as their 3 "rated" opponents would have been around #17-26, but no one came within a touchdown of Cornell, so their performance was better.

As for Vanderbilt, they did not play a team other than Michigan that would have qualified for an AP poll's top 25, so their case is weaker than Michigan's. Furthermore, Michigan outplayed them in their game against each other. Michigan would have been rated higher than Vanderbilt in an AP poll, and should have been. Some of Vanderbilt's opponents had nice-looking records, but the South fared poorly against other regions, this year and in general. And Vanderbilt did not actually play the best teams of the South anyway. 7-2 Texas took an upset loss to 5-4 Texas A&M, and 8-2 Tennessee lost to 5-4-1 Georgia, and neither played a strong schedule.

The best teams in the South after Vanderbilt were, in order, 7-2 Georgia Tech, 8-2 Auburn, 8-2 Centre, and 9-1 North Carolina. Georgia Tech's losses came to 5-2 Navy and 8-1-1 Notre Dame, Auburn's came to 8-0-2 Army and Georgia Tech, Centre's came to 7-2 Harvard and Auburn, and North Carolina's 1 loss came to 6-3-1 Yale.

So Michigan and Vanderbilt are eliminated. We have 1 contender left. Time to get on the train for a long trip out West.
California 1922
| | | |
| --- | --- | --- |
| Santa Clara (3-4-1) | 45-14 | |
| Mare Island Marines | 80-0 | |
| St. Mary's (3-6) | 41-0 | |
| Olympic Club | 25-0 | |
| at Southern Cal (10-1) | 12-0 | #15 |
| Washington State (2-5) | 61-0 | |
| at Washington (6-1-1) | 45-7 | (#26-32) |
| Nevada (5-3-1) | 61-13 | |
| at Stanford (4-5) | 28-0 | |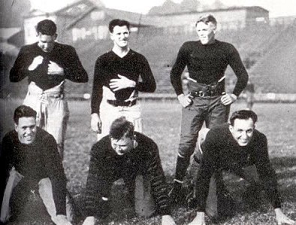 This was California's third straight year of MNC contention. They were 9-0 in 1920
and 9-0-1 in 1921, and they went 9-0 this season. The unbeaten streak continued with a 9-0-1 finish in 1923 and 8-0-2 in 1924. I selected Cal as the sole MNC of
1920
(they are the consensus choice as well), and I covered their Hall of Fame coach, Andy Smith, in that 1920 article. I covered most of this team's players in the 1920 and 1921 articles. Hall of Fame end Brick Muller was the team's star player in 1920 and 1921, and he was the team's sole consensus AA this season (bottom left in picture above).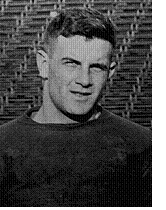 The major losses from the the 1921 team were
end Brodie Stephens, who had been a nonconsensus AA, and
Hall of Fame lineman Stan Barnes. However, one Hall of Fame lineman was replaced with another, as this was the debut season for center Edwin "Babe" Horrell (pictured at left). In the 1923 game against Stanford, Horrell blocked a punt and returned it for a touchdown, then tackled a ball carrier for a safety in a 9-0 win. He was team captain in 1924 and selected as a consensus AA that season. His old high school in Pasadena named their football field for him
.

California was the top performing team of 1922, crushing their opponents 398-34 (average score 44-4), but the only significant win was 12-0 at 10-1 Southern Cal. That was the first game played in the new Rose Bowl stadium in Pasadena.

Speaking of the Rose Bowl, the Tournament of Roses committee, tired of hosting Cal, invited hometown team Southern Cal to play in the Rose Bowl instead. Their opponent, Penn State, was invited to play in October, and PSU was 5-0 when they accepted the invitation, and they had not lost a game since 1919. But Penn State proceeded to go 1-3-1 down the stretch, and so came into the game at 6-3-1.

Southern Cal won the Rose Bowl 14-3, which was significant because it showed that the West Coast was not just a 1-team region, and it lent some value to Cal's win over USC, since the Rose Bowl was USC's only win of value. Penn State finished 6-4-1, but they played a very tough schedule, and would have been ranked about #21 in a post-bowl AP poll top 25. I'd guess that USC would have been ranked about #15.

California's Case for Sharing an MNC
With just one "rated" opponent, Cal's schedule paled next to Princeton's, and perhaps Cornell's, though Cal did give USC their only loss, and that 12-0 road win was arguably worth as much as Cornell's 3 wins over #17-26 teams put together. But Cal performed far better than Princeton, and they performed as well as Cornell (Cal and Cornell both beat their opponents by an average of 40 points per game). Cal's case for sharing an MNC with Princeton is thus pretty much the same as Cornell's. And of course, Cal in 1922 was largely the same team that had won the MNC in
1920
and contended for it in
1921
.

Were I rating teams for 1922, I'd go with Cornell and Cal sharing #1, and Princeton behind them at #3, but Princeton came through with the biggest wins, so they would be a legitimate option for #1. We have a 3-way tie for the 1922 mythical national championship
.
Awards Ceremony
1922 #1:

8-0 Princeton, 8-0 Cornell, and/or 9-0 California


National Co-champion:

Any of the above 3 teams not selected as #1


Contenders:

6-0-1 Michigan, 8-0-1 Vanderbilt, and 7-0 Iowa

These are the awards I have been handing out for each season, except seasons when there are no contenders. For this purpose, what I mean by a contender is a team that I think is very close to being worthy of sharing the national championship. A team that you could make an argument for, even if that argument is weak. But the contenders are teams that I myself do not see as national champions.

7-0 Iowa barely qualifies as a contender, but their one big win at Yale was more than Michigan and Vanderbilt accomplished, regardless of their performance problems.
Grading the Selectors
I have been grading the NCAA Records Book's selectors for each season, and keeping a grade point average, so we can see who is relatively good at selecting national champions and who is not. And although I do not consider computer ratings to be legitimate national championship selectors, I have been including them in this section as well, just for comparison's sake.
I am grading on a scale of 0-5 (5 being the best).

Everyone chose some combination of our 3 co-champions for 1922, and you could argue for any of the 3 over the others, so everyone gets a grade of

5

for 1922. Helms selected Cornell, and Parke Davis chose Cornell and Princeton. The Billingsley, Houlgate, and Sagarin (original formula) systems had Cal #1, and the National Championship Foundation split the MNC between Cal and Princeton. The College Football Researchers Association and the Boand and Sagarin ELO-Chess systems anointed Princeton the king
.

Grade point averages 1919-1922

:



1) Sagarin-ELO (math system)
3.9
2) Boand (math)
3.43
3) Helms
Houlgate (math)

3.40
5) College Football Researchers Association
3.3
6) National Championship Foundation
3.28
7) Sagarin (math)
3.2
8) Parke Davis
2.9
9) Billingsley (math)
1.7

How the systems that selected champions for 1901-1918 did

:



| | |
| --- | --- |
| 1) Houlgate (math system) | 4.5 |
| 2) Helms | 4.3 |
| 3) Parke Davis | 4.2 |
| 4) National Championship Foundation | 3.7 |
| 5) Billingsley (math) | 3.6 |
Post Script
Here's a bit of trivia for you. You may have seen the world's largest bass drum, Big Bertha, trundled about on a wagon by the University of Texas marching band.
It is 8 feet tall and 54 inches wide, so if you've seen the band, Bertha's hard to miss. Well, Big Bertha actually had her college football debut at the 1922 Princeton-Chicago game. She was built for the University of Chicago, but had been put into storage when they disbanded their football team and marching band in 1940. In 1955, a Texas booster purchased Big Bertha from the University of Chicago
for one dollar,
and ever since she has been painted burnt orange.