Home
1918 College Football National Championship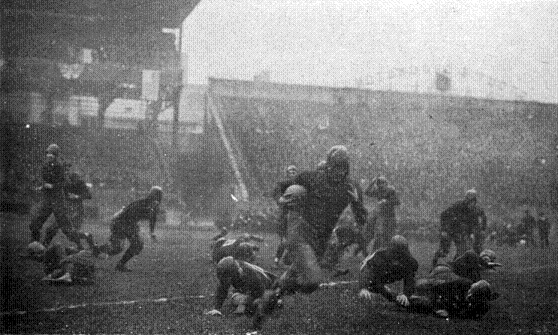 Pictured above is Pittsburgh hall of fame halfback Tom Davies running wild on Georgia Tech. This was the most anticipated game of the year, as neither team had lost since 1914, and Georgia Tech had been posting awe-inspiring scores for 2 years, and in fact they came into this game 5-0 by an average score of 85-0. But Pittsburgh dominated 32-0, decisively settling a debate that had not been settled in 1917.

The next week, Pitt lost 10-9 to Cleveland Naval Reserves, a military team composed of former college stars from around the country. Cleveland NR lost only to Chicago Naval Reserves, another military all-star team who finished 8-0. Pitt finished 4-1, but as Spalding's football guide put it at the time, they were "universally conceded to be the champion team of the country," and if there had been an AP poll in 1918, Pitt would have easily finished out as the highest ranked college team
.


Here is how the "major selectors" listed in the NCAA Records Book, all selecting long after the fact, see the 1918 college football national championship (omitting math/computer ratings, which neither I nor anyone else recognize as constituting titles)

:


Pittsburgh

:

Helms
, National Championship Foundation
(tie)
Michigan

:
National Championship Foundation
(tie)


Michigan went 5-0 and defeated a powerful 5-1 Syracuse team 15-0, and they are the only other team I will be considering for the 1918 mythical national championship (MNC). The 1918 football season barely qualified as a football season at all, and there were plenty of teams that may well have been equal to or better than Pittsburgh or Michigan, but what sets Pitt and Michigan apart from the rest is that each defeated another MNC contending team.

1918 College Football Season
The 1918 college football season was nearly wiped out. The war had already deprived most schools of able-bodied veteran players, and freshmen dominated many rosters this season. On top of that, the Spanish flu pandemic led to the cancellation of a great many games nationwide, so that most schools played half a season or less, and some schools didn't play at all.

Military training camp teams composed of former college players were the best football teams of 1918, and if an AP poll had existed, and if it included military training camps (as the AP poll did during WWII), then a group of Navy training camps would have dominated the top of the poll. Most highly esteemed of these was 8-0-2 Great Lakes Navy (or Naval Training Station), and they almost certainly would have been voted #1. They were tied by 2-2-1 Northwestern and 3-1-2 Notre Dame, but after a coaching change and restructuring of the team, they won out, including 3 notable victories. First they came back from 14-0 down to beat a strong 5-2 Rutgers team 54-14. Then, in their biggest win, they edged 4-1 Navy 7-6 on a late miracle. Finally, they went to the Rose Bowl and defeated the 10-1 Mare Island Marines 17-0.

My choice for #1 military team, however, would be 8-0 Chicago Naval Reserves (known as Municipal Pier). They gave Cleveland Naval Reserves their only loss, who gave Pitt their only loss. Chicago NR also won 7-0 at 5-2 Illinois, whom Great Lakes Navy had beaten by the same score, and Illinois was considered by Western writers to be co-champion of the "West" (Great Lakes region) with 5-0 Michigan. Chicago NR defeated 5-2-1 Minnesota, 2-2-1 Northwestern, and a strong Camp Dodge team. Northwestern, of course, tied Great Lakes Navy.

1918's Best College Teams
Due to the shortened season, a plethora of 1918 teams went unbeaten, at least against other colleges. Chief among these was 4-1 Navy, coached by our old friend Gilmore Dobie, who had gone unbeaten for 9 straight seasons at Washington 1908-1916. Had there been an AP poll in 1918, and if it ranked only college teams, Navy would almost certainly have ended up #2 behind Pitt. Their 4 wins came by an average score of 69-2, including a 127-0 demolition of an undermanned Ursinus squad. Their loss came 7-6 to Great Lakes Navy in the most talked about game of the season. Navy had outplayed Great Lakes, and led 6-0 in the closing minutes, running a play from the Great Lakes 1 yard line. However, the ball was stripped from the runner right at the goal line, and a Great Lakes player got hold of it and started running the other way. A Navy player came off the bench and tackled the player with the ball, but the referee ruled it a touchdown. Great Lakes then kicked the extra point for the win.

Navy is very close to being an MNC contender for 1918, because loss or not, that performance against 8-0-2 Great Lakes Navy marks them as one of the most powerful teams of the season. The problem for Navy is that, unlike Pitt and Michigan, they did not defeat a single strong opponent, and that's a crucial missing ingredient.

Another potential MNC contender for 1918 is 5-2 Illinois. Their losses were both 7-0 decisions to 8-0-2 Great Lakes Navy and 8-0 Chicago Naval Reserves, but they romped the colleges they played, including 19-0 at 6-2-1 Iowa, 22-0 at 3-3 Wisconsin, and 13-0 over 3-3 Ohio State. Those outcomes compare well to 5-0 Michigan's, and in fact Walter Eckersall, the preeminent Western writer of the time, declared Illinois and Michigan to be co-champions of the West. Unlike Illinois, Michigan did not play military teams (that was perhaps smart, because nothing could be gained from it aside from raising money for charities, and the military all-star teams did not make for fair matchups), so Illinois' losses are irrelevant when comparing Illinois and Michigan. The two teams attempted to schedule a "postseason" game against each other for the Western championship, but sadly, Illinois' faculty voted it down.

Unlike Navy, Illinois did beat a strong opponent-- 3 of them, in fact. 6-2-1 Iowa was particularly strong, losing their other game to Great Lakes Navy, tying Camp Dodge, and beating 5-2-1 Minnesota and 2-3-1 Nebraska (who was better than their record shows). Iowa was coached by Hall of Famer Howard Jones, who would take Iowa to the top of the Big Ten before moving on to even bigger things at Southern Cal in the 1920s. However, Iowa was no Syracuse or Georgia Tech, and that is Illinois' problem in contending for an MNC. They are very close, and may well have been the best college team in 1918-- they will be a top contender for the 1919 MNC-- but they did not have the kind of big win Pitt and Michigan did in 1918. Furthermore, the Great Lakes Navy team Illinois lost to was before GL Navy's coaching and lineup change-- it was the same GL Navy team tied by Northwestern and Notre Dame, and that is a big blow to Illinois' case. Navy played GL Navy when GL Navy was at their strongest, yet still gave them a far better game than did Illinois, so I would deem Navy's case to be stronger than that of Illinois.

Other notable college teams in 1918

:



9-0 Texas

:

defeated 6-1 Texas A&M 7-0 for the state championship. Won by more than a touchdown in each of their other 8 games, though A&M was the only good team they played. Texas A&M beat no one themselves, and struggled to win 3 of their games, including a 7-0 win over Southwestern (Texas).
6-0 Oklahoma

:

opened up with a 103-0 win over Arkansas, then romped the rest of their opponents except for a 13-7 win over Phillips.

4-0 Colorado Mines

:

demolished their opponents by an average score of 46-5.
6-0 Washington-Missouri

:

won all of their games by more than a touchdown, including 20-7 over Nebraska.
7-0 Virginia Tech

:

won all of their games by more than a touchdown except for their 6-0 finale over 1-3 Virginia Military Institute.
6-0 Bucknell

:

stomped every team on their incredibly weak schedule. Their coach was Edgar Wingard, who had coached Louisiana State to 10-0 in 1908.
5-0 Centre

:

gave Camp Zachary Taylor their only loss of the season by a 10-6 score, and routed the rest of their schedule, though no one outside Kentucky noticed. But they soon would, as little Centre college was on the verge of becoming nationally famous. They would continue their winning streak with a 9-0 finish in 1919, beat Harvard in 1921 (long considered the biggest upset of all time), and conclude their 7-year window of big-time football success in 1924 by winning the championship of the South over 8-1 Alabama.
All rankings in the following article, except as noted, come from my 1918 top 25, which is based on a hypothetical post-bowl AP poll (within logical reason of course)
.
Pittsburgh 1918
| | | |
| --- | --- | --- |
| Washington & Jefferson (2-2) | 34-0 | |
| Penn (5-3) | 37-0 | #17 |
| Georgia Tech (6-1) | 32-0 | #5 |
| Penn State (1-2-1) | 28-6 | |
| at Cleveland NR (5-1) | 9-10 | (super) |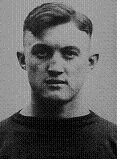 I summarized previous Pittsburgh teams in my national championship articles for 1904, 1910, 1915, 1916, and 1917, and I covered their Hall of Fame coach, Pop Warner, in the 1915 piece. Pitt lost 3 All Americans from their line heading into the 1918 season, but they returned more veterans with which to build a team than did the vast majority of college football teams, including 3 of their starting 4 backs

:

Hall of Fame fullback George "Tank" McLaren, halfback Katy Easterday, and quarterback Skip Gougler. McLaren, the captain, made consensus All American this season, and Easterday was a nonconsensus AA. But it was the new starter in the backfield that took this team to a higher level this season.


Freshman halfback Tom Davies (pictured), at just 142 pounds, gave Pitt everything they'd been missing in 1917 and then some. He led the team in rushing, passing, and receiving, and he was a good kicker and a dangerous kick returner. He was consensus AA and is in the Hall of Fame. His presence elevated the play of the backs around him too, because opponents could no longer mass the line waiting for McLaren, and Easterday found more room to run with everyone looking for the other 2 backs, and he was the favorite passing target for Davies as well. In 1920, Davies scored 4 touchdowns on Penn via an 80 yard run, 90 yard kickoff return, 60 yard interception return, and a forward pass. Against Syracuse the same season he rushed for 255 yards. Davies finished his 31 game career with 3931 all purpose yards and 181 points
.
Another key freshman was Hall of Fame center Herb Stein, who would make consensus AA in 1920 and 1921. He was equally great on offense and defense, and later played pro football for 6 years. So it was 1916 all over again, with Davies in the role of halfback/kicker Andy Hastings and Stein filling the big shoes of Hall of Fame center Bob Peck. It's a wonder that Pitt was able to manage a 10-0 season in 1917 between the 2 pairs of players.

Tackle Leonard Hilty, a substitute for the 1916 team, returned to Pitt after a one-year stint in the Navy, and he was Pitt's 3rd consensus AA this season.

Like most teams in 1918, 4-1 Pitt played a shortened season, opening on November 9th and finishing just 3 weeks later. 6 games were canceled due to the Spanish flu pandemic, the big ones being against Great Lakes Navy and Syracuse, either of which could have had a big impact on the mythical national championship race of 1918. Syracuse had been rescheduled for November 23rd, but Pittsburgh dropped them once they convinced Georgia Tech to come up North that day.
Pittsburgh's Season
Pitt opened with a 34-0 win over 2-2 Washington & Jefferson, then beat a decent 5-3 Penn team 37-0. I have Penn ranked #17 for 1918.
A Georgia Tech scout was at the Penn game, so Pitt showed nothing but st
raight football. Fullback Tank McLaren was unavailable that week, but Penn could not stop Davies and Easterday running outside. Davies started the scoring with a field goal, something that had been missing from the Pitt arsenal in 1917, and then it was all touchdowns. Pitt gained 25 first downs to Penn's 1.


Then came the presumed game of the year against Georgia Tech
, and all the important football men and writers came to Pittsburgh to witness it, joining a crowd of 30,000 fans in attendance. The proceeds went to the United War Work Fund. Neither team had lost since 1914, and though most writers had declared 9-0 Georgia Tech the mythical national champion over 10-0 Pittsburgh in 1917, the debate had not been settled on the field of play.

Georgia Tech returned only 2 starters from their 1917 team, Hall of Famers Joe Guyon and Bill Fincher, but John Heisman's "jump shift" offense was putting up even bigger numbers in 1918 than it had in 1917, beating 3 teams by over 100 points (118-0, 123-0, and 128-0), and drubbing 5-2 Clemson 28-0 (Clemson was #26-32 caliber). They also won 28-0 over Camp Gordon, a military team that featured GT's 1917 star Everett Strupper. Georgia Tech had 3 consensus All Americans this season, as many as Pitt and 2 more than GT had in 1917. The press treated this bout as a national championship game before and after it was played.

But the game did not meet expectations, as Pitt ran away with it 32-0. The "jump shift," used by Georgia Tech on virtually every offensive play, was completely stifled by Pitt, so in that battle of the legendary coaches, Pop Warner won out over John Heisman. As he would in 1919, and then 3 more times 1920-1922, when Heisman was coaching Penn, and then yet again in 1923, when Heisman was at Washington & Jefferson. So 1918 was the first of 6 straight years Warner would frustrate Heisman.


For their part, Georgia Tech stopped fullback Tank McLaren's line plunges cold, which bodes well for their chances had the teams played in 1917, as that was all the offense Pitt had that season. But Georgia Tech had no answer for freshman halfback Tom Davies, who was similar to GT's great 1917 halfback Everett Strupper. Davies returned 2 punts for touchdowns, threw 2 touchdowns to Katy Easterday, and set up a short McLaren touchdown with a big pass reception from Easterday. All the scoring was dependent on big plays, and in fact Pitt only had 10 first downs on the day. But Georgia Tech had no big plays, and only 4 first downs, one of them gained via penalty.

Georgia Tech went on to beat rival Auburn 41-0, finishing 6-1. I have GT ranked #5 for 1918.

Pitt played their annual Thanksgiving Day game against Penn State 5 days later, and found themselves trailing for the first time, 6-0 early. But the lead didn't last long, and Pitt won 28-6, McLaren scoring 3 touchdowns. That was the end of the shortened season, and Pitt was celebrated far and wide as the best team in the nation, but Cleveland Naval Reserves challenged Pitt to come play them in Cleveland, with the proceeds again going to charity. Pitt had refused such a challenge after the 1917 season, but patriotism got the better of them this year. So only 2 days after playing Penn State, Pitt took the train to Cleveland to play an all star team of former college players.

The Cleveland Naval Reserves Game
Cleveland NR's star was quarterback Gaylord "Pete" Stinchcomb, a Hall of Fame player for Ohio State 1917 and 1919-1920. Stinchcomb's 1917 Ohio State team had come a game away from laying claim to a share of the MNC, but suffered a shocking upset tie to Auburn to end the season 8-0-1. Auburn's star player that day had been halfback Richard "Moon" Ducote, whom game reports claimed to be nearly as strong a player as OSU superstar Chic Harley, and Moon Ducote was reunited with Stinchcomb in Cleveland NR's backfield. Ducote was a terrific kicker, and booted a mud-caked ball for a 3-0 win over Georgia in 1916. Together, Stinchcomb and Ducote made for a formidable backfield duo, and they were also joined in the backfield by Georgia Tech's 1917 fullback, Judy Harlan, a tremendous blocker and pass defender. Harlan would thus have a chance to exact revenge for his former team's beating at the hands of Pitt the previous week.

Elmer "Bird" Carroll, who had earned All American mention at Washington & Jefferson in 1917, played tackle. He would later play pro football for 2 NFL championship teams. Lesser known prior to this season was end Bruce Bierce, who had played for Akron. But he would also play for 2 title-winning NFL teams, though not the same teams for which Carroll played. A couple of other notable linemen, Charles McGuire and Bill Gorgas, came from the University of Chicago.

This ended up being the

real

game of the year, but far fewer football writers and dignitaries were present to see it. Pitt scored a touchdown early, driving behind line plunges by McLaren and Davies, but Davies missed the extra point, which would prove to be the difference by game's end. Cleveland NR's Judy Harlan returned an interception 35 yards in the 2nd quarter, setting up a 40 yard Moon Ducote field goal. Pitt then drove again, pushing the ball inside the Cleveland NR 1 yard line. They lined up for what would have no doubt been a Tank McLaren touchdown (he was allegedly never tackled for a loss in his 4 years of play), but as Pitt was calling the signals, the referee blew the whistle for the end of the quarter-- 5 minutes early. Pitt protested, but to no avail. The score thus stood 6-3, and would stay that way into the 4th quarter.

Moon Ducote lined up for a short tying field goal in the final period, but he just missed, hitting an upright on the goalpost. Pittsburgh drove to a 22 yard Skip Gougler field goal to up Pitt's lead to 9-3. As the quarter wound down, the Pete Stinchcomb show got under way. Stinchcomb launched Cleveland NR's winning touchdown drive with a 20 yard punt return, and then he hit Ducote with a pass for 30 yards, ran for 5 yards, caught a 15 yard pass from Ducote for the touchdown, then kicked the extra point for the win.

Due to the crucial 5 minutes that was shaved off the 2nd quarter, just as Pitt was about to score, Pitt refused to acknowledge this loss, and for many years did not list the game in their school record books, showing their 1918 team as 4-0. But eventually they accepted reality, and they now list the loss in their media guide. Every school has been "robbed" by officials' errors. The fact is that Pitt still would have won if they could have stopped Pete Stinchcomb in the end. In any case, the loss is no harm to Pitt's case for a 1918 MNC, because Cleveland NR lost only Chicago NR, who finished 8-0. Cleveland NR finished 5-1, and in addition to Pitt, they beat Detroit NR 83-0, Cornell 83-0, and a strong Camp Grant team 14-6.
Michigan 1918
| | | |
| --- | --- | --- |
| Case (3-5-2) | 33-0 | |
| at Chicago (4-6-1) | 13-0 | |
| Syracuse (5-1) | 15-0 | #4 |
| Michigan State (4-3) | 21-6 | |
| Ohio State (3-3) | 14-0 | #21 |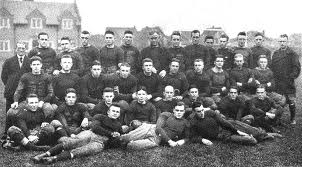 This is Michigan's first real contender for an MNC since they went unbeaten 4 straight years 1901-1904, and not coincidentally it is also the first time they posted a perfect record since 1904. Their coach was still Hall of Famer Fielding Yost after all these years, same guy I introduced in the 1901 article
. After this 5-0 season, Yost stood at 124-18-8 (.853) in 18 years at Michigan, though most of that damage was done in his first 5 seasons, when Michigan went 55-1-1.

The biggest difference between Michigan and Pitt in 1918 was the reputed talent level of their players. Pitt had 3 consensus All Americans, Michigan none. But to get an idea of the value of having players make AA lists, consider that Syracuse had 2 consensus AA, yet Michigan beat them 15-0 this season. And Georgia Tech had 3, as many as Pitt, yet Pitt routed them 32-0. Still, it is hard to look at Pitt's players this season, then Michigan's, and see the teams as potential equals.

Michigan's star player this year was freshman fullback/halfback Frank Steketee, a nonconsensus All American (Michigan's only), best known for his excellent punting and kicking. In the opener against Case, he came in as a substitute and scored 3 touchdowns. Against Syracuse, he scored all of Michigan's points with a touchdown and 3 field goals. He is in the Grand Rapids Sports Hall of Fame.

Similarly, tackle Angus Goetz is in the Michigan Upper Peninsula Sports Hall of Fame. He scored a touchdown in a 13-0 win over Chicago, and blocked a punt for a touchdown against Ohio State to break a scoreless tie in the 4th quarter. He was never AA, but was named All Western, and was voted team captain twice, in 1919 and 1920.

The only player in

the

Hall of Fame (NFF) is freshman center Ernie Vick, who was a nonconsensus AA in 1921. He played some pro football and baseball, then became a Big 10 referee for 22 years.

End Robert Dunne was also a freshman, and also made nonconsensus AA in 1921. He later became a judge in Chicago.
Michigan's Season
Michigan opened with a 33-0 warm-up win over Case on October 5th, but the warming up was wasted, as they didn't play their next game for over a month, on November 9th.
That one was a trip to Chicago, whom they had not played since the two met in their famous game to end the 1905 season. Chicago had halted Michigan's 56 game unbeaten streak then, winning by a mere safety 2-0, and Michigan finally got their revenge in 1918 with a 13-0 win. But Chicago was a weak 4-6-1 in 1918, so the "revenge" was a bit hollow.
Michigan's next game was by far their biggest of the season, as powerful 3-0 Syracuse was coming to Ann Arbor, but it was the same weekend that Georgia Tech was visiting Pittsburgh, so no one who mattered came to Ann Arbor to see it. And that is why Michigan wasn't on the radar of most national writers in 1918, and why their players drew so little interest from All American selectors. The game was played in rain and mud, and the only offense resulted in field goals, all by Michigan. They led 6-0 at half on 2 Frank Steketee goals, and Steketee added a 3rd in the 4th quarter. That put the game out of reach at 9-0, but Steketee returned an interception 20 yards for a touchdown to put some icing on that cake. Syracuse finished 5-1, and I have them ranked #4 for 1918.
After drubbing Michigan State (4-3) 21-6, Michigan traveled to Ohio State (3-3), the first time they ever played OSU in their finale. But this was a one-time thing brought about by the war and the Spanish flu. OSU's main rival and usual finale opponent was Illinois, and Michigan's main rival was Minnesota, whom they would start playing in their finale in 1919
. This game was scoreless until midway through the 4th quarter, when Frank Steketee got off a 73 yard punt to the OSU 2 yard line. A subsequent punt by OSU was blocked by Angus Goetz for a touchdown, and Steketee later added an insurance touchdown on a 12 yard pass to Robert Dunne. I have Ohio State ranked #21 for 1918.
Pittsburgh vs. Michigan
Here are the significant games for Pittsburgh and Michigan in 1918.
The opponent rankings
come from my 1918 top 25, which is based on a hypothetical post-bowl AP poll (within logical reason of course)
.
Pittsburgh 4-1

Michigan 5-0




| | | |
| --- | --- | --- |
| Penn (5-3) | 37-0 | #17 |
| Georgia Tech (6-1) | 32-0 | #5 |
| at Cleveland NR (5-1) | 9-10 | (superteam) |

| | | |
| --- | --- | --- |
| Syracuse (5-1) | 15-0 | #4 |
| Ohio State (3-3) | 14-0 | #21 |

Pittsburgh defeated their other opponents by an average of 31-3, while Michigan defeated the rest of theirs by an average of 22-2.

Pittsburgh's loss to Cleveland Naval Reserves is irrelevant when comparing the two, as Michigan did not play a team of that caliber. Cleveland NR was one of some 4 military teams that were better than all of the college teams.

Pitt's schedule aside from Cleveland NR was slightly more impressive, and their performance was much more impressive, but Michigan won all of their games by more than a touchdown, and they defeated a top 5 team as well, so the 2 teams were in the same ballpark. The most compelling factor when comparing the 2 teams is the fact that Pitt had far more experienced players, and they also had more notable (All American, Hall of Fame) players. However, compelling or not, I do not view either the experience level
or subjective valuations
of a team's players as good criteria for a mythical national championship. Football is a team sport, and a team's power level is rarely the sum of its parts.

Like most people, then and now, I believe that Pitt would have crushed Michigan had they played each other. But who we believe would have won a hypothetical game is an opinion, not a fact, and I am basing my MNC selections on fact. There have been plenty of upsets in national championship games over the years.

What do the facts say? If you are going to select only one team as #1, it has to be Pitt, but Michigan did enough to share the MNC.
Awards Ceremony
1918 #1:

4-1 Pittsburgh, or Pitt in a tie with 5-0 Michigan


National Co-champion:

Michigan if Pitt is alone at #1


Contenders:

None

These are the awards I have been handing out for each season, except seasons when there are no contenders. For this purpose, what I mean by a contender is a team that I think is very close to being worthy of sharing the national championship. A team that you could make an argument for, even if that argument is weak. But the contenders are teams that I myself do not see as national champions.

If Pitt had beaten Cleveland NR, then they would have the MNC all to themselves.
Grading the Selectors
I have been grading the NCAA Records Book's selectors for each season, and keeping a grade point average, so we can see who is relatively good at selecting national champions and who is not. And although I do not consider computer ratings to be legitimate national championship selectors, I have been including them in this section as well, just for comparison's sake.
I am grading on a scale of 0-5 (5 being the best).


Parke Davis did not select a team for 1917 or 1918, presumably because of the effect of WWI on college football. The Spanish flu pandemic in 1918 had an even bigger impact, halving the season
for most teams and nearly canceling it
entirely.

Billingsley's computer selected Michigan.

Grade: 4.2



The National Championship Foundation selected Pittsburgh and Michigan.

Grade: 5



Helms and Houlgate selected Pittsburgh.

Grade:

5



Grade Averages 1901-1918

:



| | |
| --- | --- |
| 1) Houlgate (math system) | 4.5 |
| 2) Helms | 4.3 |
| 3) Parke Davis | 4.2 |
| 4) National Championship Foundation | 3.7 |
| 5) Billingsley (math) | 3.6 |