Home
1915 College Football National Championship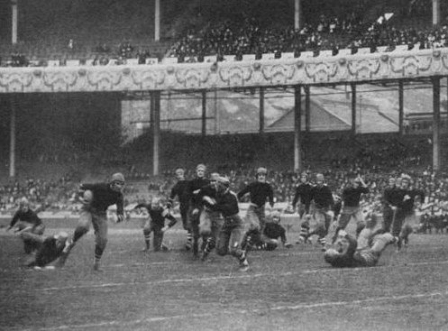 Cornell's first national championship was carried home by superstar quarterback Charley Barrett (carrying the ball in the picture above). Cornell finished 9-0, and in a season full of contenders, they are the consensus choice for the 1915 mythical national championship, and would have run away with #1 had there been an AP poll that season.


Here is how the "major selectors" listed in the NCAA Records Book, all selecting long after the fact, see the 1915 college football national championship (omitting math/computer ratings, which neither I nor anyone else recognize as constituting titles)

:


Cornell

:

Helms
, National Championship Foundation,
Parke Davis
(tie)
Pittsburgh

:
Parke Davis
(tie)

Pittsburgh, who had just hired Pop Warner away from Carlisle this season, went 8-0, and many newspapers referred to them as the Eastern "co-champion" at the time. Unfortunately, Pitt's schedule was rather light, and they struggled to beat Penn 14-7, so two unbeaten and untied Western teams actually make better contenders to Cornell's mythical crown than Pitt does.

The first Western contender is 8-0 Nebraska, who beat 7-1 Notre Dame 20-19 and routed every other team they played. The second is 7-0 Washington State, who defeated 5-4-1 Brown 14-0 in the second Rose Bowl game ever played (and first in 14 years). College football truly went national in 1915, because in addition to the Rose Bowl, there were 4 other games played between teams in the far West and teams East of the Mississippi. That makes it much more possible to gauge the power of Northwestern teams this season-- and they looked to have been pretty good, splitting those five intersectional games 2-2-1 (and major Northwestern teams were 2-1).

In addition to the 4 teams already mentioned, I will also briefly summarize 10-0 Oklahoma, 7-0 Colorado State, and 7-0 Washington. Billingsley's computer selects Oklahoma as #1, its third lame choice in a row.

As in 1914, the Western Conference (Big 10) was mostly "walled off" from the rest of college football, so it's difficult to know how good any of the conference's teams were for sure, but 6-0-1 Minnesota may well have been the best team in the country. Their only loss in 1914 had come to 7-0 Illinois, and this season they suffered their one tie to 5-0-2 Illinois. Outside of that game, they played like a national champion. 1916 would bring even tougher luck for Minnesota, as they looked like an unbeatable juggernaut in every game but one-- losing to (who else?) Illinois in the biggest upset of the decade. In any case, their tie in 1915 takes them out of the MNC race, especially since the Western Conference played no indicator games against tough nonconference opponents, but Minnesota was very strong, and worthy of mention.


All rankings in the following article, except as noted, come from my 1915 top 25, which is based on a hypothetical post-bowl AP poll (within logical reason of course)
.
Cornell 1915
| | | |
| --- | --- | --- |
| Gettysburg (3-6) | 13-0 | |
| Oberlin (4-4) | 34-7 | |
| Williams | 46-6 | |
| Bucknell (2-6-3) | 41-0 | |
| at Harvard (8-1) | 10-0 | #2 |
| Virginia Tech (4-4) | 45-0 | |
| at Michigan (4-3-1) | 34-7 | |
| Washington & Lee (6-1-1) | 40-21 | |
| at Penn (3-5-2) | 24-9 | |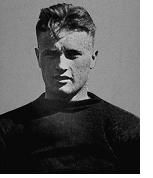 Cornell had long been fielding strong football teams, but they had never come reasonably close to a national championship season before. They were generally a #11-20 type team, but fielded top 10 caliber teams in 1901 and for 3 straight years 1906-1908. 1909-1913 they were mediocre, going 23-20-3, and were top 25 caliber just twice. In 1914, they went 8-2, and would have ranked about #15. 1915 was their first season going unbeaten and untied (9-0), and the first time they ever beat Harvard.


Yale grad Albert Sharpe was the head coach, going 34-21-1 1912-1917, and 50-42-5 for his career at 3 schools. He never had a season even close to as good as this one though, and his overall mediocrity as a coach has me thinking that Cornell can thank their players for their 1915 showing.
Cornell captain Charley Barrett (pictured) was generally considered the best quarterback of this decade. He was consensus All American in 1914 and 1915, and is in the Hall of Fame. Despite playing only one half in most of Cornell's games, Barrett scored an amazing 22 touchdowns, and he was the kicker too, totaling 161 points. That is better than Michigan halfback Willie Heston's best scoring season 1901-1904, and only Carlisle halfback Jim Thorpe 1911-1912 surpasses Barrett's numbers to this point. Barrett also handled the punting, and was Cornell's best defensive player as well, but he wasn't much of a student, and he had trouble staying eligible to play. After the season, his football eligibility expired, the school cut him loose as a student as well.

End Murray Shelton was Cornell's other consensus AA, and he is also in the Hall of Fame. He was a great blocker, a good receiver (though little used in that regard this season), and he was also an All American basketball player.

Center William "Gib" Cool was a nonconsensus AA who was great on defense, and unusually strong on kick coverage for a center. He was quarterback Barrett's roommate and close friend, and in a 45-0 win over Virginia Tech, the two switched places so that Cool could score his only career touchdown behind Barrett's blocking.

Tackle Fred Gillies and halfback Fritz Shiverick would be nonconsensus AA in 1916. Shiverick had a great game against Harvard after Barrett was knocked out, sealing Cornell's biggest win with his punting and kicking. The other halfback, Carlton Collins, is in the Lacrosse Hall of Fame. Collins fumbled often, but he and Shiverick were strong runners, which kept opponents from keying on Barrett, enabling the tremendous season he had.
Cornell's Season
This team was called the Big Red Machine, and they defeated every opponent by more than a touchdown. Their schedule, however, was rather weak, and they really played a one game season-- Harvard.
They were less than sharp in their opener, a 13-0 win over Gettysburg (3-6). Gettysburg actually outplayed them a bit in the first quarter, gaining 3 first downs to Cornell's 1, but the game ended 12-5 for Cornell in that regard. Barrett scored both Cornell touchdowns, in the 2nd and 4th quarters, but he missed on 2 field goal attempts, and halfback Collins fumbled twice at the Gettysburg goal line. Barrett's kick returns kept Cornell in Gettysburg territory the last 3 quarters.
Cornell mowed through their next 3 warm-up opponents by an average of 40-3, Barrett scoring 8 touchdowns and 10 extra points. He returned the opening kickoff for a touchdown against Bucknell, and retired from the game at half with 4 touchdowns.
Harvard
Cornell's real season began (and perhaps ended) with a trip to Harvard October 23rd. Harvard was 4-0, and had not lost a game in 4 years, but Cornell won 10-0, their first ever victory over Harvard, and easily the biggest win in school history to that point. Harvard star Eddie Mahan fumbled the opening kickoff, and Murray Shelton recovered for Cornell at the 25 yard line. Cornell then drove straight down for a Barrett touchdown, and as quickly as that, the game was as good as over. Barrett was knocked out of the game in the first quarter, but Cornell's defense, and Fritz Shiverick's punting in Barrett's absence, ensured the finality of the initial touchdown.


Harvard only had 3 threats in the game. In the first quarter, they were stopped on 4th and a half yard to go at the Cornell 33, and they were stopped again at the Cornell 35 in the 2nd. In the 3rd, they drove to the Cornell 25, but Mahan threw an interception at the 10. Mahan also lost 3 fumbles in the game, and Cornell's ends kept him from getting away for his usual big kick returns. Cornell had a lot of fumble problems themselves, but only one was recovered by Harvard. Shiverick had a great day punting, and in one key play, he punted an 86 yarder into the wind from his own goal line. He missed 2 field goal attempts, and had another blocked, but kicked a 38 yarder in the 4th quarter to make the 10-0 final score. Harvard finished the season 8-1, and with wins over 8-1 Virginia, 6-2 Princeton, and 7-2 Penn State, Harvard would have finished ranked #2 in an AP poll this season.

The Rest of the Season
Cornell's next "big" game was a trip to Ann Arbor, but Michigan was weak this season (finishing 4-3-1), and Cornell dismayed 23,000 Michigan fans with a 34-7 romp, Barrett and Collins each scoring 2 touchdowns, and Shiverick adding another. The "best team in the country" talk, which had started after the Harvard game, reached a fever pitch after Michigan. Believing the hype that they were unbeatable, Cornell got a bit sloppy over their final 2 games, falling behind at the half of each before pulling away for big wins.

First up was Washington & Lee, who was coming in at 6-0-1, and had not lost a game in 2 years. W&L was a Virginia school that first emerged on the big-time college football scene with a pair of 8-1 seasons in 1912 and 1913, then went all the way to 9-0 in 1914. But they did all that against weak mid-Atlantic schedules, and Cornell was a big step up in competition for them this year. Their tie had come against 3-3-1 Indiana, and though they would finish 7-1-1, W&L was not quite a top 25 caliber team this year. They would go 5-2-2 in 1916, but that was actually their strongest team of this time period, and their final record is weaker only because they played a

very

ambitious schedule (Army, Navy, Rutgers, Georgia Tech, Washington & Jefferson). 1912-1916 is easily the strongest period in Washington & Lee football history, though they finished #18 in the AP poll in 1950, then lost to unbeaten Wyoming in the Gator Bowl. But that team was a one-year wonder.

Washington & Lee jumped out to a 21-13 halftime lead over Cornell, scoring 2 touchdowns that were set up by Collins fumbles, but Charley Barrett was too much for them. He scored 5 touchdowns, one of them from 90 yards out, and kicked 4 extra points. Collins also chipped in a touchdown to make up for one of his fumbles, and Cornell won 40-21.


Cornell's finale had been played at Penn on Thanksgiving Day every year since 1895, and that tradition would last until 1939, when the game was played on a Saturday. The game continued to be held on Penn's home field until 1964, when it became a normal home-and-home series. The two teams still meet in their finales every year, but have not played on Thanksgiving Day since 1989.
Heading into the 1915 game, Penn had a commanding 18-3-1 record in the series, but they were poor this year (finishing 3-5-2), and Cornell was expected to run away with the game. But they didn't do so until the 4th quarter.

Barrett opened the scoring with a touchdown in the 2nd quarter, but Penn answered with their own, set up by a 40 yard pass to the Cornell 1. Penn then added a 28 yard field goal and led at halftime 9-7. The rest of the game was all Cornell, but it stayed 9-7 until the 4th because Barrett missed a pair of 3rd quarter field goals. He took the lead in the 4th on a 24 yard touchdown, then kicked a field goal, and Shiverick chipped in a touchdown for the 24-9 final score. In addition to scoring 18 points, Barrett was also singled out by newspapers as the defensive player of the game, breaking up many plays and passes.
Pittsburgh 1915
| | | |
| --- | --- | --- |
| Westminster (2-5) | 32-0 | |
| at Navy (3-5-1) | 47-12 | |
| Carlisle (3-6-2) | 45-0 | |
| at Penn (3-5-2) | 14-7 | |
| Allegheny (5-3) | 42-7 | |
| Washington & Jefferson (8-1-1) | 19-0 | #16 |
| Carnegie (7-1) | 28-0 | (#26-30) |
| Penn State (7-2) | 20-0 | (#26-30) |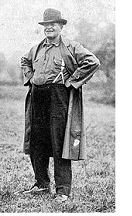 Pittsburgh had long been working their way up the college football ladder, going 78-25-3 1904-1914, and posting perfect records in 1904 and 1910. They had been a strong 8-1 team in 1914, and Pop Warner's arrival as coach in 1915 put them over the top. They would not lose again until the finale of the 1918 season, 32 straight wins, and they are credited with as many as 3 national championships during that time. Pop Warner (pictured at left) was a Cornell grad who had also coached there for 5 seasons. Prior to 1915, he had been the coach at Carlisle, winning what I consider to be an MNC in 1911, but he did even better at Pitt, going 60-12-4 1915-1923. After that he moved on to Stanford, where he is credited with another MNC in 1926, and after a stint at Temple he finished his career at 319-106-32, setting a record for major football coaching wins that stood for more than 40 years
.

Pitt's players were relatively lightly regarded in 1915, and the team had only one consensus All American, and no other nonconsensus selections, but the roster was full of players who would become All Americans in later seasons, and several would become Hall of Famers. Some of them, however, were substitutes who saw little or no action in games, so I'll just focus on the players who actually contributed to the 1915 season here.

The one consensus All American was center Robert Peck, who would repeat in 1916 and is in the Hall of Fame. End James Herron would be consensus AA in 1916. Guard Jock Sutherland, who emerged as a starter midseason, would be consensus AA in 1917, and is in the Hall of Fame as a coach. He went 33-8-2 in 5 years at Lafayette, including 9-0 in 1921, and 111-20-12 at Pitt 1924-1938. That gives him a total of 144-28-14, placing him highly on the list for all time FBS coaching win percentage, and his teams won as many as 5 national championships.

Though lightly decorated compared to many players on the roster, halfback Andy Hastings was the star. He was the team's leading rusher in 1914 and 1915, and also handled field goal kicking. His 255 career points (1914-1916 and 1919) are still 3rd best in school history. But all he has to show for it is one nonconsensus AA selection in 1916. The other halfback, James DeHart, would also be a nonconsensus AA in 1916. Not decorated at all were quarterback Guy Williamson and fullback Ted Fry, who also punted and generally kicked extra points. Both were seniors, so would not be around to get nationally noticed over the next few years like the underclassmen would.


Another fullback, George "Tank" McLaren, would be consensus AA in 1918, and is in the Hall of Fame. He played little this season, emerging as a starter and future star in the next-to-last game against Carnegie. He also started against Penn State in the finale, but he was substituted out early.

Pittsburgh's Season



8-0 Pittsburgh arranged their schedule quite nicely this season, playing each of their 4 patsies the week before each of their

4 tough opponents. And 2 of their tough opponents turned out to be weak this year, 3-5-1 Navy and 3-5-2 Penn, so Pitt was little challenged.





Still, a trip to one of those weak teams, 3-5-2 Penn, gave Pitt their only trouble, little though it was. Pitt dominated the game start to finish, but only won 14-7. Pitt was stopped early at the Penn 2 yard line, and later missed a field goal. Hastings and Hart scored the touchdowns in the 2nd and 4th quarters, Fry kicking the extra points. Penn's touchdown came in the 4th, and was set up by a Pitt fumble

.

Washington & Jefferson (the game pictured above) came in at 5-0-1, following 10-0-1 and 10-1 finishes the 2 previous seasons, but Pitt handled them easily, 19-0. W&J's powerful passing offense was stymied, and they advanced no real scoring threat in the first half, managing only a missed 55 yard field goal attempt. Still, the game was scoreless at halftime. Hastings changed that in the 3rd quarter with a 59 yard touchdown run, and James Herron returned a fumble 70 yards for another touchdown soon after. A Jock Sutherland interception returned to the W&J 13 set up a Ted Fry touchdown that closed the scoring at 19-0 in the same quarter. Hastings was the bulk of the offense, and he was singled out by newspapers for his great pass defense as well. Robert Peck was also lauded

:

as a blocker he was frequently able to take out both the opposing center and a defensive back.

Washington & Jefferson finished 8-1-1, but they tied a mediocre 5-2-1 West Virginia team, and I have them ranked #16 for 1915. Still, beating them was a big deal for Pitt, as W&J was a rival who had been 9-4 against Pitt before 1915.

Carnegie was supposed to be the patsy between the Washington & Jefferson and Penn State games, but they came into this game at 6-0, having beaten their opponents 198-26, their closest game a 21 point win. However, all of their opponents but Pitt were minor schools, so it was not much of a surprise when Pitt belted them 28-0. Carnegie was held to just 2 first downs, both in the 4th quarter. Future Hall of Fame fullback Tank McLaren got the start here and had a great game, but halfback Andy Hastings was, as usual, the star, scoring 3 touchdowns and 4 extra points. Carnegie finished 7-1, outscoring opponents 228-32 in the 7 wins.

Pitt's final opponent, Penn State, was 12-5 all-time against Pitt before this season. They came into the game 7-1, their loss 13-0 at Harvard, and though they fell just short of being top 25 caliber this season, it was a rivalry game.

But State College was as little trouble as Washington & Jefferson had been, and Pitt beat them by a similar score, 20-0. PSU had the ball inside the Pitt 10 yard line twice thanks to Pitt fumbles, but failed to score or advance any other threats. Andy Hastings scored 17 of his team's 20 points, netting a touchdown, extra point, and field goal in the first quarter, and adding a 27 yard touchdown and extra point in the 3rd. A sub kicked a field goal in the 4th to get the 20.

Cornell vs. Pittsburgh
Amidst much speculation and debate as to who was the better team, Pittsburgh tried to schedule a game with Cornell to settle the matter after their regular seasons were complete, proposing that the proceeds go to charity. Unfortunately, after some discussion between the two on details such as where to play the game, Cornell ultimately declined, claiming that they had a policy against "postseason" games.

Pittsburgh had a powerful team, and may well have been able to beat Cornell had the two teams played, but there are 2 reasons Pittsburgh does not merit sharing a mythical national championship (MNC) with Cornell.

First of all, Pitt's schedule was rather light, and more importantly, they did not beat anyone that compares to Harvard. Cornell's schedule was also light, but that 10-0 win at 8-1 Harvard was easily the biggest win by any team this season. It was Harvard's first loss in 4 years, and they had been ruling college football 1908-1914. Harvard beat 8-1 Virginia, who beat 9-1 Vanderbilt 35-10, and Vanderbilt outscored their other 9 opponents 503-3. So Cornell sat atop the strongest totem pole of power in college football in 1915.

Secondly, Cornell won all of their games by more than a touchdown. Pitt did not, winning only 14-7 at Penn, where Cornell won 24-9. Now, Pitt was not really threatened in that game, and one could argue that Cornell struggled more at Penn than Pitt did, as they trailed going into the 4th quarter, but the fact is that Cornell won by 15 points, more than Pitt even scored against Penn. Interestingly, this was not the last time Penn proved to be a thorn in Pitt's paw. Pittsburgh posted a perfect record in 1917 also, but Georgia Tech is a unanimous selection as national champion that season primarily because they beat Penn by significantly more than Pitt did.

The only reason to consider Pitt for a share of the 1915 MNC at all, really, is what they did in subsequent seasons, as they would continue to win every game until their finale in 1918, and in hindsight are considered the best team of this time period. This argument is enticing, but it ignores the facts of this season, and it assumes that Pitt was the same team 1916-1918 as they were in 1915, which they were not (though nearly half the pieces were in place in 1915). Pitt has much stronger arguments for sharing MNCs in each of the next 3 seasons than they do in 1915. In fact, Nebraska and Washington State have better cases for sharing an MNC in 1915 than does Pitt, so I am hereby eliminating Pitt from contention, and moving on to the Western contenders.
Nebraska 1915
| | | |
| --- | --- | --- |
| Drake (2-6) | 48-13 | |
| Kansas State (3-4-1) | 31-0 | |
| Washburn (2-5-1) | 47-0 | |
| Notre Dame (7-1) | 20-19 | #9 |
| at Iowa State (6-2) | 21-0 | |
| Nebraska Wesleyan (6-3) | 30-0 | |
| at Kansas (6-2) | 33-0 | |
| Iowa (3-4) | 52-7 | |

Nebraska had not lost since 1912, and their 8-0 finish in 1915 continued an unbeaten streak that lasted for 34 games. I covered their coach, Jumbo Stiehm, in my
1913 MNC article. Nebraska returned 10 starters from 1914's 7-0-1 team.

Nebraska's star and first ever consensus All American was recruited away from Nebraska Wesleyan, whom the Cornhuskers routed 30-0 this season. A Hall of Famer, Guy Chamberlin (pictured at left) would later be considered the greatest end in college football history to this point. He could reportedly run 100 yards in under 10 seconds, rushed for 300 yards and 3 touchdowns in a 33-0 victory over 6-2 Kansas, and totaled 15 touchdowns on the season. That's an enormous amount of touchdowns for an end, but he scored 5 of those touchdowns when he was moved to halfback for a 52-7 win over Iowa in the finale. Chamberlin would later win 4 NFL championships as a player-coach, going 56-14-5 as a pro coach, and he is in the pro football Hall of Fame.

The captain was halfback Dick Rutherford, and he and Chamberlin were among 4 players selected for the All Western team, which was unusual because the selector was from Chicago and generally gave the slots to Western Conference (Big Ten) teams, Nebraska usually getting but one token slot.

Nebraska's Season
Like Cornell, Nebraska basically played a one-game season. That one game was against Notre Dame, who replaced Minnesota this year as Nebraska's annual nonconference power opponent. The Nebraska-Notre Dame series would last 11 years, after which Notre Dame, tired of riotous anti-Catholic behavior from Nebraska fans, replaced Nebraska on their schedule with Southern Cal. But it was a great series while it lasted, with the teams splitting it 5-5-1.

The inaugural game of the series, played in Lincoln, was razor close, and some Notre Dame partisans felt that they were "homered" by the referee, famed Chicago alumnus Walter Eckersall, who worked all the big games in the West. Notre Dame was hampered by penalties in this game, losing several big gains to the whistle, but they were most irritated when they scored what might have been the deciding touchdown on a muffed punt, only to have the ball brought back because an official had blown the play dead.

Notre Dame scored first, taking a 6-0 lead on a touchdown by halfback Arthur Bergman. Guy Chamberlin gave Nebraska the lead 7-6 with a 20 yard touchdown run, but Notre Dame led 13-7 at half on a Bergman touchdown reception. Chamberlin then scored touchdowns on a run and a pass for a 20-13 Nebraska lead. Bergman scored on a 40 yard touchdown run with 2 minutes left, but ND missed their second extra point and lost 20-19.


Guy Chamberlin was virtually a one-man team for Nebraska, scoring on 20 and 10 yard touchdown runs and throwing for another touchdown. Nebraska didn't pass much, but connected on 5 of their 8 tries, and that plus one more extra point made the difference in the game. Chamberlin was also hailed as the defensive star, and Notre Dame assistant coach Knute Rockne commented, "Without Chamberlin, Nebraska would be easy. He's a team in himself."

Notre Dame finished out the season 7-1, but their schedule was weak, and they struggled against a couple of mediocre opponents, so it's difficult to gauge exactly how good they were. I have them ranked #9 for 1915. Their most impressive result was this loss to Nebraska, who routed the rest of their schedule by an average score of 37-3, beating 6-2 Iowa State 21-0 and 6-2 Kansas 33-0, though neither was top 25 caliber.

After the season, Nebraska was invited to play Washington State in the Rose Bowl, but the University Athletic Board turned the invitation down because of the travel costs involved. Jumbo Stiehm contacted several Eastern powers, including Harvard, about playing an extra game, but no one was interested in coming to Lincoln in December. Partially motivated by anger at the Athletic Board for turning down the Rose Bowl invitation, Stiehm requested a $750 raise, and was of course turned down. So he left for Indiana and a $250 increase in salary. He fell from 35-2-3 in his last 5 years at Nebraska to just 20-18-1 in his next 6 years at Indiana, but bear this in mind-- only one football coach has had a winning record at Indiana since Stiehm's tenure there.

Cornell vs. Nebraska
Cornell and Nebraska both effectively played one-game schedules, and the difference between the two comes down to that one game for each. Cornell victim Harvard (8-1) was a much better opponent than Nebraska victim Notre Dame (7-1), as Harvard defeated 3 top 25 caliber opponents, including 8-1 Virginia, whom I have rated #14. Notre Dame did not beat a top 25 caliber opponent. And Cornell defeated Harvard 10-0 on the road, while Nebraska beat Notre Dame 20-19 at home in a game that could easily have gone either way. The difference here is wide enough to eliminate Nebraska from contention.

Still, Nebraska is the only contender aside from Cornell that defeated a potential top 10 opponent, and they routed the rest of their schedule, so I think they have the best case of any contender for sharing a mythical national championship with Cornell. Pitt did not play a team like Notre Dame, and they had the one poor performance at 3-5-2 Penn. Nebraska is close to meriting a share of the MNC, but they needed at least one more top opponent, and obviously if they had accepted the Rose Bowl bid and beaten Washington State, that would have been enough. But beating Notre Dame more impressively, or Notre Dame beating a top team would have been enough to earn Nebraska a share too.
Washington State 1915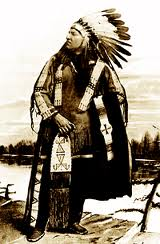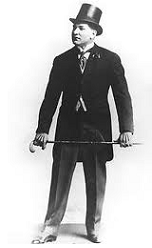 Oregon (7-2)
28-3
#24
at Oregon State (5-3)
29-0
#25
at Idaho (4-2-1)
41-0
Montana (2-2-2)
27-7
Whitman ()
17-0
at Gonzaga (3-3)
48-0

Rose Bowl


Brown (5-4-1)

14-0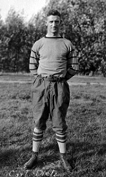 Washington State had 4 straight Native American head coaches 1912-1925, starting with Nebraska grad John "Chief" Bender, followed by 3 former players for Carlisle Indian School

:

William "Lone Star" Dietz, Gus Welch, and Albert Exendine. Lone Star Dietz arrived in 1915 and had an immediate impact, leading WSU to a 7-0 finish and the only Rose Bowl win in the school's history. He went 17-2-1 at WSU 1915-1917, then coached the Mare Island Marines in the Rose Bowl following the 1918 season. He later made it to a third Rose Bowl as an assistant coach with Stanford. Overall he went 70-47-6 at 5 schools, 20-3 with the Mare Island Marines, and 11-11-2 as an NFL coach with the Redskins. Lone Star Dietz had quite the wardrobe

:

the pictures above show him in his Sioux gear and in his typical gameday sideline attire.

WSU's star player was team captain Carl Dietz (pictured at left), no relation to the coach. He played at end, fullback, and halfback, and handled the punting and kicking duties as well. He was also a track star, and an article in Washington State's school newspaper in 1924 declared him WSU's all-time greatest athlete.

Washington State outscored their opponents 204-10 (average 29-1), including 28-3 over 7-2 Oregon and 29-0 at 5-3 Oregon State. Oregon State took a long train ride East this season to beat 5-1 Michigan State 20-0, but they also lost 28-0 at home to 9-1-2 Syracuse. Michigan State won the rest of their games by an average score of 52-4, including 24-0 over 4-3-1 Michigan, so that was a big win for Oregon State, and it's what gets Oregon ranked #24 and Oregon State #25 for 1915.

The Tournament of Roses Game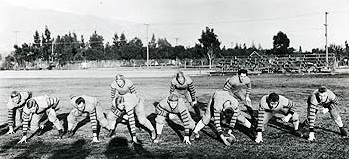 At the end of the regular season, 6-0 Washington State was invited to play in the first Tournament of Roses game since January 1902. This relaunch was really the beginning of the Rose Bowl, as the game was played every year afterward. Unfortunately, Pittsburgh was busy trying to negotiate an extra game against Cornell, and Nebraska, Syracuse, and Michigan declined invitations to play, so the best team the Rose Bowl could get to play WSU was 5-3-1 Brown. WSU beat them 14-0, but Brown had been tied by Trinity (Connecticut), and had lost to Amherst, Syracuse, and Harvard, and they were not at all a top 25 caliber team.


It rained for days beforehand, and continued to rain throughout the game, resulting in a disappointing turnout of 7000-8000 spectators. The rain melted the field into mud, so the game was all line plunging. Washington State was stopped twice at the Brown goal line, and Brown was stopped at the WSU 19, leaving the teams scoreless at halftime. Fresh substitutes for WSU drove to a touchdown through a tired Brown line in the 3rd quarter, and that was pretty much the game, though they added a 4 yard Carl Dietz touchdown in the 4th quarter.

WSU drove to at least the Brown 15 yard line 5 times in the second half, outgained Brown 313 yards to 86, and they earned 19 first downs to Brown's 6. Carl Dietz carried 33 times for 105 yards and a touchdown, and referee Walter Eckersall said afterward that he was WSU's best player on both offense and defense. More significantly, Eckersall, who had also worked as an official for Cornell's game at Michigan, declared that Washington State was "the equal of Cornell. There is not a better football team in the country."

The Northwest
While Brown was not a strong opponent, the fact that a team from the Northwest so thoroughly dominated

any

major winning Eastern team was itself noteworthy. Oregon State had made an even bigger national impression in October with their 20-0 win at Michigan State, but the Rose Bowl result cemented national respect for Northwest football that had not existed prior to this season.

But these were not the only intersectional games played by Far West teams this season, because 9-1-2 Syracuse traveled out West for a series of 3 games at Montana, Oregon State, and Occidental in late November and early December. The game at 2-2-2 Montana was a bit of a fiasco, not because it was played in a snowstorm, but because a crowd of drunk miners were in attendance armed with guns, and they intimidated the referee to a degree that made the 6-6 outcome something of a joke. Still, however it occurred, this was another positive result for the Northwest. Washington State had beaten Montana 27-7.

Far less positive for the region was Syracuse's 28-0 win at 5-3 Oregon State. That somewhat undid the national reputation Oregon State had earned with their win at Michigan State. Syracuse's road trip ended with a 35-0 win at Occidental, who had come into the game as champions of California with a 7-0 record.

Prior to this season, there had been no games between the Northwest and the rest of the nation, so it was impossible to gauge the power level of the region's teams. All in all, this season made for a very positive intersectional debut for the region, certainly better than anyone outside the Northwest had expected.

Cornell vs. Washington State
Washington State, like Cornell, defeated every opponent by more than a touchdown, but unlike Cornell, they did not play a top opponent. Because of that, Nebraska, with their big win over 7-1 Notre Dame, makes a better MNC candidate than WSU. Washington State is similar to the Penn State and Wisconsin teams of 1912, except that their schedule may have been even weaker. And similar to those teams, as well as Nebraska this season, I don't think WSU quite merits a national championship.

Washington State needed the same thing Nebraska did-- a win against the other team in the Rose Bowl. As such, it's too bad Nebraska's Athletic Board voted down making the trip. But it didn't have to be Nebraska-- if Pittsburgh had given up on trying to get a game with Cornell, and had come out West instead, the Rose Bowl would still have produced a fair claimant on the mythical national championship regardless of who won. As it was, Brown's presence in the Rose Bowl made the game barely relevant, and Washington State, Nebraska, and Pittsburgh all come up short of an MNC curriculum vitae.

Rebutting Recent Calls for a 1915 Washington State MNC
Unlike most of the near-miss MNC contenders I've covered thus far in these articles, Washington State has several writers on the internet calling for them to claim a national championship for 1915, and as Lone Star Dietz biographer Tom Benjey urges, to put a banner for it up in their stadium. Well, needless to say, I think that would be a silly move (though Southern Cal and Alabama claim even sillier "national championships"), and I will rebut the pro-WSU arguments here:

The Helms Foundation, which selected Cornell as 1915 national champion in 1941, was based in New York and had an Eastern bias. Not true. The Helms Foundation was based in Los Angeles, and while I don't think their selections show much bias, if anything they were biased toward West Coast teams and Rose Bowl champions.

Brown's only other loss aside from the Rose Bowl was to Harvard. Not true. Unfortunately, this error has been repeated in wikipedia articles related to Washington State and their 1915 team. But as I have already established, Brown also lost to Amherst and Syracuse, and they were tied by Trinity-Connecticut, finishing 5-4-1.



Referee Walter Eckersall stated after the game that Washington State was the equal of Cornell.

This is the only decent pro-WSU argument I've seen. And Eckersall also worked a Cornell game this season, so he saw both teams up close and personal. Still, it's only one man's opinion, like when Beano Cook told us Ron Pawlus was the greatest quarterback ever, and would win 4 Heismans. And Eckersall, based out of Chicago, worked Western games and was a pro-Western writer, placing more Westerners on his All American teams than Eastern writers did. He generally championed the West. Of course, there is also the possibility that he was just being polite in his post-game comments.

Washington State dominated 5-4-1 Brown, but only won by 14 points. The Cornell game Eckersall worked was at 4-3-1 Michigan, where Cornell won 34-7, scoring within a minute and running wild all game long, the game ending with Cornell sitting on Michigan's goal line again. It was the most points scored on Michigan since Yost became coach in 1901.




Comparative scores favor Washington State.

Not true. Oh, you can find comparative score chains that favor WSU over Cornell, but you can just as easily find them in the other direction. Let's look at the two pro-WSU examples I have seen.

The first is a citation of a 1915 column by Roscoe Faucett in the Portland Oregonian, but I haven't read the column myself, so I am not yet convinced that Roscoe was serious. But here's his chain

:

WSU 29-0 over Oregon State, OSU 20-0 over Michigan State, MSU 24-0 over Michigan, ergo WSU is 73 points better than Michigan. Syracuse 14-7 over Michigan, Princeton 3-0 over Syracuse, so WSU is 63 points better than Princeton. Faucett then states that by another chain (not specified), WSU is 50 points better than Harvard. He does not mention Cornell, but by his logic, since Cornell beat Harvard 10-0, WSU would be 40 points better than Cornell.

The biggest problem with this chain is that it picks up Syracuse far down the line-- but Syracuse played the second team in the chain, Oregon State, and beat them 28-0. So by his logic, WSU, who beat OSU 29-0, was 1 point better than Syracuse. And Syracuse lost to Princeton by 3, who lost to Harvard by 4, who lost to Cornell by 10-- voila!, Cornell was 16 points better than WSU. But we can have more fun than that. Princeton lost to Yale by 6, who lost to Harvard by 41-- so adding Yale to the chain makes Cornell 59 points better than WSU.

The problem with cherry-picked victory chains is that they quickly and easily become silly. For example, WSU beat Whitman by 17, Oregon State beat Whitman by 27, and Oregon beat OSU by 9, so OSU was 10 points better than WSU, and Oregon was 19 better, right? Yet WSU beat OSU 29-0 and Oregon 28-3.

The second comparative score example I've seen in a pro-WSU argument is much stronger because it is shorter and simpler, and the conclusion drawn is much more modest. This one comes from WSU grad Michael Baumgartner in a 2005 article for Scout.com

:

Washington State 14-0 over Brown, Harvard 16-7 over Brown, Cornell 10-0 over Harvard, and therefore "Washington State certainly stands up to Cornell." The fatal flaw here is the Harvard-Brown game. That game took place the week before Harvard's game with Yale, so Harvard's starters were held out. Harvard's coach and star players were in New Haven that day, scouting the Yale-Princeton game. Only 2 Harvard regulars played against Brown at all, and neither played for long. Yet Harvard's subs nearly beat Brown by as much as WSU did. And Cornell won 10-0 over Harvard's starters--

at Harvard

.

And that's WSU's real problem right there. It isn't scoring-- WSU performed perfectly, winning every game by more than a touchdown. But they did not play an opponent anywhere near the quality of a Harvard, whose loss to Cornell was the first and only one they had suffered in 4 years. Colorado State also won every game by more than a touchdown this season. It's a nice feat, but that alone is not enough for a national championship. To be the best, you've got to beat the best.

Oklahoma 1915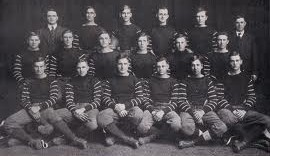 Oklahoma's coach was Hall of Famer Bennie Owen, a Kansas grad who had played for Fielding Yost in 1899. Owen coached at Washburn (Kansas) in 1900 and at Bethany (Kansas) 1901-1904, defeating Oklahoma in 1903 and 1904. Oklahoma hired him away, and he went 122-54-16 there 1905-1926, winning 2 conference titles in the SWC and 1 in the MVC. However, he only went 59-48-11 against major schools

while at Oklahoma

;

10-11 against major Texas schools and 20-29-8 against major Missouri Valley teams (Kansas, Kansas State, Missouri, and Nebraska). He was 8-8 against Texas. Overall, he finished 155-60-19 for his career. Bennie Owen is the namesake of Oklahoma's playing surface, Owen Field.

Owen inherited from his former mentor Fielding Yost a lust for cupcake blood, and his teams ran up some huge scores on their weakest opponents, scoring in triple digits 7 times 1913-1919, including a high of 179 points on Kingfisher in 1917. Oklahoma piled up 451 points that year, yet they were shut out 3 times and held to 14 or less 7 times, finishing 6-4-1. Similarly, they scored 472 in 1916, but were held to 14 or less 6 times and finished 6-5.

Oklahoma's star player and captain was fullback Forest "Spot" Geyer, an excellent passer who earned the "Spot" nickname for his accuracy with the long pass. He also handled the kicking duties. He didn't make a first-team All American list (the Southwest was largely ignored at this time), but he is in the Hall of Fame. He was one of 6 Oklahoma players that were all-conference this season.

Owen's team was pass-happy, throwing the ball 30 times a game.

Oklahoma's Season
Oklahoma won the inaugural SWC title this season, finishing 10-0 and outscoring opponents 370-54, most of those points coming against their opening 3 patsies

:

Kingfisher 67-0, Southwestern Oklahoma State 55-0, and Northwestern Oklahoma State 102-0. They had 2 close games, a pair of 14-13 wins over 6-3 Texas and 6-1-1 Tulsa. Tulsa was a good minor team, but they were tied by 4-5-1 Oklahoma State, beat no one, and were nowhere near top 25 caliber.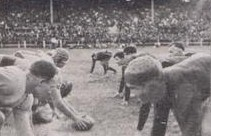 This was the first year Oklahoma played Texas at the Texas State Fair (pictured), and a state-record 11,000 fans filled the covered grandstands. Texas was favored, and they came into the game 11-5-1 in the series. The teams combined for 71 passes. Oklahoma's Spot Geyer fumbled the opening kickoff, and Texas recovered at the 25, setting up a touchdown for an early 7-0 lead. Texas later fumbled at the Oklahoma 22, then blocked a punt to get the ball at the Oklahoma 10, but missed a field goal. Oklahoma finally got on track late in the first quarter, driving 80 yards, mostly through the air, for the tying touchdown. The drive opened with a 25 yard pass, then featured a big 10 yard run on 4th and 2, a 20 yard pass, and a touchdown pass on 3rd and goal from the 9. In the second quarter, Geyer missed 2 field goals, one from only 12 yards out, and Texas fumbled at the Oklahoma 12, leaving the teams tied at the half.

In the 3rd quarter, Texas returned a punt to the Oklahoma 35, leading to a touchdown run on 4th and goal from the 5, but they missed the extra point, and that proved to be the difference in the game. Oklahoma controlled the action in the 4th, but could not get close to the goal line until late in the game. With 3 minutes to go, Texas got off an awful 20 yard punt, giving Oklahoma the ball at the Texas 40. After a 20 yard pass, Spot Geyer hit a 20 yarder for the touchdown, then kicked the crucial extra point for the 14-13 win. Texas was not only done in by their kicking game, but they also suffered 9 turnovers, 6 of them interceptions. Oklahoma end Montford "Hap" Johnson, Geyer's favorite target this season, caught both Oklahoma touchdown passes.


The only other significant win Oklahoma posted was a 23-14 victory over 6-2 Kansas. None of their opponents, however, were top 25 caliber.
Not a National Championship Contender
With no potential top 25 opponents and 2 close games, it need hardly be said that Oklahoma is not an MNC contender this season. They barely beat a Texas team that they appear to have been equal to in power. Texas lost to Notre Dame at home 36-7, and Nebraska beat Notre Dame. Oklahoma beat Kansas 23-14, Nebraska beat them 33-0. Oklahoma beat Kansas State 21-7, Nebraska beat them 31-0. Oklahoma appears to have been a #11-20 team at best (I have them #17), and in fact Colorado State would probably make a better MNC candidate this season, since no one came close to them.
Colorado State 1915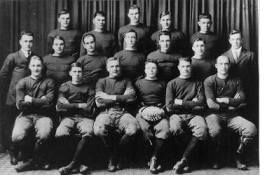 Colorado State head coach and athletic director Harry Hughes was an Oklahoma grad who had played for Bennie Owen, then served as assistant coach at Oklahoma in 1910. He had his work cut out for him when he arrived at CSU in 1911, as they had posted 7 losing seasons in a row, going 6-24-5 in that time, and worse, only 2 members of the team were actually CSU students. He dismissed all the ringers, and appealed to the students to try out for the team, barely finding enough players to play that season, and they finished 1-6. After that first school year, he and his team cleared the playing field of rocks, graded it, planted grass, and put up grandstands.

His teams went 9-8 over the next 3 years, but this was CSU's breakout season, and their 7-0 finish is still the only perfect record Colorado State has ever produced. They won the Rocky Mountain Athletic Conference championship, the first of 8 conference titles Hughes would win. He reigned as head coach for 32 seasons, going 126-92-18, and served as athletic director until 1953. He was inducted into the Helms Foundation Hall of Fame, and Colorado State's stadium is named for him.

Colorado State won every game by more than a touchdown in 1915, including 21-9 at 5-2 Utah, 35-0 over 4-2 Colorado Mines, and 24-13 at 6-2 Colorado College. Those 3 teams lost only to Colorado State and to each other, but they played few meaningful intersectional games. Utah beat Southern Cal 20-13 at home, but that does the Rocky Mountain region no favors, as USC was poor at this time, losing 34-0 to Oregon, who lost 28-3 to Washington State.

The Rocky Mountain region was not particularly strong

in general

:

1902-1918 their major teams went 1-8 against Nebraska, 1-4 against Haskell, 1-2 against South Dakota, and also lost games to Wisconsin, Carlisle, and Washington. But the region went a decent 2-3-1 against other major Missouri Valley teams and 2-2 against the SWC.

It need hardly be said that Colorado State's schedule leaves them out of any serious MNC discussion.
Washington 1915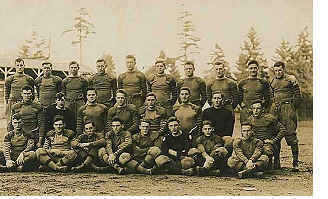 This was 7-0 Washington's 8th of 9 straight unbeaten seasons. I discussed them briefly in my articles for the 1910 and 1913 mythical national championships, and I covered their Hall of Fame coach, Gil Dobie, in the 1910 piece. By 1915, Gil Dobie had become the most hated figure in Northwestern football, outside Seattle of course, and not just because he never lost a game at Washington (though let's face it-- that was most of it). Like Pop Warner at Pittsburgh and Harry Hughes at Colorado State, Dobie was a chronic poormouther, constantly deriding his own team and predicting that they would lose every week, regardless of the opponent. This might have seemed amusing for the first few years Dobie coached Washington, but the longer his winning streak grew, the more his poormouthing grated, until opposing coaches despised his act.

Another reason Dobie was so hated by the rest of the Northwest is that he refused to play the region's other major teams on their home field. He would only play Washington State at home, and against Oregon and Oregon State, Washington alternated annually between home and neutral sites. By 1915, Oregon, Oregon State, and Washington State had had enough, and all 3 refused to play Washington. Consequently, Washington needed to find new teams with which to fill out a schedule, so they played Colorado and 2 games against California, one at home, the other-- gasp-- in Berkeley.

The problem is that neither Colorado nor California were good this season, leaving Washington with an

incredibly

weak schedule. This was Cal's first year fielding a football team since 1905. Their rugby coach learned the game of football in the offseason, then taught it to his players in the early Fall. They were quick learners, and Cal finished 8-5. Washington won 72-0 in Berkeley, but the next week, Cal came up to Seattle a reborn team. Cal took a 7-0 lead, and Washington needed a late touchdown drive to pull out a 13-7 win. There was speculation that Dobie purposely kept the game close so that Cal would not give up on football after this season, but that doesn't sound like Gil Dobie at all, and following this game, Cal continued to play vastly better than they had before. They went to Nevada and won 81-0, then won at Southern Cal 23-21 (USC had beaten them 28-10 earlier in the season).

Washington's finale against Colorado was supposed to be the big game of their season, as Fred Folsom's teams had been ruling the Rocky Mountain conference for years, going 34-5-1 1909-1914, including 3 perfect seasons. But this year Colorado was quite bad, finishing 1-6 after Washington routed them 46-0. They also lost 23-6 to 7-0 Colorado State, 44-0 to Colorado College, and 35-3 to Utah.

Washington's players, as usual for the Northwest, were little-heralded nationally, but guard Louis Seagrave would become a nonconsensus All American in 1916.

Needless to say, Washington did not play a schedule that puts them in any kind of national championship consideration, and their close call at home against Cal only serves to seal the deal. Washington State's schedule and performance were far stronger. Still, even if 1915 saw WSU's best team ever to that point, it bears remembering that Washington had been beating WSU (as well as Oregon and Oregon State, who were also strong this season) for many years. There's no telling what would have happened had the two teams played. But Gil Dobie's first national championship will have to wait until the next decade, when he is the coach of this year's champion, Cornell.
Awards Ceremony
1915 #1:

9-0 Cornell


National Co-champion:

None


Contenders:

8-0 Pittsburgh, 8-0 Nebraska, and 7-0 Washington State

These are the awards I have been handing out for each season, except seasons when there are no contenders. For this purpose, what I mean by a contender is a team that I think is very close to being worthy of sharing the national championship. A team that you could make an argument for, even if that argument is weak. But the contenders are teams that I myself do not see as national champions.

You'll be seeing plenty of Pittsburgh going forward-- they contend for a mythical national championship in each of the next 3 seasons as well. Washington State, on the other hand, never contends again, and Nebraska's next potential MNC is more than 50 years away.

Grading the Selectors
I have been grading the NCAA Records Book's selectors for each season, and keeping a grade point average, so we can see who is relatively good at selecting national champions and who is not. And although I do not consider computer ratings to be legitimate national championship selectors, I have been including them in this section as well, just for comparison's sake.
I am grading on a scale of 0-5 (5 being the best).

Parke Davis selected Cornell and Pittsburgh. Grade: 3.2

Billingsley's computer selected Oklahoma. Grade: 0.1

Everyone else selected Cornell.

Grade:

5



Grade Averages

:



| | |
| --- | --- |
| 1) Houlgate (math system) | 4.3 |
| 2) Parke Davis | 4.19 |
| 3) Helms | 4.18 |
| 4) National Championship Foundation | 3.42 |
| 5) Billingsley (math) | 3.41 |

The main problem with Parke Davis' selection of Pitt is that while it is easy to differentiate Cornell from Pitt, it is impossible to point to anything that indicates Pitt to have been better than Nebraska and Washington State, and in fact Pitt did not perform as well as the other two. Crowning Pitt and not Nebraska and Washington State is therefore arbitrary at best.