Top 25 Rankings 1901-1935
1915 National Championship
Home
1915 College Football Top 25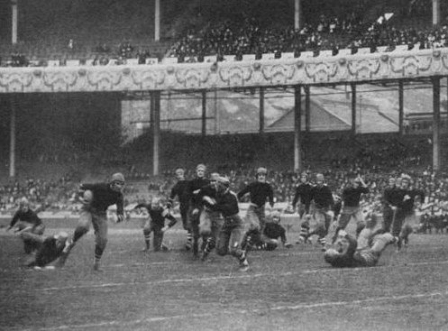 Cornell's first national championship was carried home by superstar quarterback Charley Barrett (carrying the ball in the picture above). Cornell finished 9-0, and in a season full of contenders, they are the consensus choice for the 1915 mythical national championship, and would have run away with #1 had there been an AP poll that season. I covered Cornell and 6 other potential 1915 MNC contenders in detail in my 1915 national championship article, including 8-0 Pittsburgh, 8-0 Nebraska, 7-0 Washington State, 7-0 Washington, 10-0 Oklahoma, and 7-0 Colorado State.

Cornell #1.
#2: Pittsburgh vs. Nebraska vs. Harvard
8-1 Harvard
would easily have finished 2nd in a 1915 AP poll, and that works fine. Their loss came to #1 Cornell, their only loss since 1911. Their only close win was 10-6 at 6-2 Princeton (will be ranked #8), and they also defeated 8-1 Virginia (#14) and 7-2 Penn State (nearly rated).

8-0 Pittsburgh vs. 8-0 Nebraska is a more difficult prospect. I suspect that Pitt would have edged Nebraska out for #3, but it isn't clear, and Nebraska had the bigger win, over 7-1 Notre Dame (#9), while Pitt's best came over 8-1-1 Washington & Jefferson (#16), a team that was tied by unrated 5-2-1 West Virginia. The rest of Nebraska's wins were routs, whereas Pitt had one poor performance in a 14-7 win at unrated 3-5-2 Penn. For those reasons, I'm going with Nebraska at #3.

Pitt's other notable wins came against a pair of nearly-rated teams, 20-0 over 7-2 Penn State and 28-0 over 7-1 Carnegie. Nebraska won 21-0 at 6-2 Iowa State and 33-0 at 6-2 Kansas.


Harvard #2, Nebraska #3, and Pittsburgh #4
.
Minnesota, Illinois, and Washington State
Coming in next in an AP poll would have been 6-0-1 Minnesota, followed by 5-0-2 Illinois, followed by, I'm guessing, 7-0 Washington State. Minnesota's wins were all dominating, including 20-7 over 5-2 Chicago (will be rated #18), 20-3 at 4-3 Wisconsin (#19), and 34-6 over 6-2 Iowa State, but their MNC hopes were dashed in a 6-6 tie at 5-0-2 Illinois. This was the 2nd of 3 straight seasons that Minnesota's sole blemish came to Illinois.

5-0-2 Illinois was a defending MNC, and they were also dominating in their wins, but unfortunately for them, in addition to Minnesota, they were tied at 5-1-1 Ohio State (#20). They won 17-3 over 4-3 Wisconsin (#19) and 10-0 at 5-2 Chicago (#18).

7-0 Washington State was dominating as well, winning all their games by more than a touchdown, and this high rating would have been secured by the publicity they received after beating 5-4-1 Brown 14-0 in the Rose Bowl. Now, Brown was not particularly good, not close to being top 25 caliber, but it was actually big news that

any

team from the Northwest could defeat a winning major Eastern team.

And that wasn't the only game that raised the profile of Northwestern football, because 5-3 Oregon State also won 20-0 at 5-1 Michigan State during the regular season, and MSU won the rest of their games by an average score of 52-4. Largely because of that game, 7-2 Oregon finds itself at #24 in this top 25, Oregon State at #25, and that does give WSU a pair of victories over rated opponents, if barely. They beat Oregon 28-3 and Oregon State 29-0. Heck, maybe WSU was even the best team in the country this year, but unfortunately, their schedule simply left no way for us to be able to tell one way or the other.

Minnesota #5, Illinois #6, and Washington State #7.
Princeton, Notre Dame, Syracuse, and Dartmouth
Next up for a 1915 AP poll would have been 6-2 Princeton, and though 7-1 Notre Dame had a better relevant record, I think Princeton will do for #8. They lost 10-6 to #2 Harvard, a game effort, but they also took a loss at 4-5 Yale in their finale, a poor effort, albeit in a rivalry game. On the plus side, Princeton racked up a healthy number of impressive wins

:

3-0 over 9-1-2 Syracuse (will be ranked #10), 30-7 over 7-1-1 Dartmouth (#11), 10-0 over 7-1 Rutgers (#22), 13-0 over 7-2 Georgetown, and 40-3 over 8-3 Lafayette. Notre Dame didn't take an upset loss, but they also didn't defeat a single top 25 team.

9-1-2 Syracuse also played a tougher schedule than 7-1 Notre Dame, but their wins were not as impressive as Princeton's, so their case for being rated higher than Notre Dame is weaker. Syracuse took a pair of upset ties, to 7-1-1 Dartmouth and at 2-2-2 Montana. Montana, as one might expect, was awful, but to be fair, Syracuse was "homered" in that game to a degree that made the entire result something of a joke. But the Dartmouth tie is also damaging, because like Notre Dame, Dartmouth did not beat a single top 25 team. But unlike Notre Dame, who lost to #3 Nebraska by just 1 point on the road, Dartmouth's loss was ugly, 30-7 at #8 Princeton. Dame also beat 4 winning teams, 3 on the road, while Dartmouth beat 3, 1 on the road.

So 7-1 Notre Dame should be rated higher than 7-1-1 Dartmouth, and therefore Syracuse tying Dartmouth is a problem for them. Still, Syracuse did pile up a nice amount of strong wins

:

38-0 over 5-1 Colgate (#13), 28-0 at 5-3 Oregon State (#25), 35-0 at 7-1 Occidental, 6-0 at 5-4-1 Brown, and 14-7 at 4-3-1 Michigan. However, they also edged a very bad 2-6-3 Bucknell team 6-0 at home, and those scores against Brown and Michigan were also not impressive. And while Colgate will be rated highly in this top 25, that rating comes sheerly from reputation, as they, like Notre Dame, did not beat a single top 25 team this season.

It's a close call, to be sure, but I'm going with 7-1 Notre Dame and their lack of an upset loss or tie over 9-1-2 Syracuse and their tougher schedule.

Princeton #8, Notre Dame #9, Syracuse #10, and Dartmouth #11.

Princeton



Princeton was coached by John "Speedy" Rush in 1915 and 1916, and he went 6-2 in each season, ranking #8 this season and #11 the next. But that wasn't good enough, because the 2 losses in each season were to Harvard and Yale (this season's game at the Yale Bowl pictured above). Unacceptable, so he was not invited back after 1916. He coached one more year, going 3-5 at Cornell in 1919, then left the profession behind.

Princeton fielded 6 players who would make first-team All American lists during their careers

:

end Jack "Red" Lamberton, guard Frank Hogg (consensus AA in 1916), halfback Dave Tibbott, fullback Edward Driggs, tackle William McLean, and center Alfred Gennert. In addition, quarterback and team captain Frank Glick was All-Eastern and made Walter Camp's Honorable Mention AA list.
Washington, Colgate, Virginia, Vanderbilt, and Washington & Jefferson
Who knows where 7-0 Washington would have been ranked in a 1915 AP poll? On the plus side, this was their 8th straight unbeaten season, a streak for which they were nationally known. And Washington State's Rose Bowl win over Brown and Oregon State's win at 5-1 Michigan State raised the esteem writers had for the entire Northwest. But on the other hand, Washington didn't play Washington State, or Oregon State, or Oregon this year. Those teams refused to play Washington this season because for years, Washington had been refusing to play any of them on their home fields. Which partially helps to explain that 8-year unbeaten streak. Point is, Washington's schedule was completely worthless this season. As little as Dartmouth accomplished, it was still far more than that accomplished by Washington, so we'll bring Washington in here, behind Dartmouth.

5-1 Colgate is a similar story. This is about where they would have been ranked, largely because of how they performed the previous 2 seasons, but their schedule left their ranking as guesswork. They got trounced by #10 Syracuse, but they were dominating in all their wins, and though none of them were top 25, they beat a couple of decent opponents, 13-0 at 5-3-1 Army and 15-0 at 4-5 Yale (who beat #8 Princeton).

8-1 Virginia did not have the reputation Colgate did with the football press, and unlike Colgate they struggled to beat an unrated team, winning 9-7 at 5-2-2 Georgia, but at least they beat a rated team, routing 9-1 Vanderbilt 35-10 at home. Still, I'll let the hypothetical AP voters of 1915 have Colgate over Virginia, based on the one poor performance. Also, Colgate won 15-0 at Yale, and Virginia won 10-0 at Yale, so there's another edge, however tiny, for Colgate.

9-1 Vanderbilt was certainly embarrassed at Virginia, but they crushed every other team they played, including 17-0 over 6-2 Auburn (nearly rated).

8-1-1 Washington & Jefferson may have been rated higher than all the teams in this section, based on reputation, but they were tied at unrated 5-2-1 West Virginia, and none of these other teams took an upset, so W&J will have to settle for coming in behind Vanderbilt. W&J's loss came 19-0 at #4 Pittsburgh. They did not beat a top 25 opponent, and struggled to get past the likes of Geneva and West Virginia Wesleyan. They're lucky to be rated where they are, but can stay here because the next team in line, Oklahoma, didn't even beat anyone as good as 5-2-1 West Virginia anyway.

Washington #12, Colgate #13, Virginia #14, Vanderbilt #15, and Washington & Jefferson #16.

Virginia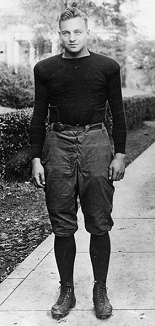 Virginia was coached by Harry Varner, who had played for Virginia 5 years prior. This was his only season coaching, after which he spent the rest of his life being a surgeon. The star player was halfback Eugene "Buck" Mayer (pictured), the first consensus All American from a Southern school. He still holds a number of school records. In 1914, he scored 142 points on 21 touchdowns, and for his career he totaled 312 points and 48 touchdowns. He won a Rhodes scholarship, and is enshrined in the Virginia Sports Hall of Fame.
Oklahoma, Chicago, Wisconsin, and Ohio State
Here comes 10-0 Oklahoma to take their token spot in the top 25. How good were they? Well, this season we have a better idea than most when it comes to these token unbeatens from outlying regions, because this year #9 Notre Dame actually went down and won 36-7 at 6-3 Texas and 55-2 at 5-3 Rice. Oklahoma beat Texas 14-13. Also, #2 Nebraska won 33-0 at 6-2 Kansas, and Oklahoma beat Kansas 23-14 at home. So we have good reason to believe that Oklahoma was not a top 10 team.

Next we'll bring in some Western Conference (Big 10) teams who are more used to being ranked, starting with 5-2 Chicago. They lost their last 2 games to #5 Minnesota and #6 Illinois, and neither game was close. They won 14-13 over 4-3 Wisconsin, but also struggled to get by bad teams like 2-5 Northwestern, 3-3-1 Indiana, and 3-3-1 Purdue. Their performances were so consistently poor that there is little problem with ranking Oklahoma higher.

In addition to Chicago, Wisconsin also lost their last 2 games to #5 Minnesota and #6 Illinois, and also by big scores. But at least Wisconsin was impressive in their wins, the big one being 21-0 over 5-1-1 Ohio State.

Speaking of 5-1-1 Ohio State, they pulled off a huge 3-3 tie with #6 Illinois at home, though they didn't actually beat a good team, and they performed quite poorly in a 10-9 home win over 3-3-1 Indiana.

Oklahoma #17, Chicago #18, Wisconsin #19, and Ohio State #20.
Georgia Tech, Rutgers, Colorado State, Oregon, and Oregon State
I'm going to finish out this top 25 with the following teams, in this order

:

7-0-1 Georgia Tech, 7-1 Rutgers, 7-0 Colorado State, 7-2 Oregon, and 5-3 Oregon State
.

7-0-1 Georgia Tech earns their first-ever top 25 finish this season, and this was just the beginning. They would also go unbeaten over the following 2 seasons. This year's #1 team, Pittsburgh, was on a similar trajectory, and would also go unbeaten until 1918. Georgia Tech went up and played Pitt that year, and Pitt ended their unbeaten streak. Pitt's unbeaten streak would end a week later against a military camp team. This year, GT took an upset tie against unrated 5-2-2 Georgia, but they beat 5 winning opponents, including 36-7 at 6-2 LSU, 21-7 over 6-2 Alabama, and most importantly, 7-0 over 6-2 Auburn (nearly rated) in their finale. Auburn would likely occupy this spot otherwise.

7-1 Rutgers lost 10-0 at #8 Princeton, and though they didn't beat anyone of value, they demolished every other opponent (average score in those games 50-3). So like Colgate, Rutgers' rating is based largely on what they had done the previous season.

7-0 Colorado State is our token Rocky Mountain team, as they would be again in 1916. They won every game by more than a touchdown, and I covered them in some detail in my 1915 national championship article.

Then we get to our Northwestern teams, 7-2 Oregon and 5-3 Oregon State. Oregon took their losses to #7 Washington State and to the Multnomah Athletic Club, a team of former college players, in their opener. They avenged that loss with a 15-2 win over Multnomah in their finale. Their wins all came by more than a touchdown, including 9-0 over Oregon State. OSU took their other losses to #7 Washington State and to #10 Syracuse, both in routs, but they pulled off a huge intersectional win when they went out to 5-1 Michigan State and won by the shocking score of 20-0.

MSU won all the rest of their games by huge margins (average score in those games 52-4), though the only significant win was 24-0 at 4-3-1 Michigan. OSU's win over them mostly mattered because MSU had been a strong "mid-major" type team for years, and likely would have been ranked 6 times in the previous 7 seasons. If not for this game, MSU would certainly have been ranked again this year.

Oregon would go to the Rose Bowl the next season and defeat a much more impressive Eastern representative than WSU did this year, landing Oregon in the top 10 for 1916.


Georgia Tech #21, Rutgers #22, Colorado State #23, Oregon #24, and Oregon State #25.

Oregon State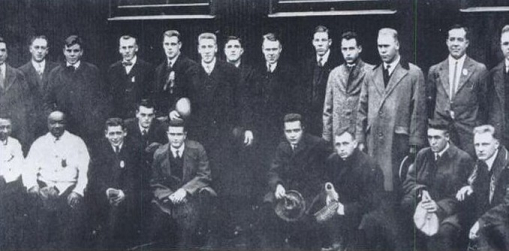 Oregon State was coached by Edward "Doc" Stewart 1913-1915, who went 15-5-5. Stewart next moved on to Nebraska, then Clemson, then Texas, and overall he was 76-42-14 at 7 schools. The star player was halfback Herman Abraham, who made Walter Camp's 3rd team AA list.
Others Receiving Votes
Here are the teams closest to making this top 25. Columbia, who had dropped football after the 1905 season, started playing the sport again this year and went 5-0, but they were too far removed from major college football play to be considered for ranking.
Penn State 7-2
This 7-2 Penn State team in 1915 was very similar to the 8-2 Penn State that I have ranked #20 for 1916, so it's strange to see them not ranked this time. This season they took their losses 13-0 at #2 Harvard and 20-0 at #4 Pittsburgh, and they did not beat a particularly good team. They had one poor performance, a 7-0 win over mediocre 6-4 Lehigh, and their best win was 33-3 at 8-3 Lafayette. The problem with Lafayette is that they didn't beat anyone good (their best win was over the aforementioned mediocre Lehigh), and they performed poorly against minor schools to start the season.

In 1916, 8-2 Penn State similarly lost big to the 2 rated teams they played (#1 Pitt and #13 Penn), and they similarly didn't beat any good teams, and they similarly posted their only close win over Lehigh (6-2-1 that year). So why are they #20 for 1916 and unranked this season?

The real difference between 1915 and 1916 as far as PSU is concerned is that the teams ranked #20-25 in 1915 were stronger than those in 1916. This season, we had 5-1-1 Ohio State at #20, who tied #6 Illinois, obviously far more than PSU accomplished. After that, we have 7-0-1 Georgia Tech instead of 1916's 8-0-1 Tennessee, and GT 1915 performed better and beat more winning teams than did Tennessee 1916. Obviously, CSU 1915 was 7-0, while CSU 1916 was 6-0-1. And then our last 2 teams this year, Oregon and Oregon State, are boosted by OSU's big win at Michigan State, which was a far better win than any PSU accomplished.

It's possible that Penn State was a top 25 team power-wise this season, but their schedule wasn't good enough to really let us know one way or the other.
Auburn 6-2
Here we have another team that might have been top 25 power-wise. 6-2 Auburn's losses came 17-0 to #15 Vanderbilt and 7-0 at #21 Georgia Tech. They won 26-0 over 5-2-1 Mississippi State and 12-0 at 5-2-2 Georgia (who tied Georgia Tech). They had one poor performance, 7-0 over 4-3 Florida.
Michigan State 5-1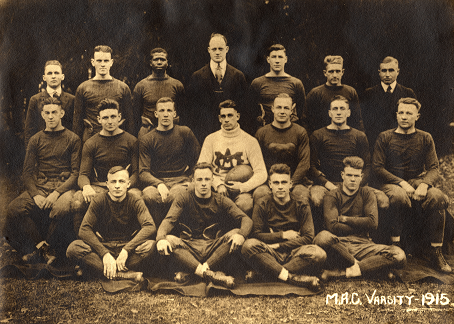 As previously noted, 5-1 Michigan State (then known as Michigan Agricultural College, or MAC) lost 20-0 to #25 Oregon State at home, but they won the rest of their games by an average score of 52-4, including a 24-0 win at 4-3-1 Michigan. They were probably a better team than Penn State and Auburn (MSU beat PSU 6-3 on the road the previous season), and in fact, this might be the best team ever that didn't make a top 25.

Quite a few of these players also played on Michigan State's very strong 1913 MNC contender, including halfback/fullback Jerry DaPrato (consensus AA), end/halfback Blake Miller (nonconsensus AA), and tremendous tackles Hugh Blacklock and Gideon Smith. DaPrato scored 18 points in the 24-0 win at Michigan on 2 touchdowns, 2 extra points, and a field goal. For the season, he scored 124 points (15 touchdowns, 28 extra points, and 2 field goals) in just 6 games, making him the nation's leader in points per game. Blake Miller rushed for 109 yards on Michigan.

This was the last year of an amazing stint for coach John Macklin, who went 29-5 here 1911-1915. He retired from coaching, and with him went Michigan State, as they had been top 25 for 6 of the 7 years previous to this, but wouldn't be again until 1932.

Carnegie 7-1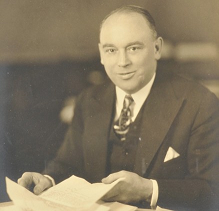 7-1 Carnegie was a minor team that took their loss 28-0 at #4 Pittsburgh, but routed the rest of their opponents (average score 45-5 in those games), though they were all minor teams. The coach was Walter Steffen (pictured), who had been a Hall of Fame quarterback for Chicago's 1908 MNC-contending team, and later became a judge in Chicago who commuted to Pittsburgh to coach Carnegie 1914-1917 and 1919-1932, going 88-53-8.

Carnegie would prove to be quite pesky under Steffen. They started to become competitive with major schools in the 1920s, actually fielded top 25 teams 3 times 1926-1930, and pulled off a number of huge upset wins over the likes of Pittsburgh and Notre Dame.
Trinity (Connecticut) 5-0-2
5-0-2 Trinity (Connecticut) doesn't really belong on this list, but they went unbeaten, and we have a shorter "Others Receiving Votes" list than usual for this season, so what the heck. Trinity was tied by 5-4-1 Brown (Washington State's Rose Bowl opponent) and by 5-1-2 Tufts. Their big win came by an extra point, 7-6 over 6-3 Amherst (who beat Brown)
.
1915 Top 25
1) Cornell 9-0
2) Harvard 8-1
3) Nebraska 8-0
4) Pittsburgh 8-0
5) Minnesota 6-0-1
6) Illinois 5-0-2
7) Washington State 7-0
8) Princeton 6-2
9) Notre Dame 7-1
10) Syracuse 9-1-2
11) Dartmouth 7-1-1
12) Washington 7-0
13) Colgate 5-1
14) Virginia 8-1
15) Vanderbilt 9-1
16) Washington & Jefferson 8-1-1
17) Oklahoma 10-0
18) Chicago 5-2
19) Wisconsin 4-3
20) Ohio State 5-1-1
21) Georgia Tech 7-0-1
22) Rutgers 7-1
23) Colorado State 7-0
24) Oregon 7-2
25) Oregon State 5-3

Others Receiving Votes
:
Penn State 7-2
Auburn 6-2
Michigan State 5-1
Carnegie 7-1
Trinity (Connecticut) 5-0-2