Top 25 Rankings 1901-1935
1916 National Championship
Home
1916 College Football Top 25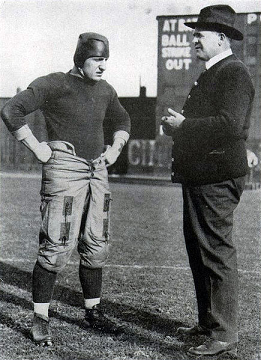 Pictured
above is a pair of Hall of Famers

:

Pittsburgh center and captain Robert Peck and head coach Pop Warner. Pittsburgh went 8-0 and would have won a 1916 AP poll in a landslide, but there were quite a few other potential MNC candidates in 1916, headlined by 9-0 Army and 8-1 Colgate. I compared all 3 teams in great detail in my 1916 national championship article, and I ended up splitting the 1916 MNC among all 3 schools.

Why Colgate when they had a loss, and Pitt and Army didn't? Well, 8-1 Colgate took their loss by a score of 7-3 at 8-1 Yale, who took their loss 21-6 to 8-1 Brown at home, who took their loss 28-0 to Colgate at home in the finale for both teams. These 3 teams defeated each other in a circle, but they were all so powerful that you could logically and viably rate all 3 ahead of both Pittsburgh and Army. And Colgate is easy to separate from Yale and Brown, because they had the most impressive head-to-head win amongst the 3, and their loss to Yale was very close and came on the road, and it was a game that Colgate actually dominated.

I suspect that a national AP poll in 1916 would have rated Army #2 merely because of their better straight record, and because writers outside the East would likely have been less-well-informed than their Eastern counterparts on Eastern teams. But Army doesn't merit #2. On December 3rd, the New York Times ranked the Eastern teams as follows

:

1) Pitt, 2) Colgate, 3) Brown, 4) Yale, 5) Army. I would be inclined to agree with this list, but we needn't go that far. Since Brown was drubbed so badly in their finale, 28-0, I think we can let the hypothetical AP voters of 1916 (outside the East) at least have Army at #3. For more detail on why Colgate belongs ahead of Army, though, see the linked 1916 MNC article.


Pittsburgh #1, Colgate #2, Army #3, Brown #4, and Yale #5.
#6: Ohio State vs. Oregon and Washington
I covered 7-0 Ohio State, 7-0-1 Oregon, and 6-0-1 Washington in my 1916 national championship article
. Ohio State won the Western Conference (Big 10), but they did not beat a rated opponent, and they struggled to get by 2 unrated teams. Oregon beat Penn (7-3-1, will be #13) 14-0 in the Rose Bowl, a greatly celebrated win, and they likely would have been rated higher than Ohio State in a post-bowl AP poll. I don't know where Washington would have been rated, but since they tied Oregon on the road, I'm going to rate them higher than Ohio State as well. This was the ninth straight season Washington had finished unbeaten. You read that right

:

ninth

straight season.


Oregon #6, Washington #7, and Ohio State #8
.
#9: Minnesota vs. Harvard
Coming in next in an AP poll would have been 6-1 Minnesota ahead of 7-3 Harvard. This I find rather dubious, because Minnesota did not defeat a top 25 team this year, while Harvard defeated 6-2 Princeton (will be #11) and 6-2 Cornell (#14). Minnesota and Harvard each took one upset loss to an unranked opponent, and Harvard's other 2 losses came to #4 Brown and #5 Yale, irrelevant when comparing the teams.

I had a very hard time accepting this rating, because it rests largely on the fact that we know that Minnesota was basically the same team in 1916 that they were in 1915, and they were a top 5 team in 1915. However, in every game but the one upset (a 14-9 loss to 3-3-1 Illinois), Minnesota

did

perform like an unbeatable juggernaut, and was presumed by all who saw them to be the best team in the country until their upset. Aside from the loss, they won by an average score of 57-2. They beat 4-3 Iowa 67-0 and 4-2-1 Wisconsin 54-0 (#8 Ohio State beat Wisconsin 14-13). I would go with Harvard myself, but with those performances, there is little doubt that Minnesota might well have been the best team in the country this year, so I'll hold my nose and let the hypothetical AP poll voters of 1916 have their way here.

Minnesota #9, Harvard #10

Minnesota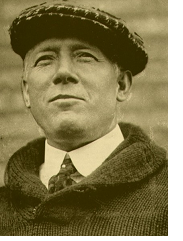 Minnesota was coached by Hall of Famer Dr. Henry Williams (pictured), who went 136-33-11 there 1900-1921 and won 8 conference titles. Five of his teams went unbeaten, the 1903, 1904, and 1911 editions were mythical national championship contenders, and I consider the last of those to be an MNC

winner

.
Including one season as coach at Army, Williams' career winning percentage of .786 makes the all-time coaching win percentage list.


Williams played for Yale 1887-1890 with Chicago's great coach Amos Alonzo Stagg. He invented the tackle-back offense and the Minnesota shift, forerunner of Knute Rockne's Notre Dame shift. When he wasn't coaching football, he practiced gynecology the other 9 months of the year. He is the namesake of Minnesota's basketball arena.

Minnesota was led on the field this season by Hall of Fame end Bert Baston, who was named a consensus All American in 1915 and 1916. Another three players were nonconsensus AA this season

:

tackle George Hauser (consensus AA in 1917), halfback Claire Long, and fullback Arnold "Pudge" Wyman.
Harvard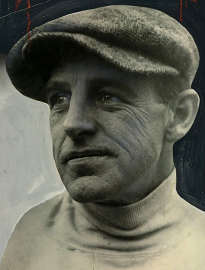 This was the last season of a tremendous 9 year stint for Hall of Famer Percy Haughton (pictured) as head coach at Harvard. 1908-1916 he went an amazing 71-7-5, including an unbeaten 30-0-3 stretch 1911-1915, and Harvard lays claim to 4 national championships during Haughton's reign. With stops at Cornell and Columbia, Haughton was 96-17-6 overall, which puts him in the top 10 for all-time coaching win percentage.

Six players on this team made first-team AA lists during their careers. This season, guard Harrie Dadmun was the captain and the only consensus AA. Halfback Eddie Casey was nonconsensus AA, and would be consensus AA in 1919 after returning to school from the war. He is in the Hall of Fame. End Richard Harte and tackle Walter Wheeler were also nonconsensus AA this season, end C. A. Coolidge would be nonconsensus AA in 1917, and fullback Arnold Horween would be nonconsensus AA in 1920.
Princeton, Notre Dame, Pennsylvania, and Cornell
Next up for a 1916 AP poll would have been 6-2 Princeton, and that works fine. They took their losses to #5 Yale and #10 Harvard, and they defeated 5-2-2 Dartmouth (will be #19) and 5-3 Tufts (unrated, but a good team that upset Harvard). But after that things get fuzzy, as there were a whole lot of teams that got a lot of national press this year. As such, figuring out where teams would have placed in the middle of a 1916 AP poll requires more guesswork than usual.

My guess, as the subtitle above indicates, is 8-1 Notre Dame coming in after Princeton, followed by 7-3-1 Penn and 6-2 Cornell. Notre Dame had burst onto the national football scene in 1913 with a huge 35-13 win at 8-1 Army. But to show that it wasn't just a fluke, Dame also won 7-0 at Army in 1915, and they won 20-0 at Syracuse in 1914. This year they lost 30-10 at #3 Army, but they routed the rest of their opponents, including a 20-0 win at Missouri Valley powerhouse Nebraska (6-2) in their finale. Notre Dame was considered to be a "mid-major" type of team at this time, but a highly celebrated and respected one. I think their 8-1 record would have pushed them past 7-3-1 Penn, especially in a post-bowl poll (Penn lost 14-0 to #6 Oregon in the Rose Bowl).

Don't be too misled by Penn's 7-3-1 record, though. They played what might have been the toughest schedule in the country, and they defeated 4 strong teams, easily more than any other team outside the top 10. The headline win came 23-3 over 6-2 Cornell in their regular season finale, but they also beat 8-2 Penn State (#20), 7-2 Michigan (#15), and 5-2-2 West Virginia (nearly rated). In addition to #6 Oregon in the Rose Bowl, Penn lost to #1 Pittsburgh and to unrated 6-1-1 Swarthmore. Their tie came to 5-2-2 Dartmouth (#19).

It's possible that 6-2 Cornell would have been rated ahead of Penn in a post-bowl poll, but with Penn's big win over them in the regular season finale, I don't think so. Cornell's other loss came at #10 Harvard. Their schedule wasn't deep otherwise, but they did win 23-20 over 7-2 Michigan (#15), a game that drew a lot of attention. Because of that and the fact that Cornell was the defending national champion, I think they would have placed higher than our other candidates for this portion of the top 25.

Those other candidates are chiefly 8-0-1 Georgia Tech and 9-1 Georgetown. Georgia Tech got a lot of press this season for scoring an unholy 222 points in a single game (over tiny irrelevant Cumberland), which is of course still the all-time record. On the other hand, GT did not beat a top 25 caliber opponent, and they were tied by Washington & Lee (5-2-2, #24). 8-2 Washington & Jefferson defeated Washington & Lee, and they were a better known quantity at the time, so may have been rated higher than GT anyway, and I'll therefore bring Tech in behind them. It should be noted, however, that Georgia Tech would play and stomp on Penn 41-0 on the way to a national championship the next year.

As for Georgetown, they also drew national attention for scoring a lot of points, and in fact, despite Georgia Tech's 222 in a single game, Georgetown still outdid them on the season, averaging 47.3 points per game to Tech's 46.8. And Georgetown defeated a top 25 opponent (5-2-2 Dartmouth, #19). But where Georgia Tech took an upset tie, Georgetown took an upset loss (to 6-3-1 Navy, #25). And since Georgia Tech also defeated more winning major opponents, we'll bring Georgetown in behind Georgia Tech. But both teams will have to wait for that. In the meantime...

Princeton #11, Notre Dame #12, Penn #13, and Cornell #14.
Michigan, Washington & Jefferson, and Georgia Tech
This much is pretty easy, 7-2 Michigan coming in next, followed by 8-2 Washington & Jefferson and 8-0-1 Georgia Tech (as noted above). Michigan's losses came by 3 points each to #13 Penn and #14 Cornell. Their schedule was weak otherwise, the only win of note coming 14-13 over 5-4 Syracuse, who will fall outside this top 25.

Washington & Jefferson's losses were huge routs to #1 Pitt and #5 Yale, but they won 10-6 at 5-2-2 Washington & Lee (will be #24), and they won 12-9 over Rutgers (3-2-2, near-rated) on a neutral field to end the season. As mentioned, 8-0-1 Georgia Tech was tied by 5-2-2 Washington & Lee, which is why they come in behind Washington & Jefferson. Tech beat 5-3-1 Davidson, 5-4 North Carolina, 4-3-1 Tulane, 6-3 Alabama, 6-3 Georgia, and 6-2 Auburn, which is a lot of winning opponents, though none of them were close to top 25 this season.

Michigan #15, Washington & Jefferson #16, and Georgia Tech #17.
Georgetown, Dartmouth, and Penn State
Here we have the aforementioned 9-1 Georgetown, coming in behind Georgia Tech as noted a couple of sections above. They took a 13-7 loss at Navy (6-3-1, #25) in their opener, but won 10-0 at 5-2-2 Dartmouth and piled up a very impressive 473 points for the season.

5-2-2 Dartmouth took their other loss 7-3 at #11 Princeton, and their ties came to #13 Penn and to nearly-rated 5-2-2 West Virginia. Their best win came 15-10 over 5-4 Syracuse, who will fall just outside this top 25, on a neutral field. It's possible that 8-2 Penn State would have been rated higher than Dartmouth due to a better straight record, but they lost 15-0 at #13 Penn and 31-0 at #1 Pitt, rather unimpressive performances, and their best win, 10-7 at 6-2-1 Lehigh, was also unimpressive given that Lehigh was not close to the top 25 this season. Still, PSU had a higher profile than some of the teams to come next in this top 25, so this spot will work fine for them.

Georgetown #18, Dartmouth #19, and Penn State #20.
Georgetown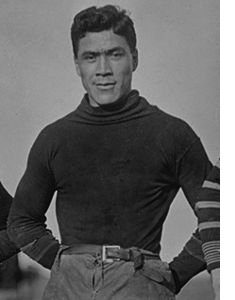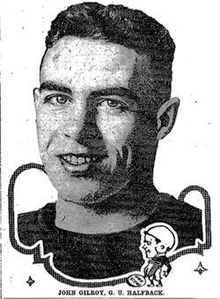 Georgetown was coached by Albert Exendine (pictured above at left), a native American who had been a Hall of Fame end at Carlisle 1902-1907. His coach there had been Pop Warner, the coach of this season's #1 team Pittsburgh. Exendine went 55-21-3 at Georgetown 1914-1922 and won 3 South Atlantic Intercollegiate Athletic Association titles. For his career he was 92-68-13 at 6 schools.

The star player this year was halfback Johnny Gilroy (pictured above at right), who made Walter Camp's 3rd team AA list. Known as "The Great Gilroy," he led the nation this season with 160 points built on 20 touchdowns and 40 extra points, and he threw another 12 touchdown passes. For his career he totaled 307 points on 43 touchdowns and 49 extra points, and he threw for 20 touchdowns.
Tennessee, Tulsa, Colorado State, Washington & Lee, and Navy
I'm going to finish out this top 25 with the following teams, in this order

:

8-0-1 Tennessee, 10-0 Tulsa, 6-0-1 Colorado State, 5-2-2 Washington & Lee, and 6-3-1 Navy
.

8-0-1 Tennessee made waves this season for a huge 10-6 upset of 7-1-1 Vanderbilt, who until this season was the powerhouse of the South, though that throne was now on the way to being usurped by Georgia Tech. It's possible that Vanderbilt still would have made a top 25 for 1916, a close call. As for Tennessee, they were otherwise unimpressive, barely getting by Tennessee-Chattanooga and tying 4-1-2 Kentucky (not close to rated) 0-0 in their finale. Still, 8-0-1 is 8-0-1, and that and the one big win would have likely gotten them rated this season.

10-0 Tulsa, whom I covered in some detail in my 1916 national championship article, was the nation's highest-scoring team with a crazy 566 points, but they were playing so far out of the attention of the major football world that most writers would have been completely unaware of that fact until reading about it in football annuals in the off-season. In fact, in December, newspaper articles in various parts of the country routinely cited Georgetown (473 total points) or Minnesota (49.7 points per game) as the nation's scoring leader. Of course, at this time, no official entity was keeping track of college football statistics. In any case, Tulsa made few waves nationally during the season because they played a worthless schedule. They edged 4-4 Oklahoma State 17-13 at home, a bad performance. Still, I think enough writers were aware of their 566 points to get them ranked this highly at least.

6-0-1 Colorado State might have been rated higher, because they had gone 7-0 and won the Rocky Mountain Conference the previous season, so their profile was a bit higher than Tulsa's was. Still, they took an upset tie at 3-2-1 Colorado Mines, and Tulsa was perfect, so CSU will have to settle for coming in behind them. CSU's big win came 14-12 over 6-1 Colorado College, giving them the conference title again. How good they really were compared to the rest of the country, we'll never know. This is largely a token placement to represent their region.

5-2-2 Washington & Lee had previously gotten on the national radar for going 9-0 in 1914, and they put up enough strong results this season to stay on the radar. They lost at #3 Army just 14-7 early in the season, then tied Rutgers (3-2-2, nearly rated) and Georgia Tech (8-0-1, #17), both on the road. Their other loss came 10-6 to Washington & Jefferson (8-2, #16). Their big win was 10-0 at 6-3-1 Navy.

6-3-1 Navy gets the nod for the last slot over 7-1-1 Vanderbilt, 6-1 Northwestern, 6-2 Nebraska, and 9-1 Baylor. This seemed a close call at first, but actually, Navy clearly accomplished more than the other candidates, and despite their straight record, they had a better relevant record than any of the other candidates. They did open with an ugly tie to a bad 4-3-2 Dickinson team, but they more than made up for that by giving 9-1 Georgetown (#18) their only loss. Navy also beat 5-2-2 West Virginia (nearly rated), and they routed 6-3 Georgia 27-3 (a bit better point differential than #17 Georgia Tech managed against them). Navy's losses came to #3 Army, to #24 Washington & Lee, and by just 1 point to #1 Pittsburgh. That last result seals the deal.


Tennessee #21, Tulsa #22, Colorado State #23, Washington & Lee #24, and Navy #25.

Tennessee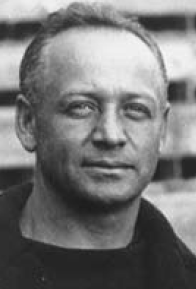 Tennessee was coached by John "Chief" Bender (pictured), who had been a star halfback at Nebraska 1900-1904, including perfect seasons in 1902 and 1903. He went 18-5-4 at Tennessee in 1916 and 1919-1920, and overall he was 65-31-7 at 5 schools. This is the first season for which Tennessee merits a top 25 ranking, though they did go 9-0 in 1914 against a worthless schedule (Vanderbilt was only 3-6 that year, and Tennessee still only beat them 16-14).

This year's more monumental upset of Vanderbilt was delivered by end Graham Vowell, who scored the winning touchdown in that game and thereby secured a spot on Walter Camp's 3rd team AA list. He was the team captain and was All-Southern.
Others Receiving Votes
Here are the teams closest to making this top 25.
Vanderbilt 7-1-1
7-1-1 Vanderbilt had ruled the South prior to this season, and due to reputation and a still-nice 7-1-1 record, may have been rated in a 1916 AP poll top 25, but they don't quite merit that. Their loss came to #21 Tennessee (8-0-1), but their tie came to 5-2-2 Sewanee, who was not close to top 25 caliber. Vanderbilt put up big scores on the rest of their schedule, and their best win came 20-9 over 6-2 Auburn in Birmingham, but Auburn lost to #17 Georgia Tech 33-7, and their best win came by just 3-0 over 6-3 Georgia

:

a team #25 Navy defeated 27-3.
Northwestern 6-1
Northwestern might also have been rated in a 1916 AP poll, due to their 6-1 record and the fact that they played in the Western Conference (Big 10) and in a major media center. Their loss came 23-3 to #8 Ohio State, but their schedule was otherwise incredibly weak, and they had no football reputation prior to this year. They do make the top 25 for the next season, but did nothing to merit such this season. Their best win, I suppose, was 20-13 over 4-3 Iowa, who lost 67-0 to #9 Minnesota and 34-17 to unrated 6-2 Nebraska (covered below). Northwestern also struggled to win 7-0 at 2-4-1 Indiana.
Syracuse 5-4
Despite their 5-4 record, Syracuse might well have been a top 25 team power-wise. Their losses came to #1 Pitt, #2 Colgate, #15 Michigan by 1 point, and #19 Dartmouth by 5 points. They won 20-13 at 5-3 Tufts, who upset #10 Harvard this season.

Rutgers 3-2-2
3-2-2 Rutgers tied #24 Washington & Lee and 5-2-2 West Virginia (covered below), and they lost to #4 Brown and to #16 Washington & Jefferson by just 3 points in their finale. Unfortunately, they had no notable wins.
West Virginia 5-2-2
5-2-2 West Virginia tied #19 Dartmouth and 3-2-2 Rutgers (covered above), and they lost at #13 Penn by 3 points
and at #25 Navy by 5 points. They defeated 7-2 Virginia Tech 20-0, but struggled to get past little 5-4 Gettysburg 12-6.

Nebraska 6-2
Missouri Valley champion Nebraska lost their finale 20-0 to #12 Notre Dame, but it's their earlier upset loss to 4-5-1 Kansas that denies them their usual spot in the top 25. They defeated 6-1-1 Kansas State 14-0, 5-2-1 Iowa State 3-0, 4-3 Iowa 34-17, and in an unusually far road trip, they went up Northwest to beat 4-5 Oregon State 17-7. There's a good chance that they were a top 25 team power-wise.
Baylor 9-1
9-1 Baylor was this year's champion of the state of Texas, but they received no attention outside of the state, so a top 25 spot would have been highly unlikely in a 1916 AP poll. They took an upset loss 3-0 at home to 7-3 Texas A&M, but they defeated 7-2 Texas and 6-2-1 Texas Christian, both on the road, to bring home the Texas Intercollegiate Athletic Association title for a 2nd straight season. Like #22 Tulsa, Baylor struggled to get by 4-4 Oklahoma State. OSU lost 41-7 to 6-5 Oklahoma, who went 0-3 against the Missouri Valley Conference, none of those opponents being MVC champ Nebraska.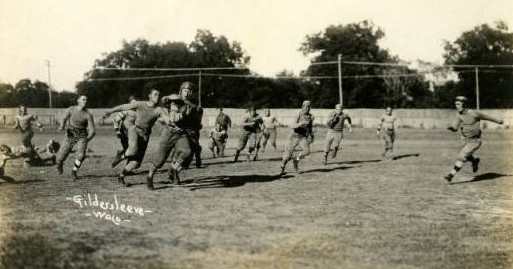 Baylor was coached by Charles "Bubbs" Mosley, a former Baylor player who started coaching the team only a year after he graduated. He went 30-18-4 at Baylor 1914-1919 and won 2 conference titles. The star player was All-State fullback Theron Fouts. He went on to North Texas as coach, then as athletic director, devoting 34 years to the school. Their stadium was named for him until a new one was opened in 2011.

Colorado College 6-1
6-1 Colorado College took their loss by just 14-12 at #23 Colorado State. They routed every other team they played (average score in those games 45-4).
Illinois 3-3-1
3-3-1 Illinois had a highly unusual down year this season, given that they were top 10 in the 2 seasons prior and in the 4 seasons after. They did give #9 Minnesota their only loss 14-9 on the road, probably the biggest upset of the college football season, and they lost to #8 Ohio State by just 1 point. But in their last 2 games, they lost to 3-4 Chicago 20-7 and they were tied by 4-2-1 Wisconsin (who beat no one of value, as covered below), both unrated teams. Their other loss came to #2 Colgate.
Wisconsin 4-2-1
4-2-1 Wisconsin, as noted above, beat no one of value, they lost 14-13 to #8 Ohio State (nice result) and 54-0 at #9 Minnesota (ugly result), and they tied 3-3-1 Illinois (covered above) in their finale. It's quite possible that both Illinois and Wisconsin were top 25 teams power-wise, as that is what the general trends for both teams before and after this season would suggest.
1916 Top 25
1) Pittsburgh 8-0
2) Colgate 8-1
3) Army 9-0
4) Brown 8-1
5) Yale 8-1
6) Oregon 7-0-1
7) Washington 6-0-1
8) Ohio State 7-0
9) Minnesota 6-1
10) Harvard 7-3
11) Princeton 6-2
12) Notre Dame 8-1
13) Pennsylvania 7-3-1
14) Cornell 6-2
15) Michigan 7-2
16) Washington & Jefferson 8-2
17) Georgia Tech 8-0-1
18) Georgetown 9-1
19) Dartmouth 5-2-2
20) Penn State 8-2
21) Tennessee 8-0-1
22) Tulsa 10-0
23) Colorado State 6-0-1
24) Washington & Lee 5-2-2
25) Navy 6-3-1

Others Receiving Votes
:
Vanderbilt 7-1-1
Northwestern 6-1
Syracuse 5-4
Rutgers 3-2-2
West Virginia 5-2-2
Nebraska 6-2
Baylor 9-1
Colorado College 6-1
Illinois 3-3-1
Wisconsin 4-2-1