Top 25 Rankings 1901-1935
1917 National Championship
Home
1917 College Football Top 25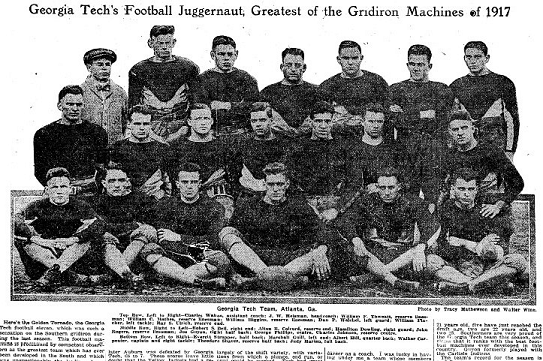 Pictured
above is part of a mid-December 1917 New York Times article declaring 9-0 Georgia Tech the best team in the country. Pittsburgh was 10-0, but Georgia Tech had beaten 9-2 Penn 41-0, while Pitt had beaten them just 14-6, and on that basis, Georgia Tech was widely considered the mythical national champion of 1917. I compared the teams in more detail in my 1917 national championship article.


Georgia Tech #1, Pittsburgh #2.
#3: Ohio State vs. Penn
8-0-1 Ohio State would have been #3 in a 1917 AP poll, and 9-2 Penn would likely have been #4. Penn had a better relevant record, since their losses came to the #1 and #2 teams
, while Ohio State took their tie against a team that will not make this top 25 (6-2-1 Auburn). But Penn only beat one team that will make this top 25 (8-2 Michigan #14), while Ohio State defeated 3 such opponents (5-2 Northwestern #13, 5-2-1 Illinois #10, and 4-2-1 Wisconsin #11), so I think Ohio State will work for #3.

To get an idea how powerful Georgia Tech was this season, in addition to beating #4 Penn 41-0, they beat Auburn, the team that tied #3 Ohio State, 68-7.


Ohio State #3, Penn #4
.
Penn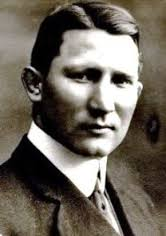 Penn was directed by Bob Folwell (pictured above), who played halfback here 1904-1907, and went 27-10-2 as head coach 1916-1919. He had gone 22-4-1 at Lafayette 1909-1911 and 36-5-3 at Washington & Jefferson 1912-1915, and he would go 24-12-3 at Navy 1920-1924. Overall he was a terrific 109-31-9, which is good enough to place him on the list for best coaching win percentage of all time. He is not in the Hall of Fame, but belongs there ahead of a great many coaches who are.

This was a very talented team. End Henry "Heinie" Miller was a consensus All American, and would repeat as consensus AA in 1919, then go on to a 6 year pro career. Center Lud Wray was a nonconsensus AA who would later co-found the Philadelphia Eagles and become their first coach. Tackle Joseph Strauss and fullback Joseph Berry, Jr. were also nonconsensus AA.
Syracuse, Minnesota, and Rutgers
Coming next in a 1917 AP poll would likely have been 8-1-1 Syracuse, 4-1 Minnesota, and 7-1-1 Rutgers, in that order. Syracuse took their loss to #2 Pitt, and their tie came to a military camp team composed of former college players. They defeated 4 teams that will make this top 25, including Rutgers, so putting them at #5 is a no-brainer. It's Minnesota being rated ahead of Rutgers that's iffy here
.

Minnesota took an upset loss (at 4-2-1 Wisconsin), while Rutgers took an upset tie (6-3-1 West Virginia), so Rutgers was effectively half a game better on the season. However, Wisconsin will be rated #12, West Virginia #18, and Minnesota played Wisconsin on the road, while Rutgers played West Virginia at home. Furthermore, Minnesota defeated 2 teams that will be rated (5-2-1 Illinois and 3-2-1 Chicago) and a third that will be close
(5-2 Indiana), and Rutgers defeated no rated teams.

But that's because the Second Naval Reserve Station team at Newport is not rated, since they were not a college team. That's who Rutgers played in their finale, in front of 12,000 fans in Brooklyn, and Rutgers' 14-0 win over this team of former college all-stars was considered to be a huge upset. Newport had demolished every team they played before this game. Rutgers had no substitutions, and they held Newport to 2 first downs. It was an amazing performance, and because of this, along with Rutgers' better relevant record, the best I can offer the hypothetical AP poll voters of 1917 is a tie.

Syracuse #5, Minnesota and Rutgers tied for #6.
Navy and Brown
Next up for a 1917 AP poll would have been 7-1 Navy, then 8-2 Brown, but we're going to have to reverse the order there. Brown's losses came to #5 Syracuse and to the aforementioned Newport 2nd Naval Reserves juggernaut. Navy's loss, on the other hand, came to 6-3-1 West Virginia, so Brown was effectively a game better on the season. Brown also defeated more teams that will end up rated in this top 25.

I also consider it very dubious that Navy should be rated ahead of 5-2-1 Illinois, but Illinois had a bad finish (last 3 games were their tie and both losses), so I let it go.

Brown #8, Navy #9.
Illinois, Wisconsin, Chicago, Northwestern, and Michigan
Next I'm bringing in this pack of Big 10 teams. It's possible that 7-1 Georgetown, 6-1-1 Notre Dame, and/or 7-1 Army would have been rated ahead of some or all of these teams (they had better straight records than all of them), but I don't think any of them should have been rated higher.

Georgetown took their loss to #9 Navy, but it was ugly (28-7), and Georgetown did not beat a rated team. Notre Dame tied Wisconsin, but they took a loss to 5-2 Nebraska, a team Michigan beat 20-0. And Michigan is the low team on this Big 10 totem pole. Army, in turn, took their loss to Notre Dame. Frankly, Notre Dame belongs ranked behind Nebraska, who beat them.

5-2-1 Illinois started 5-0, including wins over 6-2 Kansas, 6-4-1 Oklahoma, and 4-2-1 Wisconsin. But then they tied 3-2-1 Chicago, and lost to #3 Ohio State and #6 Minnesota. In addition to Illinois, 4-2-1 Wisconsin lost to #3 Ohio State, and they were tied by Notre Dame. But on the plus side, they gave #6 Minnesota their only loss, and they also defeated 3-2-1 Chicago.

3-2-1 Chicago took their 2nd loss to #6 Minnesota, and they tied Illinois. They beat 5-2 Northwestern and they stomped on 5-3 Vanderbilt 48-0. Northwestern took their other loss to #3 Ohio State. They defeated 8-2 Michigan 21-12 in their finale. 8-2 Michigan took their other loss to #4 Penn. They defeated 8-1 Detroit 14-3 and 5-2 Nebraska 20-0.

Ultimately, it all comes down to a simple victory chain

:

Illinois beat Wisconsin, who beat Chicago, who beat Northwestern, who beat Michigan (who beat Nebraska, who beat Notre Dame, who beat Army).

Illinois #10, Wisconsin #11, Chicago #12, Northwestern #13, and Michigan #14.
Northwestern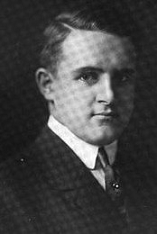 Northwestern was coached by Fred Murphy (pictured), who had played tackle for Yale 1907-1909, winning national championships in 1907 and 1909. He guided Northwestern to 6-1 in 1916 and 5-2 this season, but managed just 16-16-1 here 1914-1918. He moved on to Denver and Kentucky, and overall he was 40-37-4. The star player on this year's team was fullback Bob Koehler, All Big 10 and 2nd team AA on the Chicago Tribune list. He went on to a 7 year pro career.

This was the year the Western Conference became known as the "Big Ten" among the press and the public, as it was the first time the conference had 10 members. Michigan, who had withdrawn from the conference in 1908 in reaction to stricter conference eligibility rules, was back this season, though the only conference game they were playing in 1917 was at Northwestern, the finale for both teams.

Michigan was reminded of why they had left the conference in the first place when, in the week before the Northwestern game, 4 Michigan players were declared ineligible to play due to conference rules. The lost players included Oscar Lambert, their best defensive player, and Archie Weston, their best offensive player, and of course Michigan then went on to lose at Northwestern 21-12.
Nebraska, Notre Dame, and Army
This much is easy. 5-2 Nebraska took their losses to #14 Michigan and #5 Syracuse, and they defeated 6-1-1 Notre Dame, who defeated 7-1 Army. 7-1 Georgetown, who did not beat any rated teams, will have to wait a bit longer for their spot.

Nebraska #15, Notre Dame #16, and Army #17.
Nebraska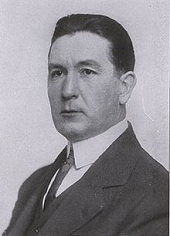 Nebraska was coached by Edward "Doc" Stewart (pictured), who went 11-4 here 1916-1917, winning conference titles both years. In fact, this season was Nebraska's 8th straight Missouri Valley Conference title. Stewart moved on to Clemson, Texas, and UTEP, and overall he was 76-42-14 at 7 schools. On the field, Nebraska had one nonconsensus All American this season, end John Rasmussen.

Winning their weak conference every year was not enough for Nebraska, and this season's non-conference slate was hellaciously ambitious

:

#5 Syracuse, #14 Michigan, and #16 Notre Dame. Less ambitious was a warm-up game against Nebraska Wesleyan, whom they beat 100-0. The conference title was theirs after a 13-3 win at 6-2 Kansas.
West Virginia, Washington & Jefferson, and Georgetown
6-3-1 West Virginia was quite erratic. They gave #9 Navy their only loss and they tied #6 Rutgers, tremendous results, and they lost to #2 Pitt by just 5 points. But they also took upset losses to a pair of unrated teams, 5-3 Dartmouth and 5-2 West Virginia Wesleyan (the latter by a score of 20-0). Back on the plus side, they beat 6-2-1 Virginia Tech 27-3, 6-2-1 North Carolina State 21-0, and most importantly, they beat 7-3 Washington & Jefferson 7-0 on the road
.

7-3 Washington & Jefferson took their other losses to #2 Pitt and #16 Notre Dame by 3 points each. I'm going to bring 7-1 Georgetown in behind them for the following reasons

:



West Virginia #18, Washington & Jefferson #19, Georgetown #20.
Texas A&M, Washington State, Colgate, Denver, and Boston College
Next we have a pair of token teams, 8-0 Texas A&M, the champion of the Southwest, and 6-0-1 Washington State, the champion of the West Coast. I don't know which would have been rated higher, as A&M had the better record, but WSU was better known due to a Rose Bowl win over Brown following the 1915 season. WSU's tie came against a military camp team, so tells us nothing about them. But I'll go with A&M here, as their 10-0 win at 7-1 Rice in their finale was more impressive than any of WSU's wins (the best of which came 6-0 at 4-2-1 Oregon State).

We have another token team, 9-0 Denver University, Rocky Mountain champs, but they were almost completely ignored by the national press this season, and I suspect that most writers would have known nothing about them until they read the football annuals after the season. Furthermore, Denver repeatedly struggled to beat mediocre-to-bad teams, including an egregious 20-19 win at 0-8-1 Tulsa, a team that lost to Oklahoma State by 39 and to Oklahoma by 80 over the following 2 weeks. And Oklahoma State and Oklahoma were nowhere near top 25 material themselves.

9-0 is 9-0, and likely would have attracted enough writers to get Denver into the bottom of a top 25, but I'm going to bring 4-2 Colgate in ahead of them. Colgate was certainly better known. Their losses came to #5 Syracuse and #8 Brown, and though they didn't beat any good teams, neither did Denver, and unlike Denver, Colgate's wins all came by big scores.

Our last slot in this top 25 goes to 6-2 Boston College. Their losses came to #8 Brown and #17 Army. They beat one near-rated team (3-3 Tufts), but for the most part they look a lot like Colgate. But Colgate was coming off a national championship contending season in 1916, and was thus better known. BC was considered a mid-major or even a minor team at this time, which is why I think Denver would have been rated higher, as a token Rocky Mountain team.

In fact, there's a very good chance that 5-3 Dartmouth would have gotten this slot over 6-2 Boston College in a 1917 AP poll. Dartmouth beat #18 West Virginia, but they also lost to unrated 3-3 Tufts, and by a score of 27-0. BC beat Tufts 20-0. And Dartmouth's 3 losses were their last 3 games, the finale coming 13-0 against Brown. BC lost to Brown by just 5 points. So I can't see rating Dartmouth ahead of BC at all.

Texas A&M #21, Washington State #22, Colgate #23, Denver #24, and Boston College #25.
Others Receiving Votes
Here are the teams closest to making this top 25. 2-0 Princeton and 3-0 Yale were too withdrawn from major football play, due to the impending world war, to be considered. Similarly, 8-0-1 Marquette and 7-0-1 Williams played schedules that were too distant from major football play for them to be considered.
Dartmouth 5-3
5-3 Dartmouth upset #18 West Virginia, but they dropped their last 3 games to #4 Penn, #8 Brown, and most damagingly, to unrated 3-3 Tufts (discussed below) by a score of 27-0.
Lehigh 7-2
7-2 Lehigh took their losses to #2 Pitt and #20 Georgetown, neither game close. They beat 5-4 Penn State 9-0, and they rolled up 78 points on rival Lafayette in their finale.
Washington & Lee 4-3
Based in Virginia, 4-3 Washington & Lee was the second best team in the South this season behind #1 Georgia Tech. Their losses came to #1 Georgia Tech (63-0), #19 Washington & Jefferson, and #20 Georgetown. They beat 6-2-1 North Carolina State 28-7, and they scored 118 points on Roanoke.

Rice 7-1
7-1 Rice won easily over every team they played this season until a 10-0 loss to #21 Texas A&M at home in their finale. They won 26-0 over 8-2 TCU and 16-0 at 5-3 Tulane.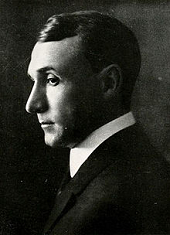 Rice was coached by Phil Arbuckle (pictured), who became the school's first-ever football coach in 1912. He would guide them to 8-1 in 1919, and in all he went 51-25-8 at Rice 1912-1923, giving him the highest winning percentage of any football coach in Rice's history. Throw in a couple of losing stints at Southwestern (Texas) and Louisiana Tech, and his total was 60-44-14.
Kansas 6-2
6-2 Kansas took their losses to #10 Illinois and #15 Nebraska. They defeated 5-2 Iowa State, 6-2 Kansas State, and 6-4-1 Oklahoma
.

Kansas was coached by Herman Olcott, who had played center for Yale 1900-1901, winning a national championship in 1900. He was 16-7-1 here 1915-1917, and overall he was 45-30-11 at 3 schools.

Detroit 8-1
8-1 Detroit took their loss 14-3 at #14 Michigan. They beat no one of value, but no one else got close to them, and they annihilated Toledo 145-0.
Indiana 5-2
5-2 Indiana was trounced by #3 Ohio State and #6 Minnesota. Like Detroit, they beat no one of value, but all their wins came by huge scores.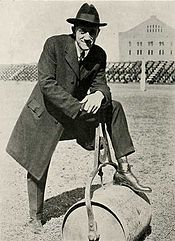 Indiana was coached by Ewald "Jumbo" Stiehm, and his teams were often called the Stiehm-Rollers, here and in previous years at Nebraska (thus the picture of him above posing with a stream roller). He had played center for Wisconsin 1906-1908, and had made a name for himself as coach at Nebraska 1911-1915, winning conference titles every year and going an amazing 35-2-3. Indiana hired him away in 1916 to do the same for them, but he was unable to replicate his Nebraska success. Still, he did go 20-18-1 here 1916-1921, making him one of the few football coaches in Indiana history to manage a winning record. Overall, Stiehm was 59-23-4 at 3 schools.

Indiana was led on the field by all-conference center Russell Hathaway, who would go on to a 7 year pro career. Indiana's 32.1 points per game this season stood as a school record all the way to 1988! Indiana didn't beat anyone who was particularly good this year, but their finale at rival Purdue was pretty big, not just because it was a rivalry, but because of how it all went down.

On the Monday before the game, Purdue demanded that Indiana declare 2 of their starters ineligible, one for playing a pro game, and one for playing baseball at Creighton the previous season, for which he should sit out a year after transferring. Purdue was correct, but they had purposefully waited until this week to say anything, and Indiana players therefore refused to play the game. Only 12 players had shown up for practice for Indiana at the beginning of the season, and only 14 were on the roster by this point, so losing a pair of starters was quite a blow.

Indiana did not practice all week, but on Thursday the school president implored them to play the game for Indiana's honor, and the players voted again, this time agreeing to go ahead and play the game. Everyone was smoke-snorting mad, and Stiehm's pregame speech sent them into a frenzy, resulting in a 37-0 whipping of Purdue. Still, resentment lingered, and Indiana would not play Purdue again until 1920. The series has continued unabated since then.

Tufts 3-3
Little 3-3 Tufts took their losses to #5 Syracuse, #17 Army, and #25 Boston College, all by big scores, but they make this list because they romped 5-3 Dartmouth (covered above) 27-0. This wasn't the first time Tufts made news

:

they had upset a powerful Harvard team the previous season.
1917 Top 25
1) Georgia Tech 9-0
2) Pittsburgh 10-0
3) Ohio State 8-0-1
4) Pennsylvania 9-2
5) Syracuse 8-1-1
6) Minnesota 4-1
Rutgers 7-1-1
8) Brown 8-2
9) Navy 7-1
10)
Illinois 5-2-1
11) Wisconsin 4-2-1
12) Chicago 3-2-1
13) Northwestern 5-2
14) Michigan 8-2
15) Nebraska 5-2
16) Notre Dame 6-1-1
17) Army 7-1
18) West Virginia 6-3-1
19) Washington & Jefferson 7-3
20) Georgetown 7-1
21) Texas A&M 8-0
22) Washington State 6-0-1
23) Colgate 4-2
24) Denver 9-0
25) Boston College 6-2

Others Receiving Votes
:
Dartmouth 5-3
Lehigh 7-2
Washington & Lee 4-3
Rice 7-1
Kansas 6-2
Detroit 8-1
Indiana 5-2
Tufts 3-3