Home
1917 College Football National Championship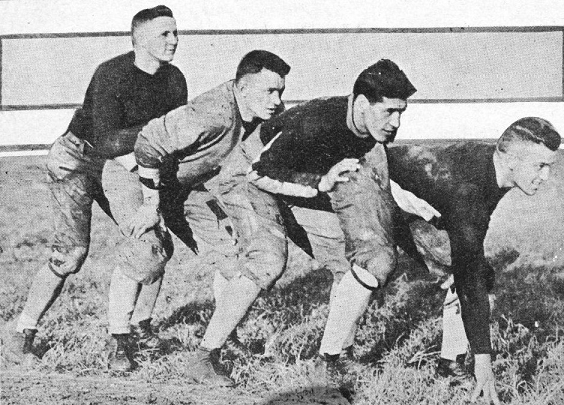 Georgia Tech's great 1917 backfield

:

(left to right) halfback Everett Strupper, fullback Judy Harlan, halfback Joe Guyon, and quarterback Albert Hill. This quartet makes the short list for greatest single platoon backfield of all time, joining Carlisle 1912, Notre Dame 1924, and Army 1945. Interestingly, Joe Guyon also started in that 1912 Carlisle backfield.

Called the "Golden Tornado" at the time, 9-0 Georgia Tech blew away every opponent, outscoring them 491-17, but the big win came 41-0 over 9-2 Penn, whom 10-0 Pittsburgh only beat 14-6. Georgia Tech was hailed far and wide as the best team of 1917, and time has done nothing to dim that view
, because they are a unanimous choice for 1917 national champion amongst organizations and computer programs listed in the NCAA Records Book, all of whom made the selection long after 1917. In fact, this Georgia Tech team is widely considered one of the best teams of all time.

However, while there's no doubt that Georgia Tech belongs on the mythical throne for 1917, it is still worth taking a look at 10-0 Pitt, the consensus mythical national champion (MNC) the year before and the year after this, to see if they deserve a share of the 1917 MNC as well. After all, Georgia Tech played just one team that would have finished in an AP poll's top 25 in 1917, while Pitt played 4, and 2 of them would have been top 5. And in 1918, the two teams did play each other, and Pitt handed Georgia Tech their only loss 32-0.

Those are our only contenders for 1917, but 8-0-1 Ohio State made a serious run at it until they were derailed in a shocking upset at season's end. Led by superstar halfback Chic Harley, OSU had routed all their conference opponents, and the Western Conference (Big 10) was very strong this season. A New York paper rated 4 of them in their national top 13, and I believe 6 of them would have made a national AP poll's top 25. Then Ohio State played a charity game against 6-2-1 Auburn in Montgomery, and Auburn tied them 0-0. Ohio State lost because Chic Harley uncharacteristically missed on a couple of field goal attempts, but for a little perspective, Georgia Tech beat Auburn 68-7 just five days later.

So was the Big 10 overrated and the South underrated? I doubt it. 3-2-1 Chicago beat 5-3 Vanderbilt 48-0. Auburn lost 21-7 to Davidson, who lost 27-6 to 7-1 Navy. Davidson was also edged out by 6-2-1 Virginia Tech and 6-2-1 North Carolina State, who took their losses to Washington & Lee, West Virginia, and Georgetown, all in routs. Outside of Georgia Tech, the South was weak as usual this season. Meanwhile, 4-2-1 Wisconsin tied 6-1-1 Notre Dame, who beat 7-1 Army. 5-2-1 Illinois beat 6-2 Kansas, and 8-2 Michigan beat 5-2 Nebraska (who beat Notre Dame) and 8-1 Detroit. The Big 10 went 30-4-2 against nonconference foes, 3 losses taken by last place Iowa. All of which makes Auburn's tie of Ohio State all the more remarkable.

As usual, the Southwest produced an unbeaten and untied team this year. It had been 8-0 Texas in 1914, 10-0 Oklahoma in 1915, 10-0 Tulsa in 1916, and this time it was 8-0 Texas A&M's turn. The region's championship came down to the finale, as 7-0 Texas A&M visited 7-0 Rice and prevailed 10-0. The Southwest would continue to produce teams with perfect records for the following 3 seasons as well

:

9-0 Texas and 6-0 Oklahoma in 1918, 10-0 Texas A&M in 1919, and 9-0 Texas in 1920.

The final team worth mention here, if barely, is Rocky Mountain champion Denver, who staggered their way to 9-0 in a series of close wins over weak opponents. Least impressive of these was a 20-19 decision at 0-8-1 Tulsa.


All rankings in the following article, except as noted, come from my 1917 top 25, which is based on a hypothetical post-bowl AP poll (within logical reason of course)
.
Pittsburgh 1917
| | | |
| --- | --- | --- |
| at West Virginia (6-3-1) | 14-9 | #18 |
| Bethany (WV) | 40-0 | |
| Lehigh (7-2) | 41-0 | (#26-33) |
| Syracuse (8-1-1) | 28-0 | #5 |
| at Penn (9-2) | 14-6 | #4 |
| Westminster (2-7) | 25-0 | |
| Washington & Jefferson (7-3) | 13-10 | #19 |
| Carnegie (2-3-1) | 27-0 | |
| Penn State (5-4) | 28-6 | |
| Camp Lee | 30-0 | |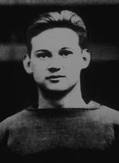 I summarized previous Pittsburgh teams in my national championship articles for 1904, 1910, 1915, and 1916, and I covered their Hall of Fame coach, Pop Warner, in the 1915 piece. This was not at all the same Pitt team as the 1916 MNC edition, because they lost all 5 of their All Americans from the previous season

:

center Bob Peck, end Pat Herron, tackle Tiny Thornhill, and halfbacks Andy Hastings and James DeHart. The losses of Peck and Hastings were most keenly felt. Peck was probably the best center of this decade, a man that could block multiple defenders, and who had been the defensive star as well. Hastings had been the team's leading scorer for 3 straight years, and Pitt found no replacement this season for either his open field running or his kicking. In fact, Pitt did not successfully kick a single field goal in any of their games that mattered this year.


Pitt had 2 consensus All Americans this season, guards Dale Sies and Jock Sutherland. Sies was also the punter, and Sutherland later became a Hall of Fame coach at Lafayette and Pitt, winning as many as 5 national championships. Two more players were nonconsensus AA, end Clifford Carlson and
fullback George "Tank" McLaren
(pictured). Carlson was the captain, earned 4 letters each in football, basketball, and baseball, and later became a Hall of Fame basketball coach at Pitt. McLaren would be consensus AA in 1918, and he is in the Hall of Fame as a player.
New halfback Katy Easterday would be a nonconsensus AA in 1918, but he had little impact on the offense this season, especially compared to the previous season's star halfback, Andy Hastings. As such, the 1917 Pitt offense depended almost entirely on fullback Tank McLaren (pictured), at least in the games that mattered. A strict line plunger, McLaren pounded his way to 782 yards and 13 touchdowns this season, the highlight being a 91 yard touchdown against Syracuse that is still Pitt's school record for longest run-- and this is the school where Tony Dorsett played.

10-0 Pitt outscored their opponents 260-31, and though their defense performed as well as ever, their offense scored about a touchdown less per game than it had the previous 2 seasons, and they found themselves in a couple of very close games, whereas they had only been threatened once in 1916.
Pittsburgh's Season
With all the new faces, it is surprising that Pitt chose to forego the usual opening day patsy, but forego they did, launching their season with a road trip to play a good West Virginia team instead. The Pitt offense consisted almost entirely of Tank McLaren line plunges, and he scored 2 touchdowns for a 14-0 halftime lead. But that must have tired him out, because Pitt produced little offense and no scoring threats in the second half. West Virginia had trouble moving the ball themselves, but they fought back into contention with breaks in the kicking game, knocking a Pitt punt returner back into the end zone for a safety in the 3rd quarter and blocking a punt for a touchdown in the 4th. That closed the gap to 14-9, and late in the game, they finally mounted a promising drive, but time was called as they were marching toward the Pitt goal, leaving them close but cigarless.


West Virginia finished 6-3-1, but they were surprisingly strong against a very tough schedule this year, beating 7-1 Navy, 6-2-1 Virginia Tech, 7-3 Washington & Jefferson, and 6-2-1 North Carolina State, and they tied highly esteemed 7-1-1 Rutgers. I have West Virginia ranked #18 for 1917
.

The heart of Pittsburgh's season was a pair of consecutive games against top 5 caliber opponents in late October. First up was a home date with Syracuse, whom they had beaten 30-0 the previous season, and they nearly matched that this year with a 28-0 win, scoring a touchdown in each quarter. McLaren scored the first 3, and Pitt added a fumble return touchdown in the 4th. Despite the ease with which Pitt won, Syracuse was quite powerful this season, going 8-1-1 and beating 7-1-1 Rutgers, 8-2 Brown, 4-2 Colgate, and 5-2 Nebraska. They would have likely finished ranked 5th in an AP poll for 1917.


Next up was a trip to rival Penn, who had already lost at Georgia Tech 41-0. Pop Warner and his team were thus well aware that their outcome against Penn would be compared to Georgia Tech's, and that the comparison would figure prominently in the public's perception of the nation's best team at season's end. The pressure was on for Pitt to not only win, but to dominate. However, it was Penn that dominated in the first half, threatening the goal line 3 times to Pitt's once. But all threats came up empty, and it was 0-0 at the half. Pitt took control of the game in the 3rd quarter on 2 big plays

:

Clifford Carlson caught a long touchdown pass to break the scoreless tie, and soon thereafter Pitt blocked a punt and recovered the ball at the Penn 2, setting up a McLaren touchdown. Pitt dominated the 2nd half, and by game's end they had greatly outrushed Penn, but Penn intercepted a late McLaren pass and returned it to the Pitt 8, setting up a touchdown with 3 minutes to go to avoid a shutout and close the scoring at 14-6.

Penn won out to finish 9-2, including a 16-0 win over 8-2 Michigan, and they would have likely finished ranked 4th in an AP poll.

Pitt's schedule eased up quite a bit after that, but they found themselves in a dogfight 2 weeks later against Washington & Jefferson, a game that resembled their opener at West Virginia. W&J kicked a field goal for an early 3-0 advantage, but Pitt quarterback Foxy Miller responded with a 15 yard touchdown run to take the lead, then McLaren added another touchdown in the 2nd quarter to make it 13-3 at halftime. However, W&J outplayed Pitt the rest of the way. They scored a touchdown early in the 3rd quarter, set up by a 55 yard run, and the extra point closed the gap to 13-10. Later they lined up for a 28 yard field goal to tie, but the kick fell just under the crossbar, and that was that. Pitt drove to the W&J 1 yard line in the 4th quarter, where they lost the ball on downs.

Washington & Jefferson finished 7-3, and I have them ranked #19 for 1917. Pitt was unchallenged in the rest of their games.
Georgia Tech 1917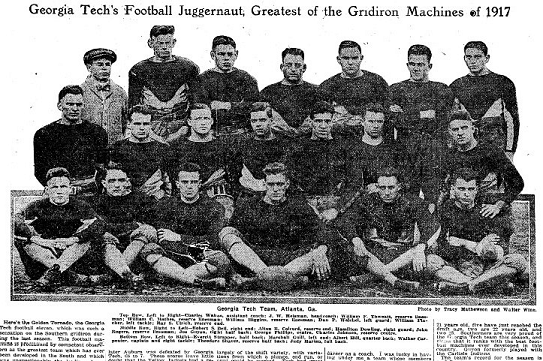 | | | |
| --- | --- | --- |
| Furman (3-5) | 25-0 | |
| Wake Forest (1-6-1) | 33-0 | |
| Penn (9-2) | 41-0 | #4 |
| Davidson (6-4) | 32-10 | |
| Washington & Lee (4-3) | 63-0 | (#26-33) |
| Vanderbilt (5-3) | 83-0 | |
| at Tulane (5-3) | 48-0 | |
| Carlisle (3-6) | 98-0 | |
| Auburn (6-2-1) | 68-7 | |
The above newspaper clipping is part of a mid-December 1917 New York Times article declaring 9-0 Georgia Tech the best team in the country. The "Golden Tornado" was developed by Hall of Fame head coach John Heisman
. Of all the great coaches from before WWI, Heisman's name is the best known today because of the famous trophy that still bears it. Johnny Heisman, as he was known then, had played at Brown, then Penn 1887-1891. After coaching stints at Auburn and Clemson, he took the wheel at Georgia Tech in 1904, the same year hall of famers Dan McGugin and Mike Donahue started coaching at Vanderbilt and Auburn, but it took Heisman a long time to catch up with those 2, as he was 0-3 against Vanderbilt and 1-9 against Auburn, as well as 3-5-1 against Southern power Sewanee, in his first 11 years at Georgia Tech.

But things took off in his 12th year at the helm, and though he coached for 37 years at 8 schools, Johnny Heisman's great fame was really built on just a 4 year window 1915-1918, during which Georgia Tech went 30-1-2 and ran up massive scores, including the college football record of 222 against Cumberland in 1916. They went 7-0-1 in 1915 and 8-0-1 in 1916 before busting through for 9-0 in 1917 by huge scores in every game. In 1918, they were winning by even huger scores, including 118-0, 123-0, and 128-0, but they accepted a challenge to come play in late November at Pittsburgh, who also had not lost since 1914, and the Golden Tornado was humiliated 32-0 to end their run. Pittsburgh's run would end the following week.

John Heisman went 102-29-7 at Georgia Tech 1904-1919, and 186-70-18 in his long career. He invented the center snap and was an early proponent of legalizing the forward pass. The famous "jump shift" offense he developed at Georgia Tech, responsible for their sudden surge 1915-1918, was a more complex version of the shift invented by Henry Williams at Minnesota, and it had a big influence on college football offenses post-WWI.

Georgia Tech's Team
Georgia Tech was loaded this year, but the star was Hall of Fame halfback Everett Strupper. Strupper was the team's only consensus All American, a good example of the bias of the selectors at the time (Eastern champion Pitt and Western champion Ohio State each had 2 consensus AA). He had been nonconsensus AA in 1916, scoring 8 touchdowns in that 222-0 annihilation of Cumberland. He was deaf, and so called the signals since he couldn't hear them from someone else. He was also rather small, and though accounts vary as to his size, his coach asserted in later years that he was 5' 7" and weighed 148 pounds. But he was very difficult to catch hold of in the open field. College football historian Bernie McCarty combed through various sources to piece together Strupper's game stats, and found them for 7 of GT's 9 games

:

99 carries for 1002 yards (10.1 average). He totaled 20 touchdowns for the season. Georgia Tech was 24-0-2 during Strupper's years, 1915-1917.

Tech's other halfback, Joe Guyon, is also in the Hall of Fame, and more than anything else, it was his arrival in 1917 that pushed Georgia Tech from best in the South to best in the nation. Guyon had played for Pittsburgh coach Pop Warner at Carlisle in 1912, alongside Jim Thorpe, and in 1913, when he was a nonconsensus AA. He was the best man at Jim Thorpe's wedding. He scored 15 touchdowns for Georgia Tech this season, but he was more than another great runner. Much bigger than Strupper at 5' 11" and 190 pounds, Guyon was incredibly versatile-- a powerful runner, tremendous blocker, and great passer. He also handled the punting, and in 1918 he even played the tackle position as well as occasional turns at halfback, and in fact he was selected as a consensus AA at tackle that season. Guyon played pro football for 9 years, joining his old Carlisle teammate Jim Thorpe with the Canton Bulldogs in 1919 and 1920 and winning an NFL title with the New York Giants in 1927, and he is in the pro as well as college football Hall of Fame.

Quarterback Albert "Buster" Hill was Georgia Tech's line plunger, so he got the most carries and piled up 22 short-yardage touchdowns to lead the nation. There was little left for freshman fullback Judy Harlan to do in this loaded backfield except block, but he was an excellent defensive back, returning a couple of interceptions for touchdowns. He joined the Navy after this season, and played for the Cleveland Naval Reserves team that gave Pitt their only loss in 1918-- a week after Pitt did the same to Georgia Tech. After the war, he returned to Tech and eventually became team captain in 1921, making 3rd team on Walter Camp's AA list.

Blocking for the Golden Tornado's pair of Hall of Fame halfbacks were a pair of Hall of Fame tackles, Bill Fincher and Walker "Big Six" Carpenter. Fincher would move to end the next season, and was selected as a consensus AA in 1918 and 1920. He had a false eye that he had to take out before each game. Carpenter is not actually in the National Football Foundation Hall of Fame, which is the one we all know today, and the one I generally mean when I refer to players and coaches being Hall of Famers. But he was inducted into the now defunct Helms Foundation Hall of Fame. A nonconsensus AA this season, he was the team captain, and played at end as well as tackle.

Center George "Pup" Phillips would move to guard in later years, and was selected as a nonconsensus AA in 1919.
Georgia Tech's Season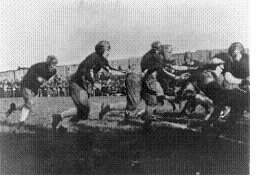 Georgia Tech defeated their opponents by an average score of 55-2, the closest game a 32-10 win over Davidson, the only team to score a touchdown on Tech and to hold all of their backs under 100 yards. But GT still totaled 236 yards on 55 carries, and Judy Harlan returned an interception 40 yards for a touchdown
. Although they only finished 6-4, Davidson was one of the strongest teams in the South this season, beating 6-2-1 Auburn 21-7. Davidson lost close games to mid-Atlantic teams 6-2-1 Virginia Tech and 6-2-1 North Carolina State, and they were routed 27-6 by 7-1 Navy.
But the only game that mattered this season took place a week earlier, against Heisman's alma mater, Eastern power Penn. The largest crowd to ever see a game in the South was on hand

:

20-25 thousand, including 3000 soldiers from nearby training camps. Penn players came into the game speaking of it as a "practice" match for the "important" games later in the season, and they were taken completely by surprise, overwhelmed by Georgia Tech's "jump shift" offense from the start. Everett Strupper had a 70 yard touchdown run early, and Tech led 20-0 at half, outgaining Penn 276 yards to 11. For the game, Strupper totaled 173 yards on 13 carries, scoring 2 touchdowns. Line plunger Buster Hill churned out 104 yards on 27 carries, scoring 3 touchdowns, and Harlan returned an interception 66 yards for another touchdown. The final score of 41-0 widened eyes across the country.
This game was crucial, because Penn was the only top 25 caliber opponent Georgia Tech played this season. And Penn was more than top 25 caliber. They finished 9-2, losing to 10-0 Pitt by only 14-6, and would have likely finished ranked 4th in an AP poll this season.

The magnitude of the victory may go to explain the "lackluster" 22 point win over Davidson the next week. Georgia Tech proceeded to beat Washington & Lee (4-3) 63-0, Vanderbilt (5-3) 83-0, and Auburn (6-2-1) 68-7, all decent teams. And Auburn, of course, had tied Western Conference champion 8-0-1 Ohio State the week before the Golden Tornado blew them away.
Pittsburgh vs. Georgia Tech
Here are the significant games for the 2 contenders in 1917.
The opponent rankings
come from my 1917 top 25, which is based on a hypothetical post-bowl AP poll (within logical reason of course)
.
Pittsburgh 10-0
Georgia Tech 9-0


| | | |
| --- | --- | --- |
| at West Virginia (6-3-1) | 14-9 | #18 |
| Lehigh (7-2) | 41-0 | (#26-33) |
| Syracuse (8-1-1) | 28-0 | #5 |
| at Penn (9-2) | 14-6 | #4 |
| Washington & Jefferson (7-3) | 13-10 | #19 |

| | | |
| --- | --- | --- |
| Penn (9-2) | 41-0 | #4 |
| Washington & Lee (4-3) | 63-0 | (#26-33) |

Pittsburgh defeated their other opponents by an average of 30-1, while Georgia Tech defeated the rest of theirs by an average of 55-3.

Obviously Georgia Tech vastly outperformed Pitt, and should be #1 in any competent ranking of the top teams of 1917. However, Pitt went 10-0 against a

far

tougher schedule, and they did beat Georgia Tech 32-0 in 1918, and that Tech team looked even more impressive than this one, winning the rest of their games by an average score of 78-0. Should Pitt be considered a co-champion for 1917?

What Happened in 1918
Of course, what happened in 1918, stays in 1918.

Actually, I would find Pitt's big win over Georgia Tech in 1918 fairly compelling if both teams had practically the same lineups as they did in 1917. But they were not even close. Tech returned just 2 starters in 1918 (Fincher and Guyon), so they were not at all the same team. And Pitt added a hall of fame halfback, Tom Davies, to the mix in 1918, giving them 3 things they sorely lacked in 1917

:

a dangerous open field runner to complement their great fullback McLaren, a field goal kicker, and an ace kick returner. In the 1918 game, Georgia Tech stopped McLaren's line plunges cold-- and that was nearly all the offense Pitt had in 1917. But Tom Davies was around in 1918 to score 2 touchdowns on punt returns and throw for 2 more.

Still... 32-0. Georgia Tech had been putting up gigantic scores on everyone for 4 years, including all their other games in 1918. This wasn't just Pitt beating Georgia Tech. It was Pop Warner solving and stifling John Heisman's "jump shift" offensive system. And the coaches

were

the same in 1918 as they had been in 1917. So I won't call the 1918 game meaningless... just nearly meaningless.

Comparative Scores
The big thing for national championship selectors, then and now, is the fact that Georgia Tech beat Penn 41-0, while Pitt only beat them 14-6. However, those games were not quite equitable. For one thing, Tech played Penn at home, while Pitt played them on the road. And Penn simply did not take Georgia Tech seriously, whereas they expected Pitt to be their toughest opponent

:

Penn had been pointing at their game with Pitt all year. The performance difference between Tech and Pitt in their games against Penn was massive, but if this was the only difference between the 2 teams, I'd definitely split the mythical national championship (MNC) between them.

The bigger problem for Pitt, I think, is those very close games against West Virginia and Washington & Jefferson, 2 teams that were good, but not at all top 10 caliber. West Virginia beat Carlisle 21-0, and Georgia Tech beat Carlisle 98-0. But West Virginia was another road game for Pitt (Georgia Tech did not play a strong team on the road), and it was also their opener, so I suppose a close game there might be forgiven.

However, the Washington & Jefferson game is the final nail in Pitt 1917's coffin. That game came late in the season, at home, and with games against patsies before and after it. Yet Pitt only won because W&J just missed on a late 28 yard field goal try. Washington & Jefferson beat Washington & Lee 12-0, and Georgia Tech beat Washington & Lee 63-0.

The comparative scores aren't really the issue here. It's the fact that Pitt barely survived against a pair of teams that were #18 and #19 for the season, something no one believes could possibly have happened to this year's Georgia Tech team. The comparative scores are just hella convincing icing on the cake.

Pittsburgh vs. Georgia Tech Conclusion
Pittsburgh was unbeaten and untied, and they defeated 4 top 25 caliber teams and another 2 who were close, including 2 top 5 teams they beat by more than a touchdown each, giving one of them their only loss 28-0. That definitely sounds like a national championship season, and would qualify practically every year. But the MNC is a moving target, and Georgia Tech set the bar very high this season. In many years, a team could take a loss or tie (or both) and still win an MNC

;

in 2007, a team won it all with 2 losses. In many other years, a loss ends contention. And a high jumper can win one track meet with a best jump of 7 feet, then lose the next with the same best jump.
Georgia Tech was perfect, and playing a tougher schedule, Pitt just needed to be close to perfect. But West Virginia was strike 1, Penn was strike 2, and Washington & Jefferson was strike 3 looking at a fat 70 mph pitch right through the middle of the strike zone. Pitt's out.
Awards Ceremony
1917 #1:

9-0 Georgia Tech


National Co-champion:

None


Contender:

10-0 Pittsburgh

These are the awards I have been handing out for each season, except seasons when there are no contenders. For this purpose, what I mean by a contender is a team that I think is very close to being worthy of sharing the national championship. A team that you could make an argument for, even if that argument is weak. But the contenders are teams that I myself do not see as national champions.

Pitt was close, but as they say, "Close only counts in horseshoes." And when the other team has a ringer, close doesn't even count there.
Grading the Selectors
I have been grading the NCAA Records Book's selectors for each season, and keeping a grade point average, so we can see who is relatively good at selecting national champions and who is not. And although I do not consider computer ratings to be legitimate national championship selectors, I have been including them in this section as well, just for comparison's sake.
I am grading on a scale of 0-5 (5 being the best).


Parke Davis did not select a team for 1917 or 1918, presumably because of the effect of WWI on college football. Harvard suspended football in 1917, and Princeton and Yale played 5 games total, none against real opponents. And for some, college football just wasn't college football without the Big Three.

Everyone else selected Georgia Tech.

Grade:

5.0



Grade Averages 1901-1917

:



| | |
| --- | --- |
| 1) Houlgate (math system) | 4.4 |
| 2) Helms | 4.3 |
| 3) Parke Davis | 4.2 |
| 4) National Championship Foundation | 3.61 |
| 5) Billingsley (math) | 3.60 |