Home
1913 College Football National Championship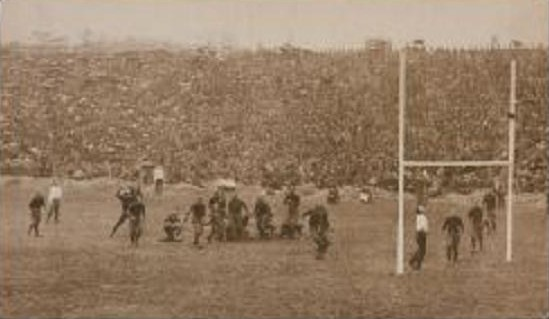 Pictured above is Harvard's field goal that beat Princeton 3-0. You can see the ball going through, in front of the upright on the right. This was Harvard's only close game in a perfect season, the second straight year they finished 9-0, and they almost certainly would have finished #1 had there been an AP poll in 1913.


Latter-day MNC selectors agree-- here is how the "major selectors" listed in the NCAA Records Book, all selecting long after the fact, see the 1913 college football national championship (omitting math/computer ratings, which neither I nor anyone else recognize as constituting titles)

:


Harvard

:

Helms
, National Championship Foundation,
Parke Davis
(tie)
Chicago

:
Parke Davis
(tie)

You can click on the selector to read my review of that person or organization.

Parke Davis hit a bullseye with his tie, because Harvard and Chicago are the best candidates, but like the 1911 season, 1913 features a large field of contenders. One big difference, however, is that in 1911, 4 contenders were from the East and 1 from the West, whereas in 1913 that was reversed-- 4 contenders from the West and 1 from the East. The other Western contenders in 1913 are 7-0 Notre Dame, 8-0 Nebraska, and 7-0 Michigan State.

1913 was a huge year for the West, as their major teams went 5-0 against major teams from the East. The biggest of these was Notre Dame's famous 35-13 shelling of 8-1 Army. Far less impressive was Notre Dame's 14-7 win at 2-6 Penn State. 6-1 Michigan, who took their only loss to Michigan State, notched the West's other three victories, beating Syracuse 43-7, Cornell 17-0, and Penn 13-0.

The South also produced a strong team, 8-0 Auburn, and in fact Billingsley's computer has them #1 for 1913. And 7-0 Washington, as usual, went perfect in the Pacific Northwest.

But as I said, Harvard and Chicago are the best candidates, so I will focus on them first. After I compare those 2, I will discuss Notre Dame, Nebraska, and Michigan State, compare the 3, and discuss their mythical national championship (MNC) qualifications. After that, I will discuss Auburn, the South in general, and Auburn's case for sharing an MNC. If I still have any energy left after that, I will briefly discuss Washington. So, that's a big menu. Let's get to it...


All rankings in the following article, except as noted, come from my 1913 top 25, which is based on a hypothetical post-bowl AP poll (within logical reason of course)
.
Harvard 1913
| | | |
| --- | --- | --- |
| Maine (5-2-1) | 34-0 | (#26) |
| Bates (1-5) | 14-0 | |
| Williams | 23-3 | |
| Holy Cross (3-6) | 47-7 | |
| Penn State (2-6) | 29-0 | |
| Cornell (5-4-1) | 23-6 | #17 |
| at Princeton (5-2-1) | 3-0 | #15 |
| Brown (4-5) | 37-0 | |
| Yale (5-2-3) | 15-5 | #16 |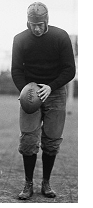 Harvard had previously won mythical national championships in
1901, 1908, 1910
, and
1912
, so they came into 1913 as the defending MNC. Hall of Famer Percy Haughton was the coach for their last three MNCs, and I covered him in the linked 1908 article. 1913 gives him his fourth imaginary crown.

Harvard's only real loss from the 1912 team was Hall of Fame end/punter Sam Felton, but they gained another Hall of Famer this season in halfback Eddie Mahan (pictured at left), one of the greatest backs of the pre-WWI era. Jim Thorpe called him the greatest player of all time, and through the 1950s he was considered to be in the Thorpe-Grange-Heston category of backs. He became an immediate star, scoring 2 touchdowns against Maine in his first game, one a 67 yarder. Another Hall of Famer, Huntington Hardwick, was moved to end to make room in the backfield for Mahan.

Harvard had 4 consensus All Americans this season

:

Mahan, tackle/punter Harvey Hitchcock, guard Stan Pennock, and halfback/fullback/kicker Charles Brickley. Two more players were nonconsensus AA, and another two would be consensus AA in 1914
.

Harvard's schedule was drastically easier in 1913 than it had been in 1912, as they played half as many top 25 caliber teams this year, and none were top 10. So Harvard waltzed through their schedule but for one close win at Princeton. The significant wins other than that were 34-0 in their opener against Maine (5-2-1, nearly rated), 23-6 over Cornell (5-4-1, #17), and 15-5 in their finale against Yale (5-2-3, #16). 44,000 watched Charles Brickley kick 5 field goals against Yale, giving Harvard consecutive wins in the series for the first time in 38 years.

The game at Princeton (5-2-1, #15) was rendered close by rain and mud. Both teams played very conservatively with the wet ball, resting on punting and defense and waiting for the big break. That break went to Harvard in the second quarter on a blocked punt recovered by Harvey Hitchcock at the Princeton 19, setting up Charles Brickley's 20 yard field goal (as pictured at the top of this article), the only score of the game. Only Harvard was able to advance the ball on offense in this game, the highlights being a 58 yard run by Brickley and a 55 yard run by Mahan, the latter setting up a missed 35 yard field goal. Fullback/halfback Frederick Bradlee played great defense for Harvard.

This was Harvard's first ever win at Princeton.
Chicago 1913
| | | |
| --- | --- | --- |
| Indiana (3-4) | 21-7 | |
| Iowa (5-2) | 23-6 | #25 |
| Purdue (4-1-2) | 6-0 | #21 |
| Illinois (4-2-1) | 28-7 | #21 |
| at Northwestern (1-6) | 14-0 | |
| at Minnesota (5-2) | 13-7 | #9 |
| Wisconsin (3-3-1) | 19-0 | #21 |

Amos Alonzo Stagg's Chicago Maroons had previously won the 1905 MNC, and they were strong contenders for the 1908 MNC. I covered Stagg in the 1905 article. Chicago had gone 111-34-11 in Stagg's first 10 seasons 1892-1901, but they really hit their stride in 1902, and were 85-14-5 1902-1913, and had a winning record against every Western Conference team but Michigan in that time
.

Chicago's one consensus AA this season was 6' 5" Hall of Fame center Paul Des Jardien (pictured), known for his great defense. He lettered in 4 sports, and would go on to play pro baseball and football. Nonconsensus AA halfback/punter Nelson Norgren also lettered in 4 sports, collecting 12 letters in his Chicago career. Also great on defense, he was the captain and overall star of this team, and it shows the arbitrariness of the College Football Hall of Fame that he is not in it.

Quarterback/kicker Pete Russell was another nonconsensus AA, and 7 of Chicago's 11 starters made someone's All Western list.

Chicago's Season
Chicago went 7-0 against the toughest schedule played by any of the 1913 MNC contenders. They opened with a warm-up 21-7 win against weak Indiana, then Iowa came to town with a creative and fast offense described by newspapers of the day as a "spread formation" (so in this case, what is most modern is also most ancient). Chicago had no trouble scoring on them, and won 23-6, but Iowa was able to eat up a lot of yards on offense with an unpredictable, wide-open attack. Unfortunately, as is often the case with spread teams today, they had trouble scoring once they got inside the Chicago 10, because they had no ability to move the ball by "straight football." Iowa was weak most years, but they went 5-2 this season (their other loss coming 12-0 to unbeaten Nebraska), averaging a score of 61-3 in their 5 wins, and I have them ranked #25.

Next up was Purdue, who was also generally weak, but who also had a strong season this year behind Hall of Fame halfback Elmer Oliphant, who would later play for Army and become one of the most famous players of the first half of the 20th century. But he was already nationally known this season, putting Purdue on the map. Purdue's Hall of Fame coach, Andy Smith, was not yet nationally known, but he would be as Cal's coach after WWI. Smith boldly predicted to the press that Purdue would defeat Chicago.

Purdue had surprised Wisconsin in a 7-7 tie the week before traveling to Chicago, and Chicago scouts were at that game, so the Maroons were able to devise a defense to stop Purdue's offense. That wasn't hard, because Purdue's offense rested entirely on one man, Oliphant, who ran into a brick wall all game long. Almost the entire game was played on Purdue's side of the field because of Nelson Norgren's punting and Chicago's impenetrable defense. Pete Russell drop-kicked 2 of 3 tries through the goalposts, and Chicago won 6-0. Purdue mounted just one drive, very late in the game, using forward passes, but they ran out of time. Purdue was later tied 0-0 at Illinois (4-2-1), and finished 4-1-2, so Chicago gave them their only loss. I have them ranked #21 for 1913.

Illinois came to Chicago at 4-0, having beaten Missouri (7-1) 24-7. They were a team on the rise, and in fact would go 7-0 in 1914 to share an MNC. Illinois returned an early punt 70 yards for a touchdown, and led 7-0 at the half, but they were only able to attain 2 first downs all game, and lost more yards than they gained. Chicago scored 4 touchdowns in the second half to win 28-7. Illinois next tied Purdue and lost to Minnesota (5-2, #9), finishing 4-2-1 and ranked #21.


Chicago rested their starters in a 14-0 win at Northwestern, and next up was the game of the year at Minnesota. Minnesota was 4-1, having lost 7-0 at Nebraska (8-0). They had just beaten defending Western champion Wisconsin 21-3, and Minnesota was the favorite to win the West. Chicago scored a touchdown in the first quarter, set up by passes and a 25 yard Norgren run, and their defense shut Minnesota down for 3 quarters. Chicago scored again in the 4th, hitting 2 passes that took them to the Minnesota 3, followed by a Norgren touchdown. By that point, Chicago's starters were flagging. Two were badly injured, including a tackle who could not move his right arm, but Stagg did not substitute because his second string was a steep drop-off in ability from the first string. Minnesota started moving the ball, losing it on a fumble deep in Chicago territory once before finally pushing it over for a touchdown, but Chicago held on to win 13-7. Minnesota won 19-9 at Illinois the next week, finishing 5-2 and ranked #9.

The last game was an easy 19-0 win over Wisconsin, a strong team despite their final record of 3-3-1 (they also lost to Minnesota and 7-0 Michigan State, and they tied Purdue). Chicago scored 3 touchdowns, and Wisconsin repeatedly fumbled, twice at the Chicago 5 (they were also stopped on downs there once). I have Wisconsin ranked #21 for 1913.

Harvard vs. Chicago
Here are the significant games for Harvard and Chicago in 1913.
The opponent rankings
come from my 1913 top 25, which is based on a hypothetical AP poll (within logical reason of course)
.
Harvard 9-0
Chicago 7-0


| | | |
| --- | --- | --- |
| Maine (5-2-1) | 34-0 | (#26) |
| Cornell (5-4-1) | 23-6 | #17 |
| at Princeton (5-2-1) | 3-0 | #15 |
| Yale (5-2-3) | 15-5 | #16 |

| | | |
| --- | --- | --- |
| Iowa (5-2) | 23-6 | #25 |
| Purdue (4-1-2) | 6-0 | #21 |
| Illinois (4-2-1) | 28-7 | #21 |
| at Minnesota (5-2) | 13-7 | #9 |
| Wisconsin (3-3-1) | 19-0 | #21 |

Harvard defeated the rest of their opponents by an average of 29-2, and Chicago defeated theirs by an average of 18-4.

As you can see, Chicago's schedule was tougher, as it featured more top 25 caliber opponents, and one that was top 10 caliber (Minnesota).

With their main rivals, Princeton and Yale, both down this season, Harvard's argument for an MNC really rests on what they did in 1912. They had basically the same team in 1913, with an all-time great player in Eddie Mahan added to the backfield, so they were widely considered the best team in the nation. Had there been an AP poll, Chicago may have won out on the ballots of the Great Lakes region's writers, but that's about it.

Is domination in the previous year a valid argument? Well, that's up for debate, but the previous year's showing has driven plenty of "national championship" races in college football history, and it's about all Oklahoma had going for them in 1956. Their schedule that year was ridiculously weak, but everyone knew they were great because it was the same team that had dominated a better schedule the year before. And they dominated their weak opponents in 1956 too. Similarly, Harvard dominated their schedule this year, and they were not threatened in any game, even the 3-0 win at Princeton.

These teams performed pretty similarly (Chicago had 1 more close game, but one of those came against a top 10 opponent, which Harvard did not play), but Harvard had a slight scoring edge against both "unrated" and "rated" opponents, even if you discount Chicago's Minnesota result. Harvard was also a far deeper team than Chicago, who often had to weather 4th quarter fatigue this season. I would probably rate Chicago #1 myself, due to that big win at Minnesota, but I am fairly certain that Harvard was the better team, and either is an option at #1. The two teams definitely merit a share of the mythical national championship regardless of which you want to place at #1.

Now it's time to meet our other contenders and see if any of them merit sharing in a 3-way (or more) MNC.
Notre Dame 1913
| | | |
| --- | --- | --- |
| Ohio Northern (5-6-1) | 87-0 | |
| South Dakota (3-3) | 20-7 | (#27-31) |
| Alma (4-3) | 62-0 | |
| at Army (8-1) | 35-13 | #6 |
| at Penn State (2-6) | 14-7 | |
| at Christian Brothers | 20-7 | |
| at Texas (7-1) | 30-7 | (#27-31) |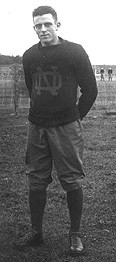 This was a breakout season for Notre Dame, but they didn't come out of nowhere. They were 44-3-5 1906-1912, and were the champions of the West at 7-0-1 in 1909 thanks to an 11-3 win over 6-1 Michigan. In 1912, they had gone 7-0, albeit against a weak schedule, and 7 of 11 starters returned from that team. Head coach Jesse Harper, who had played for Chicago's 1905 national championship team, arrived in 1913, and he brought with him the passing attack he had developed at Alma 1906-'08 and Wabash 1909-'12. He went 34-5-1 at Notre Dame 1913-1917, at which point he retired from coaching with an overall record of 59-18-7.

This Notre Dame team became famous for its deadly passing attack. Quarterback Gus Dorais (left picture) and end Knute Rockne (right picture) spent the Summer constantly throwing and catching a football on the beaches at Cedar Point in Ohio, where they were working as lifeguards. Dorais, who also handled the kicking, became Notre Dame's first consensus All American this season, and he is in the Hall of Fame, albeit as a coach. He headed up Detroit 1925-1942, going 113-48-7 there and 150-70-12 overall.

Rockne was the team captain, and he later succeeded Harper as head coach at Notre Dame, going 105-12-5 1918-1930, during which time he turned Notre Dame into the top football program in the country. He is still #1 in all-time winning percentage (.881), and like Dorais, he is of course a Hall of Fame coach.

Fullback Ray Eichenlaub is far less well known than Dorais and Rockne today, but he is also in the Hall of Fame, as well he should be. A big (210#), powerful runner who did all his work right into the line, Eichenlaub was the perfect counterpoint to all that fancy passing Notre Dame did, and he made sure that when Notre Dame got close to the goal line, they could punch it in. He scored 12 touchdowns this season, and 176 points in his career. He would be a nonconsensus AA in 1914.

Guard Freeman Fitzgerald would be a nonconsensus AA in 1915, and later a pro player.

Notre Dame's Season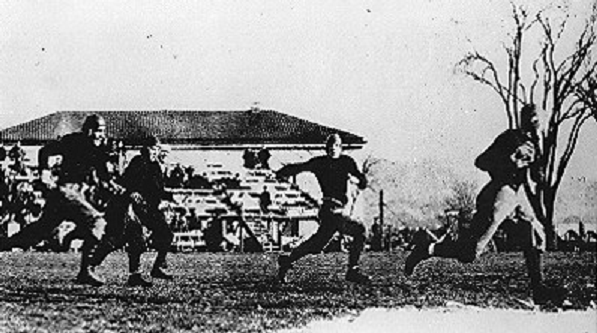 Notre Dame's 1913 season really boils down to just one huge game, their famous 35-13 win at Army, in which they unleashed a passing attack the likes of which Eastern writers had never seen before. Gus Dorais was 14 of 17 for 243 yards and 3 touchdowns, a pretty excellent stat line for the 21st century, let alone 1913.

Notre Dame, paid $1000 to make the trip, arrived with just 18 players and 14 pairs of shoes. So little was expected of this game that only 5000 spectators showed up to watch.

The game was pretty close through 3 quarters. Notre Dame opened the scoring in the first quarter with a Knute Rockne 25 yard touchdown catch (pictured above). Army drove for 2 touchdowns in the 2nd quarter to lead 13-7, then Notre Dame hit 3 big passes to set up a short touchdown run for a 14-13 halftime lead. In the second half, Army drove to the Notre Dame 2, where they were stopped twice before throwing a pass that Dorais intercepted in the end zone. But the fourth quarter was all Notre Dame, scoring 3 touchdowns on a blizzard of passing. Eichenlaub, who scored the last touchdown, had a very strong game.

Army won the rest of their games, finishing 8-1, and I have them ranked #6 for 1913. In 1914 they would go 9-0, getting their revenge on Notre Dame 20-7 and winning a share of the MNC.

Notre Dame followed up their most impressive outing with their least impressive, winning just 14-7 at 2-6 Penn State. According to newspaper accounts, PSU outplayed Notre Dame for 50 of the game's 60 minutes. Notre Dame scored their touchdowns at the end of the first half and the beginning of the second, their offense a typical mix of passing and Eichenlaub up the middle. Penn State answered with a touchdown in the third quarter, but a fourth quarter touchdown was negated by a penalty, after which they had to resort to a failed passing attempt. This was Penn State's first ever home loss (but they generally played only patsies at home, tough teams on the road).

In their finale, Notre Dame traveled South and beat 7-1 Texas 30-7, but while Texas' record looks nice, they were not particularly strong. Their 2 biggest wins came 14-6 over 6-2 Oklahoma and 13-7 over 4-3 Sewanee. Oklahoma lost 20-17 to 7-1 Missouri, whom 4-2-1 Illinois beat 24-7, whom 7-0 Chicago beat 28-7. Sewanee lost 33-0 to 7-2 Georgia Tech and 63-13 to 5-3 Vanderbilt, and Vanderbilt lost 33-2 to 6-1 Michigan, who lost 12-7 to 8-0 Michigan State. So, Notre Dame's 30-7 score over Texas is about what you'd expect them to do if they were a top ten team.
Nebraska 1913
| | | |
| --- | --- | --- |
| Washburn (3-3-2) | 19-0 | |
| Kansas State (3-4-1) | 24-6 | |
| Minnesota (5-2) | 7-0 | #9 |
| Haskell (6-2) | 7-6 | (#40-50) |
| at Iowa State (4-4) | 18-9 | |
| Nebraska Wesleyan (4-3-1) | 42-7 | |
| at Kansas (5-3) | 9-0 | |
| Iowa (5-2) | 12-0 | #25 |

Nebraska had previously posted perfect records in
1902
and
1903
. They ruled the rather weak Missouri Valley region, and were in the middle of a run of 8 straight conference titles, but they had a national reputation because they always scheduled a couple of power teams, usually from the Western Conference (Big 10). From 1900 through 1913, they were 104-22-7, though only 10-13-3 against the Western Conference (2-10-1 against Minnesota).
Nebraska's head coach was former Wisconsin center Ewald "Jumbo" Stiehm, and Nebraska was often called the "Stiehm Rollers" while he was there. He went a remarkable 35-2-3 1911-1915, 23-0-1 his last 3 years. After that he moved on to Indiana, where he was less successful, finishing 59-23-4 overall.
Nebraska only returned 2 starters from their 1912 team, which had finished 7-1 (losing only to Minnesota), and they only had 17 players on the roster, so it was certainly a surprise to most when they went 8-0 this season. The only notable player on the team was tackle and punter Vic Halligan (pictured), who made Walter Camp's 3rd team All American list, and was a nonconsensus AA in 1914. He indirectly caused great embarrassment for Camp when the "Father of Football" selected him 3rd team AA again in 1915, a year after he had graduated and retired from play. Camp received much ridicule from Western writers over that, but it just confirmed for them what they already knew about prominent Eastern football writers.

The nationally unheralded backfield stars were halfbacks Leonard Purdy and Dick Rutherford.

Nebraska's Season
Among Nebraska's early opponents was new conference member Kansas State, who protested Nebraska guard Clinton Ross, asking Nebraska not to play him because he was "colored." Nebraska refused, but Kansas State came up to play anyway, losing 24-6. Black students from KSU showed up to the game wearing Nebraska colors and cheering against their school. However, Nebraska decided it wasn't worth the grumbling from other schools in their conference, and even though they had been regularly fielding black players for more than 20 years, Clinton Ross would be the last black player at Nebraska until after World War 2. Their conference forbade black players from playing by "gentleman's agreement" until then. As for Clinton Ross, he received his law degree from Nebraska in 1915, and practiced law in Los Angeles until his death in 1954.

Nebraska's first big game was Homecoming against rival and tormentor Minnesota. The teams had been playing each other almost every year since 1900, and Minnesota was 10-1-1 against Nebraska, but this time Nebraska gained their second win in the series by a 7-0 score. The touchdown came in the third quarter, Nebraska hitting 3 passes to get into the end zone from the Minnesota 40. Minnesota also lost 13-7 to 7-0 Chicago, but won the rest of their games handily to finish 5-2, and I have them ranked #9 for 1913.

Like Notre Dame, Nebraska followed their best outing with their worst, a (literal) slugfest against 6-2 Haskell that Nebraska was fortunate to escape with a 7-6 win. Perhaps because they were a "frontier" school, Nebraska had long had a reputation as an unusually rough team-- kicking, punching, gouging, twisting, choking, that sort of thing. That was changing under coach Stiehm (he wanted a speed and finesse team), but Haskell, a Kansas Indian school and old rival of Nebraska's, hadn't gotten the memo, and came prepared for the usual war. They were also out for revenge for Nebraska's 119-0 mauling of them in their last meeting in 1910 (which was itself revenge for a Haskell win the previous year). Nebraska came out of this game with injuries to half of their already thin roster.

Haskell wasn't bad, but they earned their 6-2 record against a very weak schedule, and were probably no better than a #40-50 type team.

Wracked by injuries, Nebraska staggered through their next 3 wins, 2 of them over conference opponents

:

18-9 at Iowa State and 9-0 at Kansas. They were healthy again for their finale at Iowa, who was coming in at 5-1 and featured a fast, formidable offense (as covered in the Chicago summary above). However, Nebraska completely shut them down, winning 12-0. I have Iowa ranked #25 for 1913.
Michigan State 1913
| | | |
| --- | --- | --- |
| Olivet (4-3) | 26-0 | |
| Alma (4-3) | 57-0 | |
| at Michigan (6-1) | 12-7 | #5 |
| at Wisconsin (3-3-1) | 12-7 | #21 |
| Akron | 41-0 | |
| Mount Union (4-3-2) | 13-7 | |
| South Dakota (3-3) | 19-7 | (#27-31) |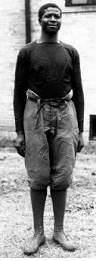 Like Notre Dame, Michigan State had long been posting strong records against mostly minor schools. They were Michigan Agricultural College (MAC) at this time, and first emerged as a top minor school under coach Chester Brewer, who went 56-10-6 1903-1910, gaining a landmark tie with Michigan in 1908 and a big win against Notre Dame in 1910. Brewer withdrew MSU from the Michigan Intercollegiate Athletic Association, and the school became an independent with an eye toward big-time football and entrance into the Western Conference (Big 10), though that invitation was still four decades away.

Coach John Macklin, who had played on Penn's 1908 national championship team, continued Michigan State's upward trend 1911-1915, going a blistering 29-5, the peak being this 7-0 season. That was the whole of his coaching career, as he went into business after that. Macklin had beaten Michigan twice as a player for Penn, and his Michigan State teams recorded the school's first two wins over Michigan in 1913 and 1915.

This team had a lot of good (though little heralded) players, led by end/halfback Blake Miller, who was All Western this season, nonconsensus AA in 1915, and a pro player for 6 years. Fullback George "Carp" Julian made Chicago writer Walter Eckersall's AA team, and would score 7 touchdowns against Akron in 1914. Tackle Hugh Blacklock became a pro for 7 years, then a sheriff for 20, and is in the Grand Rapids Hall of Fame. These three were the heart of a powerful running offense.

Quarterback George Gauthier provided the passing offense, tossing for 100 yards in the big win over Michigan. He coached Ohio Wesleyan for 26 years, going 121-98-15, the highlight a huge 17-7 upset of Michigan in 1928. He was later inducted into the Helms Foundation Hall of Fame. Gauthier was little, 5' 6" and 133#, and head coach Macklin originally told him that he could not join the team, but Gauthier stuck it out until he'd won the quarterback position.

Jerry DaPrato, rotating with Blake's brother Hewitt Miller at halfback, would become MSU's first consensus AA in 1915, scoring 15 touchdowns and 124 points that season.

Tackle Gideon Smith (pictured) was MSU's first African American player, and when he'd first showed up to try out, Macklin refused to issue him a uniform, presumably because of his race. But Smith borrowed a friend's high school uniform and showed up to practices anyway, eventually winning Macklin over. Newspaper game reports from the time show him to have been a dominating player, but he was rewarded with no placements on even All Western lists, and I think we can all guess why that is. Gideon Smith went on to play for Jim Thorpe's Canton Bulldogs team, then became a physical education instructor at Hampton University for 34 years, and the head coach there for 21, going 97-46-12. After that, he became the athletic director until his death in 1955.

Michigan State's Season
After warming up 26-0 over Olivet and 57-0 over Alma, Michigan Agricultural College's real season began with a trip to Michigan, whom they had never beaten. MSU had gone 6-1, 5-1, and 7-1 in the previous 3 seasons, taking their only loss to Michigan each time. Michigan player "Bottles" Thomson predicted a 35-point win for his team in the week before the game, and an MSU assistant coach wondered to reporters if "Bottles" had any money to back that prediction. Here's hoping he didn't.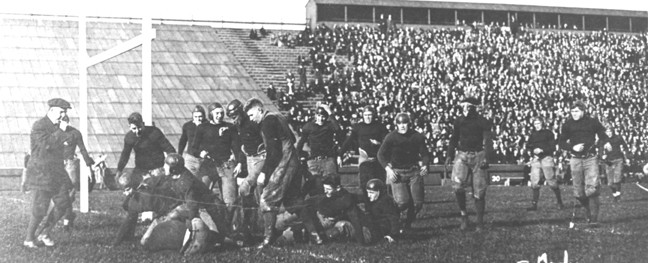 MSU drove for a first quarter touchdown (pictured above), mostly on line plunges, then a 3rd quarter touchdown in much the same manner, for a 12-0 lead. Michigan got on the board with a 4th quarter touchdown set up by an MSU fumble, but MSU held on to win 12-7. George Gauthier hit 7 of 19 passes for 100 yards (he's dropping back for a pass against the Wolverines in the picture below), and that bit of passing success opened up the running game.




Near the end of the first half, Blake Miller ran 8 yards for an MSU first down on a fake punt, and Michigan quarterback Tommy Hughitt reportedly ran across the field to jump on him after he was down, landing both knees on his head. Miller awoke 3 hours later in a hospital, but his brother Hewitt played like a madman the rest of the game, scoring the third quarter touchdown and knocking a ball out of a Michigan receiver's hands at the goal line in the 4th quarter.

There was wild celebration back in East Lansing, featuring numerous bonfires, and a barn was burned down. Luckily, the barn's resident cow had previously been walked to the train station to greet the team upon its return from Ann Arbor, thus escaping a disastrous end.

Michigan routed the rest of their opponents, finishing 6-1 with a number of strong intersectional wins

:

33-2 at 5-3 Vanderbilt, 43-7 over 6-4 Syracuse, 17-0 at 5-4-1 Cornell (#17), and 13-0 over 6-3-1 Penn (#18). I have Michigan ranked #5 for 1913.

Wisconsin



The next week's trip to Wisconsin was considered an even tougher game at the time, because they were the defending Western Conference champions, and had not lost in 2 years. Wisconsin was thus heavily favored to win. George Gauthier found little success passing in this game, so Blake Miller (pictured above carrying the ball), Hugh Blacklock, and Carp Julian drove the offense on the ground. Wisconsin coach Bill Juneau called Julian the best fullback he'd ever seen.
MSU scored both of their touchdowns in the 2nd quarter for a 12-0 lead. The second was a blocked punt recovered for a touchdown by end "H. Schultz," a fake name used by Oscar Miller so that his parents would not find out he was playing football. Wisconsin drove for a touchdown in the 3rd quarter, then drove deep into MSU territory late in the 4th, but they were halted by an interception at the goal line. Wisconsin reportedly outplayed MSU in this game, but lost 12-7 due to frequent turnovers.
MSU tackle Gideon Smith had a great game, particularly on defense, highlighted by an interception. Newspaper accounts say that he made Wisconsin's AA and Hall of Fame tackle Bob Butler look bad in this game, though Smith was never AA and is not in the HoF. Gideon Smith is in the center of the above picture, wearing a white nose protector.
Wisconsin went on to finish 3-3-1 against a very tough schedule, and I have them ranked #21 for 1913.

The consecutive wins over Michigan and Wisconsin were the real season, but there were still 3 games to be played. MSU whipped Akron 41-0, then put forth an incredibly weak performance in a 13-7 win over another little Ohio school, Mount Union. I have located no summary of this game, but Mt. Union was not a good team, going 4-3-2 and losing to Michigan 14-0 and to 10-0-1 Washington & Jefferson 35-0, as well as tying Wooster and Ohio Northern. In their finale, MSU beat a decent 3-3 South Dakota team 19-7 (Notre Dame beat them by a similar 20-7 score).
According to a Michigan State book, Nebraska, Notre Dame, and Chicago all offered to play Michigan State the week after their regularly scheduled games had concluded, but the best offer allegedly came from Michigan
:
$5000 or a split of the gate for a rematch. John Macklin declined all offers, assuming there really were any. Only the Michigan offer seems plausible to me, because if the other 3 really wanted to play another regional unbeaten, 2 of them could and would have played each other. It is more likely that those 3 schools contacted MSU about a game for next season, and in fact Nebraska did play them next season, winning 24-0.
Notre Dame vs. Nebraska vs. Michigan State
Here are the significant games for Notre Dame, Nebraska, and Michigan State in 1913.
The opponent rankings
come from my 1913 top 25, which is based on a hypothetical AP poll (within logical reason of course)
.
Notre Dame 7-0
Nebraska 8-0

Michigan State 7-0


| | | |
| --- | --- | --- |
| South Dakota (3-3) | 20-7 | (#27-31) |
| at Army (8-1) | 35-13 | #6 |
| at Penn State (2-6) | 14-7 | Unrated |
| at Texas (7-1) | 30-7 | (#27-31) |

| | | |
| --- | --- | --- |
| Minnesota (5-2) | 7-0 | #9 |
| Haskell (6-2) | 7-6 | (#40-50) |
| at Iowa (5-2) | 12-0 | #25 |

| | | |
| --- | --- | --- |
| at Michigan (6-1) | 12-7 | #5 |
| at Wisconsin (3-3-1) | 12-7 | #21 |
| Mount Union (4-3-2) | 13-7 | Unrated |

Notre Dame defeated the rest of their opponents by an average of 47-4, Nebraska defeated theirs by an average of 22-4, and Michigan State defeated theirs by an average of 36-2. But 3 of Nebraska's other opponents were major schools, compared to 1 each for Notre Dame and Michigan State.

These 3 schools' seasons were remarkably similar, each defeating 1 top 10 team, 1 other rated or near-rated team, and each having one poor performance.

Notre Dame's 35-13 win at #6 Army seems much more impressive on its face than Nebraska's 7-0 win at #9 Minnesota, or even MSU's 12-7 win at #5 Michigan. However, Minnesota's only losses were to Nebraska and to 7-0 Chicago in close games, and they romped on the rest of their schedule, including a 21-3 win at Wisconsin, whom Michigan State barely defeated. In fact, they were probably a better team than MSU. MSU victim Michigan also romped on the rest of their opponents, and it was an impressive schedule. But Army, though they lost only to Notre Dame, did not perform nearly as strongly as Minnesota and Michigan, barely getting by 3 of their opponents.

Similarly, though Texas was 7-1, they did not perform nearly as well as Nebraska victim Iowa and MSU victim Wisconsin, both of whom were top 25 caliber teams, while Texas was not.

Chicago played more than twice as many top 25 caliber opponents as each of these 3 schools did, and Chicago did not have a poor performance, so we can eliminate all 3 of these contenders from the national championship race right there. These 3 teams compare better to Harvard, since all 3 beat a top 10 opponent and Harvard did not, and Harvard only defeated 3 top 25 caliber opponents, which isn't much more than any of these 3 defeated. Still, it is more, and Harvard did not have a poor performance-- they whipped through their schedule like a #1 team should, and it was basically the same team as the previous year's MNC team, with an all-time great player added in the backfield.

Chicago also performed much better than MSU did against Wisconsin, beating them 19-0, and Harvard destroyed Penn State 29-0, while Notre Dame barely got by them.

I do think that Notre Dame, Nebraska, and Michigan State were all very close to MNC-worthiness, but I don't want 5 teams sharing any MNC, and these 3 teams are easy to separate from the top two.
Auburn 1913

I don't consider 8-0 Auburn to be a contender for the 1913 MNC because they played in a relatively weak region, and defeated no top 25 caliber opponents, but they did pummel a group of teams that had very impressive straight records, so let's take a look at them and the South in general.
Their Hall of Fame coach was Yale grad Mike Donahue (pictured), who went 105-35-5 at Auburn 1904-1906 and 1908-1922. They were champions of the South in 1913 and 1919 (splitting the last with Alabama). Dan McGugin started coaching at Vanderbilt the same year Donahue started at Auburn, and Vandy had easily dominated the South 1904-1912, with Sewanee 2nd and Auburn 3rd during that time. Auburn overtook Vanderbilt and Sewanee this season, but their stay at the top of the South was just 2 years, as Georgia Tech dethroned them in 1915 and outplayed them for years thereafter.
Here are Auburn's significant games in 1913, after warming up 53-0 over 2-5-1 Mercer, 55-0 over 4-3 Florida, and 20-0 at 4-4 Clemson
:
Mississippi State (6-1-1)
34-0
(in Birmingham)
LSU (6-1-2)
7-0
(in Mobile)
at Georgia Tech (7-2)
20-0
Vanderbilt (5-3)
14-6
(in Birmingham)
Georgia (6-2)
21-7
(in Atlanta)
As you can see, 6 of their 8 opponents had winning records, 2 lost only to Auburn, and the last 5 teams they played were a combined 30-9-3, 30-4-3 when not playing Auburn, and 29-3-1 when not playing Auburn or each other. That's pretty impressive, and it's why some computer programs rank Auburn #1 for 1913. And Auburn performed strongly against that schedule, winning just one game by a touchdown or less (7-0 over LSU). So how do we know that the South wasn't as good as the (North)Eastern and Great Lakes regions? Well, we can't know with absolute certainty, but there is actually plenty of evidence against the South.
The South
Let's start with the pertinent season, 1913. 5-3 Vanderbilt took their only Southern loss to Auburn 14-6. Their other 2 losses came 33-2 to #5 Michigan and 34-0 to Virginia (nearly ranked). The Michigan loss in particular says a lot, but so does the Virginia loss, if less directly. 6-2 Georgia also took their only Southern loss to Auburn (21-7), and they also lost to Virginia, 13-6. 7-1 Virginia was the dominant team in the Mid-Atlantic region, but their loss came 8-7 to 4-4 Georgetown, who was in turn romped by Eastern teams, losing 23-0 to #10 Navy and 34-0 to #12 Carlisle. It is highly unlikely that 7-1 Virginia would have even made an AP poll's top 25 in 1913, and of course Georgia and Vanderbilt definitely would not have.
And Vanderbilt and Georgia were the top teams Auburn played, so their intersectional losses kill any rational case for an Auburn MNC. 7-2 Georgia Tech lost to Georgia. 6-1-1 Mississippi State beat no one, taking their tie to LSU. 6-1-2 LSU, who lost to Auburn 7-0, was tied by a bad 3-4-2 Texas A&M team, who was routed 28-0 by 6-2 Haskell. Haskell was merely a decent Missouri Valley team (though they gave Nebraska a good game).
In all, major teams from the South were 5-8-3 against major teams from outside the South in 1913 (major Southern teams here defined as Auburn, Georgia, Georgia Tech, Vanderbilt, Sewanee, Louisiana State, Mississippi State, Mississippi, Alabama, Tennessee, Clemson, Kentucky, South Carolina, and Florida). And in the bigger picture, the South had a losing record against every region but the Missouri Valley 1905-1913 (1-3-2 against the East thanks to a big win and 2 ties by Vanderbilt, 1-8 against the Great Lakes with Kentucky getting the win over Illinois, 7-11-3 against the Mid-Atlantic, and 15-17-2 against the Southwest). In addition, there were losses to minor teams too, the most significant being two losses by the South's best team, Vanderbilt, to minor Great Lakes team Ohio State. Going forward, the South would lose to all regions but the East 1914-1919 (4-4 against the East, thanks to Georgia Tech).
Georgia Tech, about to take over the South, would start playing power Northern opponents every year in 1917, beginning with a big win over Penn, but 1918-1927 they went 0-3 against Pitt, 2-2 against Penn State, 0-6 against Notre Dame, and 0-1 against Navy. They also went 5-0 against mid-level Georgetown, bringing their record against Northern majors up to just 7-12 for that decade.
The rest of the South decided to take on power Northern teams themselves 1920-1924, billed as a football Civil War of sorts. 10 major Southern programs played opponents like Michigan, Penn, Syracuse, Harvard, Dartmouth, Chicago, Yale, Army, Rutgers, Indiana, Illinois, and Navy during these 5 years, and like the original Civil War, it was a disaster for the South, who went 3-19-1 in those games. That's on top of Georgia Tech's losses.
So you see, the South in 1913 was still a
long
way from being the power region it is today.
No Mythical National Championship
One nice thing about Auburn 1913 is that 7 of their 8 opponents were major teams. Most Southern teams feasted on minor schools, but that ends up being a problem for Auburn too. Look at the records of their 7 major opponents against other major schools
:
0-3, 1-4, 2-1-1, 2-1-2, 3-2, 2-3, 4-2.
But the real problem, again, is those intersectional losses by Vanderbilt and Georgia, as well as the general weakness of the South in the larger time period. What Auburn really needed, then, was an impressive win over a top team from one of the power regions. Georgia Tech, for example, beat 9-2 Penn 41-0 in 1917 en route to winning the South's first legitimate mythical national championship.

With no top 25 caliber opponents, Auburn can claim no more than a regional championship, but at least it's not mythical, given that they beat all the contenders.
Washington 1913
Speaking of regional champions, here we have Washington, who went 7-0 in 1913, the fifth consecutive season they posted a perfect record. I discussed Washington, their record 9-year unbeaten streak, and their Hall of Fame coach Gil Dobie in my
1910
article. In brief, Dobie refused to play teams on their home field, played a bunch of non-college riff-raff, and neither Washington nor any of their opponents played anyone outside the Northwest during these years, so all these teams may as well have been playing in Japan as far as the rest of the nation was concerned.
This year, they scored 100 on Whitworth, and in their only real games they beat Oregon State 47-0, Oregon 10-7 (in Portland, their only road game), and Washington State 20-0. Oregon was 3-3-1, losing to Willamette, so the 10-7 win over them... not so hot. But Washington routed everyone else.
Awards Ceremony
1913 #1:

9-0 Harvard and/or 7-0 Chicago


National Co-champion:

Harvard or Chicago if the other is alone at #1


Contenders:

7-0 Notre Dame, 8-0 Nebraska, and 7-0 Michigan State

These are the awards I have been handing out for each season, except seasons when there are no contenders. For this purpose, what I mean by a contender is a team that I think is very close to being worthy of sharing the national championship. A team that you could make an argument for, even if that argument is weak. But they are teams that I myself do not see as national champions.

Grading the Selectors
I have been grading the NCAA Records Book's selectors for each season, and keeping a grade point average, so we can see who is relatively good at selecting national champions and who is not. And although I do not consider computer ratings to be legitimate national championship selectors, I have been including them in this section as well, just for comparison's sake.
I am grading on a scale of 0-5 (5 being the best).
Billingsley's computer selected Auburn.

Grade: 0.1



Parke Davis selected Harvard and
Chicago
.

Grade: 5



Everyone else selected Harvard.

Grade:

5



Grade Averages 1901-1913

:
| | |
| --- | --- |
| 1) Houlgate (math system) | 4.23 |
| 2) Parke Davis | 4.20 |
| 3) Helms | 4.0 |
| 4) Billingsley (math) | 3.9 |
| 5) National Championship Foundation | 3.2 |

Parke Davis deserves a 5+ for his split title selection.

Billingsley's computer had actually done relatively well prior to this season. His old formula used to have more bad results, like Vanderbilt for 1906 and 1911, Penn for 1907, and Michigan for 1910. But at some point in the last 10 years, he changed his formula, thereby changing all those bad selections to correct ones. Unfortunately, computer formulas are quite limited for dealing with the ancient days of football, so a clunker like Auburn 1913 was bound to be spit out at some point. And it's just the start of a parade of bad choices to come marching out of Billingsley's computer over the next few seasons.

Auburn 1913 is no worse a selection than National Championship Foundation selections like LSU 1908 and Pitt 1910, but the NCF got a better grade for those seasons because they shared those titles with legitimate MNC teams. Billingsley's system proclaims Auburn the MNC alone over everyone else, which is simply ridiculous.