Top 25 Rankings 1901-1935
1913 National Championship
Home
1913 College Football Top 25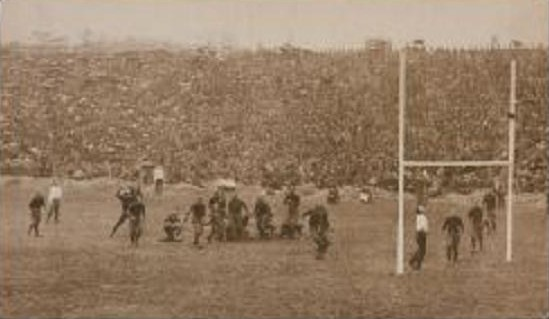 Pictured above is Harvard's field goal that beat Princeton 3-0. You can see the ball going through, in front of the upright on the right. This was Harvard's only close game in a perfect season, the second straight year they finished 9-0, and they almost certainly would have finished #1 had there been an AP poll in 1913.

I compared 9-0 Harvard to 7-0 Chicago
in detail in my 1913 national championship article, and in that article I also covered 7-0 Notre Dame, 7-0 Michigan State, 8-0 Nebraska, 8-0 Auburn, and 7-0 Washington.

But this top 25 starts with Harvard #1 and Chicago #2.
Notre Dame and Michigan State
7-0 Notre Dame and 7-0 Michigan State would have come next in a 1913 AP poll because each achieved landmark victories this season over longtime powerhouses I'll be covering next
. Notre Dame showed the East what a passing offense should look like in a 35-13 rout at 8-1 Army, and Michigan State defeated 6-1 Michigan for the first time ever.


Notre Dame #3, Michigan State #4.
Michigan, Army, and Nebraska
8-0 Nebraska had practically the same kind of season as Notre Dame and Michigan State did, but their big win, over 5-2 Minnesota, did not make as big an impression as the big wins brought home by Notre Dame and Michigan State. Still, it was only Nebraska's 2nd win against Minnesota in 13 tries, and Minnesota would have been a top 10 team in a 1913 AP poll, so it did make an impression.

Nevertheless, I think 6-1 Michigan and 8-1 Army would have been rated higher than Nebraska in a 1913 AP poll, and since each took their one loss to a higher-rated team (Michigan to Michigan State, Army to Notre Dame), that'll work. Michigan won 33-2 at 5-3 Vanderbilt, 43-7 over 6-4 Syracuse, 17-0 at 5-4-1 Cornell (#17), and 13-0 over 6-3-1 Penn (#18). Army's scores weren't as dominating, but they also collected a bunch of impressive wins

:

14-7 over 7-2 Springfield, 7-6 over 6-1-1 Colgate (#14), 2-0 over 7-1 Tufts (#24), and 22-9 over 7-1-1 Navy (#10).

Michigan #5, Army #6, and Nebraska #7.
Washington & Jefferson, Minnesota, Navy, and Pittsburgh
I suspect that 10-0-1 Washington & Jefferson and 7-1-1 Navy would have been rated higher than 5-2 Minnesota due to their better straight records, but Minnesota's losses came to higher-ranked teams, #2 Chicago and #7 Nebraska, while Washington & Jefferson and Navy each took an upset tie to a lower-ranked team. Minnesota's relevant record was therefore effectively half a game better than that of each. I think Washington & Jefferson's performance was impressive enough that they can be ranked ahead of Minnesota anyway, but that is not the case with Navy, who did not defeat a rated opponent.

Washington & Jefferson's tie came at 5-2-3 Yale (#16), who is rated higher than anyone Minnesota defeated. W&J scored 100 points on one of their cupcake opponents, and they won 18-6 at 6-2-1 Pittsburgh (#11), 52-0 over 6-4 Bucknell (nearly rated), and 35-0 over 5-3 West Virginia Wesleyan. Minnesota's losses to #2 Chicago and #7 Nebraska were close, and they won 21-3 at 3-3-1 Wisconsin (#21) and 19-9 at 4-2-1 Illinois (#21). Navy's loss to #6 Army was not close (22-9), their tie came to 6-2-1 Pittsburgh (#11) at home, and their only notable win came over 6-4 Bucknell (nearly rated), though the 70-7 score was pretty impressive.

Speaking of 6-2-1 Pittsburgh, I don't know if they would have been rated next in an AP poll, but the other candidates would have been 10-1-1 Carlisle and 7-1 Dartmouth, and Pitt beat Carlisle, who beat Dartmouth, so Pitt is who we are ranking next. As previously noted, Pitt lost to Washington & Jefferson and they tied Navy. Their 2nd loss was an inconceivable upset to 6-4 Bucknell, whom Washington & Jefferson beat 52-0, Navy 70-7. Their defining win, as alluded to, came 12-6 over 10-1-1 Carlisle (#12). Pitt also won 20-7 at 5-4-1 Cornell (#17).

Washington & Jefferson #8, Minnesota #9, Navy #10, and Pittsburgh #11.
Carlisle, Dartmouth, Colgate, and Princeton
Coming next in a 1913 AP poll would have been 10-1-1 Carlisle, 7-1 Dartmouth, 6-1-1 Colgate, and 5-2-1 Princeton.

10-1-1 Carlisle lost a close game at #11 Pittsburgh, and they took their tie at 6-3-1 Penn (#18). Their big win was a 35-10 rout of Dartmouth. 7-1 Dartmouth won 6-0 at 6-2-1 Princeton (#14) and 34-21 at 6-3-1 Penn (#18).

I'm not sure whether 6-1-1 Colgate or 5-2-1 Princeton would have been rated higher in a 1913 AP poll. Colgate had the better straight record, but Princeton had the much stronger reputation and "name" value. Colgate took their loss by a slim 7-6 at #6 Army, and their tie came to 5-4-1 Cornell (#17). Their big win was 16-6 at 5-2-3 Yale (#16). Princeton's losses came by close scores as well, 6-0 to 7-1 Dartmouth and 3-0 to #1 Harvard. Their tie came 3-3 at 5-2-3 Yale (#16) in their finale. They did not beat a rated team, and that is one reason to rate Colgate higher.

Colgate also did better against a pair of common opponents (they beat Yale, whom Princeton tied, and they beat Syracuse by 22 on the road, while Princeton beat Syracuse by 13 at home). And Colgate finished the season much stronger than Princeton did, as Princeton's tie to Yale came in their finale. So let's go with Colgate ahead of Princeton.

Carlisle #12, Dartmouth #13, Colgate #14, and Princeton #15

Carlisle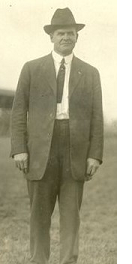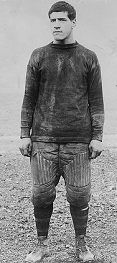 The Carlisle Indian Industrial School had been a football powerhouse since 1899, when Hall of Fame coach Glenn "Pop" Warner (pictured above at left) arrived, but this season was the last top 25 team Carlisle ever fielded. Rumors started circulating this year that the school would be closed down, Pop Warner was dismissed after the 1914 season, and the school was closed down in 1918. Pop Warner went 114-42-8 at Carlisle 1899-1903 and 1907-1914, and I credit the 1911 team with a mythical national championship. Warner moved on to Pittsburgh, where he went 60-12-4 and won more MNCs, then on to Stanford, where he went 71-17-8. Overall, Pop Warner was 319-106-32 at 6 schools.

Carlisle had 2 first-team All Americans this season, both nonconsensus

:

center Pete Garlow and halfback Joe Guyon (pictured above at right). Guyon would transfer to Georgia Tech, winning an MNC in 1917

,

and he is in both the college and pro Halls of Fame. Guard Elmer Busch made Walter Camp's 2nd team AA list.
Yale, Cornell, and Penn
Here is our usual clot of big-name teams that played tough schedules and took a lot of losses/ties

:

5-2-3 Yale, 5-4-1 Cornell, and 6-3-1 Penn.

5-2-3 Yale took their losses 16-6 to #14 Colgate and 15-5 at #1 Harvard. They tied 2 higher-ranked teams, #15 Princeton and #8 Washington & Jefferson, who was 10-0-1, so it was a particularly impressive tie. But Yale also tied an unranked team, 5-2-1 Maine (#26-30). They did not defeat a rated opponent, but all of their wins came by more than a touchdown.

5-4-1 Cornell took their losses to #1 Harvard, #5 Michigan, #11 Pittsburgh, and #12 Carlisle. Their tie came to a higher-ranked team, #14 Colgate. Cornell won 21-0 over 6-3-1 Penn, but posted a couple of weak performances against unrated opponents.

In addition to Cornell, 6-3-1 Penn lost to #5 Michigan and #13 Dartmouth. Penn tied #12 Carlisle (10-1-1), so all 3 teams in this section tied a higher-ranked team.

Yale #16, Cornell #17, and Penn #18.
Washington and Auburn
Here are this year's token teams, 7-0 Washington representing the West Coast and 8-0 Auburn representing the South. This was the 5th straight season Washington posted a perfect record, so I'm presuming that they would have been ranked higher than Auburn. I covered both teams in my
1913 national championship article.


Washington #19, Auburn #20.
Purdue, Illinois, and Wisconsin
Here we have a group of Big 10 teams that look about the same, 4-1-2 Purdue, 4-2-1 Illinois, and 3-3-1 Wisconsin. Purdue tied both Illinois and Wisconsin, and all of the losses these teams took came to top 10 teams. Purdue obviously had the best straight record, but they also didn't beat anyone of value, while Illinois beat 7-1 Missouri, and Wisconsin beat 4-2-1 Ohio State. On the other hand, both Purdue and Wisconsin posted a close loss to a top 10 team, while Illinois did not. Rather than try to untangle these 3, I'll just go ahead and place them into a 3-way tie with each other.

Purdue, Illinois, and Wisconsin share #21 in a 3-way tie
.

Purdue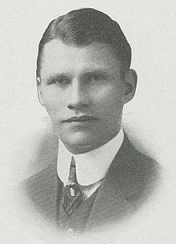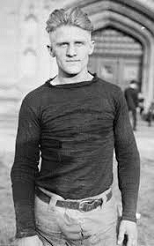 Purdue was coached by Hall of Famer Andy Smith (pictured above at left), who had been a consensus All American fullback for Penn's 1904 MNC team. He went 30-10-3 as head coach of Penn 1909-1912, then 12-6-3 here at Purdue 1913-1915.
This was Purdue's only top 25 caliber team over a 23 year stretch 1906-1928.
Andy Smith next went 74-16-7 at Cal 1916-1925, including a 5-year unbeaten streak 1920-1924 and a couple of national championships. Unfortunately, he died of pneumonia not long after the 1925 season was finished, at only 42 years old.

Purdue's star player this season was Hall of Fame halfback Elmer Oliphant (pictured above at right). Oliphant would go on to play for Army 1914-1917, making consensus AA in 1916 and 1917, and winning national championships in 1914 and 1916. He still holds the Purdue school record for most points scored in a game (43), as well as the Army record for the same (45). He totaled 424 points for his collegiate career.


Guard Harry Routh would be a nonconsensus AA in 1914
.

Tufts, Maine, and Iowa
We have 2 slots left and 3 candidates for them

:

7-1 Tufts, 5-2-1 Maine, and 5-2 Iowa. Tufts beat Maine 19-6, and they have the best straight record here, so I'll bring them in next, for slot #24. Their loss came 2-0 to #6 Army, and all of their wins came by more than a touchdown.

5-2 Iowa lost 23-6 at #2 Chicago and 12-0 at #7 Nebraska. They did not defeat an opponent of any value, but they attracted a lot of attention in the Midwest for a pass-happy offense that put up huge numbers. The average score in their 5 wins was 61-3.

5-2-1 Maine lost 34-0 at #1 Harvard and 19-6 at #24 Tufts, but they pulled off a huge tie at #16 Yale. That tie was much more than Iowa accomplished in all their wins combined, but Maine performed consistently poorly across the rest of their schedule, so that the Yale result definitely stands out as an anomaly. Both of Maine's losses were ugly, and they struggled to get by Colby and a bad Boston College team. And their 9-0 win over Bowdoin wasn't too hot either. So I'm going to go with Iowa here, who put up much better fights in their losses, and handled all their other opponents like a top 10 team would, let alone top 25.

Tufts #24, Iowa #25.

Tufts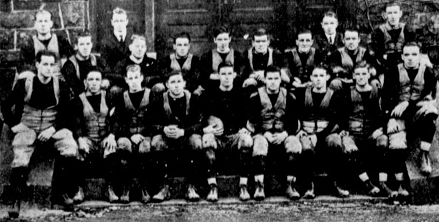 Tufts was coached by Charles "Doc" Whelan, who had played for Dartmouth 1899-1900. He went 21-26-2 in his first stint as coach at Tufts 1903-1907, but he returned for another go 1912-1917 and went a much better 30-15-2. This period was the strongest ever for Tufts football, and though 1913 was their only top 25 season, they came close in 1914 and 1917. The rest of Whelan's coaching career was more like his first stint at Tufts, so his total came out on the losing side, 64-68-7.

This year's guards went on to significant careers. Harrie Dadmun would transfer to Harvard, where he would be a consensus All American in 1916. Clarence "Pop" Houston would become the first athletic director at Tufts, serving 1921-1948, and then he was the president of the NCAA 1955-1957.

Tufts had a wide open passing attack, much like Notre Dame did this season, but Notre Dame became famous for their passing offense because they used it to shock 8-1 Army 35-13, whereas Tufts found their passing offense completely grounded in a 2-0 loss at Army. Still, needless to say, a 2-point loss to the #6 team is an excellent result for a program like Tufts. Tufts knocked an Army halfback by the name of Dwight Eisenhower out of the game with a knee injury that ended his playing career.

Iowa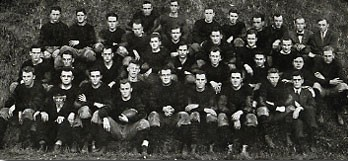 Iowa was coached by Dartmouth grad Jesse Hawley (pictured below at left), who went 24-18 here 1910-1915 with a spread passing attack that was the talk of the Midwest. The guards were set 7 yards from the center in this offense, so when I say "spread," I mean it. The offense worked like gangbusters against lesser opponents, but fell flat against strong ones. 1913 is still Iowa's highest-scoring season ever at 44.3 points per game. Jesse Hawley was coaxed back into coaching by his alma mater in the 1920s, and he went 39-10-1 at Dartmouth 1923-1928, winning an MNC in 1925. Overall he was 63-28-1.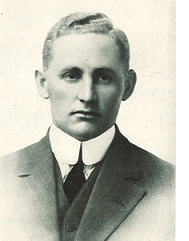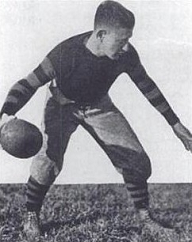 Fullback Ralph McGinnis scored 5 touchdowns against Northwestern, a Big 10 record until 1989, and he totaled 14 for the season. Quarterback Sam Gross (pictured above at right), known as the "Magic Midget," scored 8 touchdowns. He made his debut this season against eventual national champion Chicago, coming into the game down 16-0 in the 3rd quarter, and immediately returned a kickoff 60 yards to set up a short drive for a touchdown. After that, Gross was the starter through the 1915 season.

In a game against Northwestern in 1914, Sam Gross argued that the Wildcats should be penalized after a play, but the referee merely said "Play ball!" So Gross said he would mark the penalty off himself, took the ball from his center, and proceeded to mark off the penalty as Northwestern players complained. Then he started running. Then he scored a touchdown, as the ball had been "snapped" when it was handed to him, and was live the whole time.
Others Receiving Votes
Here are the teams closest to making this top 25. For the 1914 top 25, we had 14 teams listed here, but this season we have a more manageable 6 teams.
Maine 5-2-1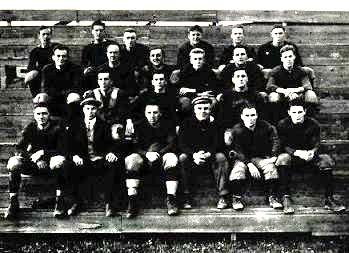 As covered above, 5-2-1 Maine got blown out by #1 Harvard and #24 Tufts, and they performed weakly in their wins, but they managed to pull off a big tie at #16 Yale. Maine was coached by Thomas Riley, who had played at Michigan. He went 12-3-1 here 1912-1913, and those 2 seasons are the closest Maine has ever come to being top 25 caliber. This year was particularly close, as they ended up #26.
Bucknell 6-4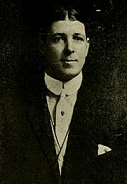 6-4 Bucknell could be ranked in the top 25, because all their losses came to ranked teams (#8 Washington & Jefferson, #10 Navy, #15 Princeton, #17 Cornell), and they won a huge 9-0 upset at #11 Pittsburgh. On the other hand, Bucknell performed awfully down the stretch, losing 70-7 to Navy and 52-0 to Washington & Jefferson, and only beating Muhlenberg 14-6.

Bucknell was coached by Byron "By" Dickson (pictured), who had played for Penn 1895-1897. He had gone a decent 20-13-4 at Lehigh 1906-1909, and then he went an equally decent 20-16-2 at Bucknell 1910-1913. Bucknell upset Navy in 1912 and #11 Pittsburgh this year, and like Maine, 1913 is the closest Bucknell has ever come to being top 25 caliber.

Virginia 7-1
7-1 Virginia took an upset loss by just 8-7 at 4-4 Georgetown. They won 38-7 over 7-1-2 VMI (who defeated 6-1 North Carolina State, who defeated 7-1-1 Virginia Tech), 13-6 over 6-2 Georgia in Atlanta, and 34-0 over 5-3 Vanderbilt.

Texas 7-1
7-1 Texas was slapped around 30-7 at home by #3 Notre Dame. Their best win came 14-6 over 6-2 Oklahoma, but they performed poorly in wins by 14-7 over Fort Worth and 13-7 over Sewanee. The latter was stomped 33-0 by 7-2 Georgia Tech and 63-13 by 5-3 Vanderbilt, 2 teams that don't even make this list, and frankly the only reason Texas is here is as a token representative of the Southwest.
Missouri 7-1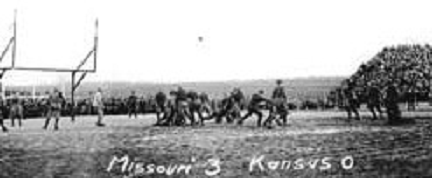 7-1 Missouri was slapped around 24-7 at #21 Illinois. They won 20-17 over 6-2 Oklahoma and 3-0 over their archrival, 5-3 Kansas (the field goal that won this game is pictured above). Missouri shared the Missouri Valley Conference title with Nebraska this year.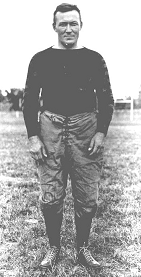 The coach was Wisconsin grad Chester Brewer (pictured), who had done a terrific job raising Michigan State's profile with a 56-10-6 record there 1903-1910. He then went 14-8-2 at Missouri 1911-1913, and overall he was 97-51-14 at 4 schools. He became the athletic director at Missouri 1923-1935, then was a professor there until his death in 1953.
South Dakota 3-3
3-3 South Dakota didn't beat anyone of any value, but they played well in their 3 losses, all of which came to top 10 teams. Those scores

:

14-0 at #9 Minnesota, 20-7 at #3 Notre Dame, and 19-7 to #4 Michigan State. South Dakota had fielded top 25 caliber teams the previous 2 seasons, and they might have been top 25 power-wise this season as well.
1913 Top 25
1) Harvard 9-0
2) Chicago 7-0
3) Notre Dame 7-0
4) Michigan State 7-0
5) Michigan 6-1
6) Army 8-1
7) Nebraska 8-0
8) Washington & Jefferson 10-0-1
9) Minnesota 5-2
10) Navy 7-1-1
11) Pittsburgh 6-2-1
12) Carlisle 10-1-1
13) Dartmouth 7-1
14) Colgate 6-1-1
15) Princeton 5-2-1
16) Yale 5-2-3
17) Cornell 5-4-1
18) Penn 6-3-1
19) Washington 7-0
20) Auburn 8-0
21) Purdue 4-1-2
Illinois 4-2-1
Wisconsin 3-3-1
24) Tufts 7-1
25) Iowa 5-2

Others Receiving Votes
:
Maine 5-2-1
Bucknell 6-4
Virginia 7-1
Texas 7-1
Missouri 7-1
South Dakota 3-3