Home
1925 College Football National Championship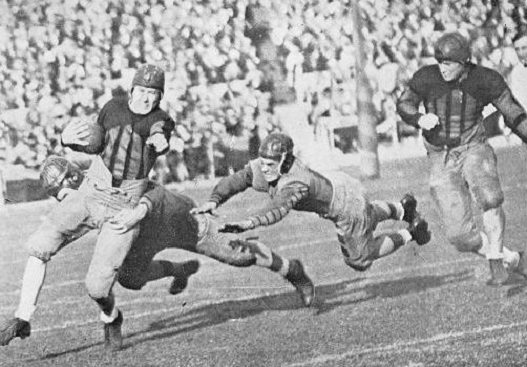 Pictured above is Alabama halfback Johnny Mack Brown about to break free for a long gain against Washington in the Rose Bowl. Alabama won a great game 20-19 to finish 10-0 and lay claim to the school's first mythical national championship (MNC). They are the consensus choice for MNC of 1925 among retroactive selectors.
Here is how the "major selectors" listed in the NCAA Records Book, all selecting long after the fact, see the 1925 college football national championship (omitting math/computer ratings, which neither I nor anyone else recognize as constituting titles)

:

10-0 Alabama

:
Helms
,
CFB Researchers
,
National Championship Foundation
8-0 Dartmouth

:
Parke Davis

However, if there had been an AP poll in 1925, 8-0 Dartmouth would have finished #1 by a landslide, and in fact Alabama would likely have finished no better than 3rd (at best), behind 7-1 Michigan. And that's a post-bowl poll-- Alabama would have been more like #8-15 before their big win over 10-1-1 Washington in the Rose Bowl.

10-0 Alabama and 8-0 Dartmouth are the teams everyone focuses on for the 1925 MNC, but 7-1 Michigan and 8-1 Pittsburgh should also be considered contenders because both played much tougher schedules than either Alabama or Dartmouth did. Michigan and Pitt each defeated 3 top 25 caliber opponents, while Dartmouth and Alabama each defeated just one.


All rankings in the following article, except as noted, come from my 1925 top 25, which is based on a hypothetical post-bowl AP poll (within logical reason of course)
.
Dartmouth 1925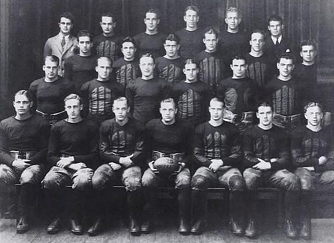 | | | |
| --- | --- | --- |
| Norwich (4-5) | 59-0 | |
| Hobart (5-4) | 34-0 | |
| Vermont (3-6) | 50-0 | |
| Maine (5-2-1) | 56-0 | |
| at Harvard (4-3-1) | 32-9 | |
| at Brown (5-4-1) | 14-0 | |
| Cornell (6-2) | 62-13 | #22 |
| at Chicago (3-4-1) | 33-7 | (#29) |
This season is the only mythical national championship Dartmouth claims, but they had been fielding strong teams since 1901. 1901-1924, the Big Green had gone 159-36-15, and if there had been an AP poll for those seasons, they would have finished top 25 about 20 times, half those in the top 10. They had thrice gone unbeaten, but took a tie each time, and 10 other years they suffered just 1 loss. The program had faded a bit 1916-1922, going 38-16-4 during that time, but they were still generally a #15-25 type team. Head coach Jesse Hawley brought them back to top 10 caliber immediately upon taking over the team in 1923, going 8-1 that season, 7-0-1 the next, and 8-0 this season, the school's first perfect finish.

Hawley was a Dartmouth grad who had coached at Iowa 1910-1915, going 24-18 there. They were generally mid-level, losing to good teams and beating bad ones, but they drew a lot of attention for a wide-open spread passing attack that enabled them to score 310 points in 7 games in 1913. Hawley then retired from coaching and went into business, but when his alma mater came calling in 1923, he became their coach as an unpaid volunteer. He blew the cobwebs off of his old spread passing attack and went 39-10-1 at Dartmouth 1923-1928.

The East had never seen anything quite like this offense, and most teams were quite unprepared to deal with it. In 1923 Dartmouth lost only to national champion Cornell, and in 1924 they were perfect except for a tie at 6-0-2 Yale. This season Dartmouth went all the way, outscoring their opponents 340-29 (average score 43-4), and no one came within a touchdown of them.
The Players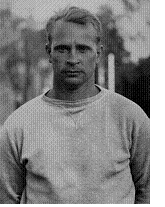 If there had been a Heisman Trophy in 1925, Dartmouth's Hall of Fame halfback Andy "Swede" Oberlander (pictured at left) would have easily won it, despite this being Red Grange's senior season at Illinois. Oberlander was a unanimous All American, and Grange wasn't (Nebraska's legendary tackle Ed Weir was the only other unanimous AA in 1925). Oberlander scored 12 touchdowns this season, but he was also the passer in Jess Hawley's attack, and he threw for another 14 touchdowns. He was a great punter as well.

In Dartmouth's biggest game, against rival Cornell (6-2), Oberlander produced 477 yards of total offense and accounted for 8 touchdowns in a shocking 62-13 beatdown. He was 11 of 14 passing for 317 yards and 6 touchdowns, and he rushed 19 times for 160 yards and 2 touchdowns. He also set up his team's 9th touchdown with a 55 yard punt, because when the returner ran back trying to field it, he muffed it, and tackle Nathan Parker recovered the ball at the Cornell 11 yard line. Oberlander's 6 touchdown passes is still the school record.

Dartmouth led the nation with 3 consensus All Americans. Joining Oberlander were end George Tully and guard Carl "Dutch" Diehl, who had also been consensus AA in 1924. Tackle Nathan Parker was a nonconsensus AA and the team captain, and off the field he was class president and a Rhodes scholar.

Halfback Myles Lane never made an AA list, even as a 2nd or 3rd teamer, but he is Dartmouth's 2nd Hall of Famer. He scored 17 touchdowns this season, placing him 2nd in the nation in scoring. In 1927 he would up that to 18 touchdowns, then add 17 extra points to lead the nation in scoring with 125 points. For his career, he scored 307 points on 48 touchdowns and 19 extra points. So I think the Hall of Fame got this one right. Hockey was Lane's true love, though, and he played pro for a while after graduation, winning the Stanley Cup with Boston in 1929. After that he pursued a career in law, eventually becoming a justice on the New York State Supreme Court.
Dartmouth's Season
Dartmouth's big problem as a national championship contender is their very thin schedule. The first half of it was made up of nothing but minor schools, and weak ones at that. The season didn't really begin until game 5, with a trip to Harvard, but they were no longer the power team they once were. They finished 4-3-1, salvaging their season in their last 2 games with a win over 5-4-1 Brown and
a tie with 5-2-1 Yale. Dartmouth dispatched them easily enough, 32-9, but 5-1-1 Princeton stomped them too, 36-0. Oberlander threw for 123 yards and 2 touchdowns, ran for 122 yards and another touchdown, and returned interceptions for 129 yards.


Speaking of 5-4-1 Brown, they were Dartmouth's next road trip, and they were the only team to give Big Green any trouble this season.
They made wholesale changes to their line this week to adjust to Dartmouth's finesse attack, but for their part, Dartmouth still had their attack largely under wraps, hidden from the prying eyes of their rival, Cornell, whom they were to play the next week. Dartmouth's captain, tackle Nathan Parker, was injured, and he was held out of the game so as to be ready for Cornell. That was the plan, at least, but as has been said before, the best laid schemes o' mice an' men gang aft agley.

Brown kept Dartmouth's offense out of their end zone the entire game, but Big Green still found their way there. A huge punting advantage delivered by Oberlander kept the ball on the Brown side most of the game, and in the 2nd quarter, a bad snap on a Brown punt enabled Myles Lane to get in and block the kick, and a lineman fell on the ball in the end zone. After that, Brown sprung their surprise attack-- a substitute quarterback whose only skill was throwing the ball. They drove straight down the field to a 6 yard touchdown pass, but it was called back due to an offside penalty, and that was the end of Brown's best chance. Nathan Parker was sent into the game and it went back to a field position contest until the 4th quarter, when Dartmouth saw their best drive end at the Brown 2 yard line. But Brown's ensuing punt-out was ruined by another bad snap, another blocked kick, and another Dartmouth lineman falling on the ball in the end zone.


Just as in the 2nd quarter, Brown responded by sending their passer in, and again they found success, but a promising drive was ended when the clock ran out. Dartmouth's twin blocked kicks delivered a 14-0 win. Brown finished with 11 first downs to Dartmouth's 10, almost all of their offense coming from their passing attacks in response to the touchdowns, but while the offensive yardage was fairly even, Dartmouth's advantage in the kicking game was vast, never mind the blocked kicks. End George Tully had a great game for Dartmouth with his kick coverage and defense, and he was also the top receiver for his team and kicked both extra points.
Cornell
1921-1923, when Cornell went 24-0, they had routed Dartmouth 59-7, 23-0, and 32-7. The third game was Jess Hawley's first season at Dartmouth, but all 3 games stuck in his craw, as he felt that Cornell coach Gil Dobie unnecessarily ran up the scores. But rather than get mad, he got even. He beat Cornell 27-14 in New York City in 1924, but that wasn't good enough. This season, though Cornell came into the game 5-0 (average score 42-3), he got what he was looking for

:

a maximum-impact 62-13 lesson in humility for Gil Dobie. Gloomy Gil had been tormenting opponents on the West Coast and East for decades, and coaches, former players, fans, and writers from across the country had something to smile about when they heard or saw the score.


It was as though a modern spread passing attack had been transported back to 1925, and Cornell was utterly helpless to stop it. Oberlander was a big, mobile passer who could take off on the run (thus his 160 yards rushing), and while most great passing attacks from this time featured a specific passer-receiver combo (such as Michigan's Bennie Friedman and Bennie Oosterbaan), Dartmouth had 3 fast, sure-handed receivers who could flood 3 different parts of the field. Someone was almost always open, and when they weren't, the defensive backs weren't there to stop Oberlander from running for a first down. Furthermore, Dartmouth had been showing a more conservative, short-route passing game previously, but for this game it was bombs away. Oberlander hit end George Tully for touchdowns of 50 and 49 yards, and halfback Myles Lane caught touchdowns of 15, 21, and 52 yards. Tully was also 8 for 8 on extra points.

Cornell lost their finale 7-0 at 7-2 Penn, finishing 6-2. They would have been ranked about #15 in a final AP poll, but adjusting that poll for logic moves them back to #22. Either way, Cornell was the only top 25 caliber team Dartmouth played this season. Cornell would get some measure of revenge the next season, besting Dartmouth 24-23, but Dartmouth came right back in 1927 with another beatdown, 53-7, and Hawley ended his career 4-2 against Gil Dobie.

Dartmouth finished their season with what was supposed to have been a big intersectional game at Chicago, but the Maroons were just 3-2-1, albeit against a very tough schedule. Dartmouth won 33-7, Oberlander tossing 4 touchdown passes, 3 of them to Myles Lane. Oberlander also had a 51 yard punt that was mishandled by a Chicago player running back for it, and Nathan Parker scooped the ball up and returned it 13 yards for a touchdown. Quarterback Bob McPhail had over 100 yards rushing, including runs of 10, 15, 13, 25, and 30 yards.

Chicago lost their finale to 6-1-1 Wisconsin as well, finishing just 3-4-1, but all 4 of their losses came to top 25 caliber teams, and they tied 4-3-1 Ohio State, who also lost only to top 25 teams. Chicago beat 6-3 Kentucky 9-0 and 5-3 Northwestern 6-0, and Ohio State won 10-3 over 7-1-1 Ohio Wesleyan (who tied 8-1-1 Syracuse) and 9-0 over 6-3-1 Columbia (who routed 7-2 Army, who routed 7-2-1 Notre Dame), so both Chicago and Ohio State were pretty good teams, and I have Chicago ranked at #29 for 1925.

The dust now settled, writers hailed Dartmouth as the national champions. Grantland Rice

:

"In the midst of all the noise and excitement, football's main banner for the waning year goes to the peace and far-away restfulness of Dartmouth, the college on the hill."

Dartmouth was invited to the Rose Bowl to play 10-0-1 Washington, but they were already widely considered the national champions, and the players didn't want to give up their Christmas holidays, so they voted to reject the offer. That was critical for Alabama, who would not have emerged decades later as the consensus national champion among retroactive selectors without that game.
Alabama 1925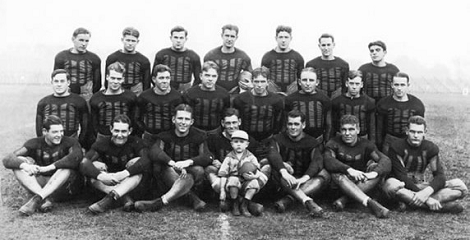 Union (TN) (4-5)
53-0
Birmingham Southern (7-3-1)
50-7
at Louisiana State (5-3-1)
42-0
Sewanee (4-4-1)
27-0


at Georgia Tech (6-2-1)
7-0


Mississippi State (3-4-1)
6-0
Kentucky (6-3)
31-0


(Montgomery) Florida (8-2)
34-0
Georgia (4-5)
27-0

Rose Bowl


Washington (10-1-1)

20-19

#6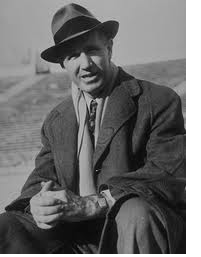 Alabama first emerged as a strong Southern team coming out of World War One. They were 8-1 in 1919, losing 16-12 at 5-1-2 Vanderbilt, and 10-1 in 1920, losing 21-14 at 8-0-1 Georgia. They fell back to 5-4-2 the next season, but in 1922 they posted a big 9-7 win at 6-3 Penn, finishing 6-3-1. In 1923, the same year Jess Hawley started at Dartmouth, Alabama hired Hall of Fame coach Wallace Wade (pictured at left) away from Vanderbilt's staff. He went 7-2-1 his first season, losing 23-0 at 8-1 Syracuse and 16-6 against 6-1-2 Florida, and in 1924 he went 8-1, losing 17-0 to 5-1-1 Centre, the
unofficial "Champion of the South."

This season he went 9-0, sharing both the Southern Conference and unofficial "Champion of the South" titles with 9-0-1 Tulane (they were tied by Missouri Valley champion Missouri)
, but after Alabama won the Rose Bowl to make it 10-0, Tulane became an afterthought. Alabama's unbeaten streak would continue until 1927, as they posted another 9-0 regular season in 1926, then tied unbeaten Stanford in the Rose Bowl. Wade cooled off after that, going 5-4-1, 6-3, and 6-3 over the following 3 seasons, but he came back with another MNC contender in 1930, finishing 10-0 that season. He went 61-13-3 in 8 seasons at Alabama and won 3 retroactively selected MNCs and 4 conference titles, but then he abruptly picked up and moved on to Duke. This was a great surprise and mystery at the time, as he would give no reason for the move, but in later years he indicated that he disliked dealing with the expectations and criticism of Alabama fans, and that he had a clash in philosophy about collegiate athletics with Alabama as an institution.


Consistent success in major college football required a semi-pro approach to the game, but Wallace Wade had graduated from Brown, then coached as an assistant at Vanderbilt, and his collegiate athletic ideals involved players who were actually students first and foremost, and games that were just that-- games, not life-or-death struggles carrying the same psychological import as battles in a war. And at Duke, he was given no "advice" (i.e. interference) on how to run his football program, and he remained happily employed there until 1950. He went 110-36-7 there, easily the best of any coach in Duke history, and he won 6 more Southern Conference titles. Of course, this became considerably easier to do when the semi-pro contingent in the conference split off to form the SEC in 1933.

Wallace Wade was 171-49-10 for his career, placing him on the list for top all-time FBS coaching win percentage, and he won a total of 10 Southern Conference titles at the 2 schools. After he retired from coaching, he was the commissioner of the Southern Conference 1951-1960. Duke's stadium is named for him.
The Players
Playing solely in the South during the regular season, unseen by any major All American selectors, Alabama's players were quite a bit less heralded than those on other top teams in 1925. The leader was senior Alison "Pooley" Hubert, who played at fullback and quarterback. He made 2nd team or 3rd team AA on 4 different lists, at 3 different backfield positions. He scored 35 touchdowns in his 4-year career, and was also a strong passer and defensive back. He is in the Hall of Fame.

Also in the Hall of Fame is halfback Johnny Mack Brown. He scored 2 touchdowns in the Rose Bowl, after which his face graced boxes of Wheaties, then the silver screen. He was briefly an "A-list" star in Hollywood, then settled into a long and famous career as a B-movie cowboy, starring in some 127 Westerns.

End Hoyt "Wu" Winslett is the only Alabama player I can find who ever made a first-team AA list-- he would be named a nonconsensus AA in 1926. However, the guards, Bill Buckler and Bruce Jones, both played pro football for 6 years, and tackle Claude Perry played 9 years for the Green Bay Packers, so I'm thinking this team was underappreciated by the rest of the nation.

Alabama's Season
The Rose Bowl game was vital for Alabama because their regular season schedule was nearly worthless, certainly far worse than even Dartmouth's very weak schedule. None of their opponents would have been top 25, and only one was even "close" (as in maybe #41-50). And while they demolished most of those opponents, they did have 2 close games, and that is just not an impressive performance for an MNC hopeful.

The first close game was at 6-2-1 Georgia Tech, their toughest regular season opponent. Neither team did much on offense in this game, but Alabama won 7-0 on a 55 yard Johnny Mack Brown punt return for a touchdown. Georgia Tech never put together a serious scoring threat, their best efforts dying at the Alabama 28 and 21 yard lines. Georgia Tech had generally been the top team of the South for 10 years prior to this game, but this is the year Alabama took over the region's throne.

Georgia Tech lost 13-0 at home to Notre Dame the next week, then staggered down the stretch, winning 7-0 and 3-0 before tying 5-3-1 Auburn in their finale. They ended up being no better than a #41-50 type team, but they did score a win for the South earlier in the season, beating 4-4-1 Penn State 16-7 in New York City.

Alabama's worst outing came the next week, in a rainy Halloween homecoming game hosting Mississippi State (3-4-1), just 6000 in the stands. Alabama's 2nd string line started this game, and they were in when the team scored its only touchdown on a Pooley Hubert pass for the 6-0 win. A short punt had given Alabama the ball at the MSU 26 to set up the touchdown. Mississippi State produced one scoring threat after that, slogging through the mud to the Bama 16 before throwing an interception.


The rest of Alabama's regular season was unremarkable, though Florida had a nice-looking 8-2 record, and Alabama beat them 34-0 in Montgomery. Georgia Tech gave Florida their other loss 23-7, and Florida didn't beat anyone, so they were maybe a #50 type team at best.

Their regular season complete, all that was left for Alabama was to wait for the Rose Bowl bid they simply had to have to be considered nationally relevant. 8-0 Dartmouth, 7-0-2 Colgate, and 5-1-1 Princeton turned down invitations, and 7-1 Michigan, 5-3 Illinois, and 5-2-1 Yale appear to have rebuffed inquiries as well, so the Rose Bowl committee looked Southward, but first to Alabama's Southern Conference co-champion 9-0-1 Tulane. Unlike Alabama, Tulane had already established national relevance by tying Missouri Valley champion Missouri (6-1-1) and by going up to Chicago and beating 5-3 Northwestern 18-7 (Northwestern gave 7-1 Michigan their only loss). But Tulane also turned down the Rose Bowl, citing concern over the students being out of class for the long trip out West and back. The Rose Bowl bid thus fell to Alabama, and they would certainly not waste the opportunity.
The Rose Bowl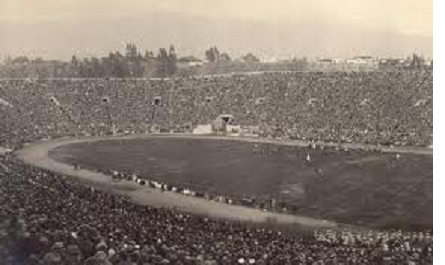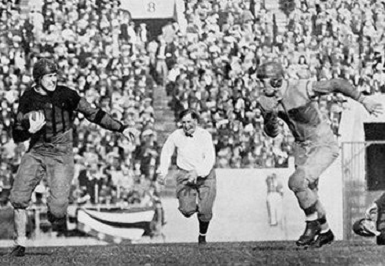 Led by consensus All American halfback George Wilson, Washington came into the Rose Bowl at 10-0-1, the one blemish a tie at 4-2-2 Nebraska. They had 2 notable wins, 13-0 over 7-2 Stanford and 7-0 at 6-3 California, but they had shown themselves to be highly vulnerable in a 15-14 home win over 1-5-1 Oregon in their finale, a much worse result than any of Alabama's. Nevertheless, the South was simply not respected as a football region, and Washington was a 2-1 favorite to win the Rose Bowl.

45,000 fans watched George Wilson (pictured carrying the ball in this game below) and Washington dominate the first half as advertised. Wilson intercepted an Alabama pass to start a 63 yard touchdown drive, but Washington missed the extra point and led 6-0. Later, Wilson got loose for a 36 yard run, but Johnny Mack Brown, the last defender with a shot at him, brought him down at the Alabama 22 yard line. Wilson then threw a touchdown pass from there, but Washington again missed the extra point (it hit the crossbar), and the lead was 12-0, which it would remain at the half. But midway through the 2nd quarter, Alabama turned in what would prove to be the play of the game when several Alabama players hit George Wilson hard, knocking him unconscious. He had to be carried off the field.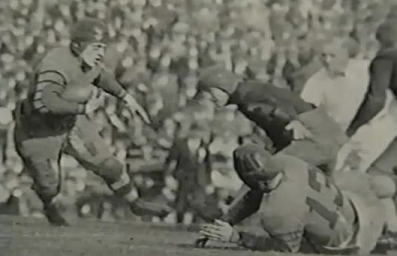 It was a common tactic at the time to target an opponent's best player, assigning 2-3 players to "block " him (i.e. hit him as often and as hard as possible) on every offensive play and kick return, with the intent of wearing him down and thus reducing his effectiveness over the course of the rest of the game. The tactic was risky, because it basically necessitated wasting every offensive series in which the tactic was used, for an uncertain payoff later in the game. Of course, the jackpot payoff was actually knocking the player out of the game, and Alabama hit the jackpot in this game. George Wilson was Washington's entire offense, their best defensive player, their punter, and their on-field coach.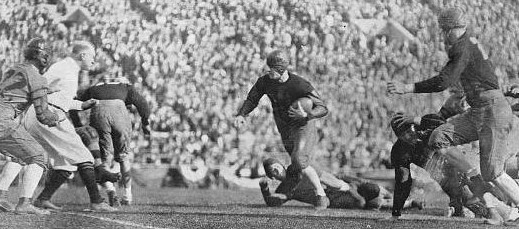 Wilson sat out the 3rd quarter icing bruised ribs, and Alabama ran wild in his absence. Pooley Hubert took the ball 5 straight times into the line for a total of 42 yards and a touchdown, and guard Bill Buckler kicked the extra point (pictured above is Hubert carrying for a 13 yard gain, and pictured below is his touchdown). Johnny Mack Brown caught a 59 yard pass for a touchdown, Buckler kicked another extra point, and Alabama led 14-12. Washington fumbled, Brown took a 30 yard pass from Hubert for a touchdown on the next play, and in just a 7 minute span, Alabama had scored 20 points for a prohibitive 20-12 lead. Alabama was driving toward the Washington goal again when George Wilson finally came back into the game in the 4th quarter, after which Alabama was stopped at the Washington 12 yard line. Wilson threw a 27 yard pass for a touchdown to close the gap to 20-19, and he got away for a long gain late in the proceedings, but Johnny Mack Brown, again the last defender with a shot at him, brought him down to save the game.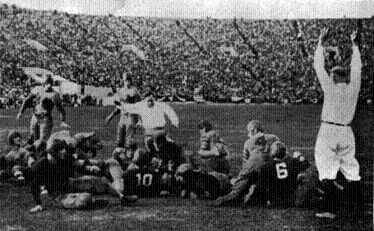 Wilson rushed 15 times for 134 yards and completed 5 passes for 77 yards and 2 touchdowns. In the 38 minutes that he was in the game, Washington totaled 317 yards of offense and outscored Alabama 19-0. In the 22 minutes that he was out, Washington totaled just 17 yards of offense, and they were outscored by Alabama 20-0. Here we can see the extreme vulnerability of a one-man team. But it wasn't just knocking Wilson out that won Alabama this game-- they hit 2 of 3 extra points, and Washington hit 1 of 3, and there's your real difference right there. The loss finished Washington out at 10-1-1, and I have them ranked #6 for 1925.

The Game that Changed the South?
Alabama fans remember the 1926 Rose Bowl as the "Game that changed the South."
The team was greeted by cheering throngs across the South on their train ride home
. The South had previously been disrespected as a football region, and supposedly this game changed all that. More importantly, the South was apparently suffering from low regional self-esteem in a general sense, stemming from the still-lingering effects of the Civil War and Reconstruction, and this game supposedly gave the whole region joy and a sense of regional pride ("SEC! SEC! SEC!"). An oft-quoted Southern historian called the game "the most significant event in Southern football history." There is some truth to all this, but Alabama football history books and articles have obscured the reality of this game beyond recognition in a blizzard of heroicizing hyperbole, and in the process they have erased previous and more important accomplishments of other Southern football teams.

Georgia Tech 1917
I am speaking, first and foremost, of Georgia Tech 1917. Alabama history sources repeatedly claim that no other Southern team had ever been invited to the Rose Bowl before Alabama in 1925, but in fact Georgia Tech was invited in 1917. They turned it down due to the war, as did every other team, and the Rose Bowl was almost canceled that season (they ended up fielding a pair of military teams). Of course, Tulane was also invited before Alabama. Alabama history sources also repeatedly claim that the South had never been respected in football prior to Alabama's Rose Bowl win, but then how do they explain the following?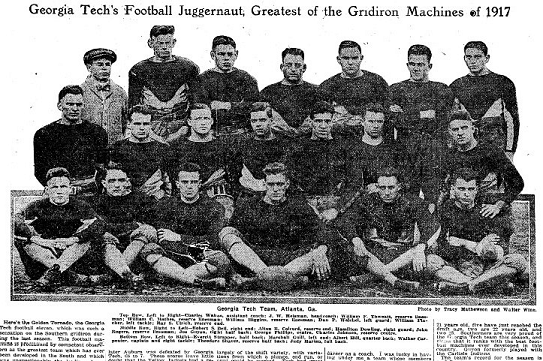 I pulled the above clipping from the

New York Times

. But this picture and article ran in newspapers across the country in 1917. Nothing of the kind ran in newspapers across the nation about Alabama in 1925 or 1926 because

no one considered Alabama to be the national champion of 1925 at the time

. Alabama 1925 was not a 1925 "national champion" until 1941, when the Helms Foundation selected them retroactively. This is a point Alabama football historians and bloggers fail to grasp. They like to say that the Rose Bowl was a "de facto" national championship game in the 1920s, which is silly, given that the Big 10, Notre Dame, and most major Eastern teams refused to play in it by 1925. Had there been an AP poll in 1925, neither Washington nor Alabama would have been ranked as one of the top 2 teams before the game-- more like #5 vs. #13. The Rose Bowl was just another game between 2 good teams, though it was given a brighter spotlight due to taking place a month after the regular season, with a relative lack of competing games.

Alabama's upset over Washington, on the strength of kicking one more extra point, was a great win for the South, but it was massively less impressive and important than Georgia Tech's 41-0 win over 9-2 Pennsylvania in 1917. Penn's only other loss in 1917 was 14-6 to 10-0 Pitt, they beat 8-2 Michigan 16-0, and had there been an AP poll that season, Penn would have finished in the top 5 (unlike Washington 1925). If one game "changed the South," Georgia Tech stomping Penn was it. Prior to that game, intersectional games between the North and South were very rare, but afterward there were a great many such games-- 1919-1924, there were 46 significant games between major teams of the East and the South.

One Alabama website claims of the 1926 Rose Bowl that "the result shook the very foundation of college football." Yeah, about as much as the 2012 Rose Bowl did. Such hyperbole should be reserved for games like Notre Dame's win over Army in 1913, the aforementioned Georgia Tech win over Penn, or Centre's 1921 upset of Harvard. The last being another win by a Southern team over a Northern team that was far bigger than the 1926 Rose Bowl-- at the time at least.
Southern Football
It is true that Southern football was regarded to be inferior to football in the East and Great Lakes regions prior to the 1926 Rose Bowl, but Alabama's win over Washington did little to change that perception. For one thing, Washington obviously was not an Eastern or Midwestern team, and for another, it was just one game. I mentioned that major Southern teams played 46 significant games against Eastern teams 1919-1924-- the South went

6-40

in those games. Over the same time period, the South was 3-14-2 against the Great Lakes region, 9-16-3 against the Southwest (Texas teams and Arkansas), and 0-4 against the Missouri Valley. And even if you look at just the South's very best teams 1919-1924-- Georgia Tech, Centre, Vanderbilt, Alabama, Georgia, and Auburn-- the South went 5-16 in significant games against the East.

So how much did Alabama's win in the 1926 Rose Bowl "change the South"? Well, through the rest of the 1920s, 1926-1929, major Southern teams went 4-15 in significant games against the East and 3-16-1 against the Midwest. So needless to say, any change was purely psychological. Alabama fans point to the fact that Southern teams played in the Rose Bowl 13 times after 1926 as a sign of a change in respect for Southern football, but those teams were invited to play for the same reason Alabama was in the first place. Who else were they going to invite? As stated, by 1925, the Big 10, Notre Dame, and most major Eastern teams would not play post-season games. But once the Big 10 was willing to play there again after World War 2, they became permanent residents. Well, until the BCS came along, that is.

The rise of Southern football was nowhere near an overnight process. It was a long series of successes by different teams that built one upon the other, and the 1926 Rose Bowl was just one more of those. All of those Southern teams deserve recognition. So here is an extensive list of significant intersectional wins (and ties) for Southern teams prior to Alabama's first Rose Bowl victory

(some of these may not seem significant, but were considered so at the time)

:



1906

:

8-1 Vanderbilt struck the first significant Southern blow in football history when they defeated 9-3 Carlisle 4-0 at home.

1907

:

5-1-1 Vanderbilt tied 9-2-1 Navy 6-6 on the road, more impressive to Eastern writers because they saw it firsthand, and Navy wasn't "just an Indian school."

1910

:

8-0-1 Vanderbilt tied 6-2-2 Yale 0-0 on the road, and Yale being considered

the

premiere program in college football at the time, this outcome was a far bigger deal than the Carlisle win or Navy tie.

1917

:

9-0 Georgia Tech beat 9-2 Penn 41-0 at home. The South's first legitimate mythical national champion, and not retroactively selected-- universally hailed as the nation's champion that year.

1917

:

6-2-1 Auburn tied 8-0-1 Ohio State 0-0 at home, spoiling their perfect season.

1919

:

9-0 Centre won at 8-2 West Virginia 14-6. This game made Centre a national sensation.

1921

:

10-1 Centre won at 7-2-1 Harvard 6-0, long considered the greatest upset in college football history. Several writers from outside the South felt that Centre was the best team in the country in 1921.

1922

:

8-0-1 Vanderbilt tied 6-0-1 Michigan 0-0 in the first game played in Vanderbilt's stadium. Vandy (and much of the South) celebrated as though it were a win.

1922

:

6-3-1 Alabama won at 6-3 Penn 9-7.

1924

:

6-3-1 Vanderbilt won at 3-3-2 Minnesota 16-0.

1924

:

5-3-1 Georgia Tech defeated 6-3-1 Penn State 15-13.

1925

:

9-0-1 Tulane tied 6-1-1 Missouri 6-6 at home. Missouri beat Nebraska for the Missouri Valley Conference championship.

1925

:

6-2-1 Georgia Tech defeated 4-4-1 Penn State 16-7 in New York City.

1925

:

9-0-1 Tulane defeated 5-3 Northwestern 18-7 in Chicago.

The True Legacy of the 1926 Rose Bowl
The truth is that the 1926 Rose Bowl was mostly the Game that Changed Alabama. It delivered them by far the biggest win in school history to that point, and the first of a great many national championship claims to come. It was the coming out party for one of the greatest programs in college football.
Michigan 1925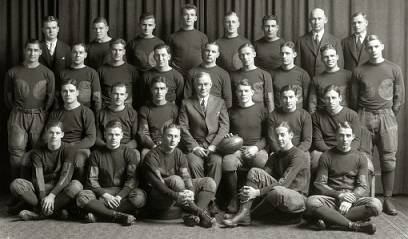 | | | |
| --- | --- | --- |
| Michigan State (3-5) | 39-0 | |
| Indiana (3-4-1) | 63-0 | |
| at Wisconsin (6-1-1) | 21-0 | #9 |
| at Illinois (5-3) | 3-0 | #20 |
| Navy (5-2-1) | 54-0 | (#31) |
| at Northwestern (5-3) | 2-3 | (#30) |
| Ohio State (4-3-1) | 10-0 | (#28) |
| Minnesota (5-2-1) | 35-0 | #14 |
Michigan previously contended for mythical national championships in 1901, 1902, 1903, 1904, 1918, 1922, and 1923, though I only selected them as national co-champions for 1902 and 1918. I covered their Hall of Fame coach, Fielding Yost, in greatest detail in the 1901 article
.

Ever the bridesmaid, never the bride, it is unlikely that Michigan would have finished #1 in any final AP poll had there been one 1901-1924
. Their one chance would have been 1923, when they went 8-0, but I'd guess that they had no more than a 20% chance of winning a vote for #1 over the other 3 MNC contending teams that went 8-0 that year. Fielding Yost had retired after that 1923 season, but he found that retirement didn't suit him, and returned in 1925 after just a 1-year absence. For most of 1925, it looked like this was finally going to be their big season, because they were putting up eyebrow-raising scores against a tough schedule. After they destroyed 5-2-1 Navy 54-0, national writers and even coaches were already conceding Michigan the mythical national championship. And everyone was rooting for them

:

it was finally Michigan's turn.

And then, inconceivably, Michigan lost by the baseball score of 3-2 to 5-3 Northwestern in a rainstorm in Chicago, and outside of this one game, Northwestern was rather poor this season. On the same day, Dartmouth slaughtered 6-2 Cornell 62-13, and that was that. In the end, Dartmouth was widely considered the nation's champion, leaving Michigan the bridesmaid yet again. Still, Michigan played a much tougher schedule than Dartmouth, so they're worth a look.

The Players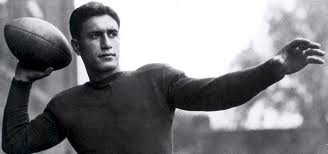 The only significant player left over from Michigan's 8-0 1923 team was tackle Harry Hawkins. But that team's center, Jack Blott, was still hanging around as the line coach.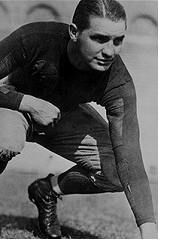 Michigan had 2 consensus All Americans (only Dartmouth had more), and both are in the Hall of Fame

:

the Bennies. The Benny Friedman to Bennie Oosterbaan passing combo ruled the Big 10 for 2 seasons 1925-1926.

Quarterback Benny Friedman (pictured above) was the passer and kicker, and he repeated as consensus AA in 1926. He threw 5 touchdown passes against Indiana, and kicked 2 field goals and 8 extra points as well. He went on to an 8 year career in the pros, and threw a record 20 touchdown passes for the 1929 New York Giants-- no

team

would throw that many in a season until 1942. He is also in the pro football Hall of Fame.

End Bennie Oosterbaan (pictured at left) was his main receiver, and he turned the AA hat trick, repeating as consensus AA in 1926 and 1927. He is considered one of the greatest ends of the pre-WWII era. He led the Big 10 with 8 touchdowns this season. In 1926 his 60 yard fumble return enabled a 7-6 win over Minnesota. In 1927 he threw 3 touchdown passes to beat Ohio State 21-0. A multi-sport star, he was also twice AA in basketball and a Big 10 batting champion in baseball. After graduation he became an assistant coach at Michigan for 20 years, taking over as head coach in 1948. He won a national championship in his first year at the helm, and Big 10 titles in each of his first 3 seasons, but no more were coming, and he finished 63-33-4 1948-1958.

Center Robert Brown was the captain and a nonconsensus AA. His son, also Robert, would be the captain of Michigan's 1962 team. Tackle Tom Edwards was also a nonconsensus AA.

Fullback John "Bo" Molenda never made a first-team AA list, but his hard work crashing the line opened up the Friedman-to-Oosterbaan touchdown express, and he went on to a 9-year pro career. He scored 3 touchdowns in the 54-0 beatdown of Navy, the only touchdown in a 10-0 win over Ohio State, and 2 touchdowns in the 35-0 finale against Minnesota. He had a lot of trouble staying academically eligible, and finally gave up trying after the 1926 season.
Michigan's Season
Michigan was impressively dominant for most of this season, outscoring their opponents by a total of 227-3, but those measly 3 points they gave up sure were costly. Yost and Michigan had seen this before-- their 1905 team outscored opponents 495-2, but still lost one game at Chicago 2-0. This year's loss would come in the same city.

Michigan whipped warm-ups Michigan State 39-0 and Indiana 63-0, then traveled to Wisconsin for the Badgers' homecoming game. Wisconsin coach George Little had been Michigan's coach during Fielding Yost's brief 1924 retirement. Michigan scored a pair of touchdowns in the opening 5 minutes, Benny Friedman returning a kickoff 80 yards and throwing a 62 yard pass, then kicking the extra points. Friedman added a 10 yard touchdown pass to Bennie Oosterbaan in the 2nd quarter, and Michigan won 21-0.

Wisconsin ended up being Michigan's top opponent, finishing 6-1-1.
They were tied by 5-2-1 Minnesota, and their best win was 6-0 at 5-3 Iowa in ridiculously bad weather (the same day as Michigan's loss in the rainstorm in Chicago). I have Wisconsin ranked #9 for 1925.


Michigan followed that up with another big road trip, to Illinois, where star Red Grange was a senior. Grange had embarrassed Michigan the previous season by accounting for 402 yards and 6 touchdowns in a 39-14 Illinois win. But Grange's supporting cast was not so strong this season, and Illinois had already been shut out 14-0 by Nebraska and had lost 12-10 to Iowa, so Michigan could smell revenge. Benny Friedman kicked a 24 yard field goal in the 2nd quarter, and that's all the scoring this game saw. Bo Molenda had 2 interceptions, and Red Grange was held to just 56 yards rushing on 25 carries.

Illinois came out of this game 1-3, but they won out to finish 5-3, including a huge 24-2 win at 7-2 Penn in which Red Grange ran wild like the Grange of old. Their strong finish and famous player would have gotten them into the bottom of a 1925 AP poll, and I have them ranked #20.

That 3-0 win wasn't particularly impressive, beyond the great defensive work on Grange, but Michigan followed it up with their most impressive game, a 54-0 stomping of Navy at home. Navy finished 5-2-1, losing their finale 10-3 to 7-2 Army. Their season highlight was a 10-10 tie with 5-1-1 Princeton in Baltimore. The rest of their schedule was rather poor, and Navy would not have been ranked in a final AP top 25 in 1925. I have them ranked #31. Still, 54-0 is 54-0, and in the week that followed, everyone was talking about how Michigan was the best team in the land. Just begging for a disaster.

Disaster
Have you ever noticed that teams who win big games by big scores often struggle the next week, even against lesser opponents? Have you noticed that I've written that exact sentence before? Seems like I could write it nearly every year. In 1924, MNC Notre Dame followed their most impressive outing, a 34-6 rout of Nebraska, with their least impressive, a 13-6 win over 4-4 Northwestern at Soldier Field. Well, in 1925, Michigan was to meet their Waterloo-- and "water" is indeed appropriate here-- against the same pesky team on the same field.

The game was played in a driving rainstorm that rendered it nearly unplayable. The bout
was almost canceled, but Northwestern wanted none of that-- that wasn't thunder booming, it was opportunity knocking.
20,000 hardy souls showed up to watch the season's most dramatic punting festival. The game's big break came just 5 minutes in, when Benny Friedman fumbled a punt at his own 4 yard line. Northwestern plunged into the line fruitlessly 3 times, then kicked the field goal for the only points Michigan gave up this season. Northwestern took an intentional safety when punting from their own end zone in the 3rd quarter, and went on to win the game 3-2 without having even gained a first down.

Northwestern finished a respectable-looking 5-3, and they were also pesky in a 13-10 loss at 7-2-1 Notre Dame, but they were not otherwise a strong team. They lost 6-0 at 3-4-1 Chicago, 18-7 to 9-0-1 Tulane, and struggled to beat several bad teams

:

14-7 over South Dakota, 17-14 over 3-4-1 Indiana, and 13-9 at 3-4-1 Purdue. Northwestern would not have been ranked in an AP poll top 25 in 1925, and I have them ranked #30, solely on this one big win. But they would go on to a terrific 7-1 season in 1926.

After that debacle, Michigan got back on their horses and rode over 4-3-1 Ohio State (#28) 10-0 and 5-2-1 Minnesota (#14) 35-0, finishing 7-1.


Fielding Yost insisted for years that this was the best team he ever coached, better than all those point-a-minute teams from 1901-1905. At their best, in the Wisconsin, Navy, and Minnesota games, they did indeed appear to be quite the juggernaut.
Pittsburgh 1925
| | | |
| --- | --- | --- |
| Washington & Lee (5-5) | 28-0 | |
| Lafayette (7-1-1) | 9-20 | #11 |
| West Virginia (8-1) | 15-7 | #5 |
| Gettysburg (6-1-2) | 13-0 | |
| Carnegie (5-2-1) | 12-0 | (#35) |
| Johns Hopkins (3-3-2) | 31-0 | |
| Washington & Jefferson (6-2-1) | 6-0 | #10 |
| at Penn (7-2) | 14-0 | #21 |
| Penn State (4-4-1) | 23-7 | |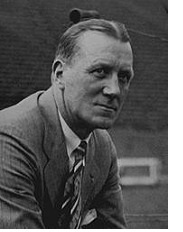 Pittsburgh had been the top program in the country under Pop Warner 1915-1918
, going 30-1 those 4 years and winning MNCs in 1916 and 1918. They remained strong after that, but dipped back to 30-11-4 over the next 5 seasons. Then Pop Warner left for Stanford, and the football world all but forgot about Pittsburgh. They went 8-1 this season against a schedule that included 4 teams that would have been rated in a 1925 AP poll, and no opponent they played had a losing record, and all but 1 of their wins came by more than a touchdown, and yet they received far less attention than Dartmouth and Michigan. It would be a couple of years before the football world started to realize that Pitt had successfully replaced one great all-time coach with another.

The new guy was Hall of Fame coach Jock Sutherland (pictured), who had been a consensus All American guard for Pop Warner at Pitt, playing 1915-1917, during which time Pitt was 26-0. He had coached at Lafayette 1919-1923, going 33-8-2, including a 9-0 MNC contender in 1921. He went 5-3-1 in his initial season at Pitt, then lost 20-9 this year in an early game against his former team, Lafayette, and so people stopped paying attention, and Pitt's 8-1 finish therefore went relatively unnoticed. Sutherland went 111-20-12 at Pitt 1924-1938, and the school claims 5 national championships during those years, though that is a bit of a silly overreach. For his career, Sutherland totaled
144-28-14, placing him highly on the list for best all time FBS coaching win percentage
.


The team had just one consensus AA, tackle Ralph "Horse" Chase, and no nonconsensus AA players, but sophomore halfback Gilbert "Gibby" Welch would be a unanimous choice on AA lists in 1927, when he was the captain. His 589 rushing yards led the team this season, and he turned in 815 yards in 1926. For his career, he produced 4108 yards of total offense 1925-1927.

Fullback and placekicker Andy Gustafson was the line plunger. He had led the team in rushing in 1923 with 493 yards and in 1924 with 432 yards, and he led the team in scoring all 3 years 1923-1925. This season he scored 6 touchdowns, 6 extra points, and 5 field goals. After graduation he became a Hall of Fame coach, going 115-78-4 at Virginia Tech 1926-1929 and at Miami-Florida 1948-1963. He introduced Miami to the school's first stretch of football relevance, taking them to 4 bowls and 6 AP poll finishes.


Tackle Bill Kern would be a nonconsensus AA in 1927. He later coached for 8 years, with one notable season at Carnegie in 1938, taking them to the Sugar Bowl, where they lost 15-7 to national champion TCU to finish 7-2.
Pittsburgh's Season
Pitt's season was marred early with a 20-9 home loss to Sutherland's former team, Lafayette, who had beaten them 10-0 the previous season. Pitt built a 9-0 lead on 3 Andy Gustafson field goals, and they ended up with 13 first downs to Lafayette's 12, but Lafayette came back by killing them through the air on 9 of 11 passing for 116 yards, scoring touchdowns in each of the last 3 quarters. Lafayette finished 7-1-1, losing to 6-2-1 Washington & Jefferson in New York City and tying 7-0-2 Colgate in Philadelphia, and I have them ranked #11 for 1925.

Pitt then dusted themselves off and won out against a very tough schedule. The next week they beat West Virginia 15-7. The game was scoreless at the half, but Pitt went to the air to set up a pair of Gustafson touchdowns in the second half. West Virginia finished 8-1 themselves, the big win 19-0 over 6-2-1 Washington & Jefferson, and I have the Mountaineers ranked #5 for 1925.

Pitt beat 6-1-2 Gettysburg 13-0 and 5-2-1 Carnegie (#35) 12-0, but their next big game was a month after the West Virginia game, against Washington & Jefferson, who was coming in at 5-0-1. They had been tied by Carnegie, but had beaten Lafayette 7-6 in New York City, and like Lafayette, they had beaten Pitt 10-0 the previous season. This game was a defensive slugfest, and neither team was able to produce any offense, but Pitt blocked 4 W&J kicks, one of those by guard Zonar "Zeke" Wissinger, which he returned for a 25 yard touchdown, giving Pitt a 6-0 win. W&J finished 6-2-1 after a 19-0 drubbing in their finale at 8-1 West Virginia, but they would have been ranked #16-25 in a final AP poll in 1925 thanks to their high-profile win over Lafayette in New York, and I have them ranked #10.

The next week Pitt traveled to Penn for their only road game of the season and won a big "upset" 14-0 before 50,000 fans. Sophomore back Gibby Welch was the star, turning in an impressive all-around game. Penn beat 6-2 Cornell in their finale to finish 7-2, and they would have been rated about #11 in a final AP poll, but logic moves them back to #21. That's because 5-3 Illinois beat them 24-2, and there was no good reason for them to be rated higher than Illinois.

Pitt finished their season with a 23-7 yawner over rival Penn State, who was 4-4-1 and rather unimpressive this season, though they did tie 7-2-1 Notre Dame.
Selecting the 1925 Mythical National Champion
Here are the significant games for our 4 contenders.
The opponent rankings
come from my 1925 top 25, which is based on a hypothetical post-bowl AP poll (within logical reason of course)
.


Dartmouth 8-0



#22 Cornell (6-2) 62-13
at (#29) Chicago (3-4-1) 33-7

Alabama 10-0



at (Unranked) Georgia Tech (6-2-1) 7-0
(Unranked) Mississippi State (3-4-1) 6-0


Rose Bowl


#6 Washington (10-1-1) 20-19

Michigan 7-1



at #9 Wisconsin (6-1-1) 21-0
at #20 Illinois (5-3) 3-0
(#31) Navy (5-2-1) 54-0
at (#30) Northwestern (5-3)

2-3


(#28) Ohio State (4-3-1) 10-0
#14 Minnesota (5-2-1) 35-0

Pittsburgh 8-1



#11 Lafayette (7-1-1)

9-20


#5 West Virginia (8-1) 15-7
(#35) Carnegie (5-2-1) 12-0
#10 Washington & Jefferson (6-2-1) 6-0
at #21 Penn (7-2) 14-0

Dartmouth defeated their weak (non-top 40) opponents by an average score of 38-2, Alabama defeated theirs 31-1, Michigan defeated theirs 51-0, and Pitt defeated theirs 24-2. This is why Dartmouth would have been #1 and Michigan #2 in an AP poll in 1925-- writers love the big numbers, and both Dartmouth and Michigan also put huge scores up on rated and near-rated teams.

The unbeaten duo are the teams people focus on for the 1925 MNC, and really, since WWII people have focused solely on Alabama, but what we have here is the difficult case of a pair of unbeaten teams who played weak schedules and a pair of 1-loss teams who played much more difficult schedules. Pitt played 4 top 25 teams, Michigan 3, and Alabama and Dartmouth 1 each. Michigan played 6 top 40 teams, Pitt 5, Dartmouth 2, and Alabama 1. The 1920s have given us a lot of difficult MNC selections, and 1925 is no exception. While Dartmouth and/or Alabama may be the correct choice(s) in the end, Michigan and Pittsburgh would make better MNC selections for 1925 than many other teams that organizations have selected for MNCs over the years, such as 1924 Penn, 1919 Texas A&M, 1915 Oklahoma, 1908 LSU, and 1901 Yale, to name just a few.
Eliminating Michigan
Michigan may have been the best team in the country in 1925, or at least the 2nd best, where the AP poll would have ranked them. Certainly their best performances were matched only by Dartmouth's. They played a much tougher schedule than did Dartmouth, but that would be more compelling if they had actually lost to one of the good teams they played. However, losing to Northwestern, rainstorm or not, was simply inexcusable. Northwestern lost 6-0 at Chicago, and Dartmouth won 33-7 at Chicago. And Michigan had another 2 outcomes that were closer than any of Dartmouth's, 3-0 at Illinois and 10-0 over Ohio State. Ohio State was tied by Chicago, Illinois beat Chicago just 13-6 at home
, and again, Dartmouth beat Chicago 33-7 on the road.
So multiple games point to Dartmouth being better than Michigan.

Michigan compares much better to Alabama and Pittsburgh than they do to Dartmouth, but since at least Dartmouth looks to be more deserving of an MNC, let's go ahead and eliminate Michigan on that basis.

Eliminating Pittsburgh
Pittsburgh did not put up big impressive scores like Michigan did, but all but one of their wins was by more than a touchdown, just like Michigan, and their loss came to an opponent ranked #11, while Michigan lost to an unranked team, and Pitt defeated 2 top 10 opponents to Michigan's 1. So I think Pitt had a stronger case for sharing an MNC in 1925 than Michigan did.

On the other hand, in some ways, Pitt's loss to Lafayette was at least as egregious as Michigan's at Northwestern. Pitt lost by more than a touchdown, 20-9, and the game was at home, and there was no bad weather to blame. Furthermore, Michigan played Northwestern in the middle of a string of 6 straight games against top 50 opponents, and following 3 straight "big" games (at Wisconsin, at Illinois, Navy), while Pittsburgh played Lafayette in game 2, following a warm-up patsy. Pitt certainly couldn't point to their schedule as a contributing factor to the loss.

Pitt's 15-7 win over 8-1 West Virginia looks to be the best win by any of the 4 contenders, given that they won by more than a touchdown over a top 10 caliber team, but I think that whatever value that win has is largely negated by the Lafayette loss, and Pitt's other results were not so impressive, at least not compared to Dartmouth's. They beat Penn 14-0, who beat Cornell 7-0, and Dartmouth beat Cornell 62-13. Then there was Pitt's 6-0 home win over #10 Washington & Jefferson, won on a blocked punt for a touchdown in the 4th quarter. That's more the result of a #10 team than #1.

Pitt, like Michigan, compares much better to Alabama than they do to Dartmouth, but Pitt too is hereby eliminated. No controversy so far, as neither Michigan nor Pitt claims an MNC for 1925 anyway.

Dartmouth vs. Alabama
There is no question that Dartmouth was much more impressive than Alabama, which is why they were considered the mythical national champion at the time. Alabama's games against Georgia Tech and Mississippi State look quite bad compared to Dartmouth's results. However, Alabama did do something Dartmouth did not-- they defeated a top 10 caliber team. Dartmouth barely defeated a top 25 caliber team-- Cornell didn't do much this season aside from beating good-but-unrated 6-3-1 Columbia 17-14. On the other hand, Columbia did beat 7-2 Army 21-7, who beat 7-2-1 Notre Dame 27-0, who beat Georgia Tech 13-0 on the road.

But the real point here is that Alabama beating the #6 team by kicking one more extra point doesn't actually seem more impressive than Dartmouth beating the #22 team 62-13, while Alabama's 2 poor performances are unquestionably worse than any of Dartmouth's results.

Looks like Dartmouth is and was a pretty clear #1. So the only question left is whether or not Alabama deserved a share of the 1925 MNC. That's a close call, but I think Alabama did just enough for the share. As I said earlier, Michigan and Pitt compare more favorably to Alabama than they do to Dartmouth, and if Dartmouth hadn't existed, I'd probably be looking at a 3-way share for the MNC between Alabama, Michigan, and Pittsburgh. But unlike Michigan and Pitt, Alabama did not suffer an upset loss. Their win over Washington, while razor-close, was a win over a top 10 team and another region's champion (and not a weak region), and since Dartmouth did not play a team nearly as strong, that win combined with Alabama's perfect record will do for a share of the MNC.

Dartmouth's schedule was weaker than that of any team I've selected as a national champion to this point (1901-1924). But the same might be said of Alabama's schedule, and no team I've selected for an MNC has had more than 1 weak performance against an "unrated" opponent, like Alabama did. So these teams are possibly the lamest national champions I've selected so far. Which is why Michigan and Pittsburgh were so close to meriting a share of the MNC
.

Awards Ceremony
1925 #1:

8-0 Dartmouth


National Co-champion:

10-0 Alabama


Contenders:

7-1 Michigan and 8-1 Pittsburgh

These are the awards I have been handing out for each season, except seasons when there are no contenders. For this purpose, what I mean by a contender is a team that I think is very close to being worthy of sharing the national championship. A team that you could make an argument for, even if that argument is weak. But the contenders are teams that I myself do not see as national champions.

Dartmouth and Alabama give us 2 first-time mythical national champions. That's 5 first-timers in the 1920s so far. Dartmouth never contended for the MNC again, but Alabama will be back in contention as soon as 1926, and many more times after that.
Grading the Selectors
I have been grading the NCAA Records Book's selectors for each season, and keeping a grade point average, so we can see who is relatively good at selecting national champions and who is not. And although I do not consider computer ratings to be legitimate national championship selectors, I have been including them in this section as well, just for comparison's sake.
I am grading on a scale of 0-5 (5 being the best).


Sagarin's original recipe system selected Michigan.

Grade: 1.8

Parke Davis and Dickinson's system selected Dartmouth
.

Grade: 5.0



Everybody else selected Alabama.

Grade:

4.0



Dickinson's math rating system, which was applied retroactively, had Michigan and Alabama tied for #2 behind Dartmouth.

Grade point averages 1919-1925 (the Dickinson and Poling systems will join the list when they've picked champions for at least half as many years as the others)

:



1) Sagarin-ELO (math system)
4.07
2) Boand (math)
3.81
3) Helms

3.80
4) College Football Researchers Association

3.76
5) National Championship Foundation
Sagarin (math)
3.49
7) Houlgate (math)
3.23
8) Parke Davis
2.94
9) Billingsley (math)
2.31

How the systems that selected champions for 1901-1918 did

:



| | |
| --- | --- |
| 1) Houlgate (math system) | 4.5 |
| 2) Helms | 4.3 |
| 3) Parke Davis | 4.2 |
| 4) National Championship Foundation | 3.7 |
| 5) Billingsley (math) | 3.6 |