Home
1924 College Football National Championship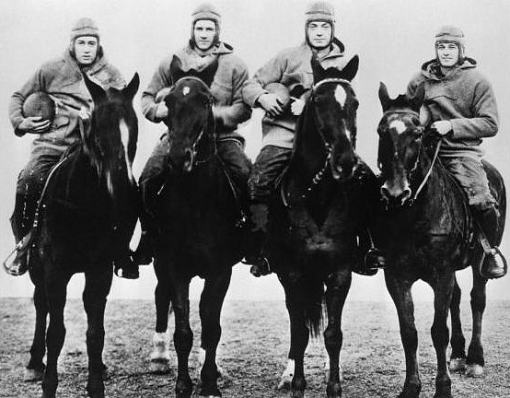 The most famous picture of the most famous backfield, who played for the most famous team in college football history. Left to right, the "Four Horsemen" of Notre Dame were halfback Don Miller, fullback Elmer Layden, halfback Jim Crowley, and quarterback Harry Stuhldreher. All but Miller were consensus All Americans this season (it took an even more legendary figure, Illinois halfback Red Grange, to prevent a clean sweep), and all four are in the Hall of Fame.

Thanks to that picture, Grantland Rice's "Four Horsemen" article, Notre Dame's subsequent unbeaten and untied season, and their rout of previously unbeaten Stanford in the Rose Bowl, this is the year that Notre Dame became NOTRE DAME. And for the first time since 1909, there is only one team to look at this season for the mythical national championship (MNC). And yet unlike Yale in 1909, Notre Dame is not quite a unanimous choice for the 1924 MNC-- too often we find a contrarian for even the slammingest of slam dunks.
Here is how the "major selectors" listed in the NCAA Records Book, all selecting retroactively, see the 1924 college football national championship (omitting math/computer ratings, which neither I nor anyone else recognize as constituting titles)

:

10-0 Notre Dame

:
Helms
,
CFB Researchers
,
National Championship Foundation
9-1-1 Pennsylvania

:
Parke Davis

Parke Davis' idiotic selection of 9-1-1 Penn over 10-0 Notre Dame for 1924 isn't even his worst, if you can believe that-- but it is topped only by his baffling selection of Yale over Harvard for 1901. Penn played all 10 of their regular season games at home, and those opponents included just 2 teams that might have been rated in an AP poll's top 25 had there been one in 1924

:

7-2 Lafayette, whom Penn beat 6-3, and 5-3-1 Columbia, whom Penn beat 10-7. Penn edged 4-4 Georgetown 3-0, and they were tied by 6-3-1 Penn State, and neither of those teams would have been close to a top 25. Penn State lost to 5-3-1 Georgia Tech, whom Notre Dame buried 34-3. And if all that wasn't enough, Penn went out to Berkeley and lost 14-0 to 8-0-2 Cal on the same day that Notre Dame routed Pacific Coast champion Stanford 27-10 in the Rose Bowl.

Notre Dame would (or should) have been a unanimous #1 in an AP poll both before and after the post-season games. Penn would have been rated about #10 in a post-bowl AP poll.

California went unbeaten for a 5th straight season, but they tied 7-1-1 Stanford (whom Notre Dame beat) and 8-1-1 Washington to finish 8-0-2. Yale went unbeaten for a 2nd straight season, but they tied 6-2-1 Army (whom Notre Dame beat) and 7-0-1 Dartmouth to finish 6-0-2. 7-0-1 Dartmouth obviously came close to a perfect record, which they would attain the next season.
Other than Notre Dame,
I have found only one team that had a perfect record in 1924, 8-0 Hawaii. There were multiple unbeaten and untied major teams each year before 1924, but the lack of another one this season increased the already bright spotlight on Notre Dame.


All rankings in the following article, except as noted, come from my 1924 top 25, which is based on a hypothetical post-bowl AP poll (within logical reason of course)
.
A Myth Is Born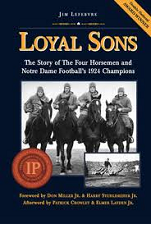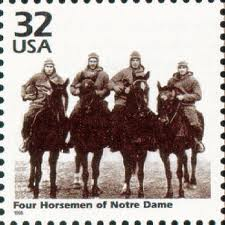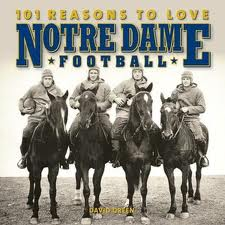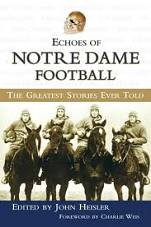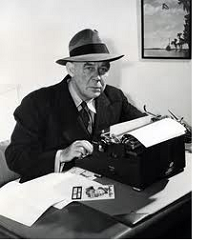 Notre Dame was transformed from men to myth literally overnight, and in fact we can pinpoint the birthday of the myth

:

October 18, 1924. Notre Dame played Army in New York City that day, and legendary sportswriter Grantland Rice (pictured at left) was there to bear witness and canonize the lads.
The lead to his game article for the

New York Herald Tribune

is the most famous piece of sportswriting in American history

:

"Outlined against a blue-gray October sky, the Four Horsemen rode again. In dramatic lore they are known as famine, pestilence, destruction and death. These are only aliases. Their real names are

:

Stuhldreher, Miller, Crowley and Layden.

They formed the crest of the South Bend cyclone before which another fighting Army team was swept over the precipice at the Polo Grounds this afternoon as 55,000 spectators peered down upon the bewildering panorama spread out upon the green plain below."

The cyclone metaphor was carried for 2 more paragraphs, after which Rice proclaimed them one of the greatest backfields in history.

Then he tried another metaphor

:

"The Army line was giving all it had, but when a tank tears in with the speed of a motorcycle, what chance had flesh and blood to hold?

"

In the same paragraph, Notre Dame's backs "seemed to carry the mixed blood of the tiger and the antelope." After the article finally got around to describing what actually happened in the game, it ended with this line
:
"Those who have tackled a cyclone can understand."

Given all this hyperbole, you might be surprised to learn that Notre Dame actually won this game by the less-than-Biblically-epic score of

13-7

. Never has the gulf between myth and reality been so wide. On the same day, Illinois halfback Red Grange was making his own transition from man to myth against Michigan,
returning the opening kickoff 95 yards for a touchdown, then scoring 3 more times on runs of 67, 56, and 44 yards, all in the first 12 minutes of the game
. He accounted for 402 yards and 6 touchdowns in less than one half of play, and one can only imagine what Grantland Rice would have written had he been covering that game instead. I'm not sure his sanity would have survived the experience.

You can read the entire Grantland Rice article here. The "Four Horsemen" metaphor, though it launches the article, is never brought up again, much like the motorcycle-fast tank and the tiger/antelope metaphors appear and then are discarded. It is the cyclone metaphor that is extended throughout the article, from first paragraph to last line. But it is only the "Four Horsemen" metaphor people remember, and that is where the photograph at the top of this article comes in. The picture was taken back home in Indiana the next day, and then it was published, along with Grantland Rice's article, in newspapers across the country over the next week.

The combination of that photo and Rice's words hit American minds like crack cocaine, and the nation was instantly addicted. Everything Notre Dame did after that, from practices to games, was covered nationally-- not just for this season, but for decades afterward. Stuhldreher, Miller, Crowley, and Layden were known as the "Four Horsemen" the rest of their lives, and though few college football fans know their real names today, we've all heard of the Four Horsemen of Notre Dame.

Notre Dame 1906-1923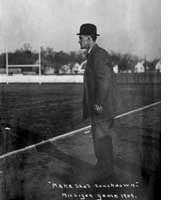 While the myth was made overnight, the reality of Notre Dame's rise to their first national championship was nearly 20 years in the making. They first started consistently winning in 1906, going 6-1 that season and 6-0-1 the next, but they were a minor team playing mostly minor teams. In 1908, they added Michigan, the region's biggest fish, to their schedule and lost just 12-6, finishing 8-1. 1909 would be a breakthrough season for Notre Dame, as they won 6-0 at Pittsburgh and 11-3 at Michigan in consecutive weeks. Notre Dame suffered a tie at Marquette in their finale to finish 7-0-1, but their win over 6-1 Michigan left them the true "Champions of the West" for the first time.

Never one to let a loss get him down, Michigan coach Fielding Yost proclaimed his team the "Champions of the West," charging that Notre Dame was using ineligible players, and thus the loss to them did not count. An investigation into the matter turned up nothing, but ironically, it was Michigan that had been using an ineligible player, as it was discovered that their captain, J. Joy Miller, had not attended a single class that Fall. Michigan wrote letters of apology to all of their 1909 opponents.

Notre Dame's coach in 1909 was Frank "Shorty" Longman (at 1909 Michigan game in picture to the left), who had played for Yost 1903-1905 and still lived in Ann Arbor. He spent the entire off-season bragging about his team's 11-3 win over Michigan, and that appears to have been the last straw for Fielding Yost, who developed a deep and undying hatred for Notre Dame. On the eve of their 1910 game, Michigan canceled it, and they refused to play Notre Dame again until a 2-year series during World War 2, and not again after that until 1978. Yost tirelessly worked to keep Notre Dame out of the Big 10, and to convince other conference teams not to play them, hoping that Notre Dame's program would wither and die.

As you can imagine, then, 1924 was Fielding Yost's worst nightmare come true, because not only was Notre Dame universally hailed as the nation's great champion, but the school and its coach, Knute Rockne, reached a level of celebrity that Michigan and Yost would never know. 1924 was the first season of Yost's retirement as Michigan's coach, and I have to think that Notre Dame's ascension had something to do with his return to coaching for the 1925 and 1926 seasons. Perhaps he was not ready to leave his profession to the Knute Rocknes and the Catholics of the world.
Knute Rockne
Notre Dame went 4-1-1, 6-0-2, and 7-0 from 1910-1912, but without Michigan on the schedule, they were back to being a minor team playing mostly minor teams. Knute Rockne arrived on campus during this time, and as a senior he was a star player for Notre Dame during their second breakthrough season in 1913.

Jesse Harper debuted as coach this season with his fancy passing offense, Gus Dorais throwing to Rockne, and they ambushed 8-1 Army with their air attack 35-13 in the first game played between the 2 schools. Notre Dame went 7-0, and I consider them a strong contender for a mythical national championship (MNC) for

1913, falling just short. That Army game put Notre Dame on the map, though, and after that everyone knew who they were.

They failed to follow up on their path to the big time the next season, falling to Army 20-7 and Yale 28-0, but they went 6-2, then 7-1, 8-1, and 6-1-1 through 1917. After that, Hall of Fame bound Jesse Harper stepped aside so that assistant coach Knute Rockne could begin his own Hall of Fame coaching career. Rockne (pictured at left) went 105-12-5 1918-1930, winning MNCs in 1924, 1929, and 1930. After the last one, his relatively short career ended in a plane crash. His .881 winning percentage is still #1 all-time among FBS coaches.

Rockne started out 3-1-2 in 1918, but then he busted out a pair of 9-0 seasons in 1919 and 1920 behind All American halfback George Gipp. Their schedules were still weak, though, and they were not considered MNC teams-- they were viewed the way Boise State's recent unbeaten teams have been.

Notre Dame looked even stronger in 1921, piling up 375 points and winning 7-0 over a very powerful 7-1 Nebraska team. But they were edged 10-7 at 7-0 Iowa, my 1921 national champion. In 1922, the Four Horsemen were sophomores, and they went 8-1-1, beating 7-2 Georgia Tech, tying 8-0-2 Army, and dropping their finale to 7-1 Nebraska. 1923 should have been their first MNC, and they might well have been the best team in the nation, as they crushed every team they played but one, dropping an upset loss at 4-2-2 Nebraska.

So Notre Dame had been knocking on the door for years, and with the entire backfield returning as seniors, it was not really a surprise that Notre Dame finally broke through for an MNC. They were considered a contender for best team coming into the 1924 season.
Notre Dame 1924



Here we have Harry Stuhldreher at quarterback, and the backs behind him are (left to right) Don "Midnight" Miller, Elmer Layden, and Jim Crowley. The line (left to right)

:

Ed Hunsinger, Edgar "Rip" Miller, Noble Kizer, Adam Walsh, John Weibel, Joe Bach, and Chuck Collins. This was the "first string" or "regulars," but they were not the starters. Knute Rockne usually started the "back-ups," and they generally played the entire first quarter before the top unit came in (though sometimes the regular line, or portions of it, would start, with the rest of the team coming in after the 1st quarter). Rockne did this largely because, as you may have noted from the picture above, Notre Dame's top unit was unusually small. The backs averaged 5' 10" and 161 pounds, and the line averaged a mere 176 pounds, every player weighing less than 190.

This was a speed and finesse team, and the worry was that they could not withstand 60 minutes of play across an entire season. So Rockne's "shock troops," which is what he called his second unit/starters, were sent in to soften the opponent up for a quarter. These players were bigger (several linemen were 200 to 220 pounds, as much as 40 pounds heavier than their counterparts), and they played a different style, mostly focusing on straight football, defense, and field position. But their main gameplan was to simply beat on the other team's starters as much as possible. When the regulars hit the field in the 2nd quarter, they were fresh while their opponents were fatigued, beaten up a bit, and thus slowed down. Also, their opponents had gotten used to a much slower game from the "shock troops" in the 1st quarter, and suddenly had to adjust to defending against

much

faster players in the 2nd.

This "shock troops" gameplan, and variations thereof, became fairly popular among major teams over the next 15 years.
The Four Horsemen
What made the Four Horsemen so difficult to defend was that there wasn't really a star player among them to focus on, and they worked together with a machine-like precision. On the other side of the ball, they were impossible to effectively pass against. As already noted, 3 of them were consensus All Americans this season and all 4 are in the Hall of Fame.

Quarterback Harry Stuhldreher was the forward passing specialist. He became the head coach at Villanova 1925-1935, going a pretty good 65-25-9, and then at Wisconsin 1936-1948, going a dreary 45-62-6.

Fullback Elmer Layden was the line-plunging specialist, the punter, and a killer at defensive back. He returned an interception for a touchdown in a 13-6 win over Northwestern, and he returned two for 70 and 78 yard touchdowns in the Rose Bowl. He became head coach at Loras College 1925-1926, Duquesne 1927-1933, and Notre Dame 1934-1940. He went 48-16-6 at Duquesne, building them up into a powerful team, and 47-13-3 at his alma mater. He was then the commissioner of the NFL 1941-1946.

Halfback Jimmy Crowley appears to have been Stuhldreher's favorite receiver, and he also did most of the placekicking. He came from Green Bay, where his high school coach had been Curly Lambeau. Like Stuhldreher and Layden, he went into coaching. He was 22-8-3 at Michigan State 1929-1933, then he had a terrific stint at Fordham 1933-1941, going 56-13-7 against tough opponents from across the country. Fordham was a power team during this time, ranked in each of the first 5 AP polls ever published. Crowley finished up his coaching career with North Carolina Pre-Flight's base team, going 8-2-1 in 1942.

The other halfback, Don Miller, was the one Horseman who didn't make consensus AA, denied by 1924's only unanimous All American, Illinois halfback Red Grange. Miller had been a nonconsensus AA in 1923, though. He was the 3rd of 5 brothers to play for Notre Dame, the first being Red Miller, captain of the 1909 team that had first broken through as "Champions of the West." Knute Rockne called Don Miller "the greatest open field runner I ever had."

The Four Horsemen were obliged to appear in photographs together for the rest of their lives. Pictured below is a photo op before Notre Dame's 1963 game at Stanford (look how tiny they are!), the quartet's Rose Bowl opponent after the 1924 season. Harry Stuhldreher had passed on by the time the 1970 Cotton Bowl was played, but the remaining 3 dutifully showed up to witness Notre Dame's first bowl game since the Rose Bowl they had played in 45 years prior.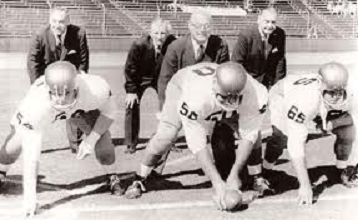 The Seven Mules
Not long after the backfield's Four Horsemen moniker took hold, the press took to calling Notre Dame's line the "Seven Mules." Personally, I think they should have stuck with the Book of Revelations apocalypse motif and called the line the "Seven Seals."

Center Adam Walsh was a nonconsensus AA and the team's captain. He is one of 2 mules in the Hall of Fame. He played 60 minutes against Army this season with a pair of injured hands, getting in on most of his team's tackles and snagging a game-sealing interception in the final minutes. Like so many of Rockne's players, he went into coaching, going 80-85-11 at Santa Clara and Bowdoin, then 15-5-1 in 2 years with the Cleveland/Los Angeles Rams, winning the NFL title with Cleveland in 1945.

The other Hall of Fame mule is tackle Edgar "Rip" Miller, but what he's doing in the HoF, I cannot tell you. He never received any AA mention that I can find, and I don't see him being singled out in game articles from 1924 either.
I assume he had some buddies at the National Football Foundation.
He became the head coach at Navy for 3 years, then an assistant athletic director at Navy for decades, and he is the namesake of the Navy-Notre Dame game trophy. Miller gives Notre Dame a record 6 Hall of Famers out of the 11 first-unit players.

Guard Noble Kizer and Rip Miller married sisters, so they became family. Kizer had an incredibly successful coaching stint at Purdue 1930-1936, going 42-13-3 and winning 2 Big 10 titles. Unfortunately, his coaching career and life were cut short by kidney problems.
Notre Dame's Season
Lombard (5-4)
40-0
Wabash (5-4)
34-0
(NYC) Army (5-1-2)
13-7
#8
at Princeton (4-2-1)
12-0
#19
Georgia Tech (5-3-1)
34-3


at Wisconsin (2-3-3)
38-3
Nebraska (5-3)
34-6
#20
at Northwestern (4-4)
13-6
at Carnegie (5-4)
40-19

Rose Bowl


Stanford (7-1-1)

27-10

#5

Here is 1924 Notre Dame's entire schedule and scores.
The opponent rankings
come from my 1924 top 25, which is based on a hypothetical post-bowl AP poll (within logical reason of course)
.


This schedule presented a massive upgrade in opponent quality from the schedules Notre Dame had played when they went 9-0 in both 1919 and 1920. They had been playing Eastern power Army since 1913, and Missouri Valley power Nebraska since 1915,
but the rest of their opponents in 1919 and 1920 had been either minor teams or the dregs of the Big 10 (Northwestern, Purdue, or Indiana). In 1922 they added Southern power Georgia Tech to the schedule, whom they would continue to play annually through the rest of the decade. They also added a team on the rise, Carnegie Tech of Pittsburgh. Then they scheduled a pair of visits to another power team, Princeton, for 1923 and 1924. But in 1923 they still had 4 minor teams on the schedule (Kalamazoo, Lombard, Butler, and St. Louis), and that would be pared down to just 2 for 1924. Wisconsin was the main addition to the 1924 schedule, but while they were usually one of the Big 10's power teams, this season they were down.

Army
Army had gained a tie with Notre Dame in 1922, but they had not beaten Notre Dame since 1916, and Notre Dame led the series 7-2-1. The game had been played at Army for years, but was moved to New York City in 1923 (technically Brooklyn, but this season the game was moved to the Polo Grounds), an excellent strategic choice, because it put all the most important Eastern football writers in the press box, one of whom was of course Grantland Rice. As he noted in his game article, "
55,000 spectators peered down upon the bewildering panorama spread out upon the green plain below."

Rockne started his shock troops, and Army dominated the first quarter, but they could not score. The regulars entered the game in the 2nd quarter, and their fresh legs immediately moved the ball 80 yards for a touchdown. Jim Crowley started off the festivities with a 15 yard run, Elmer Layden added 6, and Don Miller carried for 10. Harry Stuhldreher hit Crowley with a pass for 12, then Miller ran for 20. Crowley pushed the ball another 5, then Layden took it twice, scoring the touchdown. Army adjusted and held tough after that drive, but Notre Dame had 8 first downs, Army none in the 2nd quarter
.

In the 3rd quarter, Layden intercepted an Army pass at their 48 yard line, and Notre Dame moved to a touchdown from there, Jim Crowley gaining most of the yards and scoring the touchdown. Notre Dame dominated the quarter, but they later threw an interception at the Army 5, and were stopped on downs at the Army 9, so the 13 points is all they would score in this game. A punt from Notre Dame's end zone and a penalty gave Army the ball at the Notre Dame 20, enabling them to get on the scoreboard early in the 4th quarter. On 4th and 2, Army faked a handoff into the middle, and Notre Dame bit on it, allowing a touchdown to come around the end. Both teams were stifled after that, so 13-7 was the final.

Though they only scored 13 points, Notre Dame's backs piled up a lot of yards. Crowley and Miller each had over 100, and Layden added 60, most of that in the 2nd and 3rd quarters. This was Army's only loss on the season, though they were tied by 6-0-2 Yale and 5-3-1 Columbia.
Mid-Season
Army was the first of 5 power opponents Notre Dame would be playing in consecutive weeks, something they had never attempted before. The next week they went back East to take on Princeton, who had been one of the top teams of the region for years. 45,000 were on hand to watch Jim Crowley have a big day, gaining the bulk of Notre Dame's yards and scoring both touchdowns for the 12-0 win. The first was a 12 yard run in the 2nd quarter, and the other was a 4th down catch in the 4th quarter. Notre Dame dominated, but they wasted other scoring opportunities when they fumbled on the Princeton 10 (they had a lot of trouble with fumbles this day), had a touchdown called back due to a penalty, and lost the ball on downs at the Princeton 5. Princeton never got inside the Notre Dame 30 yard line. In their other games, Princeton lost 10-0 to 6-0-2 Yale, they were tied by 4-1-3 Lehigh, and they did not beat anyone of value, but they would probably have finished around #17 in an AP poll because their name was still, after all, "Princeton." I have them moved back to #19.


Next Notre Dame hosted Georgia Tech, generally one of the top teams of the South. Tech took an early 3-0 lead on the shock troops, the first time Notre Dame trailed this season, but the regulars (minus Stuhldreher, who was out with an injury) came in and took over to lead 21-3 at half, winning 34-3. Georgia Tech had a down season in 1924, finishing 5-3-1, but they did beat 6-3-1 Penn State 15-13, who of course tied Parke Davis' "national champion," Penn. Georgia Tech also beat 6-3-1 VMI, and played a tough schedule, so they weren't far from top 25 caliber. Nobody came close to handling them the way Notre Dame did this season.

Next it was back on the road again to Wisconsin, who was usually a power team in the Big 10, but was down this season. They had already been embarrassed by a tie with Coe, and had been squashed 21-0 by 6-2 Michigan, on the way to a dismal 2-3-3 finish. But Wisconsin tied the shock troops 3-3 before the regulars came in. Don Miller had a big day this time, scoring on a 19 yard run and a 28 yard catch, setting up a 3rd touchdown with a 55 yard run (and 70 yards total on that drive), and setting up a 4th with an interception return to the Wisconsin 16 yard line. Notre Dame led 17-3 at half and won 38-3.

Nebraska
Nebraska was Notre Dame's nemesis most foul. They played rough, their fans were rude and virulently anti-Catholic, and the teams were 4-4-1 against each other in their annual series. Nebraska, in fact, had dealt Notre Dame and the Four Horsemen their only loss in each of the previous 2 seasons. This was the game Rockne and his team had circled on the calendar, and unlike 1922 and 1923, this time they were playing the Huskers at home.

The game followed a by-now familiar pattern, with Nebraska taking a 6-0 lead on the shock troops, the touchdown set up by a fumbled punt snap at the Notre Dame 4 yard line. But Rockne wasn't messing around with this one, and he sent the starters out immediately after the fumble rather than wait for the 2nd quarter. Nebraska still led 6-0 at the end of the quarter, but Stuhldreher hit Miller for a 65 yard touchdown pass to take the lead, and it was 14-6 by halftime. Rockne and his horsemen never took the foot off the gas. Miller ran for 46 to set up his own 18 yard touchdown run, Crowley ripped a 70 yard touchdown run, and even when the regulars came out deep into the 4th quarter, Notre Dame's back-ups threw the ball around looking for more points. The final was 34-6, but it could have been much worse. Notre Dame had 24 first downs to Nebraska's 3, and one source gives Notre Dame 566 yards of offense to 76 for Nebraska. Rockne called it his most satisfying win.

Nebraska had opened the season with a 9-6 loss to Red Grange and 6-1-1 Illinois, then a 14-7 upset loss at 2-5-1 Oklahoma, but they had rebounded with a 33-7 win over 5-4 Colgate and a 14-6 win over 7-2 Missouri to rule the Missouri Valley region as usual, and they would have made the bottom half of a top 25 in 1924. This was by far Notre Dame's best performance of the season

;

6-1-1 Illinois had barely squeaked by Nebraska.

Nebraska would have their revenge in 1925, winning 17-0 in Lincoln, but Nebraska's fans were getting out of hand with the anti-Catholic thing, to the point of a real threat of violence, so Notre Dame ended the series there, with the teams knotted up 5-5-1. Nebraska was replaced on the 1926 schedule with Southern Cal, whom Notre Dame has played every year since (save for a brief break during World War 2). Los Angeles vs. Lincoln in December? Good choice, Notre Dame.

Northwestern
Notre Dame followed up their best performance of the season with their worst-- how often have we seen this pattern repeated now? The next opponent was Northwestern, in the first game played at Grant Park Stadium, to be renamed Soldier Field one year later. 45,000 fans showed up, most of them to see this great Notre Dame backfield they'd been reading about. Notre Dame did win, but the performance of the day belonged to Northwestern back Ralph "Moon" Baker. He outpunted Layden by some 20 yards a try, kicked a pair of very long field goals, played great defense, and ran for his team's only big gains on offense.

For the 4th game in a row, Notre Dame's opponent outplayed the shock troops and scored all their points in the 1st quarter. This time Northwestern's Ralph Baker kicked a 45 yard field goal for a 3-0 lead, then after the regulars came in for Notre Dame, he led a drive that ended in his 40 yard field goal, doubling the lead. In the 2nd quarter, Stuhldreher threw a long pass to Crowley that carried the ball to the Northwestern 9 yard line, then Stuhldreher carried twice for a touchdown and a 7-6 lead. Baker keyed a drive back into Notre Dame territory with 45 yards in runs, but Northwestern was stopped, keeping it 7-6 at halftime.

Baker missed a 40 yard field goal try for the lead in the 3rd quarter. Early in the final period, Elmer Layden intercepted a Baker pass and returned it 35 yards for a touchdown, putting the lead to 13-6, and after that Moon Baker was too tired for any more heroics. Notre Dame drove to the Northwestern 5 yard line late in the game, but lost it on downs there, so the final score remained 13-6. The Four Horsemen were stymied on the ground, but Notre Dame was 7 of 13 for 210 yards through the air.

Northwestern was not very good, finishing 4-4, but good things lay ahead for them. In 1925, they would go 5-3, losing to Notre Dame 13-10, but pulling off a huge 3-2 upset of 7-1 Michigan. In 1926, they would go 7-1, losing only to 9-1 Notre Dame, and Ralph Baker would be a consensus AA that season.

Notre Dame got another fight, at least for a half, in their finale at Carnegie Tech in Pittsburgh. Carnegie was a program on the rise, and they had beaten Pittsburgh this season and the season before. They would give Notre Dame their only loss in 1926. This season, they fought their way to a 13-13 halftime tie, but Notre Dame went to the air again, completing 12 consecutive passes at one point, and 15 of 18 for the game, pulling away to win 40-19.
The Rose Bowl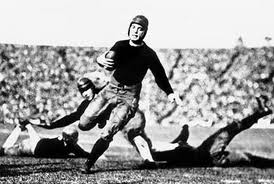 Notre Dame was invited to the Rose Bowl to face 7-0-1 Stanford, whose new coach this season was Hall of Famer Pop Warner. Stanford had tied 8-0-2 California 20-20 in their regular season finale, erasing a 14 point deficit in the 4th quarter with a pair of touchdown passes, the last one coming from 34 yards out in the final minute of play. That gave them the Pacific Coast Conference title because Cal had been tied at 8-1-1 Washington. Knute Rockne turned the trip out West into a long publicity tour for Notre Dame. First they went to New Orleans, and then to Houston, holding practices at each stop that were open to the public. Then they stopped for 4 days of practice in Tucson to acclimate themselves to the weather before finally arriving in Pasadena the night before the big game.

53,000 fans sold the stadium out. This game was a coming out party for Stanford's star fullback Ernie Nevers. Playing on ankles that were heavily bandaged-- both had been fractured earlier in the season-- Nevers played all 60 minutes, and ran for 114 yards, more than all of the Four Horsemen combined. Unknown nationally before this game, he was something of a legend afterward, and was named a consensus AA the next season. Stanford outgained Notre Dame 316 yards to 186, and made 17 first downs to 7, the only team to push Notre Dame around like that, but Notre Dame still won in a 27-10 rout, thanks to 8 Stanford turnovers, 3 of which were returned for touchdowns.

As per usual, Notre Dame's shock troops gave up some points in the opening quarter, and Stanford led 3-0 on a 27 yard field goal. And as per usual, Notre Dame's regulars took the lead in the 2nd quarter, driving 46 yards to an Elmer Layden touchdown plunge. Stanford came back with a promising drive into Notre Dame territory, but Layden intercepted Nevers and returned the ball 78 yards for a touchdown and a 13-3 halftime lead.

In the 3rd quarter, Elmer Layden booted a 55 yard punt, the returner dropped the ball while running back trying to field it, and Notre Dame end Ed Hunsinger picked it up and carried it 20 yards for a touchdown. Late in the 3rd quarter, Notre Dame was driving into Stanford territory, but Ernie Nevers intercepted a pass, returning it 20 yards to midfield. Stanford drove to a 7 yard touchdown pass from there, closing the gap to 20-10 heading into the 4th quarter. Stanford drove right up to the Notre Dame goal line in the final period, but they were stopped inches short in a disputed call. That was pretty much the game. Stanford drove again late in the game, but Layden snagged another interception and returned this one 70 yards for a touchdown with 30 seconds left, putting the final score at 27-10.

Elmer Layden thus totaled 3 touchdowns, and he had a great day punting, averaging 48.5 yards per kick. His 55 yarder enabled the fumble return touchdown. Without him, perhaps Notre Dame would have lost this game by at least 10-6. The 27-10 final score may not have reflected the true difference between the 2 teams, but then neither did Stanford's 316-186 advantage in total offense. Kicking and turnovers are of course a part of the game. Add in Notre Dame's gains in punt exchanges and their huge advantage in returns, and Notre Dame outgained Stanford overall. The most interesting statistical fact of the game

:

Stanford threw 17 passes, and none of them fell incomplete. 12 went to their own players, 5 to Notre Dame. Layden's 2 interception touchdowns went for 148 yards, while Stanford's 12 completions totaled just 138.

Knute Rockne took his team on a multiple-stop tour of the country on the way back, similar to the trip out West, so the team was away from campus for a month. Concerned by the amount of time players spent out of the classroom, the Notre Dame administration banned future post-season games, which is why it would be 45 years before Notre Dame played in another bowl game. Notre Dame next played Stanford in 1942. The modern annual series between the teams did not begin until 1995.
The Greatest Ever?
Normally this is where I would compare the MNC contenders and select the champion(s), but since there is only one contender this season, I'll compare 1924 Notre Dame to great teams in history instead. With all the hype and the hoopla,
you might think that 1924 Notre Dame is the greatest team of all time, and that the Four Horsemen are the greatest backfield. What other team has 6 Hall of Famers among the first string? What other backfield had 3 consensus All Americans in the same season, and is entirely enshrined in the Hall of Fame?

Of course, the game that started it all is a good illustration of the difference between hype and reality. Notre Dame beat 5-1-2 Army 13-7, and that outcome is just not historically impressive. They had 2 close results, the second against 4-4 Northwestern, who would not have made a top 50. And though they beat Stanford handily in the Rose Bowl, they were greatly outgained in total offense in that game. We can find plenty of teams in history who won every game, were never threatened, and were never outgained.

Recent examples of teams prior to 1924 Notre Dame who dominated every opponent and played at least one top 5 team are 1920 California, 1917 Georgia Tech, and 1915 Cornell. 1924 Notre Dame did play a tougher, deeper schedule than any of those 3 teams, but it's very difficult to conceive of any of them struggling against a team like 1924 Northwestern.

Then there's 1909 Yale, who played as many top 25 caliber opponents as 1924 Notre Dame did, but who won every game by more than a touchdown, and on top of that, they shut out every opponent.

1924 Notre Dame has a better argument for best backfield of all time, since that debate is more subjective. Their contenders through 1924 are the backfields from 1912 Carlisle,
1917 Georgia Tech,
and Penn State from 1919 to 1921. Interestingly, Pop Warner has some connection to all of these backfields. He coached the backfield at 1912 Carlisle, and one of those players was in the backfield at Georgia Tech in 1917. His Pittsburgh teams played against the great Penn State backfields, and of course his Stanford team faced Notre Dame's Four Horsemen in the Rose Bowl. His choice for the best, of course, was his own Carlisle backfield. Hard to argue, since Jim Thorpe alone puts the Four Horsemen at a severe disadvantage.

Thorpe brings up the one weakness Notre Dame had in 1924, both as a backfield and as a team

:

they couldn't kick field goals, and struggled plenty enough just kicking extra points.

And by 1930, neither Knute Rockne nor Grantland Rice considered the Four Horsemen to be the greatest backfield of all time. From Murray Sperber's excellent book on Notre Dame,

Shake Down the Thunder

:

"No reasonably objective measurement, using football statistics as well as informed opinion, rates the Four Horsemen as the greatest college backfield of all time. In fact, Rockne as well as Rice considered Notre Dame's 1930 quartet better. Yet the power of Rice's words, repeated innumerable times, gave the 1924 players a magical aura and, for future generations, rendered them almost literal Horsemen of the Apocalypse."
1924 Notre Dame's strongest argument for "best ever" is their coach, Knute Rockne. There is no disputing the fact that he has the best winning percentage of all time, and though he faced a lot of minor teams early in his career, by the middle of it he was playing the toughest schedules in the country. A great number of his players went on to become highly successful coaches themselves, including the guy who is #2 in coaching win percentage, Frank Leahy.
Awards Ceremony
1924 #1:

10-0 Notre Dame


National Co-champion:

None


Contenders:

None

These are the awards I have been handing out for each season, except seasons when there are no contenders. For this purpose, what I mean by a contender is a team that I think is very close to being worthy of sharing the national championship. A team that you could make an argument for, even if that argument is weak. But the contenders are teams that I myself do not see as national champions.

This one should have been unanimous. Shame on Parke Davis for not making it so-- or on the NCAA, for publishing Davis' selections in the first place.
Grading the Selectors
I have been grading the NCAA Records Book's selectors for each season, and keeping a grade point average, so we can see who is relatively good at selecting national champions and who is not. And although I do not consider computer ratings to be legitimate national championship selectors, I have been including them in this section as well, just for comparison's sake.
I am grading on a scale of 0-5 (5 being the best).

Parke Davis selected 9-1-1 Penn
.

Grade: 0.0



Everybody else selected 10-0 Notre Dame.

Grade:

5.0



This is only the third time I've given a zero to a selection, and Parke Davis earned one of the other two (for selecting Yale in 1901).

We have 2 new math systems that selected Notre Dame as champion for this season, both retroactively. Richard Poling's system selected champions for 1935-1984, and he also used it to retroactively select champions 1924-1934, presumably so he could honor 1924 Notre Dame. Similarly, Frank Dickinson's system selected champions 1926-1940, and he used it to retroactively select champions for 1924 and 1925, specifically because Knute Rockne asked him to. In return, his system received Rockne's crucial endorsement. That plus a major sponsor got Dickinson's ratings published nationally, and some people consider his selections to therefore be "official" for seasons prior to the AP poll's 1936 launch. I am not one of them.

I'll hold off on adding Poling and Dickinson to the list below until they have selected at least half as many champions as the others on the list.

Grade point averages 1919-1924

:



1) Sagarin-ELO (math system)
4.08
2) Boand (math)
3.78
3) Helms
Sagarin (math)

3.77
5) College Football Researchers Association

3.72
6) National Championship Foundation
3.40
7) Houlgate (math)
3.10
8) Parke Davis
2.60
9) Billingsley (math)
2.03

How the systems that selected champions for 1901-1918 did

:



| | |
| --- | --- |
| 1) Houlgate (math system) | 4.5 |
| 2) Helms | 4.3 |
| 3) Parke Davis | 4.2 |
| 4) National Championship Foundation | 3.7 |
| 5) Billingsley (math) | 3.6 |