Home
1920 College Football National Championship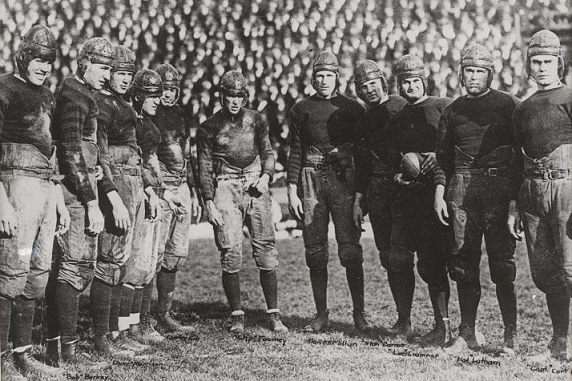 Pictured above is California's 1920 "Wonder Team" at the Rose Bowl. 9-0 Cal outscored opponents 510-14, and they shocked the nation by trouncing previously unbeaten and untied Ohio State in the Rose Bowl 28-0, leaving them the consensus choice as 1920 mythical national champion (MNC).
Here is how the "major selectors" listed in the NCAA Records Book, all selecting long after the fact, see the 1920 college football national championship (omitting math/computer ratings, which neither I nor anyone else recognize as constituting titles)

:


9-0 California

:

Helms
, CFB Researchers, National Championship Foundation

6-0-1 Princeton

:
Parke Davis (tie)
9-0 Notre Dame

:
Parke Davis (tie)

Parke Davis was a Princeton graduate, which may explain his naming 6-0-1 Princeton a co-champion with 9-0 Notre Dame, but 8-0-1 Harvard tied Princeton, and it made little sense for him to disclude them. Nevertheless, Harvard joins the other 3 to give us the contenders for this season's MNC.


All rankings in the following article, except as noted, come from my 1920 top 25, which is based on a hypothetical post-bowl AP poll (within logical reason of course)
.
Other Notable Teams of 1920
Penn State, whom I had selected as a co-champion for 1919, and who fielded 1920's best backfield, started 7-0 and looked to be the nation's best team, but in their last 2 games they took an upset tie at 5-2-2 Lehigh (not a top 40 team), then took another tie at powerful 6-0-2 Pittsburgh. I have Penn State ranked #8 and Pittsburgh #9 for 1920.

Four other notable teams went unbeaten and untied, but luckily none were selected as 1920 MNC by even a computer system, so I won't have to fully summarize them in this article. Still, they deserve recognition

:

8-0 Boston College, 9-0 Virginia Military Institute, 9-0 Texas, and 6-0 Southern Cal.

BC won every game by more than a touchdown, the big one 21-13 at 5-3 Yale. They would have been ranked about #11 had there been an AP poll in 1920. VMI also beat every opponent by more than a touchdown, and in fact they were completely unthreatened, outscoring opponents 431-20. They rolled up 136 points against one patsy, then drew the attention of the Eastern press with a 27-7 win at 6-4 Penn. They also won 22-6 at 5-2-2 Virginia, significant because Virginia tied 8-0-1 Georgia. VMI appears to have been at least as good as BC, but they were not as highly regarded, at least by the Eastern press. Hard to say where an AP poll would have rated them-- anywhere between #12 and 18. I have them ranked #15 in my hypothetical 1920 AP poll.

This was the 7th straight season a Southwestern team went unbeaten and untied, 9-0 Texas taking its turn this time. They romped every opponent until a 7-3 win over 6-1-1 Texas A&M that ended A&M coach Dana X. Bible's streak of 25 straight shut-outs. They would have been ranked about #20, as the nation paid little attention to the Southwest, and indeed the nation had been given no reason to over the years. Texas Christian also went 9-0 during the regular season, but they were then annihilated 63-7 in a post-season game against 8-2 Centre.

Centre had been the darling of the press in
1919
, finishing 9-0, but this year they lost to 8-0-1 Harvard and 8-1 Georgia Tech. Georgia Tech's loss came to 6-0-2 Pittsburgh.

As for 6-0 Southern Cal, they beat Stanford 10-0, Oregon 21-0, and a very good 6-1 Pomona team 7-0 on the road. I think they were likely one of the best 25 teams in the country, but it is unlikely that they would have made an AP poll's top 25 this season, so they are not ranked in my hypothetical AP poll top 25.
A Hypothetical AP Poll for 1920
College football historian Bob Kirlin thinks 6-0-1 Princeton would have been voted #1 in a final regular season AP poll, but as I have said in previous articles, he appears to base this solely on what major

Eastern

writers thought at the time. In this case, I don't think there's any doubt that he is wrong-- Ohio State would have been #1 in an AP poll at the end of the 1920 regular season.

Ohio State had seen perfect seasons undone in their finales in 1917 and 1919, but this season they finally finished the job-- or so it had seemed at the time-- winning 7-0 at 5-2 Illinois.
The previous season, Ohio State had lost 9-7 to Illinois in the same situation (OSU coming in unbeaten, Illinois 5-1), and I selected 6-1 Illinois as a national co-champion with Penn State for
1919
.
The Rose Bowl would ensure that perfection would once again elude the Buckeyes this season, but in December Ohio State was 7-0 against a very difficult schedule.


Ohio State and Princeton led the nation with 2 consensus All Americans each, but OSU had 6 players make various AA lists, Princeton 4, and while Princeton would likely have won the Eastern vote, Ohio State would have won the rest of the nation in a 1920 AP poll. In fact, I doubt that Princeton would have even finished #2. 8-0-1 Harvard, who tied Princeton, would likely have been rated higher than Princeton in every region but the East. Eastern writers saw both play, and may have been correct in their consensus opinion that Princeton was better, but Harvard would have had all the advantages in a national AP poll.

Harvard had gone 9-0-1 in 1919, and they would have started the 1920 season ranked much higher than Princeton. When Princeton tied them, that certainly wouldn't give the rest of the country reason to move Princeton ahead of Harvard. The next week, Harvard beat 6-3 Brown 27-0 and Princeton beat 5-3 Yale 20-0. That would not move Princeton past Harvard either, and at that point, Princeton's season was done. Harvard played one more game, winning at 5-3 Yale 9-0. Since Princeton had beaten Yale 20-0, many Eastern writers concluded that Princeton was better. However, I do not believe that the nation as a whole would have dropped Harvard back behind Princeton for "only" winning 9-0 on their main rival's home field. Certainly I have never seen a case of a weekly AP poll doing anything like that. Harvard also had more players make AA lists than did Princeton, an indicator of national esteem.

So at the end of the regular season, an AP poll would have looked like this

:

1) Ohio State, 2) Harvard, 3) Princeton.
A Post-bowl Poll
At 8-0 before the Rose Bowl, California would have been rated about #12 at the end of the regular season. Their profile was raised a bit late in the season by 5-1 Washington State, who traveled to Missouri Valley powerhouse Nebraska and won 21-20. Nebraska finished 5-3-1, but their other losses came to 9-0 Notre Dame and 7-0-2 Penn State. California gave Washington State their only loss 49-0.

Would Cal have vaulted all the way from #12 to #1 after squashing previous #1 Ohio State 28-0 in the Rose Bowl? It's impossible to know for sure, but my guess is yes, based on the numerous writers across the country who hailed them as the nation's best team following that game. They were an immediate national sensation.

So my guess on a final post-bowl AP poll would be 1) California, 2) Harvard, 3) Princeton, though with their name value and previous season's showing, it's possible that Harvard could have grabbed #1. 9-0 Notre Dame, the Boise State of their time, would have been rated about #9, though I moved them up to #5 on my list
.
California 1920
Olympic Club
21-0
Mare Island Marines
88-0
St. Mary's (0-3)
127-0
Nevada (7-3-1)
79-7
Utah (1-5-1)
63-0
at Oregon State (2-2-2)
17-7


Washington State (5-1)
49-0
#23
Stanford (4-3)
38-0

Rose Bowl


Ohio State (7-1)

28-0

#4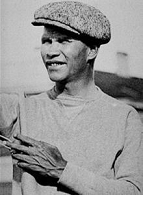 I've been summarizing teams East-to-West in previous national championship articles, but this time I am going to start with the juggernaut out West. California had only been playing football for 5 years prior to this season. Like most of the schools in their state, they gave up football after the 1905 season and played rugby instead 1906-1914. Their rugby coach, James Schaeffer, traveled the country talking to football coaches and learning the game prior to the Fall of 1915, then coached his old rugby team to an 8-5 record in the school's first season playing football again. He then convinced one of the coaches he had talked to prior to the season, Andy Smith, to come out West and take over.



Andy Smith (pictured)

had been a consensus All American fullback on Penn's 1904 mythical national championship team. He started his Hall of Fame coaching career at his alma mater, going 30-10-3 1909-1912, and followed that up with a 12-6-3 record at Purdue 1913-1915. His first 2 teams at Cal were mediocre, 11-9-2 1916-1917, but they improved to 13-4-1 1918-1919. This season they broke all the way through for a dominating 9-0, and they would not lose again until 1925, a 50 game unbeaten streak that included 4 ties. That is the 3rd longest unbeaten streak in major/FBS college football history, and the longest since WWI. The 5 straight unbeaten teams 1920-1924 were known as the "Wonder Teams."

Unfortunately, Andy Smith died of pneumonia after the 1925 season, ending his life and career all too early. He went 74-16-7 in 10 years at Cal, winning 5 conference titles and as many as 4 mythical national championships (at least 1 organization selects them as a champion in each season 1920-1923). Overall he was 116-32-13, putting him on the list for top all-time FBS coaching win percentage.

Andy Smith's most prudent hire at Cal was assistant coach Nibs Price, who had been the coach of an unusually talented team at San Diego High School. Price's best San Diego players followed him to Cal, and they formed the backbone of the Wonder Teams. Price succeeded Smith as head coach at Cal, going 27-17-3 1926-1930, and he was also Cal's basketball coach 1924-1954, going 449-294.

The Players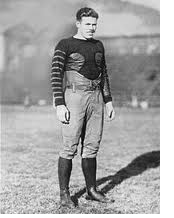 The key San Diego High School players who followed Nibs Price to Cal were Brick Muller, Stan Barnes, Pesky Sprott, and Cort Majors.

Hall of Fame end Harold "Brick" Muller (pictured) was the star. He won a silver medal in the high jump at the 1920 Olympics, and was a nonconsensus All American this season despite few selectors seeing him play until the Rose Bowl. Once they did see him, they never forgot him again. He was the MVP of the Rose Bowl, and was named a consensus AA in 1921 and 1922. After college he became an orthopedic surgeon.

Tackle and center Stan Barnes is also in the Hall of Fame, but if you look at just his playing career, you'd be hard pressed to see why. He never made an AA list, and I have not found any press coverage from the time that singled him out as a particularly valuable player. However, after graduation, he got a law degree, then became a superior court judge, president of the Federal Bar Association, and Assistant Attorney General of the United States. I guess all that led the National Football Foundation to conclude that he simply

must

have been a great football player as well.

Halfback Pesky Sprott was the team's leading rusher, and guard Cort Majors was the team captain, so this team owed a lot to the city of San Diego.

Tackle Dan McMillan makes a 3rd Hall of Famer on this team, and a 2nd legitimate one. He transferred from Southern Cal this season, and made Walter Camp's 2nd team AA list. Like Brick Muller, he benefited from the exposure to nationwide press he got in the Rose Bowl, and was named a consensus AA in 1921.

End Brodie Stephens would be a nonconsensus AA in 1921, and fullback Duke Morrison would be nonconsensus AA in 1922.

Halfback Irving "Crip" Toomey would transfer to Cal-Davis, graduating from there in 1923. He coached their football team 1928-1936, and he was the school's athletic director 1929-1961. The football field was named for him until the 2007 season, when the team moved to a new venue, but Toomey Field is still the home of the Cal-Davis track team.
California's Season
As I stated in opening this article, Cal went 9-0 and crushed their opponents by a total score of 510-14. In 1960, the Helms Athletic Foundation named this team the greatest of all time. But although they won every game by more than a touchdown, they did have one close call-- a 17-7 win at Oregon State (2-2-2) that was not decided until the closing minutes
.


This was their only road game in the re
gular season. It was tied 7-7 until midway through the 4th quarter, when Cal drove to the OSU 10 and kicked a 15 yard field goal to go up 10-7. With 2 minutes left, OSU fumbled a punt at their own 5 yard line, and Cal scored the insurance touchdown on 4th down to make the 17-7 final score. But while this game was close until the end, Cal dominated throughout, outgaining OSU 191 yards to 47, and most of the 47 came on one trick play that earned Oregon State their touchdown.

Cal's toughest game was supposed to be a home date against unbeaten Washington State the next week, but it was a laugher, WSU fumbling early and often, and Cal romping 49-0. WSU finished 5-1, including a big 21-20 win at Missouri Valley power Nebraska in their finale. That win would have likely put WSU into the bottom of a national AP top 25 had there been one in 1920, making them the only "rated" team Cal played during the regular season.

The rest of Cal's season was as uncompetitive as the WSU game, highlighted by a 127-0 win over St. Mary's, who canceled the rest of their season as a result of that debacle
.
The Tournament of Roses Game
The 1921 Tournament of Roses game drew tremendous interest, especially on the part of Cal grads, and ticket requests more than doubled the capacity crowd of 42,000 that attended the game. As such, this game was the impetus for the subsequent construction of the actual Rose Bowl stadium we know today. 7-0 Ohio State was a heavy favorite in newspapers East of the Rockies, but they were only 8-5 favorites with bookies, thanks to massive betting on 8-0 Cal by seemingly everyone who saw them play, from San Diego to Spokane. So while Cal's 28-0 whipping of Ohio State shocked most of the country, it was little surprise to the Left Coasters who doubled their money that day.

Cal outgained Ohio State in rushing and passing yards, and earned 18 first downs to OSU's 10. OSU's one bright spot was that they were penalized but once, while Cal was penalized often.

Pesky Sprott scored a touchdown to cap Cal's opening drive, and Ohio State's answering drive ended with a lost fumble at the Cal 8 yard line. In the 2nd quarter, Brick Muller surprised Ohio State with a long touchdown pass to Brodie Stephens that traveled 53 yards in the air. OSU's consensus All American quarterback, Pete Stinchcomb, had let Stephens go by after 30 yards, and when asked why after the game, he said, "Frankly, I didn't think anybody could throw the ball that far."

Pesky Sprott added his 2nd touchdown the same quarter, making it 21-0 and all but over at halftime. Sprott finished with 20 carries for 90 yards and 2 touchdowns, outperforming OSU star Stinchcomb.

Utterly embarrassed, the Big Ten subsequently banned its teams from playing in bowl games. That ban would be lifted 26 years later for an annual slot in the Rose Bowl, but it would not be until 1975 that a Big 10 team could play in any bowl game other than the Rose Bowl.
Harvard 1920
| | | |
| --- | --- | --- |
| Holy Cross (5-3) | 3-0 | #22 |
| Maine (3-3-3) | 41-0 | |
| Valparaiso (5-3) | 21-0 | |
| Williams (5-3) | 38-0 | |
| Centre (8-2) | 31-14 | #12 |
| Virginia (5-2-2) | 24-0 | (#26-38) |
| Princeton (6-0-1) | 14-14 | #3 |
| Brown (6-3) | 27-0 | (#26-38) |
| at Yale (5-3) | 9-0 | #16 |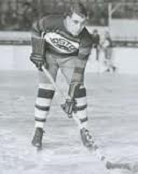 I summarized Harvard in my 1919 national championship article, and I covered some of the 1920 starters and their coach Robert Fisher there. The key losses from the 1919 team were star halfback Eddie Casey and fullback/kicker Ralph Horween. But the team's new players more than made up for those losses, and though this Harvard team finished with a similar record as the 1919 team did (they were 9-0-1 in 1919, 8-0-1 in 1920),
this year's team performed much better against a tougher schedule.

Three returning linemen drew All American mention this season, and joining them were guard James Tolbert (nonconsensus All American) and tackle Charles Hubbard (consensus AA in 1922 and 1923). Additionally, guard John Brown (consensus AA 1921) saw a lot of action as a substitute.

Halfback George Owen (pictured in hockey gear) replaced Eddie Casey, and like Casey, he is in the college football Hall of Fame. However, unlike Casey he never made consensus All American, though he was nonconsensus AA in 1921. He was a much better hockey player, and he went on to play pro hockey for 6 years, and is in the Hockey Hall of Fame.

Replacing Ralph Horween at fullback was his brother Arnold, who had been a starter at halfback in 1919. Arnold Horween was the captain this season, and was selected as a nonconsensus AA.

A pair of super-subs had a big impact for Harvard this season. The first was quarterback Charles Buell (nonconsensus AA 1922), who turned in key contributions as a substitute specialist for kicking and passing, finally assuming the starting position in the season finale against Yale. Buell beat Holy Cross 3-0 with a field goal, and he tied Princeton 14-14 with a late touchdown pass. That pass went to end C. C. Macomber (nonconsensus AA 1921), another substitute who played a lot of minutes.

Altogether, Harvard fielded 9 players who made a first team AA list during their careers.
Harvard's Season
Harvard got more than they bargained for from opening day "patsy" Holy Cross. Harvard was very conservative in this game, playing straight football all the way, and Holy Cross's defense held strong until the last drive of the game, when Harvard drove to the HC 5 yard line before time ran out. Harvard came up short on a couple of field goal tries in the 1st quarter, so they sent Charles Buell into the game, and he delivered a 13 yard field goal in the 2nd quarter that gave Harvard the eventual 3-0 win.


Buell missed a 30-yarder in the 3rd quarter, and then Holy Cross started to catch some breaks that they could not convert for points. They missed a 32 yard field goal in the 3rd quarter, then recovered a fumble at the Harvard 15 on the last play of the quarter, only to throw an interception on the first play of the final quarter. Then they just missed on a 44 yard field goal try. Harvard finally got it together, and put HC away with their final time-draining drive down the field.
Harvard outgained Holy Cross 145 yards to 35, Arnold Horween providing most of Harvard's offense with runs into the line, and Harvard attained 7 first downs to HC's 2. Holy Cross probably would not have been ranked in a national top 25 this season, but they ended up being pretty good, finishing 5-3, all 3 of their losses coming to top 25 caliber teams. And they defeated another top 25 caliber team, 6-2-1 Syracuse, by a 3-0 final score. So even if they would not have been ranked by an AP poll this season, they should have been, and I moved them into my list at #22.

Centre
Harvard swept through their next 3 patsies with ease, and then the real season began in game 5 with a home date against press darling Centre college of Kentucky. Centre was 4-0 coming in, had been 9-0 in 1919, and they had not lost a game since early in the 1917 season, a 24 game winning streak. A capacity crowd of 42,000 attended this game, and another 10,000 tried to storm the gates to get in, and had to be beaten back by police. The majority of the crowd was rooting for Centre, sapping Harvard of some of their home field advantage. Centre was much penalized in this game, drawing vocalized anger from the crowd.

It was a great game for one half. Harvard jumped out 7-0 early on a George Owen touchdown, but Centre answered with a touchdown on 4th and inches to tie it up. Then Centre star Bo McMillin threw a 53 yard touchdown pass for a 14-7 lead, sending the crowd into delirium. But George Owen tallied again for Harvard, and it was 14-14 at half. Instead of retiring to the locker room at half, Centre's team sat in a circle in the middle of the field to discuss second half strategy.

Unfortunately for them, the second half was all Harvard. Arnold Horween scored 2 touchdowns and kicked a 37 yard field goal, and Harvard won by that much, 31-14. Centre went on to finish 8-2, losing their next game 24-0 at 8-1 Georgia Tech, but they gave 9-1 Texas Christian their only loss 63-7 in a postseason game, and I have them ranked #12 for 1920.
Princeton
Harvard's next game was against Virginia (5-2-2, ranked #26-38), and Princeton's coach and
star player Donold Lourie, as well as Yale's coach and captain, were in attendance to scout Harvard for their upcoming games against them. Harvard showed little, however, playing only their reserves in this game. They took a 10-0 lead at half, then scored 2 touchdowns in the 4th quarter on a Charles Buell pass and a John Brown blocked punt and return, making the 24-0 final score. Virginia drove well in the 2nd and 3rd quarters, but could not manage a score.

Harvard's home game against Princeton the next week was the game of the year, both teams coming in at 6-0. Harvard was able to put up enough extra seating to squeeze 44,000 into the stadium. Princeton had tied Harvard in 1919, leaving the Crimson just short of perfect at 9-0-1, and though Harvard was favored to get their revenge in this game, it again ended in a tie, and Harvard had to rally late in the game for that much.

Harvard took a 7-0 lead on an Arnold Horween touchdown to cap the game's opening drive, greatly aided by a poor Princeton kick-off to start the game and a pair of 15 yard penalties on Princeton. The penalties were the result of Princeton twice roughing up Harvard star George Owen after the whistle, clearly their strategy coming into the game. However, after this drive they ceased those shenanigans and simply played ball. Late in the 1st quarter, Princeton's Hall of Fame tackle Stan Keck had his 42 yard field goal attempt partially blocked, but a Harvard player tried to pick up the ball and return it, muffed it, and Princeton recovered the ball again at the Harvard 32. From there they drove to the 10, but on the first play of the 2nd quarter, a 4th down pass fell incomplete. Both teams went on to miss long field goal attempts, and it remained 7-0 at the half.

Princeton took control in the 2nd half. In the 3rd quarter, Hall of Fame quarterback Donold Lourie caught a short pass and evaded a trio of Harvard tacklers for a 40 yard tying touchdown. Late in the quarter, Stan Keck blocked a Harvard punt, and Princeton end Armant Legendre recovered at the Harvard 3 yard line. From there, Princeton pushed it over early in the 4th quarter to take a 14-7 lead. The New York Times described the ensuing scene as follows

:

"The Princeton stand, which had blossomed when the score was tied into an array of howling, waving bliss, now developed acute insanity. There isn't an alienist in the world that would have allowed an instant's freedom to any one of the adherents of Captain Callahan's team. They seemed to shake the massive concrete walls with their outburst."

Harvard countered with player substitutions that would end up salvaging a tie. End C. C. Macomber, their best receiver, had already been sent into the game in the 3rd quarter. Now he was joined by linemen Bob Sedgwick and John Brown, halfback R. W. Fitts, and quarterback Charles Buell, their best passer. After an exchange of punts, Harvard finally went to the air midway through the 4th quarter, and the results left many wondering why they had not done so much earlier. First George Owen hit Fitts with a pass, and Fitts broke several tackles for about a 40 yard gain to the Princeton 38 yard line. On 3rd down, Owen again hit Fitts, netting 15 yards and another 1st down at the 17. Fitts carried twice into the line to little effect, and on 3rd down, Buell tossed a high pass into the left corner of the end zone, where Harvard's tall end C. C. Macomber leapt high over a Princeton player to snag the ball, coming down just in front of the boundary line at the back of the end zone.

The New York Times again

:

"For description of the ensuing scene please refer to words telling of the riot in the Princeton sections just after the fourth period began. Then multiply this by 100, and if your imagination survives the strain, there you have it."

After an exchange of punts, Harvard again went to the air, Buell completing a couple of passes to the Princeton 37, but as one more pass was being completed, the final whistle blew, and the game ended 14-14. The final statistics

:

Harvard rushed for 127 yards, Princeton 113. Harvard 8 first downs, Princeton 5. Harvard 6 of 10 passing for 81 yards, Princeton 6 of 9 for 83 and an interception. Each team lost a fumble and each had a kick blocked.

Princeton whipped Yale (5-3) 20-0 at home the next week, finishing 6-0-1. I believe that they would have finished #3 in a national AP poll, behind Harvard, but several highly prominent Eastern writers felt that Princeton was the best team in the East, ranking them higher than Harvard.
The Rest of the Season
Harvard played mostly substitutes against Brown the next week, but won easily 27-0, Brown feebly managing but 3 first downs. Brown finished a respectable 6-3, but they did not beat a single decent opponent, and would not have been ranked in a national top 25 had there been an AP poll in 1920 (I have them #26-38).

That brought Harvard to their finale at Yale, played before 80,000 fans. Harvard coach Bob Fisher gave quarterback/kicker Charles Buell the start this time, and he rewarded his coach with a pair of field goals from 20 and 35 yards out, and he had a good day returning kicks as well. Arnold Horween added a 37 yard field goal, and Harvard won 9-0. Yale was a miserable 3 of 13 passing, most of that in desperation in the 4th quarter. Their only scoring "threat" was a missed 45 yard field goal. Yale finished 5-3, but all 3 of their losses came to unbeaten teams (Harvard, Princeton, and Boston College), and they did beat 6-3 Brown 14-10, and most importantly their name was Yale, so they would have been ranked about #16 by a 1920 AP poll.
Princeton 1920
| | | |
| --- | --- | --- |
| Swarthmore (4-3-1) | 17-6 | |
| Maryland (7-2) | 35-0 | (#26-38) |
| Washington & Lee (5-3) | 34-0 | |
| Navy (6-2) | 14-0 | #17 |
| West Virginia (5-4-1) | 10-3 | |
| at Harvard (8-0-1) | 14-14 | #2 |
| Yale (5-3) | 20-0 | #16 |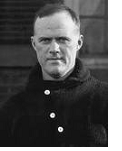 Princeton had previously won mythical national championships in 1903 and 1906
, and they are the consensus choice for 1911, though I did not select them for that season. The coach for the 1906 and 1911 seasons was Hall of Famer Bill Roper (pictured at left), and he was still the coach this season as well. He is the winningest coach in Princeton history, going
89-28-16 in 3 stints, 1906-'08, 1910-'11, and 1919-'30
. We'll be hearing from him again, because his 1922 Princeton team is a consensus choice for MNC.

Princeton was not as deep in notable players as were Cal and Harvard, or even Ohio State, but they were led by a pair of consensus All Americans and Hall of Famers, quarterback Donold Lourie and
tackle Stan Keck
. Keck was also the kicker and team captain, and he repeated as consensus AA in 1921.

End Armant Legendre and fullback Hank Garrity were nonconsensus AA.

Princeton's Season
Princeton opened with a 17-6 win over patsy Swarthmore, and their next opponent, Maryland, was coming off a loss to Rutgers (2-7), and was not expected to pose much more of a challenge, and they didn't. Princeton beat them 35-0, Donold Lourie scoring on a pair of 62 yarders, one a punt return and the other a run from scrimmage. Stan Keck was 5 of 5 on extra points. But Maryland proceeded to win their last 7 games, including an upset at 6-2-1 Syracuse, and 7-2 Maryland might have been able to sneak into a final top 25 had there been an AP poll in 1920. I, however, have them at #26-38.

Princeton's first "real" game was a home date against Navy in late October, but this was also not expected to be much of a challenge, as Navy was 2-1, losing their opener to North Carolina State (7-3) and barely getting by Lafayette and Bucknell. This was Princeton's first game against Navy since the two teams tied each other and both went unbeaten in 1911. Princeton won this time 14-0. The initial touchdown came in the second quarter, Lourie throwing a pair of passes that totaled 50 yards, then running it in from 15 yards out. The last was scored by Frank Murrey, who replaced Lourie at quarterback in the 4th quarter. His touchdown was a brilliant 77 yard run in which he was said to have stiff-armed and evaded the entire Navy team along the way. Like Maryland, Navy won the rest of their games, including a huge 7-0 victory over 7-2 Army in their finale, and I have 6-2 Navy ranked #17 for 1920.

Princeton's worst performance came the next week, a 10-3 win over West Virginia (5-4-1), who had beaten Princeton in 1919. West Virginia scored an early 32 yard field goal set up by a Princeton fumble, and they carried that 3-0 lead into the 3rd quarter.
Princeton kicked the tying field goal in the 3rd quarter, and Hank Garrity pulled out the win with a 50 yard interception returned for a touchdown in the 4th quarter.
This was the week before Princeton's game at Harvard, so star player Donold Lourie was held out of the game, and in fact he and head coach Bill Roper were scouting Harvard's game against Virginia this day
. Harvard and Yale scouts were at this Princeton-West Virginia game as well.


The next week was Princeton's game of the year at Harvard, a 14-14 tie as described in the Harvard section above.

That brought 5-0-1 Princeton to their finale against 5-1 Yale at home. Princeton kicked a 25 yard field goal in the second quarter, then Lourie ran for a 42 yard touchdown on a fake kick, and it was 10-0 at half. They added a fumble recovery for a touchdown and a 37 yard field goal, putting the final score at 20-0.

Yale lost 9-0 at Harvard the next week to finish 5-3, but all of their losses came to unbeaten teams, and I have them ranked #16 for 1920.
California vs. Harvard vs. Princeton
Here are the significant games for our first 3 contenders in 1920. I'll discuss Notre Dame afterward.
The opponent rankings
come from my 1920 top 25, which is based on a hypothetical post-bowl AP poll (within logical reason of course)
.
California 9-0
Harvard 8-0-1
Princeton 6-0-1

Washington State (5-1)
49-0
#23

Rose Bowl


Ohio State (7-1)

28-0

#4

| | | |
| --- | --- | --- |
| Holy Cross (5-3) | 3-0 | #22 |
| Centre (8-2) | 31-14 | #12 |
| Virginia (5-2-2) | 24-0 | (#26-38) |
| Princeton (6-0-1) | 14-14 | #3 |
| Brown (6-3) | 27-0 | (#26-38) |
| at Yale (5-3) | 9-0 | #16 |

| | | |
| --- | --- | --- |
| Maryland (7-2) | 35-0 | (#26-38) |
| Navy (6-2) | 14-0 | #17 |
| West Virginia (5-4-1) | 10-3 | Unranked |
| at Harvard (8-0-1) | 14-14 | #2 |
| Yale (5-3) | 20-0 | #16 |

Against teams that would have fallen outside a top 38, California defeated 7 by an average score of 62-2, Harvard defeated 3 by an average of 33-0, and Princeton defeated 3 by an average of 20-3.

Cal's schedule may look thinner than the schedules played by Harvard and Princeton, but note that Cal was the only one of the 3 teams to have defeated a

highly

ranked team, trouncing Ohio State 28-0-- and OSU would probably have been rated #1 in an AP poll going into that game. Cal also gave Washington State their only loss, and even more impressively, 49-0. And while both Harvard and Princeton had a game in which they beat a lesser opponent by a touchdown or less, no one came within a touchdown of Cal.

But the real issue is that neither Harvard nor Princeton defeated a top 10 caliber team, so I see no reason for either to share the mythical national championship with Cal. The vast performance difference between Cal and the other 2 is just icing on the cake.

Cal is an easy choice for 1920 MNC, so let's talk about whether Harvard or Princeton should be considered 1920's "champion of the East."

Champion of the East
Parke Davis, of course, selected Princeton as a national champion, but not Harvard, and several prominent Eastern writers of the time also singled out Princeton as the lone "champion of the East" over Harvard, though it should be noted that the majority split the regional "title" between the two teams.

These writers were there at the time, and got to see both teams play, but the main pro-Princeton argument advanced by writers was the simple fact that Princeton beat Yale 20-0, and Harvard "only" beat them 9-0 the next week. I find this argument weak, because Princeton played them at home, Harvard on the road, and let's face it, Harvard was and is Yale's biggest rival by far-- not Princeton. And both dominated Yale.

I think Princeton's poor performance against 5-4-1 West Virginia is a much bigger issue. They held their star player out of that game, but the rest of their starters played, and they only won because of a last-quarter interception return for a touchdown. Harvard played all back-ups against 5-2-2 Virginia on the same day, and won 24-0. And Virginia was much better than West Virginia in 1920.

But these two teams played so evenly in their tie game against each other, and their seasons as a whole were so similar, that I don't see the point of separating them at all. They should be considered co-champions of the East, and most people did and do consider them so.

Notre Dame 1920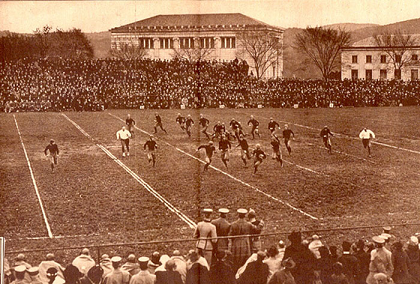 | | | |
| --- | --- | --- |
| Kalamazoo (5-3-1) | 39-0 | |
| Western Michigan (3-4) | 42-0 | |
| at Nebraska (5-3-1) | 16-7 | (#26-38) |
| Valparaiso (5-3) | 28-3 | |
| at Army (7-2) | 27-17 | #18 |
| Purdue (2-5) | 28-0 | |
| (neutral site) Indiana (5-2) | 13-10 | (#26-38) |
| at Northwestern (3-4) | 33-7 | |
| at Michigan State (4-6) | 25-0 | |
I summarized Notre Dame in my 1919 national championship article, in which I also covered their legendary coach, Knute Rockne, as well as equally legendary
halfback George Gipp (carrying the ball against Army in the picture above). Notre Dame went 9-0 in 1919, and they went 9-0 again this season.

Four key starters were lost from the 1919 team, but only 2 were lost to graduation, as quarterback Pete Bahan transferred to Detroit, and end Bernie Kirk transferred to Michigan. George Gipp, expelled for academic ineptitude in the Spring, was recruited by both those schools, and he almost transferred, but Notre Dame re-enrolled and re-recruited him, and good thing, because he was as close to being the whole team as any one player could be.

The best new starters this season were end Roger Kiley (nonconsensus All American 1920 and 1921), halfback John Mohardt (nonconsensus AA 1921), and tackle Buck Shaw (nonconsensus AA 1921). Shaw's 38 of 39 on career extra point tries remained the best at Notre Dame until 1976, and after graduation he went on to become a Hall of Fame coach, going 72-49-12. Most of his college coaching career was rather poor, but he had a golden 7 seasons at Santa Clara, going
47-10-4
1936-1942, including a pair of Sugar Bowl upsets of LSU following the 1936 and 1937 seasons. He also went 91-55-5 as a pro coach, winning the NFL title with the Eagles in 1960.
Notre Dame's Season
Notre Dame's 9-0 season boiled down to 3 tough road games. The first was a 16-7 win at annual rival Nebraska (5-3-1), who was good, but not top 25 good (I have them #26-38). Nebraska was favored to win, and led 7-2 after 1 quarter. In the 2nd, Notre Dame sprung a trick play. After they lined up, their center fell down, feigning injury. But then he snapped the ball to Gipp while still lying down, and Gipp ran 55 yards for a touchdown. Unfortunately, John Mohardt was called for clipping, and the touchdown was negated. Undaunted, Gipp threw a series of passes to end Eddie Anderson, setting up a touchdown run to lead 9-7 at half. In the 4th quarter, Gipp put the game away with a pass to the Nebraska 20 and a touchdown run from there.

The big game, as usual, was at Army (pictured above), who was coming in at 5-0 by big scores over 5 patsies. Notre Dame drove into Army's side of the field early, but fumbled it away. Army responded with a 40 yard run, setting up a 23 yard touchdown run and 7-0 lead. Notre Dame answered that with a 75 yard touchdown drive behind the running of John Mohardt and George Gipp. Gipp had a great day both running and passing from start to finish, and his 30 yard touchdown pass to end Roger Kiley gave Dame a 14-7 lead early in the 2nd quarter. Army, however, was not quite done. They returned a 60 yard Gipp punt for a touchdown, then kicked a 20 yard field goal to lead 17-14 at the half, despite being vastly outgained by Notre Dame.

But the second half was all Notre Dame, as Gipp started running wild, and they won 27-17. Mohardt had 2 touchdowns on the day, Gipp 3 extra points. Notre Dame tallied 20 first downs to Army's 4. Army went on to finish 7-2, but they lost to the only good teams they played (Notre Dame and 6-2 Navy), getting all 7 of their wins against teams that would be considered division 2 or below today. They would have finished about #18 had there been an AP poll in 1920, but due to their weak schedule, there is no way to know whether Army was a legitimate top 25 team or not.

Notre Dame's only poor performance came 2 weeks later against Indiana in Indianapolis. Indiana led 3-0 at half and 10-0 after 3 quarters, but George Gipp led Notre Dame to a pair of 4th quarter touchdowns and a 13-10 win. Indiana finished 5-2, but like Army, they lost to the only good teams they played (Notre Dame and 5-2 Iowa). They would not have made a top 25 in 1920. I have them at #26-38.
Notre Dame's Case for a National Championship
This Notre Dame football team was not nearly so highly esteemed at the time as they would become decades later, or even just 5 years later, and would barely have made a top 10 had there been an AP poll in 1920. But were they underrated? Do they deserve a share of the 1920 mythical national championship with Cal? The answer, which is no, should be obvious after reading the above summary of their season.


Cal won 28-0 over a 7-1 Ohio State team who would have finished #4 in an AP poll, and may well have been the 2nd best team in the country (they beat 6-1 Wisconsin, 5-2 Michigan, and 5-2 Illinois). Notre Dame's big win was 27-17 over a 7-2 Army team that would have been ranked about #18, and who beat no one of any value at all. Cal also beat another potential top 25 team, 6-1 Washington State, 49-0. Playing a similar opponent, Notre Dame only beat Nebraska 16-7 (WSU won at Nebraska 21-20). Finally, Cal had no close games (touchdown or less), whereas Notre Dame barely beat Indiana 13-10-- and Indiana would not have been ranked in a 1920 AP poll.


The names Knute Rockne and George Gipp are indeed golden, but their fame does not constitute a legitimate argument for a national championship. Notre Dame's accomplishments this season were, in fact, little more impressive than those of 8-0 Boston College or 9-0 VMI.
Awards Ceremony
1920 #1:

9-0 California


National Co-champion:

None


Contenders:

8-0-1 Harvard, 6-0-1 Princeton, and 9-0 Notre Dame

These are the awards I have been handing out for each season, except seasons when there are no contenders. For this purpose, what I mean by a contender is a team that I think is very close to being worthy of sharing the national championship. A team that you could make an argument for, even if that argument is weak. But the contenders are teams that I myself do not see as national champions.

Notre Dame's first national championship will have to wait a few more years.
Grading the Selectors
I have been grading the NCAA Records Book's selectors for each season, and keeping a grade point average, so we can see who is relatively good at selecting national champions and who is not. And although I do not consider computer ratings to be legitimate national championship selectors, I have been including them in this section as well, just for comparison's sake.
I am grading on a scale of 0-5 (5 being the best).

Billingsley's computer liked Notre Dame
.

Grade: 1.1



Boand's math formula came up with Harvard and Princeton.

Grade: 1.1



Parke Davis selected Notre Dame and Princeton. Grade: 0.7

Everybody else correctly selected California.

Grade:

5.0



Parke Davis receives the lowest grade because it frankly makes no sense to split the MNC between Notre Dame and Princeton, but not share it with Harvard, who tied Princeton. Never mind that Cal was more deserving than any of those 3 teams.

Grade point averages 1919-1920

:



1) Sagarin-ELO (math system)
5.0
2) College Football Researchers Association
3.9
3) Sagarin (math)
3.6
4) Boand (math)
3.1
5) Helms
Houlgate (math)
2.9
2.9
7) National Championship Foundation
2.6
8) Parke Davis
0.9
9) Billingsley (math)
0.6

How the systems that selected champions for 1901-1918 did

:



| | |
| --- | --- |
| 1) Houlgate (math system) | 4.5 |
| 2) Helms | 4.3 |
| 3) Parke Davis | 4.2 |
| 4) National Championship Foundation | 3.7 |
| 5) Billingsley (math) | 3.6 |