Home
1909 College Football National Championship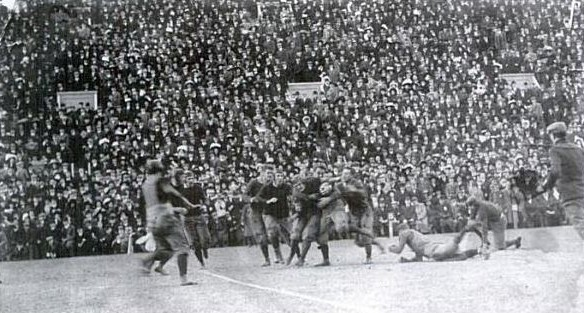 9-0 Yale traveled to 8-0 Harvard to finish the 1909 season and decide the mythical national championship (pictured above). Harvard doubled Yale's offensive yards, but Yale killed them in the kicking game and won 8-0 on a pair of field goals and a blocked punt for a safety. As in 1907, Yale is a unanimous national champion amongst NCAA-recognized selectors, but they were perfect this time out, going 10-0, winning every game by more than a touchdown, and icing the cake by shutting out every opponent.

The only other teams with perfect records in 1909 were big fish in small ponds that would have made their homes in the bottom of a top 25

:

7-0 Washington, 7-0 Arkansas, and 6-0 Colorado.

7-0-1 Lafayette came close to a perfect record, but they were tied by 7-1-2 Penn, the only team to score on them. 9-1 Kentucky lost to 6-1 North Carolina State, who lost to 6-1 Virginia Tech, who lost at 6-2-1 Princeton in a close 8-6 game. The deep South's best team, 6-1 Sewanee, also saw a perfect season spoiled by a trip to Princeton, but the score was not so close (20-0).

It was a big year for the West (which is what they called the Great Lakes region in those days), as Michigan finally broke through for a 12-6 win at 7-1-2 Penn, and Notre Dame won 6-0 at 6-2-1 Pittsburgh. The "West" went 4-0-1 against the East overall, by far their best effort. Unfortunately, the West was not able to put forward a national championship candidate.

Michigan had a strong season, with wins over 6-1-2 Case, 7-3 Ohio State, Penn, and above all, 6-1 Minnesota. That was their finale, and the first time they had played Minnesota since leaving their water jug on the field in 1903. With this 15-6 win, Michigan reclaimed the "Little Brown Jug," and the teams have been playing for it as a trophy since. Minnesota had played a weak schedule, but looked very powerful until Michigan beat them.

But Michigan did not go unbeaten. They lost 11-3 at home to Notre Dame, leaving the Wolverines with a 6-1 record, and their coach with an undying hatred for Notre Dame. The teams would not play again until a 2-game series during World War 2, and after that not until the 1970s, by which time Michigan had finally gotten over it. As for Notre Dame in 1909, they were tied by 2-2-1 Marquette in their finale, leaving them at 7-0-1. Thus was Yale left as the only candidate for the mythical national championship (MNC), and thus was their championship less mythical than most.


All rankings in the following article, except as noted, come from my 1909 top 25, which is based on a hypothetical post-bowl AP poll (within logical reason of course)
.
Yale 1909
| | | |
| --- | --- | --- |
| Wesleyan (3-5-1) | 11-0 | |
| Syracuse (4-5-1) | 15-0 | |
| Holy Cross (2-4-2) | 12-0 | |
| Springfield (5-1) | 36-0 | |
| at Army (3-2) | 17-0 | #12 |
| Colgate (5-2-1) | 36-0 | |
| Amherst | 34-0 | |
| Brown (7-3) | 23-0 | #10 |
| Princeton (6-2-1) | 17-0 | #8 |
| at Harvard (8-1) | 8-0 | #2 |

I wrote summaries of previous Yale seasons for my 1902, 1904, 1905, 1906, and 1907 national championship articles. With legitimate claims to 6 MNCs 1900-1909 (the school claims a 7th for 1901 that is not legitimate), and a 100-4-5 record against schedules that included the top teams from the toughest region (annual games with Army, Princeton, and Harvard), Yale is easily the top football school of the 20th century's first decade. And as far as performance goes, this 1909 edition was their best, a fitting climax to a great run. But Walter Camp was taking less and less of an active role as Yale's advisory coach, and perhaps it is no coincidence that 1909 was also the end of Yale's dynasty. They next contend for an MNC in the 1920s.

Yale's official head coach for this season was Hall of Famer Howard Jones, who had played for Yale teams that went 28-0-2 1905-1907, so after 1909 he was still unbeaten (38-0-2) as a player/coach at Yale. Details of his impressive Hall of Fame coaching career can be found in my 1905 article.

Six of 1909's 11 consensus All Americans were Yale starters, and two more Yale starters were consensus AA
in other seasons. Three of these players are in the Hall of Fame

:

end John Kilpatrick (also in the Hockey Hall of Fame), quarterback Art Howe, and fullback Ted Coy (pictured). Coy was the team's triple-threat star and captain, and in fact he was considered at the time to be the best college football player of this decade.

The Games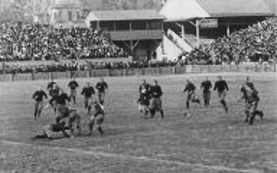 Yale met with very little resistance in 1909, outscoring their opponents 209-0, and only 3 times allowing opponents inside the Yale 20 all year. They rolled over 3-2 Army (#12) 17-0, 7-3 Brown (#10) 23-0, and 6-2-1 Princeton (#8) 17-0 (the Princeton game pictured above). The big game, once again, was their finale at Harvard, who came into the game at 8-0. The 1909 MNC would therefore fall to the winner.

Yale managed very little offense against Harvard, but their defense and kicking game were so strong that they wouldn't need it. They got a safety when center Carroll Cooney blocked a punt (this was his specialty-- he had blocked a punt for a touchdown against Princeton). Late in the first half, halfback Stephen Philbin returned a punt to the Harvard 15, leading to a Ted Coy field goal. Coy added another field goal late in the second half to put the game out of reach, and Yale won 8-0.

Harvard ran 56 plays to Yale's 33, outgaining them 212 yards to 106. But they were also penalized 9 times for 105 yards, whereas Yale was penalized but once for 5 yards. Yale further outgained Harvard on kick returns by 52 yards, and Ted Coy averaged 41.5 yards per punt, while Harvard averaged just 31.
As the New York Times noted, Coy won the game with his punting and placekicking.

Awards Ceremony
1909 #1:

10-0 Yale


Contenders:

None

These are the awards I have been handing out for each season, except seasons when there are no contenders. For this purpose, what I mean by a contender is a team that I think is very close to being worthy of sharing the national championship. A team that you could make an argument for, even if that argument is weak. But they are teams that I myself do not see as national champions.

A third category is also possible

:

a "national co-champion" who is not #1, but who has done just enough to be considered a co-champion with the #1 team.

Grading the Selectors
I have been grading the NCAA Records Book's selectors for each season, and keeping a grade point average, so we can see who is relatively good at selecting national champions and who is not. And although I do not consider computer ratings to be legitimate national championship selectors, I have been including them in this section as well, just for comparison's sake.
I am grading on a scale of 0 to 5, with 5 being the best.


Everyone selected Yale, so everyone gets a

grade of 5

.

Grade Averages 1901-1909

:



| | |
| --- | --- |
| 1) Billingsley (math system) | 4.41 |
| 2) Parke Davis | 4.36 |
| 3) Houlgate (math) | 4.3 |
| 4) Helms | 4.1 |
| 5) National Championship Foundation | 3.3 |