Home
1907 College Football National Championship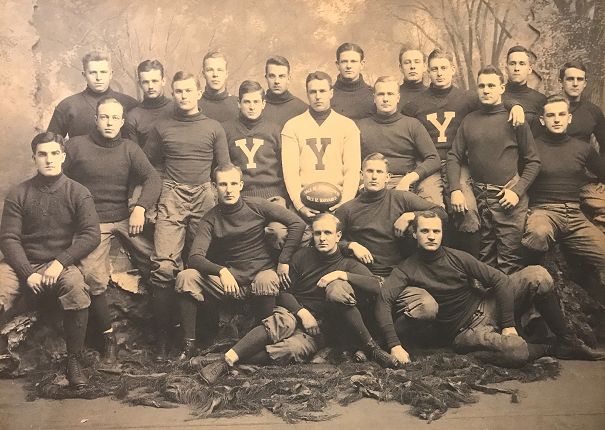 Pictured above is Yale's 1907 championship team (My thanks to Dean Lennox for the photo

:

his grandfather, Graham Foster, is on the bottom right).

For the first time since 1900, we have a unanimous national champion amongst NCAA-recognized selectors

with 9-0-1 Yale. Not that Yale 1907 was particularly powerful. It's just that there isn't really anyone else to select.

Dartmouth was 8-0-1, and defeated 7-3 Harvard 22-0 (a team Yale beat 12-0), but Harvard was the only good team they played. They were tied by 4-2-1 Vermont, and barely got by Tufts, Massachusetts, and Amherst, none of whom were top 25 material.
So Dartmouth was lucky enough to even be considered a top ten team.

10-1 Carlisle and 11-1 Penn fielded powerful teams, but Penn lost to Carlisle 26-6, Carlisle lost to 7-2 Princeton 16-0, and Princeton lost to Yale in the game of the year. It must be noted that Penn claims a national championship for this season, but I have no idea what they are basing it on, and since no one agreed with them, then or now, I will not be addressing the claim.

The West was knocked out by the East again. 5-1 Michigan won each of their first 5 games by more than a touchdown, and shut out each of those opponents, but they lost their season finale at home to Penn by a touchdown, 6-0. 4-1 Chicago lost at home to Carlisle 18-4. The only perfect records came from unremarkable regional teams

such as 6-0 Oregon State, 8-0 Washburn, 7-0 Utah State, and 6-0 Marquette.


All rankings in the following article, except as noted, come from my 1907 top 25, which is based on a hypothetical AP poll (within logical reason of course)
.
Yale 1907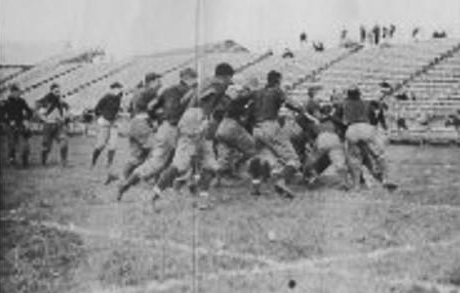 | | | |
| --- | --- | --- |
| Wesleyan (1-7-1) | 25-0 | |
| Syracuse (5-3-1) | 11-0 | #15 |
| Springfield (2-4-2) | 18-0 | |
| Holy Cross (1-7-2) | 52-0 | |
| at Army (6-2-1) | 0-0 | #11 |
| Villanova (1-5-1) | 45-0 | |
| Washington & Jefferson (7-2) | 11-0 | #17 |
| Brown (7-3) | 22-0 | #14 |
| Princeton (7-2) | 12-10 | #2 |
| at Harvard (7-3) | 12-0 | #8 |
This season brings Yale (pictured above at practice) the elusive and coveted "threepeat."
I wrote summaries of previous Yale seasons for my 1902, 1904, 1905, and 1906 national championship articles. Yale lost 3 of their 4 consensus All Americans from the 1906 team, but for the third straight season, they still had 4 consensus All Americans in 1907

:

tackle L. Horatio Bigelow (the lone repeat selection from 1906), end Clarence Alcott, quarterback Tad Jones, and most importantly, hall of fame fullback Ted Coy. Considered one of the greatest players of the decade, Coy was selected a consensus AA three straight seasons '07-'09, and more than anyone else, he made the difference that delivered the national championship to Yale this season.

Three other players would become consensus AA over the next couple of years.
The Games
Yale shut out every opponent they faced in 1907 except 7-2 Princeton (#2), but they suffered a scoreless tie against their greatest bane of this decade, 6-2-1 Army (#11).

Army was the team that had tied 11-0-1 Yale in 1902. Then they beat 10-1 Yale in 1904, knocking them out of the national championship. And now they are the team that has tied 9-0-1 Yale teams in back-to-back seasons 1906-'07. Uncanny. Yale was 3-1-3 against Army 1901 to 1907, but 6-1 against Harvard and 5-1-1 against Princeton, two much stronger programs (Army was 0-6 against Harvard and 0-2-1 against Princeton over this same time span).

The game was played at West Point, as it always was, and was marked by lots of fumbles and penalties, but little offense. Army was missing their best players, and they produced no offense at all, and had only one scoring opportunity, a missed 21 yard field goal following a Yale fumble in the first half. Yale missed a 30 yarder in the half, and in the second, neither team could gain until late, when Army started to tire out. Yale drove to the Army 5, but a penalty set them back, and as they were lining up for the field goal, time was called.

Princeton was the only other team that came close to Yale in 1907. Yale defeated 7-2 Washington & Jefferson (#17) 11-0, 7-3 Brown (#14) 22-0, and 7-3 Harvard (#8) 12-0 in their finale. It was their 6th win in a row against Harvard, and until Harvard's recent 9-game winning streak over Yale, it was the longest winning streak by either team in the series. Ted Coy was the star of the game with his punting and rushing, scoring both touchdowns.

The Game of the Year
Princeton came into their finale at New Haven with a record of 7-1, and since they had beaten 10-1 Carlisle, who had beaten 11-1 Penn, this game with Yale was viewed as the national championship game. And it ended up being a classic, one of the greatest and most famous games of the decade.

Princeton struck first on a blocked punt that was returned 70 yards for a touchdown. Princeton halfback Edwin Harlan later added a field goal for a 10-0 halftime lead (field goals being worth 4 points), but crucially, Harlan missed a huge 4 field goals in the half, wasting a lot of great punt returns, and he missed a total of 5 in the game! Princeton had far more scoring chances than Yale in this game, but could not cash in.

Yale, of course, came back in the second half. Tad Jones returned a punt 40 yards to the Princeton 30, and Ted Coy did most of the work from there and scored Yale's first touchdown.


After that, Yale repeatedly tried to pass the ball on fake field goals-- the same play they repeatedly ran against Harvard in 1906, and to the same receiver, Clarence Alcott. But quarterback Tad Jones was doing the throwing rather than the graduated Paul Veeder. The winning touchdown was set up by two such plays, the first gaining a first down to the Princeton 24, the second to the Princeton 10. Ted Coy took over from there and scored his second touchdown for the 12-10 win.

Awards Ceremony
1907 #1:

9-0-1 Yale


Contenders:

None.

These are the awards I have been handing out for each season, except seasons when there are no contenders. For this purpose, what I mean by a contender is a team that I think is very close to being worthy of sharing the national championship. A team that you could make an argument for, even if that argument is weak. But they are teams that I myself do not see as national champions.

A third category is also possible

:

a "national co-champion" who is not #1, but who has done just enough to be considered a co-champion with the #1 team.

Grading the Selectors
I have been grading the NCAA Records Book's selectors for each season, and keeping a grade point average, so we can see who is relatively good at selecting national champions and who is not. And although I do not consider computer ratings to be legitimate national championship selectors, I have been including them in this section as well, just for comparison's sake.
I am grading on a scale of 0 to 5, with 5 being the best.


Everyone selected Yale, so everyone gets a

grade of 5

.

Grade Averages 1901-1907

:



| | |
| --- | --- |
| 1) Parke Davis | 4.3 |
| 2) Billingsley (math system) | 4.24 |
| 3) Houlgate (math) | 4.22 |
| 4) Helms | 3.9 |
| 5) National Championship Foundation | 3.4 |