Top 25 Rankings 1901-1935
1909 National Championship
Home
1909 College Football Top 25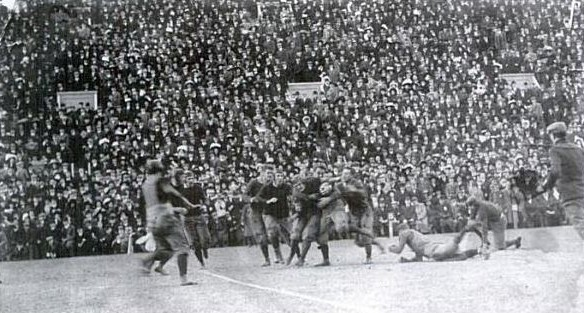 9-0 Yale traveled to 8-0 Harvard to finish the 1909 season and decide the mythical national championship (pictured above). Harvard doubled Yale's offensive yards, but Yale killed them in the kicking game and won 8-0 on a pair of field goals and a blocked punt for a safety
.
I summarized 10-0 Yale and their season
in my 1909 national championship article. They would have been a landslide #1 in a 1909 AP poll, and 8-1 Harvard a landslide #2.

Yale #1, Harvard #2
.
Notre Dame, Michigan, and Minnesota
What a huge year this was for Notre Dame, and for the "West" in general. 1913 is often cited as Notre Dame's breakthrough season, because they defeated Eastern power Army that year, and thereby introduced themselves to Eastern football writers. But 1909 gave Notre Dame its first victory over Michigan (6-1, #4), after 8 failed tries, and that 11-3 win gave Notre Dame the unofficial title "Champions of the West." Notre Dame also won 6-0 at 6-2-1 Pittsburgh (will be rated #13) and 17-0 over 8-1 Michigan State (#18), but they were tripped up by a scoreless tie in their finale at Marquette (2-2-1, #20) on Thanksgiving Day, finishing them at 7-0-1. Marquette's losses came to Michigan (by just 1 point!) and Michigan State.

It's quite possible that Michigan would have been rated higher than Notre Dame in a 1909 AP poll, and their coach Fielding Yost was adamant that his team was better, declaring Michigan the real "Champions of the West." More on that below. Some football writers agreed that Michigan was better, as they pulled off a couple of huge wins against the vaunted East

:

44-0 over 4-5-1 Syracuse and 12-6 at 7-1-2 Pennsylvania. The Syracuse score was often cited by writers in the West as a reason to think that Notre Dame or Michigan was the true "national champion," because Yale only beat Syracuse 15-0. The win over Penn was Michigan's first, after 3 straight losses 1906-1908.

These 2 Michigan wins, along with Notre Dame's win at Pitt, represented a sea change. In all, major teams from the West were 4-0-1 against major teams from the East, the first year the West ever outdid the East. And the West would continue to post winning records against the East over the next several seasons.

But Michigan had other big wins

:

3-0 over 6-1-2 Case, 6-5 at 2-2-1 Marquette (#20), and 15-6 at 6-1 Minnesota (#5) in their finale. This was Michigan's first time playing Minnesota for the "Little Brown Jug," which Michigan took home with them after the game. Because of all these impressive wins, but particularly those over 6-1 Minnesota and 7-1-2 Penn, there was some reason to believe that Michigan was better than Notre Dame. But Notre Dame didn't just beat Michigan, they defeated 2 other rated teams, and their head-to-head win over Michigan, won by more than a touchdown and in Ann Arbor, outweighs their upset tie to Marquette. So Notre Dame deserves and will get slot #3 in this top 25. They were the football season's biggest surprise by far.

Michigan will have to settle for #4, earned by those wins at Penn and Minnesota. 6-1 Minnesota, I believe, would have been rated #5 in an AP poll. Although they did not beat any top 25 teams, they had rolled up impressive scores over every opponent before their finale against Michigan, and they gave a couple of teams their only loss, 20-6 over 4-1-2 Chicago and 34-6 at 3-1-1 Wisconsin (both will fall just outside the top 25).


Notre Dame #3, Michigan #4, and Minnesota #5.

Notre Dame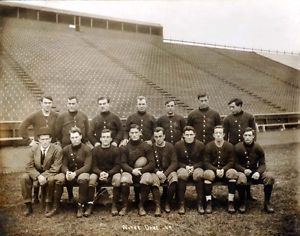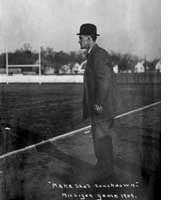 Notre Dame had first started consistently winning in 1906, going 6-1 that season and 6-0-1 the next, but they were a minor team playing mostly minor teams. In 1908, they added Michigan, the region's biggest team, to their schedule and lost just 12-6, finishing 8-1. Frank "Shorty" Longman (pictured at the 1909 Michigan game), who had played at Michigan 1903-1905 and still lived in Ann Arbor, took over as coach this season. He had been a meager 8-13-3 at Arkansas and Wooster the previous 3 years, but at Notre Dame he went 7-0-1 this year and 4-1-1 the next, after which he retired from coaching. His one great achievement was directing Notre Dame's first-ever win over Michigan this season.

Shorty Longman's former coach at Michigan, Fielding Yost, did not take their loss to Notre Dame well at all, and by the end of the season he had proclaimed his team the "Champions of the West" anyway. One reason he gave was that Notre Dame had only been scheduled to provide practice for the "real" games to come

:

"You must recognize the fact that we went into the game caring little whether we won or lost." This excuse is amusing in light of what he had said right after the game

:

"What makes me so dog-goned mad is that we might have won. Those are the worst kind of games to lose. They leave a worm in the heart to gnaw and gnaw." And indeed, this was a loss that would gnaw at his heart for decades.

Another reason Yost gave for why his team was the "true" Champion of the West was Notre Dame's loose eligibility standards for players. This excuse is also amusing, because as it turned out, it was Michigan that had been using an ineligible player, as it was discovered in December that their captain, J. Joy Miller, had not attended a single class that Fall. Michigan at first offered to forfeit all their games, then decided instead to send letters of apology to all of their 1909 opponents.

Shorty Longman spent the entire off-season bragging about his team's 11-3 win over Michigan all over Ann Arbor, and that planted in Fielding Yost a deep and undying hatred for Notre Dame. On the eve of their 1910 game, Michigan canceled it, and they refused to play Notre Dame again until a 2-year series during World War 2, and not again after that until 1978. Yost tirelessly worked to keep Notre Dame out of the Big 10, and to convince other conference teams not to play them, hoping that Notre Dame's football program would wither and die. Obviously he failed in that regard.

This year's Notre Dame team featured 4 All-Western players

:

fullback Robert Vaughan and linemen Sam Dolan, George Philbrook, and Ralph Dimmick. Vaughan was the line plunger around whom the whole offense was built, and a big reason Notre Dame was tied by Marquette in their finale is that Vaughan was out of the lineup that day. Sam Dolan, on the other hand, played every minute of every game this season, toughing out a shoulder injury in that Marquette game. He was great on defense, a linebacker who was in on every tackle. Vaughan would become a longtime head coach at Wabash, going 115-85-24 there 1919-1945.

Halfback Harry "Red" Miller did not make first-team All Western (he was 2nd team), but he was the only one from this team to make Walter Camp's All American list, albeit as a 3rd team selection.
Pennsylvania, Lafayette, Princeton, and Dartmouth
I think 7-1-2 Pennsylvania would have been rated next, but we're going to go with 7-0-1 Lafayette instead. These teams tied each other in a game played at Penn, but Penn also took a tie to a lower-rated team, 5-0-2 Penn State, and Lafayette was not upset. And Lafayette won 6-0 at 6-2-1 Princeton the week before they tied Penn, a better win than any by Penn.

Penn's loss came 12-6 to #4 Michigan at home. They won 22-0 over 6-1-1 Ursinus (#26-33), 13-5 over 7-3 Brown (#10), and 29-6 over 8-3-1 Carlisle (#14).

In addition to Lafayette, 6-2-1 Princeton lost 17-0 at #1 Yale. Their tie came to 5-1-2 Dartmouth. Penn gets a higher rating than Princeton because they tied Lafayette, and Princeton lost to them.

5-1-2 Dartmouth took their loss 12-3 at #2 Harvard. In addition to Princeton, they tied a bad 4-2-2 Vermont team, which is what keeps them rated behind Princeton. Dartmouth's wins all came by more than a touchdown, the best being 18-0 over 5-2 Williams (#26-33).

Lafayette #6,
Pennsylvania #7,
Princeton #8, and Dartmouth #9.

Lafayette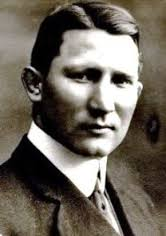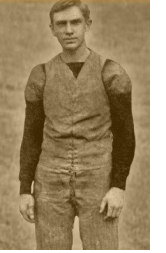 This was the first year in the career of one of the greatest and most underrated football coaches of all time, Bob Folwell (pictured above). He had played halfback for Penn 1904-1907, and he went 22-4-1 as head coach at Lafayette 1909-1911. After that he went 36-5-3 at Washington & Jefferson 1912-1915, 27-10-2 at his alma mater 1916-1919, and 24-12-3 at Navy 1920-1924. His teams were top 25 caliber in all of his first 15 seasons as a coach, and overall he was 109-31-9, which puts him on the list for best all-time coaching win percentage. He is one of the 2 most glaring omissions on the part of the Hall of Fame, the other being this year's coach of Texas A&M (covered below).

The star of this year's Lafayette team was fullback George McCaa (pictured at left), who was great on both offense and defense, and also as a punter and kicker. Walter Camp selected him as a 3rd team All American in 1908 and 1909. He scored 36 touchdowns in his career.

McCaa figured prominently in Lafayette's 2 biggest games this year, as did substitute halfback Frank Irmschler. The first big game, at #8 Princeton, was scoreless as Princeton lined up to kick a short field goal in the game's closing seconds. McCaa directed Irmschler to move to a different spot on the line at the last moment before the snap, hoping to catch Princeton with not enough blockers there, and it worked. Irmschler came through unimpeded and blocked the field goal. The ball bounced off his thigh and into his arms, so he ended up catching it on the fly, and he ran it back 85 yards for a touchdown and a miraculous 6-0 win on the last play of the game. This was Lafayette's first-ever win over Princeton.

The other big game was at #7 Penn the next week. This game was also scoreless through the first half, but Lafayette got on the board first with a touchdown pass from McCaa to Irmschler. Penn's starters could get nowhere, so the substitutes were sent in for about the last 10 minutes of the game, and their fresh legs started moving the ball on Lafayette, who was not as deep and could not substitute quality players as easily. Penn finally scored a touchdown in the game's last minute, so the teams tied 6-6.
Brown, Penn State, and Army
I'm thinking that 7-3 Brown, 5-0-2 Penn State, and 3-2 Army would have been rated next, in that order. I would rate Brown higher than Dartmouth myself, but I let the hypothetical AP poll voters of 1909 have this one, since Brown had a weak performance against a bad Rhode Island team, they got routed 23-0 by #1 Yale, and they lost to #2 Harvard worse than Dartmouth did. Brown's other loss came 13-5 at #7 Penn. Their one big win came 21-8 over 8-3-1 Carlisle (#14).

5-0-2 Penn State took their ties to #7 Penn and #14 Carlisle, so one higher-ranked team and one lower. Their one big win came 5-0 at #13 Pittsburgh.

3-2 Army cut their season short due to the death of a player (more on that below). Their losses came to #1 Yale and #2 Harvard. Neither loss was close, and Army didn't beat a good team, so any rating for them is largely conjecture, or an extrapolation based on where they'd been ranked in previous seasons. Still, there's no problem rating them ahead of Pitt (who will be ranked next), because Pitt was tied by a bad 4-3-2 West Virginia team.

Brown #10, Penn State #11, and Army #12.

Army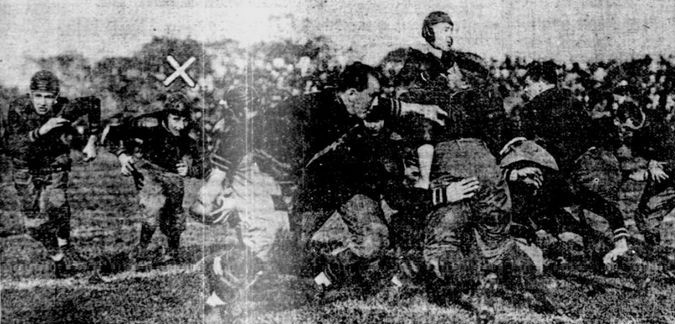 The player who lost his life was Army tackle Eugene Byrne. His spine was snapped as he tried to make a tackle in a game against Harvard, and he was paralyzed. The photo above was taken seconds before the tragedy happened, and Byrne is marked with an "X." The game was ended after Byrne's injury, with 10 minutes to go, and Harvard was declared the winner by a score of 9-0. Byrne died the next morning, and Army canceled the rest of their season.

Byrne was just the most famous example this year of an epidemic. 26 people were killed playing football in 1909, and 70 seriously injured. A Virginia halfback was killed in a game at Georgetown, and both teams canceled the rest of their seasons. A Navy quarterback was paralyzed due to an injury in a game, and would die the following Spring. All these deaths led to more rules changes, much like in 1905. Seven men had to be on the line of scrimmage from now on, so that linemen wouldn't get running starts before their collisions, and players could no longer push or pull ball carriers forward.
Pittsburgh, Carlisle, Virginia Tech, and Washington & Jefferson
6-2-1 Pittsburgh took their losses to #3 Notre Dame and #11 Penn State. As previously noted, they tied a bad 4-3-2 West Virginia team, but they had a pair of big wins, 14-3 over 8-3-1 Carlisle and 17-3 over 8-1-1 Washington & Jefferson.

In addition to Pitt, 8-3-1 Carlisle lost to #7 Penn and #10 Brown. Their tie came against a higher-rated team, #11 Penn State. Their best win came 9-0 over 3-2 Villanova (#26-33), but it's the tie with Penn State that gets them ranked ahead of Virginia Tech.

6-1 Virginia Tech lost just 8-6 at #8 Princeton. They won 6-0 over 6-3 Clemson, 15-0 over 5-2 North Carolina, and most importantly, 18-5 over 6-1 North Carolina State (#23).

As noted, 8-1-1 Washington & Jefferson took their loss to #13 Pitt. Their tie came 0-0 at 4-3-1 Navy (unrated), and that's what gives Virginia Tech a higher rating. Washington & Jefferson did not defeat a good team, so this rating may be higher than they deserve, but it's about where an AP poll would have ranked them, and it'll work well enough.

Pittsburgh #13, Carlisle #14, Virginia Tech #15, and Washington & Jefferson #16.

Virginia Tech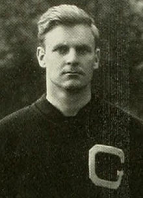 Virginia Tech was known at this time as VPI, Virginia Polytechnic Institute, and they were called the "Gobblers" rather than the Hokies. The head coach was Branch Bocock (pictured), who had been a quarterback at Georgetown 1903-1906. He coached all over the South, never hanging around in one place very long. He went 12-3 at Virginia Tech 1909-1910, then 6-1-1 at North Carolina in 1911, then 22-11-2 back here at Virginia Tech again 1912-1915, the longest stint of his coaching career. Overall he was 98-55-9 in 19 seasons at 6 schools, the others being Georgia, LSU, South Carolina, and William & Mary.

Two Virginia Tech players were All-Southern this year, end J. T. Luttrell and guard E. F. "Hoss" Hodgson. Virginia Tech was oh-so-close to upsetting Princeton and thereby finishing with a perfect record this season. In the first minute of play in that game, Princeton returned a fumble for a touchdown, but missed the extra point, so it was 5-0. Later, Virginia Tech turned the same trick, Hoss Hodgson returning a fumble 50 yards for a touchdown. Hodgson kicked the extra point for a 6-5 lead that held up until late in the game, when Princeton kicked a 38 yard field goal for an 8-6 win.

Washington, Michigan State, Sewanee, and Marquette
Token team time, and we've reached the point in the top 25 where it's mostly just guesswork as far as estimating where a 1909 AP poll would have rated these teams. My first guess is 7-0 Washington, champion of the Northwest and unbeaten for the 2nd straight season. How good the Northwest was compared to the rest of the country, we'll never know.

Next we'll go with 8-1 Michigan State, who was considered a mid-major type team at this time (at best). They lost 17-0 at #3 Notre Dame. Their best win came 10-0 over 2-2-1 Marquette (will be rated #20). #3 Notre Dame was tied by Marquette, and Michigan only beat them 6-5. The rest of Michigan State's wins were routs.

Then we've got 6-1 Sewanee, who took their loss 20-0 at #8 Princeton. They did not defeat a rated opponent, but they did defeat a bunch of winning teams

:

6-2 Louisiana State (#26-33), 7-2 Georgia Tech, 5-2 Auburn, and 7-3 Vanderbilt.

2-2-1 Marquette had a better relevant record than Sewanee did, thanks to their tie with #3 Notre Dame, but that and a close loss to #4 Michigan are all Marquette accomplished, so I think Sewanee, who defeated 4 winning major teams, can be ranked ahead of Marquette.

Washington #17, Michigan State #18, Sewanee #19, and Marquette #20.

Sewanee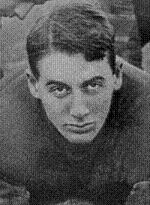 Sewanee is what people like to call the University of the South, after the town where the school is located. There was a time, specifically 1898-1912, when Sewanee was a power team in the South. The head coach, in his first season this year, was Sewanee grad Harris Cope. He went 43-18-7 here 1909-1916. This season was the last time Sewanee fielded a top 25 caliber team.

Sewanee fielded 5 players who were All-Southern, and they had one player who is in the Hall of Fame

:

center/linebacker Frank Juhan (pictured). He eventually became a bishop in the Episcopal Church, and Sewanee's basketball gym is named for him.

Marquette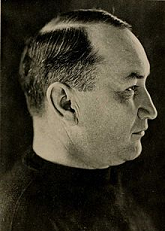 This was Marquette's first top 25 caliber team. Their last was 1936, when they were ranked #20 in the AP poll (dropping to #24 in the fixed AP poll). Marquette, known as the Golden Avalanche at this time, got a lot of attention in the press this year, first for losing to Michigan by just 1 point in October, and then by tying Western Champion Notre Dame on Thanksgiving Day. It was also a big year for Marquette because in 1909 they became the first coed Catholic university in the world.

The coach was Bill Juneau (pictured), a Wisconsin grad who went 19-5-6 at Marquette 1908-1911. He then went 18-8-2 at his alma mater 1912-1915, the highlight a 7-0 finish in 1912 that was very close to being MNC-worthy. After that he went 19-7 at Texas 1917-1919, with another perfect season (9-0) in 1918. Overall he was a strong 86-39-12 at 6 schools.

This Marquette team became famous not just because they lost to mighty Michigan by a mere extra point, but because they outplayed Michigan in that game. Michigan recovered 3 onside punts (legal in those days) deep in Marquette territory, and the third time they were able to score. Marquette also scored a touchdown, but they missed the extra point, so they were still down 6-5 at the half. The 2nd half was played almost entirely on Michigan's side of the field, but Marquette could not score, so Michigan held on for the win in a game where they produced almost no offense.
Arkansas, Colorado, North Carolina State, and Kentucky
7-0 Arkansas got their best win 16-0 over 6-2 Louisiana State in Memphis. 6-0 Colorado won 9-0 at 5-2 Colorado College. Since Colorado only won 3-0 over a high school team, we'll rank Arkansas higher
.

6-1 North Carolina State, then known as North Carolina A&M, took their loss 18-5 at #15 Virginia Tech. Their biggest win came 15-6 over 9-1 Kentucky. Kentucky's biggest win came 6-2 at 5-2 Illinois.


Arkansas #21, Colorado #22, North Carolina State #23, and Kentucky #24.
North Carolina State's head coach was Eddie Greene, who, like Lafayette coach Bob Folwell, had played halfback for Penn 1904-1907. His coaching career was brief but successful, 25-8-2 at NC State 1909-1913 with 2 SIAA titles
.
Arkansas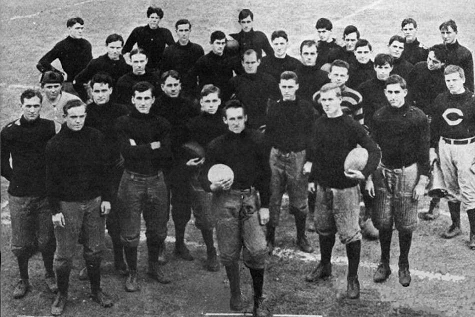 This is the first time Arkansas fielded a top 25 caliber team. They wouldn't field another until 1936, when they appeared in the first AP poll. Their coach was Hall of Famer Hugo Bezdek (wearing the Chicago sweater in the team picture, on the right), who had been born in Prague, and had been the fullback on Chicago's 1905 national championship team. He coached one year at Oregon in 1906, going 5-0-1, and then he went 29-13-1 at Arkansas 1908-1912. He returned to Oregon 1913-1917, going 25-10-3 and winning a Rose Bowl, then he won another Rose Bowl as coach of the Mare Island marines during World War 1. He spent the next 12 years as coach of Penn State, going 65-30-11, winning an MNC in 1919 and taking a third team to the Rose Bowl following the 1922 season. Overall he was 127-58-16. He later became the only man who has coached an NFL team and managed a major league baseball team.

As indicated above, the big win for Arkansas this season came 16-0 over LSU in Memphis. Fans gathered around the Western Union office in Fayetteville getting updates on the game via telegraph. When the team returned, a crowd greeted them at the train station. Hugo Bezdek told the crowd that his team had played "like a wild band of razorback hogs," and that is how the school's athletic teams got their name.

Hugo Bezdek convinced his old coach, the venerable Amos Alonzo Stagg, whose team Chicago had already completed their season, to come down to Little Rock and referee a game between Arkansas and Washington (Missouri) on Thanksgiving Day. That helped Arkansas receive some press outside of their region.
Kentucky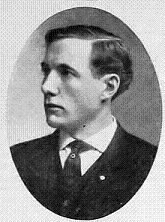 1909 Kentucky's story is very similar to that of 1909 Arkansas. This was the first time Kentucky fielded a top 25 caliber team, and they wouldn't field another until 1939, when they make the fixed and expanded AP poll top 25 (they wouldn't be rated by an actual AP poll until 1949). The coach was Edwin Sweetland (pictured), a Cornell grad who had been very successful coaching Syracuse 1900-1902, going 20-5-2. After stops at Ohio State and Colgate, he came to Kentucky for a couple of years 1909-1910 and went 16-3. He came back to Kentucky for a one-year encore in 1912 and went 7-2. Overall he was 100-41-10 at 9 schools.

Kentucky's big win, again, was the 6-2 victory at Illinois, a very rare instance of a Southern team beating a Western Conference (Big 10) team. Now here's the part that is particularly similar to the story of 1909 Arkansas

:

the day after the Illinois win, a school official who had attended the game told students during a chapel service that the team had "fought with the ferocity of mountain wildcats," and that is how the athletic teams at Kentucky got their name. It should be noted that Illinois held key players out of the Kentucky game so they'd be fresh for the far bigger Chicago game the next week, but a win is a win, and this one was huge for Kentucky regardless.
Missouri and Texas A&M
Last slot, and I'm going to make things easy on myself and place our last 2 token teams into a tie with one another here.

7-0-1 Missouri was tied by 4-3-1 Iowa State. They had 4 close wins over bad teams, but they also had 2 big wins, 12-6 over archrival 8-1 Kansas (#26-33) and 22-6 over 7-1 Drake (#26-33).

7-0-1 Texas A&M was tied by 5-2-1 Texas Christian. Their best win came 15-0 over 7-2 Haskell.

Missouri and Texas A&M are tied for #25.

Missouri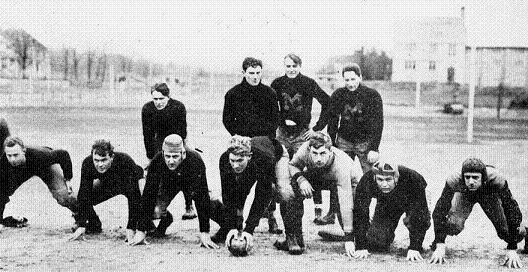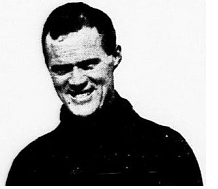 Missouri's coach was Hall of Famer Bill Roper (pictured at left), a Princeton graduate that mostly coached at his alma mater, but dropped by Columbia to help Missouri out this one season. And it was a good one, 7-0-1 and a Missouri Valley Conference championship. At Princeton he won 4 school-claimed MNCs (I recognize 2 of them, 1906 and 1922) and went 89-28-16 over 17 seasons. Overall he was 112-38-18 at 4 schools.

The season finale was the big rivalry game against Kansas on Thanksgiving Day. The game was held in Kansas City, as it almost always was 1891-1910. Both teams were undefeated. Kansas' star player, quarterback Tommy Johnson, was injured in the first half, suffering from what we now know to be a concussion. His teammates could not understand him, and he could not remember which plays he'd called, but his coach wouldn't take him out. Still, he played well enough that Missouri only won 12-6. Missouri fans rushed the field and tore down the goalposts, and that night they built a bonfire in the street in front of the Kansas contingent's hotel, and burned a turkey in it that they labeled "Jayhawk."

Perhaps they got a little carried away, but this sort of thing didn't happen often. This was only Missouri's 4th win against Kansas in 19 games, and they hadn't beaten the Jayhawks since 1901. Kansas had not lost a game to anyone since 1907.

Texas A&M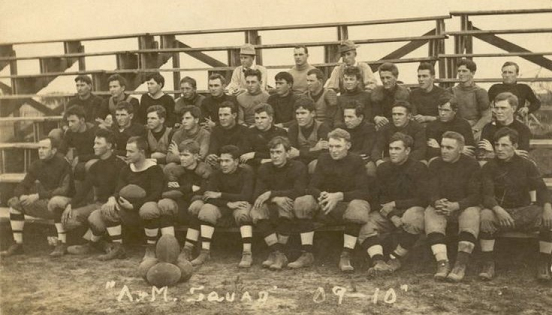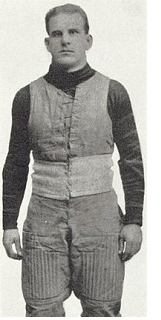 Texas A&M was coached by the Hall of Fame's single greatest omission, Charlie Moran (pictured at left). He played professional baseball, mostly in the minors, 1902-1913, and in the Fall he coached college football. He had been an assistant under Pop Warner at Carlisle, and by 1909 he was an assistant at Texas A&M. But after the team was tied by Texas Christian in their 2nd game, head coach N. A. Merriam, who had gone 3-5 the year before, was sent packing, and Charlie Moran took over as head coach. He proceeded to go 37-8-3 here 1909-1914, and 3-1 against Texas.

After that, Moran performed one of the greatest coaching jobs of all time in turning little Centre into a football power, going an incredible 53-6-1 there 1917-1923, including a 9-0 MNC contender in 1919. Overall Moran was 131-35-11 at 4 schools, which places him on the list for best all-time coaching win percentage (for details on how I compiled his career record, see the footnotes at the bottom of the linked list). Charlie Moran was also a baseball umpire 1918-1939, working 4 World Series.

The key player for Texas A&M this season was quarterback Victor Kelley. He had played for Texas A&M in 1907, then went to Carlisle and was a backup quarterback there in 1908. He came back to Texas A&M this season, bringing with him Carlisle's starting quarterback, Mike Balenti, and assistant coach Charlie Moran. When head coach Merriam would not play Kelley in the tie against TCU, Texas A&M students raised enough money to buy out Merriam's contract, and Charlie Moran took over (which may have been the plan all along). Kelley was installed at quarterback, and Balenti at halfback. A Balenti field goal beat Baylor 9-6.

Texas A&M played Texas twice this season. The first game was November 8th in Houston, and Texas A&M won easily, 23-0. It was only their 2nd win over Texas in 17 tries, and A&M students celebrated by building the first Texas game bonfire, which would become a hallowed tradition at the school. The rematch was the season finale and was played in Austin on Thanksgiving Day. Victor Kelley scored A&M's only touchdown, and the Aggies held off Texas with 5 goal line stands to make that touchdown good for a 5-0 win.
Others Receiving Votes
Here are the teams closest to making this top 25. 5-0 North Dakota and 4-0 Howard were too far removed from big time football to consider.
Drake 7-1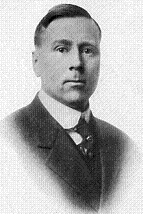 7-1 Drake took their loss 22-6 at #25 Missouri. They did not beat a good team, but they performed well, and only one of their wins was close.

This is the closest Drake ever got to top 25 caliber. Their coach was John Griffith (pictured), a Beloit graduate who went 13-6-4 in 3 seasons at Morningside, then 36-25-3 at Drake 1908-1915. He was also the athletic director, and he created the Drake Relays in 1910. The school's name for its athletic teams, Bulldogs, originated with Griffith's 2 bulldogs that students walked around the field during games. Griffith later became the Big 10 Commissioner 1922-1944.

Kansas 8-1
8-1 Kansas took their loss 12-6 to #25 Missouri on a neutral field. They did not beat a good team, and they had 2 close wins.

Chicago 4-1-2
4-1-2 Chicago lost 20-6 to #5 Minnesota, and they tied 3-1-1 Wisconsin (covered next) and 3-4-1 Cornell. Their best win was 14-8 over 5-2 Illinois.
Wisconsin 3-1-1
3-1-1 Wisconsin lost 34-6 to #5 Minnesota, and they tied Chicago (covered above). They did not beat a good team.
Villanova 3-2
3-2 Villanova took their losses to #8 Princeton and #14 Carlisle. They won 11-6 at 4-3-1 Navy.

Williams 5-2
5-2 Williams took their losses to #2 Harvard and #9 Dartmouth. They did not beat a particularly good team, but they won 3-0 at 3-4-1 Cornell, worth noting since 4-1-2 Chicago tied Cornell.
Ursinus 6-1-1
6-1-1 Ursinus took their loss to #7 Penn, and they were tied by a bad 4-3-2 Lehigh team. They did not beat a good opponent, but their wins all came by big scores.

Louisiana State 6-2
6-2 Louisiana State took their losses 15-6 to #19 Sewanee and 16-0 to #21 Arkansas. Their best win was 12-6 over 5-1-2 Alabama in their finale.
1909 Top 25
1) Yale 10-0
2) Harvard 8-1
3) Notre Dame 7-0-1
4) Michigan 6-1
5) Minnesota 6-1
6) Lafayette 7-0-1
7) Pennsylvania 7-1-2
8) Princeton 6-2-1
9) Dartmouth 5-1-2
10) Brown 7-3
11) Penn State 5-0-2
12) Army 3-2
13) Pittsburgh 6-2-1
14)
Carlisle 8-3-1
15) Virginia Tech 6-1
16) Washington & Jefferson 8-1-1
17) Washington 7-0
18) Michigan State 8-1
19) Sewanee 6-1
20) Marquette 2-2-1
21) Arkansas 7-0
22) Colorado 6-0
23) North Carolina State 6-1
24) Kentucky 9-1
25) Missouri 7-0-1
Texas A&M 7-0-1

Others Receiving Votes
:
Drake 7-1
Kansas 8-1
Chicago 4-1-2
Wisconsin 3-1-1
Villanova 3-2
Williams 5-2
Ursinus 6-1-1

Louisiana State 6-2