Home
1912 College Football National Championship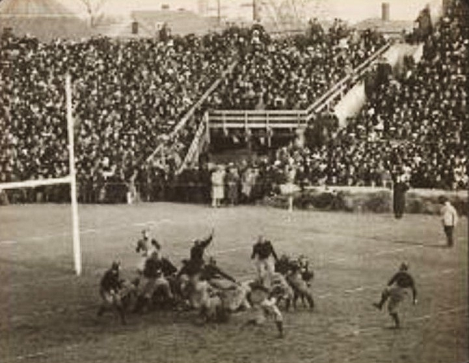 Pictured above is Harvard's Charles Brickley drop-kicking a field goal to beat Dartmouth 3-0. Finishing a perfect 9-0, Harvard was viewed by everyone outside the Great Lakes region as the best team in the nation. Harvard must have liked even years, because they were also considered mythical national champions in 1908 and 1910.


Latter-day MNC selectors agree-- here is how the "major selectors" listed in the NCAA Records Book, all selecting long after the fact, see the 1912 college football national championship (omitting math/computer ratings,
which are not generally accepted as MNCs
)

:


Harvard

:

Helms,
Parke Davis
, National Championship Foundation (tie)
Penn State

:

National Championship Foundation (tie)

You can click on the selector to read my review of that person or organization.

As I indicated when discussing a hypothetical AP poll in my 1911 article, Western writers were fed up with their Eastern counterparts, and if there had been an AP poll back in these times, there would have been a regional "war" of sorts, with Western (Great Lakes region) writers voting the Western Champion #1 practically every year. In 1912, that team would have been 7-0 Wisconsin, which did indeed look very impressive, defeating every opponent by more than a touchdown (average score 35-4). But the rest of the country would have undoubtedly gone with Harvard.

Still, I'll be looking at 7-0 Wisconsin's case for sharing an MNC, as well as the case for 8-0 Penn State, who, like Wisconsin, demolished every opponent (average score 36-1). This was a terrific follow-up to their 8-0-1 MNC-contending team of 1911, but unfortunately, Penn State was an afterthought even in their own region.

1912 saw major changes in the rules that brought the game much closer to our modern version. Touchdowns were increased to 6 points from 5, the field was reduced from 110 yards to 100, 10 yard end zones were added, and teams now had 4 downs to gain 10 yards rather than only 3. All of this, of course, had the effect of increasing offense, and decreasing the number of 0-0 ties.


All rankings in the following article, except as noted, come from my 1912 top 25, which is based on a hypothetical post-bowl AP poll (within logical reason of course)
.
Harvard 1912
| | | |
| --- | --- | --- |
| Maine (7-1) | 7-0 | (#26-30) |
| Holy Cross (4-3-1) | 19-0 | |
| Williams (6-2) | 26-3 | #11 |
| Amherst | 46-0 | |
| Brown (6-4) | 30-10 | #13 |
| Princeton (7-1-1) | 16-6 | #2 |
| Vanderbilt (8-1-1) | 9-3 | #17 |
| Dartmouth (7-2) | 3-0 | #7 |
| at Yale (7-1-1) | 20-0 | #5 |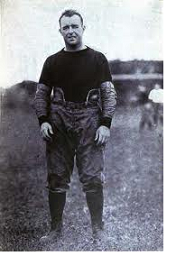 Harvard had previously won MNCs in 1901, 1908, and 1910. Hall of Famer Percy Haughton was their coach for the last two, and I covered him in the 1908 piece. 1912 gives him the hat trick, and he's not done yet.

Harvard had a down year in 1911, finishing 6-2-1, but their freshman team swept opponents away like a hurricane that Fall. Well, in 1912 those freshmen were sophomores, and they hit the varsity team like nitrous oxide hitting an engine. Half of Harvard's starting lineup in 1912 came from that freshman team, and they would go 25-0-2

:

9-0 this year, 9-0 in 1913, and 7-0-2 as seniors in 1914. The best of these new players was halfback Charles Brickley (pictured at left), the undeniable star of this 1912 team.

Brickley was the heart of the offense, a bruising runner who did the bulk of his work right into the line, but he became most famous as one of the greatest drop-kickers of his time.
He kicked 13 field goals in 1912, a school record that still stands, and he added 9 touchdowns. He scored 94 points on the season, and 215 in his career 1912-'14, both school records that stood for 92 years. He kicked 5 field goals against Yale in 1913, another school record that holds today. He was a consensus All American in 1912 and '13, but for all of that, he is not one of 1912 Harvard's 3 players in the College Football Hall of Fame. Why? Well, I can't read minds, but I'm guessing it's because he was jailed for running a crooked brokerage firm in the 1920s. So maybe he wasn't a model citizen, but hey, it's not like he murdered his ex-wife.

Two of his fellow super sophs are in the Hall of Fame

:

guard Stan Pennock and halfback Huntington "Tack" Hardwick. Pennock was consensus AA all 3 years, during which time he and Hardwick were the heart of the defense. Hardwick was also a good runner and great blocker, but he did not make consensus AA until his senior year in 1914.

A couple of other notable super sophs were tackle Walter Trumbull (consensus AA 1914) and fullback/halfback Frederick Bradlee (nonconsensus AA 1914).

Halfback Percy Wendell, another Hall of Famer, had been consensus AA in 1910 and 1911, when he was the backfield star, and he was the captain in 1912, but injuries limited him to very little playing time this season.

End Sam Felton was the 1912 team's 3rd consensus AA (Brickley and Pennock the others). He had been a star player on the 1911 team, which started 5-0, but he was injured, and Harvard finished 1-2-1 thereafter. He was one of the nation's best punters. Another 5 players would make 1st team AA lists at some point during their careers, the most notable being tackle Bob Storer (1st team AA on 5 lists in 1912). He would score Harvard's first touchdown against Yale in 11 years, after which he was elected captain for the 1913 season. That year, he blocked and recovered a punt against Princeton to set up a Brickley field goal that won the game 3-0.
Harvard's Season
Harvard was a very defensive-minded team, and they usually punted on first or second down for the entire first quarter of their games. Their schedule was incredibly difficult, featuring 7 top 25 caliber teams in 9 games. Six of their opponents (Maine, Princeton, Vanderbilt, Dartmouth, Yale, and Williams) went 42-2-3 when they weren't playing Harvard, and 40-0-1 when not playing Harvard or each other.
The opener was Maine, the first of 4 warm-up teams on the schedule, but Harvard got more than they bargained for from Maine, and only won by a touchdown, 7-0. Brickley scored the touchdown on an early 17 yard run. Maine answered with their best drive of the game soon after that, pushing the ball to the Harvard 20 before they were stopped. They ran a fake field goal, and threw the ball to a wide open guy in the end zone, but the ball hit the crossbar right in front of him (the goalposts sat on the goal line at this time). That was Maine's last threat, but the score remained 7-0 because Harvard continually came up empty on scoring threats, losing the ball at the Maine 6 and twice at the Maine 20. Harvard's substitutes missed a 16 yard field goal near the end of the game.

Maine went on to win the rest of their games, finishing 7-1 and ranked #26-30, albeit against a very easy schedule. Another Harvard "cupcake," Williams, ended up having an even better season than Maine, going 6-2 against a much better schedule (they lost to Harvard and 7-2 Dartmouth, but defeated a powerful 7-2 Wesleyan team and are ranked #11 for 1912). But Harvard demolished Williams 26-3. The first "real" game, against Brown (only 6-4, but ranked #13), was also no contest, Harvard winning 30-10.

Princeton
Harvard's first truly big game, and college football's game of the year, featured 6-0 Princeton visiting 5-0 Harvard. After a down year for all three in 1911, the Big Three returned to being Big this season. Both Princeton and Yale went 7-1-1, each losing to Harvard and tying one another. But Princeton looked like a juggernaut coming into their game with Harvard. They had been considered the Eastern champion of 1911, when they finished 8-0-2, and in 1912 they were destroying teams that had given them trouble the previous year, beating Lehigh (9-2) 35-0 and Dartmouth (7-2) 22-7, both top 10 caliber teams. Princeton's average score was 43-2. Harvard's average was just 26-3, and against a lighter schedule to that point. But Harvard was a very conservative team that didn't care about racking up points, just racking up wins, and after they defeated Princeton 16-6, the football world awoke to the fact that the real juggernaut was Harvard.

Princeton dominated the first half, but they had to resort to the passing game to get on the scoreboard. A short Brickley field goal had given Harvard a 3-0 lead in the 2nd quarter, and Princeton scored their touchdown not long afterward, hitting a 25 yard pass during the drive, and later a short pass for the touchdown. They led 6-3 at half, but after that it was all Harvard. Brickley kicked a field goal in the 3rd to tie, then boomed an impressive 47 yarder in the 4th for the lead. Tack Hardwick added a late touchdown and extra point for the 16-6 final score. Princeton had rushed for 102 yards in the first half, but they were held to negative 9 yards in the second, and they finished a dismal 3 of 10 passing with 4 interceptions. This was Harvard's first win over Princeton in 25 years, so needless to say, it was kind of a big deal.

Vanderbilt
Next up was the kingpin of the South, Vanderbilt, who was coming in 6-0 by an average score of 57-1 (they had beaten a couple of patsies 105-0 and 100-3). Vanderbilt had played Eastern powers 3 times in recent years without a loss, beating Carlisle in 1906 and tying both Navy in 1907 and Yale in 1910. As such, their hopes were high, and a couple hundred fans took the train north to see them play. Harvard, however, won 9-3, and the matchup was far less close than the score, as Harvard dominated the game while playing mostly substitutes from beginning to end. This was similar to 1911's Harvard-Carlisle game played in the same week, with Harvard again wanting to rest their players for the coming games with Dartmouth and Yale. But this time, the starters did not have to go in to try and save the game.

Harvard had learned their lesson against Carlisle, and three of Harvard's regulars did start, including Tack Hardwick and Sam Felton (whose punting would keep the game in hand, as Vandy's punting was weak). Harvard's subs pushed in a touchdown in the 2nd quarter for a 6-0 lead. Vanderbilt did their best work in the 3rd quarter, recovering a fumble at the Harvard 26 to set up their field goal. Soon thereafter, they got another shot, but badly missed a 30 yard attempt. Harvard responded with a long drive to the Vanderbilt 4, where they kicked a field goal for the 9-3 final. Vanderbilt had no other threats. They passed the ball a lot, but only hit on 2 attempts all game, one of which involved 4 different players handling the ball.

Unfortunately, Vanderbilt suffered near constant injuries as the game progressed, and they returned to the Southland quite beaten up. They still finished 8-1-1, the tie coming to 6-1-1 Auburn, but they were limping to the finish line. Auburn took their loss to 6-1-1 Georgia in their finale (a team Vanderbilt had beaten 46-0), leaving Vanderbilt as the outright champion of the South. As usual. I have Vandy ranked #17 for 1912.

Dartmouth
For weeks, Harvard had been holding some practices that were closed-off to visitors and the press (and thus scouts), where they said they were working on a new package of plays. With Dartmouth coming in at 7-1 (the loss to Princeton), and winning by an average of 35-4, the new plays were expected to debut for this game. Harvard, however, played the game extremely close to the vest, alternating basic line plunges and end runs (though they did try one of Vanderbilt's passing plays from the week before). Brickley only hit 1 of 4 field goal attempts, but the one was good enough for the 3-0 win (pictured at the top of this page). Dartmouth had almost no offense, but they got off a couple of failed 40-yard field goal attempts. Harvard started driving right over the top of Dartmouth in the 4th quarter, and time ran out with Harvard about to score from the Dartmouth 2.
Where Harvard was concerned, the important thing is that they won without having to show a single new play to archrival Yale. As for Dartmouth, this was their finale, putting them at 7-2 and ranked #7.
Yale
Harvard headed down to Yale at 8-0, while the Elis were 7-0-1, having tied Princeton the week before. That should have made this the game of the year, and it was a big one, but what you might not know today, just looking at their schedules and scores, is that Harvard was a
very
heavy favorite to win. Newspapers were all but assuming a Harvard victory the week before, and Harvard bettors were incapable of finding takers for their money in New Haven, even giving odds, which was highly unusual for this game.

So most of the 35,000 in attendance were dismayed but unsurprised to watch Harvard rout Yale 20-0. Bob Storer scored a touchdown in the opening quarter, Harvard's first against Yale since 1901. Charles Brickley added a couple of field goals (the second set up by his own 40 yard run), then a touchdown in the 3rd quarter to close the scoring. Yale put together their only scoring threat in the 4th quarter, driving to the Harvard 11 before losing the ball on downs.

After that, it was time for the "snake dance," a ubiquitous football victory celebration from Ye Days of Olde. The fans of the victorious team joined hands and cavorted in a zig-zag line toward a goalpost, over which they all tossed their hats. Sadly, the snake dance is no longer a national college football tradition, and has not been for quite a long time, but versions of it survive to this day at some small colleges and high schools (often as a homecoming tradition).
Penn State 1912
| | | |
| --- | --- | --- |
| Carnegie (3-4-1) | 41-0 | |
| Washington & Jefferson (8-3-1) | 30-0 | #23 |
| at Cornell (3-7) | 29-6 | |
| Gettysburg (3-7) | 25-0 | |
| at Pennsylvania (7-4) | 14-0 | #14 |
| Villanova (3-3) | 71-0 | |
| at Ohio State (6-3) | 37-0 | |
| at Pittsburgh (3-6) | 38-0 | |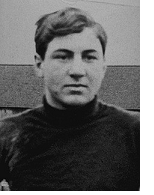 I covered 1911 Penn State's 8-0-1 MNC contender in my 1911 national championship
article, and the head coach and key players covered there all returned in 1912 and turned it up a notch or two, rampaging through their schedule to an 8-0 finish. Unfortunately, that schedule was weak.

Only two opponents were top 25 caliber. The first was Washington & Jefferson, who went 8-3-1, their one great accomplishment an upset tie with Jim Thorpe's powerful Carlisle team (12-1-1). W&J is ranked #23 for 1912, and Penn State crushed them 30-0.

The second worthy game was at rival Penn (7-4), whom Penn State beat 14-0. Penn, interestingly enough, was Carlisle's other upsetter, beating the Indians 34-26. Penn also beat 5-2 Michigan 27-21, and they are ranked #15 despite all the losses.

The other opponents were of little to no value. Cornell and Pitt were both down, each posting a losing record (PSU beat Cornell 29-6 and Pitt 38-0). 6-3 Ohio State was a minor team at this time, an Ohio Athletic Conference team (akin to today's MAC) that PSU beat 37-0, and it could have been worse had OSU's coach not taken his team off the field with 9 minutes left, citing PSU's "dirty play." Hall of Fame Quarterback Shorty Miller had 3 touchdowns in that one.


Fullback and captain Pete Mauthe (pictured) scored 11 touchdowns on the season, and he was also the placekicker, totaling 119 of his team's 285 points.
Wisconsin 1912
| | | |
| --- | --- | --- |
| Lawrence | 13-0 | |
| Northwestern (2-3-1) | 56-0 | |
| Purdue (4-2-1) | 41-0 | |
| Chicago (6-1) | 30-12 | #8 |
| Arkansas (4-6) | 64-7 | |
| at Minnesota (4-3) | 14-0 | #20 |
| at Iowa (4-3) | 28-10 | |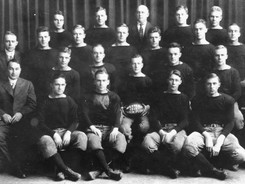 I last summarized a Wisconsin team in my 1901 national championship article
. Their coach in 1912, Bill Juneau, was an end on that team. He went 18-8-2 at Wisconsin 1912-1915, and 86-39-12 overall at 6 schools, the highlights being 7-0-2 at Marquette in 1911 and 9-0 at Texas in 1918. Germany Schulz, Michigan's great Hall of Fame center, was the line coach, and this line was considered, by Western writers at least, to be the best in football.

Like Penn State, Wisconsin had been a top 10 caliber team in 1911, tying 6-0-1 Minnesota and losing to 6-1 Chicago to finish 5-1-1. They lost their two best players from that team, but reloaded quite well this season. Chicago writer (and former University of Chicago Hall of Fame player) Walter Eckersall selected 9 Wisconsin players for his All Western team.

Unlike Penn State, Wisconsin had a consensus All American (their first), tackle Bob Butler. The only player on this team in the Hall of Fame, he would later play for the Canton Bulldogs with Jim Thorpe. Guard Ray "Tubby" Keeler would be selected consensus AA the next season. End and captain Joseph Hoeffel made Camp's 2nd team AA.

The star was quarterback Eddie Gillette, a nonconsensus AA who had been an excellent halfback in 1910 and 1911. He had a 90 yard touchdown against Northwestern, 60 and 55 yard touchdowns against Purdue, and a 50 yard touchdown against Iowa, and Western writers considered him to be one of the best players they had ever seen. They were in fact quite irritated when most Eastern AA lists snubbed him (he didn't even make Camp's 3rd team).

Wisconsin was generally the fourth best team in the Great Lakes region, behind Michigan, Minnesota, and Chicago, all of whom had famous long-time coaches (unlike Wisconsin). They were 63-17-6 1901-1912, and this 7-0 campaign was their third perfect season in that time.

Wisconsin's Season
Wisconsin's season was a lot like Penn State's. They mowed down all 7 of their opponents by more than a touchdown, but only 2 of them were top 25 caliber.

The first was 6-1 Chicago, whom they defeated 30-12. Chicago likely would have finished in the top 10 had there been an AP poll in 1912, but their schedule was weak. They beat just one top 25 caliber opponent, 4-3 Minnesota, and struggled to get past mediocre teams. I would rank them about #15 myself. But they had been a top 10 team in 1911, and would go 7-0 and contend for the MNC in 1913, so perhaps they were better than they performed this year.

Wisconsin's other "big" game was at 4-3 Minnesota, a top 25 caliber team despite the record. Minnesota also lost to 5-1 South Dakota and Chicago, but they beat 6-2 Iowa State and 7-1 Nebraska. Wisconsin defeated Minnesota 14-0.

Wisconsin played 2 other winning opponents, beating 4-2-1 Purdue 41-0 and 4-3 Iowa 28-10, spoiling Iowa's first homecoming in their finale.

Harvard vs. Penn State vs. Wisconsin
Here are the significant games for the contenders in 1912.
The opponent rankings
come from my 1912 top 25, which is based on a hypothetical AP poll (within logical reason of course)
.
Harvard 9-0
Penn State 8-0

Wisconsin 7-0


| | | |
| --- | --- | --- |
| Maine (7-1) | 7-0 | (#26-30) |
| Williams (6-2) | 26-3 | #11 |
| Brown (6-4) | 30-10 | #13 |
| Princeton (7-1-1) | 16-6 | #2 |
| Vanderbilt (8-1-1) | 9-3 | #17 |
| Dartmouth (7-2) | 3-0 | #7 |
| at Yale (7-1-1) | 20-0 | #5 |

| | | |
| --- | --- | --- |
| Washington & Jefferson (8-3-1) | 30-0 | #23 |
| at Penn (7-4) | 14-0 | #15 |

| | | |
| --- | --- | --- |
| Chicago (6-1) | 30-12 | #8 |
| at Minnesota (4-3) | 14-0 | #20 |

Harvard defeated the rest of their opponents by an average of 33-0, Penn State by an average of 40-1, and Wisconsin by an average of 40-3.

As you can see, there isn't much to analyze here. Harvard is indeed your 1912 mythical national champion, and they're not sharing it with anyone. The difference in schedules here is just too massive. About the only argument Penn State and Wisconsin have is performance. Harvard won some close games, and the other two didn't. But Harvard was never in any real danger, and dominated every game they played.

Harvard victims Princeton and Yale would have easily finished in the top 5 of an AP poll, and might actually have been the 2nd and 3rd best teams in the country. PSU and Wisconsin did not beat anyone close to as good as those two.

Unfortunately for Wisconsin, the school's faculty, which had been rather anti-football over the previous decade, nixed a potential game between Wisconsin and Yale. An impressive victory over Yale would have given Wisconsin a share of this MNC.

Yet again, the National Championship Foundation has made a rather arbitrary selection in anointing Penn State to share a title with Harvard, but not Wisconsin. If anything, Wisconsin's argument is a little better than Penn State's, since they beat 6-1 Chicago. But the teams look like twins power-wise.
Awards Ceremony
1912 #1:

9-0 Harvard


National Co-champion:

None


Contenders:

8-0 Penn State and 7-0 Wisconsin

These are the awards I have been handing out for each season, except seasons when there are no contenders. For this purpose, what I mean by a contender is a team that I think is very close to being worthy of sharing the national championship. A team that you could make an argument for, even if that argument is weak. But they are teams that I myself do not see as national champions.

Three other teams worth mention had perfect records

:

7-0 Notre Dame, 6-0 Washington, and 7-0 West Virginia Wesleyan. Notre Dame will go 7-0 again in 1913, but with a huge breakthrough win at Army that makes them an MNC contender. This year they scored 116 in a game against St. Viator, and ran up big scores in general, but they beat no one, and barely got by 3-6 Pitt, winning 3-0 on a field goal (Penn State beat Pitt 38-0). Washington's perfect season was their 4th in a row, and they'll do it again in 1913. West Virginia Wesleyan featured Earle "Greasy" Neale, a college and NFL Hall of Famer.

Grading the Selectors
I have been grading the NCAA Records Book's selectors for each season, and keeping a grade point average, so we can see who is relatively good at selecting national champions and who is not. And although I do not consider computer ratings to be legitimate national championship selectors, I have been including them in this section as well, just for comparison's sake.
I am grading on a scale of 0-5 (5 being the best).
The National Championship Foundation selected Harvard and
Penn State
.

Grade: 3.2



Everyone else selected Harvard.

Grade:

5



Grade Averages 1901-1912

:



| | |
| --- | --- |
| 1) Billingsley (math system) | 4.24 |
| 2) Houlgate (math) | 4.15 |
| 3) Parke Davis | 4.13 |
| 4) Helms | 4.0 |
| 5) National Championship Foundation | 3.0 |