Top 25 Rankings 1901-1935
1912 National Championship
Home
1912 College Football Top 25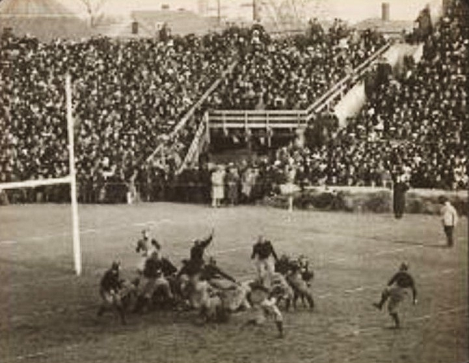 Pictured above is Harvard's Charles Brickley drop-kicking a field goal for a 3-0 win over Dartmouth (7-2, #7).
This was Harvard's closest call on the way to 9-0, and they would have run away with #1 in a 1912 AP poll. I covered them
in detail in my 1912 national championship article, and I also covered 8-0 Penn State and 7-0 Wisconsin.

With victories over teams that had records like 7-1, 7-1-1, 8-1-1, 7-2, 7-1-1, and 6-2, Harvard is a slam dunk for #1.
Princeton, Yale, Penn State, and Wisconsin
We have a 4-team horse race for #2. 7-1-1 Princeton and 7-1-1 Yale both lost to #1 Harvard, and they tied each other. 8-0 Penn State and 7-0 Wisconsin won all of their games by more than a touchdown. I think Princeton would have been #2, because they were unbeaten and an MNC contender the previous season, they were far more renowned than PSU and Wisconsin, and they were dominating in all their wins, including 35-0 over Lehigh (9-2, #10) and 22-7 over Dartmouth (7-2, #7)
. Those are more impressive wins than PSU and Wisconsin brought home, so Princeton will do for #2.

Yale was the worst-performing team of this group, losing 20-0 to Harvard at home in their finale (4 teams did better than that against them), and posting 3 close wins, 2 of them over unrated teams. Again, PSU and Wisconsin won all of their games handily, so I'm going to move Yale to the back of this group. Yale did defeat #12 Wesleyan, #13 Brown, and #23 Washington & Jefferson. The belief in the East was that the Big Three (Harvard, Princeton, and Yale) were the 3 best teams in the country this year, and that's possible, but while Princeton played like it, Yale did not.

As I said in my 1912 national championship article, Penn State and Wisconsin had very similar seasons. I suspect that Wisconsin would have had the edge in a 1912 AP poll, though it would have been very close. And since Wisconsin defeated a top 10 team, 30-12 over #8 Chicago (6-1), and PSU had no win like it, we'll go with Wisconsin ahead of PSU. Wisconsin's other win of note came 14-0 at #20 Minnesota (4-3). PSU's best wins were 30-0 over #23 Washington & Jefferson (8-3-1), 14-0 at #15 Penn (7-4), and 37-0 over 6-3 Ohio State.


Princeton #2, Wisconsin #3, Penn State #4, and Yale #5.
Carlisle, Dartmouth, Chicago, and Georgetown
12-1-1 Carlisle, whom I selected as a mythical national champion for the previous season, was the traveling Jim Thorpe show this season. He had made a huge splash at halfback for Carlisle in 1911, then at the 1912 Summer Olympics, he won gold medals in the pentathlon and decathlon, and when he returned, a parade was thrown for him down Broadway in New York. He was America's first national superstar athlete, and his level of celebrity would not be seen again until Red Grange in the 1920s. Plenty of people got a chance to see him play for Carlisle this year, because the team played 11 road games in 5 states, and they even played a game in Toronto.

Carlisle took an upset loss at #15 Penn (7-4) and a tie at #23 Washington & Jefferson (8-3-1), but they collected a lot of impressive wins

:

34-20 at #9 Georgetown (8-1), 34-14 at #10 Lehigh (9-2), 32-0 at #13 Brown (6-4), and 27-6 at 5-3 Army. 7-2 Dartmouth did not take an upset loss, but they only defeated one rated opponent, 21-0 at #11 Williams (6-2), and they did not defeat any major team with a winning record. I think a 1912 AP poll would have rated the Jim Thorpe Show higher, and since they did play a far tougher schedule (11 straight road games is nuts), I think that is acceptable.

6-1 Chicago may have been rated higher than 12-1-1 Carlisle and 7-2 Dartmouth, but they performed very weakly, and placing them behind Dartmouth is the best I can do for the hypothetical AP poll voters of 1912. Chicago's loss came 30-12 at #3 Wisconsin. Their best win was 7-0 over #20 Minnesota (4-3) at home, and their other weak performances were 7-0 over Purdue and 3-0 over Northwestern, both unranked and both at home. Dartmouth lost just 3-0 at #1 Harvard, and all of their wins came by big scores, including, as noted, 21-0 at #11 Williams.

8-1 Georgetown had burst onto the scene the previous season with a 7-1-1 finish that included a surprise tie with 6-1-1 Army. This season, like last season, they took their one loss to Carlisle, 34-20 at home. Georgetown did not defeat a rated opponent, but they did beat 8-1 Washington & Lee 20-0 and 6-3 Virginia 16-13. They could have been rated anywhere between here and #20, but this is where I'm guessing an AP poll would have rated them, and I think that'll work.

Carlisle #6, Dartmouth #7, Chicago #8, and Georgetown #9.
Lehigh, Williams, and Wesleyan
Here we have 3 surprise teams coming out of nowhere. 9-2 Lehigh took their losses to #2 Princeton and #6 Carlisle. They first made waves this season with a 14-0 win at 6-3 Navy, but their biggest win would turn out to be 3-0 at #14 Swarthmore (7-1-1), another surprise team (covered below).

6-2 Williams took their losses to #1 Harvard and #7 Dartmouth. They had just one big win, 10-7 over 7-2 Wesleyan. Wesleyan took their other loss by just 7 points at #5 Yale. Their one big win was 7-6 at #13 Brown (6-4).

Lehigh #10, Williams #11, and Wesleyan #12.

Lehigh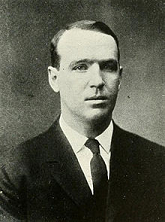 This is the best team Lehigh has ever fielded. The coach was Tom Keady (pictured above), who had played at Dartmouth, then was an assistant coach there 1905-1911. This was his first season at Lehigh, and he went 56-22-3 here 1912-1920, which gives him the highest winning percentage in Lehigh history. He also produced a top 25 caliber team in 1914. Overall, he was 132-60-9 at 4 schools.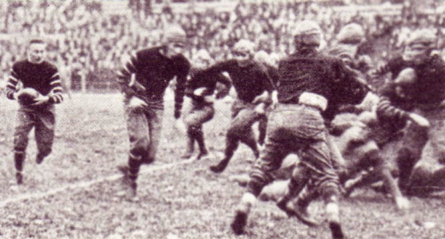 The star player and team captain was Hall of Fame quarterback Vince "Pat" Pazzetti (pictured above carrying the ball). He was a great open field runner, punter, and placekicker, and he made 5 first-team All America lists this season. He kicked a 4th quarter field goal to beat Swarthmore 3-0, Lehigh's biggest win of the year.

Wesleyan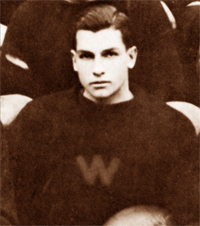 Wesleyan was coached by Jake High, who was here just this one season. He had played at fullback for Brown 1908-1910, and Wesleyan's big win this year came at his alma mater 7-6. The star player was Hall of Fame quarterback Everett Bacon (pictured), a nonconsensus All American this season. He was a strong passer at a time when the passing game was still in its infancy, and he also returned kicks. Wesleyan's field house is named after him. This is the only top 25 caliber team Wesleyan has ever fielded.
Brown, Swarthmore, and Pennsylvania
6-4 Brown took their losses to #1 Harvard, #5 Yale, #6 Carlisle, and #12 Wesleyan. Their one big win was 30-7 over 7-4 Penn.

7-1-1 Swarthmore took their loss to #10 Lehigh, and their tie came at unrated Dickinson. That ugly tie is why Brown gets a higher rating. Like Brown, Swarthmore's big win came at Penn, but it was by the much closer score of 6-3. Swarthmore also won 21-6 at 6-3 Navy and 14-13 over 6-3-1 Bucknell.

In addition to Brown and Swarthmore, 7-4 Pennsylvania lost to #4 Penn State and to unrated Lafayette (4-5-1). They made up for the upset loss by pulling off a big 34-26 upset win over #6 Carlisle, and they also won 27-21 over #16 Michigan (5-2).

Brown #13, Swarthmore #14, and Pennsylvania #15.
Michigan, Vanderbilt, and Washington
5-2 Michigan lost to #15 Penn and to unrated Syracuse (4-5). They gave #24 Michigan State (7-1) their only loss 55-7 (and MSU won handily in the rest of their games), they won 14-0 at 6-3 Ohio State, and they edged #19 South Dakota (5-1) 7-6.

8-1-1 Vanderbilt could be ranked higher, as their loss came by just 9-3 at #1 Harvard, they scored over 100 points twice, albeit against cupcakes, and they collected some good wins

:

46-0 at 6-1-1 Georgia, 13-0 over 6-3 Virginia, and 16-0 over 5-1-2 Sewanee. Their tie was a 7-7 upset to 6-1-1 Auburn (they lost to Georgia). The problem with these Southern teams is that, while they have nice records, there were very few games played by major Southern teams against teams from other regions. Historically, the South performed very poorly against other regions prior to the 1930s, and there is no reason to think this season was different.

Vanderbilt did well against Harvard, and they defeated Virginia more easily than #9 Georgetown did, but the rest of the South did nothing of note as far as intersectional play goes. 4-3 Mississippi, who defeated 5-3-1 Alabama (tied 5-1-2 Sewanee), and who lost to Auburn by only 7, was trounced by 8-1 Texas A&M 41-7. A&M was in turn beaten by 8-2 Kansas State, who doesn't merit a top 25 slot themselves.

Vanderbilt was 0-5 against Michigan over the previous 7 years, and I doubt very much that AP voters would have rated them ahead of Michigan this season. And due to the questionable strength of Southern teams, I think that works fine.

This was 6-0 Washington's 4th perfect season in a row, so they get this token spot, though there was no reasonable connection to be made between football in the Northwest and football East of the Rockies. They did not beat a winning college team, and had a close win over 3-4 Oregon State in Portland.

Michigan #16, Vanderbilt #17, and Washington #18.
South Dakota, Minnesota, and Nebraska
5-1 South Dakota came through with a landmark 10-0 win at 4-3 Minnesota. Their loss came by just 1 point at #16 Michigan. The average score in their other 4 games was 55-1.


In addition to South Dakota, 4-3 Minnesota lost to #3 Wisconsin and #8 Chicago. They won 5-0 over 6-2 Iowa State and 13-0 over 7-1 Nebraska.

Nebraska's big win came 30-6 over 8-2 Kansas State (who won 13-10 at 8-1 Texas A&M).


South Dakota #19, Minnesota #20, and Nebraska #21.

South Dakota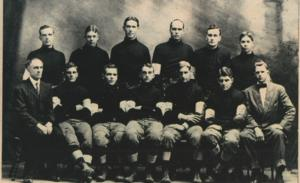 This was South Dakota's golden age. They were top 25 caliber in 1911 as well, and were close in 1913. The coach, James Henderson, happened to be here for exactly these 3 seasons, putting him at 15-5. Too bad for South Dakota that he didn't stick around.

Two players on this team played pro football in the 1920s

:

guard Frank McCormick and halfback Paul Sheeks. McCormick became Minnesota's athletic director 1933-1941 and 1945-1950, and Minnesota won 5 national championships under his watch. Sheeks was All-Western this year. He coached at Washburn after graduating, going 14-2-1 over 2 seasons, but he became better known as a basketball coach, and helped to found the National Basketball League (forerunner of the NBA) in the 1930s.

Grover Potts played center on offense and tackle on defense. In 1989, the

Argus Leader

(Sioux Falls) named him the outstanding football player in South Dakota for the 20th century.
Notre Dame, Washington & Jefferson, Michigan State, and West Virginia Wesleyan
Filling a hypothetical AP poll's last 4 slots for 1912 is guesswork, and my guesses are 7-0 Notre Dame, 8-3-1 Washington & Jefferson, 7-1 Michigan State, and 7-0 West Virginia Wesleyan. Notre Dame played no one, and though they rolled up over 100 points on one team (St. Viator), they only won 3-0 at 3-6 Pittsburgh, and their schedule was the equivalent of lower-division play. Their best win was 41-6 over 5-2 Wabash, whose coach, Jesse Harper, would be Notre Dame's coach the next season.

8-3-1 Washington & Jefferson tied #6 Carlisle, but they lost to 3-7 Cornell. Their other losses came to #4 Penn State and #5 Yale. They won 22-7 over 6-3-1 Bucknell and 13-0 at Pittsburgh. They could be rated higher than Notre Dame, who did worse at Pitt, but I'm guessing they wouldn't be, and due to their loss to 3-7 Cornell, that's fine.

7-1 Michigan State got humiliated 55-7 at #16 Michigan, but they won all the rest of their games by more than a touchdown, including 35-20 at 6-3 Ohio State and 24-0 over 5-2 Wabash.

And finally we have 7-0 West Virginia Wesleyan, who may be iffy here, but I think they merit this spot more than the alternatives listed below do. They won 19-14 at 6-3 West Virginia, and though they played the equivalent of a lower-division schedule, they stomped and shut out every other team they played (average score 59-0).

Notre Dame #22, Washington & Jefferson #23, Michigan State #24, and West Virginia Wesleyan #25
.

West Virginia Wesleyan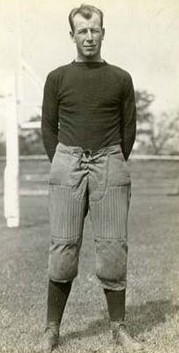 This team became famous in retrospect for its star end, Earle "Greasy" Neale (pictured), who is in both the college and NFL Halls of Fame as a coach. The 19-14 win over West Virginia was West Virginia Wesleyan's first-ever win against them. Neale caught 14 passes in that game, including the game-winning touchdown. He played Major League Baseball for 8 years, winning a World Series with the Reds. As a college coach, he went 82-54-11, and as coach of the Philadelphia Eagles 1941-1950, he went 66-44-5 and won 2 championships.


Center Oscar Lambert would transfer to Michigan, where he would be All-Western and a 2nd team All American in 1917.
Others Receiving Votes
Here are the teams closest to making this top 25.
Maine 7-1
Much like 1913, Maine is left just outside the top 25. They took their one loss by just 7-0 at #1 Harvard, but that nice result was all they had to hang their hats on this season. They beat no one, and they only edged 4-4 Bates by 1 point.
Washington & Lee 8-1
8-1 Washington & Lee came closest of these teams to being ranked, but they were nudged out by West Virgina Wesleyan's perfect record. W&L took their loss to #9 Georgetown. They won 7-0 over 6-2 Virginia Medical College and 24-14 over 7-1-1 St. John's, who won 25-3 over 7-1 VMI.

Kansas State 8-2
8-2 Kansas State lost 30-6 at #21 Nebraska, and they took a 19-6 upset loss at 4-4 Kansas, but they won 14-6 over 6-3 Colorado and 13-10 at 8-1 Texas A&M.

Colorado Mines 8-1
8-1 Colorado Mines was this year's Rocky Mountain champion (note: the College Football Data Warehouse has them at 10-1, but the CFDW is counting 2 games against high schools that the school does not count as official). They took an 18-3 loss to 5-1-1 Utah at home (Utah lost to 6-3 Colorado and tied 4-2-1 Utah State, both of whom Colorado Mines defeated). Colorado Mines won all the rest of their games by more than a touchdown. They won 24-3 at Colorado, better than KSU did.
Georgia 6-1-1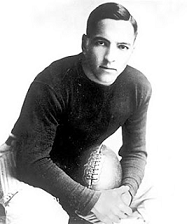 In 1910, Georgia hired head coach Alex Cunningham from the Gordon Institute (now Gordon State College), and Cunningham brought along his star halfback, future Hall of Famer Bob McWhorter (pictured). With McWhorter on the field 1910-1913, Georgia went 25-6-3, but the year after he graduated, they went 3-5-1. Cunningham had played at end for Hall of Fame coach Dan McGugin at Vanderbilt. He went 43-18-9 at Georgia 1910-1916 and 1919.

McWhorter would make a first team All America list in 1913, a bit of a miracle for a player from the South. He was All-Southern all 4 years, and he scored 61 touchdowns for his career.

This season, 6-1-1 Georgia got trounced 46-0 by Cunningham's alma mater, #17 Vanderbilt, and they took their tie to 5-1-2 Sewanee. They won 13-9 over 5-3-1 Alabama (who beat Sewanee), 20-0 at 5-3-1 Georgia Tech, and most importantly, 12-6 over 7-1-1 Auburn.
1912 Top 25
1) Harvard 9-0
2) Princeton 7-1-1
3) Wisconsin 7-0
4) Penn State 8-0
5) Yale 7-1-1
6) Carlisle 12-1-1
7) Dartmouth 7-2
8) Chicago 6-1
9) Georgetown 8-1
10) Lehigh 9-2
11) Williams 6-2
12) Wesleyan 7-2
13) Brown 6-4
14) Swarthmore 7-1-1
15) Pennsylvania 7-4
16) Michigan 5-2
17) Vanderbilt 8-1-1
18) Washington 6-0
19) South Dakota 5-1
20) Minnesota 4-3
21) Nebraska 7-1
22) Notre Dame 7-0
23) Washington & Jefferson 8-3-1
24) Michigan State 7-1
25) West Virginia Wesleyan 7-0

Others Receiving Votes
:
Maine 7-1
Washington & Lee 8-1
Kansas State 8-2
Colorado Mines 8-1
Georgia 6-1-1