Home
1914 College Football National Championship

Pictured above is the Yale Bowl on its opening day, November 21st, 1914. Its bowl-shaped design would be emulated by football stadiums thereafter, most notably by the Rose Bowl, which borrowed not only its design but its name as well. The Yale Bowl is thus the root reason we call postseason football games "bowl" games today, and is perhaps the

actual

"Granddaddy of them all." When it opened, the Yale Bowl was by far the biggest stadium in America, and a record 70,000 spectators came to watch Harvard deliver Yale her worst beating ever, 36-0.

And this was a very strong Yale team. They finished 7-2, their other loss coming 13-7 to 10-1 Washington & Jefferson (who also lost to Harvard), and they beat 8-1 Virginia, 8-1 Lehigh, 6-2 Notre Dame, 5-2-1 Colgate, 5-2-2 Brown, and 5-2-1 Princeton by an average score of 25-5. Yet Harvard stomped them like a patsy. There can be little doubt that Harvard's starting lineup was the most powerful football team in America. Problem is, Harvard's starting lineup only actually started the first 2 games, against cupcakes. After that, almost every starter was lost to injury, and Harvard ended up suffering 2 upset ties, finishing 7-0-2. That left the door open for 7-0 Illinois and 9-0 Army to be selected as 1914 mythical national champions (MNC) decades later.


Here is how the "major selectors" listed in the NCAA Records Book, all selecting long after the fact, see the 1914 college football national championship (omitting math/computer ratings, which are not generally recognized as constituting titles)

:


Army

:

Helms
, National Championship Foundation,
Parke Davis
(tie)
Illinois

:
Parke Davis
(tie)

You can click on the selector to read my review of that person or organization. Parke Davis made his selection of Army and Illinois in 1933, but it is interesting to note that in December of 1914, he selected Harvard as the champion of the East and Illinois as champion of the "Middle-West." He did not, as far as I know, select a mythical

national

champion in 1914, but I'm thinking he would have chosen Harvard. And on that note...

A Hypothetical AP Poll for 1914
College football historian Bob Kirlin thinks that 7-0-2 Harvard would have finished #1 if there had been an AP poll in 1914. And it's possible, because Harvard's last game against Yale was

that

impressive, and they played a schedule that was

vastly

more difficult than that played by Illinois and Army. They suffered one tie because 7 starters were lost to injury, and the other because they sat out their entire starting lineup the week before the Yale game, so some AP poll voters would surely have voted them #1 despite those upsets, thinking that those games didn't "count" since Harvard's substitutes were playing rather than their starters.

But similar to Kirlin's choice of 8-0-2 Princeton as a hypothetical AP poll #1 in 1911, I doubt very much that Harvard would have finished #1 in a national AP poll in 1914. As with the Princeton case, I think Kirlin based his conclusion solely on what a handful of

Eastern

, Big Three worshiping writers were saying, and I don't think the rest of the country would be so forgiving of Harvard's upsets. Injuries were and are a part of the game. Voting Harvard #1 on the premise that, when healthy, they were the best team, would have amounted to voting for a team that didn't exist. And given that Harvard would have finished #1 in an AP poll in each of the two previous seasons, voters outside the East would have had little interest in voting for them again when they suffered 2 upsets, and 2 other viable candidates had perfect records. I believe Illinois or Army would have finished #1 in a national 1914 AP poll, and though it's impossible to gauge which would have come out on top, my guess would be Illinois.

Of course, regardless of who would have been voted #1 in a hypothetical popularity poll, the real question is, who

merits

a mythical national championship for 1914? Illinois and Army are obviously candidates, but what about Harvard? Well, I'm not one to dismiss upsets because of injuries, or because a team chose to rest all their starters for a bigger game the following week. However, Harvard's schedule was so much tougher than the schedules of Illinois and Army, and their top performances were so impressive, that they are worth consideration for at least a share of the MNC.

In addition to those 3 teams, I'll also discuss 8-0 Texas, whom Billingsley's computer says was #1, and 9-0 Missouri S&T, a football program of no consequence before or since, but who nevertheless posted one of the most spectacular scoring seasons of all time in 1914. I will not be summarizing 9-0 Tennessee and 9-0 Washington & Lee, both of whom played weak schedules and barely won against losing teams, but hey, at least those perfect records earned them this mention, unlike the half dozen major teams that finished unbeaten-but-tied.
All rankings in the following article, except as noted, come from my 1914 top 25, which is based on a hypothetical post-bowl AP poll (within logical reason of course)
.
Harvard 1914
| | | |
| --- | --- | --- |
| Bates (3-4) | 44-0 | |
| Springfield (6-3) | 44-0 | (#26-39) |
| Washington & Jefferson (10-1) | 10-9 | #4 |
| Tufts (5-3) | 13-6 | (#26-39) |
| Penn State (5-3-1) | 13-13 | #23 |
| Michigan (6-3) | 7-0 | #18 |
| Princeton (5-2-1) | 20-0 | #6 |
| Brown (5-2-2) | 0-0 | (#26-39) |
| at Yale (7-2) | 36-0 | #5 |
This was the last year for a core group of players that went 9-0 as sophomores in 1912 (the players are listed in that article) and 9-0 again as juniors in 1913, winning MNCs each season. Harvard had also previously won MNCs in 1901, 1908, and 1910. Hall of Famer Percy Haughton was head coach for the the last four, and I covered him in the 1908 article.

Harvard had 4 consensus All Americans this year, even though they all missed games due to injury, two of them missing more than half the season. Injuries were unfortunately the story of the year for Harvard, and went well beyond those 4 players, highlighted by the loss of star halfback and kicker Charles Brickley for virtually the entire season
. The substitutes took a couple of upset ties, and Harvard finished 7-0-2, but at least they kept their unbeaten streak alive for another year.
Harvard's Season
Harvard opened with a pair of 44-0 wins over warm-up teams Bates and Springfield. The latter ended up being pretty good, though, finishing 6-3 and losing by only 13-6 to 9-0 Army.
Harvard's next opponent, Washington & Jefferson, had gone 10-0-1 the previous season, tying Yale, and they had just beaten Dickinson 105-0 the previous week, so this was expected to be a very tough game. Unfortunately for Harvard, quarterback Malcolm Logan and Hall of Fame halfback Eddie Mahan were out for the game due to injuries, and to make matters worse, star halfback Charles Brickley was suddenly beset by appendicitis and sent to the hospital, where he underwent surgery as the game was played. He would not be able to play again until the last minutes of the finale against Yale.
Hall of Famer Tack Hardwick was moved from end to halfback, and he starred for Harvard, scoring all their points in a 10-9 win. But Brickley's drop-kicking prowess was sorely missed. In the first quarter, a Harvard sub drop-kicked two field goal attempts right into the backs of his linemen. In the 2nd quarter, W&J hit 3 passes to score a touchdown from midfield, the last pass from 20 yards out, but the extra point try failed. Harvard answered with a field goal, Tack Hardwick making the attempt this time and hitting from 27 yards out. W&J hit some more passes, then a 35 yard field goal, and led 9-3 at the half.

The big key to this game was the ejection of Washington & Jefferson's All American tackle Britain Patterson for roughness. An article published in the Washington Herald after the season surmised, "Had Patterson remained in the game Harvard never would have been able to make those great gains through tackle -- and Harvard never would have won."

The second half was all Harvard, and W&J never got the ball into Harvard territory again, their usually powerful passing offense completely shut down. Harvard was stopped inside the W&J 10 twice before scoring the decisive touchdown in the 4th quarter. Halfback Frederick Bradlee (nonconsensus All American) did most of the work on the drive, but Hardwick scored the touchdown and kicked the winning extra point.
Though it was a close game, decided by a missed extra point, Harvard dominated most of it, outgaining Washington & Jefferson 227 yards to 127. W&J went on to finish 10-1, including wins over 7-2 Yale and 8-1 Pittsburgh, and they would have finished #4 in an AP poll in 1914.
Every Harvard game afterward was a struggle except, oddly enough, their two biggest games, against Princeton and Yale. But those were also the only games when all of the regulars except Brickley would start.

The injuries kept coming, and Hardwick and Hall of Fame guard Stan Pennock were out for the next game against Tufts (5-3), and in fact only 3 regulars played in the game. Rain and mud slowed the game down, and Harvard won 13-6 on "straight football," Frederick Bradlee scoring both Harvard touchdowns. Tufts, normally a good passing team, hit only 1 of their 20 passing attempts, as Harvard players knocked down or intercepted the ball all day. But Tufts moved the ball surprisingly well on straight running plays, keeping the game closer than anyone expected, even if Harvard was playing mostly substitutes.

The Big Upset
It may not seem possible, but the injury situation worsened for the next game against Penn State (5-3-1), as consensus AA tackle Walter Trumble joined the bench full of wounded. By this point, Harvard had lost all 4 of their consensus AA, their star Charles Brickley, and their quarterback Malcolm Logan. On top of that, center Edward Soucy, moved to end for this game, broke his ankle at the end of the first quarter.

Penn State kicked a 33 yard field goal and scored a touchdown, set up by a 30 yard pass, in the first quarter. They also missed a 40 yard field goal attempt. Then they fumbled at their own 8 yard line, and Harvard halfback Frederick Bradlee threw a touchdown pass to close the gap to 10-6 at half. PSU added another field goal to go up 13-6 in the 3rd, but gave Harvard another vital break in the 4th when they fumbled at their own 38. A Harvard sub ran for a touchdown on the next play, and the extra point finished the game's scoring at 13-13.


Penn State accomplished little aside from this tie, but their wins all came by more than a touchdown, and I have them ranked #23 for 1914.
Next up for Harvard was a highly anticipated game with Michigan (6-3), but luckily for Harvard, the Wolverines were not as strong this season as in previous years, and had just lost 20-6 at Syracuse (and would lose 28-13 to Cornell at home)
.
Still, Harvard's injury situation evened things up and made for a very tough game. Tackle Walter Trumbull, quarterback Malcolm Logan, and halfback Tack Hardwick were back for Harvard, and Hardwick scored the 2nd quarter touchdown and extra point that won the game 7-0. The game was all line plunges from both offenses, but Michigan used an unusual unbalanced line wherein the center often snapped the ball from the end position. Michigan drove to the Harvard 1 yard line early in the game, but they were thrown for losses on the next 2 plays. Then they drove to the Harvard 3 in the 3rd quarter, where they were stopped a half yard short of a first down. Michigan outrushed Harvard 206 yards to 141.

Healthy Again
Next up was the first of the 2 games Harvard really cared about, 5-0-1 Princeton coming to face 5-0-1 Harvard. Princeton had won 16-12 over powerful Dartmouth (8-1), but they were tied by 6-1-1 Williams (who lost to Dartmouth 21-3) the week before their game with Harvard. Everyone but Brickley was ready to play for Harvard this week, and 35,000 fans watched them romp Princeton 20-0. It was old style brute football again, though punctuated with plenty of misdirection and fakes. Halfback Eddie Mahan was not 100%, and mostly just handled the punting and drop-kicking, hitting 2 of his 6 field goal attempts. Halfback Frederick Bradlee scored both touchdowns, his second on the first play of the 4th quarter to make the 20-0 final score. Subs played the rest of the way for Harvard.

It's too bad Bradlee was not one of Harvard's 4 consensus AA this season (he was a nonconsensus AA), because he was the only starter to remain healthy the entire season, and he proved vital in the wins against Washington & Jefferson and Tufts, as well as salvaging the tie against Penn State. And while he may not have been vital in beating Princeton, his 2 touchdowns still led the team. As for Princeton, they went on to lose 19-14 to Yale, finishing them at 5-2-1 and ranked #6 for 1914.

Harvard all but conceded their second upset tie to Brown (5-2-2) the next week. With all the injury problems earlier in the season, and the big game with Yale coming the next week, Harvard was in no mood to take chances, and they played nothing but 2nd and 3rd string players against Brown. Harvard's subs drove 6 times inside the Brown 20 with no points to show for it. Brown produced no offense, but had 2 threats thanks to Harvard fumbles, missing 14 and 30 yard field goal attempts. The game ended in a scoreless tie. Brown wasn't bad, but they were in no way a top 25 caliber team outside of this tie (and given that it came against Harvard's subs, even that is not impressive).

The Yale Bowl, America's largest stadium, opened for Harvard's finale at Yale, and a record 70,000 fans came to watch. Yale was 7-1, their loss 13-7 against Washington & Jefferson (10-1). They had beaten 8-1 Virginia 21-0, 8-1 Lehigh 20-3, 6-2 Notre Dame 28-0, and 5-2-1 Princeton 19-14. Harvard was favored, but no one expected the 36-0 beatdown that ensued. Yale twice fumbled at the Harvard goal line, one of them returned 96 yards for a touchdown. Harvard's line, led by Hall of Fame guard Stan Pennock
, threw Yale's line around, and halfback Eddie Mahan had a great day running the ball.

And even Charles Brickley, though still not cleared to play by doctors, took the field for the final minutes of the game (and his career). Brickley was told to stand back, away from the action, while Harvard drove down the field with only 10 men, scoring a touchdown in the closing seconds. Brickley then kicked the last point of the season (and his career).
Army 1914
| | | |
| --- | --- | --- |
| Stevens (0-7-1) | 49-0 | |
| Rutgers (5-3-1) | 13-0 | #17 |
| Colgate (5-2-1) | 21-7 | #14 |
| Holy Cross (2-5-1) | 14-0 | |
| Villanova (4-3-1) | 41-0 | |
| Notre Dame (6-2) | 20-7 | #9 |
| Maine (6-3) | 28-0 | |
| Springfield (6-3) | 13-6 | (#26-39) |
| (neutral site) Navy (6-3) | 20-0 | (#40-60) |
When the media referred to a "Big Four" in the first decades of the 20th century, they were usually adding Penn to the Big Three (Harvard, Yale, and Princeton), but some references to a "Big Four" added Army as the fourth
. However, since Penn had won at least four mythical national championships, and Army none until 1914, I think Army will have to settle for the hypothetical fifth of a "Big Five." Army had pulled off some big wins and ties over the years, especially against Yale while the Elis were the best team in football. In 1901, they tied 11-1-1 Yale and 9-1-1 Princeton, and lost only 6-0 to 12-0 Harvard. They tied national championship Yale teams in both 1902 and 1907 (Yale was 11-0-1 and 9-0-1 those years), and in 1904, they beat 10-1 Yale, knocking them out of a national championship.

Army's coach in 1914 was alumnus Charles Daly, a Hall of Fame player who had taken the field in 1901 and 1902 for two of the big ties with Yale. He went 58-13-3 at Army 1913-1916 and 1919-1922, and founded the American Football Coaches Association. 1914 saw Army's first perfect record, 9-0, and Daly would lead them to another 9-0 finish in 1916.

This Army team would become famous decades later for its generals, particularly Dwight Eisenhower, Omar Bradley, and James Van Fleet. However, future president Eisenhower was injured before the season and did not actually play. Like Ike, Bradley was a key commander in WWII, and he would later be appointed the first Chairman of the Joint Chiefs of Staff, but he was a substitute for this Army team and saw very little playing time. Van Fleet, the commander of the U.S. forces in the Korean War, also saw little action at first as a substitute halfback, but he fought his way up the depth chart and started the last 2 games against Springfield and Navy, performing well in both games.

Hall of fame halfback Elmer Oliphant was the most famous player from this team until WWII, and one of the best known players of his time, but he too did not see much playing time this season. It was his first season at Army after starring for 2 years at Purdue, and he contributed very little to the team, though he did get one start against Springfield the week before the Navy game, as half the starters were rested. Oliphant would be a nonconsensus All American in 1915 and a consensus AA in 1916 and 1917. He became most famous for hoarding 11 letters in 4 sports (football, basketball, baseball, and track), and he also participated in boxing, swimming, and hockey. He still holds Army records for scoring in a game (45 in 1916) and a season (125 in 1917), as well as Purdue's record for scoring in a game (43 in 1912). He scored 424 points in his 6-year collegiate career.


But let's turn from Army's famous subs now and discuss the players who really mattered this season.

The Starters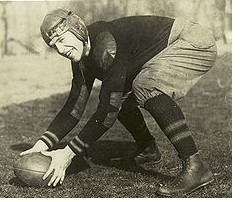 Center John McEwan (pictured) was Army's one consensus AA in 1914, and he is in the hall of fame. Quarterback Vernon Prichard was a nonconsensus AA, and end Louis Merillat was a consensus AA in 1913 and nonconsensus AA in 1914 (making 13 first-team lists, yet not considered "consensus"!).

In 1913, Army was down 6-0 to Colgate with 10 seconds left when Prichard ran off a 70 yard touchdown for a miracle 7-6 win. He and Merillat then became famous for the "Prichard to Merillat" passing plays that beat Navy at the end of 1913, though Army rarely passed otherwise. Navy had given up just 7 points prior to the Army game in 1913, and Army had not beaten them since 1905. Navy came into that game at 7-0-1, and 6 to 1 favorites to win, but Army beat them 22-9, Merillat scoring 3 touchdowns on 2 passes from Prichard and a 60 yard run. This season, the duo would strike down Navy again, Prichard throwing 2 touchdown passes, one to Merillat, and Merillat chipping in a blocked punt for a safety as well.

But the only starter besides McEwan to make the Hall of Fame as a player was tackle Alex "Babe" Weyand, despite the fact that he never made a first team AA list (that I have found), and was never mentioned as making a difference in a newspaper summary of a game (that I have found). Apparently it was "discovered" that Weyand had been a better player than Prichard and Merillat after he became well known for writing sports history books decades later.

Army's other end, Bob Neyland, had a stand-out game against Notre Dame and a great season from that point on. He is in the Hall of Fame as a coach, going 173-31-12 at Tennessee 1926-'34, '36-'40, and '46-'52. That record gives him a high ranking on the list for all-time coaching win percentage, just behind Harvard's Percy Haughton.

Lastly, halfback and punter Paul Hodgson deserves mention. He never made a first team AA list or hall of fame, but he was the bulk of Army's offense this season.
Army's Season
Army won every game by more than a touchdown this season, except for a 13-7 win over Springfield, when they held out most of their starters for the following week's Navy game.
Rutgers (5-3-1, #17), sporting a strong line, provided the first test.
The game was scoreless at half, but Army turned a fumble at the Rutgers 10 into a touchdown in the 3rd quarter, Hodgson ran 80 yards for an insurance score in the 4th, and Army won 13-0. Colgate (5-2-1, #14), who had suddenly emerged as a strong football team in 1912 with a 5-2 finish, was up next, but fumbles and interceptions did them in, Army winning 21-7. Colgate was a top 25 caliber team 1912-1919, then again 1929-1934, after which they were done with major college football.
In 1913, Army had taken their only loss 35-13 to 7-0 Notre Dame, but this season they exacted revenge 20-7. Army scored all they needed in the first quarter, turning a muffed punt into a Hodgson touchdown and blocking a punt for another touchdown. Notre Dame scored their touchdown in the 3rd quarter, but the 4th was all Army, though they were unable to run up the score the way Notre Dame had in the 4th quarter of the 1913 game. Still, they gave it the ol' college try. Hodgson scored a touchdown, then later Army drove to the 1 before losing the ball on downs, and then they drove to a missed 30 yard field goal. Bob Neyland reportedly had a great game in the line
.
Notre Dame finished 6-2, routing opponents in their six wins, including 33-0 over 5-2-1 South Dakota (who tied 7-0-1 Nebraska) and 20-0 over 5-3-2 Syracuse (who beat 6-3 Michigan and tied Rutgers and Colgate). But the Irish had already lost 28-0 at Yale, devaluing Army's win over them.
The game against Springfield (6-3) was similar to Harvard's game against Brown, except that Army did not rest

all

of their starters, and they were thus not upset. It was a very muddy field, but it didn't stop Army's passing game, as Prichard hit Neyland for a long gain that set up a James Van Fleet touchdown. Van Fleet, who got the start at fullback, made the most of it, and with Paul Hodgson and John McEwan out, Van Fleet was singled out by newspapers as the player of the game on both offense (where Hodgson usually starred) and defense (McEwan's specialty). Van Fleet thus earned a start at halfback against Navy the next week. Army's second touchdown against Springfield was set up by a blocked punt, and Springfield returned a 4th quarter interception 80 yards to close the gap to a final score of 13-6.
That brought Army to their finale against Navy before 30,000 spectators in Philadelphia. The game started out as the Prichard and Merillat show, much like the previous season. Merillat blocked a punt for a safety, then Prichard ran 40 yards on a fake punt, setting up a missed 25 yard field goal. In the 2nd quarter, Neyland recovered a fumble that set up a Prichard-to-Merillat touchdown pass and an 8-0 lead, and another fumble set up a Prichard-to-Merillat pass to the 1 yard line, where Hodgson scored the easy touchdown. Army later fumbled at the Navy 4 and missed another field foal, but led 14-0 at half. In the 3rd quarter, Army ground out a long 80 yard drive into the middle, with Prichard and Van Fleet doing most of the work, but at the end Hodgson fumbled the ball as he was crossing the goal line. In the 4th quarter, Hodgson ripped a 35 yard run, then Prichard

caught

a 25 yard pass to set up the touchdown that closed the scoring at 20-0.
This was not a particularly strong Navy team, however. They finished 6-3 against a weak schedule, and were not a top 25 caliber opponent, nor even likely top 40.
Illinois 1914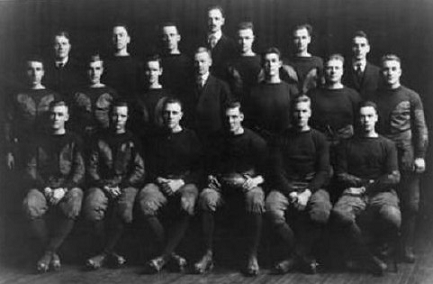 | | | |
| --- | --- | --- |
| Christian Brothers (7-2) | 37-0 | (#40-60) |
| Indiana (3-4) | 51-0 | |
| Ohio State (5-2) | 37-0 | (#26-39) |
| at Northwestern (1-6) | 33-0 | |
| at Minnesota (6-1) | 21-6 | #8 |
| Chicago (4-2-1) | 21-7 | #11 |
| at Wisconsin (4-2-1) | 24-9 | #12 |
Illinois had long been a mid-level Western Conference team, puttering around behind the big boys (Michigan, Minnesota, Chicago, Wisconsin), but Hall of Fame coach Robert Zuppke took them to the top rather quickly after his arrival in 1913, and he stayed at the helm for 29 seasons. He went 90-29-8 1913-1929, winning 7 conference titles and as many as 4 national championships, but things went sour 1930-1941, when he went 41-52-4. Zuppke invented the huddle, flea flicker, and screen pass
. Zuppke became a national sensation after this season, and
Harvard coach Percy Haughton even took a train out to Chicago the following Spring to meet with Zuppke to pick up some techniques for coaching good ball handling
.

Illinois had 2 consensus All Americans in 1914, highly unusual for a team outside the East

:

end Perry Graves and guard Ralph Chapman. Halfback Bart Macomber made Outing magazine's list of the best players, and would be a consensus AA in 1915. He had played for Zuppke at Oak Park, and followed him to Illinois. He scored 3 touchdowns against Northwestern, and was also the punter and kicker, scoring 4 extra points and 3 field goals against Ohio State. He later played pro football, and he is the only player from this team in the college football Hall of Fame.

That is odd, because Illinois' best players were halfback Harold Pogue and quarterback George "Potsy" Clark. It is a particularly egregious omission that nonconsensus AA Pogue is not in the Hall of Fame. In 1913 he had a 65 yard punt return touchdown against Chicago and scored 3 touchdowns against Missouri. This season he scored 3 touchdowns against Ohio State, 2 at Minnesota (35 yard run and 75 yard interception), and 2 more at Wisconsin (both on punt returns), totaling 11 touchdowns in 6 games. Potsy Clark, who joined Macomber on Outing's list of the best players, became most famous as an NFL coach, going 64-42-12 and winning the NFL championship with the Detroit Lions in 1935. He was far less successful as a college coach, going 40-45-7. Clark and Macomber gave Illinois 2 good passers.

In the picture above, Ralph Chapman, as captain, has the ball in the front row. Macomber is on the far right of the middle row. Zuppke is in the middle of the picture, and going left from there stand Pogue, Clark, and Graves.

Illinois' Season
Illinois won every game by more than a touchdown. They opened with a 37-0 whipping of Christian Brothers, a minor Missouri school that ended up being pretty good this year, finishing 7-2 after a "postseason" loss to 9-0 Missouri S&T.

Their other 6 opponents were conference foes, 4 of whom were winning teams. The first of these was Ohio State, who had joined the Western Conference the previous year and finished 5-2 this year. They weren't bad, but weren't yet top 25 caliber, and Illinois beat them 37-0.

The game of the year was at Minnesota, generally the conference's best team since Michigan left in 1908. Minnesota took exactly one loss or tie 7 times 1909-1917, and that was the case this season too, as Illinois beat them 21-6. Illinois would also tie 6-0-1 Minnesota in 1915 and pull off a huge upset over 6-1 Minnesota in 1916. The 1914 game was a 0-0 slugfest until the 4th quarter. Pogue had run for many big gains, but Illinois was stopped at the Minnesota 3 and 10 yard lines before breaking through in the 4th quarter, when 2 big passes set up a short Clark touchdown. Pogue soon added a 35 yard touchdown to make it 14-0, and that was basically the game. Minnesota answered with a touchdown, then Pogue iced it with a 75 yard interception return for a touchdown. Minnesota finished the season 6-1, and I have them ranked #8.

That was the start of 3 straight games against the conference's power teams. Next up was defending champion Chicago, coming in at 4-0-1 after tying Wisconsin the previous week. Chicago took an early 7-0 lead, but Illinois dominated the rest of the game. They drove inside the Chicago 5 twice in the 2nd quarter without scoring, and it stayed 7-0 at the half. In the 3rd quarter, Clark ran for 40 yards and Pogue for 25 to get it inside the Chicago 5 again, and on 4th down Macomber threw a touchdown pass to Pogue on a double reverse to tie the game. Pogue scored another touchdown in the 4th quarter, and Clark added a touchdown on a 95 yard kick return for the 21-7 final score.

The finale was at Wisconsin. Pogue had a lot of big runs in that game, but his touchdowns came on a pair of 65 yard punt returns. Clark added a 70 yard punt return touchdown, and Illinois won 24-9. Chicago and Wisconsin had twin seasons, both finishing 4-2-1, tying each other, and both losing to Illinois and Minnesota. Chicago is #11 for 1914, Wisconsin #12.

Harvard vs. Army vs. Illinois
Here are the significant games for the major MNC contenders in 1914.
The opponent rankings
come from my 1914 top 25, which is based on a hypothetical AP poll (within logical reason of course)
.
Harvard 7-0-2
Army 9-0

Illinois 7-0

| | | |
| --- | --- | --- |
| Springfield (6-3) | 44-0 | (#26-39) |
| Washington & Jefferson (10-1) | 10-9 | #4 |
| Tufts (5-3) | 13-6 | (#26-39) |
| Penn State (5-3-1) | 13-13 | #23 |
| Michigan (6-3) | 7-0 | #18 |
| Princeton (5-2-1) | 20-0 | #6 |
| Brown (5-2-2) | 0-0 | (#26-39) |
| at Yale (7-2) | 36-0 | #5 |

| | | |
| --- | --- | --- |
| Rutgers (5-3-1) | 13-0 | #17 |
| Colgate (5-2-1) | 21-7 | #14 |
| Notre Dame (6-2) | 20-7 | #9 |
| Springfield (6-3) | 13-6 | (#26-39) |
| (neutral) Navy (6-3) | 20-0 | (#40-60) |

| | | |
| --- | --- | --- |
| Christian Bros. (7-2) | 37-0 | (#40-60) |
| Ohio State (5-2) | 37-0 | (#26-39) |
| at Minnesota (6-1) | 21-6 | #8 |
| Chicago (4-2-1) | 21-7 | #11 |
| at Wisconsin (4-2-1) | 24-9 | #12 |

Harvard defeated their one other opponent 44-0, Army defeated the rest of their opponents by an average of 33-0, and Illinois defeated the rest of theirs by an average of 42-0.

Let's start with the "underdog," Harvard. They were upset twice, but they played a tougher schedule than did the other two, and that combination is often difficult to sort out. In their best games, they certainly appear to have been the best team in the country, and possibly one of the best teams of all time. But their worst games were quite bad for an MNC contender, and it's not just the ties.

The Case Against Harvard
Harvard's case for an MNC rests mostly on their wins over Washington & Jefferson, Princeton, and Yale, who were all arguably better than anyone Army or Illinois defeated. They also played 5 top 25 teams, compared to 3 each for Army and Illinois. And when healthy, as they were against Springfield, Princeton, and Yale, the starters performed spectacularly well. But on the other hand, Harvard's ties came to teams that were rather lowly-ranked.

Harvard's case would actually be stronger if their ties had come against Washington & Jefferson and Princeton (or Yale), because then you could argue that neither Army nor Illinois defeated a team as strong as the teams that tied Harvard. However, Army and Illinois defeated plenty of teams of Penn State and Brown's power level. But Harvard also struggled to beat a Tufts team that was not top 25 material, as well as a Michigan team that sits at #18. And they played all of their games but one at home. Army only had one poor performance, Illinois none, and neither team was really threatened in any game, much unlike Harvard.

That most of Harvard's poor results occurred because they suffered massive injuries is irrelevant. Injuries are a part of the game. Bad luck. A trickier situation is what happened against Brown. Harvard was healthy for that one, but chose to play nothing but substitutes so as to insure the health of their starters for Yale. Basically, Harvard just didn't care if they beat Brown or not. So does that mean the tie doesn't count? Several of the better known Eastern writers of the time thought so. And I can see their point. Harvard's regulars didn't play against Brown, so in a way it's like Harvard's "JV" team was taking them on rather than Harvard's varsity team.

But to me it says a lot about Harvard coach Percy Haughton's competitive fire. I cannot imagine Fielding Yost, Bear Bryant, or Bobby Bowden, as examples,

ever

conceding a loss or tie for any reason. Certainly not so they could increase their chances in a following rivalry game by a couple of percentage points. These guys played to win--

every game

. That's what champions do. And if Harvard wanted to concede a tie to a mediocre Brown team, hey, that's their decision, but to me it is not the decision of a champion. It's just the decision of a "Big Three" champion.

In any case, Harvard doesn't claim an MNC for 1914, and no organization listed in the NCAA Records book selects them for 1914, so there's not much controversy in eliminating them.

Army vs. Illinois
Illinois performed slightly better than Army on average, and Army had the one close win over a mediocre Springfield, while Illinois had no close games. Army's Springfield result was similar to Harvard's against Brown, as they were resting most of their starters for the following game against Navy, but Army was never really threatened in that game, and the score looks close only because Springfield scored a late touchdown on a long interception return. But Army also looked rather ordinary in a 14-0 win over 2-5-1 Holy Cross. I think it's highly unlikely that Illinois would have beaten that team by less than 30 points.

Army's opponents look a bit tougher than Illinois', but on the other hand, Army played almost all of their games at home, and no true road games, while Illinois played 3 road games, one of them against their toughest opponent.

This looks like a good shared title, though if you want to split hairs and name one of them #1, Illinois looks like the better choice to me. The only potential problem here is that by 1914, we couldn't really know how good the Western Conference was, as they had largely walled themselves off from the rest of the college football world.

The Chinese Wall
After the 1910 season, the Western Conference had prohibited its teams from playing games against Eastern opponents except games already contracted for.
Eastern writers referred to this as the "Chinese Wall Rule." The main casualty was an annual Chicago-Cornell series that was ended after 1911. Minnesota had also played a 3-game series with Carlisle 1906-1908, and Illinois had played Syracuse 1909-1910. From 1908-1911, the Western Conference had gone 4-1-2 against major Eastern teams.

Unfortunately, the Western Conference also refused to play Michigan or Notre Dame during this time, so the Minnesota-Michigan series ended after 1910, and Indiana and Purdue's series with Notre Dame ended after 1908. Michigan State got one game against Wisconsin in 1913, but when they beat Wisconsin, that was the end of anyone else in the conference playing them.

Minnesota played Nebraska almost every year 1902-1913, and almost always won, but until 1913 those games were all played in Minneapolis, and Nebraska wanted to play the series home-and-home. But after Minnesota lost in Lincoln in 1913, they lost all interest in the series, and dropped Nebraska from future schedules. The two would not resume the series as an annual game until 1934. That series, with occasional 2-year breaks, lasted for 40 years, until Nebraska won 10 straight, at which point Minnesota dropped the series permanently. Or so they had thought, because now Nebraska is joining the Big Ten, and the series will again be resumed.

Iowa was the lone Western Conference team that continued to play Nebraska, which they did every year 1913-1919.

So by 1914, the WC not only refused to play Eastern teams, but aside from Iowa-Nebraska, they also refused to play other power teams from their own region. We therefore cannot really know how strong the conference was in 1914, other than extrapolating based on how good they were before they stopped playing tough nonconference opponents. This season they went 18-1 against nonconference opponents, the lone loss by Iowa to 7-0-1 Nebraska. That's an impressive number, but very few of those opponents were major teams.

Still, there were a few key wins in nonconference play. Minnesota beat 5-2-1 South Dakota 29-7, and South Dakota tied 7-0-1 Nebraska (Dakota's other loss came 33-0 to Notre Dame). Both Minnesota and Iowa defeated 4-3 Iowa State, whose only other loss came to Nebraska. Illinois beat 7-2 Christian Brothers of Missouri, a minor school that had an unusually strong team this year. And Purdue beat 5-3 Kentucky 40-6 (9-0 Tennessee beat them 23-6).

The Western Conference would resume games with the East, Notre Dame, and Michigan 1916-1917, and Michigan would rejoin the conference in 1918.

East vs. West
The West had been beating the East 1909-1913, but that came to an end this season. 6-3 Michigan went 1-3 against the East. 6-2 Notre Dame beat 5-9-1 Carlisle 48-0, and also won 20-0 at 5-3-2 Syracuse, but they were thrashed by Yale and Army. 5-2 Michigan State won 6-3 at 5-3-1 Penn State (who tied Harvard). That makes the East 5-4 against the West in games between major teams in 1914. Yale's 28-0 rout of Notre Dame was heralded by Eastern newspapers as proof that the East was the strongest football region, and Notre Dame's subsequent loss to Army, along with Michigan's losses to Harvard, Cornell, and Syracuse, only corroborated the notion. The East would also win by 2-1 in 1915 and 4-1 in 1916, so the Eastward trend was just beginning.

The fact that the Western Conference would not even play Michigan, Notre Dame, and Michigan State limits the value of this information, but it does tell us that the East was stronger in the middle of this decade than they had been before (they went 0-5 against the West in 1913), which bolsters the case for Army.

Conclusion? Illinois may look slightly stronger than Army in 1914, but the closed-off nature of their conference gives some leeway for rating Army higher. You could therefore go with either at #1. But regardless of which team would win a beauty contest for #1, both definitely merit sharing a mythical national championship.
Texas 1914
Like Auburn for 1913, 8-0 Texas was rated #1 for 1914 by Billingsley's computer. Texas 1914 played a far weaker schedule than did Auburn 1913, but they stomped on every team they played, outscoring opponents 358-21 in total, for an average score of 45-3. The only strong opponent they faced was 9-1-1 Oklahoma, whom they defeated 32-7 in Dallas. Oklahoma's big wins came 13-0 over 5-3 Missouri and 23-6 over 6-2-1 Oklahoma State, but they were not a top 25 caliber team, as they were tied by 5-2-1 Kansas, whom Missouri Valley champion Nebraska (7-0-1) defeated 35-0.

Texas had established themselves as the top team in the Southwest from the beginning, but they struggled against top teams from other regions:

1902

:

Win over 7-2 Sewanee, losses to 6-1 LSU and 8-2-1 Haskell
1903

:

Tie with 6-1-1 Vanderbilt, loss to 7-2 Haskell
1904

:

Losses to 8-1 Haskell and 10-1-1 Chicago (68-0 in that last game)
1905

:

Win over 4-2-1 Sewanee, losses to 5-4-1 Haskell and 7-1 Vanderbilt
1906

:

Loss to 8-1 Vanderbilt
1907

:

Win over 7-3 LSU, loss to 7-2 Missouri
1908

:

Losses to 5-2 Colorado College and 7-1 Tulane
1909

:

Loss to 7-2 Haskell
1910

:

Win over 6-1 Auburn
1911

:

Win over 4-2-1 Auburn, loss to 6-3-1 Sewanee
1913

:

Win over 4-3 Sewanee, loss to 7-0 Notre Dame
1915

:

Win over 6-2 Alabama, loss to 7-1 Notre Dame
1916

:

Loss to 6-1-1 Missouri

That's 7-16-1

;

7-5-1 against the South, 0-7 against the Missouri Valley (none of those games against the region's best team, Nebraska), 0-3 against the Great Lakes, and 0-1 against the Rocky Mountains. Most telling is the fact that Texas took their only loss in 1913 to Notre Dame, and by a score of 30-7. Then they lost 36-7 to Notre Dame in 1915. Now, Texas was a better team in 1914 than they were the year before or after, but there's certainly no reason to believe that they were better enough to suddenly be the best team in the nation. In fact, there's no reason to believe they were even better than Missouri School of Mines (now known as Missouri S&T), who went 9-0 and outscored opponents 569-6. But I'll get to them next.

The Coach and Players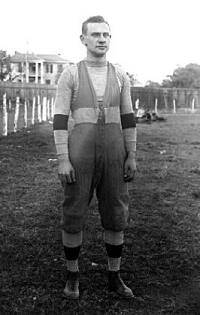 In search of a football coach in 1910, Texas consulted Michigan coach Fielding Yost, and he recommended Billy Wasmund, who had played quarterback for Yost 1907-1909. Texas hired him, and Wasmund went 6-2 in 1910, but he fell out of a window and died in the week before the 1911 season was to start. Texas replaced him with Dave Allerdice (pictured above), who had played halfback with Wasmund at Michigan 1907-1909. Allerdice went 33-7 here and won 2 conference titles 1911-1915, after which he retired, citing as his reason the "super critical nature of the Texas fans."

The team's star was halfback and kicker Len Barrell, who scored 121 points on 14 touchdowns, 34 extra points, and a field goal. That was a school record that stood for 83 years, until Ricky Williams broke it in 1997. Barrell rushed for 162 yards in a 57-0 win over Baylor. Guard and captain Louis Jordan made Walter Camp's 2nd team All American list, and later died fighting in WWI. Halfback Clyde Littlefield would become Texas' head coach 1927-1933, going 44-18-6 and winning 2 SWC titles. He was even better as a track and field coach, winning 25 conference titles in a very long career, 1920-1961.

Their schedule makes Texas a noncontender for an MNC, and in fact I would say that their case is even weaker than that of teams like Auburn 1913, Pitt 1910, LSU 1908, and Vanderbilt 1904.
They're more like St. Louis in 1906, except that they did not perform quite as well.

Missouri S&T 1914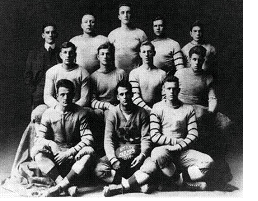 Presenting the greatest team that even most college football history buffs have never heard of

:

1914's 9-0 Missouri School of Mines. They were often referred to as simply "Rolla," and in 1964 officially changed the name of the school to Missouri-Rolla. Still not satisfied, they changed their name again just a couple years ago to Missouri S&T (Science and Technology). I wish I could tell you about their 1914 players and coach, but unfortunately I've never made it to Rolla to research them. I don't even know who their head coach was, and I can't even really tell you how many points they scored-- not exactly, anyway. According to the College Football Data Warehouse, they outscored their opponents 571-6, but national articles from the time say they scored 569, and Missouri S&T's media guide says 567. Whichever it was, Missouri S&T easily led the nation in scoring.

Let's go with the 1914 sources and say the Miners scored 569-- that's 200 more points than the nation's second-highest scoring team, Washington & Jefferson, was able to total in 2 more games than Rolla played. Rolla's 63.2 points per game easily outdistance any of Michigan's "point-a-minute" teams from 1901-1905, and in fact they scored more per game than any team to this point in the 20th century. The only team to average more in all of college football history through 1914 was Yale's 1886 team that scored 68.7 per game, which is still the record today.

Missouri-Rolla opened as a warm-up team for their parent school, Missouri (5-3), but won 9-0. The only other major team they played was Arkansas, beating them 44-0. They beat minor Missouri Valley teams Washington-Missouri 19-0 and St. Louis 63-0. They scored 104 on Pittsburg State and 150 on the Kirksville Osteopaths. At the end of the "regular season," they stood at 8-0, but another Missouri school, Christian Brothers, claimed to be the best in the state. Christian Brothers was 7-1, having lost their opener 37-0 at 7-0 Illinois. So the two schools agreed to face each other December 5th, a week after their regularly scheduled games had concluded. This was billed as the "football championship of Missouri," and Rolla won the game and title 27-6.
Obviously Missouri S&T's schedule makes them a noncontender for an MNC, and though they put up a tremendous pile of points on the season, winning 9-0 over Missouri isn't all that impressive. Still, they have about as strong a case for a 1914 MNC as Texas has.
Awards Ceremony
1911 #1:

7-0 Illinois and/or 9-0 Army


National Co-champion:

Illinois or Army if the other is alone at #1


Contenders:

7-0-2 Harvard

These are the awards I have been handing out for each season, except seasons when there are no contenders. For this purpose, what I mean by a contender is a team that I think is very close to being worthy of sharing the national championship. A team that you could make an argument for, even if that argument is weak. But they are teams that I myself do not see as national champions.

If you're tired of Harvard, take heart-- they don't contend for an MNC again until 1919.

Grading the Selectors
I have been grading the NCAA Records Book's selectors for each season, and keeping a grade point average, so we can see who is relatively good at selecting national champions and who is not. And although I do not consider computer ratings to be legitimate national championship selectors, I have been including them in this section as well, just for comparison's sake.
I am grading on a scale of 0-5 (5 being the best).
Parke Davis selected Army and
Illinois
. Grade: 5

Billingsley's computer selected Texas. Grade: 0.1

Everyone else selected Army.

Grade:

5



Grade Averages 1901-1914

:



| | |
| --- | --- |
| 1) Houlgate (math system) | 4.28 |
| 2) Parke Davis | 4.26 |
| 3) Helms | 4.1 |
| 4) Billingsley (math) | 3.7 |
| 5) National Championship Foundation | 3.3 |

For the second year in a row, Parke Davis actually deserves a 5+.