Home
1956 College Football National Championship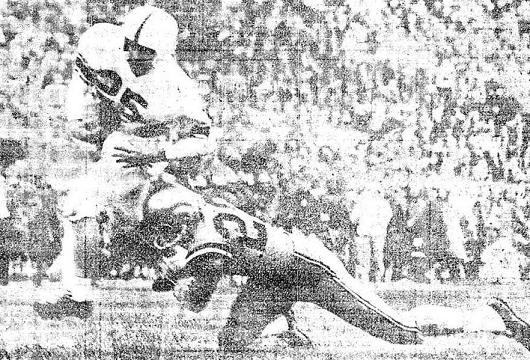 Pictured above is Oklahoma's star halfback Tommy McDonald scoring a touchdown at Colorado on a 35 yard passing play. Oklahoma was down 19-6 at the half, but rallied to win 27-19 in their only game that was remotely close this year. They finished 10-0 for their 3rd straight perfect season, continuing what ended up being an NCAA record 47 game unbeaten streak. The problem with Oklahoma was their schedule. Colorado was the only rated opponent they faced (#22), and moreover, every other opponent they played finished with a

losing record

. Their opponents were a putrid 32-63-6 this season, the worst ever for an MNC team, worse than even Brigham Young's opponents in 1984. And I don't consider BYU 1984 to be a national champion at all.

On the other hand, unlike BYU 1984, Oklahoma mowed through their weak schedule like a #1 team should, winning every game by more than a touchdown (no 2-point conversion at this time, so this includes the Colorado game) and averaging a score of 47-5 for the season. And this was basically the same team that had been perfect in 1955 and beaten #2 Maryland (10-1) 20-6 in the Orange Bowl.
Here is how all of the organizations listed in the NCAA Records Book see the 1956 mythical national championship (omitting math/computer ratings, which are not generally accepted as MNCs)

:




10-0 Oklahoma
:
AP Poll
,
UPI Poll (coaches),
INS Poll (sportswriters), Football Writers Association of America
,
Helms
,
National Championship Foundation
9-1 Iowa
:
CFB Researchers
As you can see, the College Football Researchers Association selects Iowa, and Iowa did play a far tougher schedule than Oklahoma did, facing 5 ranked opponents to Oklahoma's 1, and all significantly higher ranked than Oklahoma's 1 as well. So we will be looking at Iowa's case in this article.

In addition, two math-based systems have tabbed 10-1 Georgia Tech as #1 for 1956 (one of them in a tie with Oklahoma), and another goes with 10-1 Tennessee. But Georgia Tech lost 6-0 to Tennessee at home, so we can throw them out, and Tennessee lost 13-7 to 9-2 Baylor in the Sugar Bowl, and thus belong ranked behind Baylor. Baylor lost to 9-0-1 Texas A&M 19-13 at home, and that puts Texas A&M on top of this totem poll. So what about 9-0-1 Texas A&M? Well, they only played 2 rated opponents themselves, and they were tied by an unrated team (7-2-1 Houston, a mid-major Missouri Valley team at this time), so they are not really an option.


That leaves us with just Oklahoma vs. Iowa for the mythical 1956 crown. All rankings in this article, except as noted, come from my 1956 fixed AP poll.
Oklahoma 1956

| | | |
| --- | --- | --- |
| North Carolina (2-7-1) | 36-0 | |
| Kansas State (3-7) | 66-0 | |
| (Dallas) Texas (1-9) | 45-0 | |
| at Kansas (3-6-1) | 34-12 | |
| at Notre Dame (2-8) | 40-0 | |
| at Colorado (8-2-1) | 27-19 | #22 |
| at Iowa State (2-8) | 44-0 | |
| Missouri (4-5-1) | 67-14 | |
| Nebraska (4-6) | 54-6 | |
| at Oklahoma State (3-5-2) | 53-0 | |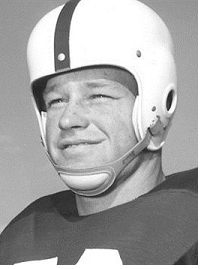 Well, I'll start by simply copying and pasting much of what I wrote about Oklahoma in my 1955 national championship article

:

Oklahoma was doing pretty well for themselves in the postwar years. They had gone 11-0 in 1949, and I consider them to be an MNC for that season

;

they finished #1 in the AP poll in 1950, but then lost in the Sugar Bowl
;

they went 10-0 in 1954, but fell short of an MNC that year

;

then they went 11-0 in 1955 and brought home their 2nd MNC. I covered their Hall of Fame coach, Bud Wilkinson, in the linked 1949 national championship article. This season's 10-0 effort continued Oklahoma's NCAA record 47 game winning streak that stretched from 1953 to 1957.

I covered almost all of this year's notable players in the 1954 and 1955 articles, but here's a brief recap

:




Halfback Tommy McDonald

:

Consensus All American, Maxwell Award, college and pro Halls of Fame
Center Jerry Tubbs (pictured at left)

:

Unanimous All American, Walter Camp Award, UPI Lineman of the Year, Hall of Fame
Tackle Ed Gray

:

Nonconsensus AA
Guard Bill Krisher

:

Consensus AA in 1957
Halfback Clendon Thomas

:

Led nation in scoring with 18 touchdowns, Hall of Fame

The one notable player that graduated from the 1955 team was consensus AA guard Bo Bolinger. The only notable addition to the team this year was backup center Bob Harrison, who would be a consensus AA in 1958.
Oklahoma's Season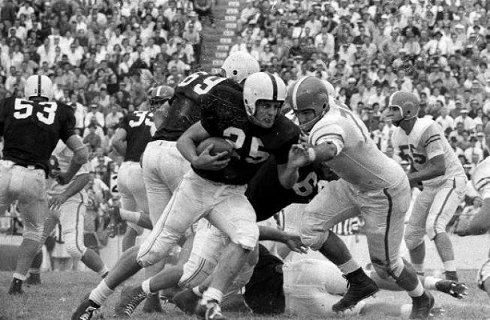 It wasn't Oklahoma's fault that their schedule was so awful. Their conference was always bad, and it was a minor miracle that one of those teams, Colorado, ended up ranked this season. The Sooners couldn't go to a bowl game this year because their conference had a "no repeat" rule, and they had played in the Orange Bowl the previous season. Archrival Texas, usually very strong, was 1-9 this year. Oklahoma tried to schedule themselves an MNC-level opponent in Notre Dame, the last team to beat them (in 1953--and Dame would also end their 47 game winning streak in 1957), but the Irish were 2-8 this season.

Oklahoma blasted through this schedule for an aggregate score of 466-51, and those huge scores have people putting this team on all-time best lists despite the near-complete lack of opposition they faced. They led the nation in scoring, rushing (391 yards per game), and total offense (481.7).

The only close game was the road trip to 8-2-1 Colorado (#22), and it was the only team Oklahoma played that did not have a losing record
. Oklahoma halfback Tommy McDonald scored on a 35 yard touchdown pass in the opening quarter, but Colorado scored 3 touchdowns, including a blocked quick kick, to lead 19-6 at the half. Oklahoma came out of the locker room fired up, and marched 80 yards, capped by a 6 yard touchdown pass from McDonald to halfback Clendon Thomas. They converted a pair of 4th downs during the drive, including one at their own 28 yard line. McDonald then scored on an 11 yard touchdown run, and that gave Oklahoma the lead for good at 20-19. An insurance touchdown made the final score 27-19.
Iowa 1956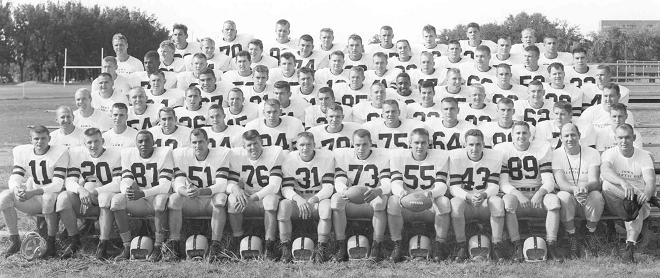 at Indiana (3-6)
27-0
Oregon State (7-3-1)
14-13
#17
Wisconsin (1-5-3)
13-7
Hawaii (7-3)
34-0
at Purdue (3-4-2)
21-20
Michigan (7-2)
14-17
#8

at Minnesota (6-1-2)
7-0
#7

Ohio State (6-3)
6-0
#16
Notre Dame (2-8)
48-8

Rose Bowl


Oregon State (7-3-1)

35-19

#17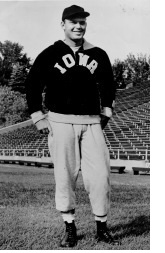 Iowa had mostly been a Big 10 also-ran in their football history. That changed for a while under Hall of Fame coach Howard Jones, who went 42-17-1 at Iowa 1916-1923, winning 2 Big 10 titles and the 1921 mythical national championship. But Jones moved on to Southern Cal, where he continued to win national championships, and Iowa eventually sank back into mediocrity, and worse. They still fielded top 25 teams 4 times in the first 6 years under Burt Ingwersen, who succeeded Jones as Iowa head coach, but then the bottom fell out, and 1930-1951, Iowa went 66-107-12, finishing ranked just 4 times in those 22 seasons.

Pulling them out of this funk was Hall of Fame coach Forest Evashevski (pictured at left), easily the greatest coach in Iowa football history. Greater than Howard Jones, you ask? As I said, "easily." Evashevski, known as "Evy," went 52-27-4 at Iowa 1952-1960, which is not as good a percentage as Jones' 42-17-1, but the schedules Evy faced at Iowa were absolutely nuts. He played 49 top 25 opponents, an average of 5.4 per year, while only playing 37 unranked teams. Jones, by contrast, played 19 top 25 teams and 41 unrated teams, a gigantic difference. Jones won 2 Big 10 titles, Evy 3, and Iowa claims 1 MNC under Jones, 3 under Evashevski
.

Forest Evashevski had been an All Big 10 quarterback at Michigan 1938-1940, then coach at Hamilton College in 1941, going 5-2, and at Washington State 1950-1951, going 11-6-2. Overall, he was 68-35-6 for his career.

Iowa had been a tough out for the big boys under Evashevski 1952-1955, but then they became a big boy themselves 1956-1960. That's because prior to this season, Evashevski installed the wing-T offense, developed at Delaware by Dave Nelson, a former teammate of Evashevski at Michigan. A hybrid of the single wing and T-formation, the wing-T was difficult to defend because it was all deception all the time, and Iowa perfected the offense by 1958, when they led the nation in both rushing and passing offense. 1956-1960, Iowa won 3 Big 10 titles, which they've never done before or since in any 5 year span, and as noted, the school claims 3 MNCs during this time

:

1956, 1958, and 1960.

Evy was very hard on his players, and some disliked or even hated him, and though he was generally beloved among writers, as he was very charming with them, his ambitions made him extremely difficult to get along with for coworkers who got in his way. He warred with his athletic director in the late 1950s before finally chasing him off, and he then wanted to serve as both athletic director and coach, but Iowa, in a move that was ultimately self-dooming, said that he could not do both. So he chose athletic director, but after his last year as coach in 1960, he spent the next 10 years sabotaging Iowa's head coaches in an effort to get Iowa to change its mind and let him be both coach and AD.

Jerry Burns was his successor as head coach, and Evashevski changed the recruiting rules and budget so as to make things much harder for Burns than they had been for Evy. Burns struggled for a while, then left for a very successful career as an offensive coordinator and then head coach for the Minnesota Vikings. Evashevski then hired Ray Nagel as coach, and proceeded to go to war against him. He even recruited players to form a mutiny against Nagel and declare that Evashevski should be coach, and finally Iowa had had enough and fired Evashevski as AD. The result of all this was that Iowa did not have a winning season in football for 19 straight years 1962-1980, and of course they have never come close to being the kind of football program they had been with Evashevski as coach.

The Players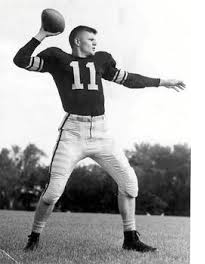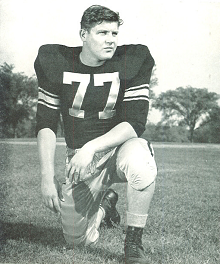 Iowa was led by nationally underrated quarterback Ken Ploen (pictured above at left), the Big 10 Player of the Year and the Rose Bowl MVP. He topped the team in rushing (487 yards), passing (386), and scoring (6 touchdowns, and passing for another 5). The Hall of Fame only considers first-team All Americans now, which is too bad in this case, because Ploen should probably be there. He went on to an 11 year career with Winnipeg in the CFL, winning 4 championships, and he is in the CFL Hall of Fame. He even has a street named after him in Winnipeg.

Tackle Alex Karras (pictured above at right) is in the CFB Hall of Fame. He was a nonconsensus All American this season, and he would be a consensus AA in 1957, winning the Outland and finishing 2nd for the Heisman. He played 12 years for the Detroit Lions and made 4 Pro Bowls.

End Jim Gibbons would be a nonconsensus AA in 1957, and he played with Karras for 11 years with the Lions, making 3 Pro Bowls. He was on the receiving end of most of Ploen's throws this year.

Backup quarterback Randy Duncan is a Hall of Famer, and he would have a terrific season in 1958

:

consensus AA, Walter Camp Award, 2nd for Heisman, Helms Player of the Year, Big 10 MVP. He led the nation in passing yards and completion percentage that season. He proved necessary this season as well, as Ken Ploen was knocked out of an early game against Oregon State, and Duncan came in and led Iowa to a pair of 4th quarter touchdowns to win 14-13.
Iowa's Season
Buckle your seatbelts, this is going to be a long one, because while Oklahoma's season was practically drama-free, Iowa's season was practically all drama. The opener was an exception, a 27-0 win at 3-6 Indiana, but things got hairy the next week hosting Oregon State.

The game ended up being a preview of this season's Rose Bowl, which was unthinkable at the time, because Oregon State had only once ever won their conference, in 1941, and they had already lost to Southern Cal the week before, and for Iowa's part, they hadn't won the Big 10 since 1922. Iowa fumbled away the opening kickoff, and OSU threw a 30 yard touchdown pass for a very quick 7-0 lead that held up until the half. Then the Beavers scored on a long run in the 3rd quarter to put the lead at 13-0. With starting quarterback Ken Ploen out due to an injury, things looked dim for Iowa, but the turnaround happened quickly in the 4th quarter. Fullback John Nocera threw a trick-play touchdown pass, OSU fumbled the ensuing kickoff, and substitute quarterback Randy Duncan tossed a 33 yard touchdown pass for a 14-13 win. Oregon State would fall to Iowa again in the Rose Bowl (covered below), finishing 7-3-1, and I have them ranked #17 for 1956.

Things didn't get much easier the next week hosting Wisconsin, who like OSU had lost to Southern Cal the week before playing Iowa. Late in a scoreless first half, Iowa marched 78 yards, capped by an 11 yard Ken Ploen touchdown pass with about 10 seconds left on the clock, to forge a 6-0 halftime lead. Wisconsin sent 2 kickoffs out of bounds to start the 3rd quarter, and thus after the 3rd try, Iowa began the ultimately deciding drive at midfield. Ploen scored on a line plunge to make it 13-0. Wisconsin drove 73 yards, finishing with a 22 yard touchdown pass, to make it 13-7 midway through the final quarter, but that's as close as they got. The Badgers drove to a first down at the Iowa 37 yard line minutes later, but they lost yardage from there. Then they drove to a first down at the Iowa 33 in the closing minute, but threw an interception.

Wisconsin finished 1-5-3, so this was a rather poor performance, but Iowa wasn't the only team Wisconsin troubled this season. The Badgers had only lost by a touchdown to 8-2 Southern Cal the previous week, and they would tie 6-1-2 Minnesota (#7) in their season finale. Iowa only outgained Wisconsin 233 yards to 229, and they suffered 3 turnovers to 2 for Wisconsin. After a 34-0 win over cupcake Hawaii the next week, Forest Evashevski bemoaned to the press, "This is the poorest offensive team I've ever had at Iowa." But that can happen when you install an entirely new offense.




Luckily for Iowa, the offense woke up for at least the first half in their next game at Purdue, long enough to hold on for the win in another nail biter. Iowa took the opening kickoff and drove 65 yards, the last 9 coming on a Ken Ploen touchdown pass to end Jim Gibbons, to lead 7-0. Purdue, led by future NFL Hall of Fame quarterback Len Dawson, later recovered an Iowa fumble at midfield, and drove from there to tie the game 7-7. After the ensuing kickoff, Iowa drove 64 yards to another touchdown and a 14-7 lead early in the 2nd quarter. The key play was a 9 yard pass from Ploen to Gibbons on 4th and 1 from the Purdue 19 yard line. Purdue answered with an 80 yard touchdown drive, converting on 4th & 2 at the Iowa 18 with a Len Dawson touchdown pass, and it was 14-14.

Before half, Iowa scored what would be the deciding touchdown, or more precisely, deciding extra point, after an 80 yard drive. The big plays here were a 35 yard run by Ploen and a 30 yard run by halfback Bill Happel to score his 2nd touchdown of the game. Ploen kicked the ultimately decisive extra point (Gibbons had kicked the other 2), and it was 21-14 at the half. Iowa came out of halftime focusing on defense, and Purdue struggled to move the ball until the 4th quarter, when things got very hot for Iowa. Starting at midfield, Len Dawson connected on three 3rd down passes, the last for a 20 yard touchdown, but he missed the extra point by inches to the left, and Purdue would lose by that much, 21-20.

But Purdue did not go quietly. Their next drive carried to the Iowa 25, where they fumbled the ball away on a hard hit, Iowa fullback Fred Harris recovering. Still not done, Dawson passed them down the field on their next drive from their own 4 to the Iowa 21, but here Fred Harris came to Iowa's rescue again, hitting a receiver just as the ball hit his hands and forcing what was ruled a fumble. Iowa recovered the ball and ran out the clock. Purdue finished the season 3-4-2, so this was another poor performance, but like Wisconsin, Purdue was pesky to others as well, losing to 6-1-2 Minnesota (#7) by 7 points and to 7-2 Michigan (#8) by 3. Iowa gained 349 yards on Purdue, 290 on the ground, but Purdue totaled 405, mostly through the air.

November Gauntlet
Iowa had barely survived the easy half of their schedule, and now they faced a November gauntlet of Michigan, Minnesota, Ohio State, and Notre Dame in consecutive weeks. Luckily for the Hawkeyes, Notre Dame was down this year, finishing 2-8, but that still left them playing their 3 toughest opponents in 3 straight weeks. First up was Forest Evashevski's alma mater Michigan, who was coming to Iowa City with an anemic record of 3-2 thanks to losses of 9-0 to Michigan State (7-2, #9) and 20-7 to Minnesota (6-1-2, #7), both at home. But Michigan was favored because they had also won 42-13 over UCLA (7-3, #19) and 48-14 over Army (5-3-1, #14), and because Iowa had not beaten Michigan since 1924. That streak would continue.

Michigan opened the scoring with a 1st quarter field goal to lead 3-0. Iowa tackle Alex Karras recovered a fumble at the Michigan 24, substitute quarterback Randy Duncan cashing in the opportunity with a 13 yard touchdown pass, then Karras recovered a botched quick kick at the Michigan 44, setting up a 33 yard Ken Ploen touchdown scramble, and Iowa led 14-3 at half. Unfortunately for Iowa, a hurricane of injuries swept them up, hitting 7 players, and Michigan rallied for a 17-14 win in the 2nd half. Michigan drove 74 yards for their first touchdown, then they marched 80 yards, eating up more than 9 minutes of game clock and scoring the deciding touchdown with a minute to play. Iowa was held to just 77 yards in the 2nd half. Michigan won their rest easily, including 19-0 at Ohio State (6-3, #16) in their finale, to finish 7-2 and ranked #8.

Next up was a trip to Minnesota, then 6-0-1 and ranked #6. They were running their own gauntlet, and were coming off victories over 7-2 Michigan (20-7 on the road) and 7-3-1 Pitt (finished ranked #10). The battered Hawkeyes went into a shell in this game, playing field position and defense to make a first quarter touchdown stand up for a 7-0 win. The touchdown was set up by a fumble recovery at the Minnesota 38. Ken Ploen hit a 7 yard pass to Jim Gibbons on 4th and 4 from the 8 yard line, and fullback Fred Harris went over goal on the next play. Minnesota lost 4 fumbles, and Iowa halfback Bill Happel intercepted 2 passes, one of them at his own 1 yard line. When the clock hit zero, Iowa tackle Alex Karras was so exhausted by the slugfest that he had to be carried from the field.

Iowa won possession of this rivalry game's trophy, Floyd of Rosedale (pictured below). Minnesota next edged 7-2 Michigan State (#9) 14-13, then suffered a tie at 1-5-3 Wisconsin in their finale, finishing 6-1-2 and ranked #7.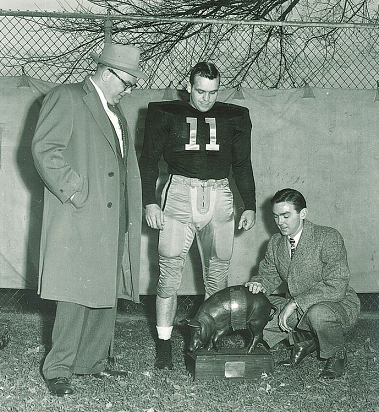 Ohio State came to town next, like Minnesota ranked #6 at the time (Iowa was #7), and they were sporting a 6-1 record, the loss coming 7-6 to Penn State (6-2-1, #15). The Rose Bowl would go to the winner, and Iowa's 6-0 victory here is considered to be among the most important in the program's history, and the highlight of the season, though in reality I think the Minnesota win was their best of 1956 (Minnesota also would have won the Big 10 if Iowa hadn't beaten them). Still, Ohio State was bringing a Big 10 record 17 straight conference victories into the game and was looking to win the conference's first title "threepeat." Iowa was an underdog for the 3rd straight week, this time by 6 points. Evashevski took it easy on his wounded team in practice, but he reminded them of the high stakes with a now legendary sign in the locker room that read, "You have 60 minutes to play the game Saturday, and the rest of your life to remember it."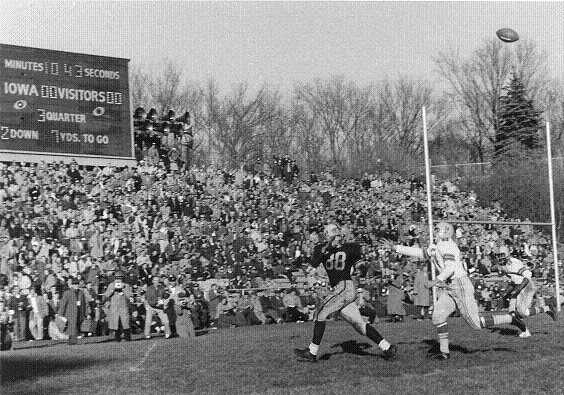 The first half was quiet. Ohio State came up very short on a 49 yard field goal try in the 2nd quarter, and it remained 0-0 at half. But Iowa took the 2nd half kickoff and drove 63 yards for the winning touchdown, a 17 yard play-action pass from Ken Ploen to Jim Gibbons (pictured above), considered to be among the biggest plays in Iowa football history. Ohio State only managed 53 yards and 3 first downs in the 2nd half, and they totaled a mere 165 yards for the game. Iowa fans had to be cleared off the field twice before the final gun sounded, and then they tore down the goalposts. Iowa had secured their first Rose Bowl, and their first bowl game of any kind.

Ohio State still could have won a record 3rd straight Big 10 title, sharing it with Iowa, but they lost 19-0 at home to 7-2 Michigan (#8) the next week, finishing them at 6-3 and ranked #16. Iowa demolished 2-8 Notre Dame 48-8 in their regular season finale.

The Rose Bowl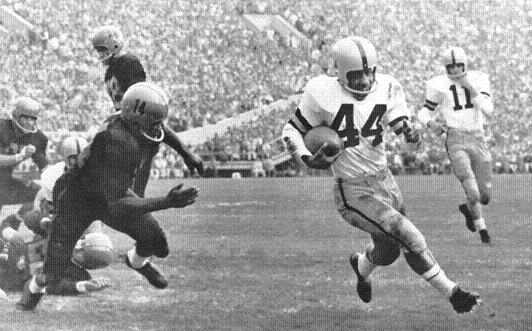 The Rose Bowl provided an excellent measurement of how much better Iowa was by the end than they'd been early, as they'd had to rally to beat Oregon State 14-13 at home in game 2, and this time they smashed the Beavers 35-19. Quarterback Ken Ploen, the Rose Bowl MVP, ran 49 yards for a touchdown early in the game. Iowa scored again to lead 14-0 in the opening quarter, then again to lead 21-6 at the half. The teams traded touchdowns the rest of the way. Ploen hit Jim Gibbons for a touchdown pass in the final quarter (he was 9 of 10 passing), and OSU answered with a 35 yard touchdown pass to close the scoring. Iowa halfback Collins Hagler (pictured carrying the ball above) scored 2 touchdowns on runs of 9 and 66 yards.

Iowa outgained Oregon State 408 yards to 296, and OSU lost 3 fumbles. As noted earlier, OSU finished 7-3-1 and ranked #17. Alex Karras had this to say about the trip

:

"Pasadena is the most boring town I've ever been in. Menopause Manor. I remember one guy on the team got a date. It was me, and she was 67 years old. I guess you could call that a highlight."

Oklahoma vs. Iowa
Here are the significant games for Oklahoma and Iowa in 1956. The opponent rankings
come from my fixed AP poll for 1956
.


Oklahoma 10-0
Iowa 9-1

| | | |
| --- | --- | --- |
| at Colorado (8-2-1) | 27-19 | #22 |

Oregon State (7-3-1)
14-13
#17
Wisconsin (1-5-3)
13-7
Unranked
at Purdue (3-4-2)
21-20
Unranked
Michigan (7-2)
14-17
#8
at Minnesota (6-1-2)
7-0
#7
Ohio State (6-3)
6-0
#16

Rose Bowl


Oregon State (7-3-1)
35-19
#17

Oklahoma defeated their unranked opponents by an average of 49-4, and Iowa defeated theirs by an average of 29-7.

Wow, just look at that table of significant games! It couldn't be clearer that what we have here is the classic case of the team with the better record and weaker schedule going up against the team with the weaker record and tougher schedule. But it was a

vastly

tougher schedule... I mean, light years from the schedule Oklahoma faced. That looks good for Iowa, but the performance difference between these teams was just as vast. Oklahoma destroyed their opponents, and no one came within a touchdown of them (no 2-point conversion at this time). Iowa had 6 close games, losing one of them, and 2 of their opponents lost because they missed one extra point. Furthermore, one of the opponents they beat by an extra point had a losing record, and one of the opponents they beat by 6 at home was 1-5-3! But even beating the #17 team by a missed extra point at home is a pretty poor performance for an MNC hopeful. And for that matter, so is a 6-0 home win over the #16 team.


This case is very similar to that of 8-0 Dartmouth vs. 7-1 Michigan and 8-1 Pittsburgh in 1925. Like Oklahoma 1956, Dartmouth 1925 destroyed their opponents (average score 43-4, Oklahoma 47-5), and like Oklahoma, the only top 25 team they played was ranked #22 (6-2 Cornell, whom they beat 62-13). Michigan 1925 played 3 top 25 teams, and 6 teams that would have ranked in the top 31, while Pitt 1925 played 4 top 25 teams and another who would have ranked about #35. Iowa 1956 tops both those teams with 5 top 25 opponents (and all in the top 17), but on the other hand Michigan and Pitt each had just 1 close game aside from their loss in 1925. Michigan beat 6-1-1 Wisconsin (#9) 21-0 and 5-2-1 Minnesota (#14) 35-0, while Pitt beat 8-1 West Virginia (#5) 15-7, better results than any put up by Iowa in 1956.

I said in the 1925 article that Michigan and Pitt were

very

close to meriting a share of the MNC, and the same goes for Iowa 1956, but like Michigan and Pitt 1925, I'm going to have to rule against Iowa 1956. Iowa's performances were just too consistently mediocre-to-poor, and while it is extremely tempting to share the title between these teams, given that Oklahoma's schedule was a joke and Iowa's was very strong, Iowa's games against 1-5-3 Wisconsin and 3-4-2 Purdue were particularly egregious, and the nails in the coffin for Iowa's 1956 MNC pretensions.

It should be noted that a

major

factor for anyone selecting Oklahoma as an MNC for 1956 is the fact that this was basically the same team that had gone 11-0 in 1955 and beaten #2 Maryland by 2 touchdowns in the Orange Bowl. Similarly, Dartmouth had gone 7-0-1 in 1924, and ranked #4 for that season, so everyone knew they were a great team despite the weak schedule in 1925, and they definitely performed like it. Harvard's claim to #1 for 1913 also rests quite a bit on what they had done the previous season, and again, they performed like it. Had some mid-major team, like Arizona State for example, come out of nowhere and gone 10-0 with the same schedule and results as Oklahoma had in 1956, they would not even be considered a

contender

for the crown. But that makes logical sense, because like Dartmouth 1925 and Harvard 1913, Oklahoma had already earned the benefit of the doubt for 1956.

By the way, just to reinforce how bad Oklahoma's schedule was this year

:

although the only rated opponent Dartmouth played in 1925 was also a #22 team, Dartmouth's opponents were 35-30-4 in 1925, Oklahoma's
32-63-6 this season, and Dartmouth played 5 winning opponents, which is 5 times as many as Oklahoma played. Still, the fact is, if you give the best team the worst schedule, they're still the best team
.
Awards Ceremony
1956 #1:

11-0 Oklahoma


National Co-champion:

None


Contender:

9-1 Iowa

These are the awards I have been handing out for each season, except seasons when there are no contenders. For this purpose, what I mean by a contender is a team that I think is very close to being worthy of sharing the national championship. A team that you could make an argument for, even if that argument is weak. But the contenders are teams that I myself do not see as national champions.
Grading the Selectors
I have been grading the NCAA Records Book's selectors for each season, and keeping a grade point average, so we can see who is relatively good at selecting national champions and who is not. And although I do not consider computer ratings to be legitimate national championship selectors, I have been including them in this section as well, just for comparison's sake.
I am grading on a scale of 0-5 (5 being the best).


Sagarin's ELO-Chess system ranked 10-1 Tennessee #1. Grade

:

0.0



Berryman's system went with 10-1 Georgia Tech. Grade

: 0.0



Sagarin's original recipe formula gives us a tie for #1 between 10-1 Georgia Tech and 10-0 Oklahoma. Grade

: 2.2



The College Football Researchers Association selected Iowa to sit alone on the throne. Grade

: 1.8



Everyone else went with 10-0 Oklahoma. Grade

: 5.0


9-1 Iowa was a close call this season, and I don't fault the CFRA much for thinking the Hawkeyes deserved a share of the MNC. But I do fault them much for not even sharing it with Oklahoma.

Grade point averages 1936-1956 (the UPI coaches' poll and the Football Writers Association of America will not be added until they have selected at least half as many champions as the others)

:




1) DeVold (math system)




4.96

2) National Championship Foundation
4.83

3) Billingsley (math)

4.76

4)

Dunkel (math)

4.58

5)

Poling (math)


4.54

6)

College Football Researchers Association




4.533

7)

Houlgate (math)

4.529

8) Litkenhous (math)

4.32
9) Boand (math)
4.29
10) Sagarin-ELO (math)
4.252
11) AP Poll
4.248
12) Sagarin (math)
4.19

13) Helms Foundation

4.14

14) Williamson (math)
3.73
15) Berryman (math)
3.48

Grade point averages 1919-1935
:
| | |
| --- | --- |
| 1) Boand (math system) | 4.26 |
| 2) College Football Researchers Association | 4.22 |
| 3) Poling (math) | 4.11 |
| 4) Helms | 4.09 |
| 5) Sagarin-ELO (math) | 4.06 |
| 6) National Championship Foundation | 3.96 |
| 7) Dickinson (math) | 3.49 |
| 8) Houlgate (math) | 3.35 |
| 9) Billingsley (math) | 3.34 |
| 10) Sagarin (math) | 3.28 |
| 11) Parke Davis | 2.77 |

How the systems that selected champions for 1901-1918 did

:



| | |
| --- | --- |
| 1) Houlgate (math system) | 4.5 |
| 2) Helms | 4.3 |
| 3) Parke Davis | 4.2 |
| 4) National Championship Foundation | 3.7 |
| 5) Billingsley (math) | 3.6 |