Home
1950 College Football National Championship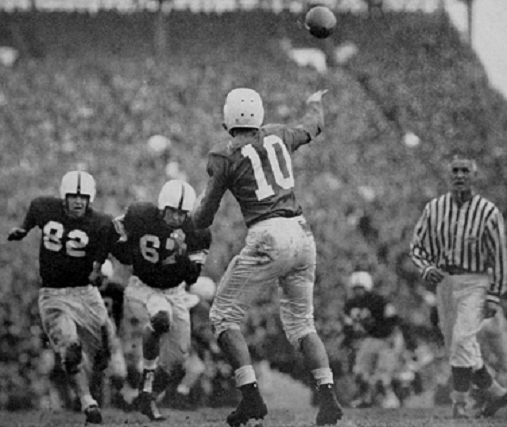 Pictured above is 11-1 Kentucky's consensus All American quarterback, Babe Parilli, tossing the pigskin in a huge, season-defining 13-7 upset of #1 Oklahoma (10-1) in the Sugar Bowl. The AP poll ended before the bowls, so Oklahoma is still considered the 1950 mythical national champion (MNC) by those who care about partial-season poll "champions." I don't, so I do not consider Oklahoma 1950 to be a national champion, mythical or otherwise. But who is?

The #2 team was Army, 8-0 at the time of the last poll, but the AP poll didn't just end before the bowl games, it ended before the regular season was even over, and Army was upset by 3-6 Navy a week after the poll ended, finishing them at 8-1. The #3 team was 9-2 Texas, but they lost to Oklahoma during the regular season, and they lost to 11-1 Tennessee in the Cotton Bowl.

11-1 Tennessee, who was #4, is therefore our rightful national champion of the 1950 season. They took an upset loss to 4-5 Mississippi State early in the season, but they bounced back with 4 wins over AP-rated teams, more than anyone else attained this season. The biggest win came 7-0 over 11-1 Kentucky, as Kentucky gave #1 Oklahoma their only loss in the Sugar Bowl. Tennessee's victory over #3 Texas in the Cotton Bowl was just icing on the cake.

Here is how all of the organizations listed in the NCAA Records Book see the 1950 mythical national championship (omitting math/computer ratings, which are not generally accepted as MNCs)

:





10-1 Oklahoma

:

AP Poll

,

Helms,

UPI Poll (coaches)


11-1 Tennessee

:

CFB Researchers, National Championship Foundation

This was the debut season for the United Press International coaches' poll, and like the AP poll, it ended before the bowl games were played. For those who count all games played, Tennessee is the consensus choice. But there were actually a lot of potential post-bowl MNC contenders for this season, given that Tennessee did take an upset loss. I will only be doing a full summary of Tennessee for this article, as I believe that they are a slam dunk as sole MNC for 1950, but I will briefly summarize all of the other potential MNC contenders first.

All rankings in the following article, except as noted, come from my 1950 fixed AP poll.

1950's MNC Also-Rans
There are 7 teams aside from Tennessee who have some argument for an MNC, however weak that argument is
. I'll cover them in the order of their ranking in my fixed AP poll for 1950. A total of four schools claim an MNC for this season. Obviously, Tennessee's is the only one I recognize.
#2 Kentucky
North Texas (7-2-1)
25-0
Louisiana State (4-5-2)
14-0
Mississippi (5-5)
27-0
Dayton (4-6)
40-0


Cincinnati (8-4)
41-7


at Villanova (4-5)
34-7


at Georgia Tech (5-6)
28-14
Florida (5-5)
40-6
at Mississippi State (4-5)
48-21
North Dakota
83-0
at Tennessee (11-1)
0-7
#1

Sugar Bowl


Oklahoma (10-1)

13-7

#3
11-1 Kentucky is one of the schools that claims an MNC for this season, and in my opinion it is the most ridiculous of the claims. Yes, they beat #1 Oklahoma 13-7 in the Sugar Bowl, but they lost at 11-1 Tennessee 7-0 in their regular season finale. Why does head-to-head matter in one case and not the other? It makes no sense.

One could argue that Tennessee's 7-0 loss at 4-5 Mississippi State was just

that

bad a result
:

Kentucky won 48-21 at MSU. And Tennessee's win over Kentucky was a close home win, 7-0. However, the larger problem is that Oklahoma was the

only

rated team Kentucky defeated in either the original AP poll's top 20 or the fixed and expanded AP poll top 25. In fact, Oklahoma was the only

winning

major team Kentucky defeated all year! That is simply an atrocious schedule. Tennessee, meanwhile, defeated 4 teams that were ranked in both the original and fixed AP polls

:

11-1 Kentucky (#2 in fixed poll), 9-2 Texas (#4), 9-2 Alabama (#16), and 8-3 Washington & Lee (#24). On top of that, Tennessee also defeated 7-3 Duke and 7-4 Vanderbilt, giving them 6 wins over winning teams to Kentucky's 1! The difference in accomplishments here is more than vast, and it comes on top of Tennessee's head-to-head win.

Kentucky was coached by legendary Hall of Famer Paul "Bear" Bryant, who went 60-23-5 there 1946-1953. He never did beat Tennessee's equally legendary coach, Bob Neyland. On the field, Kentucky was led by consensus All American quarterback Babe Parilli. He threw for 1627 yards and 23 touchdowns this season and 4351 yards in his career. He repeated as consensus AA in 1951, then went on to an 18 year pro career, and he is in the College Football Hall of Fame. Tackle Bob Gain was also a consensus AA this season, and he is also in the Hall of Fame. Center Doug Moseley would be a nonconsensus All American in 1951.

Sagarin's original formula is the only math-based system listed in the NCAA Records Book that puts Kentucky #1. Sagarin's ELO-Chess system, developed for the BCS, crowns Tennessee, along with 3 other math-based systems.
#3 Oklahoma
Boston College (0-9-1)
28-0
Texas A&M (7-4)
34-28
(Dallas) Texas (9-2)
14-13
#4
Kansas State (1-9-1)
58-0


at Iowa State (3-6-1)
20-7


at Colorado (5-4-1)
27-18


at Kansas (6-4)
33-13
Missouri (4-5-1)
41-7
Nebraska (6-2-1)
49-35
at Oklahoma State (4-6-1)
41-14

Sugar Bowl


Kentucky (11-1)



7-13


#2
Oklahoma also claims an MNC for 1950, but though I don't agree, I don't fault them for the claim, as AP poll championships are considered to be

the

standard by the public at large. Oklahoma had gone 11-0 in 1949, and I credit them with a share of the MNC for that season (as did the College Football Researchers Association), but the school doesn't claim it because they did not finish #1 in the AP poll. So at least they are consistent. Much unlike Tennessee, who claims an MNC for this season because #1 Oklahoma lost their bowl game, while also claiming an MNC for 1951, despite the fact that #1 Tennessee lost their ensuing bowl game that season. So they count bowl games one year, then ignore them the next!

I covered Oklahoma's Hall of Fame coach, Bud Wilkinson, in the 1949 national championship article. The stars this year were fullback Leon Heath and tackle Jim Weatherall, both consensus AA and Hall of Famers. Weatherall was also the placekicker, and kicked 37 extra points this year and 39 in 1951. He won the Outland Trophy in 1951, then moved on to a 7 year pro career. End Frank Anderson and halfback Buddy Jones were nonconsensus AA this year.

Oklahoma had lost an incredible amount of talent and experience from their 11-0 1949 squad, so this year's team did an admirable job of keeping it going until the bowl game. That bowl loss snapped a 31 game winning streak.
#5 Princeton
| | | |
| --- | --- | --- |
| Williams (7-1) | 66-0 | |
| Rutgers (4-4) | 34-28 | |
| Navy (3-6) | 20-14 | |
| at Brown (1-8) | 34-0 | |
| Cornell (7-2) | 27-0 | #17 |
| Colgate (5-3) | 45-7 | |
| Harvard (1-7) | 63-26 | |
| at Yale (6-3) | 47-12 | |
| Dartmouth (3-5-1) | 13-7 | |
9-0 Princeton is the last of the schools that claims an MNC for this season. Their claim is no surprise, because Princeton's habit of claiming retroactive MNCs would make even an SEC school blush. They claim 28 national championships, the most of any school. Some of those claims are dubious, and this one is simply laughable. It is the last season for which any Ivy League team claims an MNC. By this point in time, the schools now in the Ivy League had withdrawn so far from major college football that they were effectively playing in a lower division. At best, they were at the level of today's Conference USA. And if a CUSA team went 12-0 today, and played no major conference teams, would they claim an MNC? No, of course not. Though I suppose they might claim an MNC decades later, as teams are wont to do. Perhaps 30 years from now Boise State will be claiming a few from the last 10 years.

Tennessee did take a loss, and to a bad team, 4-5 Mississippi State, while Princeton produced a perfect record. However, Tennessee also defeated 2 top 5 teams, 4 top 25 teams, and 2 other major conference winning teams. Princeton defeated no rated teams in the original AP poll, and they defeated just 1 rated team in the fixed poll, 7-2 Cornell (#17). And Cornell didn't play much of a schedule themselves. Furthermore, Princeton repeatedly struggled to get by weak opponents, edging 4-4 Rutgers 34-28, 3-6 Navy 20-14, and 3-5-1 Dartmouth 13-7 in their finale. They did not remotely play an MNC-caliber schedule, nor did they perform particularly well against the weak schedule they did play.

Princeton was coached by Hall of Famer Charlie Caldwell, who went 146-67-9 for his coaching career, mostly at Williams. Princeton's star player this season was Hall of Fame halfback Dick Kazmeier, a nonconsensus AA this season and a consensus AA and Heisman Trophy winner in 1951. Tackle Hollie Donnan and center Red Finney were also nonconsensus AA this season, and Donnan joins Kazmeier in the Hall of Fame. End Frank McPhee would be nonconsensus AA in 1951 and 1952.

#6 Army
| | | |
| --- | --- | --- |
| Colgate (5-3) | 28-0 | |
| Penn State (5-3-1) | 41-7 | |
| Michigan (6-3-1) | 27-6 | #8 |
| at Harvard (1-7) | 49-0 | |
| at Columbia (4-5) | 34-0 | |
| at Penn (6-3) | 28-13 | #18 |
| New Mexico (2-8) | 51-0 | |
| at Stanford (5-3-2) | 7-0 | #22 |
| (Philadelphia) Navy (3-6) | 2-14 | |
Army was 8-0 and ranked #2 when the last AP poll was published, but they blew an MNC when they were upset 14-2 by 3-6 Navy in Philadelphia the next week. Still, at 8-1 they have some argument for sharing an MNC with 11-1 Tennessee, who also took an upset loss to a losing team. Army defeated 3 teams that are ranked in the fixed AP poll (#8 Michigan, #18 Penn, and #22 Stanford), just one less than Tennessee. However, Army's upset loss came in their finale, while Tennessee's came in their 2nd game. And Tennessee defeated 2 top 5 teams, #2 Kentucky (11-1) and #4 Texas (9-2), much more impressive than Army's best win, over #8 Michigan (6-3-1). So I don't quite see Army as a legit contender for the 1950 crown.

Army had gone 9-0 in 1949, but the school does not claim an MNC for that year, and they fell just short of an MNC for 1949 in my estimation as well. Their loss to Navy at the end of 1950 snapped a 17 game winning streak, going back to a tie with Navy that ended their 1948 season. That year, Army finished 8-0-1, Navy 0-8-1, so you can see how fierce a rivalry game that was. Army's unbeaten streak prior to the 1950 Navy loss had been 28 games.

Army does claim MNCs, all legit, for 1944, 1945, and 1946. I covered their Hall of Fame coach, Red Blaik, in the linked 1944 national championship article. This season, end Dan Foldberg was a consensus AA, and tackle Charles Shira and guard/linebacker Elmer Stout were nonconsensus AA.

#7 Michigan State
| | | |
| --- | --- | --- |
| Oregon State (3-6) | 38-13 | |
| at Michigan (6-3-1) | 14-7 | #8 |
| Maryland (7-2-1) | 7-34 | |
| William & Mary (4-7) | 33-14 | |
| Marquette (5-3-1) | 34-6 | |
| at Notre Dame (4-4-1) | 36-33 | |
| Indiana (3-5-1) | 35-0 | |
| Minnesota (1-7-1) | 27-0 | |
| at Pittsburgh (1-8) | 19-0 | |
8-1 Michigan State's case for sharing an MNC with Tennessee is similar to that of 8-1 Army. Like Tennessee and Army, Michigan State took an upset loss to an unranked team, although MSU's upsetter at least had a winning record

:

7-2-1 Maryland. And whereas Army took their upset in their finale, MSU took theirs early in the season, like Tennessee did. However, while Tennessee defeated 4 ranked teams and Army defeated 3, Michigan State only defeated 1, #8 Michigan (6-3-1). Army also beat Michigan, but they beat them 27-6, while MSU just edged them 14-7. Finally, MSU struggled to get by 4-4-1 Notre Dame 36-33, while neither Tennessee nor Army had a close win over an unranked opponent. So I think MSU's case is weaker than Army's.

Michigan State was on the verge of greatness, about to go 9-0 over the next 2 seasons, then join the Big 10 in 1953. Their rise to the big time was very rapid, and was the work of Hall of Fame coach Clarence "Biggie" Munn. His career was short but spectacular, and he went 54-9-2 at MSU 1947-1953, winning a pair of MNCs, then the Big 10 title in 1953, MSU's first season in the conference. He then became the athletic director 1954-1971.

With a pair of 9-0 seasons on the horizon, this MSU roster obviously held a lot of players that would make a first team All American list during their careers. Easily more than any other team in 1950. Fullback Sonny Grandelius was the only AA this year (nonconsensus), rushing for 1023 yards and 11 touchdowns. He was the team MVP. Tackle Don Coleman would be a consensus AA in 1951, win the team MVP vote, and come in 2nd for the Outland Trophy. He is in the Hall of Fame.

End Bob Carey would also be a consensus AA in 1951. Quarterback Al Dorow would be a nonconsensus AA at defensive back in 1951. Running back Don McAuliffe, linebacker Dick Tamburo, and guard Frank Kush would all be nonconsensus AA in 1952. Frank Kush would go on to become a Hall of Fame coach, leading Arizona State into the big time and into the PAC 10, much as his coach at Michigan State led MSU into the big time and into the Big 10.

#10 Wyoming
Montana State (1-8)
61-13
Baylor (7-3)
7-0
(#26)
Colorado State (6-3)
34-0
at Utah State (2-9)
40-7
at Utah (3-4-3)
53-13
New Mexico (2-8)
44-0


at Idaho (3-5-1)
14-7


at Brigham Young (4-5-1)
48-0
at Denver (3-8-1)
42-12



Gator Bowl


Washington & Lee (8-3)

20-7


#24
10-0 Wyoming's case for sharing an MNC is very similar to that of 9-0 Princeton, but of course, that means that the reason they don't merit sharing an MNC is very similar as well. Their schedule just wasn't good enough. Like Princeton, Wyoming defeated just one rated opponent

:

20-7 over #24 Washington & Lee (8-3) in the Gator Bowl. That is a particularly nice result because Tennessee only beat Washington & Lee 27-20 at home, and the Vols were outplayed in that game for the most part, winning on 3 touchdown returns. It should be noted, however, that Washington & Lee played the Gator Bowl without star fullback Walt Michaels, a future all-pro linebacker. Wyoming had just one weak performance, 14-7 at 3-5-1 Idaho, while Princeton had 3 close wins over weak opponents (Tennessee had none). And Wyoming beat a good major conference team as well, topping 7-3 Baylor (would be ranked #26) 7-0. I would rate Wyoming higher than Princeton myself.

However, the AP poll's low ranking of Wyoming is a valid choice, because most of Wyoming's schedule was arguably weaker than even Princeton's. I find that argument highly dubious, but there isn't enough data to fully compare the power level of the Rocky Mountain region with the old guard Eastern teams, so there is no way to know for sure. One thing we can be sure of, though, is that like Princeton, Wyoming did not play a schedule that puts them into any real MNC contention for this season.

Wyoming was coached by Bowden Wyatt, who is in the Hall of Fame as both a player and a coach. He played at Tennessee for Bob Neyland's 1938 MNC team. He went 39-17-1 at Wyoming 1947-1952, winning 2 conference titles. He then coached at Arkansas and Tennessee, winning one conference title for each, and he was 99-56-5 for his career overall. The star player for Wyoming this year was halfback Eddie Talboom, a nonconsensus AA and Hall of Famer. He ran, passed, punted, and was the placekicker, scoring 130 points this season. For his career, he scored 34 touchdowns, kicked 99 extra points, and threw 21 touchdown passes. End Dewey McConnell would be a nonconsensus AA in 1951

#11 Clemson
Presbyterian (5-5)
55-0
at Missouri (4-5-1)
34-0
North Carolina State (5-4-1)
27-0
at South Carolina (3-4-2)
14-14


at Wake Forest (6-1-2)
13-12


Duquesne (2-6-1)
53-20


at Boston College (0-9-1)
35-14
Furman (2-8-1)
57-2
at Auburn (0-10)
41-0

Orange Bowl


Miami-Florida (9-1-1)

15-14

#15
9-0-1 Clemson took an upset tie (at 3-4-2 South Carolina), while Tennessee took an upset loss, so that's Clemson's argument. However, like Princeton and Wyoming, Clemson only defeated one rated opponent, 9-1-1 Miami-Florida (#15) 15-14 in the Orange Bowl. Unlike Princeton and Wyoming, of course, they took the upset tie. So I'd say that Princeton and Wyoming had better cases than Clemson did. Meaning that Clemson wasn't close to meriting an MNC for this season.

Clemson's coach was Hall of Famer Frank Howard. He played for Alabama's 1930 MNC team, then moved on the next season to Clemson, where he remained for the rest of his life. He was an assistant coach 1931-1939, then head coach 1940-1969, going 165-118-2 and winning 2 Southern Conference titles and 6 ACC titles. His best seasons were an 11-0 finish in 1948 and this 9-0-1 campaign. There were no nationally notable players on Clemson's roster this year. Fullback Fred Cone rushed for 845 yards and scored 92 points, and he was all-conference.

Tennessee 1950

Southern Miss (5-5)
56-0
at Mississippi State (4-5)
0-7
at Duke (7-3)
28-7
Tennessee-Chattanooga (1-9)
41-0


Alabama (9-2)
14-9
#16

Washington & Lee (8-3)
27-20
#24

North Carolina (3-5-2)
16-0
Tennessee Tech (4-7)
48-14
Mississippi (5-5)
35-0
Kentucky (11-1)
7-0
#2
at Vanderbilt (7-4)
43-0

Cotton Bowl


Texas (9-2)

20-14

#4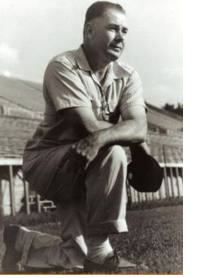 Tennessee had previously split the 1938 MNC with Texas Christian. The coach then was still the coach in 1950, Hall of Famer Bob Neyland (pictured at left).
He had played at end for Army's 1914 MNC team, and he coached at Tennessee in 3 stints, 1926-1934, 1936-1940, and 1946-1952, going 173-31-12. That record gets him a high ranking on the list for all-time FBS coaching win percentage. He won 2 Southern Conference and 5 SEC titles, and the school claims 4 MNCs during his time, though only 2 are legitimate in my view

:

1938 and this season. In the other two, 1940 and 1951, Tennessee had a perfect regular season spoiled by a bowl loss. Neyland only once completed a perfect season, 11-0 in 1938, though his teams finished 11 other seasons with exactly 1 loss or tie. Tennessee's stadium was designed by and is named for him.

The star player was halfback Hank Lauricella. While much of the rest of the country had switched to the T-formation by this point in time, Tennessee was still running the single wing offense, and Lauricella was the main runner and passer in that offense. He was also the kick returner, punter, and a safety on defense. This season he ran for 575 yards and 4 touchdowns, and passed for 364 and 5 touchdowns. In the Cotton Bowl, he led all rushers with 131 yards. He was a consensus All American in 1951, and he is in the Hall of Fame.

Guard Ted Daffer was the only player who made a first-team All American list this year (nonconsensus), and he would be nonconsensus AA again in 1951. End Doug Atkins would be nonconsensus AA in 1951 and 1952, and he went on to a 17 year career as a defensive end in the NFL. Tackle Bill "Pug" Pearman would also be nonconsensus AA in 1951
.

Tennessee's 2nd Hall of Fame player was guard John Michels. He would be a consensus AA in 1952, and he became an assistant coach for the Minnesota Vikings for 27 years 1967-1993. Halfback Bert Rechichar went on to a 10 year career in the NFL, playing end, defensive back, halfback, and kicker. Tackle Jack Stroud played for the New York Giants for 12 years.
Tennessee's Season
Tennessee opened the season with a 56-0 rout of Southern Miss, and then they went to lowly Mississippi State (4-5), who hadn't beaten a major college opponent since 1948, and took their only loss of the season. Tennessee had been a 3 touchdown favorite, but 22,000 watched the home team pull off what would prove to be the biggest upset of the year.

Mississippi State won this game on the opening drive. They returned the kickoff to their 44 yard line, then drove 56 yards for all the points they would need to win 7-0. They had another promising opportunity after recovering a fumble, but fumbled the ball back to Tennessee at the Volunteer 9 yard line. In the 4th quarter, Tennessee drove to the Mississippi State 9 yard line, but they were stopped short of a first down by a couple of inches. MSU outgained Tennessee 186 yards to a paltry 98, and they had 15 first downs to 7 for Tennessee.

Tennessee bounced back with a 28-7 win at 7-3 Duke and a 41-0 devouring of cupcake Tennessee-Chattanooga, and that brought them to their first big game, hosting Alabama. Alabama kicked an early field goal to grab a 3-0 lead, but a roughing the kicker penalty aided Tennessee in driving to a touchdown to put them ahead 7-3. Alabama's Bobby Marlow ran 43 yards for a touchdown to cap a 72 yard drive, and Alabama went back in front 9-7. In the 4th quarter, an Alabama drive for the clincher was stopped at the Tennessee goal line. Tennessee scored the game winning touchdown with 2 minutes left, putting the final score at 14-9. Alabama finished 9-2, but their schedule was weak, and they are ranked #16 for 1950.

Tennessee didn't have much time to savor the big win

:

they had to play an unusually strong Washington & Lee team the next week. Washington & Lee outgained Tennessee by 120 yards in this game, but Tennessee scored 3 touchdowns on returns to pull out the win 27-20. Washington & Lee went to the Gator Bowl this season, losing to 10-0 Wyoming 20-7 in that game. They finished 8-3, and they are ranked #24 for 1950 (#18 in the original AP poll). It was the first and last time the AP poll ever ranked Washington & Lee.

Tennessee whipped a trio of nobodies, and then hosted Kentucky in their biggest game of the year. Kentucky was coming in 10-0, and though they had not played any strong opponents, they had been performing very impressively (average score 38-6). Six inches of snow fell before the game, and the temperature was well below freezing, but 45,000 fans sat in the snow, not about to miss this one. Kentucky fumbled 9 times, Tennessee 8, but more importantly, Kentucky lost 8 fumbles, Tennessee 4. The game's one scoring drive was set up when a punt hit a Kentucky blocker in the leg in the 2nd quarter. Tennessee recovered it at the Kentucky 36, and halfback Hank Lauricella hit halfback Bert Rechichar with a 27 yard touchdown pass on 4th and 14. That was all Tennessee needed to win 7-0. They had another promising drive halted at the Kentucky 1 yard line in the 4th quarter, while Kentucky never got inside the Tennessee 30. Bob Neyland was hefted up on his players' shoulders and paraded about after the game.

Tennessee rushed for 131 yards, Kentucky 36. Kentucky's consensus All American quarterback, Babe Parilli, was 14 of 31 passing for 150 yards, Tennessee 4 of 10 for 71. Kentucky fell to #7 in the last AP poll, but they went on to beat #1 Oklahoma 13-7 in the Sugar Bowl, and #2 Army was upset by 3-6 Navy after the final poll, clearing the way for Tennessee's MNC. The Sugar Bowl win finished Kentucky at 11-1, and I have them ranked #2 for 1950, behind only Tennessee. Tennessee should have been playing Oklahoma in the Sugar, but unfortunately they had already been locked up by the Cotton Bowl prior to playing Kentucky. They still had one more game to play before the Cotton, but they had no big-game hangover, winning 43-0 at 7-4 Vanderbilt.
The Cotton Bowl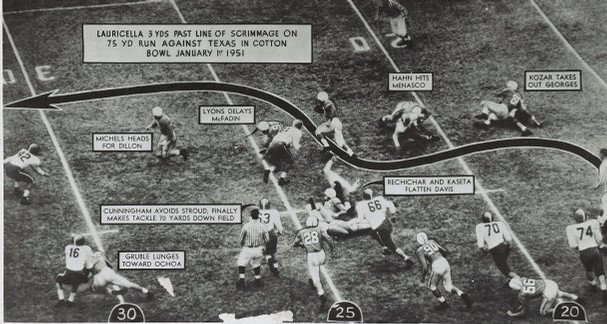 Although #4 Tennessee vs. #1 Oklahoma would have made for a better MNC game, there was little difference between Oklahoma and Tennessee's Cotton Bowl opponent, Texas. Texas was coming into the game 9-1, the loss by just 1 point to Oklahoma. Oklahoma had beaten 7-4 Texas A&M 34-28, and Texas had beaten the Aggies 17-0. The SEC was the top conference this year at 37-13-2 (.731), but the SWC was next best at 21-9 (.700). Texas was ranked #3 and Tennessee #4, both teams 9-1. 75,500 attended.

Tennessee scored in the opening quarter, sparked by a famous, spectacular 75 yard run by halfback Hank Lauricella that saw him zigging and zagging (pictured above). Lauricella's jaunt took the ball to the Texas 5, and Tennessee hit a touchdown pass from there for a 7-0 lead. In the 2nd quarter, Texas blocked a punt and recovered the ball at the Tennessee 8. They scored on 4th down to tie the game. Then Texas drove 67 yards, most of that on a 35 yard touchdown pass, to lead 14-7 at the half.

Tennessee started a long march at the end of the 3rd quarter that stretched 82 yards over 16 plays and ended with Andy Kozar scoring a touchdown. The extra point try was wide, so Texas still led 14-13, but not for long. Texas lost their only fumble of the game at their own 43, and Tennessee quickly drove to another Andy Kozar touchdown to win 20-14. Tennessee outgained Texas 340 yards to 243, and they outrushed them 295 to 146. Hank Lauricella rushed for 131 yards on 16 carries. Tennessee coach Bob Neyland is pictured celebrating the Cotton Bowl win with his team below.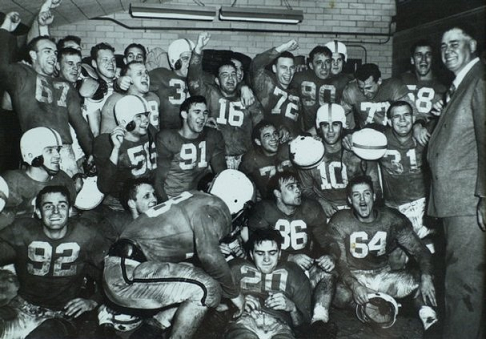 That finished Texas at 9-2, and I have them ranked #4 for 1950. Tennessee's success would continue into the next season, and they would go on to finish #1 in the final 1951 AP poll, but they lost their bowl game. When comparing the 1950 and 1951 teams, Tennessee fullback Andy Kozar said, "The '50 team was much better on the whole."

Awards Ceremony
1950 #1:

11-1 Tennessee


National Co-champion:

None


Contender:

None

These are the awards I have been handing out for each season, except seasons when there are no contenders. For this purpose, what I mean by a contender is a team that I think is very close to being worthy of sharing the national championship. A team that you could make an argument for, even if that argument is weak. But the contenders are teams that I myself do not see as national champions.

I don't think any team quite merits being considered a "contender" this season. Princeton, Army, and Wyoming were close to such status, I suppose, but none of those teams should even be ranked ahead of Kentucky or Oklahoma, and Oklahoma lost to Kentucky, who lost to Tennessee.
Grading the Selectors
I have been grading the NCAA Records Book's selectors for each season, and keeping a grade point average, so we can see who is relatively good at selecting national champions and who is not. And although I do not consider computer ratings to be legitimate national championship selectors, I have been including them in this section as well, just for comparison's sake.
I am grading on a scale of 0-5 (5 being the best).


Sagarin's original recipe math formula had Kentucky ranked #1. Grade

:

0.0



The Boand and Poling systems ranked Princeton #1. Grade

: 0.1



The AP poll, UPI coaches' poll, Helms Foundation, and the Berryman, Litkenhous, and Williamson math formulas all tabbed Oklahoma #1. Grade

:

0.0



Everyone else selected Tennessee. Grade

: 5.0


The Houlgate math formula ended in 1949, so did not select a "champion" this season.

Grade point averages 1936-1950 (the coaches' poll will not be added until they have selected at least half as many champions as the others)

:




1) DeVold (math system)




4.93

2)

College Football Researchers Association




Billingsley (math)

4.89

4) National Championship Foundation
4.76
5) Boand (math)
4.67

6)

Poling (math)


4.62

7) AP Poll
4.61

8)

Houlgate (math)

4.53

9)

Dunkel (math)

4.41

10) Litkenhous (math)
4.38
11) Sagarin-ELO (math)
4.29
12) Sagarin (math)
4.05

13) Helms Foundation

4.03

14) Berryman (math)
4.02
15) Williamson (math)
3.56

Grade point averages 1919-1935
:
| | |
| --- | --- |
| 1) Boand (math system) | 4.26 |
| 2) College Football Researchers Association | 4.22 |
| 3) Poling (math) | 4.11 |
| 4) Helms | 4.09 |
| 5) Sagarin-ELO (math) | 4.06 |
| 6) National Championship Foundation | 3.96 |
| 7) Dickinson (math) | 3.49 |
| 8) Houlgate (math) | 3.35 |
| 9) Billingsley (math) | 3.34 |
| 10) Sagarin (math) | 3.28 |
| 11) Parke Davis | 2.77 |

How the systems that selected champions for 1901-1918 did

:



| | |
| --- | --- |
| 1) Houlgate (math system) | 4.5 |
| 2) Helms | 4.3 |
| 3) Parke Davis | 4.2 |
| 4) National Championship Foundation | 3.7 |
| 5) Billingsley (math) | 3.6 |