Home
1949 College Football National Championship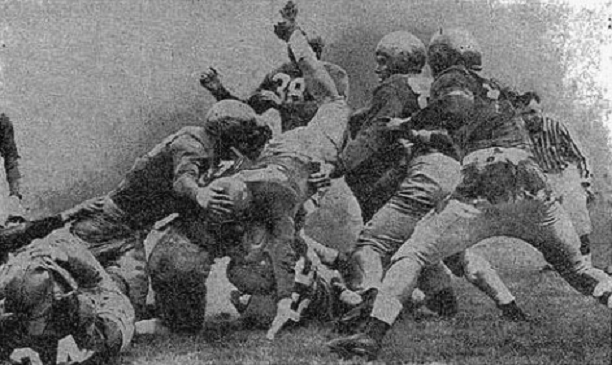 Pictured above is Notre Dame halting Southern Methodist running back Kyle Rote a foot short of a touchdown, and by that margin Notre Dame was able to pull out a 27-20 win in their finale in Dallas. It was their only close game on the way to 10-0, their 4th straight unbeaten season and 3rd mythical national championship (MNC) in 4 years. They finished #1 in the AP poll, but they were not the only team with a perfect record at the top of the AP poll. Oklahoma finished 11-0, and Army was 9-0.


Here is how all of the organizations listed in the NCAA Records Book see the 1949 mythical national championship (omitting math/computer ratings, which are not generally accepted as MNCs)

:




10-0 Notre Dame
:
National Championship Foundation
,
AP Poll
,
Helms
11-0 Oklahoma

:
CFB Researchers

No love for 9-0 Army there, but I'll be taking a look at their case for a share of the MNC in this article, as well as Notre Dame and Oklahoma. California finished the regular season 10-0, but they were upset 17-14 by 7-1-2 Ohio State in the Rose Bowl, the 3rd straight year they ended an unbeaten regular season with a loss in the Rose. 10-1 Rice took an upset loss to 8-3 LSU early in the season. Pacific went 11-0, and they rolled up some humongous numbers, outscoring opponents 575-66, but their schedule leaves them out of MNC contention.


All rankings in the following article, except as noted, come from my 1949 fixed AP poll.
Notre Dame 1949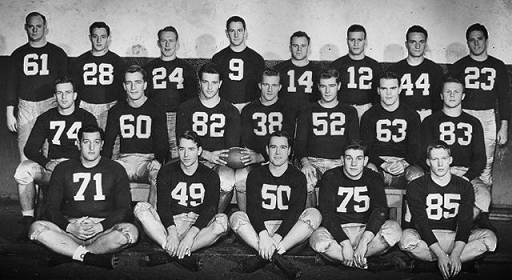 | | | |
| --- | --- | --- |
| Indiana (1-8) | 49-6 | |
| at Washington (3-7) | 27-7 | |
| at Purdue (4-5) | 35-12 | |
| Tulane (7-2-1) | 46-7 | #24 |
| (Baltimore) Navy (3-5-1) | 40-0 | |
| at Michigan State (6-3) | 34-21 | #21 |
| (Bronx) North Carolina (7-4) | 42-6 | (#28) |
| Iowa (4-5) | 28-7 | |
| Southern Cal (5-3-1) | 32-0 | #12 |
| at Southern Methodist (5-4-1) | 27-20 | #17 |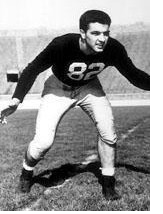 This was Notre Dame's 7th consensus MNC, following mythical titles in 1924, 1929, 1930, 1943, 1946, and 1947. I covered their Hall of Fame coach, Frank Leahy, in the linked 1943 article. This was his 5th MNC, the first coming at Boston College in 1940, the other 4 at Notre Dame. Because he had left Notre Dame due to the war in 1944 and 1945, this was his 4th MNC in his last 5 years coaching at Notre Dame
.

I covered 3 of this year's notable players in the linked 1946 article

:

end Leon Hart, fullback Emil Sitko, and defensive end/offensive tackle Jim Martin, all Hall of Famers. Leon Hart (pictured at left) won the Heisman Trophy this season and was the AP male athlete of the year. Emil Sitko was a unanimous All American and won the Walter Camp Award. "Jungle" Jim Martin had been a nonconsensus All American in 1948, and went on to a 14 year NFL career.

Notre Dame had a senior-laden roster this year, but consensus All American quarterback Bob Williams was only 19 years old this season. He finished 5th in the Heisman vote, 6th in 1950. He still holds the school record for best pass efficiency rating for a season (159.1). He was 83 of 147 this year for 1374 yards and 16 touchdowns. He had a particularly good day in a 34-21 win at 6-3 Michigan State

:

13 of 16, a 40 yard touchdown run, and a 50 yard punt that went out of bounds at the MSU 4. He joins Hart, Sitko, and Martin in the Hall of Fame.


Notre Dame's 5th Hall of Famer this season was linebacker Jerry Groom. He would be consensus AA in 1950, when he played both offense and defense and averaged 55 minutes a game. In the 27-20 win at SMU this year, Groom blocked a kick and grabbed 2 interceptions.


Defensive tackle Bob Toneff would be a nonconsensus AA in 1951, and went on to a 13 year pro career, making 4 Pro Bowls. In total, this Notre Dame roster featured 18 future pro players. 11-0 Oklahoma had just 9 on their roster, and 4 of those only played in the Canadian Football League. Notre Dame was particularly deep in future pros at end, where in addition to Hall of Famers Leon Hart (8 years pro) and Jim Martin (14), they had 3 other ends on the roster who played in the pros for 8 years each, and all 5 played both offense and defense for Notre Dame.
Notre Dame's Season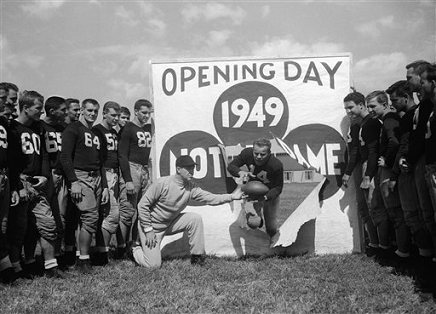 Notre Dame was little challenged this season until their finale at Southern Methodist, and they led the nation in total offense with 434.8 yards per game. They routed 3 losing teams to open the season, then routed 7-2-1 Tulane just as easily, 46-7. I have Tulane ranked #24 for 1949
. Notre Dame crushed another losing team, then won 34-21 at 6-3 Michigan State thanks to quarterback Bob Williams' outstanding game. I have MSU ranked #21 for 1949.
They whipped North Carolina (7-4, unranked) 42-6 at Yankee Stadium, then dispatched 4-5 Iowa 28-7. That brought them to a home game against rival Southern Cal, possibly their toughest opponent. USC had tied them the previous season, dealing Dame her only blemish. But this year was no contest, as Notre Dame got her revenge 32-0. You can see film of the game here. Southern Cal finished 5-3-1, but they tied 7-1-2 Ohio State (#7), all of their losses came to strong teams, and I have the Trojans ranked #12 for 1949, making them Notre Dame's top-ranked opponent of the season.
The final AP poll was published after that, and Notre Dame was ranked #1 for the 3rd time in 4 years. But this season is a good example of the fact that the AP poll didn't just ignore bowl games, it often ignored regular season games that took place after Thanksgiving weekend as well. Notre Dame's finale at Southern Methodist was the next week (December 3rd), and Notre Dame may have finished #1, but everyone knew that if SMU pulled the upset, #2 Oklahoma would be considered the "real" mythical national champion. The upset bid, of course, was a long shot at best. SMU was coming in at 5-3-1, having lost their last 2 games, and their superstar halfback, Doak Walker, was out with an injury. Notre Dame was a 28 point favorite.

But SMU's Hall of Fame coach, Matty Bell, was retiring after the game, and teams often perform well for an outgoing coach. Furthermore, as we have seen repeatedly over the decades in these MNC articles, teams often follow their best performance of the season with their worst, especially when the second game is on the road. Notre Dame 1949 provides yet another example of that. And while Doak Walker was out, this was the day SMU's other star back, Kyle Rote, became something of a legend himself with 115 yards rushing and 146 passing. 75,000 packed the Cotton Bowl for what would turn out to be college football's best game of the year.

Notre Dame quarterback Bob Williams hit a 42 yard touchdown pass for a 7-0 lead. SMU's answering drive came up a foot short of the goal line (as pictured at the top of this article). Just before the half, Notre Dame nabbed an interception and cashed it in for another touchdown pass and a 13-0 halftime lead.

SMU drove to a Kyle Rote touchdown dive to close the gap to 13-7 in the 3rd quarter. Notre Dame intercepted SMU again, and again scored on a short drive, putting the lead back to 13 points. With Notre Dame's attention focused on Kyle Rote, he lateraled to another back for a 65 yard gain, then scored a short touchdown to cut the lead to 20-14. Notre Dame's next drive ended in a punt that was returned to the Irish 14. Kyle Rote scored his 3rd touchdown 2 plays later, and the game was knotted up 20-20. Frank Leahy moved Leon Hart from end to fullback, and the 260 pound bruiser combined with Emil Sitko to push the ball all the way down the field for the winning touchdown. Simple, straight-ahead football. Rote led an answering drive to the Notre Dame 28, where he was knocked out of the game. His replacement hit a pass to the 5, then he was knocked out of the game. Rote returned, and on 4th and 5, he threw a pass into the end zone that was intercepted by Irish linebacker Jerry Groom.

Thusly did Notre Dame hold on for the 27-20 win. SMU finished 5-4-1, but the SWC was very strong this season, and I have SMU ranked #17 for 1949.

Oklahoma 1949
at Boston College (4-4-1)
46-0
Texas A&M (1-8-1)
33-13
(Dallas) Texas (6-4)
20-14
#15
Kansas (5-5)
48-26


at Nebraska (4-5)
48-0


Iowa State (5-3-1)
34-7


at Kansas State (2-8)
39-0
at Missouri (7-4)
27-7
(#30-40)
Santa Clara (8-2-1)
28-21
#10
Oklahoma State (4-4-2)
41-0

Sugar Bowl


Louisiana State (8-3)

35-0

#19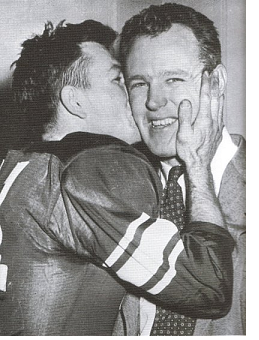 Oklahoma's history as a football power began in 1946. Prior to that, they rarely made waves nationally. They had been ranked in the 1938 and 1939 AP polls, and had there been an AP poll top 25 1901-1935, they likely would have been rated 3 more times. So in 45 seasons prior to 1946, they were top 25 just 5 times. After 1946, however, they became a top 25 fixture, and in fact they are probably

the

top football program 1946-present. How did they become such an overnight sensation out of nowhere? Cold, hard cash, of course.

The coach in 1946 was Hall of Famer Jim Tatum. He only stuck around that one season, but that was okay, because the school had really wanted to hire his assistant, Bud Wilkinson (at right in photo), in the first place. Also in the Hall of Fame, Wilkinson ascended to head coach and led Oklahoma to the top of the college football world. Tatum's 1946 recruiting class featured 9 players who would make All American lists during their careers. Oklahoma was a major player in the "black market" of football talent returning from the war. Recruits were matched up with "sugar daddies" who gave them money and bought them clothes. This was a system that Oklahoma continued, more or less, through the 1980s, despite the periodic affliction of NCAA penalties for cheating along the way.

Oklahoma finished 8-3 and #14 in 1946. By 1948, Wilkinson had them 10-1 and #5. This season he took them all the way to 11-0, though they finished #2 to Notre Dame in the AP poll. Wilkinson went 145-29-4 at Oklahoma 1947-1963, winning 14 conference titles. The school claims 3 MNCs for his time (this season is not one of them).
Bud Wilkinson had played for Minnesota 1934-1936, when they won 3 straight MNCs, so he was used to it.
His 47 straight wins at Oklahoma 1953-1957 are a seemingly unbreakable FBS record, and he is
#10 in all-time major/FBS coaching win percentage.

This Oklahoma team was dominated by the 1946 recruiting class, now seniors. The one Hall of Fame player was end Jim Owens, a nonconsensus All American who is now best known as head coach of Washington 1957-1974. He went 99-82-6 there and won 3 conference titles, taking the Huskies to the Rose Bowl following the 1959, 1960, and 1963 seasons. Washington claims an MNC for 1960.

Quarterback Darrell Royal (at left in photo) was also a nonconsensus AA and is also in the Hall of Fame, albeit as a coach. He is obviously best known now as head coach of his former archrival, Texas. He went 167-47-5 there 1957-1976, winning 11 conference titles and 3 school-claimed MNCs. He went 6-1 against his former coach, Bud Wilkinson, who had been 8-2 against Texas before that. Prior to coaching at Texas, Royal preceded former teammate Jim Owens as head coach of Washington, and overall Royal was 184-60-5 at 3 schools. As a starting offensive quarterback, Royal was 16-1 at Oklahoma, and 11-0 this year. As a defensive back, he collected 18 career interceptions and 3 in one game, both still school records. He was also the punter and returned kicks, and he holds another school record for longest punt return at 96 yards.

Three other players were nonconsensus AA this year

:

guard Stan West, halfback George Thomas, and tackle Wade Walker. Stan West went on to an 8 year pro career. George Thomas returned the season-opening kick-off for a 95 yard touchdown against Boston College, and scored 3 in the game. He scored 4 against Kansas, then a school record, and he led the nation in scoring with 117 points (19 touchdowns and 3 extra points). Wade Walker was all-conference all 4 years 1946-1949. He became head coach at Mississippi State 1956-1961, going 22-32-2, and he was the athletic director there 1956-1966, then at Oklahoma 1971-1986.

Fullback Leon Heath would be a consensus AA in 1950. Backup end Frank Anderson would be a nonconsensus AA in 1950, then a 5-time defensive all-star in the Canadian Football League, playing for 3 CFL champions. He got in a lot of playing time this year, as did backup halfback Buddy Jones, who would also be nonconsensus AA in 1950.
Oklahoma's Season
Oklahoma had the top rushing defense in the nation this year, holding opponents to 55.6 yards per game. Their 11-0 campaign put their winning streak at 21 games, and it would continue to 31, until a bowl loss the next season. But since the AP poll ignored bowls, they would end up #1 for 1950. As such, they claim an MNC for that 10-1 season, but they don't for this 11-0 season.

Oklahoma opened the 1949 season with romps over a pair of weak opponents, bringing them to their annual bout with Texas in Dallas. Texas came into the game 3-0 by an average score of 51-2. They were ranked #12, Oklahoma #3. A record 75,504 fans filled the Cotton Bowl.

Darrell Royal fumbled a punt return away at his own 10, but Texas threw an interception to squander the opportunity. Texas then drove to the Oklahoma 20, where they were stopped on downs. Finally they drove 46 yards for a touchdown and a 7-0 lead early in the 2nd quarter. Oklahoma responded with a touchdown on a 60 yard George Thomas run on their next drive, and it was 7-7. The skies opened up, and it rained the rest of the game.

Oklahoma scored on the opening drive of the 3rd quarter to lead 14-7. Early in the 4th, they were stopped inches short of a first down at the Texas 2, but after the punt out, Oklahoma scored quickly on a pass from Royal to Jim Owens. That was pretty much the game. Texas drove to the Oklahoma 6 and fumbled the ball away, and late in the game they drove 68 yards for a touchdown, but that was scored with just 29 seconds remaining, and Oklahoma won 20-14.

Oklahoma rushed for 216 yards and passed for 35, and Texas rushed for 118 and passed for 139, so Texas slightly outgained the Sooners. Texas finished the season 6-4, but their schedule was very tough, and I have them ranked #15 for 1949.

Oklahoma then mowed down their weak conference schedule with no trouble at all. Missouri was 3-0 in conference play when Oklahoma went to Columbia, and a record 37,000 fans turned up for the game, but Oklahoma won easily, 27-7. The Sooners rushed for 257 yards and held Missouri to 45 on the ground. The win sealed their 4th straight conference championship and 6th in 7 years. But that was nothing. The streak would not end until they had won a record 14 straight conference championships.

Santa Clara
Oklahoma's next real challenge was another nonconference game, with Santa Clara visiting in mid-November. Santa Clara was their toughest opponent this season, and they had dealt Oklahoma their only loss the previous season, so this was actually a big game. 60,000 attended.

In the opening quarter, Santa Clara couldn't get off a punt, and Oklahoma drove the short field to a George Thomas touchdown dive and an early lead. Santa Clara drove 67 yards to a touchdown in 3 plays in the 2nd quarter, but Stan West blocked the extra point try, so Oklahoma still led 7-6. Oklahoma responded on their next drive, Leon Heath breaking loose for an 81 yard touchdown run. Soon after that, Oklahoma scored again on a 24 yard touchdown run by George Thomas.

Darrell Royal then went to work on behalf of the Broncos. First he was tackled for a safety on a punt return. Minutes later he fumbled the ball away at his own 4 yard line. Santa Clara was stopped on downs at the 1, but the field position advantage enabled them to score a touchdown soon enough anyway, and it was 21-14 at the half.

Santa Clara fumbled the opening kickoff of the 2nd half away at their own 15, and George Thomas scored his 3rd touchdown on the next play. Oklahoma had a 65 yard touchdown run negated by penalty in the 4th quarter. Santa Clara had a 59 yard touchdown run that was not negated by penalty, closing the gap to 28-21, but they could mount no further threats. Oklahoma totaled 370 yards of offense, 295 on the ground. Heath had 128 yards and Thomas 115. Santa Clara totaled 211 yards of offense. The Broncos next beat 9-3 Kentucky (coached by Bear Bryant) 21-13 in the Orange Bowl, finishing them at 8-2-1 and #10 in the fixed AP poll for 1949.

Oklahoma capped the regular season by cruising 41-0 over 4-4-2 Oklahoma State, then named Oklahoma A&M and a Missouri Valley Conference team. That finished the Sooners at #2 in the AP poll. Next up was the Sugar Bowl.
The Sugar Bowl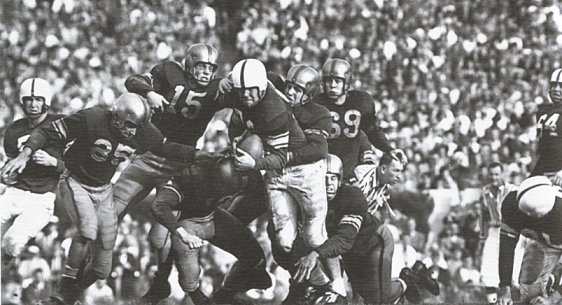 Oklahoma's Sugar Bowl opponent was Louisiana State, who had taken a pair of losses early, then won 6 straight, mostly by big scores. They were ranked #9. LSU had defeated 3 conference champions this season

:

10-1 Rice (SWC), 7-2-1 Tulane (SEC), and 7-4 North Carolina (Southern Conference). Oklahoma would have given them a fourth. 82,000 fans attended.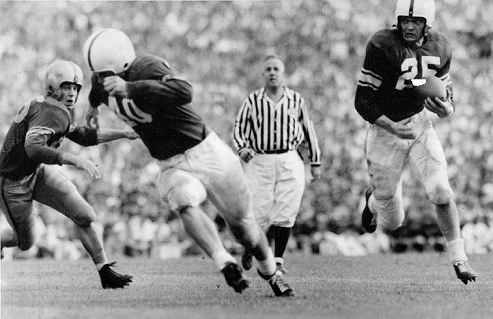 What they saw wasn't much of a game, as Oklahoma led 14-0 at half and won 35-0. Fullback Leon Heath was the MVP, rushing for 170 yards on 15 carries, including touchdowns of 86 and 34 yards. That practically guaranteed a consensus All American slot for him for the next season. George Thomas also scored 2 touchdowns (he's pictured carrying the ball in this game above, with Leon Heath blocking out front), and Darrell Royal chipped in another touchdown (the play pictured below). Oklahoma racked up 360 yards of offense, 286 rushing. LSU was held to a paltry 136 total yards, and just 35 rushing.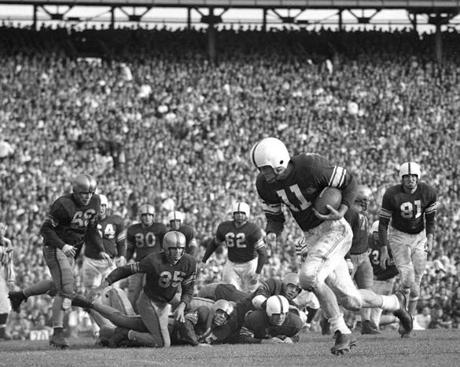 That finished LSU at 8-3, and I have them ranked #19 in the fixed AP poll for 1949.
Army 1949

| | | |
| --- | --- | --- |
| Davidson (2-8) | 47-7 | |
| Penn State (5-4) | 42-7 | |
| at Michigan (6-2-1) | 21-7 | #5 |
| at Harvard (1-8) | 54-14 | |
| Columbia (2-7) | 63-6 | |
| Virginia Military Institute (3-5-1) | 40-14 | |
| Fordham (5-3) | 35-0 | |
| at Penn (4-4) | 14-13 | (#32-40) |
| (Philadelphia) Navy (3-5-1) | 38-0 | |
Army had first won MNCs in 1914 and 1916. Then they won 3 straight in 1944, 1945, and 1946 with a team of all-stars they had "drafted" from other teams due to the war. This year, Hall of Fame coach Red Blaik (covered in the linked 1944 article) proved he could produce a perfect record without wartime-poached players, as Army went 9-0.

Army may not have been as talented as they had been 1944-1946, but they made up for it with a very tough, hard-nosed style. Or, as some writers put it, "dirty." Kicking, slugging, attempting to injure players in the pile. That sort of thing
.

Quarterback Arnold Galiffa was the one consensus All American. End Dan Foldberg was a nonconsensus AA, and would be team captain and a unanimous AA in 1950. Red Blaik called him the best end he ever coached. Dan's brother Hank Foldberg had been a consensus AA end in 1946.

Linebacker Elmer Stout and tackle Charles Shira would be nonconsensus AA in 1950. Shira would be named Army's MVP in 1950. He went on to coach as an assistant to Darrell Royal at Texas 1957-1966, and then he was head coach at Mississippi State 1967-1972, going a rather poor 16-45-2 there. He was also MSU's athletic director 1967-1975.
Army's Season
Army had little trouble this season, largely because their schedule was incredibly weak. Still, they did face a tougher opponent than either Notre Dame or Oklahoma did when they traveled to Ann Arbor to grapple with Michigan. Michigan had won 2 straight MNCs, and they were riding a 25 game winning streak and were ranked #1 coming into the game. 97,000 fans showed up to witness college football's game of the year.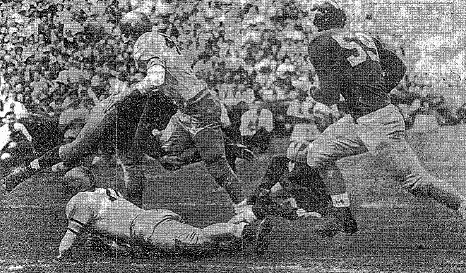 Michigan was a big favorite, but Army pulled the big upset. Army marched 88 yards for a touchdown in the opening quarter, quarterback Arnold Galiffa hitting 3 passes for 52 yards. A Michigan fumble led to a 10 yard drive for another touchdown in the 2nd, giving the cadets a 14-0 halftime lead (Jim Cain is pictured scoring this touchdown above). In the 4th quarter, Army couldn't get off a punt, and Michigan took over and drove a short field to a touchdown to close the gap to 14-7. But Army drove their own short field for a touchdown late in the game to clinch it 21-7. Army thus became the first school to ever defeat Michigan 3 straight times, following victories in 1945 and 1946.


Army outgained Michigan 247 yards to 203, the big difference coming from Michigan's woeful passing game

:

3 of 23 for 16 yards and 4 interceptions. Army helped close the yardage gap with 9 penalties for 71 yards (Michigan 1 for 15). Michigan was upset by 4-5 Northwestern the next week, but they beat 7-2 Minnesota and tied 7-1-2 Ohio State to finish 6-2-1, and I have them ranked #5 for 1949.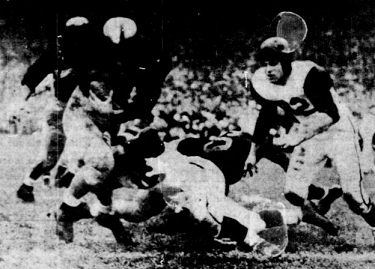 The rest of Army's schedule was largely a waste of time, and Army largely laid waste to it, but they were ambushed at Penn, and barely held on for the win. Penn switched to a 2-platoon system for this game (separate teams for offense and defense), and their Hall of Fame halfback Reds Bagnell had a terrific game, hitting 15 of 20 passes. Penn amassed 23 first downs to only 10 for Army. But Army managed the win 14-13 (the winning touchdown, scored in the 3rd, is pictured above, though it was really the ensuing extra point that won it). Penn finished 4-4. They weren't bad-- all of their losses came to good teams-- but they were certainly no top 25 team, so this was easily a worse performance for Army than any suffered by Notre Dame or Oklahoma.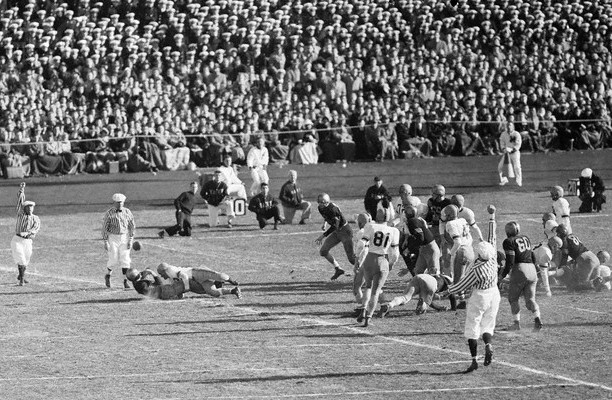 Army returned to form in their finale, trouncing rival Navy (3-5-1) 38-0 (pictured above).
Notre Dame vs. Oklahoma vs. Army
Here are the significant games for our contenders in 1949. The opponent rankings come from my 1949 fixed AP poll.


Notre Dame 10-0
Oklahoma 11-0
Army 9-0

| | | |
| --- | --- | --- |
| Tulane (7-2-1) | 46-7 | #24 |
| at Michigan State (6-3) | 34-21 | #21 |
| (Bronx) North Carolina (7-4) | 42-6 | (#28) |
| Southern Cal (5-3-1) | 32-0 | #12 |
| at Southern Methodist (5-4-1) | 27-20 | #17 |

(Dallas) Texas (6-4)
20-14
#15
at Missouri (7-4)
27-7
(#30-40)
Santa Clara (8-2-1)
28-21
#10

Sugar Bowl


Louisiana State (8-3)

35-0

#19

| | | |
| --- | --- | --- |
| at Michigan (6-2-1) | 21-7 | #5 |
| at Pennsylvania (4-4) | 14-13 | (#32-40) |

Against opponents not ranked in the top 40, Notre Dame defeated 5 teams by an average score of 36-6, Oklahoma defeated 7 by an average of 41-7, and Army defeated 7 by an average of 46-7.

Observers at the time made Notre Dame a landslide #1 (172 votes to 18 for Oklahoma and 12 for Army), and it's no wonder. They had an incredibly deep roster of talent that went on to prove its superiority in the NFL. However, you may have noticed that I don't base any of my mythical national championship selections on talent or impressive names. Was Notre Dame's season really that much more impressive than that of Oklahoma or Army? Well, they did play and defeat more top 25 and top 40 teams than either Oklahoma or Army did, and they routed most of those opponents. The exception was a 27-20 win at SMU, but Oklahoma had 2 close wins, and Army's 14-13 win at Penn was by far the worst performance suffered by any of these teams.

On the other hand, neither of Oklahoma's 2 close games were really all that close. Texas scored a touchdown with 29 seconds left to make their "close" score, and Oklahoma dominated Santa Clara. The Sooners were not seriously threatened in either game. But Notre Dame was very seriously threatened at SMU, and needed 2 goal line stands, one at the end of the game, to survive. And while Oklahoma played 1 less top 25 opponent than Notre Dame did, they also played a higher-ranked team than Notre Dame did (#10 Santa Clara). I agree that Notre Dame should be ranked #1, but I think any advantage they held over Oklahoma was

very

slight, and I think Oklahoma could viably be ranked #1 in a tie with Notre Dame. Needless to say, I also think Oklahoma should share the 1949 MNC with Notre Dame. It should be noted that Notre Dame's struggle with SMU and Oklahoma's trouncing of LSU in the Sugar Bowl-- the worst performance for Notre Dame and the best for Oklahoma-- both came after the final AP poll was published. Santa Clara's Orange Bowl win over Kentucky also came after the final AP poll, which obviously impacted Oklahoma's case.

Then there's Army. Their schedule was deplorable overall, but their 21-7 win at #5 Michigan was vastly more impressive than any win by either Notre Dame or Oklahoma. Based on that win alone, I could see someone selecting Army as a 3rd MNC team for 1949. However, it was their only truly tough opponent. 4-4 Penn may have been top 40, but barely. Unrated Virginia beat them 26-14, unrated Pitt beat them 22-21, and #25 Cornell beat them 29-21 (there was no 2-point conversion at this time, so that's more than a touchdown margin). Yet Army, a top 5 team, only beat Penn 14-13, and that is an egregiously bad performance. It is extremely difficult to believe that Notre Dame or Oklahoma could have struggled like that at Penn. Army mashed the rest of their weak opponents rather impressively, so maybe the Penn result was a fluke. Or maybe Army just ran up the score on patsies, and the Michigan result was the fluke. And that's the problem

:

their schedule gives us no way of really knowing one way or the other. If Army had mashed Penn like they should have, I could see giving them a share of the title. But their schedule was too weak to afford one off week (very off), even with the terrific win at Michigan. So

:

you were close Army, but I have no cigar for you.
Awards Ceremony
1949 #1:

10-0 Notre Dame, or Notre Dame in a tie with 11-0 Oklahoma


National Co-champion:

Oklahoma if not ranked #1


Contender:

9-0 Army

These are the awards I have been handing out for each season, except seasons when there are no contenders. For this purpose, what I mean by a contender is a team that I think is very close to being worthy of sharing the national championship. A team that you could make an argument for, even if that argument is weak. But the contenders are teams that I myself do not see as national champions.

Oklahoma does not claim this season as an MNC, but they do claim 1950 despite losing their bowl game (as they finished #1 in the bowl-ignoring AP poll). Needless to say, I do not consider them an MNC for 1950. I guess it all balances out.
Grading the Selectors
I have been grading the NCAA Records Book's selectors for each season, and keeping a grade point average, so we can see who is relatively good at selecting national champions and who is not. And although I do not consider computer ratings to be legitimate national championship selectors, I have been including them in this section as well, just for comparison's sake.
I am grading on a scale of 0-5 (5 being the best).


The College Football Researchers Association selected Oklahoma to stand alone as 1949 MNC. Grade

:

4.2



Everyone else selected Notre Dame. Grade

: 5.0


Grade point averages 1936-1949

:




1) Boand (math system)




5.0

2) AP Poll




Poling (math)


4.94

5) DeVold (math)
4.93

6)

College Football Researchers Association




Billingsley (math)

4.89

7) National Championship Foundation
4.74
8) Litkenhous (math)
4.69

9)

Houlgate (math)

4.53

10) Berryman (math)
4.42

11)

Dunkel (math)

4.37

12) Sagarin (math)
4.34

13) Helms Foundation

4.31

14) Sagarin-ELO (math)
4.24
15) Williamson (math)
3.81

Grade point averages 1919-1935
:
| | |
| --- | --- |
| 1) Boand (math system) | 4.26 |
| 2) College Football Researchers Association | 4.22 |
| 3) Poling (math) | 4.11 |
| 4) Helms | 4.09 |
| 5) Sagarin-ELO (math) | 4.06 |
| 6) National Championship Foundation | 3.96 |
| 7) Dickinson (math) | 3.49 |
| 8) Houlgate (math) | 3.35 |
| 9) Billingsley (math) | 3.34 |
| 10) Sagarin (math) | 3.28 |
| 11) Parke Davis | 2.77 |

How the systems that selected champions for 1901-1918 did

:



| | |
| --- | --- |
| 1) Houlgate (math system) | 4.5 |
| 2) Helms | 4.3 |
| 3) Parke Davis | 4.2 |
| 4) National Championship Foundation | 3.7 |
| 5) Billingsley (math) | 3.6 |