Home
1946 College Football National Championship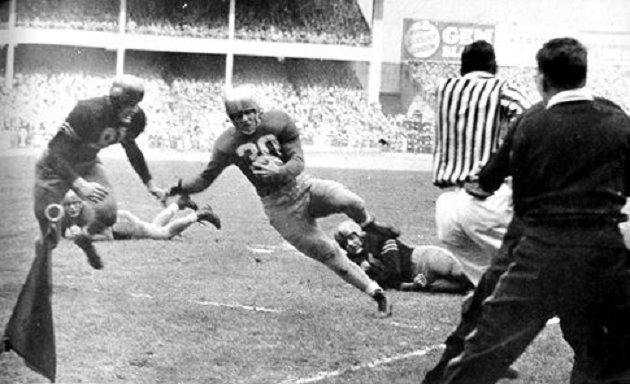 Pictured above is the defining play of 1946's "Game of the Century"

:

Notre Dame's Bill Gompers turning the corner on 4th down and heading for Army's goal line. But alas, he didn't make it. He didn't even reach the 2 yard line for a first down, and this game saw no other serious scoring threats, ending in a 0-0 stalemate.

Never before had a game been hyped as much as this meeting of #1 Army and #2 Notre Dame. Other games had been called "Game of the Century" in the past, but this was the first to be widely described as such by the press nationwide before the game. Army was the 2-time defending national champion, coming in on a 25 game winning streak. They had beaten Notre Dame 59-0 and 48-0 the previous 2 years, but Notre Dame's coach and players were back from the war, and when last they were on campus, Notre Dame had won the 1943 mythical national championship (MNC).

This game featured 3 Heisman Trophy winners, 3 Outland Trophy winners, and 10 Hall of Famers, not counting the Hall of Fame coaches on each side. Notre Dame claims MNCs for 1943, 1946, 1947, and 1949, and Army claims MNCs for 1944, 1945, and 1946. This was a true clash of the titans, an intersection of 2 of the greatest runs in college football history

:

Army going 27-0-1 1944-1946 and Notre Dame going 36-0-2 1946-1949.

Army remained #1 after the scoreless tie, but when they struggled to beat 1-8 Navy 21-18 in their finale, Notre Dame passed them up for #1 in the final AP poll. Here is how all of the organizations listed in the NCAA Records Book see the 1946 mythical national championship (omitting math/computer ratings, which are not generally accepted as MNCs)

:





9-0-1 Army

:

CFB Researchers

, Helms

(tie)


8-0-1 Notre Dame

:

National Championship Foundation, AP Poll

,

Helms

(tie)



11-0 Georgia also claims an MNC for 1946, based on finishing #1 in the Williamson math formula rating. That's a lame basis for the claim, but Georgia did win all of their games by more than a touchdown, and they are definitely a worthy contender for the 1946 MNC, so I'll be giving them a look in this article. 10-0 Delaware and 11-0 Hardin-Simmons, however, were not MNC contenders. UCLA coulda beena contenda, finishing the regular season 10-0, but they were embarrassed by 8-2 Illinois 45-14 in the Rose Bowl. This was the first year the Big 10 (actually Big 9 at this time) started sending its champion to the Rose Bowl annually, and the first bowl game for any Big 10 team since the 1920 season.

All rankings in the following article, except as noted, come from my 1946 fixed AP poll.

Post-War Talent Boom
With all the football talent returning from the war, and many former football players having access to extra years of eligibility due to wartime eligibility rules, college football was sharply transformed in 1946. A bidding war broke out for the services of the best available players, and the South was a particularly active purchaser of football talent. But in hindsight the most notable purchaser was Oklahoma, a nobody before the war that was about to become an elite football power overnight. How? Cold, hard cash. For players.

Francis Wallace published an article in the November 9th

Saturday Evening Post

, "Football's Black Market," that exposed the sordid scene and made quite the splash. According to the article, eight war veterans who had played for Tulsa's 1944 team (8-2, #7) were purchased by Oklahoma, and Oklahoma would continue buying top recruits for decades afterward. But Oklahoma was not alone.

Former Illinois star Buddy Young received 25 offers, but chose to return to Illinois for several thousand dollars. Shorty McWilliams, a halfback at Army in 1945, was alleged to have been offered $15,000, a car, a job, and a post-graduation job to transfer to an unnamed team (presumably Mississippi State, where he did transfer). Army initially refused to allow the transfer, citing knowledge of the impropriety, but they ultimately let him go.
Army 1946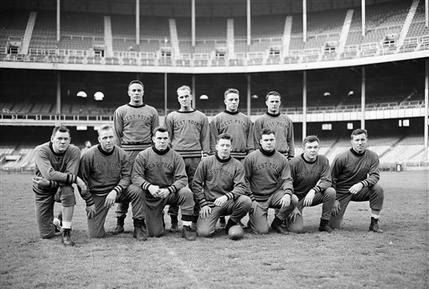 | | | |
| --- | --- | --- |
| Villanova (6-4) | 35-0 | |
| Oklahoma (8-3) | 21-7 | #14 |
| Cornell (5-3-1) | 46-21 | #19 |
| at Michigan (6-2-1) | 20-13 | #5 |
| Columbia (6-3) | 48-14 | #17 |
| (NYC) Duke (4-5) | 19-0 | |
| West Virginia (5-5) | 19-0 | |
| (Bronx) Notre Dame (8-0-1) | 0-0 | #1 |
| at Penn (6-2) | 34-7 | #12 |
| (Philadelphia) Navy (1-8) | 21-18 | |
Army had run roughshod over every opponent on the way to mythical national championships in 1944 and 1945, and this year the school claims another MNC for the threepeat
. I covered Hall of Fame coach Red Blaik and most of the notable 1946 starters in the linked 1944 national championship article, and I covered another pair of their Hall of Famers, quarterback Arnold Tucker and guard Joe Steffy, in the 1945 article.

Army still had a fairly loaded starting 11 this year, but they lost a lot of depth between 1945 and 1946, so there was a big drop-off to the second team, and that led to less eye-popping final scores in Army's games. The significant losses were tackle Tex Coulter (consensus All American '45), guard John Green (consensus AA, Hall of Fame), tackle Albert Nemetz (nonconsensus AA), and halfback Shorty McWilliams. As you can see, the line was depleted most, and that meant less impressive numbers for Army's superstar-studded backfield this season.

Fullback Doc Blanchard and halfback Glenn Davis were still consensus AA, for the third year in a row, and Davis also took home the Heisman Trophy this year, Blanchard having won it in 1945. End Hank Foldberg joined them as a consensus AA, and quarterback Arnold Tucker was a nonconsensus AA.


The wartime gravy train of talent was over for Army, and no significant new players contributed this year. Back-up quarterback Arnold Galiffa would be a consensus AA in 1949, but he played little this year, and did not even letter.
Army's Season
Army had looked like an invincible machine in 1944 and 1945, but their opponents those years had largely been depleted of talent by the war, and Army showed rather early this season that they were, in fact, not invincible. They opened with a 35-0 win over Villanova (6-4), which may look impressive enough,
but they had beaten Villanova 83-0 and 54-0 the previous 2 seasons. Moreover, fullback Doc Blanchard, who had won the Heisman in 1945, injured his knee badly in this game, and he would miss the next couple of games, and worse, he was never the same player again. In general, Army had more injury problems this year than they had had the previous 2 seasons, which exacerbated their lack of depth compared to those seasons.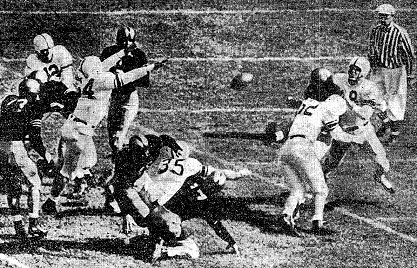 Army hosted Oklahoma in their next game, the first meeting of the schools on a football field. President Truman was in the stands, the first time a President attended a game at West Point. It was Oklahoma's season opener, and they were about to unveil the new squad of players they had purchased. It was an ambush in waiting, and Oklahoma almost pulled off a shocker in this one. Their defense put the clamps on Army's offense to a degree not seen since 1943, and though their offense was similarly stymied, early in the 2nd quarter Oklahoma blocked a punt and fell on it in Army's end zone for a surprising 7-0 lead (the play pictured above). That lead held up until the final minute of the half.
Oklahoma was using a 7-man line, but the backers were up so close that it was really a 9 man front. With Doc Blanchard out, Army's running game was cut in half already, and Oklahoma's line snuffed it out altogether. Presumably the passing game should have been opened up, but Oklahoma's line overwhelmed Army's passers so quickly that they could not get good throws off. But with just over a minute to go in the first half, Army quarterback Arnold Tucker finally connected on a pass to halfback Glenn Davis for 46 yards, setting up a 4 yard touchdown toss to end Hank Foldberg, and the game was knotted up 7-7 at the break.
Army end Barney Poole blocked an Oklahoma punt at their 15 in the 3rd quarter, and another Tucker pass to Davis set up a touchdown dive to put Army in front 14-7. But late in the 3rd quarter, Oklahoma's offense came to life. They marched 74 yards, getting a first down at the Army 3, where Arnold Tucker, hero of this game, tackled Darrell Royal (future legendary Longhorn coach) for a 3 yard loss, and on the next play, Tucker intercepted a Royal pass to end the threat. Army promptly fumbled the ball back to Oklahoma at their 18, but on the first play of the 4th quarter, Arnold Tucker struck again, intercepting a pass intended for Royal and returning it 86 yards for a clinching touchdown, making the final score 21-7.

Army was held to a paltry 83 yards rushing, an unthinkable number given their previous 2 seasons. Their 82 passing let them edge Oklahoma in total offense 165 yards to 162, but the nation was served notice

:

Army was beatable. Not that anyone would actually accomplish that this season. Oklahoma also lost to 8-2 Texas and 7-2-1 Kansas, but they beat 8-3 North Carolina State in the Gator Bowl to finish 8-3, and they were ranked #14 in the final AP poll.

Michigan
Army's defense was not so stiff the next week against Cornell, but the offense, even with Doc Blanchard still out, was back to form, and the Black and Gold romped 46-21. Cornell finished 5-3-1, but they beat 6-3 Columbia (#17), they tied 7-1-1 Yale (#18), and I have them ranked #19 for 1946.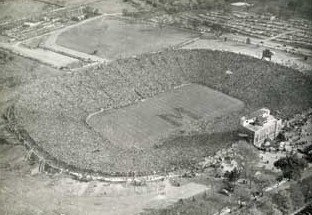 That brought Army to their first road trip, before 85,000 fans at Michigan (the game pictured above and below), a team they had beaten handily the previous season, more decisively than the 28-7 final score showed. But this win was not nearly so easy. Fullback Doc Blanchard was back for Army, but his knee would be a problem for him the rest of the season, and he often lined up as a flanker in this game. Quarterback Arnold Tucker injured his arm early in the contest, and could only throw short passes. But halfback Glenn Davis picked up the passing slack, hitting 7 of 8 for 159 yards. He was the star of the game, running for 2 touchdowns, passing for another in miracle fashion, and grabbing 2 of the 3 interceptions Michigan served up.

Army once again found themselves down 7-0 in this game. A bad punt of just 4 yards gave Michigan the ball at the Army 43, and they drove from there to a 4th down touchdown pass in the opening quarter. Later in the quarter, Glenn Davis erupted for a 57 yard touchdown run, breaking 4 tackles along the way, and the game was even at 7-7. In the 2nd quarter, Davis hit end Barney Poole for a 35 yard pass, but a 10 yard Davis touchdown was negated by a penalty, and the drive was stopped after that. With just under 2 minutes left in the half, Davis hit Doc Blanchard for a 45 yard pass, and Tucker passed to Davis for another 14. The next plays lost yardage, bringing up 4th down and 18 at the Michigan 31 with 29 seconds remaining. Army fumbled a handoff, and Davis scooped the ball up, and, as he was being tackled, threw it to halfback Bob Folsom in the end zone for a 31 yard touchdown, giving Army a miraculous 13-7 halftime lead.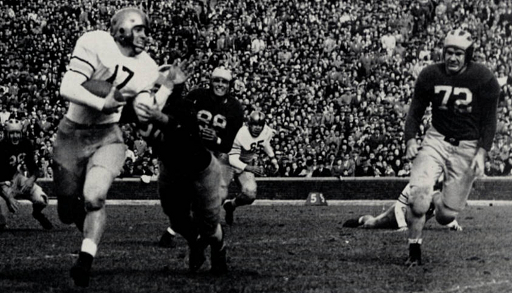 Michigan took the opening kickoff of the 2nd half and marched 83 yards in 13 plays for a touchdown, but Army guard Joe Steffy blocked the extra point try to keep the score 13-13. Early in the final quarter, Army drove 76 yards in 11 plays for a 20-13 lead, Glenn Davis hitting Blanchard for 24 and 8 yard passes, then scoring the touchdown from 7 yards out. Army had another promising drive later in the quarter, but Davis fumbled the ball away. He made up for it by grabbing an interception after Michigan had moved into Army territory. Michigan brought some drama to the game in the final minutes, hitting passes of 15 and 19 yards and driving to the Army 10 with 29 seconds remaining. But they were pushed back by a pair of penalties, and Arnold Tucker intercepted the Hail Mary try on the game's final play, keeping the final score 20-13.

Army outgained Michigan 363 yards to 236, that advantage supplied by their 211 yards through the air (on a terrific 12 of 15 passing). Over the next 2 weeks, Michigan tied 4-4-1 Northwestern (unranked) and lost 13-9 to 8-2 Illinois (#4), but then they won out to finish 6-2-1. The only top 25 team they beat was 6-3 Indiana (#24), but they were ranked #6 in the final AP poll, and I have them at #5 in the fixed poll.


Over the following 3 weeks, Army beat Columbia (6-3, #17) 48-14, Duke (4-5) 19-0, and West Virginia (5-5) 19-0. Those 19-0 scores were more reminders that this was not the same Army juggernaut as the previous years had seen. In 1944 and 1945, only top 5 Navy teams had come that close to Army. But that mortality only added spice to the coming Main Event, because everyone knew that #2 Notre Dame actually

could

beat #1 Army.
Game of the Century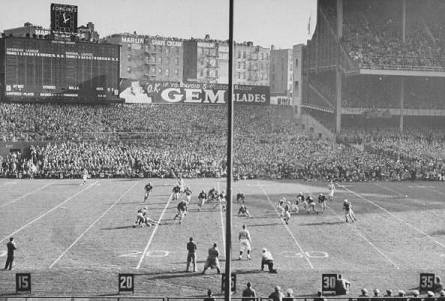 This "Game of the Century" may not have been among the greatest games ever played, but it was arguably the greatest

matchup

in college football history. As I noted earlier, it was a collision of 2 of the greatest runs ever, Army's 27-0-1 1944-1946 and Notre Dame's 36-0-2 1946-1949, and the coaches and talent on the field are now legends. Army had scored 0 points in their previous 3 games against a Leahy-coached Notre Dame, 1941-1943, and this game would add to that streak. $5 tickets were going for $250, and Yankee Stadium was filled with 74,000 fans. The game was televised in New York, Philadelphia, and Washington, DC.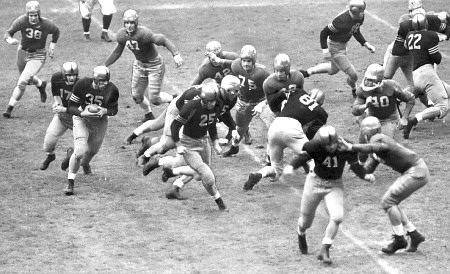 In the opening quarter, Army tackle Goble Bryant recovered an Emil Sitko fumble at the Notre Dame 24, but the ensuing drive was halted at the 15. In the 2nd quarter, Army halfback Glenn Davis hit fullback Doc Blanchard (pictured carrying the ball in this game above) for a 23 yard pass to the Notre Dame 23. They lost yardage from there back to the 37, punted, and Notre Dame started their next drive from their own 12. What followed was an 85 yard march, the only sustained drive of this football game, ending in the game's only serious scoring threat. On 4th and 2 at the Army 4, Notre Dame forewent a field goal try, as most teams did in such situations, and tossed a pitch to Bill Gompers around end (as pictured at the top of this article). He looked free and clear for a moment, but he was stopped at the 3, ending the drive a yard short of a first down. Late in the first half, Army recovered a fumble at the Notre Dame 30, but they went no further.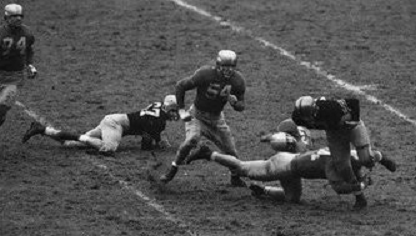 The 3rd quarter was fought out mostly on Notre Dame's side, but Dame guard George Mastrangelo recovered a fumble at Army's 34. That excitement didn't last long, because Army quarterback Arnold Tucker intercepted a pass and returned it 32 yards to his 42. Doc Blanchard got loose for 21 yards on the next play, and Tucker passed to Hank Foldberg to put the ball at the Notre Dame 20. Notre Dame halfback Terry Brennan intercepted a Glenn Davis pass on the next play to stop that drive (Brennan pictured carrying the ball in this game below).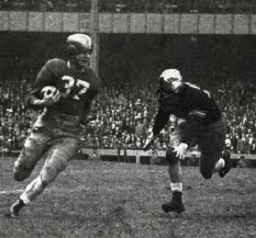 In the 4th quarter, Army was stopped inches short of a first down at the Notre Dame 33. Army's next drive was halted when halfback Emil Sitko intercepted a pass at his own 10 (pictured below). He fumbled the ball trying to return it, but Notre Dame quarterback John Lujack (#32 in the picture below) fell on the ball at the 5 to avert disaster. Lujack then uncorked a 55 yard punt from his own end zone, which Glenn Davis returned to the Notre Dame 39. That drive ended in another turnover. With 48 seconds left, Doc Blanchard made a spectacular catch of a Glenn Davis bomb at the Notre Dame 20, but he had stepped out of bounds, so the pass was ruled incomplete, and that was the last bit of drama in the game.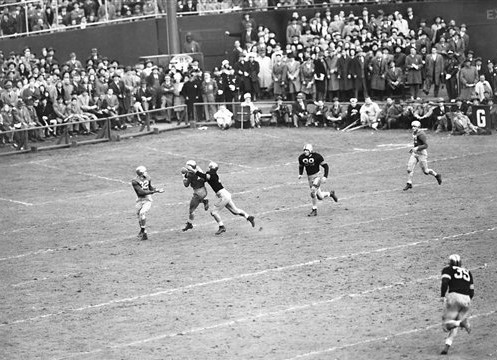 The 0-0 stalemate ended Army's 25 game winning streak. Notre Dame outgained Army 225 yards to 190, but they also turned the ball over 7 times to Army's 4.
Notre Dame had the one sustained drive and one real scoring threat of the game, but Army had the ball 6 times inside the Notre Dame 33, largely due to turnovers.
Notre Dame quarterback Johnny Lujack, who would win the Heisman the next year, threw 4 interceptions, 3 of them grabbed by Army quarterback Arnold Tucker. But Lujack had a great defensive game, including a game saving tackle of Doc Blanchard when he had broken free at one point late in the game. Glenn Davis carried 17 times for 30 yards, Doc Blanchard 18 for 50, Arnold Tucker 9 for 37, and Notre Dame halfback Terry Brennan was the game's leading rusher with 69 yards on 14 carries. Davis and Blanchard played all 60 minutes for Army, and Lujack was in for all but 2 plays for Notre Dame. You can watch film of the game here.

Army remained #1 in the next AP poll, and there they would stay until the last poll of the year. The AP poll's #1 and #2 teams would not meet in a game again until the 1963 Rose Bowl. But not everyone is up to the hoopla that comes with a #1 vs #2 matchup. Seven weeks after the Game of the Century, Army and Notre Dame announced that they would be canceling their series after Army's trip to Notre Dame in 1947. In a joint statement, the 2 schools said that the game "had grown to such proportions that it had to be played under conditions escaping the control of the two colleges, some of which were not conducive to wholesome intercollegiate sport."

Unbeaten on the Field, Beaten in the Polls
Army next made their annual trip to Philadelphia to play Penn (6-2, #12), and dispatched them easily enough, 34-7. They had a 2 week break before their finale with Navy on the same field, but somehow that break sapped them of their momentum. Or maybe the long, grinding season (one more game than the previous 2 seasons, with less depth to soak up those minutes) finally caught up with them. Whatever it was, Army was a 28 point favorite, but they were quite fortunate to hold on for a win against a Navy team that was coming in on a 7 game losing streak. 100,000 fans attended this game, and they got more game for their money than the attendees at the "Game of the Century" did 3 weeks earlier.

The story of this game was perhaps President Truman's bad juju. He sat on Navy's side for the first half, which was dominated by Army, and he sat on Army's side for the 2nd half, when Navy came back and nearly won. In the opening quarter, Navy advanced a pair of ventures into Army territory, but Army end Barney Poole caused a fumble to end the second advance, tackle Art Gerometta recovering at the Army 37. Army drove to a touchdown from there in 4 plays, quarterback Arnold Tucker hitting halfback Glenn Davis for a 46 yard bomb, and Davis scoring from 13 yards out.

Undaunted, Navy responded with an 81 yard drive, including passes of 11 and 32 yards, that ended early in the 2nd quarter with a touchdown. The extra point try was blocked, so Army still led 7-6. Army responded to Navy's response in kind

:

an 81 yard touchdown drive that featured Glenn Davis bursting up the middle for the last 52 yards on one run. An interception soon gave Army the ball at the Navy 38, and 3 plays later, they scored again, Davis hitting Blanchard for a 26 yard touchdown pass. Army led 21-6 at the half, and at this point, all seemed right with the world. But the 2nd half was a completely different story, not only from the first half, but from every game Army had played for the previous 3 seasons. It seemed completely inexplicable, but Army found themselves with little to no gas left in the tank in this 2nd half, and they barely coasted over the finish line of this season on fumes.

Army opened the 3rd quarter with a drive that was stopped at the Navy 31, where Glenn Davis' punt went awry and only traveled 9 yards. Navy drove 78 yards for a touchdown from there, the drive kept alive by a pass interference penalty. Late in the 3rd quarter, Army went for it on 4th and 1 from their own 35, and Blanchard was stopped short. Navy drove the short field from there, scoring the touchdown early in the 4th quarter on 4th and 3 with a lateral and touchdown pass. Suddenly it was a game, 21-18, the difference being 3 missed extra points by Navy.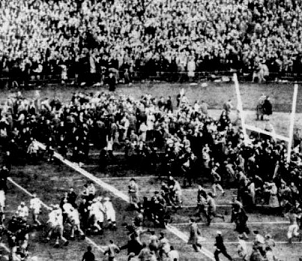 Army returned the ensuing kickoff to their 32, and moved to the Navy 39 on a 29 yard run by Glenn Davis, but then Davis threw a long pass that was intercepted. Navy launched one last drive deep into Army territory in the game's waning minutes. They picked up 20 yards on a 4th down fullback run that carried to the Army 3 yard line with about 1:30 left. Tackle Goble Bryant and end Hank Foldberg stopped the fullback on the next play, and the other end, Barney Poole, stopped him on the next. A delay of game penalty set the ball back, and Navy's next run was halted at the Army 5. Navy sent in a substitute with 7 seconds left to stop the clock for one more play, but fans were swarming the field at this point (as pictured above

:

you can see the players still inside the 10 yard line), and the officials never saw the sub, so Navy was unable to get off that last play. Army was off the hook. Except really, they weren't.

A 21-18 win over a 1-8 team, with that team knocking on the goal line at game's end, was just not going to cut it when Notre Dame had been perfect in their games. Navy had a startling 20 first downs to Army's 8, though Navy barely outgained Army 299 yards to 291. You can see film of the game here. Army fell to #2 in the next (and final) AP poll, and Notre Dame arose to #1.

Notre Dame 1946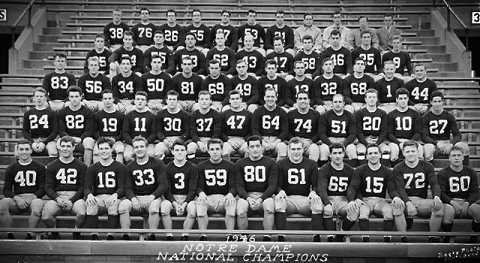 | | | |
| --- | --- | --- |
| at Illinois (8-2) | 26-6 | #4 |
| Pittsburgh (3-5-1) | 33-0 | |
| Purdue (2-6-1) | 49-6 | |
| at Iowa (5-4) | 41-6 | |
| at Navy (1-8) | 28-0 | |
| (Bronx) Army (9-0-1) | 0-0 | #2 |
| Northwestern (4-4-1) | 27-0 | |
| at Tulane (3-7) | 41-0 | |
| Southern Cal (6-4) | 26-6 | |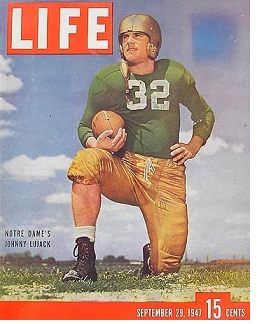 Notre Dame had previously won MNCs in 1924, 1929, 1930, and 1943. I covered their legendary coach, Frank Leahy, in the linked 1943 national championship article. He had been serving in the military in 1944 and 1945, returning to Notre Dame this season, so as a college football coach, this season represented a 2nd consecutive MNC. And he would win another MNC in 1947 for his own college football "threepeat."

Though Notre Dame was greatly depleted of talent in 1944 and 1945 by the war,
so were other schools, and Notre Dame wasn't bad in Leahy's absence. They finished 8-2 and #5 in 1944 and 7-2-1 and #8 in 1945. But they were trounced by Army, who was not at all depleted of football talent, 59-0 and 48-0 those years, so we can see right there how transformed Notre Dame was by all the football talent that returned from the war in 1946.

22 players remained on the roster this year from the 1945 roster. 20 players were new this year, some of them traditional 18 year old freshmen, and some older war veterans who had never before attended college. And another 25 players had played for Notre Dame before, and were returning from the war to play out their eligibility. 10 of those players had been on the roster when Notre Dame won the MNC in 1943.

Notre Dame's star player this year (and next), Hall of Fame quarterback Johnny Lujack (pictured at left), had been the starting quarterback for Notre Dame's last 4 games in 1943. He was a unanimous All American in 1946 and 1947, and he won the Heisman Trophy and was voted the AP athlete of the year in 1947. This year he passed for 778 yards and 6 touchdowns, and in 1947 he passed for 777 yards and 8 touchdowns, adding another 9 touchdowns rushing. He played for the Chicago Bears for 4 years. In 1948, as a rookie, he threw for an NFL record 468 yards in one game, and 6 touchdowns. He set another NFL record for quarterback rushing touchdowns in 1950, scoring 11. He was All-Pro that year, and set a Bears scoring record with 109 points on those 11 touchdowns, plus 3 field goals and 34 extra points. Like his coach, Lujack won a personal 3 consecutive MNCs at Notre Dame for 1943, 1946, and 1947.

So did Hall of Fame tackle Zygmont Czarobski, who played the same years as Lujack, 1943, 1946, and 1947. He would be named a nonconsensus AA in 1947. Starting fullback Jim Mello had also played in 1943, but after the war he just played this one year at Notre Dame. The only other notable player that was returning to Notre Dame from the war was backup center Marty Wendell. He played for Notre Dame in 1944, then 1946-1948, and he would be a nonconsensus AA at guard in 1948.


This Notre Dame team had 7 Hall of Famers that saw the field this season, a new record to this point in history (Notre Dame 1924 and Army 1944 each had 6)
.
The Rest of the Players
With the flood of incoming talent and returning former players this year, the 1945 players who stuck around at all were largely relegated to backup and role-player duties. The most notable players from the 1945 roster were both guards, George Mastrangelo and Hall of Famer Bill Fischer. Mastrangelo was a nonconsensus All American this year, though he was a backup for much of the season. Fischer was a starter, and would be a consensus AA in 1947 and 1948. He also won the Outland Trophy in 1948, and he went on to a 5 year career with the Chicago Cardinals.

Other 1945 holdovers saw little playing time this season, but went on to significant pro careers. Backup quarterback George Ratterman played pro ball for 11 years. 3rd string quarterback Frank Tripucka would start for Notre Dame his senior year, 1948, and he went on to a 15 year pro career. Guard Vince Scott hardly played at all this season, his last year at Notre Dame, but he played 2 years for the Buffalo Bills, then 13 years with the Hamilton Tiger-Cats, and he is in the Canadian Football Hall of Fame. He became a Canadian citizen in the 1950s, and served as a Hamilton city councilor. So you get an idea of how deep this Notre Dame team was.

Though a lot of schools this season were recruiting returning war veterans who had played for other teams prior to the war, Notre Dame had few such players coming in this year. The big one was Hall of Fame tackle George "Moose" Connor, who had played for Holy Cross in 1942 and 1943, before going off to war. He was a consensus AA at Notre Dame in 1946 and 1947, and he won the first-ever Outland Trophy this season. He went on to an 8 year career with the Chicago Bears, was All-Pro 4 times, and he is in the Pro Hall of Fame. Center George Strohmeyer, a nonconsensus AA this year, had played for Texas A&M's freshman team in 1943.

The rest of the notable players on this team were freshmen this year. Hall of Fame end Jim Martin was a 22 year old freshman. Leahy recruited him during the war at Iwo Jima. He would be a nonconsensus AA tackle as a senior in 1949. Notre Dame went 36-0-2 during his 4 years, and the same can be said for all of this year's freshmen that remained through 1949, of course, but Martin was a starter all 4 years. He went on to a 14 year pro career, won 4 NFL titles, and for his NFL career he kicked 92 field goals and 158 extra points.

Hall of Fame halfback Emil Sitko was a 23 year old freshman who would also start for those 4 years of 36-0-2 football. He led the team in rushing all 4 years, and he was a nonconsensus AA in 1948, then a unanimous AA in 1949 as a fullback. He also won the Walter Camp Award in 1949. He was called "Six-yard Sitko," and indeed, his career rushing average at Notre Dame was 6.1 yards.

Finally, we have a traditional 18 year old freshman, Hall of Fame end Leon Hart. He didn't play much this year, but he did catch a touchdown pass as a backup in the finale against Southern Cal. He would be a nonconsensus AA in 1947, consensus AA in 1948 and 1949, he won the Heisman and Maxwell Awards in 1949, and he was the 1949 AP male athlete of the year. For his career, he caught 49 passes for 742 yards and 13 touchdowns, and he was a defensive terror. He was 6' 5" and 260 pounds, a giant for his position and time, but he was fast and agile. He played for the Detroit Lions 1950-1957, winning 3 NFL titles to go with his 3 college football MNCs (1946, 1947, and 1949).

Notre Dame's Season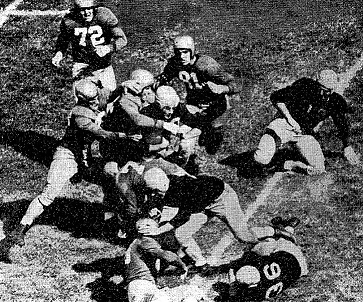 Aside from the Game of the Century against Army, Notre Dame only played one other top 25 caliber team this year, and it was their opener at Illinois (the game pictured above). Illinois had only been 2-6-1 in 1945, but they benefited from football's "black market" of returning players up for bid more than most schools did, and they had a huge turnaround this year. They had already opened their season with a 33-7 win at Pittsburgh. A record 75,000 fans filled Illinois' Memorial Stadium to see how they'd fare against Notre Dame. Before the game, Illinois coach Ray Eliot rated Notre Dame as 3 touchdowns better than his squad, and unfortunately for him, he nailed it.

Illinois reached as far as the Notre Dame 32 yard line late in the opening quarter, but it was the only time they crossed midfield in this game until one big play against Notre Dame's 3rd string in the final quarter. Notre Dame halfback Emil Sitko set up the game's first touchdown in the 2nd quarter with an 83 yard run, and on their next drive, fullback Jim Mello did most of the work, running for 30 and 12 yards before scoring from the 5. Notre Dame led 13-0 at half. The Irish fumbled at the Illinois 1 in the 3rd quarter, missed a field goal from the 9, and then scored a pair of touchdowns on short drives in the 4th quarter after Illinois fumbles, the first a 28 yard touchdown pass from quarterback Johnny Lujack to halfback Terry Brennan. Illinois then got on the scoreboard with a 63 yard touchdown pass in the last 2 minutes against Notre Dame's 3rd string, making the final score 26-6.

Notre Dame outgained Illinois 381 yards to 177, and they had 1 turnover to Illinois' 3. Illinois took an upset loss to 6-3 Indiana (#24) 2 weeks later, but they won out after that, including a 13-9 victory at 6-2-1 Michigan (#5) that gave them the Big 10 title (actually Big 9 at this time). They then went to the Rose Bowl and destroyed previously unbeaten UCLA (10-1, #10) 45-14. I have Illinois ranked #4 for 1946.

The rest of Notre Dame's season was uninteresting, aside from the Game of the Century at Yankee Stadium on November 9th. That game is described in the Army summary above. The tie they took there was the only close game Notre Dame had. The fans who attended the 26-6 win in the finale against Southern Cal (6-4, unrated) were more interested in the Army-Navy game, taking place at the same time. They had brought their radios to the game, and loud cheers resounded throughout Notre Dame stadium whenever Navy scored a touchdown. Fans also took up the Navy chant, "Go Navy, beat Army!" Frank Leahy was 30 miles away, ill at home, and I wouldn't be surprised if he too had one radio tuned in to Army-Navy.

Notre Dame rushed for 517 yards against USC and totaled 623 yards of offense, so naturally the Army-Navy game held more interest. Army survived for the 21-18 win, of course, but Notre Dame had beaten 1-8 Navy 28-0 this season, so Army's win might as well have been a loss. Notre Dame passed them up for #1 in the next, and final, AP poll.
Georgia 1946
Clemson (4-5)
35-12
at Temple (2-4-2)
35-7
Kentucky (7-3)
28-13
#22
Oklahoma State (3-7-1)
33-13


at Furman (2-8)
70-7


Alabama (7-4)
14-0
#21

(Jacksonville) Florida (0-9)
33-14
(Columbus) Auburn (4-6)
41-0
at Tennessee-Chattanooga (5-5)
48-27
Georgia Tech (9-2)
35-7
#6

Sugar Bowl


North Carolina (8-2-1)

20-10

#11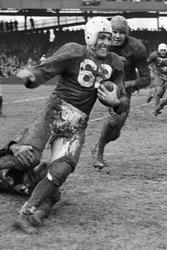 Georgia was lost in the all-engulfing shadows cast by Notre Dame and Army this season, but they went 11-0, played 4 top 25 caliber teams, and no one came within a touchdown of them. They had won their first MNC in 1942, and I covered their Hall of Fame coach, Wally Butts, in that national championship article.

Georgia had finished 9-2 and #13 in 1945, and 13 players, including their best, returned this season. They picked up 15 new players, mostly war veterans, and they also added 8 war veterans who had played for Georgia before. 5 players on this team had played for Georgia's 1942 MNC team, including star
halfback Charley Trippi (pictured at left).

Trippi was a consensus All American this season and won the Maxwell Award. He played at Georgia in 1942, 1945, and 1946. He was MVP of the 1943 Rose Bowl, and in the 4th quarter of the Oil Bowl to cap the 1945 season, Trippi threw a touchdown pass and scored on a 68 yard run to beat Tulsa 20-6. In the NFL, he was a 3-time All-Pro, and he is enshrined in both the college and pro Halls of Fame. He won the NFL championship in 1947 with the Chicago Cardinals, scoring touchdowns on a 44 yard run and a 75 yard punt return in a 28-21 victory over the Eagles. He is the only pro Hall of Famer with 1000 yards receiving, 1000 passing, and 1000 rushing.

Quarterback John Rauch is also in the Hall of Fame. He played 1945-1948, and was a nonconsensus AA in 1948. He broke the school record with 4044 yards career passing. Later he went 40-28-2 as a pro football coach.

End Joe Tereshinski played the same years Charley Trippi did, 1942, 1945, and 1946, so he was also on 2 teams Georgia claims MNCs for. He went on to an 8 year career in the pros, and he is the patriarch of 3 generations of Georgia football players. End Dan Edwards went on to a 7-year pro career, and guard Herb St. John was All SEC for 4 seasons.
Georgia's Season
Georgia opened the season with wins by 35-12 over Clemson (4-5), 35-7 at Temple (2-4-2), and 28-13 over Kentucky (7-3, #22). Kentucky's 3 losses all came to top 25 teams, and they defeated Vanderbilt (5-4, #25) 10-7.

Georgia then won 33-13 over Oklahoma State (3-7-1) and 70-7 at Furman (2-8), bringing up their first big game, hosting defending SEC champion Alabama, who was coming in 5-1 and ranked #15 in the AP poll. Georgia's defense shut Alabama down in this one. Charley Trippi threw a touchdown pass and ran 46 yards for another score, making it 14-0 at half, and that's how it ended as well. Alabama lost twice more, including a 13-7 upset loss at Boston College (6-3, unranked), but they defeated South Carolina (5-3), Kentucky (7-3, #22), Vanderbilt (5-4, #25), and Mississippi State (8-2, unranked). Alabama finished 7-4, and I have them ranked #21 for 1946.

Georgia next romped on 3 poor teams, and then came their biggest game of the year, hosting Georgia Tech in their regular season finale, the SEC title and a Sugar Bowl bid on the line. Georgia Tech had lost their opener 13-9 at Tennessee (9-2, #9), but then they had won their next 8 games, all by more than a touchdown, and that included a very impressive 26-7 win at LSU (9-1-1, #7). Georgia was nevertheless a touchdown favorite, and they pleased most of the 55,000 in attendance when they won by considerably more than a touchdown, jumping out to a 28-0 lead and winning 35-7.

Charley Trippi had an outstanding game, scoring 3 touchdowns on a catch and a pair of runs, one a 65 yarder, and throwing for another touchdown. He ran 13 times for 121 yards, hit 6 of 10 passes for 51, and grabbed an interception. Quarterback John Rauch was 9 of 11 passing for 117 yards and 2 touchdowns, and he also caught Trippi's touchdown pass. So Georgia was 15 of 21 passing as a team, Georgia Tech 9 of 19. Georgia outgained GT 431 yards to 284, and they had 2 turnovers to GT's 5.

Georgia Tech went to the Oil Bowl in Houston and beat St. Mary's (6-3, unranked) 41-19. That finished Tech at 9-2, and I have them ranked #6 for 1946.
The Sugar Bowl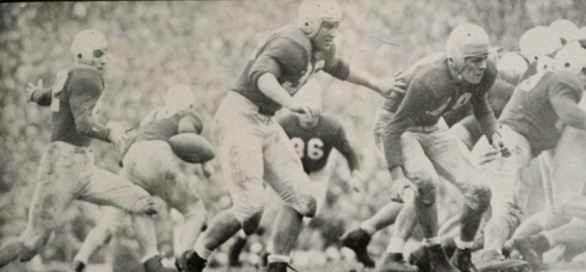 Georgia's Sugar Bowl opponent was North Carolina, coming in at 8-1-1 and #9 in the AP poll. The game was billed as a matchup of superstar Charlies, Georgia halfback Charley Trippi and North Carolina halfback Charlie "Choo Choo" Justice, both Hall of Famers. 73,000 attended.

North Carolina dominated the first half, and might have won the game if not for extremely poor officiating that benefited Georgia in their rally to victory. The game's first score was set up in the 2nd quarter when Charley Trippi threw an interception at his own 25 yard line. North Carolina scored on a short touchdown drive from there, and led 7-0. UNC later threatened again, but they fumbled the ball away, Charley Trippi recovering the ball at his own 15 near the end of the half.

In the 3rd quarter, Georgia end Joe Tereshinski intercepted a pass at his own 26, and as he was being tackled, he lateraled forward to fullback Dick McPhee, who ran it all the way to the UNC 14. An official had come up to the point of the lateral, presumably to mark the ball dead there, but no whistle blew, and the ball was not brought back. Game film shows a clear forward lateral. Georgia capitalized with a short touchdown drive, scored by quarterback John Rauch, tying the game at 7.

North Carolina answered on their next drive, marching to a 17 yard field goal that put them back in front 10-7. But Georgia answered their answer, Charley Trippi throwing to end Dan Edwards, who caught a short pass and outraced would-be tacklers all the way to the end zone for a 67 yard touchdown. The extra point try was blocked, but Georgia led 13-10.

In the 4th quarter Georgia drove 80 yards to the clincher, John Rauch scoring his 2nd touchdown of the game from 13 yards out to extend the lead to 20-10. UNC scored a touchdown in a bid to make the final score closer, but the refs erased it on a bizarre call. A UNC receiver caught a touchdown pass in the end zone, and the Georgia defensive back, who was behind him, hit him and knocked him unconscious. The receiver was ridiculously called for offensive pass interference, and film of the play makes one wonder if the refs even saw the play at all. The final score thus remained 20-10.

UNC had 17 first downs to 12 for Georgia, and they slightly outgained Georgia 265 yards to 256, but UNC also turned the ball over 2 times, Georgia only once. UNC's Charlie Justice was held to just 37 yards rushing. Georgia's Charley Trippi and John Rauch both played all 60 minutes, the last players to do so in the Sugar Bowl. UNC finished 8-2-1, and I have them ranked #11 for 1946.
Army vs. Notre Dame vs. Georgia
Here are the significant games for our contenders in 1946. The opponent rankings come from my 1946 fixed AP poll.


Army 9-0-1
Notre Dame 8-0-1
Georgia 11-0

| | | |
| --- | --- | --- |
| Oklahoma (8-3) | 21-7 | #14 |
| Cornell (5-3-1) | 46-21 | #19 |
| at Michigan (6-2-1) | 20-13 | #5 |
| Columbia (6-3) | 48-14 | #17 |
| (Bronx) Notre Dame (8-0-1) | 0-0 | #1 |
| at Pennsylvania (6-2) | 34-7 | #12 |
| (Philadelphia) Navy (1-8) | 21-18 | Unranked |

| | | |
| --- | --- | --- |
| at Illinois (8-2) | 26-6 | #4 |
| (Bronx) Army (9-0-1) | 0-0 | #2 |

Kentucky (7-3)
28-13
#22
Alabama (7-4)
14-0
#21
Georgia Tech (9-2)
35-7
#6

Sugar Bowl


North Carolina (8-2-1)

20-10

#11

Against opponents not ranked in the fixed AP poll, Army defeated 4 teams by an average score of 24-5, Notre Dame defeated 7 by an average of 35-3, and Georgia defeated 7 by an average of 42-11.

Let's start by comparing Army to Notre Dame.

Army vs. Notre Dame
Obviously, since 9-0-1 Army tied 8-0-1 Notre Dame, a shared MNC here is likely. Army did perform worse than Notre Dame did this season, but they also played a far tougher schedule than Notre Dame did, so a shared title is apt here. The next question is, who should be #1? Could it be either one, Notre Dame for performance or Army for tougher schedule?

Well, I could see putting them both at #1 in a tie, but if you were to choose only one of these teams to be #1, I think that team has to be Notre Dame. Just because a team plays a tougher schedule does not automatically make them a better team. Notre Dame may have played a weak schedule, but they performed perfectly against it outside their tie with Army, and Illinois was a better team than anyone Army beat.

Army won at Michigan in a very close game, 20-13, while Notre Dame crushed Illinois 26-6. And Illinois beat Michigan on the road. Then there's Army's awful performance in their razor-close 21-18 win over Navy. Now, Navy is a rivalry game for Army, but still, they were a 1-8 team, Army had 2 weeks to prepare for it, and the fact that it was their last game gives the game a little more weight (as opposed to their opener, for example, which could be given less weight). And Notre Dame beat Navy 28-0 in Baltimore. Other than their game against Army, the closest anyone got to Notre Dame was 20 points, and 5 teams other than Notre Dame were closer than that to Army.

Throw in the fact that Notre Dame had the only sustained drive and the only serious scoring threat in their game against Army, and I just don't see a good reason for Army to be rated #1 ahead of Notre Dame.

The Case for Georgia
I can, however, see a good reason for Georgia to be rated ahead of Notre Dame. They too played a tougher schedule than Notre Dame did, and unlike Army, Georgia won all of their games by more than a touchdown. Army's 21-18 edging of 1-8 Navy doesn't just hurt them here, it also hurts Notre Dame, since Notre Dame tied Army. That one fact, plus Georgia's tougher schedule (than Notre Dame's), plus Georgia's perfect performance, gives reason to rank them #1.

The main reason Notre Dame and Army were and are so much more esteemed than Georgia is all of those Hall of Famers, All Americans, Heisman and Outland winners, etc. But all of those awards are popularity contests. Though it can be hard to look past all those awards, they don't actually mean anything, and for all we know, if Georgia's players had played for Notre Dame, they would have won all those awards.

Luck is involved in winning an MNC, and Georgia 1946 is much more fortunate than Alabama 1945, whose schedule and performance look very similar to that of Georgia 1946. But in 1945, Alabama was up against an Army team that was simply spectacular, while Georgia 1946 is up against an Army team that barely beat 1-8 Navy, and a Notre Dame team that tied that Army team. Also, it should be noted that Alabama 1945 was playing war-depleted opponents, while Georgia 1946 was not, so their "equal" looking schedules and performance were not actually all that equal.

But back to Georgia's case for 1946. Notre Dame's 26-6 win over Illinois was better than any Army win because Illinois beat Army's best opponent (other than Notre Dame), Michigan, on the road. However, while 8-2 Illinois is #4 and 9-2 Georgia Tech #6, those rankings reflect the preferences of AP voters, and Illinois was not necessarily a better opponent than Georgia Tech. Illinois lost to #24 Indiana (6-3), while Georgia Tech lost to #9 Tennessee (9-2). Illinois had close wins over 4-5 Wisconsin and 5-4 Iowa, and Georgia Tech's wins all came by more than a touchdown. Illinois beat #5 Michigan (6-2-1) 13-9, but Georgia Tech beat #7 LSU (9-1-1) 26-7.

So there is no advantage for Notre Dame's 26-6 win over Illinois as compared to Georgia's 35-7 win over Georgia Tech, and that leaves no argument at all against the fact that Georgia played the tougher schedule overall. And while Notre Dame performed almost perfectly, they did tie Army, who barely beat Michigan and 1-8 Navy. Georgia, on the other hand, performed perfectly.

But it is also viable to rank Georgia behind Notre Dame and Army, for these reasons

:



Georgia should be considered a co-MNC with Notre Dame and Army, and you could viably rank them #1, or #2 behind Notre Dame, or #3 behind Notre Dame and Army, as the AP poll did.
Awards Ceremony
1946 #1:

9-0-1 Notre Dame, and/or 11-0 Georgia, and/or Army in a tie with Notre Dame


National Co-champion:

Notre Dame, Georgia, or Army if not ranked #1


Contender:

None

These are the awards I have been handing out for each season, except seasons when there are no contenders. For this purpose, what I mean by a contender is a team that I think is very close to being worthy of sharing the national championship. A team that you could make an argument for, even if that argument is weak. But the contenders are teams that I myself do not see as national champions.

Looks like Georgia's MNC claim for this season is not spurious. I don't like 3-way shared MNCs, but I just don't see a good way around this one.
Grading the Selectors
I have been grading the NCAA Records Book's selectors for each season, and keeping a grade point average, so we can see who is relatively good at selecting national champions and who is not. And although I do not consider computer ratings to be legitimate national championship selectors, I have been including them in this section as well, just for comparison's sake.
I am grading on a scale of 0-5 (5 being the best).


The Helms Foundation and the Poling and Boand math systems split the MNC between Army and Notre Dame. Grade

:

5.0



The College Football Researchers Association and the Houlgate and Billingsley math systems crowned Army alone. Grade

: 4.2



Williamson's math rating tabbed Georgia #1. Grade

:

5.0



Everyone else selected Notre Dame
. Grade

: 5.0



Grade point averages 1936-1946

:




1) Boand (math system)




5.0

2) AP Poll


College Football Researchers Association




Poling (math)


4.93

5) DeVold (math)
4.90

6) Billingsley (math)

4.85

7) National Championship Foundation
4.67
8) Litkenhous (math)
4.61

9)

Houlgate (math)

4.40

10)

Dunkel (math)

4.20

11) Berryman (math)
4.17
12) Sagarin (math)
4.15

13) Helms Foundation

4.13

14) Sagarin-ELO (math)
4.03
15) Williamson (math)
3.49

Grade point averages 1919-1935
:
| | |
| --- | --- |
| 1) Boand (math system) | 4.26 |
| 2) College Football Researchers Association | 4.22 |
| 3) Poling (math) | 4.11 |
| 4) Helms | 4.09 |
| 5) Sagarin-ELO (math) | 4.06 |
| 6) National Championship Foundation | 3.96 |
| 7) Dickinson (math) | 3.49 |
| 8) Houlgate (math) | 3.35 |
| 9) Billingsley (math) | 3.34 |
| 10) Sagarin (math) | 3.28 |
| 11) Parke Davis | 2.77 |

How the systems that selected champions for 1901-1918 did

:



| | |
| --- | --- |
| 1) Houlgate (math system) | 4.5 |
| 2) Helms | 4.3 |
| 3) Parke Davis | 4.2 |
| 4) National Championship Foundation | 3.7 |
| 5) Billingsley (math) | 3.6 |