Home
1930 College Football National Championship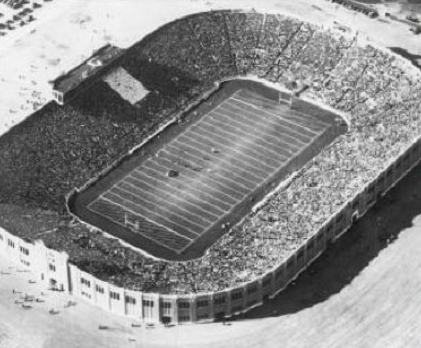 Here is Notre Dame Stadium on October 11th, 1930, when it was officially dedicated for the Navy game. The stadium's first actual game featured Southern Methodist the previous week. Notre Dame, the defending mythical national champion (MNC), won all its games again in 1930, finishing 10-0. It was the climax of Notre Dame's first era of greatness, but also its last chapter. Their legendary coach, Knute Rockne, died in a plane crash the following Spring, bringing an end to college football's "Golden Age."


Here is how the "major selectors" listed in the NCAA Records Book, all selecting retroactively, see the 1930 college football national championship (omitting math/computer ratings, which neither I nor anyone else recognize as constituting titles)

:
10-0

Notre Dame

:
Helms
,
National Championship Foundation,
Parke Davis
(tie)
10-0 Alabama

:
CFB Researchers
,
Parke Davis
(tie)

As you can see, Knute Rockne's last and greatest team had a competitor for the MNC. Notre Dame would have easily won an AP poll, even after Alabama thrashed 9-1 Washington State 24-0 in the Rose Bowl, but that's because they were NOTRE DAME. This Alabama team was at least as impressive as Notre Dame was this season, and they were easily the best of coach Wallace Wade's 3 MNC contenders there. So 1930 gives us a pair of titans to compare. If only they had clashed.

A sample of the roadkill left on the shoulder of this season's MNC highway

:



9-1 Washington State, as mentioned, saw their perfect season smashed to pieces by Alabama in the Rose Bowl.
7-1 Northwestern lost only to Notre Dame, 14-0 at home.
8-1 Tulane lost 14-0 at Northwestern.
9-1 Tennessee lost 18-6 at Alabama.
8-0-1 Michigan took an early scoreless tie at home against 5-1-2 Michigan State.
9-1 Colgate was also tripped up by Michigan State, losing 14-7 in East Lansing.
9-1-1 Army lost 7-6 at Notre Dame, and they were tied 7-7 at 5-2-2 Yale.
8-2 Southern Cal put up some incredibly impressive scores, including 41-12 over 9-1-1 Stanford, but they lost 7-6 at WSU and 27-0 to Notre Dame at home.
8-1 St. Mary's (California) lost 7-6 at 4-5 California.
8-1 Fordham lost 20-12 to St. Mary's at home.

8-0 Utah went unbeaten for the 3rd straight year, and they outscored their opponents 340-20, no one coming within a touchdown, but they didn't beat anyone outside the Rockies.
All rankings in the following article, except as noted, come from my 1930 top 25, which is based on a hypothetical post-bowl AP poll (within logical reason of course).

Notre Dame 1930
| | | |
| --- | --- | --- |
| Southern Methodist (6-3-1) | 20-14 | (#31-50) |
| Navy (6-5) | 26-2 | |
| Carnegie (6-3) | 21-6 | #25 |
| at Pittsburgh (6-2-1) | 35-19 | #24 |
| Indiana (2-5-1) | 27-0 | |
| at Penn (5-4) | 60-20 | |
| Drake (5-4) | 28-7 | |
| at Northwestern (7-1) | 14-0 | #3 |
| (Chicago) Army (9-1-1) | 7-6 | #12 |
| at Southern Cal (8-2) | 27-0 | #4 |
Notre Dame had previously won MNCs in 1924 and 1929, and I covered their legendary coach, Knute Rockne, in the 1924 article
. They had gone 9-0 in 1929, and their 10-0 finish this season made it 19 straight wins. The streak would end with 20 wins in 1931, thanks to a tie with Northwestern, and their unbeaten streak would end at 26 games with a loss to Southern Cal 6 weeks later.



The big losses from the 1929 team were consensus All American guard Jack Cannon, guard and captain John Law, and game-breaking halfback Jack Elder. But the bulk of the regulars returned, and Notre Dame added a very impressive array of significant new 1st-stringers this season.

Chief among the returnees was Hall of Fame quarterback Frank Carideo, who repeated as a consensus AA, and if there had been a Heisman Trophy this season, he would have run away with it. Tackle Frank Leahy also returned, but he injured his leg and played very little this season.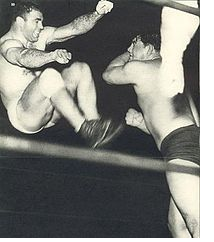 Three members of the 1929 "shock troops" that I mentioned in the 1929 article moved up to 1st string this season

:

Hall of Fame guard Bert Metzger, Hall of Fame halfback Marchy Schwartz, and fullback Jumping Joe Savoldi. Metzger and Schwartz joined Carideo as consensus AA, giving Notre Dame a nation-leading 3. Schwartz had 3 consecutive 100-yard rushing games this season, against Pitt, Indiana, and Penn. He would repeat as consensus AA in 1931, and finished with a career 1945 yards rushing and 5.8 yards per carry.

Jumping Joe Savoldi was quite the character. He was born in Italy and raised in Michigan, and he was a high-impact fullback at Notre Dame. He scored Notre Dame's first-ever touchdown in their new stadium, against Southern Methodist, then he scored 3 touchdowns at the stadium's dedication game against Navy the next week. Unfortunately, in mid-November he was served divorce papers, revealing his secret marriage to the public, and Notre Dame, which like many colleges at the time did not allow its students to marry, had to expel him right before their 3 biggest games, against 7-1-1 Northwestern, 9-1-1 Army, and 8-2 Southern Cal. But that was far from the end of the Joe Savoldi story.

10 days after leaving school, he was starting at halfback alongside Red Grange for the Chicago Bears, and he scored the only touchdown in a 6-0 win over the Cardinals. After that, he played for Notre Dame's all-stars in a game against Southern and Western all-stars in Los Angeles, scoring 3 touchdowns in a 20-7 win. He was named MVP of the game. But as fate would have it, wrestling scouts were at the game, and they approached him afterward and convinced him that wrestling paid far more than pro football (which was generally true). He thus spurned the NFL and became famous as a pro wrestler in the 1930s (as pictured, delivering his signature dropkick), even holding a "World Championship" for a time.

New center Tommy Yarr would be the captain and a consensus AA in 1931. He grabbed a pair of 4th-quarter interceptions in a 20-14 win over pass-happy Southern Methodist in this year's opener. Sophomore tackle Joe Kurth would be consensus AA in 1932. "Shock troop" (2nd string) guard Frank "Nordy" Hoffman would be nonconsensus AA in 1931, and many years later he became sergeant-at-arms of the U.S. Senate. Yarr and Hoffman are in the Hall of Fame.
Notre Dame's Season
Notre Dame played a very strong schedule this season, even for them. 9 of their 10 opponents finished with winning records, 4 or 5 of them would have finished ranked in an AP top 25, and 2 or 3 of them would have been top 10. Their 3 biggest games came in consecutive weeks at the end of the season.

Notre Dame Stadium debuted this season, and Southern Methodist's nationally famous "aerial circus" came to town to open the season and stadium. 25,000 fans were treated to quite the show. Southern Methodist scored first, throwing passes downfield to set up a 2 yard touchdown plunge, but Jumping Joe Savoldi returned the ensuing kickoff for a 98 yard touchdown to tie the game. In the 2nd quarter, Frank Carideo returned a punt to the SMU 16, and soon afterward Marchy Schwartz scored from 7 yards out. SMU came back late in the half with some long passes to score a touchdown and knot the game up at 14 going into halftime.

The score remained 14-14 until late in the game. Notre Dame controlled the 2nd half, but 2 scoring threats were halted before they finally went to the air with about 4 minutes left in the game. Schwartz hit end Tom Conley for a long pass to the SMU 4 yard line and then barreled over goal for his 2nd touchdown, and the 20-14 win, on the next play. SMU finished 6-3-1, losing also to 8-1-1 Texas and 9-2-1 Texas Christian, and they were tied by 6-3-1 Baylor. But they struck a couple of small blows for the Southwest, beating 2-5-1 Indiana 27-0 and downing 6-5 Navy 20-7 in Baltimore. Still, while they were good, they would not have finished ranked in an AP poll's top 25 had there been one in 1930.


Navy came to town the next week for the stadium's dedication game, but they were down this year (finishing 6-5), and Notre Dame handled them easily, 26-2. Pesky Carnegie was next, and Notre Dame beat them 21-6. Carnegie was a good 6-3 team, and I have them at #25 for the 1930 season
.

Notre Dame's 1st road trip was game 4 at Pittsburgh, a team that had emerged in recent years as the beast of the East. 73,000 attended. Rockne did something unusual for this game

:

he actually started his starters. But they weren't in for long. Marchy Schwartz ran for a 60 yard touchdown on Notre Dame's first play of the game, and Jumping Joe Savoldi scored twice on a plunge and a 40 yard interception return. It was 28-0 early in the 2nd quarter, Frank Carideo perfect on extra points. The substitutes came in, and they scored again to make it 35-0 at the half. Pitt came back for 3 touchdowns on the subs in the last quarter, making the final score 35-19. Pitt finished 6-2-1,
losing at 5-2-1 Ohio State, tying at 4-3-2 Nebraska, and beating 5-2-2 Syracuse and 6-3 Carnegie
;

I have them at #24 for 1930.

After the Pitt rout, the media hype for Notre Dame went into overdrive, where it remained for the rest of the season. From the Associated Press

the next day

:

"Another great Notre Dame eleven, flying high along the road to the national championship, shattered the Pittsburgh Panthers with five touchdowns in the first half... Notre Dame served final warning on the football world that one of the greatest of all Knute Rockne's elevens is on the way to lasting fame."

Notre Dame's next 3 opponents were their easiest, resulting in wins by 27-0 over 2-5-1 Indiana, 60-20 at 5-4 Penn, and 28-7 over 5-4 Drake. Next up was the season-ending gauntlet

:

at Northwestern (7-1-1), Army (9-1-1) at Soldier Field, and at Southern Cal (8-2), all considered to be top 10 caliber teams. And of course fullback Jumping Joe Savoldi was discovered to be both married and divorcing-- expelling him from the school for the former and from the Church for the latter.

Northwestern
Northwestern came into this game, their finale, 7-0 and champions of the Big 10. No one had come within a touchdown of them, and they had beaten 8-1 Tulane 14-0, 5-2-1 Ohio State 19-2, and 6-2-1 Wisconsin 20-7. Visions of a national championship danced in their heads. As he did at Pitt, Rockne left his shock troops on the bench and started his 1st string. With the Army and Southern Cal games looming, he no doubt hoped that Notre Dame would again erupt for a big early lead and give his regulars half a game's rest, but if so, his plan backfired. The game was a fierce and scoreless battle until midway through the 4th quarter, and 6 of his 11 starters ended up playing all 60 minutes, exceedingly rare under Rockne since the early 1920s.

Notre Dame advanced the only threat of the opening quarter, reaching the Northwestern 16, but Northwestern had Notre Dame's backs up against the wall throughout the 2nd quarter. Their first threat began with an interception returned to the Notre Dame 40. They pushed the ball downfield and picked up a 4th and 1 at the 15, and they momentarily picked up another 4th and 1 at the 6, but on that play they fumbled the ball away at the 3. They got another opportunity later in the quarter when Notre Dame quarterback Frank Carideo fumbled at his own 4 yard line, but after 2 runs gained a yard, Northwestern fumbled the ball away again, this time at the Notre Dame 1. Northwestern later drove to the Notre Dame 21, where time ran out in the half.

Notre Dame controlled the 2nd half, but they couldn't score until 7 minutes were left in the game. Frank Carideo punted to the Northwestern 1, which was good, but the play was negated by a holding penalty on Northwestern, giving Notre Dame a 1st down, which was even better. Marchy Schwartz scored on a 28 yard run 2 plays later. Very late in the game, Notre Dame intercepted a Northwestern lateral pass at their 25. After Notre Dame picked up a quick 1st down, Schwartz threw a pass to Carideo that carried to the 1, substitute Dan Hanley plunged over for the touchdown, and Carideo kicked his 2nd extra point to make the final score 14-0.

Northwestern had just 1 drive inside the ND 30 in the 2nd half, while Dame took 5 trips inside the NW 30. Notre Dame finished with 150 yards and 8 first downs, Northwestern with 114 and 6. The big difference there was the passing game, as Notre Dame hit 4 of 12 for 60 yards, and NW was 0 for 9 and threw 3 interceptions. If there had been a post-bowl AP poll, Northwestern would have been ranked #3. They had 6 players make at least 2nd or 3rd team on various AA lists

;

only Notre Dame had more.
Army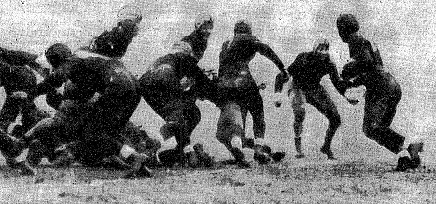 Notre Dame and Army had already staged a number of classic games by this point, including Notre Dame's 12-6 "win one for the Gipper" rally in 1928 and Jack Elder's 96 yard interception return for a 7-0 Notre Dame win in 1929. Notre Dame was 11-4-1 in the series, but 7 of their wins had been close games. Army came into this one at 8-0-1 on the season, but their schedule was incredibly weak, as 6 of those opponents were minor teams. The only good team they had played was 5-2-2 Yale, and that was their tie. But while they were not as strong as Northwestern, they were very good, they always played Notre Dame tough, and they had another couple of advantages that Northwestern had not had the week prior.

First of all, Notre Dame was coming off a very draining game against Northwestern, while Army was coming off a pair of breather games against Kentucky Wesleyan and Ursinus. Secondly, a steady, icy rain fell on gameday, rendering Soldier Field a slippery mess, and that always favors the underdog. Despite the weather, attendance estimates ran as high as 110,000 (103,000 paid). The teams staged yet another classic for the crowd, and like the Northwestern game, all the scoring in this game took place in the deep end of the final quarter.

Knute Rockne went back to starting his shock troops for this one. They recovered a punt that hit an Army player at the Army 27, but got driven back to the 40. Then they recovered a muffed punt at the Army 17, but were stopped at the 12. Army soon got their own breaks in the kicking game. A quick kick from their 25 rolled all the way to the Notre Dame 6, and the ensuing punt-out only traveled to the 22. Army then drove to the Notre Dame 10, but a penalty killed the drive thereafter. Notre Dame's regulars entered for the 2nd quarter, and they controlled the rest of the game. They drove to the Army 40, but threw an interception there. Late in the quarter, Marchy Schwartz returned a punt 14 yards to the Army 26, and they drove to the Army 12 when the half ended.

In the 3rd quarter, Notre Dame partially blocked a punt to gain possession of the ball at the Army 29, but that drive was stopped at the 11. On Notre Dame's next drive, Marchy Schwartz broke away for a long run, but he was hit and fumbled the ball away at the Army 3. In the 4th quarter, Notre Dame end and captain Tom Conley recovered an Army fumble at their 12. Notre Dame drove to the 4, but Frank Carideo uncharacteristically missed a field goal try there. Finally, with about 5 minutes left, Schwartz broke loose on a 54 yard touchdown run off tackle, and Carideo hit the critical extra point for a 7-0 lead. Army could not move the ball much at all in this game, but they almost spoiled Notre Dame's season through another break in the kicking game. Substitute end Dick King blocked a Frank Carideo punt and fell on the ball in the end zone for a touchdown. But Notre Dame blocked the all-important extra point try, and by that margin they held on for the 7-6 win.


Notre Dame outgained Army 191 yards to 63, and they had 5 first downs to 3 for Army. Army went on to beat 6-5 Navy 6-0 on December 13th, finishing 9-1-1, and I have them ranked #12 for 1930
.

Southern Cal
No rest for the weary

;

Notre Dame was off to Southern Cal the next week, their third straight road trip to face a top 10 caliber team. Southern Cal came in at 8-1, the loss by a mere 7-6 at Washington State, who was 9-0 and heading to the Rose Bowl. USC had outscored their other 8 opponents 376-32 (average 47-4), including a 41-12 win at 9-1-1 Stanford. Notre Dame had won 3 of 4 games against USC thus far in the series, but all 3 wins were by just 1 point, so USC had actually outscored Notre Dame by a total of 10 points over the 4 games.

Making matters more difficult, Notre Dame fullback Larry "Moon" Mullins was injured and could not play, and with Jumping Joe Savoldi already gone, that left a big hole at the position. But substitute halfback Paul "Bucky" O'Connor was moved to 1st string fullback, and wouldn't you know it, Bucky ended up being the game's top rusher and high scorer.

Southern Cal was a 5-4 favorite to win, and an estimated 90,000 fans showed up at the Coliseum to cheer them on. But it would be a sad day for them. Knute Rockne went all in, starting his regulars again, and they rewarded him by jumping all over USC in the opening quarter. Notre Dame drove deep into Southern Cal territory after the opening kickoff, and though they were stopped, USC gave the ball right back with a bad snap on their first play from scrimmage. Halfback Marchy Schwartz then hit quarterback Frank Carideo with a 19 yard touchdown pass. Not long after that, halfback Marty Brill ran a reverse, then lateraled to Bucky O'Connor, who took the ball 80 yards for a touchdown. A Carideo touchdown pass was negated by a holding penalty in the 2nd quarter. In the 3rd, Schwartz got loose for a 50 yard run, then capped the drive by lateraling to Bucky O'Connor, who took it in from 7 yards out for his 2nd touchdown. The reserves added a touchdown in the 4th, and the final score was a rather shocking 27-0.

O'Connor and Schwartz both rushed for over 100 yards, and Notre Dame totaled an amazing 433 yards of offense to USC's 140. Southern Cal fell to 8-2, but they would have finished ranked about #5 in a post-bowl AP poll (I have them #4). After the game, Notre Dame returned to the Ambassador Hotel to dress for a victory dinner at the Los Angeles Athletic Club, and then 2 buses took them to fullback Moon Mullins' parents' house in South Pasadena, where the party continued until 5 a.m.

Notre Dame was hailed far and wide as the national champion. The Veteran Athletes of Philadelphia club named Notre Dame the national champion and Frank Carideo the nation's outstanding player. The Erskine Award, a national championship cup that was based on a vote of 275 writers representing every region, went to Notre Dame, just as the inaugural Erskine cup had the year before. At a ceremony in Mount Vernon in January, they presented Carideo with $1000 and Rockne with a car. The Dickinson system's Rissman Trophy also went to Notre Dame, and since they had won it 3 times in less than a decade, the trophy was permanently retired to Notre Dame's possession. The Dickinson system's trophy would be named for Knute Rockne in subsequent seasons.

Robert Kelley wrote in the

New York Times

, "Not in a great many years has a team so clearly and convincingly demonstrated its right to be called the best in the country." But then he added this interesting caveat

:

"Casting about for any possibility of a flaw in the title, there remains only Alabama to be considered."
Alabama 1930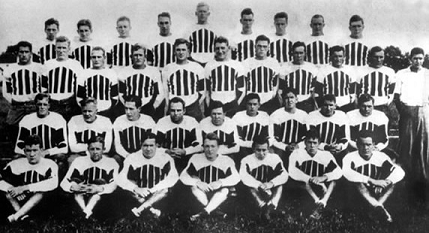 Samford (5-5)
43-0
Mississippi (3-5-1)
64-0
Sewanee (3-6-1)
25-0
Tennessee (9-1)
18-6
#7

Vanderbilt (8-2)
12-7
#18

at Kentucky (5-3)
19-0
(#31-50)
at Florida (6-3-1)
20-0
(#31-50)

(Montgomery) Louisiana State (6-4)
33-0
Georgia (7-2-1)
13-0
#17

Rose Bowl


Washington State (9-1)



24-0


#5
Alabama had previously contended for MNCs in 1925 and 1926, though I only selected them for 1925. I covered their Hall of Fame coach, Wallace Wade, in the 1925 article. He had announced that this was his last season at Alabama in the Spring, and after their Rose Bowl win, he moved on to Duke
.

Alabama's strength was a big, imposing line, which writers likened to red elephants, the genesis of the school's elephant mascot
. The star of that line was tackle Fred Sington, a unanimous All American and Hall of Famer who went on to a 6 year career in Major League Baseball. Tackle Charles "Foots" Clement was the captain, and he was all-Southern Conference. Guard Frank Howard went straight to Clemson after this season and never left, earning a coaching spot in the Hall of Fame. He was an assistant coach 1931-1939 and head coach 1940-1969. He went 165-118-12 at the helm and won 8 conference titles, the highlight seasons being 11-0 in 1948 and 9-0-1 in 1950. Clemson's playing field is named for him.

Halfback John "Flash" Suther was a nonconsensus All American, but quarterback/halfback John "Monk" Campbell was the offensive star, leading the team with 13 touchdowns (Suther was next with 7). Sophomore quarterback/halfback/fullback Johnny Cain
was the only 1st string player who wasn't a senior. He would be named a nonconsensus AA in 1931, all-Southern 3 straight years, and he is in the Hall of Fame.
Alabama's Season
Wallace Wade frequently employed Knute Rockne's "shock troops" strategy this season, starting the "back-ups" in most games, then sending the regulars in for the 2nd quarter. Alabama's big line pounded opponents into submission, and 4 times they carried just a 6-0 lead into the 4th quarter, only to pull away at the end (scoring 53 points in the 4th quarter in those games).

Alabama opened with 3 patsies, beating Samford 43-0, Mississippi 64-0, and Sewanee 25-0. Wade was in Knoxville scouting the next opponent, Tennessee, for the Sewanee game, and Cain and Suther did not play, so the game was tight for a while, but Alabama scored 19 in the 4th quarter.

Tennessee was Alabama's homecoming opponent, and temporary stands allowed 20,000 fans to watch. Tennessee was riding a 33 game unbeaten streak, their last loss coming in 1926, though they had suffered exactly 1 tie in each season 1927-1929. They had beaten Alabama 15-13 and 6-0 the previous 2 seasons. It was Alabama's biggest game, but luckily for them, Tennessee's star player, Gene McEver, was out, along with both their starting ends. Still, their quarterback (and future Hall of Fame coach at Georgia Tech), Bobby Dodd, played a great game in a losing effort.

Alabama started their "shock troops," but when Tennessee drove to their 28, Fred Sington, Charles Clement, and Monk Campbell were sent in, and they helped stop Tennessee at the 10. In the 2nd quarter, Alabama's regulars drove 81 yards on 11 runs, capped by Johnny Cain's 14 yard touchdown run to open the scoring at 6-0. Suther added a 31 yard touchdown run to make it 12-0 at the half. Tennessee fumbled the ball at their own 12 in the 3rd quarter, and Alabama plunged into the line 6 times to a Monk Campbell touchdown for an 18-0 lead. In the 4th quarter, Tennessee was stopped at the Alabama 7, but after the punt-out they tossed the ball to the 1 and plunged over from there to make the 18-6 final score. The game ended with Alabama at the Tennessee 8.

Tennessee won out to finish 9-1. Their schedule wasn't particularly impressive, but they beat 8-2 Vanderbilt 13-0, and I have them ranked #7 for 1930. They went on to 9-0-1 finishes in both 1931 and 1932, so this was their only loss in 6 straight seasons 1927-1932
.

Vanderbilt
Alabama's next opponent was Vanderbilt in Birmingham. Vanderbilt was a Southern power team in those days, and Wallace Wade had been an assistant coach there prior to coming to Alabama. Vanderbilt had beaten Alabama the last 2 times, in 1927 and 1929, they were 8-2 against Alabama all-time, and they were favored in this game.

Johnny Cain didn't score, but he starred with his punting and defense. Alabama fumbled away a promising drive at the Vanderbilt 4 in the opening quarter, but they moved easily on a 58 yard touchdown drive in the 2nd quarter, Monk Campbell scoring from the 2. John Suther returned the 2nd half's opening kickoff 59 yards, and while Vanderbilt stopped the drive, Alabama blocked the ensuing attempt at a quick kick and recovered the ball at the Vandy 15. Suther ran for a touchdown from there, and it was 12-0. Vanderbilt went to the air, and things got tense in the final quarter. They hit a 24 yard touchdown pass to close the gap to 12-7, and after Alabama was held to a 3-and-out, they started driving again from their own 45. A pass and a run for consecutive first downs put the ball at the Alabama 27, but Monk Campbell knocked away a pass into the end zone, and Vanderbilt could drive no further.


The 12-7 final was Alabama's only close result, and Tennessee's 6 and Vanderbilt's 7 were the only points Alabama gave up all season. Vanderbilt went on to lose 13-0 to Tennessee, finishing 8-2, but they didn't actually defeat a strong opponent. They made national news when they opened the season with a 33-7 win at Minnesota, but Minnesota ended up 3-4-1 this season. Vanderbilt would have been ranked about #16-20 in a final AP poll, and because of that I have them ranked #18 in my hypothetical 1930 AP poll top 25, but I would personally rate Vanderbilt much higher than that, and they could viably be rated as high as #8.

Alabama next went to Kentucky, then 4-0, for their first true road game. The line on Alabama was that they had no passing game, and as though to prove everyone wrong, they came out tossing the ball around at Kentucky. It was a rather one-dimensional passing game, end Jimmy Moore throwing to speedy halfback John Suther every time, and it wasn't generally successful, but Moore did hit Suther for a 44 yard touchdown pass off of a double reverse. That gave Alabama a 6-0 lead in the 1st quarter, but that was it for them until the 4th. Kentucky drove deep into Alabama territory twice in the 2nd quarter, their best effort to the 12, but it remained 6-0 at half. Alabama was stopped at the Kentucky 1 in the 3rd quarter, but then they pushed over the icing touchdown in the 4th, and the subs added another to make the final 19-0. Kentucky finished 5-3, a #31-50 level team.

The next week Alabama went to Florida for their homecoming and the dedication game of their new stadium. Wallace Wade started the shock troops, so Alabama didn't get going until the 2nd quarter, when Monk Campbell scored from 21 yards out. This game then played out similar to the Kentucky game, remaining 6-0 until the 4th quarter, when Alabama added 2 more touchdowns to win 20-0. The 2nd touchdown was set up by a Moore-to-Suther pass to the Florida 1 on 4th down, and the last was set up by a Suther interception at the Florida 24. Florida finished the season 6-3-1, and like Kentucky they were a #31-50 level team.
Georgia
After beating up on Louisiana State (6-4) 33-0 in heavy rain in Montgomery, Alabama had 12 days to prepare for their finale against Georgia. These teams had been playing each other on Thanksgiving Day in Birmingham every year since 1925, but this was the last game of that series. Johnny Cain had another great day punting, and his 118 yards rushing led all backs. He had a 24 yard run to the Georgia 16 in the opening quarter, then he threw a pass to Jimmy Moore at the 1, setting up a Monk Campbell touchdown and 6-0 lead. Alabama once again carried that 6-0 lead through to the 4th quarter. They were on the verge of icing the game when Campbell fumbled into the end zone, and Georgia recovered for a touchback. Georgia then made the crowd nervous with a couple of first downs and a big pass to the Alabama 15, but they were stopped cold right there. Campbell later returned a punt 58 yards to the Georgia 10, setting up a Johnny Cain touchdown plunge, and Alabama won 13-0.

Georgia defeated Georgia Tech December 6th to finish 7-2-1. Their other loss had come 25-0 at Southern Conference co-champion Tulane (8-1), and they were tied by 6-3-1 Florida, but Georgia got a lot of attention this season for a couple of big wins in the North

:

18-14 at 5-2-2 Yale and 7-6 at 7-3 NYU. That media exposure would have gotten Georgia ranked #16-20 in a final AP poll, probably higher than 8-2 Vanderbilt. I have them ranked #17 for 1930.

The Rose Bowl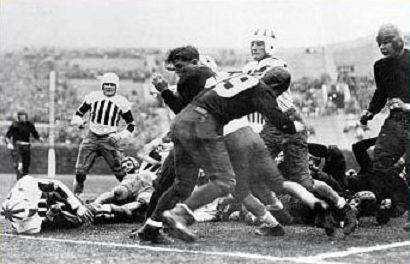 After Notre Dame's surprisingly easy 27-0 win at Southern Cal, the only way Alabama could hope to be considered in the same class as Notre Dame was to rout 9-0 Washington State, who beat USC 7-6 at home, by a similarly impressive score. Mission accomplished.

This was Alabama's 3rd trip to the Rose Bowl, as they beat Washington and tied Stanford following the 1925 and 1926 seasons. Alabama claims an MNC for both of those seasons, and for this one as well, so the Rose Bowl was quite good to Alabama. Washington State's victory over Southern Cal had given them the PCC title, and they also won 14-7 over 7-3 Oregon State in Portland, 3-0 at 5-4 Washington, and 13-0 at 5-5 Villanova in their regular season finale. They featured 3 linemen who would all appear on the same NFL all-pro team in 1933.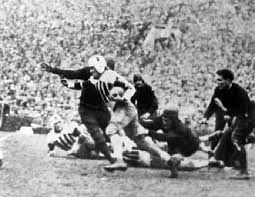 The Rose Bowl put up enough temporary seating to hold 81,000 fans, and they still claim that as the game's attendance, but there was a drizzling rain on gameday, and most crowd estimates ran from 60,000 to 70,000. Washington State showed up in red-- not just their jerseys and pants, but also their helmets, socks, and shoes. Wallace Wade once again started Alabama's 2nd string as "shock troops," the lone exception being tackle and captain Charles Clement. As usual, nothing happened in the 1st quarter, but the regulars came in and washed over WSU like a crimson tsunami in the 2nd quarter.

End Jimmy Moore came around for a reverse, then pulled and up and hit halfback John "Flash" Suther with a 61 yard touchdown. Washington State threw an interception, and Moore went to work again, hitting end Ben Smith with a pass to the WSU 1. Quarterback John "Monk" Campbell scored from there. On Alabama's next series, Campbell took the ball 43 yards for another touchdown, then he kicked his 3rd extra point, and just like that it was 21-0 at the half. The subs came in and kicked a 30 yard field goal to make the final score 24-0. WSU had just 1 threat, driving to the Alabama 1 yard line in the 4th quarter. 33 players took the field for Alabama.

Campbell was the game's MVP, leading all backs with 114 yards rushing in 1 quarter of work. Alabama totaled 359 yards to WSU's 216, and they had 1 turnover to WSU's 5. WSU's one bright spot was 11 first downs to 9 for Alabama, which shows how much that statistic is worth.

I have Washington State ranked #5 for 1930.

Notre Dame vs. Alabama
Here are the significant games for Notre Dame and Alabama in 1930.
The opponent rankings
come from my 1930 top 25, which is based on a hypothetical post-bowl AP poll (within logical reason of course)
.
Notre Dame 10-0
Alabama 10-0

| | | |
| --- | --- | --- |
| Southern Methodist (6-3-1) | 20-14 | (#31-50) |
| Carnegie (6-3) | 21-6 | #25 |
| at Pittsburgh (6-2-1) | 35-19 | #24 |
| at Northwestern (7-1) | 14-0 | #3 |
| [Chicago] Army (9-1-1) | 7-6 | #12 |
| at Southern Cal (8-2) | 27-0 | #4 |

Tennessee (9-1)
18-6
#7
Vanderbilt (8-2)
12-7
#18
at Kentucky (5-3)
19-0
(#31-50)
at Florida (6-3-1)
20-0
(#31-50)
Georgia (7-2-1)
13-0
#17

Rose Bowl


Washington State (9-1)

24-0

#5

Notre Dame beat their non-top 50 opponents by an average of 35-8, and Alabama beat theirs by an average of 41-0.

Notre Dame had twice as many Hall of Fame players and 3 times as many consensus All Americans, and they were feted by the press at the time, but that's all due to name value. Alabama clearly performed better than did Notre Dame, who struggled to beat "unranked" SMU and edged Army by a blocked extra point. On the other hand, while Alabama's schedule was in the same general range as Notre Dame's, it was not as tough. They played just 2 true road games (i.e., the opponent's home field), both against mid-level opponents, while Notre Dame faced true road games against 2 top 5 opponents and 3 top 25 opponents. Dame also played 3 top 12 opponents in consecutive weeks. And sure Notre Dame struggled against SMU-- but at least they played a good team in their opener. Alabama opened with 3 straight cupcakes.


What we have here is definitely a split title. Alabama was the better performer, though both performed rather strongly. Notre Dame played the tougher schedule, though both played strong schedules.
Awards Ceremony
1930 #1:

10-0 Notre Dame and/or 10-0 Alabama


National Co-champion:

Notre Dame or Alabama if the other one is alone at #1


Contenders:

None

These are the awards I have been handing out for each season, except seasons when there are no contenders. For this purpose, what I mean by a contender is a team that I think is very close to being worthy of sharing the national championship. A team that you could make an argument for, even if that argument is weak. But the contenders are teams that I myself do not see as national champions.
Beyond the 1930 MNC, these were 2

unusually

powerful champions. The accomplishments of the 1930 Alabama team blow away what their 1925 and 1926 MNC contenders did. And as for Notre Dame, the last team to go unbeaten and untied

and

defeat at least 3 top 12 caliber opponents was Harvard in 1912. But you have to think Alabama could have done it this season as well given the chance.
Grading the Selectors
I have been grading the NCAA Records Book's selectors for each season, and keeping a grade point average, so we can see who is relatively good at selecting national champions and who is not. And although I do not consider computer ratings to be legitimate national championship selectors, I have been including them in this section as well, just for comparison's sake.
I am grading on a scale of 0-5 (5 being the best).

The College Football Researchers Association and both of Sagarin's systems selected Alabama
.

Grade: 5.0



Parke Davis selected Alabama and Notre Dame to share the title.

Grade: 5.0




Everyone else selected Notre Dame.

Grade: 5.0


Parke Davis' split title makes the most sense. Why name only one of these teams the sole national champion?

Though the Boand system retroactively selected "champions" for 1919-1929, which I have been listing in every article, 1930 was actually the system's debut, so for this season and those that follow, its selections were not retroactive.

Grade point averages 1919-1930 (Dunkel does not have enough selections to be fairly included)
:
| | |
| --- | --- |
| 1) Sagarin-ELO (math system) | 4.15 |
| 2) Boand (math) | 3.95 |
| 3) College Football Researchers Association | 3.89 |
| 4) Helms | 3.72 |
| 5) Poling (math) | 3.59 |
| 6) National Championship Foundation | 3.53 |
| 7) Dickinson (math) | 3.23 |
| 8) Houlgate (math) | 3.13 |
| 9) Sagarin (math) | 2.97 |
| 10) Parke Davis | 2.74 |
| 11) Billingsley (math) | 2.64 |

How the systems that selected champions for 1901-1918 did

:



| | |
| --- | --- |
| 1) Houlgate (math system) | 4.5 |
| 2) Helms | 4.3 |
| 3) Parke Davis | 4.2 |
| 4) National Championship Foundation | 3.7 |
| 5) Billingsley (math) | 3.6 |