Top 25 Rankings 1901-1935
1930 National Championship
Home
1930 College Football Top 25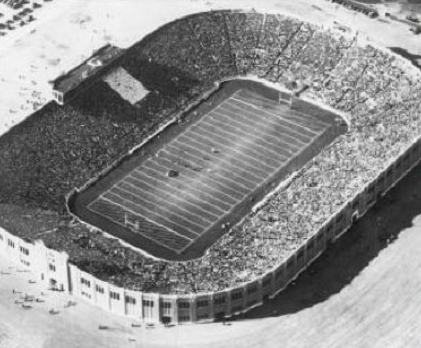 Here is Notre Dame Stadium on October 11th, 1930, when it was officially dedicated for the Navy game. The stadium's first actual game featured Southern Methodist the previous week. Notre Dame, the defending mythical national champion (MNC), won all its games again in 1930, finishing 10-0. It was the climax of Notre Dame's first era of greatness, but also its last chapter. Their legendary coach, Knute Rockne, died in a plane crash the following Spring, bringing an end to college football's "Golden Age."


Alabama also went 10-0, and they share the MNC for 1930 with Notre Dame, but there is no doubt that Notre Dame would have been rated #1 in an AP poll had there been one in 1930, even a post-bowl poll that followed Alabama's 24-0 rout of 9-1 Washington State in the Rose Bowl. A detailed summary and comparison of the 2 teams can be found in my 1930 national championship article. Either team could viably be ranked #1, but since an AP poll would have gone with Notre Dame, that's how we'll start here

:

Notre Dame #1, Alabama #2.

The full hypothetical post-bowl AP poll top 25 for 1930, fixed to make logical sense of course, follows the article below. This was an exceptionally tough top 25 to put together, taking me several weeks of differing iterations before it felt right. The biggest sticking points were 8-2 Vanderbilt and 7-3 Oregon State, both of whom I would rate much higher than a 1930 AP poll would have. Ultimately, I went with the hypothetical wishes of hypothetical AP poll voters on these teams, but either team could viably ranked in the top 10.
#3: Northwestern
As I noted in my 1930 national championship article, 7-1 Northwestern would have very likely finished ranked #3, even though they lost their last game and fellow Big 10 champion Michigan had a better straight record at 8-0-1. Regardless of where an AP poll would have ranked Northwestern, however, they definitely should be ranked #3. Northwestern's loss came to #1 Notre Dame, and they won every other game by more than a touchdown, beating 8-1 Tulane 14-0, 5-2-1 Ohio State 19-2, and 6-2-1 Wisconsin 20-7.

Michigan did not defeat as many top 25 caliber teams, they had 4 close wins, 3 of them over unrated opponents, and they were tied by 5-1-2 Michigan State, who was good but will not quite make this top 25. Michigan would have been overrated due to their name value and straight record, but they belong in the bottom half of the top 10 (at best).

Northwestern #3.
#4: Southern Cal vs. Washington State
9-1 Washington State won the PCC, edging 8-2 Southern Cal 7-6 at home, and their only loss came 24-0 to #2 Alabama (10-0) in the Rose Bowl. However, that loss would have almost certainly knocked WSU back behind USC in a post-bowl AP poll. Fair?

Fair. WSU's win over USC came at home, and was as slight as could be, and USC outperformed them quite a bit on the season while playing a tougher schedule. WSU beat 4-5 California 16-0 and USC beat them 74-0, WSU beat 7-3 Oregon State 14-7 and USC beat them 27-7, and WSU beat 5-4 Washington 3-0 and USC beat them 32-0. Furthermore, USC defeated 9-1-1 Stanford 41-12, and WSU did not play Stanford.
USC's 2nd loss came 27-0 to #1 Notre Dame, very similar to WSU's loss to Alabama.

As you can see, USC's performance was rather impressive this season outside of their loss to Notre Dame, and the Trojans, of course, would go on to win a pair of MNCs over the next 2 seasons
. USC and WSU lost only to top 5 teams, whereas Michigan was tied by an unrated team, so USC and WSU should both be rated higher than Michigan.

Southern Cal #4, Washington State #5.
#6: Tulane vs. Tennessee
8-1 Tulane and 9-1 Tennessee might have been ranked as low as #11-15 in a 1930 AP poll, but Tulane's only loss came at #3 Northwestern, Tennessee's at #2 Alabama, and both belong in the top 10. The South was not well respected as a football region at this time, and as I've demonstrated in other articles, the South fared poorly in intersectional games in the 1920s. However, that was not the case in 1930, and the South would prove to be much stronger throughout the 1930s than it had been the previous decade.

In games between major teams, the South was 9-5-2 this season against the East, Great Lakes, Southwest, and West Coast regions, and they were 5-1 in their most high-profile intersectional games

:



Notice that all of those games were on the road. Just one season before, the South had only gone 3-15 against the
East, Great Lakes, Southwest, and West Coast regions, so obviously 1930 was a massive turnaround and a breakthrough season for the South.

Tulane and Tennessee took no upset losses, and like Southern Cal and Washington State, they should be ranked ahead of 8-0-1 Michigan, who tied an unrated team. Other teams that might have been rated higher than Tulane and Tennessee also suffered upsets-- 9-1-1 Stanford tied an unrated team, 8-1 St. Mary's lost to an unrated team (and 8-1 Fordham lost to St. Mary's), and 9-1-1 Army and 7-1-1 Dartmouth both tied 5-2-2 Yale (will be ranked #21)
.

Tulane and Tennessee were rather similar, and it's hard to say which one an AP poll would have preferred, but Tulane posted 1 close win and Tennessee posted 2, and on that slim difference we'll rank Tulane higher. Tulane also shared the Southern Conference title with Alabama, which would have given them an edge over Tennessee in a poll. Tulane's big win came 25-0 over 7-2-1 Georgia, who will rank #17, and Tennessee's big win came 13-0 at 8-2 Vanderbilt, who will be ranked #18.

Tulane #6 and Tennessee #7.

#8: Michigan vs. Stanford
8-0-1 Michigan and 9-1-1 Stanford were another pair of similar teams. Stanford lost 41-12 to #4 Southern Cal at home, which is a poor performance to be sure, but Michigan did not play a team nearly as strong. Both teams took an upset tie to an unranked opponent, Michigan against 5-1-2 Michigan State and Stanford with 3-4-1 Minnesota, and both defeated a pair of top 25 teams, Michigan beating 5-2-1 Ohio State and 6-2 Purdue, Stanford beating 7-1-1 Dartmouth and 7-3 Oregon State. A 1930 AP poll would have rated Michigan higher, and Michigan did defeat the team that tied Stanford, 3-4-1 Minnesota, so we'll let the hypothetical AP poll rating stand.

Michigan #8, Stanford #9.

St. Mary's (California) and Fordham
8-1 St. Mary's and 8-1 Fordham, who lost 20-12 to St. Mary's at home, likely would have been rated next in line by an AP poll, and that'll work, if just barely. St. Mary's took their loss 7-6 at 4-5 California, and I'd rate them (and Fordham) lower because of that, but St. Mary's performed well otherwise, and they finished strongly, winning their last 6 games, capped by the victory at Fordham and a 7-6 win over 7-2 Oregon. Fordham defeated 8-2 Holy Cross, 7-3 NYU, 5-3-2 Detroit, and 6-3 Bucknell.

St. Mary's and Fordham had both gone unbeaten in 1929, so each had the attention of the football world this season, especially when they played each other late in the season. It was their first game against each other, but they would play 11 more times 1932-1942. Fordham won the series 7-4-1.

St. Mary's #10, Fordham #11.
Army and Dartmouth vs. Colgate
Next in line we have 9-1 Colgate, 9-1-1 Army, and 8-1-1 Dartmouth. Colgate took an upset loss at 5-1-2 Michigan State (unrated, but close to the top 25), while Army and Dartmouth each took an upset tie at 5-2-2 Yale (will be #21), so Army and Dartmouth were both effectively a half game better than Colgate on the season. Army's loss came 7-6 to #1 Notre Dame in New York City, and Dartmouth's came 14-7 at #9 Stanford in their finale
, so both losses are irrelevant when comparing Army and Dartmouth to Colgate.

Colgate's loss to an unrated team leaves them with a relevant record that is worse than several more teams to come in this top 25, so they'll be dropping quite a bit from here.

As for Army and Dartmouth, the teams had twin seasons-- a close loss to a top 10 team, a tie at Yale, a close win at Harvard, and no wins over top 25 teams. Army got a lot of praise for their 1-point loss to Notre Dame (#3 Northwestern lost 14-0 to Notre Dame the week before, and #4 Southern Cal lost 27-0 to them the week after), and as such likely would have been rated higher than Dartmouth by an AP poll.

Army #12, Dartmouth #13.
Ohio State, Wisconsin, and Purdue
5-2-1 Ohio State lost to #3 Northwestern and #8 Michigan, and they tied 6-2-1 Wisconsin. Wisconsin's losses came to #3 Northwestern and to 6-2 Purdue. Purdue had been a top 10 team in 1929, and they appeared to be top 10 again for most of this season, starting 6-1 with the loss coming by 1 point at #8 Michigan, but then they lost their finale 7-6 to 2-5-1 Indiana at home
.

Ohio State should be ranked higher than Purdue because they took an upset tie and Purdue took an upset loss, never mind that the team that tied Ohio State (6-2-1 Wisconsin) was vastly better than the team that beat Purdue (2-5-1 Indiana). Ohio State also defeated 6-2-1 Pittsburgh (will be #24).

With Ohio State ranked ahead of Purdue, Wisconsin should be ranked higher than Purdue as well. Purdue's head-to-head win over Wisconsin was by a mere 7-6 at home, so not decisive. Purdue's upset loss to Indiana balances out the head-to-head win, and Wisconsin's tie with a higher-rated team (Ohio State) gives the Badgers a relevant record that is effectively half a game better than Purdue's for the season.

Ohio State #16, Wisconsin #17, and Purdue #18.
Ohio State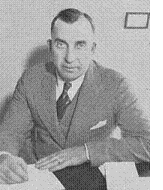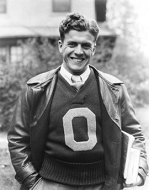 Ohio State was coached by alumnus Sam Willaman (pictured above at left). He had gone 14-15-3 at Iowa State 1922-1925, and he went 26-10-4 at his alma mater 1929-1933. Ohio State was a top 25 team every year he was there, and he went 7-1 in 1933, yet somehow all this was simply not good enough, and he was pressured to resign after that season. This has been a longstanding tradition at Ohio State. Willaman moved on to Western Reserve, where he went 7-1-1 in 1934, but that was it for him, as he died during surgery for an intestinal ailment just before the 1935 season was to begin. He was 47-26-9 overall.

Ohio State's star player this season was Hall of Fame end Wes Fesler (pictured above at right in his student attire), a consensus All American for the third straight year. This year he was a unanimous choice, and he was also named MVP of the Big 10. He was Ohio State's best receiver, but he was very versatile and was sometimes moved into the backfield to run, pass, or block. Grantland Rice listed Fesler on his 1939 all-time team.
Georgia and Vanderbilt
Although 7-2-1 Georgia had a slightly worse straight record than did 8-2 Vanderbilt, I think an AP poll would have ranked Georgia higher, so that's what we're going with here. Georgia was tied by unrated 6-3-1 Florida, and Vanderbilt took no upsets, but Georgia played a far tougher schedule, and they got a lot of attention this season for a pair of high-profile wins up north, 18-14 at 5-2-2 Yale (#21) and 7-6 at 7-3 NYU (#23). Their losses came to #2 Alabama and #6 Tulane, while Vanderbilt's came to #2 Alabama and #7 Tennessee.

I would rate Vanderbilt much higher than this myself-- probably #8, behind Tennessee. They took no upsets, while #8 Michigan (8-0-1) and #9 Stanford (9-1-1) were each tied by an unrated opponent. Moreover, Vanderbilt won 33-7 at Minnesota, while Stanford was tied at Minnesota the next week, and Michigan only beat Minnesota 7-0. On the other hand, Michigan and Stanford each defeated a pair of top 25 teams, and Vanderbilt did not. On that basis, I'm bowing to the pretend wishes of hypothetical 1930 AP poll voters here. But Vanderbilt could be viably rated as high as #8.

Georgia #17 and Vanderbilt #18.
Colgate, Utah, and Yale
Colgate had a worse relevant record than did Ohio State, Wisconsin, Purdue, Georgia, and Vanderbilt, which is why I'm ranking them behind all those teams. They had a worse relevant record than did 8-0 Utah as well, but Utah did not defeat a team outside the Rocky Mountain region, and as such their schedule did not compare well to Colgate's.

Utah had gone 5-0-2 in 1928 and 7-0 in 1929, and there was national awareness of them this season because of that, but they did not play a team out of their region in any of these 3 years, so esteem for them was somewhat limited. Still, they performed impressively this season, outscoring their opponents 340-20 (average score 43-3), no one coming within a touchdown of them. Their best win was 34-0 at 6-1-1 Colorado.

One could argue that for all we know, Utah was a top 10 team this season power-wise, but it seems very unlikely. In 1931, they attempted to prove themselves with a pair of games against major West Coast teams, losing those games 7-6 to 5-3-1 Washington State and 12-0 to 6-3-1 Oregon State to finish 7-2. Yet they stomped on their own region as impressively as they did in 1930 (average score 41-2). In 1932, Utah took their only loss 35-0 to Southern Cal. I doubt very much that Utah was actually a top 25 team this season, but an AP poll would likely have rated them about here (#20), and they did rout everyone they played, so #20 is a viable rating.

5-2-2 Yale tied #12 Army and #13 Dartmouth, and they lost a close game to #17 Georgia, but they were upset 13-0 by 4-4-1 Harvard in their finale, which pretty much ruined an otherwise decent season for them. Still, the loss was balanced out by their ties with higher-rated teams. 6-2-1 Pittsburgh would likely have been rated higher, but Pitt was tied by an unrated opponent and accomplished nothing against higher-rated opponents to make up for it, so Yale had the better relevant record.

Colgate #19, Utah #20, and Yale #21.
Utah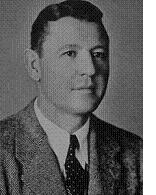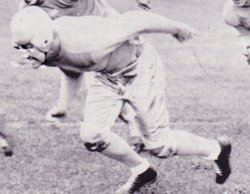 Utah ruled the Rocky Mountain region for 25 years under Hall of Fame coach Ike Armstrong (pictured above at left). He was a Drake graduate who went 141-55-15 at Utah 1925-1949, winning 13 conference titles. He then became the athletic director at Minnesota 1950-1963. Armstrong has the most wins and the longest tenure in Utah football history.

Utah's star player this season was Hall of Fame fullback Frank Christensen (pictured above at right). He was a 3rd team All American this season and next, and made first team AA on one list in 1932. He scored 100 points this season, and he is still Utah's all-time leading scorer with 235 career points. After college he played for the Detroit Lions, winning a championship in 1935.

Utah simply crushed other Rocky Mountain teams during this time. They went 7-0 in 1929, 8-0 this season, and 7-2 the next (losing to 2 West Coast teams), and no team from their region came within a touchdown of them in any of those seasons. Pictured below is Utah carrying the ball in this season's finale against Utah State, a typical 41-0 win for the Utes. However, Utah did not fare so well against power teams outside their region, and their unbeaten 1929 and 1930 squads are the only 2 of Armstrong's 25 teams that would have made a top 25. And had those 2 squads played major opponents from the West Coast, I suspect that they would have proven less than worthy of top 25 slots as well.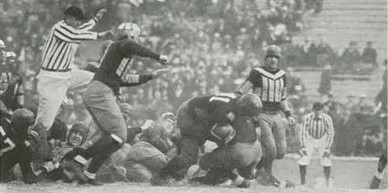 Oregon State, New York, and Pittsburgh
7-3 Oregon State and 7-3 New York did not take any upsets, so both should be rated higher than 6-2-1 Pittsburgh, who was tied at unrated 4-3-2 Nebraska. NYU also beat 6-3 Carnegie 20-7 on the road, while Pitt beat Carnegie just 7-6 at home. I don't know whether a 1930 AP poll would have preferred Oregon State or NYU, but OSU's wins were all by more than a touchdown, while NYU edged 5-5 Georgetown 2-0 at home, and OSU had the stronger finish, so we'll rate OSU higher here.

As with Vanderbilt, I would rate Oregon State much higher than this myself, probably between #9 Stanford and #10 St. Mary's. St. Mary's took an upset loss to 4-5 Cal, while OSU took no upsets, and OSU beat 7-2 Oregon 15-0 one week before St. Mary's edged Oregon 7-6. Oregon State's performance this season was also pretty much perfect for a 7-3 team. They did lose 27-7 at #4 Southern Cal, but USC did that to most of the teams they played this season-- the Trojans beat #9 Stanford 41-12 on the road. Oregon State lost to #5 Washington State by 7 points and to #9 Stanford by 6, indicating that they weren't far behind those teams. However, as with Vanderbilt, Oregon State did not actually defeat any teams that make this top 25, and that is the rationale behind letting the hypothetical AP poll voters of 1930 have their way here.

Yale, who sits right in front of OSU, was upset by unrated Harvard in their finale, but that is a major rivalry game, and Yale balanced that upset loss out with 2 ties to higher-rated teams. Those 2 ties were more than OSU accomplished in any of their wins. So while OSU could viably be rated as high as #10, #22 will work as well.

Oregon State #22, New York #23, and Pittsburgh #24.
New York


New York
University enjoyed a brief window of national football prominence under head coach Chick Meehan (featured in the Camel advertisement above). He had been a quarterback for Syracuse 1915-1917, then head coach of his alma mater 1920-1924, going 25-8-4. He fielded a top 25 caliber team in each of those 5 seasons.

NYU, desiring a big-time football program, hired Meehan away, and 1925-1931 he went 49-15-4 there, giving him the most wins and the best winning percentage of any coach in NYU's football history. They played a national schedule, including games against Nebraska, Missouri, Georgia, Oregon, Oregon State, and Tennessee, in addition to top teams from the East. Three of Meehan's NYU teams were top 25 caliber

:

1926 (8-1), 1928 (8-2), and this 7-3 season. These were the only top 25 teams NYU ever fielded in football.

Meehan moved on to Manhattan after the 1931 season, and with his departure NYU was done as a football power. Meehan went 31-21-6 at Manhattan 1932-1937, finishing him at 115-44-14 overall. Excellent numbers given where he was coaching. He was elected president of the National Football Coaches Association in 1930, and Knute Rockne once called Meehan "the best coach in America," yet he is surprisingly not in the Hall of Fame.
#25: Carnegie, Minnesota, Michigan State, or Oregon?
So who gets slot #25? A 1930 AP poll would have gone with 7-2 Oregon-- in fact, a poll might have rated Oregon higher than 7-3 Oregon State, even though OSU defeated OU 15-0. Oregon's other loss came 7-6 at #10 St. Mary's.

3-4-1 Minnesota may have had a losing record, but they had the best

relevant

record of the contenders, since all 4 of their losses came to ranked teams (Vanderbilt, Northwestern, Michigan, and Wisconsin), and they tied #9 Stanford. However, that tie was all Minnesota accomplished this season, making it easy to dismiss it as an anomaly. They performed rather poorly in general, losing 33-7 to Vanderbilt and only beating 2-5-1 Indiana 6-0. I think that rating Minnesota in the top 25 would be logically viable, but not doing so is viable as well, and an AP poll surely would not have done so.

Michigan State, who was a mid-major at this time, had a fantastic start to the season, tying 8-0-1 Michigan (#8) and defeating 9-1 Colgate (#19) to open 4-0-1. But then they fell apart down the stretch, losing 14-13 at 5-5 Georgetown, beating North Dakota State 19-11, and tying 5-3-2 Detroit 0-0. That leaves Michigan State with the same relevant record that Oregon had, but of course MSU's finish was terrible, giving reason for Oregon to be rated higher.

6-3 Carnegie also had the same relevant record that Oregon had, but they had a stronger finish than Oregon did, and they performed much better than Oregon did on the season as a whole. Carnegie's 6 wins all came by more than a touchdown, including 32-13 at 7-3 Temple and 26-0 over 6-2-1 Washington & Jefferson to end the season. Oregon, on the other hand, edged Linfield 6-0, Drake 14-7, 5-4 Washington 7-0, and 3-5 UCLA 7-0. Carnegie's losses came 21-6 at #1 Notre Dame, 20-7 to #23 NYU, and 7-6 at #24 Pittsburgh.

Carnegie gets slot #25 over Oregon due to a markedly better performance on the season.
Carnegie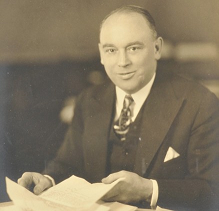 Although I refer to this football program as simply "Carnegie" in these articles for the sake of simplicity (or laziness?), the school was known as Carnegie Tech at the time, its formal name the Carnegie Institute of Technology, and it is now part of Carnegie Mellon University. Carnegie was built in 1905 right next door to the University of Pittsburgh, and they started playing football the next year.

Their rise to football prominence came thanks to head coach Walter Steffen (pictured above), who had been a Hall of Fame quarterback for Chicago's 1908 MNC-contending team. He was a judge in Chicago who commuted to Pittsburgh to coach the team, and he went 88-53-8 at Carnegie 1914-1917 and 1919-1932. They did not become competitive against major teams until the 1920s, their first significant victory coming 6-0 over 6-3-1 Washington & Jefferson in 1920. They first beat neighboring Pittsburgh in 1923, then did it again the next year to make it a rivalry game. They played each other every year 1923-1943, but Carnegie only managed 3 more wins and a tie over the rest of that series.

The biggest win in Carnegie's history was a 19-0 upset of Notre Dame to finish their 1926 season. That was Notre Dame's only loss, costing them the MNC. The 2 teams played every year 1928-1941, and Carnegie beat them again in 1928, 1933, and 1937. Carnegie fielded 3 top 25 caliber teams under Walter Steffen

:

1926 (7-2), 1928 (7-1), and this 6-3 season. After Steffen retired from coaching football following the 1932 season, Carnegie faded a bit, but they managed one huge season in 1938, finishing ranked #6 in the AP poll and playing national champion Texas Christian in that season's Sugar Bowl. But that was it for Carnegie as a major player, who deemphasized football and came back from WWII a fully minor football program.
Others Receiving Votes
Here are the teams closest to making this top 25. 8-0 Fresno State and 6-1 Eastern Michigan both had nice seasons (EMU lost 7-0 to #8 Michigan and won the rest of their games by more than a touchdown each), but their competition was too lowly to even make this list.
Oregon 7-2
As previously noted, Oregon lost only to #10 St. Mary's and #22 Oregon State, but their performance was rather poor in several wins over bad teams.

Minnesota 3-4-1
Also covered above, Minnesota lost only to rated teams, and they tied #9 Stanford, but their performance was poor, and I need more than one positive result to consider rating a team with a losing record.
Michigan State 5-1-2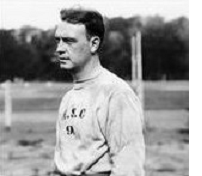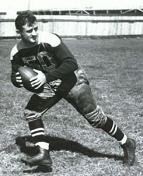 Another team covered above, Michigan State started great, tying #8 Michigan and beating #19 Colgate, but they finished poorly, losing to 5-5 Georgetown and tying 5-3-2 Detroit. Michigan State was an independent mid-major at this time, sitting at about the power level of their main rival, Detroit University.

Michigan State had briefly risen to some prominence in football under head coach John Macklin 1911-1915, beating Michigan twice and fielding an actual MNC contender in 1913. But after Macklin retired from coaching, the program sank back 1916-1928, going 43-60-6 over that time. Things started picking up again with the hire of Jim Crowley (pictured above at left), Hall of Fame halfback for Notre Dame's famed Four Horsemen backfield that had won the 1924 MNC. Crowley went 22-8-3 at MSU 1929-1933, and their 1932 team made the top 25 of that season's hypothetical AP poll. Crowley moved on to greater fame as coach of Fordham, going 56-13-7 there 1934-1941. I credit him with an MNC for his 7-0-1 team in 1937. Overall he was 78-21-10, which places him on the list for best all-time FBS coaching win percentage.

The star of this year's MSU team was halfback Bob Monnett (pictured above at right). He would be named a nonconsensus All American in 1931, and he went on to a notable career with the Green Bay Packers 1933-1938. He is in the Green Bay Packers Hall of Fame.

Jim Crowley's departure from Michigan State did not doom the program. The school hired another Notre Dame grad, Hall of Fame coach Charlie Bachman, away from Florida, and he went 70-34-10 at MSU 1933-1946, ushering them from a mid-major program to a major independent. And he was followed up with another Hall of Fame coach, Biggie Munn, who won an MNC at Michigan State and ushered them into the Big 10.
Texas 8-1-1
Texas lost to 8-4 Rice and tied 8-1-1 Centenary, both unrated opponents, but they beat 6-3-1 Baylor, 9-2-1 TCU, and 6-3-1 SMU. It's hard to say how good the SWC was this season due to a paucity of relevant intersectional games for the Southwest. SMU lost a surprisingly close game (20-14) to #1 Notre Dame, but that was the only impressive result the SWC managed in intersectional play. A loss. Still, Texas beat SMU 25-7, so they outdid the #1 team in the country in that one regard.
8-1-1 Centenary had a nice straight record, but they took their loss to 2-7 Texas A&M, which in turn severely damages the team they tied, Texas.
Marquette 8-0-1
Marquette was tied by 5-3-2 Detroit, and did not beat a significant opponent.
McDaniel 9-0-1


McDaniel, then known as Western Maryland, had gone 11-0 in 1929, and they went unbeaten again this season, though obviously not untied. The team that tied them was Albright, a lower-division type team, but a good one (7-1-1). Western Maryland defeated 5-5 Georgetown 10-0 and 7-5 Maryland 7-0, very impressive for formerly lowly Western Maryland, but not quite top 25 worthy wins.

Western Maryland was a minor team that happened to be helmed by a Hall of Fame coach, Dick Harlow (pictured). Harlow had played for Penn State's unbeaten 1911 MNC contender, and he went 20-8 as PSU's coach 1915-1917. He was 24-9-3 at Colgate 1922-1925, and then he went 60-13-7 at Western Maryland 1926-1934, highlighted of course by the 11-0 finish in 1929 and 9-0-1 this season. Harlow then went 45-39-7 at Harvard 1935-1942 and 1945-1947, Harvard's first non-alumnus head coach. Overall he was 149-69-17 for his career
.
1930 Top 25
1) Notre Dame 10-0
2) Alabama 10-0
3) Northwestern 7-1
4) Southern Cal 8-2
5) Washington State 9-1
6) Tulane 8-1
7) Tennessee 9-1
8) Michigan 8-0-1
9) Stanford 9-1-1
10)
St. Mary's (California) 8-1
11) Fordham 8-1
12) Army 9-1-1
13) Dartmouth 7-1-1
14) Ohio State 5-2-1
15) Wisconsin 6-2-1
16) Purdue 6-2
17) Georgia 7-2-1
18) Vanderbilt 8-2
19) Colgate 9-1
20) Utah 8-0
21) Yale 5-2-2
22) Oregon State 7-3
23) New York 7-3
24) Pittsburgh 6-2-1
25) Carnegie 6-3
Others Receiving Votes
:
Oregon 7-2
Michigan State 5-1-2
Minnesota 3-4-1
Texas 8-1-1
Marquette 8-0-1
McDaniel 9-0-1