Home
1937 College Football National Championship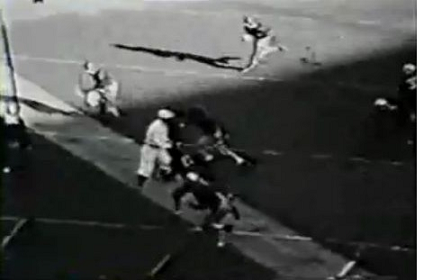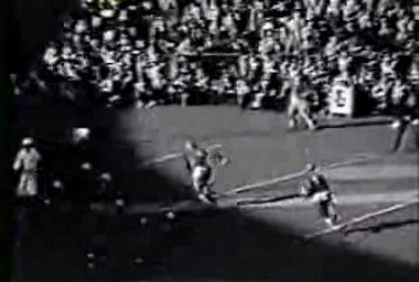 Pictured above are 2 views of the same moment in the same play, Pittsburgh halfback Marshall Goldberg's touchdown that was negated by a penalty in Pitt's 0-0 tie at Fordham. This was the 3rd straight season that Pitt and Fordham battled to a scoreless tie. Both then won out, Pitt finishing 9-0-1 and Fordham 7-0-1. But despite the tie and effectively equal records, Pittsburgh is the consensus choice for 1937 mythical national champion (MNC), while no organization has selected Fordham to even share in the title, nor does Fordham claim an MNC
.

Here's how organizations listed in the NCAA Records Book, all except the AP poll selecting retroactively, see the 1937 mythical national championship (omitting math/computer ratings, which are not generally accepted as MNCs)

:




Pittsburgh
:
AP Poll
,
CFB Researchers
,

National Championship Foundation
California

:
Helms

The AP poll, of course, ended before the Rose Bowl, where 10-0-1 California (AP #2) crushed 9-1 Alabama (#4) 13-0. Pitt did not play in a bowl game, so it's possible that a post-bowl AP poll would have moved Cal to #1, though I doubt it. Still, the Los Angeles-based Helms Foundation had their home state team's back, selecting them as the sole 1937 MNC. 9 of 10 math-based rating systems listed in the NCAA Records Book had Pitt #1, the other going with Cal. I'll be going over both teams in this article, and Fordham as well. Plus we have a 4th MNC candidate

:

Santa Clara "upset" 9-2 Louisiana State in the Sugar Bowl for the 2nd straight season, and they finished 9-0, the best record of these 4 candidates.

Lafayette was the only other "major" team with a perfect record, 8-0, though the degree to which they were still a major team is debatable. The AP poll did not even rank them in its top 20, nor did Lafayette make my fixed and expanded AP top 25 for 1937, and I certainly don't consider them to be an MNC candidate. They played no ranked opponents, and barely got by 3-5 Gettysburg 2-0, 2-4-1 Georgetown 6-0, 5-4 Rutgers 13-6, and 1-8 Lehigh 6-0. So let's get to the teams that

were

legitimate MNC candidates. All rankings in this article, except as noted, come from the fixed 1937 AP poll I just linked.
Pittsburgh 1937

| | | |
| --- | --- | --- |
| Ohio Wesleyan (2-7) | 59-0 | |
| at West Virginia (8-1-1) | 20-0 | (#30-40) |
| Duquesne (6-4) | 6-0 | |
| at Fordham (7-0-1) | 0-0 | #2 |
| Wisconsin (4-3-1) | 21-0 | |
| Carnegie (2-5-1) | 25-14 | |
| at Notre Dame (6-2-1) | 21-6 | #10 |
| Nebraska (6-1-2) | 13-7 | #8 |
| Penn State (5-3) | 28-7 | |
| at Duke (7-2-1) | 10-0 | #15 |
Pittsburgh had shared the 1936 MNC with Minnesota, and I covered Hall of Fame coach Jock Sutherland and this year's significant players in my 1936 national championship article. Gone were a pair of All Americans, tackle Ave Daniell and guard Bill Glassford, and though halfback Marshall Goldberg and tackle Tony Matisi were consensus All Americans this season (Goldberg rushed for 701 yards, finishing 3rd in the Heisman vote),
no significant new starters emerged to replace what had been lost. And while Pittsburgh finished with a better record this season than they had in 1936 (9-0-1 to 8-1-1), their overall performance was not quite as impressive as it had been the season before

:

average score 22.4-3.4 against a schedule that included 6 rated opponents in 1936, 20.3-3.4 with 4 rated opponents in 1937.
Pittsburgh's Season
Pittsburgh opened with a 59-0 win over Ohio Wesleyan and a 20-0 win at 8-1-1 West Virginia (unranked). West Virginia had a nice record, but they played an incredibly weak, mostly minor-team schedule, and they were tied by 2-4-2 Georgetown. They did, however, beat 8-4 Texas Tech 7-6 in the Sun Bowl. Pitt then faced hometown neighbor Duquesne, who had shocked Pitt 7-0 the year before. Only 20,000 had showed up to watch that 1936 upset in the rain, but though it rained again this year, 55,000 were on hand to see if Duquesne could do it again. They almost did
.

Duquesne had won the 1936 game on one long run, and Pitt returned the favor this year, winning 6-0 on an early 77 yard Marshall Goldberg touchdown run. It was Pitt's 2nd play of the game, and Goldberg had to reverse field twice on the way. He finished with 130 yards on 10 carries. In the 2nd half, Pitt drove 59 yards to the Duquesne 1 yard line before they were halted. Duquesne had a couple of minor threats, reaching the Pitt 23 and 18 yard lines. Pitt outgained them 197 yards to 119 and 8 first downs to 7, and Duquesne turned the ball over 5 times to once for Pitt.

Duquesne finished 6-4, including losses to 2-5-1 Carnegie and 3-6 Marquette, so they were not close to being rated. As such, this was a poor performance on Pitt's part, easily their worst of the year. So it was the 2nd year in a row you could say that. Speaking of which...

Deja Vu All Over Again All Over Again
The next week Pittsburgh headed to the Polo Grounds in New York to face Fordham, who had battled them to a scoreless tie in each of the 2 previous seasons, and as you know by now, this year the two teams made it a hat trick. 53,000 attended. You can see film of the game here
(first of 3 parts).

Pittsburgh outgained Fordham 195 yards to 114 and 12 first downs to 4, but Pitt also lost 5 fumbles to none for Fordham, and most crucially, a Marshall Goldberg touchdown was taken off the scoreboard by a holding penalty. Fordham collected 3 fumbles inside the Pitt 30 yard line, but those 3 opportunities led to 3 missed field goal attempts of 35, 28, and 40 yards. Pittsburgh end Bill Daddio also missed a 33 yard field goal try.

The key drive came in the 2nd quarter, launched when Pitt returned a punt from their own 25 to the Fordham 40. A big run on 3rd and 8 got the first down, and the ball was fumbled forward, Pitt recovering at the Fordham 17. A completed pass on 3rd and 9 got them another first down at the Fordham 6, and then most of the team faked left, while Marshall Goldberg ran to the right behind one blocker for the touchdown that wasn't to be, wiped out by the a holding penalty called on consensus AA tackle Tony Matisi. The next play was an interception, but Fordham was called for pass interference, and Pitt was back in business. Unfortunately for them, 2 runs were stuffed, and the half ended before they could try again.

Fordham won out, finishing 7-0-1 and ranked #2 in the fixed AP poll. They barely got by a couple of unrated teams at home, 7-6 over 4-4-2 Texas Christian and 6-0 over 4-3-2 St. Mary's (California), but they won 14-0 at 7-1-1 North Carolina (#14), their first trip outside New York City in 3 years. More details on them later in this article.
Winning Out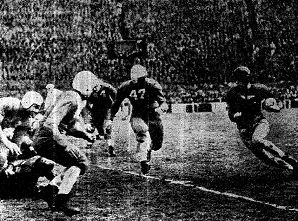 Pittsburgh recovered well, beating 4-3-1 Wisconsin 21-0, 2-5-1 Carnegie 25-14, and 6-2-1 Notre Dame (#10) 21-6 in South Bend. Notre Dame started the season poorly, tying 3-3-2 Illinois in their 2nd game and losing to 2-5-1 Carnegie the next week, but they came back to beat 6-2 Minnesota (#9) and 7-2 Army (#24). All 4 of those games were on the road. Pitt was the only team to score more than 9 points on Notre Dame.

Pittsburgh then returned home to a strong challenge from Nebraska (the game pictured above), whom they had been playing annually since 1927 and were 7-0-3 against. Pitt was thus a 5 to 1 favorite. 72,000 attended. The game was scoreless at the half, and in the 3rd quarter, Nebraska struck first with a 60 yard touchdown pass to lead 7-0. Nebraska later fumbled at their own 34, and Pitt drove it in from there for a touchdown. Halfback Harold Stebbins had a 22 yard run in the short drive, and substitute back William Stapulis scored the touchdown. But the extra point try hit an upright, so Pitt still trailed 7-6.

Pitt launched the winning drive from their own 20 yard line late in the 3rd quarter. Marshall Goldberg got the ball rolling with a 30 yard run, added another 10, and in the 4th quarter, he and Walter Stebbins traded carries all the way to the goal line, where fullback Frank Patrick scored the touchdown that won the game 13-7. It was a 13 play drive. Pitt outrushed Nebraska 250 yards to 19, and they had 13 first downs to Nebraska's 2. Nebraska finished the season 6-1-2, taking a pair of upset ties to 5-2-2 Oklahoma and 3-4-2 Kansas State (both unranked), but they beat 6-2 Minnesota (#9) and 5-3 Indiana (#19), and they are ranked #8 in the fixed AP poll.

Pittsburgh ended the season with a 28-7 win over 5-3 Penn State (unranked) and a 10-0 victory at 7-2-1 Duke (#15). Duke was turnover prone in the finale, and Pitt's field goal and touchdown were both set up by Duke fumbles. Duke's other loss came to 8-1-1 North Carolina (#14), and they were tied by 6-3-1 Tennessee (#16). Their big win came 20-19 at 6-3-1 Georgia Tech (#18).


With Pittsburgh's season over, the nation salivated at the thought of 9-0-1 Pitt facing 9-0-1 California in the Rose Bowl, but alas, it was not to be.

The End of the Pittsburgh Dynasty
Pittsburgh stood atop the college football world, but it was all about to come crashing down. Under Hall of Fame coaches Pop Warner 1915-1923 and Jock Sutherland 1924-1938, Pitt went 171-32-16. The school claims 8 national championships for that time period, and while I only recognize 4 of those (1916, 1918, 1936, and this season), either way it's more MNCs than any other school brought home over the same time period. But the seeds of Pittsburgh's downfall were planted following their Rose Bowl victory that capped the 1936 season. Jock Sutherland asked the athletic director for money to pay for a celebration in Hollywood, but despite Pitt's $95,000 Rose Bowl payout, the AD declined. Sutherland paid for the celebration out of his own pocket, but he was angry and bitter about it, and the incident ignited a war between he and the administration at Pitt.

Like many coaches of the time, Sutherland wrote newspaper columns, and he used that pulpit to air his grievances with Pitt's administration. He also used connections to big-money donors to pressure the AD, who finally resigned in the Spring of 1937. But while Sutherland had won that battle, he would ultimately lose the war. At the end of the 1937 season, Pittsburgh was again invited to the Rose Bowl, and the players allegedly asked for $200 each for spending money, or they wouldn't play at all. That was an exorbitant amount for the time, but Pitt's administration was fed up, and their counter-offer was zero. Pitt's players then voted not to attend the Rose Bowl.

The city's media and citizens, and the school's alumni and donors, were furious. School chancellor John Bowman, already sick of the emphasis on football at his university, answered the firestorm by gutting the football program. He ended scholarships and other perks and subsidies for football players, banned recruiting, and forbade coaches from writing for newspapers or magazines, from appearing on the radio, and even from commercial endorsements-- a dramatic cut in income as well as exposure. This was like pouring gasoline on the firestorm, but the Pitt administration held firm. Jock Sutherland retired after the 1938 season, and Pitt fell off the big-time football map immediately thereafter, going 14-21-1 over the following 4 years.

Attendance plummeted and donations to the school slowed to a trickle, so the total cost of the decision to deemphasize football was simply enormous, incalculable. And lasting. Except for an 8-year period 1975-1983 (their last MNC came in 1976), Pitt has not been an elite program since Jock Sutherland retired more than 70 years ago.
Fordham 1937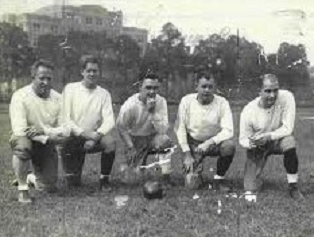 | | | |
| --- | --- | --- |
| Franklin & Marshall (4-4) | 66-0 | |
| Waynesburg (5-3) | 48-0 | |
| Pittsburgh (9-0-1) | 0-0 | #1 |
| Texas Christian (4-4-2) | 7-6 | |
| at North Carolina (7-1-1) | 14-0 | #14 |
| Purdue (4-3-1) | 21-3 | |
| St. Mary's (4-3-2) | 6-0 | |
| New York (5-4) | 20-7 | |
Fordham emerged under Hall of Fame coach Frank Cavanaugh, who went 34-14-4 there 1927-1932. Had there been an AP poll at the time, they would have finished ranked in the bottom of a top 25 in a couple of those seasons. His successor, Jim Crowley (at center in the picture above), kept them on an upward trajectory, going 56-13-7 1933-1941
while facing massively tougher schedules. Crowley had been one of Knute Rockne's "four horsemen," and he is in the Hall of Fame as a player. He had started coaching at Michigan State 1929-1932, and overall he was 78-21-10, which places him on the list for top all-time FBS coaching win percentage.

Fordham attracted an impressive array of intersectional teams to come play them, all of them interested in the publicity surge a school got for playing in New York City. A big day against Fordham at the Polo Grounds could land a team in the AP top 20 and a player on All American lists. Under Crowley, Fordham played St. Mary's (California) every year, and they also played 2 more games against other West Coast schools, 12 against the South, 8 against the SWC, 8 against the Big 10, and 1 against the Big 6. They also played Pittsburgh every year 1935-1941.

Fordham finished ranked in the first 6 AP polls, 1936-1941, and in the 1935 UPI poll as well, and had there been an AP poll in 1933, they would have been ranked that year too, so they were top 25 caliber in 8 of Crowley's 9 seasons. In his last 2 years, he took them to the Cotton Bowl, where they lost to Texas A&M, and to the Sugar Bowl, where they defeated Missouri. After his departure following the 1941 season, Fordham was done as a big-time football school.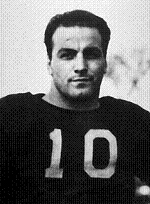 Fordham was all about their linemen, the famed "Seven Blocks of Granite," and Hall of Famer Frank Leahy (2nd from left in the picture of the coaches) coached that line before moving on to much bigger things at Notre Dame in the 1940s. The star player was center Alex Wojciechowicz (pictured above at left), a college and pro Hall of Famer who was consensus All American in 1936 and 1937. He played pro ball for 13 years. Tackle Ed Franco (above at right) was also consensus AA and enshrined in the the Hall of Fame, and he captained the Eastern team in the 1938 East-West Shrine Game. The other tackle, Al Babartsky, was not AA, but he played pro ball for 7 years.
Fordham's Season
Fordham warmed up by bludgeoning a pair of patsies 66-0 and 48-0 before their big game with Pittsburgh. That game ended in a scoreless tie for the 3rd straight year, as described in the Pittsburgh section above. Pitt won out to finish 9-0-1 and ranked #1 in the AP poll.

Fordham had a typical post-big-game letdown the following week against Texas Christian. TCU featured Hall of Famers Davey O'Brien and Ki Aldrich, and they were a year away from the school's only national championship, but they were not good this season, finishing 4-4-2. Fordham started their reserves, and they fumbled the ball away at their own 13 to set up an early Davey O'Brien touchdown pass. O'Brien missed the extra point, keeping the lead at just 6-0, which would prove to be fatal to TCU. Fordham controlled the rest of the game, taking 7 drives inside the TCU 30, 4 times inside the 13, but they could not score until very late in the game. TCU slowed them down by bunching their defense up on the line, and Fordham was forced to throw an uncharacteristic 22 passes.

Late in the 4th quarter, TCU lost the ball on a big hit at their own 46 yard line, halfback Angelo Fortunato recovering. Fordham pushed for a first down at the 35, then hit a big pass to the 7 yard line, caught by Fortunato. Halfback Dominic Principe scored the touchdown 3 plays later, and the extra point gave Fordham a 7-6 win just in the nick of time.

A Rare Road Trip
Fordham rarely left New York City, their last road trip being to Boston College 3 years prior, but this season they headed down South to play North Carolina, who had become rather strong in recent years (7-1-1, 8-1, and 8-2 the previous 3 seasons). 24,000 attended on a warm day. Fordham dominated the game from the start, marching 88 yards to a touchdown in the opening quarter. Halfback Steve Kazlo got the score on a 25 yard Statue of Liberty play. In the 3rd quarter, Fordham blocked a punt and recovered it at their own 44 yard line. Angelo Fortunato caught a 31 yard pass, then scored a touchdown on a plunge at the end of the drive, and Fordham won 14-0.

North Carolina had been tied by 5-6-1 South Carolina in their opener, but they won out after the Fordham game, finishing 7-1-1 (#14). Their big win came 14-6 over 7-2-1 Duke (#15).

Fordham next beat 4-3-1 Purdue 21-3, then faced off against annual cross-coast rival St. Mary's (California). 35,000 watched Fordham thoroughly dominate the game, but only win 6-0 on a slippery, muddy field. Fordham outgained St. Mary's 290 yards to 28 and 16 first downs to 1. St. Mary's crossed midfield once, while Fordham drove inside the St. Mary's 25 yard line 6 times. Halfback Joe Woitkoski scored the touchdown in the 3rd quarter, taking a lateral off of a reverse 12 yards for the score. St. Mary's finished 4-3-2 and unranked.

Fordham played NYU in their finale every year 1934-1941, and they closed out this season by beating 5-4 NYU 20-7.
California 1937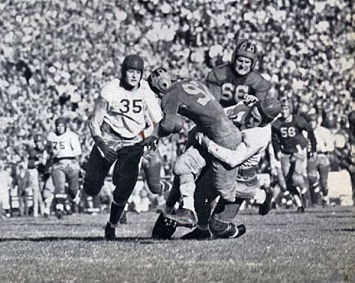 St. Mary's (4-3-2)
30-7
Oregon State (3-3-3)
24-6
Washington State (3-3-3)
27-0
Cal-Davis (4-4)
14-0
Pacific (3-5-2)
20-0
Southern Cal (4-4-2)
20-6
at UCLA (2-6-1)
27-14
Washington (7-2-2)
0-0
Oregon (4-6)
26-0
at Stanford (4-3-2)
13-0

Rose Bowl


Alabama (9-1)

13-0

#4
California's "Wonder Teams" had won mythical national championships in 1920 and 1922, and the school claims a couple more for 1921 and 1923 for a dubious 4 in a row
. In a rhyming nod to the "Wonder Teams," Cal's 1937 squad was called the "Thunder Team."
The coach was Stub Allison, who had initial success at Cal, winning 3 PCC titles in his first 4 years there, but he posted losing records for 6 straight seasons after that. He was 58-42-2 at Cal, 80-66-5 overall at 3 schools.


California may have had the most talented team of 1937. Cal fielded just 1 consensus All American, while Pittsburgh and Fordham each had 2, but Pitt and Fordham didn't place any other players on first-team AA lists, while Cal added another 4 nonconsensus AA. On the other hand, Pittsburgh had 10 of their 11 starters drafted by NFL teams over the next 2 years, while Cal had 7, Santa Clara 6, and Fordham 5.

Halfback Sam Chapman was the consensus All American (at fullback), and he is in the Hall of Fame. He passed up the NFL in favor of an 11 year major league baseball career. The other halfback, Vic Bottari (pictured above carrying the ball), would be named a consensus AA in 1938, and he is also in the Hall of Fame. He was the MVP of this season's Rose Bowl, rushing 34 times for 137 yards and 2 touchdowns. Over his career he totaled 1536 yards rushing, 22 touchdowns, and 13 extra points.

The nonconsensus All Americans were center Bob Herwig, end Perry Schwartz, guard Vard Stockton, and fullback Johnny Meek. Herwig is in the Hall of Fame, and Schwartz went on to a strong pro career, making 4 Pro Bowls in 6 seasons.
California's Season
California's regular season schedule was pretty much worthless, with no rated or even near-rated opponent in the entire line-up. For the most part they properly spanked that line-up, including an opening 30-7 beatdown of 4-3-2 St. Mary's, whom Fordham downed just 6-0. It was St. Mary's worst loss since 1923. But Cal's MNC train was derailed by a scoreless tie with Washington on November 6th.

55,000 were on hand to witness the sad spectacle. Vic Bottari was injured, and didn't come into the game until the 3rd quarter, but Cal actually moved the ball better without him. Late in the 4th quarter, Washington drove to the California 23 yard line, where they barely missed a field goal try with a minute left in the game. Neither team produced much offense in this game.

Washington finished with a nice-looking 7-2-2 record,
but the only winning major team they defeated was 4-3-1 Idaho, they lost to 3-3-3 Oregon State and 4-3-2 Stanford, and they tied 3-3-3 Washington State. They were not close to top 25 caliber.
The Rose Bowl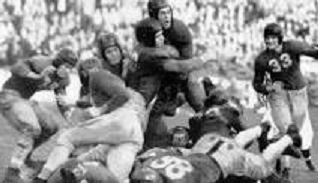 California's Rose Bowl opponent was Alabama, coming in at 9-0. The Rose Bowl had been a good friend to Alabama, as the Tide was 3-0-1 in previous trips, and the school claims a national championship for all 4 of those seasons (1925, 1926, 1930, and 1934-- I recognize all those MNCs except 1926). You can see film clips of the 1938 Rose Bowl here.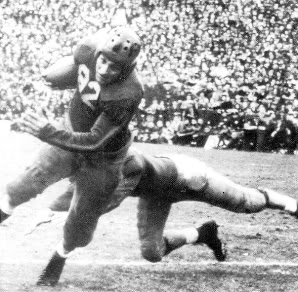 89,000 attended, mostly Cal fans, and they were pleased to see their team win 13-0. Alabama lost 4 fumbles and threw 4 interceptions, 1 more than they completed to their own receivers. One interception came at the Cal 7 when a receiver couldn't handle the catch, and a Cal player took it from him. Two of the fumbles occurred at the Cal 2 and 7 yard lines. A fumble at midfield even kicked off Cal's first touchdown drive in the 2nd quarter. They bulled into the line 13 times, Vic Bottari crossing the goal line (shown in the pictures above and below). Sam Chapman kicked the extra point. Cal drove to another Bottari touchdown from midfield in the 3rd quarter, and that was that. Bottari carried 34 times for 137 yards. Alabama had finally been beaten in the Rose Bowl.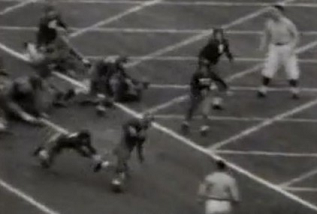 That finished Alabama at 9-1 and #4 in the fixed AP poll. They had beaten #12 Vanderbilt (7-2), #16 Tennessee (6-3-1), and #18 Georgia Tech (6-3-1) during the regular season, so a win in the Rose Bowl would surely have merited them at least a share of the MNC. They were a very strong opponent, and of course Cal's case for an MNC depends entirely on this one win.
Santa Clara 1937
at Stanford (4-3-2)
13-7
St. Mary's (4-3-2)
7-0
at San Jose State (11-2-1)
25-2
at San Francisco (4-5-1)
13-0
Portland
27-0
at Marquette (3-6)
38-0
Gonzaga (2-6-2)
27-0
Loyola-Marymount (4-7)
7-0

Sugar Bowl


Louisiana State (9-2)

6-0

#13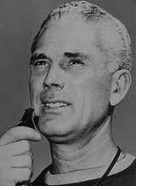 Santa Clara emerged as a strong mid-major football program in 1929 under head coach Clipper Smith, who had played for Knute Rockne at Notre Dame. Smith went 38-22-4 at Santa Clara 1929-1935, beating Stanford once and Cal 3 times. They might have been ranked in an AP poll's top 25, had one existed, in 3 of those seasons. Hall of Fame coach Buck Shaw (pictured at left), also a Rockne player, had been the line coach under Smith, and in 1936 he took over as head coach and brought Santa Clara up to another level. He went 47-10-4 1936-1942, but the big seasons were his first 2, as he finished both by upsetting a 9-win Louisiana State team in the Sugar Bowl. Santa Clara finished ranked in 5 of Shaw's 7 seasons there (original and fixed AP polls)
.

Buck Shaw didn't fare so well at his other collegiate stops, and was 72-49-12 overall at 5 schools. But he was a rather successful pro coach, going 91-55-5 and winning the NFL championship with the Eagles in 1960.


Santa Clara had a terrific line that was very stingy with the yards and points. The 1937 Broncos set and still hold the NCAA record for defensive yards per game at 69.9 this season, and they gave up just 9 points in 9 games.

Tackle Alvord Wolff would be named a consensus AA in 1938, and center/guard John Schiechl would be consensus AA in 1939. Center/guard Phil Dougherty was a nonconsensus AA this season. Tackle Frank Cope went on to a 10 year pro career, making the Pro Bowl twice.
Santa Clara's Season
Santa Clara's regular season schedule was even less impressive than California's, and though they did not take a loss or tie, their overall performance was not as strong as Cal's. They won just 13-7 at 4-3-2 Stanford (Cal beat them 13-0), 7-0 over 4-3-2 St. Mary's (Cal beat them 30-7), and worst of all, 7-0 over 4-7 Loyola-Marymount in their finale. None of their regular season wins held any real value, so like Cal, Santa Clara's season boiled down to just their bowl game, where they "upset" a 9-win Louisiana State team in the Sugar Bowl for the 2nd straight season.

40,000 fans packed Tulane Stadium for the game. LSU outgained Santa Clara 201 yards to 101 and 10 first downs to 4, and LSU had no turnovers while Santa Clara had 6, yet somehow Santa Clara won 6-0. In the opening quarter, LSU got a fumble and drove to the SC 4, where an end run looked like it might go over goal before tackle Alvord Wolff, who had a tremendous defensive game (getting him on AA lists the next season), hustled outside and brought the runner down. Still in the opening quarter, SC put together their one strong drive, hitting a halfback pass from the 29 to the 9 to set up a 2 yard touchdown pass. The extra point try was wide, leaving the score 6-0, but LSU could never quite cash in on numerous threats, so 6-0 was good enough.

Santa Clara was inches from taking a safety in the 4th quarter, then shot a 55 yard punt out of their end zone. John Schiechl tackled an LSU runner at the SC 4 after a 21 yard run from a fake field goal, and LSU went backwards from there, the drive ending at the 20. This was the first time LSU had been shut out in 50 games.

LSU finished 9-2 and #13 in the fixed AP poll. Their other loss came to 7-2 Vanderbilt (#12). They defeated 6-2-3 Auburn (#17) and 6-3-2 Rice (#22).
Selecting the 1937 Mythical National Champions
Here are the significant games for our 4 candidates. The opponent rankings come from the 1937 fixed AP poll.


Pittsburgh 9-0-1



(#30-40) West Virginia (8-1-1) 20-0
(unranked) Duquesne (6-4) 6-0
at #2 Fordham (7-0-1)

0-0


at #10 Notre Dame (6-2-1) 21-6
#8 Nebraska (6-1-2) 13-7
at #15 Duke (7-2-1) 10-0

Fordham 7-0-1



#1 Pittsburgh (9-0-1)

0-0


(unranked) Texas Christian (4-4-2) 7-6
at #14 North Carolina (7-1-1) 14-0
(unranked) St. Mary's (4-3-2) 6-0

California 10-0-1



(unranked) St. Mary's (4-3-2) 30-7
(unranked) Washington (7-2-2) 0-0



Rose Bowl




#4 Alabama (9-1) 13-0

Santa Clara 9-0



at (unranked) Stanford (4-3-2) 13-7
(unranked) St. Mary's (4-3-2) 7-0
(unranked) Loyola-California (4-7) 7-0



Sugar Bowl


#13 Louisiana State (9-2) 6-0


Pittsburgh defeated their unranked opponents by an average score of 27-4, Fordham defeated theirs 28-3, California defeated theirs 20-3, and Santa Clara defeated theirs 20-1.

Santa Clara had the best straight record, but they are the easiest to cut, as they played the weakest schedule, performed the worst, and did not defeat a top 10 team. Neither did Fordham, but they tied 9-0-1 Pittsburgh, which is good enough as far as that goes.

Next to go is California, whose tie at home to unrated Washington was simply inexcusable. Cal may have been the best team this year-- outside of that one game, they were perfect, winning all the rest by more than a touchdown, and their victory over Alabama was the best win by any team this season. But Pittsburgh and Fordham, though they tied each other, took no upset, let alone against an unrated opponent at home. Pitt had a weak win over an unrated opponent, and Fordham had 2, but those were wins, and Pitt and Fordham outplayed their opponents in all of those games. To merit sharing the MNC despite an upset tie to an unrated team at home, Cal would have needed to play a far tougher schedule than they did.

Fordham
There is no doubt that Pittsburgh had a more impressive season than Fordham

:

they defeated 3 ranked teams to Fordham's 1 and 2 top 10 teams to Fordham's none, they had 1 poor performance against an unrated opponent and Fordham had 2, and the tie between the teams occurred at Fordham. Pitt also outgained Fordham in that game by a healthy margin, and had a touchdown negated by a penalty. Nothing points to Fordham here, so Pittsburgh must be ranked #1.

The question is, does Fordham deserve to be considered co-MNC? And could Fordham be validly ranked #1 in a tie with Pittsburgh?

This is a close one, but I think most of the time, when 2 candidates tied each other and were otherwise perfect, they should be considered co-champions for that season. I'm surprised that no organization selected Pitt and Fordham to share the MNC for this season. There should be a big difference between the 2 to select only one of them, and maybe Pitt did earn that "big difference." It's a subjective call, to be sure. But I think Pitt needed to perform a bit better-- such as beating unranked Duquesne by more than a touchdown at home-- to take the imaginary crown all to themselves. Or on the other side, if Fordham had not played and beaten #14 North Carolina, they would be left without a victory over a rated opponent, and the schedule difference would be immense enough to dismiss Fordham. As it is, I think Fordham just merits a co-championship here. Bottom line is that they did tie Pitt and win the rest of their games.

But I cannot see ranking them #1 in a tie with Pittsburgh. There's just no point in their favor in comparison to Pitt, and thus no reason other than their tie-- in a game played at Fordham-- to consider the teams to be equals. I couldn't blame someone for ranking them as such, for the same reasons that I consider Fordham to be a co-MNC for 1937, but I think ranking teams calls for a little more splitting of hairs. And you don't actually have to split hairs to rank Pitt higher than Fordham.
Awards Ceremony
1937 #1:

9-0-1 Pittsburgh


National Co-champion:

7-0-1 Fordham


Contender:

10-0-1 California

These are the awards I have been handing out for each season, except seasons when there are no contenders. For this purpose, what I mean by a contender is a team that I think is very close to being worthy of sharing the national championship. A team that you could make an argument for, even if that argument is weak. But the contenders are teams that I myself do not see as national champions.
9-0 Santa Clara is very close to contender status here. They do compare well to California, who took an upset tie to an unranked team. But they do not compare well to Pittsburgh, or even Fordham, and they don't really have even a weak argument for sharing an MNC with them. Cal, on the other hand, does have a case, since they performed better than Fordham, and arguably better than Pitt as well, and their Rose Bowl victory over Alabama was a better win than any of these teams recorded. If only they'd not been tied by Washington. But Washington came closer to winning that game than Cal did.
Grading the Selectors
I have been grading the NCAA Records Book's selectors for each season, and keeping a grade point average, so we can see who is relatively good at selecting national champions and who is not. And although I do not consider computer ratings to be legitimate national championship selectors, I have been including them in this section as well, just for comparison's sake.
I am grading on a scale of 0-5 (5 being the best).


Dunkel's math system and the Helms Foundation selected California as the sole national champion.

Grade: 1.2


Everyone else selected Pittsburgh.

Grade: 5.0



Grade point averages 1936-1937

:




1) Boand (math system)




College Football Researchers Association




Poling (math)




AP Poll




National Championship Foundation




Dickinson (math)




Houlgate (math)




Billingsley (math)




Litkenhous (math)

5.0

10) Helms Foundation




Dunkel (math)

3.1

12) Sagarin (math)




Sagarin-ELO (math)




Williamson (math)

2.5

Grade point averages 1919-1935
:
| | |
| --- | --- |
| 1) Boand (math system) | 4.26 |
| 2) College Football Researchers Association | 4.22 |
| 3) Poling (math) | 4.11 |
| 4) Helms | 4.09 |
| 5) Sagarin-ELO (math) | 4.06 |
| 6) National Championship Foundation | 3.96 |
| 7) Dickinson (math) | 3.49 |
| 8) Houlgate (math) | 3.35 |
| 9) Billingsley (math) | 3.34 |
| 10) Sagarin (math) | 3.28 |
| 11) Parke Davis | 2.77 |

How the systems that selected champions for 1901-1918 did

:



| | |
| --- | --- |
| 1) Houlgate (math system) | 4.5 |
| 2) Helms | 4.3 |
| 3) Parke Davis | 4.2 |
| 4) National Championship Foundation | 3.7 |
| 5) Billingsley (math) | 3.6 |