Home
1929 College Football National Championship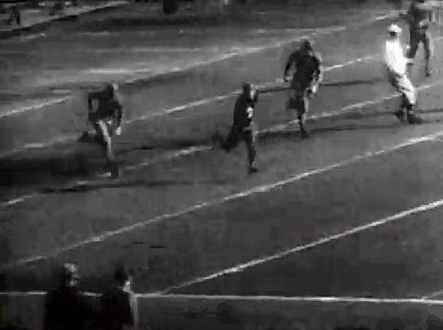 Pictured above is Notre Dame halfback Jack Elder's 96 yard interception return that beat Army 7-0 in the season finale for both teams (Army did not play Navy this year). Notre Dame finished 9-0, and they are a nearly unanimous choice for 1929 mythical national champion (MNC). As usual, however, there is one contrarian, and as usual, it's Parke Davis.

Here is how the "major selectors" listed in the NCAA Records Book, all selecting retroactively, see the 1929 college football national championship (omitting math/computer ratings, which neither I nor anyone else recognize as constituting titles)

:



9-0

Notre Dame

:

Helms,

National Championship Foundation, CFB Researchers
9-1 Pittsburgh

:

Parke Davis



Pittsburgh had been pretty impressive against a weak schedule in the regular season, but they were slaughtered 47-14 in the Rose Bowl by Southern Cal, whom Notre Dame beat 13-12 in Chicago. Needless to say, Pitt is not even a contender for the 1929 MNC. 8-0 Purdue, on the other hand, is a contender, and the only team I will be looking at aside from Notre Dame. A good year for the state of Indiana.

9-0 Tulane did not play a top 25 caliber team, and they struggled to beat 3 of their opponents. 7-0 Utah and 9-0 Ohio defeated every opponent by more than a touchdown, but neither played a top 50 opponent, let alone top 25. 11-0 McDaniel (then known as Western Maryland) played a couple of teams that might have been top 50 (5-2-2 Georgetown and 6-3-1 Temple), but none that would have been top 25, and they had 4 close wins over bad teams.

9-0-1 Texas Christian defeated at least 4 top 50 caliber teams, but none that were top 25, and they were tied by 6-0-4 Southern Methodist in their finale. 9-0-1 Tennessee beat a top 25 caliber team (7-2 Vanderbilt) and another that was about #33-50 (6-3 Alabama), but they were tied at 6-1-1 Kentucky (#26-32). 8-0-1 St. Mary's (California) beat 6-2 Santa Clara (I rank them #14) and 7-3 Oregon (#33-50), but they were tied at 7-1-1 California (#4).

9-0-1 Duquesne, coached by Elmer Layden, former fullback for Notre Dame's "Four Horsemen" backfield, played almost all minor teams, suffering their tie at 4-3-3 West Virginia. They would emerge on the big-time college football stage in the 1930s.

All rankings in the following article, except as noted, come from my 1929 top 25, which is based on a hypothetical post-bowl AP poll (within logical reason of course).

Notre Dame 1929
| | | |
| --- | --- | --- |
| at Indiana (2-6-1) | 14-0 | |
| at Navy (6-2-2) | 14-7 | #23 |
| (Chicago) Wisconsin (4-5) | 19-0 | #18 |
| at Carnegie (5-3-1) | 7-0 | (#33-50) |
| at Georgia Tech (3-6) | 26-6 | |
| (Chicago) Drake (5-3-1) | 19-7 | |
| (Chicago) Southern Cal (10-2) | 13-12 | #3 |
| at Northwestern (6-3) | 26-6 | #16 |
| (Bronx) Army (6-4-1) | 7-0 | (#33-50) |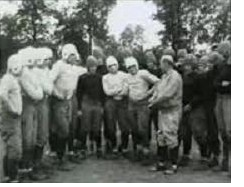 Notre Dame had won their first MNC in 1924 behind the famed "Four Horsemen," and I covered their legendary coach, Knute Rockne, in that article. From that time forward, they were the media's one true love. They won a lot, they traveled a lot (so everyone could see them), they played in high-profile intersectional games against various regions' top teams, and their coach was highly charismatic. Many of the nation's other football-playing schools were smitten as well, and Knute Rockne's players were hired as coaches left and right
.



Notre Dame had come close to MNCs in 1926 and 1927, but in 1928 they fell back to 5-4, the worst straight record in Rockne's coaching career, and Notre Dame's worst in 23 years. However, those 4 losses came to 7-1-1 Wisconsin, 10-0 Georgia Tech, 7-1 Carnegie, and 9-0-1 Southern Cal, so the 5-4 record was a bit of an illusion. They defeated 5-3-1 Navy, 7-1 Drake, and 8-2 Army (the game they famously won for the Gipper). Notre Dame only played 1 opponent in 1929 who was as good as any of the 4 teams they'd lost to in 1928.

A couple of factors made Notre Dame's 9-0 run in 1929 rather remarkable. The first is that they did not play any home games, as their new stadium was under construction this season. They played Wisconsin, Drake, and Southern Cal in Chicago, Navy in Baltimore, Army in the Bronx, and 4 teams on their home fields. On top of that, Rockne was stricken with phlebitis, and was told by doctors not to coach this season. He was able to attend few of their games, and did his coaching from wheelchairs, cots, and hospital beds. Assistant coach Tom Lieb, who had played for Rockne 1919-1922, was in charge of the team on game days. He had been the line coach at Wisconsin 1926-1928, but was called home to get Notre Dame through this season. The next season, he was the head coach at Loyola-California (1930-1938), and later at Florida (1940-1945).

The Players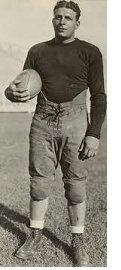 Notre Dame had 2 consensus All Americans in 1929, both Hall of Famers

:

guard Jack Cannon and quarterback Frank Carideo. Knute Rockne touted Carideo (pictured at left) as the best quarterback of all time. He was a good passer and defensive back, and he was a remarkably accurate punter. He could supposedly punt footballs into a barrel from 45 yards away, but the practical side of his accuracy was that he did not allow much in the way of returns, a big part of the game back then. Carideo also had a knack for breaking big plays in the open field, returning a punt for 75 yards against Georgia Tech and an interception for 85 yards against Northwestern this season. Finally, he was an excellent play-caller, and that's what Rockne most prized in him. Carideo was 19-0 as the 1st string quarterback at Notre Dame 1929-1930.

Speedy halfback Jack Elder was the other offensive star, but he was not an All American, and he is surprisingly not in the Hall of Fame. He had placed 5th in the 100 yard dash at the 1928 NCAA track and field national championships, and he had held world records in the 60 and 75 yard dashes during his collegiate career. This season he scored both touchdowns in a 14-0 win over Indiana, caught a touchdown pass in a 14-7 win over Navy, set up the game's only touchdown with a 33 yard run in a 7-0 win over Carnegie, threw a 53 yard touchdown pass in a 13-12 win over Southern Cal, and he returned an interception 96 yards for a touchdown to beat Army 7-0 in the finale.

Tackle Frank Leahy, of course, went on to become a Hall of Fame coach at his alma mater, winning a bunch more MNCs and winding up #2 in all-time FBS winning percentage, behind only his mentor Knute Rockne.

Notre Dame's other notable players this season were back-ups who would work their way up to 1st-string in 1930 and help keep things rolling with a 10-0 finish. Of course, due to Knute Rockne's "shock troops" strategy of starting the 2nd-string for the first quarter, these players were actually among the starters for most games in 1929. Halfback Marchy Schwartz would be a consensus AA in 1930 and 1931, and is in the Hall of Fame. Guard Bert Metzger would be nonconsensus AA in 1930, and may be the smallest guard in the Hall of Fame (5' 9" and 152 pounds). Fullback/halfback "Jumping" Joe Savoldi would become most famous as a pro wrestler after leaving school. His signature wrestling move was a high-jumping dropkick, but he actually got his nickname while playing football at Notre Dame, for vaulting over the pile at the goal line to score the only touchdown in a 7-0 win over Carnegie this season. Pile-jumping on short-yardage plays then became his signature football move.
Notre Dame's Season
Notre Dame opened with a 14-0 win at Indiana (2-6-1) for the Hoosiers' homecoming, 20,000 in the stands. Halfback Jack Elder supplied the bulk of the offense, throwing a 45 yard pass, then scoring from 24 yards out in the 2nd quarter, and reeling off a 59 yard touchdown run in the 3rd quarter. Frank Carideo kicked the extra points, and he also had a 55 yard interception return, but he fumbled the ball away at the Indiana 7 at the end of the return.

The next week they went to Baltimore to play Navy in front of 80,000 spectators. Rockne was laid up back in South Bend with phlebitis, but a phone line was installed in the locker room so that he could give each player a pregame pep talk. This game followed a familiar pattern for Rockne's Notre Dame teams-- the shock troops played the first quarter and gave up an early lead, and the 1st string players came into the game in the 2nd quarter and rallied for the win. But this time they didn't take the lead until the 4th quarter.

Navy recovered a fumble at the Notre Dame 32 to set up their opening quarter touchdown. They hit a couple of passes for 25 yards, then ran it over goal in 2 plays for the 7-0 lead. The 2nd quarter was all Notre Dame, but they only got one touchdown out of it. Halfback Marty Brill, a transfer from Penn, had some good runs in the 55 yard touchdown drive, and Carideo hit Elder with an 11 yard pass to tie the game 7-7. But in other drives, Notre Dame was stopped at the Navy 12, and an Elder to Carideo pass that put the ball inside the Navy 2 came up empty as well. Late in the 3rd quarter, Brill ran for 25 yards to the Navy 8, and early in the final period, the drive ended with fullback Larry "Moon" Mullins going over goal. Carideo kicked his 2nd extra point, and Notre Dame won 14-7. Notre Dame had 20 first downs to Navy's 7.


Navy went on to finish 6-2-2. They lost to 7-2 Penn, and they were tied by 2-4-1 Princeton and 5-2-2 Georgetown, but they capped their season with a 13-6 win over 7-2 Dartmouth in Philadelphia, and that win would have probably pushed them into the bottom of an AP poll's final top 25 had there been one at the time
. I have them #23.

Next up was a 19-0 win over Wisconsin (4-5) in Chicago, revenge for a 22-6 loss in Madison the previous season. Wisconsin may have had a losing record, but all 5 of their losses came to top 25 teams, and they beat 8-1 Colgate. I have them ranked #18. Notre Dame next went to Pittsburgh to take on Carnegie, who had also beaten them the previous season.

Carnegie
Carnegie had cost Notre Dame an MNC in 1926 with a shocking 19-0 upset in Pittsburgh, and they had beaten Notre Dame 27-7 in South Bend in 1928 to make it 2 wins in a row (the teams didn't play in 1927). 70,000 fans, then a record for any sport in the city of Pittsburgh, showed up to watch the home team go for the hat trick. Knute Rockne made this trip, coaching in a wheelchair on the sideline.

Carnegie's defense was terrific in this game, holding Notre Dame to just 8 first downs, but the offense did not do its part, managing only 3 first downs. Notre Dame drove for the game's only score in the 3rd quarter. Jack Elder ran for 33 yards to the Carnegie 17 (he also had runs of 15 and 17 yards in this game), and 6 more runs put the ball over goal, Jumping Joe Savoldi earning his nickname over the pile on 4th down. Carideo added the extra point, and it was 7-0. Carnegie hit a couple of long passes to the Notre Dame 20 on their answering drive, but they were then stopped on downs.

Carnegie went on to finish 5-3-1, losing 34-13 at 9-1 Pittsburgh and 45-13 at 10-2 Southern Cal, and tying 5-2-2 Washington & Jefferson. They had 1 relevant win, 20-0 at 7-3 NYU, but they would not have been ranked in a 1929 AP poll. They weren't bad, though-- a #33-50 type team.
The next week Notre Dame traveled to Georgia Tech (3-6), their 3rd straight game against a team that had beaten them the previous season. The shock troops again gave up an early lead, but the regulars came storming back quickly in the 2nd quarter and won the game 26-6. Jack Elder had a 53 yard touchdown run and Frank Carideo returned a punt 75 yards for another touchdown. Notre Dame then beat Drake (5-3-1) 19-7 in Chicago, and that brought them to their biggest game of the year.

Southern Cal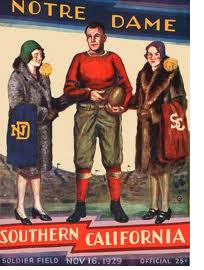 Attendance for this game at Soldier Field was estimated at 112,000 to 123,000, similar to other big games that had been held at Soldier Field in each of the previous 3 seasons

:

Army-Navy in 1926, USC-Notre Dame in 1927, and Navy-Notre Dame in 1928. Notre Dame had beaten Southern Cal 13-12 in 1926 and 7-6 in 1927, but USC had prevailed 27-14 in 1928. Southern Cal came into this game 6-1, losing 15-7 to California (7-1-1), winning at Stanford (9-2) 7-0, and whipping their other 5 opponents by an average score of 55-1.

The 1st string line started this game for Notre Dame, but the backfield regulars went the usual route of entering in the 2nd quarter. Southern Cal thus went to the air, attacking the "shock troop" defensive backs, and they scored the game's opening touchdown on a 49 yard pass not long after the game had started. Notre Dame went to the air themselves late in the quarter, hitting a couple of passes for 53 yards to the USC 7, but regular halfback Marty Brill then fumbled on 1st down, and the Trojans recovered the ball at their 2 yard line. Notre Dame kept at it, and they tied the game 6-6 on a 53 yard pass from Jack Elder to end Tom Conley. Carideo set up another opportunity by punting for 65 yards, then returning USC's next punt to their 30 yard line. Jack Elder threw another pass to Tom Conley, but it bounced off of his hands and was caught by Carideo in the end zone. Unfortunately, however, this was not a legal catch by the rules of 1929, and the score remained 6-6 at the half.

Knute Rockne was supposed to have been left behind in South Bend, but he made a surprise appearance in the Notre Dame locker room at halftime, delivering a speech from a wheelchair. He coached the 2nd half from a cot behind the bench. Frank Carideo continued to control field position with his punting and punt returns in the 3rd quarter, eventually returning a punt 30 yards to the USC 12. Jack Elder ran for 9 yards, and Jumping Joe Savoldi took the ball over the goal line on 2 runs into the line. Carideo kicked the ultimately decisive extra point, making it 13-6. Southern Cal responded on the ensuing kickoff, returning it 95 yards for a touchdown, but the extra point try was wide of the goalposts, giving Notre Dame a 13-12 win. It was their 3rd 1-point win over USC in 4 years, and USC was 0 for 5 on extra point attempts in those games.

The

New York Times

reported that "the Rockne men were the better team by considerably more than one point." They made 12 first downs to 7 for USC. Southern Cal won out to finish 10-2, beating 10-2 Washington State 27-7, 5-3-1 Carnegie 45-13, and 9-1 Pittsburgh 47-14 in the Rose Bowl. They would have almost certainly finished #2 in a post-bowl AP poll, passing up 8-0 Purdue after that Rose Bowl demolition of previously unbeaten Pitt, but I have USC #3 behind Purdue.


Notre Dame had now successfully beaten all 4 teams that had beaten them the previous season
.

Army
Notre Dame next went to Northwestern and won 26-6. That was Northwestern's finale, finishing them at 6-3. They had beaten 6-1-1 Illinois, a likely top 10 team, but they had lost to 6-2 Minnesota and 2-6-1 Indiana. It's difficult to predict where they would have landed in a final AP poll top 25 in 1929, because the press seemed to have an inordinate amount of respect for them. But the ugly losses to Indiana and Notre Dame were their last 2 games. I have them #16.

Notre Dame finished the season facing Army at Yankee Stadium in the Bronx. Their Hall of Fame coach, Biff Jones, had already announced his retirement, effective at the end of the season, and Army was determined to send him off with a win (he would return to coaching 1932-1941 at LSU, Oklahoma, and Nebraska). Knute Rockne did not make the trip with his team. It was 8 degrees and windy on gameday, and the field was slippery and frozen hard as concrete, hampering both offenses. The stadium was nevertheless filled with over 80,000 fans (300,000 had requested tickets).

Neither team mounted an extended drive, and neither team completed a pass. As in the USC game, Notre Dame started its 1st string line, the 1st string backs entering in the 2nd quarter. Army had one opportunity in the opening quarter when a quick kick hit a Notre Dame back and Army recovered the ball at the Notre Dame 27. Army lost 7 yards in 3 plays, and then consensus All American halfback Red Cagle overthrew an open receiver on a bomb to the end zone. Notre Dame's regular backfield didn't provide the usual boost to the offense when they entered the game, as they gained no first downs and totaled just 1 yard in the 2nd quarter. They would make their mark on defense.





The 1st string backs entered the game just after Notre Dame halfback Marchy Schwartz punted for a meager 19 yards to the Notre Dame 47. Army repeatedly ran into the line, making a couple of first downs before they were stopped at the 19. But they blocked Notre Dame's next punt (pictured above) and recovered the ball at the 13, a golden opportunity. For Notre Dame, as it turned out. After another couple of runs into the line netted 2 yards, Red Cagle rolled right along with most of his team, then threw back across the field to his left, where Notre Dame halfback Jack Elder had stayed home. Elder leapt into the air from about the goal line, caught the ball in the air, landed at the 4, and proceeded to run straight down the right sideline for the game's only score. You can watch a film clip of the play here. Carideo added the extra point, and Notre Dame went on to win 7-0.

Neither team moved the ball much the rest of the game, but Army blew another opportunity in the 4th quarter. Cagle returned a punt 40 yards to the Notre Dame 35, but on 4th and 4, he just missed on a pass to a wide open receiver at the Notre Dame 15, and that was that. Army had no substitutions in this game. Army outgained Notre Dame 142 yards to 102, but they only made 6 first downs to Notre Dame's 7 (5 gained by Jumping Joe Savoldi).

Army went out West to play a post-season game at 9-2 Stanford December 28th, losing 34-13 to finish 6-4-1. Their other losses were by 17-7 at 6-1-1 Illinois and 21-13 at 5-2-1 Yale, and they were tied at 5-2-1 Harvard. They did not defeat a good team, and they would not have been ranked in a post-bowl AP poll's top 25. Like Carnegie, they were a #33-50 type team.
Purdue 1929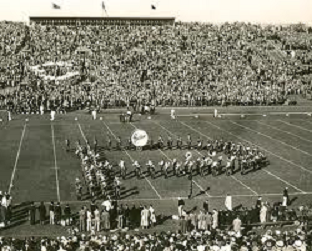 | | | |
| --- | --- | --- |
| Kansas State (3-5) | 26-14 | |
| Michigan (5-3-1) | 30-16 | #12 |
| DePauw (4-4) | 26-7 | |
| at Chicago (7-3) | 26-0 | (#33-50) |
| at Wisconsin (4-5) | 13-0 | #18 |
| Mississippi (1-6-2) | 27-7 | |
| Iowa (4-2-2) | 7-0 | #11 |
| at Indiana (2-6-1) | 32-0 | |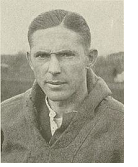 Purdue had not had a winning season for 9 straight years 1915-1923, but Hall of Fame coach Jimmy Phelan (pictured at left), who had played quarterback for Notre Dame 1915-1917, led them out of the Big 10 cellar. He was 35-25-5 at Purdue 1922-1929. They went 5-2-1 in 1926, 6-2 in 1927, 5-2-1 in 1928, and 8-0 in 1929, Purdue's first Big 10 title and their first perfect season since 1892, when they had also gone 8-0
. Unfortunately, Phelan then left for a bigger paycheck at Washington, going 65-37-8 there and winning 1 PCC title 1930-1941. After that he coached St. Mary's in California for 6 years, taking them to the 1945 Sugar Bowl. Overall he was 137-87-14.


He had a strong set of assistant coaches at Purdue. Line coach Noble Kizer, a guard on Notre Dame's 1924 MNC team, succeeded Phelan as head coach, and went 42-13-3 1930-1936, winning 2 Big 10 titles. His career and life, unfortunately, were cut short by kidney problems. End coach Allen "Mal" Edward, another Notre Dame grad (end 1912-1915), succeeded Kizer as Purdue's head coach, but he did not do so well, going 16-18-6 1937-1941.

The one assistant who hadn't attended Notre Dame was backfield coach Earl Martineau. He had been a nonconsensus All American halfback at Minnesota, captain of their 5-1-1 team in 1923. After going 26-10-2 as head coach at Western State in Michigan, he became a very successful backfield coach. He was at Purdue 1929-1930, and then he became Fritz Crisler's backfield coach at Princeton 1932-1937 and at Michigan 1938-1945
. In his 16 years as a backfield coach, his teams went a combined 104-21-7.

This season was the beginning of a terrific 5-year run for Purdue, during which time they went 36-4-2 and won 3 Big 10 titles.

The Players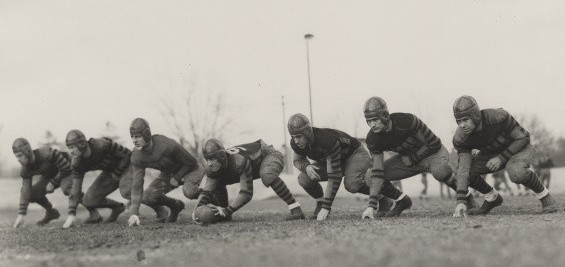 Time has left this team buried in the long shadow cast by Notre Dame, but Purdue was very talented in 1929, and like Notre Dame, they had 2 consensus All Americans (Purdue's first). Unlike Notre Dame, however, none of their players have been inducted into the Hall of Fame. Purdue's players were much bigger than Notre Dame's players, so it would have been an interesting contrast had the teams played each other.

The backfield, best in the Big 10, was dubbed the "Four Riveters" by the press

:

quarterback John White,
fullback Alex Yunevich
, and
halfbacks Glen Harmeson and Ralph "Pest" Welch. Pest Welch was the consensus AA among the group, and the next year he followed his coach Jimmy Phelan to Washington as an assistant coach. He later succeeded Phelan as head coach at Washington, going 27-20-3 1942-1947 and taking his team to the 1943 Rose Bowl.

Harmeson was the offensive star of the team, its leading rusher, passer, and scorer. He was All Big 10 in football and baseball, and he was captain of the 1929-1930 basketball team
that went 10-0 in Big 10 play (that team featured John Wooden). He is in the Indiana Basketball Hall of Fame. Alex Yunevich was a big bruising fullback who was also fast and elusive in the open field. He became head coach at Central Michigan 1934-1936, and at Alfred University in New York 1937-1941 and 1946-1976, where he had 6 undefeated teams and went 177-85-12.

Tackle Elmer "Red" Sleight was Purdue's other consensus AA, and center Charles "Ookie" Miller would be a nonconsensus AA in 1931. Ookie Miller went on to a 7-year NFL career, winning a pair of championships with the Bears in 1933 and 1934, and he was all-pro in 1933.

Purdue's Season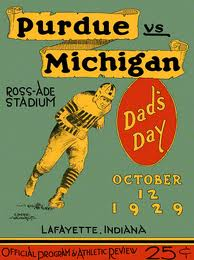 Purdue's schedule wasn't particularly challenging, but their performance was very strong, and generally more impressive than Notre Dame's.

After a 26-14 win over Kansas State (3-5), Purdue welcomed Michigan to West Lafayette, which was a big event because Purdue had not played them since 1900, and had not beaten them since 1892. 25,000 were on hand, which is all Ross-Ade Stadium could handle back then. Purdue led 6-0 at the half, but favored Michigan ran away with the 3rd quarter and led 16-6 going into the 4th. That's when they fell apart, and Purdue exploded with 4 touchdowns in the final stanza to win 30-16 (missing all 5 extra point tries in this game). Fullback Alex Yunevich scored 3 touchdowns, and tackle Red Sleight blocked a punt and returned it to the Michigan 5 to set up another touchdown. Purdue had 10 first downs, Michigan 6.

Michigan lost their next 2 games to 4-3-1 Ohio State and 6-1-1 Illinois, but they had a strong finish, winning 14-12 over 5-2-1 Harvard and 7-6 at 6-2 Minnesota, then tying 4-2-2 Iowa in their finale. That put them at 5-3-1 for the season, and I have them ranked #12.

Purdue's reserves beat DePauw (4-4) 26-7, then they hit the road to play Chicago. The Maroons had once been a power team in the Big 10, but the school had been de-emphasizing football in the 1920s, and the program was on a steep downslide into oblivion. This year, however, Chicago was decently competitive, posting their only winning season 1925-1939, after which the football program was ended altogether
. "Decently competitive" was not good enough to hang with Purdue, though, and the Boilermakers won in a rout, 26-0. Glen Harmeson scored 3 touchdowns and threw for another.

Chicago finished 7-3, but they lost to 4-5 Wisconsin, they had 4 minor teams on their schedule, and they did not beat a winning major opponent. They would not have been ranked in an AP poll's top 25 in 1929, and may not have even been top 50, but let's call them a #33-50 type team.

Purdue went to Wisconsin (4-5) the next week and won 13-0 on a pair of Glen Harmeson touchdown passes. As noted in the Notre Dame summary above, I have Wisconsin ranked #18 despite their losing record. The next week, the reserves beat up on 1-6-2 Mississippi 27-7.


Next up was Purdue's Homecoming game against Iowa, and Ross-Ade was filled once again. Purdue's offense was stifled, but they won 7-0 on a pair of big 2nd quarter passes. Glen Harmeson hit end Bill Woerner with a 35 yard pass, then with a 17 yarder for the touchdown, and Harmeson added the extra point as well. Iowa was stopped at the Purdue 8 yard line late in the 1st half, and they were stopped at the Purdue 5 in the 2nd half. Iowa's season was very similar to Michigan's-- they lost to 4-3-1 Ohio State early, they defeated 6-2 Minnesota, and they tied Michigan in their finale. The difference was that Iowa tied 6-1-1 Illinois, who beat Michigan 14-0. I rank Iowa #11.

Purdue finished their season with a 32-0 beatdown at Indiana (2-6-1).
Notre Dame vs. Purdue
Here are the significant games for Notre Dame and Purdue in 1929.
The opponent rankings
come from my 1929 top 25, which is based on a hypothetical post-bowl AP poll (within logical reason of course)
.


Notre Dame 9-0
Purdue 8-0

| | | |
| --- | --- | --- |
| [Baltimore] Navy (6-2-2) | 14-7 | #23 |
| [Chicago] Wisconsin (4-5) | 19-0 | #18 |
| at Carnegie (5-3-1) | 7-0 | (#33-50) |
| [Chicago] Southern Cal (10-2) | 13-12 | #3 |
| at Northwestern (6-3) | 26-6 | #16 |
| [Bronx] Army (6-4-1) | 7-0 | (#33-50) |

| | | |
| --- | --- | --- |
| Michigan (5-3-1) | 30-16 | #12 |
| at Chicago (7-3) | 26-0 | (#33-50) |
| at Wisconsin (4-5) | 13-0 | #18 |
| Iowa (4-2-2) | 7-0 | #11 |

Notre Dame beat their non-top 50 opponents by an average of 20-4, and Purdue beat theirs by an average of 28-7.

Purdue outperformed Notre Dame, as they had just 1 close game, against a top 25 caliber opponent, while Notre Dame had 4 close games, 2 of them against non-top 25 teams. But as you may know by now, I treat performance as more of a tie-breaker than a deal-breaker, which is why I don't see 1921 Cornell or 1901 Michigan as national champions-- and both were far higher-performing teams than 1929 Purdue.

1929 Notre Dame gives a perfect example of why performance is a secondary concern. They won just 7-0 at Carnegie, whom Pitt beat 34-13 and Southern Cal beat 45-13. USC also beat Pitt 47-14. And Notre Dame won just 7-0 over Army, whom Stanford beat 34-13, and USC won 7-0 at Stanford. All those scores say that Southern Cal should have handily beaten Notre Dame. Yet the 2 teams played, and Notre Dame defeated USC 13-12 in Chicago. And that ends up being the biggest difference between Notre Dame and Purdue in 1929.

Notre Dame's performances this season were not impressive-- an MNC team should not be barely beating a couple of nearly-rated teams and a #21-25 team. But they won those games, and those results became largely irrelevant when Notre Dame beat MNC-caliber Southern Cal, because Purdue did not defeat a team that was close to MNC-caliber.

Also, the strength of schedule difference between these teams becomes pretty massive when you take into consideration the fact that Purdue played their toughest 2 games at home, while Notre Dame did not play a single game at home this season.

It's too bad they didn't play each other, because Purdue certainly looks to have been capable of beating Notre Dame, but given Notre Dame's much-tougher schedule and their victory over Southern Cal, Purdue needed at least a win over a top 10 team themselves to merit sharing the MNC for 1929. It is a pretty close case, though, and I couldn't fault someone much for seeing Purdue as a co-champion this season
.
Awards Ceremony
1929 #1:

9-0 Notre Dame


National Co-champion:

None


Contenders:

8-0 Purdue

These are the awards I have been handing out for each season, except seasons when there are no contenders. For this purpose, what I mean by a contender is a team that I think is very close to being worthy of sharing the national championship. A team that you could make an argument for, even if that argument is weak. But the contenders are teams that I myself do not see as national champions.


Pittsburgh, destroyed 47-14 by Southern Cal in the Rose Bowl, claims a national championship for 1929, which is even more laughable than USC's MNC claim for 1928.
Grading the Selectors
I have been grading the NCAA Records Book's selectors for each season, and keeping a grade point average, so we can see who is relatively good at selecting national champions and who is not. And although I do not consider computer ratings to be legitimate national championship selectors, I have been including them in this section as well, just for comparison's sake.
I am grading on a scale of 0-5 (5 being the best).

Houlgate's system and Sagarin's original recipe formula had Southern Cal #1
.

Grade: 0.0



Parke Davis pretended that he didn't know what happened in the Rose Bowl and retroactively selected Pitt.

Grade: 0.0




Everyone else selected Notre Dame.

Grade: 5.0


This was the first season for Dick Dunkel's "Dunkel Index," a math formula rating system. His system followed the crowd in crowning Notre Dame.

Grade point averages 1919-1929 (Dunkel does not have enough selections to be fairly included)
:
| | |
| --- | --- |
| 1) Sagarin-ELO (math system) | 4.07 |
| 2) Boand (math) | 3.85 |
| 3) College Football Researchers Association | 3.79 |
| 4) Helms | 3.60 |
| 5) National Championship Foundation | 3.40 |
| 6) Poling (math) | 3.35 |
| 7) Houlgate (math) | 2.96 |
| 8) Dickinson (math) | 2.93 |
| 9) Sagarin (math) | 2.78 |
| 10) Parke Davis | 2.54 |
| 11) Billingsley (math) | 2.43 |

How the systems that selected champions for 1901-1918 did

:



| | |
| --- | --- |
| 1) Houlgate (math system) | 4.5 |
| 2) Helms | 4.3 |
| 3) Parke Davis | 4.2 |
| 4) National Championship Foundation | 3.7 |
| 5) Billingsley (math) | 3.6 |