Top 25 Rankings 1901-1935
1929 National Championship
Home
1929 College Football Top 25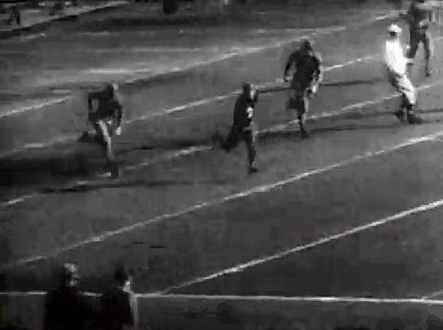 Pictured above is Notre Dame halfback Jack Elder's 96 yard interception return that beat Army 7-0 in the season finale for both teams (Army did not play Navy this year). Notre Dame finished 9-0, and they are a nearly unanimous choice for 1929 mythical national champion (MNC)
.


8-0 Purdue will have to settle for #2. I discuss both teams and compare them in detail in my article on the 1929 national championship.

The full hypothetical post-bowl AP poll top 25 for 1929, fixed to make logical sense of course, follows the article below.
#3: Southern Cal vs. California
10-2 Southern Cal might have been rated higher than 8-0 Purdue if there had been a post-bowl AP poll for the 1929 season, as they destroyed previously unbeaten and untied Pittsburgh 47-14 in the Rose Bowl. They certainly would have been rated higher than 7-1-1 California, who beat them 15-7 on the road and obviously had a better straight record. Fair?

Well, USC's other loss came 13-12 against #1 Notre Dame in Chicago, which is irrelevant when comparing them to Cal. But Cal took a loss to Stanford (whom USC defeated) and they tied 8-0-1 St. Mary's. So the USC vs. Cal debate centers on where you would rank St. Mary's. St. Mary's did not play much of a schedule, but they did beat 7-3 Oregon and 6-2 Santa Clara (and Santa Clara beat 9-2 Stanford). Basically, if you rate St. Mary's ahead of USC, then you should do the same with Cal. That would be my choice, since St. Mary's tied Cal and USC lost to Cal. So I would have St. Mary's #3, Cal #4, USC #5.

However, Southern Cal played a far tougher schedule than St. Mary's did, and their performance was far better as well, so Southern Cal ahead of St. Mary's-- and thus Cal-- is a viable option. Since that's what an AP poll would have done, that's what we'll go with here. And with USC rated ahead of St. Mary's, Cal can be rated ahead of St. Mary's as well, since Cal beat USC.

Southern Cal #3, California #4.

California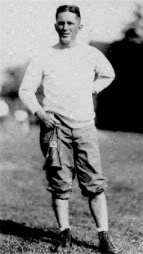 Cal had dominated the West Coast 1920-1924, taking no losses in those 5 seasons and winning 2 MNCs (by my count-- Cal sees more), but that all ended with the death of Hall of Fame coach Andy Smith following the 1925 season. Nibs Price (pictured) was promoted to head coach, and he went 27-17-3 1926-1930. He fielded top 5 teams in 1928 and 1929, but a 4-5 finish in 1930 did him in. He was Cal's basketball coach much longer, though, going 449-294 1924-1954. He has the most wins in Cal basketball history.

Cal had a strong line this season. Guard Bear Schwartz and center Roy "Wrong Way" Riegels were nonconsensus All Americans, and guard Ted Beckett would be a nonconsensus AA in 1930.

#5: Stanford vs. St. Mary's (California)
9-2 Stanford would have come next in line. Stanford upset 7-1-1 California 21-6 in the Big Game, but Stanford also took an upset loss to 6-2 Santa Clara, and they lost to Southern Cal (whom Cal defeated). Cal's "upset" tie with St. Mary's leaves them effectively half a game better on the season than Stanford (as shown in their straight records as well).

8-0-1 St. Mary's would probably have been rated about #8 in a 1929 AP poll, but they ought to be rated higher than Stanford. St. Mary's tied Cal, whom Stanford defeated, but Stanford lost to Santa Clara, whom St. Mary's defeated, and that leaves St. Mary's effectively half a game better than Stanford for the season.

St. Mary's #5, Stanford #6. With USC #3 and Cal #4, that's a lot of West Coast teams clogging up the top of the rankings, but they had a good year. Southern Cal lost to #1 Notre Dame by 1 point in Chicago, and they beat 9-1 Pitt 47-14 and 5-3-1 Carnegie 45-13. Cal won 12-7 at 7-2 Penn, and Stanford beat 6-4-1 Army 34-13.
#7: Pittsburgh, Illinois, and Tennessee
9-1 Pittsburgh is next in line. The school claims an MNC for this season, ignoring their 47-14 loss to Southern Cal in the Rose Bowl. Behind them, an AP poll would likely have rated 6-1-1 Illinois and 9-0-1 Tennessee next.

Illinois took a loss at 6-3 Northwestern (will be rated #16) and a tie
at 4-2-2 Iowa (#11), so that's a pair of upsets, while Tennessee took just 1, a tie at 6-1-1 Kentucky (#26-32). But Illinois being rated higher is viable-- the Great Lakes region was far stronger than the South this year, 21-7 in intersectional games between major teams, while the South was 12-19. And the South was 9-4 against the weak mid-Atlantic region, so they were just 3-15 against power regions.

9-0 Tulane was the Southern Conference champion, but they did not play a top 25 caliber team, or any team as strong as the team that tied Tennessee (6-1-1 Kentucky),
while Tennessee defeated 7-2 Vanderbilt (will be rated #15). Tulane also had 3 close wins, Tennessee just 1. So Tennessee can be rated higher, and probably should be.

Pittsburgh #7, Illinois #8, and Tennessee #9.
#10: Tulane vs. Pennsylvania
A 1929 AP poll might have rated 7-2 Penn higher than 9-0 Tulane, and it's a close call, but while you could make a case for Penn vs. Tulane, it's hard to make a good case for Penn being rated anywhere near the top 10. At least Tulane had a perfect record.

One of Penn's losses came just 12-7 to #4 Cal, which speaks well for them being rated #10, but that was their best performance of the season. They had 4 close wins, 3 of them over unrated opponents, and they lost to unrated 6-3 Penn State. Tulane took no upsets, but then they played a much easier schedule than Penn did, and they did not themselves defeat a team as strong as Penn State was. Penn beat a rated team, 6-2-2 Navy (will be #23), while Tulane did not. Furthermore, the East was 20-17-1 in major intersectional games this season, better than the South's 12-19, and the East was a dominating 9-1 against Southern teams.


So I could see Penn being rated higher than Tulane. But I can't see Penn being rated higher than a bunch of other teams still to come. The East was 4-10 against the Great Lakes region, which has a lot of teams coming up #11-18. All of Penn's performances except the home loss to Cal point to them being a #21-25 team at best. They only beat #23 Navy 7-2 at home, which suggests a power level of about #20. Their upset loss to unrated Penn State came by a score of 19-7. So I'm not going to be rating Penn until I'm closer to the bottom of this list
.


Tulane #10. Maybe they weren't this good, but at least they were 9-0.

Tulane



Tulane was headed up by Hall of Fame coach Bernie Bierman (pictured), who went 36-10-2 there 1927-1931, including a great 28-2 run 1929-1931 that brought home 3 straight Southern Conference titles. Minnesota then hired him away, and he won 5 mythical national championships in his first 10 years there.

Tulane's 1929-1931 run of titles coincided with Hall of Fame end Jerry Dalrymple's time at Tulane. He would be a nonconsensus AA in 1930, unanimous in 1931. Halfback Bill Bunker was a nonconsensus AA this season.

Iowa, Michigan, and Minnesota
4-2-2 Iowa and 5-3-1 Michigan tied each other, and both defeated 6-2 Minnesota. Iowa took an early 7-6 loss at 4-3-1 Ohio State (will be rated #17), but their other loss came 7-0 at #2 Purdue, and their other tie came to #8 Illinois. Michigan also took an upset loss to Ohio State (7-0 at home), and they also lost at Purdue (30-16), but they took a 3rd loss at #8 Illinois (14-0), whom Iowa tied, leaving Michigan half a game worse than Iowa for the season. So Iowa > Michigan.

Minnesota lost 9-7 at Iowa and 7-6 to Michigan at home.

Iowa #11, Michigan #12, and Minnesota #13.

Iowa
Iowa had been very strong under Hall of Fame coach Howard Jones, who went 42-17-1 there 1916-1923, and they are my choice for MNC of 1921. Jones was hired away by Southern Cal, where he would make his fame and win some more MNCs. Burt Ingwersen, an Illinois assistant who had played for Illinois' 1919 MNC team, was hired to replace Jones, but he couldn't quite keep up the standard set by his predecessor. Ingwersen went 33-27-4 at Iowa 1924-1931, fielding top 25 caliber teams in half of his 8 seasons, but none were top 10. Ingwersen returned to assistant coaching, first at Northwestern, then back at Illinois, where he remained through 1966.

Iowa's top player this season was halfback Willis Glassgow, a nonconsensus AA who made first team on 4 lists.

Santa Clara
St. Mary's wasn't the only little California Catholic school that made waves this season. 6-2 Santa Clara beat #6 Stanford 13-7, and their only losses came to #4 Cal and #5 St. Mary's. You could therefore rank Santa Clara as high as #6, ahead of Stanford, and I would be inclined to do so myself. But an AP poll would not have done that, and they have an excuse-- that win over Stanford was the only win of value Santa Clara achieved this season. 8-0-1 St. Mary's, for example, did more than tie Cal-- they beat Santa Clara and 7-3 Oregon too.

Santa Clara's 13-7 win over Stanford came the week before Stanford's Big Game against Cal, and as such Stanford had no intention of showing their actual offense and defense to Cal scouts. Stanford whipped Cal 21-6 the next week, and Cal had whipped Santa Clara 27-6, so it's not hard to see which of these 3 games was the upset.

Santa Clara had a better relevant record than quite a few teams ranked ahead of them, but since they only had one win of value, we can call it an anomaly. Minnesota, ranked #13, defeated 3 top 25 opponents.

Santa Clara #14.
Vanderbilt
7-2 Vanderbilt did not beat any top 25 teams, so I can't see rating Santa Clara behind them. Vanderbilt's losses came to #9 Tennessee and #13 Minnesota. All of their wins came by more than a touchdown
. But Santa Clara's only close win was their big upset of #6 Stanford, so they performed at least as strongly as Vanderbilt did.

Vanderbilt #15.
Northwestern, Ohio State, and Wisconsin
6-3 Northwestern lost to #1 Notre Dame and #13 Minnesota, and they also took an upset loss to 2-6-1 Indiana, but they balanced that ugly loss out with an upset win over #8 Illinois. They also won 18-6 at Ohio State and 7-0 at Wisconsin. I think that rating Vanderbilt ahead of Northwestern is rather dubious, but Northwestern did have a poor finish, so it's acceptable
.

4-3-1 Ohio State brought home 2 big wins over #11 Iowa and #12 Michigan as part of a 3-0 start, but then they crashed hard, tying 2-6-1 Indiana and getting crushed 18-2 by #7 Pittsburgh, 27-0 by #8 Illinois, and of course 18-6 by Northwestern.

4-5 Wisconsin obviously had a losing record, but their 5 losses all came to rated teams (#1 Notre Dame, #2 Purdue, #11 Iowa, #13 Minnesota, and 6-3 Northwestern), and they defeated 8-1 Colgate (will be rated #19) and 7-3 Chicago.

Northwestern #16, Ohio State #17, and Wisconsin #18.
Colgate, Utah, and Texas Christian
It's very hard to say where a 1929 AP poll would have rated Penn. Maybe as high as #10, or maybe more like #22, where they'll end up here. I think that 8-1 Colgate, 7-0 Utah, and 9-0-1 Texas Christian would have been rated higher, but it's pretty close. All 3 teams seemed to get just a bit more attention nationally this season, but Penn was more of a historical "name" team than those 3, so it's tough to say how things would have shaken out in a national poll. But all 3 teams had better relevant records than Penn in addition to better straight records, so we'll bring them in ahead of Penn.

8-1 Colgate took their loss 13-6 at #18 Wisconsin. They defeated 5-3 Michigan State 31-0 and 6-3 Syracuse 21-0. No one but Wisconsin came close to them.

No one came close to 7-0 Utah at all, but they didn't play anyone outside the weak Rocky Mountain region. Their big win was 40-0 over 5-1-1 Colorado.

9-0-1 Texas Christian won the SWC, taking their tie to 6-0-4 Southern Methodist in their finale. They won 15-12 at 5-2-2 Texas and 34-7 at 7-3-1 Baylor.

Colgate #19, Utah #20, and Texas Christian #21.
Texas Christian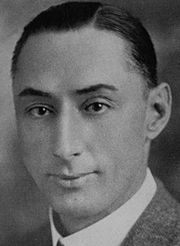 This was Texas Christian's first SWC title. They were piloted by Hall of Fame coach Francis Schmidt (pictured), a Nebraska grad who had gone 24-3-2 at Tulsa 1919-1921 and 41-21-3 at Arkansas 1922-1928. He was a blistering 45-6-5 at TCU 1929-1933, and won a second SWC title there before Ohio State hired him away. He won a couple of Big 10 titles there, and overall he finished 156-58-11 at 5 schools. Schmidt was a passing specialist, and his teams often threw the ball 30-40 times a game, shocking numbers for the time.

TCU's top player, however, was not a passer or receiver. Guard Mike Brumbelow was the captain and MVP for the season. He received little All America attention beyond token 3rd-team selections here and there, as no one outside the Southwest saw him play, and the Southwest was not yet respected as a football region. That would change in the middle of the next decade.
Pennsylvania, Navy, Dartmouth, and Harvard
Now we can bring in 7-2 Penn, along with a bunch of other Eastern teams, as listed in the subtitle above.

6-2-2 Navy lost 7-2 at Penn. Like Penn, their best performance this season was a loss

:

14-7 to #1 Notre Dame at home. They took a pair of upset ties to 2-4-1 Princeton and 5-2-2 Georgetown, both unrated, but they beat 7-2 Dartmouth 13-6.

Dartmouth took their other loss to 5-2-1 Yale, who falls just outside this top 25. But Dartmouth secured their top 25 slot thanks to a 34-7 win at 5-2-1 Harvard (who beat Yale). Dartmouth also beat 6-2 Cornell 18-14.

5-2-1 Harvard, again, beat 5-2-1 Yale 10-6 in their finale, giving them the last spot in this top 25. They also beat 8-2 Florida 14-0, and Florida is another team that falls just outside this top 25. Harvard took an upset tie at 6-4-1 Army (unrated), and their 34-7 loss to Dartmouth was an ugly performance, but their other loss, 14-12 at #12 Michigan, was a very strong one.

Pennsylvania #22, Navy #23, Dartmouth #24, and Harvard #25.
Others Receiving Votes
Here are the teams closest to making this top 25.
Yale 5-2-1
As previously noted, 5-2-1 Yale defeated #24 Dartmouth 16-12, but they lost 10-6 at #25 Harvard in their finale. They also took a loss (6-4 Georgia) and a tie (4-4-2 Maryland) against unrated opponents. Their other notable win came 21-13 over 6-4-1 Army (unrated).

Florida 8-2
8-2 Florida lost 14-0 at #25 Harvard, and they took an upset loss 19-6 at 3-6 Georgia Tech, but they beat 6-4 Georgia (who beat Yale) 18-6 in Jacksonville, and more importantly, they beat 7-3 Oregon 20-6 in Miami. It should be noted that Oregon's key players, a halfback and fullback, were black, and Florida would not permit them to play. But it was Oregon's choice to comply and leave those players at home, a choice that was not only sad ethically, but cost them the game and a place in the top 25.
Kentucky 6-1-1
6-1-1 Kentucky's big achievement this season was a 6-6 tie with 9-0-1 Tennessee (#9) in their finale. But they lost 24-13 to 6-3 Alabama (unrated), and their schedule was unimpressive. Still, their performance was very strong outside that one game against Alabama, so they may have been a top 25 team power-wise.
Fordham 7-0-2
7-0-2 Fordham was tied by a pair of unrated teams, 10-1-1 Davis & Elkins and 4-3-3 West Virginia, but they defeated 7-3 NYU, 6-4 Holy Cross, 7-2-1 Boston College, and 8-2 Bucknell
.
Washington State 10-2
I would rate 10-2 Washington State myself, but I don't think a 1929 AP poll would have done so over the likes of Dartmouth and Harvard, and WSU's schedule was unimpressive, so they're sitting this one out. Their losses came 14-0 at #4 Cal and 27-7 at #3 Southern Cal. Their only win of any note came 9-0 at 6-4 Oregon State.
McDaniel 11-0
McDaniel, then known as Western Maryland, fell just outside the top 25 in 1930 as well.
Great 11-0 record this season, and they beat 4-4-2 Maryland 12-0, 5-2-2 Georgetown 7-0, and 6-3-1 Temple 23-0, but the rest of their schedule was worthless, and they struggled to get by the likes of Scranton, Mount St. Mary's, St. Francis, and Muhlenberg.

Ohio 9-0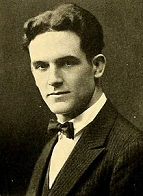 9-0 Ohio has a much stronger argument for a top 25 slot than McDaniel does, as no one came within a touchdown of Ohio this season. And they beat 2-6-1 Indiana 18-0, which may not sound impressive, but Indiana tied #17 Ohio State and defeated #16 Northwestern. I would be inclined to rate Ohio higher than both. However, a 1929 AP poll likely wouldn't have rated Ohio, and they didn't really beat anyone (sorry, Indiana), so like WSU they'll have to sit this one out.

This was the start of Ohio's greatest football era. 1929-1938, they won 6 Buckeye Intercollegiate Athletic Conference titles, and they posted another perfect record in 1935. They beat Illinois that season and again in 1938. The coach responsible for all this success was Don Peden (pictured), who went 121-46-11 1924-1946, the best winning percentage and longest tenure in Ohio's history. Their stadium is now named for him.
1929 Top 25
1) Notre Dame 9-0
2) Purdue 8-0
3) Southern Cal 10-2
4) California 7-1-1
5) St. Mary's (California) 8-0-1
6) Stanford 9-2
7) Pittsburgh 9-1
8) Illinois 6-1-1
9) Tennessee 9-0-1
10)
Tulane 9-0
11) Iowa 4-2-2
12) Michigan 5-3-1
13) Minnesota 6-2
14) Santa Clara 6-2
15) Vanderbilt 7-2
16) Northwestern 6-3
17) Ohio State 4-3-1
18) Wisconsin 4-5
19) Colgate 8-1
20) Utah 7-0
21) Texas Christian 9-0-1
22) Pennsylvania 7-2
23) Navy 6-2-2
24) Dartmouth 7-2
25) Harvard 5-2-1
Others Receiving Votes
:
Yale 5-2-1
Florida 8-2
Kentucky 6-1-1
Fordham 7-0-2
Washington State 10-2
McDaniel 11-0
Ohio 9-0