Home
1928 College Football National Championship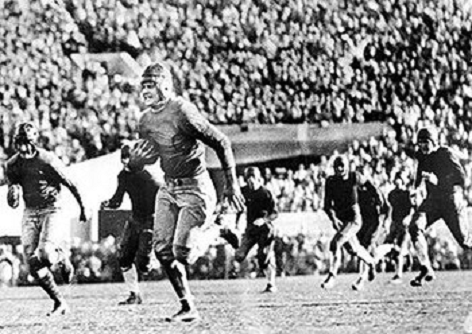 Pictured above is one of the most famous plays in college football history, California center Roy "Wrong Way" Riegels returning a fumble 65 yards in the wrong direction in the 1929 Rose Bowl. Look how happy he is, how blissfully unaware he sails down the field. He thought he was running into everlasting fame, and indeed he was

:

his entire life would be defined by this misplay. A teammate finally stopped him at the Cal 3 yard line, and he was tackled back to the 1. Georgia Tech blocked the ensuing punt-out for a safety, and those were ultimately the winning points in an 8-7 victory that left Georgia Tech 10-0 and a virtually unanimous choice as 1928 mythical national champion (MNC).


Here is how the "major selectors" listed in the NCAA Records Book, all selecting retroactively, see the 1928 college football national championship (omitting math/computer ratings, which neither I nor anyone else recognize as constituting titles)

:
10-0 Georgia Tech

:
Helms
,
National Championship Foundation,
CFB Researchers
,
Parke Davis
(tie)
9-0 Detroit

:
Parke Davis
(tie)

The best-publicized math formula rating of the time, Dickinson, had 9-0-1 Southern Cal #1, and USC proudly claims it as a national championship for 1928. Detroit, on the other hand, does not claim a national championship based on Parke Davis' selection of them as co-champions with Georgia Tech. Some schools simply exhibit dignity where these things are concerned, and some do not. Southern Cal was tied by Cal, the team Georgia Tech beat in the Rose Bowl, but USC did play a tougher schedule, and they arguably performed better than GT, if only

very

slightly. I think Georgia Tech is the only legitimate choice for the 1928 MNC, but USC is worth looking at. Detroit, however, played only minor and mid-major opponents, and they have no valid argument for sharing an MNC with anyone, so I will not be writing a full summary of them, though I will cover them briefly 3 paragraphs hence.

Illinois, the consensus choice for 1927 MNC (but not my pick), played another weak schedule in 1928, and this time they lost 3-0 at 3-4-1 Michigan to finish 7-1. Michigan was upset 17-7 in their opener by 8-1 Ohio Wesleyan, who also won 6-0 at Syracuse, but Ohio Wesleyan failed perfection with a 7-6 loss to 6-3 Wittenberg. 7-1 Carnegie won 6-0 at 6-2-1 Pittsburgh, 13-7 at 8-2 Georgetown, and 27-7 at 5-4 Notre Dame, but they were knocked out of the MNC race in their finale, losing 27-13 to 8-2 NYU at home. Tennessee won 3 close games over 6-3 Alabama, 8-2 Vanderbilt, and 8-1 Florida, but they were tied by 4-3-1 Kentucky, finishing 9-0-1.

Several Eastern teams forged strong records against weak schedules. 8-1 Penn
lost 6-0 to 5-3-1 Navy, 8-1 Brown lost 32-14 at 4-4 Yale, and 7-0-1 Villanova was tied by 7-1-2 Temple. Only Boston College escaped upset, finishing 9-0, and they had just 1 close game, a 6-0 win at 5-3-1 Navy. They look to have been at least as impressive as 9-0 Detroit, who had close wins at 7-2-1 Tulsa and 6-3 Dayton, but neither BC nor Detroit played a competitive enough schedule for MNC contention.

Detroit had just 1 win of any real value, but it was quite impressive, 33-13 at home over 8-2 Georgetown
, who I have ranked #10 for 1928. Detroit was coached by Gus Dorais, the Hall of Fame quarterback for Notre Dame's breakthrough 1913 team. He went 113-48-7 at Detroit 1925-1942. Detroit compared very poorly to Georgia Tech this season, since they played just 1 top 25 caliber opponent, while GT played at least 3, and Tech beat a top 5 caliber opponent and Detroit did not. GT also had just one close win, over their top 5 opponent, while Detroit had 2 close wins over teams that were not nearly top 25 caliber. And of course, GT was playing major teams and Detroit was not.


All rankings in the following article, except as noted, come from my 1928 top 25, which is based on a hypothetical post-bowl AP poll (within logical reason of course)
.

The West Coast
Until the Rose Bowl, the story of the 1928 football season was the power of the West Coast's football teams, which performed spectacularly well in 3 big intersectional games that were all played Thanksgiving weekend. 9-0-1 Southern Cal beat 5-4 Notre Dame 27-14 at home, and 2 West Coast teams ventured to the Bronx to take on strong Eastern opponents

:

6-3 Oregon State defeated 8-2 NYU 25-13 on Thanksgiving Day, and 8-3-1 Stanford defeated 8-2 Army 26-0 the following Saturday.

That would have given 9-0-1 Southern Cal, who had beaten Oregon State 19-0 and Stanford 10-0, a last-minute boost if there had been an AP poll in 1928, and it's possible that they would have passed up 9-0 Georgia Tech for #1. Of course, after their Rose Bowl victory over California, the team that tied USC, 10-0 Georgia Tech would have been a landslide #1 in a post-bowl AP poll.

But MNC team or not, it was a big year for the West Coast, which would have placed at least 5 teams in an AP poll top 25 in 1928, and 7 Pacific Coast teams get in if that poll is fixed for logic

:



9-0-1 Southern Cal

:

Tied by Cal

;

defeated Oregon State, Stanford, Washington State, and 5-4 Notre Dame (#15). USC would have finished #2 in an AP poll.

6-2-2 California

:

Lost to 10-0 Georgia Tech in the Rose Bowl and to the Olympic Athletic Club (5-0)

;

tied Southern Cal and Stanford

;

defeated Oregon, Washington, and Washington State. I have them #3 for 1928.
8-3-1 Stanford

:

Lost to Southern Cal, the Olympic Athletic Club, and the Young Men's Institute (an upset-- 5-4 Saint Mary's beat this club team 25-0)

;

tied Cal

;

defeated Oregon, Washington, and 8-2 Army (#16). I have them #4.
9-2 Oregon

:

Lost to Stanford and Cal

;

defeated Oregon State and Washington. I have them #5.
6-3 Oregon State

:

Lost to Southern Cal, Oregon, and Washington State

;

defeated Washington and 8-2 NYU (#11). I have them #6.
7-4 Washington

:

Lost to Oregon, Oregon State, Cal, and Stanford

;

defeated Washington State. I have them #22.
7-3 Washington State

:

Lost to Washington, Cal, and Southern Cal

;

defeated Oregon State. I have them #23.
Southern Cal 1928
| | | |
| --- | --- | --- |
| Utah State (5-3-1) | 40-12 | |
| Oregon State (6-3) | 19-0 | #6 |
| St. Mary's (5-4) | 19-6 | |
| at California (6-2-2) | 0-0 | #3 |
| Occidental (7-3) | 19-0 | |
| Stanford (8-3-1) | 10-0 | #4 |
| Arizona (5-1-2) | 78-7 | |
| Washington State (7-3) | 27-13 | #23 |
| Idaho (3-4-1) | 28-7 | |
| Notre Dame (5-4) | 27-14 | #15 |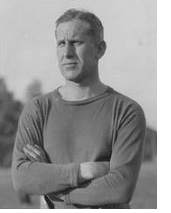 Southern Cal began its move to the big time with the arrival of head coach Elmer "Gloomy Gus" Henderson after WWI. 1919-1924 he went 45-7, giving him the best winning percentage of any coach in USC history, and he won the 1923 Rose Bowl 14-3 over Penn State, but he lost every year to California's "Wonder Teams," so he was fired. This despite the fact that

no one

beat Cal for 5 straight years 1920-1924.
Gus Henderson moved on to Tulsa, where he won 5 conference titles in 11 years. But unlike his successor at USC, he is not in the Hall of Fame.



Henderson's successor at Southern Cal was Howard Jones (pictured). Jones had played for 3 straight national championship teams at Yale 1905-1907 along with his brother Tad, who also became a Hall of Fame coach, winning Yale's last mythical national championship in 1927. Howard Jones began his coaching career the year after he graduated, going 6-3-1 at Syracuse in 1908. The next year he won his first MNC as a coach, going 10-0 with his alma mater. His first extended job was an 8 year stint at Iowa 1916-1923, during which time he went 42-17-1 and won 2 Big 10 titles, and I selected the 1921 team as that year's mythical national champion. That team's big win came 10-7 over 10-1 Notre Dame, which is perhaps what prompted Notre Dame coach Knute Rockne to recommend Howard Jones to Southern Cal several years later.

Howard Jones went 121-36-3 at Southern Cal 1925-1940, winning 7 Pacific Coast titles and going 5-0 in Rose Bowls. The school claims 4 national championships during his time, though just 2 of them are legitimate. For his career he was 194-64-21 at 6 schools.

1928 was the 3rd straight season that USC fielded an MNC-caliber team, but for the 3rd straight year, perfection evaded them. They were 4 points away in 1926, losing by the same 13-12 score to both 10-0-1 Stanford and 9-1 Notre Dame because they missed all 4 extra point tries in those games. They were 3 points away in 1927, tying at 8-2-1 Stanford and losing 7-6 to 7-1-1 Notre Dame in Chicago. This season they were 1 point away, flawless but for the scoreless tie at Cal.

What makes USC's 1928 season particularly impressive is the fact that "The Noblest Trojan of Them All," Hall of Fame quarterback Morley Drury, had graduated following the 1927 season, leaving the team rather bereft of star power. Drury had been a 2-time consensus All American. He had rushed for 1163 yards in 1927, and he had also been valuable as a passer, punter, kicker, blocker, and defensive back. Needless to say, he was not easy to replace. Southern Cal had no consensus All Americans this season, and in fact they only placed 2 players on the all-Pacific Coast team. None of the 1928 players are in the NFF Hall of Fame, either, though several are in USC's Hall of Fame.

Tackle and captain Jesse Hibbs had been a consensus AA in 1927, and he was nonconsensus AA this season. Halfback Lloyd Thomas was also nonconsensus AA, and end Francis Tappaan would be nonconsensus AA in 1929. Drury's replacement at quarterback was "Dynamite" Don Williams (pictured carrying the ball below), another nonconsensus AA this season. He led the team in rushing with 692 yards and in scoring with 7 touchdowns and 5 extra points.
Southern Cal's Season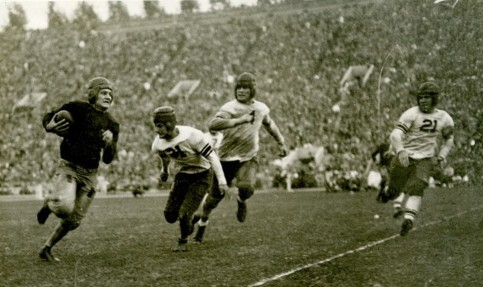 Aside from the tie at California, Southern Cal won every game by more than a touchdown. After a 40-12 opening win over Utah State, they beat Oregon State 19-0, and OSU never crossed the USC 30 yard line. Oregon State also lost to 7-3 Washington State and 9-2 Oregon to finish 6-3, but they won 29-0 at 7-4 Washington, and they drew national attention with a huge 25-13 win over 8-2 NYU in the Bronx on Thanksgiving Day. I have them #6 for 1928.

USC struggled a bit with 5-4 St. Mary's, scoring a couple of late touchdowns to pull away for the 19-6 win. But the real struggle came the next week at Cal, USC's only road trip of the season. 80,000 fans watched the teams battle to a scoreless tie, and neither side even mounted a serious scoring threat.

Southern Cal quarterback Don Williams was beaten up and frequently thrown for losses. His replacement drove USC to the Cal 20 yard line with 4 minutes left to play, throwing an interception there. Southern Cal gained 15 first downs to just 5 for Cal, but that late effort to the 20 was the furthest they could penetrate. Cal only made it as far as the USC 28 yard line. Cal's star halfback, Benny Lom, had a great day punting.


Southern Cal sources still focus a great deal on the allegedly poor playing conditions of the field that day. They claim that there was no grass, just sand on dirt (though this was just the 4th game), and that the field was "mysteriously wet," implying that it had been watered down the night before. That was standard operating procedure for a home underdog in those days, but Cal wasn't much of an underdog in this game. The Cal freshman team played a game that morning, which supposedly further degraded an already poor playing surface, and USC sources claim that Southern Cal backs repeatedly slipped and fell untouched all game
. However, Northern California newspapers, the Associated Press, and the New York Times failed to mention any of this in their game summaries.

The next week, Cal lost 12-0 to the Olympic Athletic Club, a team of former college and pro stars that went unbeaten and untied. Olympic also beat Stanford this season. Cal defeated 7-3 Washington State 13-3, 9-2 Oregon 13-0, and 7-4 Washington 6-0 in Seattle. In their finale against 8-3-1 Stanford, Cal returned an interception 75 yards for a touchdown, and led 13-7 as Standford reached the Cal 24 in the final seconds. Stanford threw what could have been an interception, but a Cal defensive back, thinking it was 4th down, merely batted the ball down, and Stanford threw a touchdown pass on the next play. Cal blocked the extra point, salvaging a 13-13 tie. That gave USC sole possession of the Pacific Coast championship, but they declined a Rose Bowl invitation. Cal went instead, and lost 8-7 to 10-0 Georgia Tech, as described in detail in Tech's season summary below. Cal thus finished 6-2-2, but their schedule was incredibly difficult, and I have them #3 for 1928.

Stanford
After a 19-0 win over Occidental, USC hosted Stanford for their next big game, and 80,000 fans came to watch. Stanford had lost a pair of early games to the Young Men's Institute and the Olympic Athletic Club, but they had rolled up big scores in their games against college opponents (average 41-5 in 4 games), including a 26-12 win at Oregon (9-2), and 5-2-1 Stanford was actually favored to beat 4-0-1 Southern Cal. For the first half, that's the way the game played out, as Stanford drove inside the USC 10 yard line 4 times, thrice pushing as far as the 3. But the 2nd half was controlled by Southern Cal, and they won 10-0 on a Don Williams touchdown pass and a Jesse Hibbs field goal.

This was Howard Jones' first win over Stanford coach Pop Warner (they had tied in 1927). The two had a personal feud going back to a 1908 game when Jones was coaching at Syracuse and Warner at Carlisle, when they had argued about the length of the halves. Warner and Carlisle won that game 12-0, and Warner had won the first 2 meetings between his Stanford teams and Jones' Southern Cal teams. But 1928 was the turning point, and Jones ended his career 5-3-1 against Warner.
Stanford went on to a 12-0 win over 7-4 Washington, the 13-13 tie at California that gave USC the PCC title, and a huge 26-0 win over 8-2 Army in the Bronx December 1st. That left Stanford 8-3-1, 7-1-1 against colleges, and I have them ranked #4 for 1928.

Southern Cal next beat Arizona 78-7, Washington State 27-13, and Idaho 28-7. Washington State was the best of these teams, finishing 7-3 with losses to Cal and Washington. They won 9-7 over 6-3 Oregon State (#6), and I have WSU #23 for 1928. In their game at USC, WSU fumbled 5 times, one of them returned 37 yards for a touchdown.

Notre Dame
Another 80,000 fans showed up for Southern Cal's finale against Notre Dame, who had beaten them by 1 point in each of the previous 2 seasons. But Notre Dame was a bit down this season, and USC jumped out to a 20-0 halftime lead. Don Williams threw for 111 yards and 2 touchdowns, and he ran for 93 yards. Notre Dame scored touchdowns in the 3rd and 4th quarters to save some face, but USC won 27-14, their first victory over Notre Dame.

Notre Dame finished just 5-4, but they played a very tough schedule. Their other losses came to 7-1 Carnegie, 10-0 Georgia Tech, and 7-1-1 Wisconsin, all in routs, but they beat 5-3-1 Navy 7-0, 7-1 Drake 32-6, and 8-2 Army 12-6 in the Bronx (the "Win one for the Gipper" game). I have Notre Dame #15 for 1928.

At 9-0-1, Southern Cal was invited to play 10-0 Georgia Tech in the Rose Bowl, but USC declined the bid, claiming that post-season games were against their "general athletic policy," though they had played in post-season games following the 1922 and 1924 seasons, and would appear in the Rose Bowl the season after this one, the first of 5 under Howard Jones. Their real problem was a never-explained feud with the Rose Bowl committee, perhaps a result of Stanford being invited to the previous year's Rose Bowl over PCC co-champion Southern Cal. Whatever the reason, as far as I am concerned, USC threw away their chance at a 1928 MNC when they declined to play for it.
Georgia Tech 1928
Virginia Military Institute (5-3-2)
13-0
at Tulane (6-3-1)
12-0
Notre Dame (5-4)
13-0
#15
at North Carolina (5-3-2)
20-7


Oglethorpe (3-5-1)
32-7


Vanderbilt (8-2)
19-7
#19
Alabama (6-3)
33-13
(#26-32)
Auburn (1-8)
51-0
Georgia (4-5)
20-6

Rose Bowl


California (6-2-2)

8-7

#3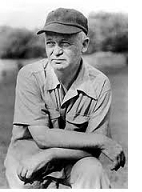 Georgia Tech had previously won a national championship in 1917 under Hall of Fame coach John Heisman.
Another Hall of Fame coach, William Alexander (pictured), succeeded him in 1920, and he went 134-95-15 through 1944, winning 5 Southern Conference titles and 3 SEC titles. Alexander had played for Heisman at Georgia Tech, and he was the valedictorian of the Class of 1912. Georgia Tech's basketball arena is named for him. Alexander was succeeded by Hall of Fame coach Bobby Dodd, giving Georgia Tech 3 straight coaches who brought home a national championship. The 3 coaches, Heisman, Alexander, and Dodd, spanned 63 years of Georgia Tech football, 1904-1966. In sharp contrast, the school has had 11 head coaches in 48 years following Dodd's retirement.


A pair of assistant coaches for the 1928 team had been notable players. Backfield coach Don Miller had been a Hall of Fame halfback for Notre Dame's 1924 MNC team, one of the "Four Horsemen," and line coach Bill Fincher had been a Hall of Fame tackle for Georgia Tech's 1917 MNC team.

Georgia Tech fielded a consensus All American in 1928, captain and center Pete Pund, and he is also in the Hall of Fame. Tackle Frank Speer was a nonconsensus AA, and 6 Tech players were All-Southern. Halfback Warner Mizell
was the team's star rusher, passer, and punter. Fullback Roy "Father" Lumpkin was a big sophomore who worked his way up from substitute to starter over the course of the season. He was a tremendous blocker, a strong line plunger, and a good defensive back, but he wasn't much of a student. After this season he left school and moved on to the pros, where he was an immediate star and played for 9 years.


Georgia Tech had gone 8-1-1 in 1927, finishing with a bang by beating 9-1 Georgia 12-0 to win the Southern Conference, so expectations were high this season. Tech exceeded them.
The 1917 team had been called the "Golden Tornado" by the press, and that nickname returned in 1928 as Georgia Tech blew all their regular season opponents off the field. Their season was very similar to Southern Cal's

:

they beat Notre Dame for the first time in their history, and they won every game by more than a touchdown except for their bout with Cal. Both Georgia Tech and Southern Cal even beat Notre Dame by 13 points at home, and Tech only did 1 point better against Cal than USC did. But it was rather a critical point.

Georgia Tech's Season
Georgia Tech opened with a 13-0 win over Virginia Military Institute (5-3-2), a mid-level team that tied 6-3-1 Maryland and defeated 7-2 Virginia Tech. Georgia Tech's running game was stymied the next week at Tulane (6-3-1), but they went to the air for both touchdowns in a 12-0 win. Tulane was another mid-level team, their only notable result a tie with 6-2-1 Louisiana State in their finale.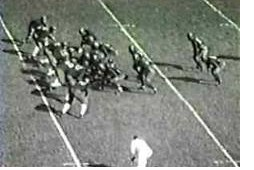 Notre Dame came to Atlanta the next week to provide Georgia Tech with a landmark win. The 2 teams had been playing annually since 1922, and Notre Dame was 6-0 in the series, winning every game by more than a touchdown, including a 26-7 beatdown to give Tech their only loss the previous season. This time, Georgia Tech drove to a touchdown in the game's opening minutes, Warner Mizell catching a 14 yard pass, throwing an 11 yarder, and running for the score. Soon afterward, Georgia Tech fullback Bob Randolph got loose for a long run that carried inside the Notre Dame 5 yard line, but then Tech was stopped on downs.

In the 2nd quarter, Notre Dame got moving for 66 yards, but the drive died at the Georgia Tech 6. In the 3rd quarter, a bad Warner Mizell punt from his own end zone gave Notre Dame the ball at the GT 10, but 4 plays netted just 1 yard. In the 4th quarter, substitute fullback Father Lumpkin intercepted Notre Dame's Johnny Niemiec and returned the ball 28 yards to the Notre Dame 3, setting up the clinching touchdown that made the final score 13-0.

As discussed in the Southern Cal summary above, Notre Dame was a bit down this season, finishing 5-4, but they played a very tough schedule, and I have them #15 for 1928. Notre Dame got their revenge over Georgia Tech the next season, winning the 8-year series 7-1. The teams would play another 8-year series 1938-1945, and Notre Dame would go 7-1 in that one as well. So this 1928 win was quite precious for Georgia Tech
.

Georgia Tech traveled to North Carolina (5-3-2) the next week, and Bill Alexander rested his starters for the first half, as the Notre Dame game had been tough, and a big game against Vanderbilt loomed the next week. Tech's substitutes tore UNC up for a 20-0 halftime lead, but the starters did not fare so well in the 2nd half, and the game ended 20-7.
Vanderbilt
Vanderbilt was the big conference game this year. They came to Atlanta at 6-0, including wins over 6-3 Colgate, 7-2 Texas in Dallas, 6-3-1 Tulane, and 4-3-1 Kentucky (the team that ended up tying 9-0-1 Tennessee). Vanderbilt had tied Georgia Tech the previous season to give GT their only blemish in conference play. This year the game was scoreless until late in the first half, when Georgia Tech went to their basketball playbook for a "quadruple pass." Halfback Warner Mizell tossed the ball to halfback Jack "Stumpy" Thomason, who flipped it to end Tom Jones, who threw it back to Warner Mizell, and Mizell scored a touchdown on a long gain.

Georgia Tech continued rolling in the 2nd half. They scored another touchdown and were driving for a 3rd, when Vanderbilt recovered a Stumpy Thomason fumble and returned it the length of the field for a touchdown. Undaunted, Georgia Tech responded on their next drive with their 3rd touchdown, and that made the final score 19-7. Warner Mizell had over 200 yards rushing and receiving. Vanderbilt mounted no offensive scoring threats in the game. They lost 6-0 to Tennessee (9-0-1) the next week, then finished 8-2, and I have them ranked #19 for 1928.

Alabama came to Atlanta the next week, and the game was tied up at 13 going into the final quarter, but Georgia Tech scored 3 touchdowns down the stretch to win 33-13. Warner Mizell again gained over 200 yards. Alabama finished the season 6-3, their other losses coming 15-13 to 9-0-1 Tennessee and 15-0 at 7-1-1 Wisconsin. They were impressive in their wins (27-2 average score), finishing with a 13-0 decision over 6-2-1 LSU, and they were top 20 caliber, but they would have fallen just outside an AP poll's top 25 this season.

Georgia Tech stomped 1-8 Auburn 51-0 on Thanksgiving Day, then wrapped the season up with rival Georgia (4-5), who threw a touchdown pass to take an early lead, but fell to the Golden Tornado 20-6. Georgia Tech had already accepted an invitation to the Rose Bowl by the time the December 8th game with Georgia was played.

The Rose Bowl
California was coming in at 6-1-2, but they were definitely a top 5 caliber team, as covered in detail in the Southern Cal summary above. They were also a slight favorite over 9-0 Georgia Tech, and most of the estimated 70,000 fans in the stands were there to root for Cal.

Cal's star halfback Benny Lom had a great game rushing, passing, and punting (though 2 punts were blocked). In the 1st quarter, he ripped a 37 yard run on a fake punt that put the ball on the Georgia Tech 27, but they could only push 3 yards further before a fake field goal was blown up for a 10 yard loss. Georgia Tech halfback Warner Mizell, who also had a great game, scampered for 33 yards in a drive that carried to the Cal 32 before a fumble shut it down. Early in the 2nd quarter, a Cal toss drew a pass interference penalty to put the ball on the Georgia Tech 30, and they advanced 5 more yards before giving it up on a 4th down incompletion. The next play was the one everyone remembers. Warner Mizell fumbled at the end of a 6 yard run, and Cal center Roy "Wrong Way" Riegels scooped up the ball and set off on the jaunt that earned his nickname.

Practically every account of this play says that he was hit and spun around, which caused his confusion, and that was always his story. But if you watch the film clip, you'll see that he picked the ball up at about the 33, and initially took off in the right direction, then suddenly pulled a u-turn at about the 28-- untouched-- and ran straight down the field for his own goal line. Teammate Benny Lom gave chase, shouting at him the whole way that he was heading for the wrong goal, as shown in the picture above. But as you can see, Riegels was too exultant, too wrapped up in his shining moment to pay heed. Lom caught up with him once and was shaken off, then he caught him at the 3 and finally got through to him. Riegels turned around there, but a wave of Georgia Tech tacklers downed him at his own 1. Lom's ensuing punt-out was blocked by Georgia Tech tackle Vance Maree, and Cal's Stan Barr fell on the ball for a safety.

Riegels, who in December had been elected captain for the 1929 season, came out of the game and spent the rest of the half crying on the bench. He did not want to return to the game, but his coach, Nibs Price, exhorted him to return for the 2nd half, which he did, and he played very well, blocking a Georgia Tech punt. His ability to put his mistake behind him and play well in the next half, and the next season, is a common motivational example, but the fact is that for the rest of his life he was known as "Wrong Way" Riegels.

Georgia Tech moved the ball well in Riegels' absence in the 2nd quarter. A 22 yard pass from fullback Father Lumpkin to end Tom Jones put the ball on the Cal 14, but a penalty and a sack killed the drive. Late in the half, a 30 yard punt return brought GT to the Cal 40, and a few plays later Benny Lom scooped up a loose ball and ran it 68 yards to the correct goal, but unfortunately for Cal, the play had been blown dead before the ball came out. The half ended 2 plays later, Georgia Tech still leading 2-0.

The Second Half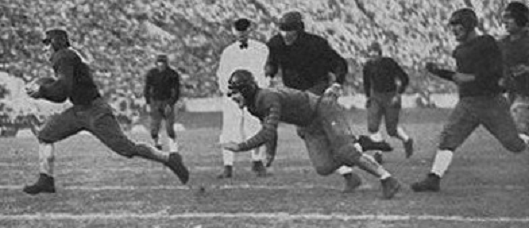 In the 3rd quarter, Benny Lom had another punt blocked, and Warner Mizell recovered the ball at the Cal 10 yard line. 3 runs put it at the 1, then Cal stopped Father Lumpkin short of the goal line. But it was a brief respite. After Cal punted out to midfield, Georgia Tech scored in just 2 plays. Mizell ran for 30-35 yards, and Stumpy Thomason went off tackle, then cut back for a 15 yard touchdown (pictured above) to make it a 2-score game, 8-0. Cal went to the air, and they hit a couple of passes, one for 20 yards, but the passes started falling incomplete at the Georgia Tech 37. Roy Riegels then blocked Warner Mizell's next punt and recovered the ball at the GT 26, but Tech pushed them back to the 33, where another pass fell incomplete on 4th down.

The passing game wasn't working, so in the 4th quarter, Lom faked a pass and took off on a 26 yard run to the Tech 43. Then he went back to the air and threw an interception to GT center Pete Pund. Late in the game, Mizell put a punt in the "coffin corner," and a Cal player fielded it and went out of bounds at his own 2 yard line. At that point, the game was basically over, but Cal launched a 98 yard touchdown drive to save some face and make the wrong-way run a better story. Benny Lom ran 4 times for 31 yards to start the drive, then connected on 3 straight passes for 67 yards, the last a 10 yard touchdown, and that made the final score 8-7. Georgia Tech fell into the line 3 times to run out the clock.

Cal outgained Georgia Tech 271 yards to 189, and they had 11 first downs to 5 for GT. But Tech mounted 3 serious scoring threats (on top of the safety), while Cal had just the 1 at the end of the game. The Associated Press had Benny Lom with 121 yards rushing and 99 yards passing, and Warner Mizell with 136 yards rushing (Mizell is pictured carrying the ball below).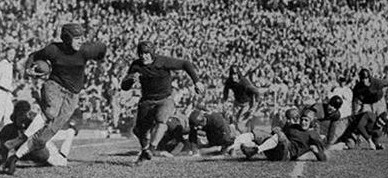 Southern Cal vs. Georgia Tech
Here are the significant games for Southern Cal and Georgia Tech in 1928.
The opponent rankings
come from my 1928 top 25, which is based on a hypothetical post-bowl AP poll (within logical reason of course)
.
Southern Cal 9-0-1
Georgia Tech 10-0

| | | |
| --- | --- | --- |
| Oregon State (6-3) | 19-0 | #6 |
| at California (6-2-2) | 0-0 | #3 |
| Stanford (8-3-1) | 10-0 | #4 |
| Washington State (7-3) | 27-13 | #23 |
| Notre Dame (5-4) | 27-14 | #15 |

Notre Dame (5-4)
13-0
#15
Vanderbilt (8-2)
19-7
#19
Alabama (6-3)
33-13
(#26-32)

Rose Bowl


California (6-2-2)

8-7

#3

Southern Cal beat their non-top 30 opponents by an average of 37-6, and Georgia Tech beat theirs by an average of 25-3.

A few days after the Rose Bowl, Frank Dickinson traveled West to personally present Southern Cal with the Rissman Trophy, given annually to the winner of his math rating system. He explained that USC was the best football region's best team. That was undoubtedly true, but it doesn't mean that they were the nation's best team. And even if they were the best team in the country, they were certainly no national champion-- that argument had been all but ended a few days earlier, when California, who had tied USC, fell to 10-0 Georgia Tech in the Rose Bowl.

Southern Cal did play a tougher lineup of opponents, but they also played just 1 road game (the tie at Cal), while Georgia Tech played 3 (at 6-3-1 Tulane, at 5-3-2 North Carolina, and the "neutral" site Rose Bowl with Cal). Why does this matter? Well, as an example, Southern Cal was just 4-4-2 in games played in the Pacific Northwest under Howard Jones, but they were 31-5-6 against those same teams at home.

Both teams defeated 5-4 Notre Dame by 13 points at home, both played Cal to very close games, and both won all the rest of their games by more than a touchdown, so their performance was very similar.

Because the most crucial difference between the teams is the fact that Georgia Tech beat Cal and USC did not, USC's best argument for sharing an MNC would be that they dominated Cal on the road (15 first downs to 5) despite the tie, while GT was outgained by Cal on a neutral field (271 yards to 189) despite winning by the margin of one fluke play.

But neither USC nor Cal mounted a serious scoring threat in their game against each other, and here's how the

New York Times

summed up that game

:

"Coaches Price and Jones put teams on the field that were evenly matched in practically every department of the game. Both lines held when the play shifted to their own territory." Doesn't sound like domination to me.

As for Georgia Tech's win, while the Rose Bowl was technically a neutral site, it was filled with Cal fans, and was but a day's train ride away for Cal. And Roy Riegels' wrong-way run that led to 2 points for Georgia Tech occurred in the opening half. By the closing minutes of the 4th quarter, Georgia Tech led 8-0, out of reach. Cal put together an impressive 98 yard touchdown drive to make the final score close (and that drive supplied the entirety of their yardage-gained "advantage" over GT as well), but we cannot know how GT would have played that game had their lead been 6 points rather than 8. This much we can and do know

:

Georgia Tech beat Cal and USC did not
.

And that's the only real point here. The debatable degree to which USC dominated Cal and Georgia Tech didn't would matter much more if USC had beaten Cal, thus matching GT's 10-0 record.
Awards Ceremony
1928 #1:

10-0 Georgia Tech


National Co-champion:

None


Contenders:

9-0-1 Southern Cal

These are the awards I have been handing out for each season, except seasons when there are no contenders. For this purpose, what I mean by a contender is a team that I think is very close to being worthy of sharing the national championship. A team that you could make an argument for, even if that argument is weak. But the contenders are teams that I myself do not see as national champions.


Southern Cal was similar to Texas A&M 1927, whom I selected as a national champion at 8-0-1 (sharing it with 9-1 Yale). The SWC had a big year in 1927, much like the West Coast's big year in 1928. Of course, A&M '27 was going up against Yale and Georgia, 9-1 teams, so in that sense they were more fortunate than USC '28. If Georgia or Yale had gone 10-0 in 1927, Texas A&M would have had no chance at an MNC.

If Southern Cal was so interested in being a "national champion" in 1928, all they had to do was accept the Rose Bowl invitation and play for it. But when they dodged playing Georgia Tech, a team with a better record, and who ended up beating the team that tied them, and then USC proclaimed themselves "national champions" anyway-- well, I can't help but find that to be laughable and pathetic.
Grading the Selectors
I have been grading the NCAA Records Book's selectors for each season, and keeping a grade point average, so we can see who is relatively good at selecting national champions and who is not. And although I do not consider computer ratings to be legitimate national championship selectors, I have been including them in this section as well, just for comparison's sake.
I am grading on a scale of 0-5 (5 being the best).

Dickinson's system and Sagarin's original recipe formula had Southern Cal #1
.

Grade: 1.2



Parke Davis split the title between Georgia Tech and Detroit.

Grade: 2.2




Everyone else correctly crowned Georgia Tech alone.

Grade: 5.0


Grade point averages 1919-1928
:
| | |
| --- | --- |
| 1) Sagarin-ELO (math system) | 3.98 |
| 2) Boand (math) | 3.74 |
| 3) College Football Researchers Association | 3.67 |
| 4) Helms | 3.46 |
| 5) Houlgate (math) | 3.26 |
| 6) National Championship Foundation | 3.24 |
| 7) Sagarin (math) | 3.06 |
| 8) Poling (math) | 3.02 |
| 9) Parke Davis | 2.79 |
| 10) Dickinson | 2.52 |
| 11) Billingsley (math) | 2.17 |

How the systems that selected champions for 1901-1918 did

:



| | |
| --- | --- |
| 1) Houlgate (math system) | 4.5 |
| 2) Helms | 4.3 |
| 3) Parke Davis | 4.2 |
| 4) National Championship Foundation | 3.7 |
| 5) Billingsley (math) | 3.6 |