Top 25 Rankings 1901-1935
1928 National Championship
Home
1928 College Football Top 25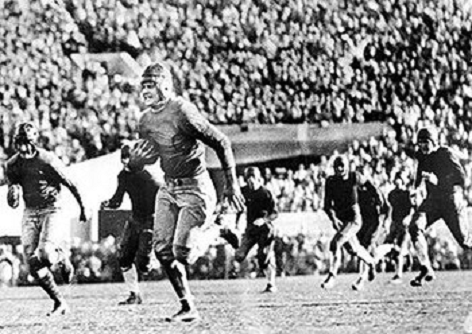 Pictured above is one of the most famous plays in college football history, California center Roy "Wrong Way" Riegels returning a fumble 65 yards in the wrong direction in the 1929 Rose Bowl. A teammate finally stopped him at the Cal 3 yard line, and he was tackled back to the 1. Georgia Tech blocked the ensuing punt-out for a safety, and those were ultimately the winning points in an 8-7 victory that left Georgia Tech 10-0 and a virtually unanimous choice as 1928 mythical national champion (MNC).


9-0-1 Southern Cal won the Dickinson math system trophy, and they claim a "national championship" of their own for 1928 based on that, but they were tied by California, the team Georgia Tech beat in the Rose Bowl, so the Trojans will have to settle for #2, as they would have in any post-bowl national poll that season. Details on Georgia Tech and USC can be found in my 1928 National Championship article.

This was the toughest top 25 I've had to put together yet. It took an enormous amount of time, and I went through many different iterations before it felt right. I was stuck on some issues for weeks. The main problem was the Pacific Coast Conference. I would guess that an AP poll would have rated 6-2-2 California and 8-3-1 Stanford about #9-12, 9-2 Oregon and 6-3 Oregon State at the bottom of a top 20, and 7-4 Washington and 7-3 Washington State would not have been rated at all. But the PCC was superb this season, and though I tried to rationalize ranking these teams as lowly as that, or at least close, in the end I just could not abide by it.


The full hypothetical post-bowl AP poll top 25 for 1928, fixed to make logical sense of course, follows the article below.
#3: Illinois vs. A Bunch of Pacific Coast Teams
7-1 Illinois would undoubtedly have been rated #3 in a post-bowl AP poll for the 1928 season, but like their 1927 squad, they built their nice-looking straight record on the back of a weak schedule, and they performed even more poorly against it this year. They beat one good team, 5-2-1 Ohio State (will be #21), they barely beat a pair of unrated teams, Indiana and Northwestern, and they took their loss to a losing team, 3-4-1 Michigan. That is not the performance of a top 10 team, and they certainly wouldn't make my own top 10 for 1928. But this isn't about how I would rate them, so they will end up in the top 10. Just not #3. Or even close.

A bunch of Pacific Coast teams took a bunch of losses because, unlike Illinois, they played very difficult schedules. The Pacific Coast had a tremendous year. They took just one loss against teams from outside the region, and that was Cal's 1 point loss to #1 Georgia Tech in the Rose Bowl. At the end of the regular season, there were 3 big games between West Coast teams and Eastern teams. Southern Cal beat 5-4 Notre Dame (#15) 27-14 at home, Oregon State beat 8-2 NYU (#11) 25-13 in the Bronx on Thanksgiving Day, and Stanford beat 8-2 Army (#16) 26-0 in the same stadium 2 days later.

Grantland Rice covered both of the Bronx games, and afterward he declared Stanford and Oregon State to be the 2 best teams in the country. Which is a little silly given that Southern Cal beat both, Cal finished 2nd in the PCC ahead of both, and Oregon beat Oregon State. "Hyperbole" could have been his middle name. But the sentiment was understandable, as these 2 teams had just crushed a pair of Eastern powerhouses.

The Big 10 went 25-3-2 in nonconference games, which looks nice, but most of those opponents were minor schools. They went 5-2-2 against major football opponents (if you count Wyoming as "major"), and none of those teams will make this top 25.

Let's take this one school at a time.

California
California finished 6-2-2, which looks decidedly worse than Illinois' 7-1. But Cal's losses came to #1 Georgia Tech and 5-0 Olympic Athletic Club. Oly was a collection of former college all-stars that also defeated Stanford. Obviously neither of these losses is relevant when comparing Cal to Illinois, since both opponents had perfect records, and Illinois did not play any teams nearly as strong. Cal's ties came to #2 Southern Cal and to Stanford. USC is rated higher than Illinois, so that means that despite their 6-2-2 straight record, California actually had a better relevant record than Illinois did.

Illinois lost to 3-4-1 Michigan, far worse than any Cal result. As stated, Illinois beat one top 25 team, while Cal defeated 7-3 Washington State, 9-2 Oregon, and 7-4 Washington, all of whom will be rated in this top 25. Of course, even Cal's loss to #1 Georgia Tech, by 1 point in the Rose Bowl, is a better performance than any by Illinois this season.

California #3.

Stanford
8-3-1 Stanford vs. 7-1 Illinois is a closer case. Like Cal, Stanford lost to 5-0 Olympic Athletic Club, and they also lost to #2 Southern Cal. Those losses are irrelevant when comparing them to Illinois. But Stanford also lost their opener to the Young Men's Institute (not a college team), and that is relevant, because YMI was not nearly as powerful as Oly AC. One could argue that the loss was every bit as damaging as Illinois' loss to 3-4-1 Michigan. So in that regard, the teams were even. However, Stanford's tie came to now-#3 California, rated higher than Illinois, and that gave Stanford a relevant record that was effectively half a game better than that of Illinois.

Stanford also defeated 9-2 Oregon, 7-4 Washington, and 8-2 Army, all of whom will make this top 25. And Stanford performed better, as all of their wins were dominating.

Stanford #4.

Oregon
With Cal and Stanford placed ahead of Illinois, 9-2 Oregon over Illinois is a no-brainer. Their only losses came to Cal and Stanford, while Illinois took the upset loss to 3-4-1 Michigan, so Oregon was effectively a game better. Oregon also defeated 7-4 Washington and 6-3 Oregon State, both of whom will be rated.

Oregon #5.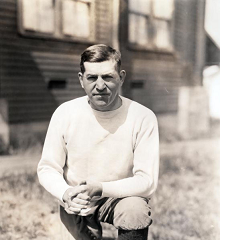 Prior to the 1990s, Oregon had never had a sustained period of success. But long ago, they had a couple of short bursts under great coaches that didn't stick around. They first emerged upon the national football consciousness in 1916 under Hall of Fame coach Hugo Bezdek, who led them to a 7-0-1 record and a victory over Penn in the Rose Bowl. His quarterback that year, Shy Huntington, succeeded him as coach and led Oregon to another Rose Bowl in 1919. But that success did not continue into the 1920s.

Competition on the West Coast was fierce, as you can see from this 1928 top 10, and to keep up, Oregon hired head coach John McEwan (pictured) away from Army, where he had gone 18-5-3 1923-1925, and would have finished in the top 15 for each of those seasons. McEwan had been a Hall of Fame center and three-time captain for Army 1913-1916, winning MNCs in 1914 and 1916. He went 2-4-1 in each of his first 2 seasons at Oregon, but this year he broke through for a 9-2 finish, including victories over both of Oregon's rivals, Washington and Oregon State.

This was probably Oregon's best team in its history prior to the 21st century. Quarterback John Kitzmiller is in the Hall of Fame. Tackle George "Tarzan" Christensen went on to an 8 year pro career, making first team All-NFL 4 times and second team twice, and winning the NFL Championship with the Detroit Lions in 1935. Fullback Charles Williams and halfback Robby Robinson, both recruited by McEwan from Portland, were Oregon's first black football players, and an extreme rarity in major college football by this time in history. And it would end up causing a lot of irritation for McEwan.

Boosters and the school pressured him to not play both black players in the backfield at the same time. These restrictions continued to chafe in 1929. Oregon started 7-2 that year, with a trip to Miami to play 7-2 Florida to cap the season, but Florida refused to play unless the black players were left at home. Since Kitzmiller had a broken leg, that would leave Oregon with no stars left in the backfield. But Oregon agreed, and McEwan took his backups across the country to lose to Florida. Soured by and tired of dealing with the race issue, McEwan left Oregon after that, finishing him at 20-13-2 in his 4 years there. He went 21-5-1 at Holy Cross over the next 3 years, putting his career record at 59-23-6.

Oregon fielded a couple more top 25 teams in the 1930s, but then they were basically off the national football radar until the 1990s.

Oregon State
And finally we have 6-3 Oregon State. OSU lost to #2 Southern Cal and to now-#5 Oregon, both games irrelevant when comparing OSU to Illinois. Like Illinois, OSU took an upset loss, but their upset loss came to 7-3 Washington State, who will be rated (#23), while Illinois took their loss to unrated 3-4-1 Michigan. Oregon State defeated 7-4 Washington (will be #22) and 8-2 NYU (#11), both on the road, while Illinois defeated just one rated opponent (#21 Ohio State at home). Finally, all of Oregon state's wins came by more than a touchdown, whereas Illinois had 2 close wins over unrated opponents. There is nothing in Illinois' favor here.

7-1 Carnegie would also have been rated highly by an AP poll in 1928, but they took their loss to NYU, 27-12 at home. And Oregon State beat NYU on the road 25-13 the next week. So I can't see Carnegie being rated higher than OSU either.

Oregon State #6.
Even more than the 1929 top 25, we have a big clot of West Coast teams at the top of the rankings for this season. West Coast football has never again been as strong as it was in the 1920s.

#7: Illinois vs. Carnegie
Illinois and Carnegie were both 7-1, and each took an upset loss, but Illinois took theirs to unrated 3-4-1 Michigan, while Carnegie took theirs to 8-2 NYU (#11). Illinois defeated 1 team that will make this top 25 (#21 Ohio State), and Carnegie defeated 3 (#10 Georgetown, #15 Notre Dame, and #24 Pittsburgh). And Illinois had 2 close wins over unrated teams, Carnegie none.

An easy call. Carnegie #7 and Illinois #8
.
#9: Detroit
9-0 Detroit was another very difficult team to rate. College football historian Parke Davis retroactively selected Detroit as an MNC for 1928. That is going a bit far, as their entire schedule was made up of minor and mid-major opponents, with only one victory over a top 25 caliber team to their credit. But they could be viably rated as high as #4, behind Cal and ahead of Stanford, and that's where I would be inclined to rate them myself. An AP poll would certainly have rated them higher than Oregon and Oregon State, but an AP poll would have just as certainly rated them behind Illinois and Carnegie.

Since an AP poll would have very likely placed Illinois #3, my priority has been to rationalize as high a ranking for the Illini as possible, which is why I'm bringing Detroit in behind them. For most of the time I have been working on this top 25, I've had Detroit rated ahead of Illinois (and Carnegie), but in the end, I could just see enough of an argument to nudge Illinois ahead of Detroit, as a 1928 AP poll would surely have wanted.


That argument rests on Detroit's aforementioned schedule. Yes, Illinois lost at 3-4-1 Michigan 3-0, but Michigan was actually a better team than all but one of Detroit's opponents. Illinois played a much tougher schedule overall, because they were playing decent, major opponents. Illinois' close wins over Indiana and Northwestern are actually better performances than Detroit's close wins over Tulsa and Dayton. Detroit's 33-13 win over 8-2 Georgetown (will be rated next, at #10) blows away Illinois' best performance, but that one win is all Detroit has to say for itself. They may as well have been 1-0
.


I'd rate them higher myself, but Detroit comes in at #9.
Rounding Out the Top 10: Tennessee vs. Georgetown and New York
I think a 1928 AP poll would have rated 9-0-1 Tennessee ahead of 8-2 Georgetown and 8-2 NYU, due to the straight record. But unlike Tennessee, Georgetown and NYU did not take any upsets, and both performed better than Tennessee as well. Georgetown lost to #7 Carnegie and #9 Detroit, and they defeated NYU (will be #11) and 8-2 West Virginia (#25). NYU's other loss came to #6 Oregon State, and they upset #7 Carnegie. Tennessee was tied by unrated 4-3-1 Kentucky, and they defeated 8-2 Vanderbilt (#19). They had close wins (by 1, 1, and 2 points) over 3 unrated opponents, while all of NYU's wins were by big scores, and Georgetown's only close win came at NYU.

Georgetown #10, NYU #11, and Tennessee #12.

Georgetown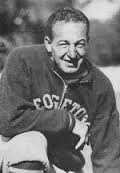 Georgetown had been a strong mid-major for years. They fielded a pair of top 25 caliber teams in 1903 and 1904, but they were at their best 1910-1929, going 125-46-8 during that time. As a mid-major, they probably would have had some 1-loss teams that would not have been ranked in a top 25, but I would guess that they would have had about 6 top 25 finishes 1910-1929, with about as many close calls (#26-35). The coach 1924-1929 was Hall of Famer Lou Little (pictured).

Little played tackle for Penn 1916-1919. He went 41-12-3 in his 6 seasons at Georgetown, and would have finished rated at least twice. He went on to a very long career as coach of Columbia 1930-1956, and he started out a terrific 34-8-2 there, but over his last 22 seasons he was just 76-108-8, giving him an overall coaching record of 151-128-13.

When Little left after the 1929 season, Georgetown was pretty much done as a player on the big time football stage, but they did finish ranked #13 in the 1940 AP poll, and I have them #25 in the fixed and expanded 1938 AP poll.

Wisconsin and Minnesota
7-1-1 Wisconsin comes in behind 9-0-1 Tennessee because Wisconsin took an upset loss and a tie, while Tennessee just took an upset tie. More importantly, that's how an AP poll would have rated them relative to each other. Wisconsin was tied by 5-2-1 Purdue (will fall just outside this top 25), and they lost to 6-2 Minnesota in their finale (will be rated right behind Wisconsin). Wisconsin beat 5-4 Notre Dame (will be #15), 6-2 Iowa (#20), and 6-3 Alabama (just outside this top 25).

Minnesota's big win over Wisconsin in their finale moves them up in the rankings, but they still fall behind Wisconsin because they took a pair of upset losses, leaving them half a game back of Wisconsin in the end. The losses were handed out by 6-2 Iowa (#20) and 5-3 Northwestern (will fall just outside this top 25). Minnesota's only other notable win aside from Wisconsin was an early 15-0 victory over 5-2-1 Purdue (nearly ranked).

Wisconsin #13, Minnesota #14.
Notre Dame, Army, and Nebraska
8-2 Army and 7-1-1 Nebraska, Big 6 champion, would both have been rated higher than 5-4 Notre Dame in an AP poll, but Notre Dame beat Army 12-6 in the Bronx (the famous "Win one for the Gipper" game), and Army beat Nebraska 13-3 at home. All 4 of Notre Dame's losses came to higher-rated teams (#1 Georgia Tech, #2 Southern Cal, #7 Carnegie, and #13 Wisconsin), and so all those losses are irrelevant when comparing them to Army and Nebraska, neither of whom did any better against highly ranked teams. In fact, Army lost to #4 Stanford 26-0, while Notre Dame lost to #2 Southern Cal 27-14, so Notre Dame performed better in that regard
.

I would rate 5-4 Notre Dame higher than 6-2 Minnesota myself, since the Irish took no upsets, while Minnesota took 2, and this was a very tough call, but I let the hypothetical AP poll voters of 1928 have their way on this one. Minnesota had a strong finish with their big win at Wisconsin, who beat Notre Dame 22-6, and Notre Dame did not perform well down the stretch, routed 27-7 at home by Carnegie and beaten 27-14 at Southern Cal.

Notre Dame #15, Army #16, and Nebraska #17.
Boston College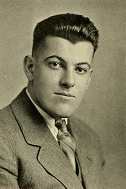 9-0 Boston College comes in next, about where an AP poll would have placed them. They were a minor or mid-major football program at this time, and would not play a major football schedule until the late 1930s. Their one significant game was a 6-0 win at 6-3-1 Navy, who might have been a #40-50 caliber team.

The head coach, in his first season this year, was Joe McKenney (pictured), who had been the quarterback for BC just 2 years prior.
He went 44-18-3 at BC 1928-1934, then retired from coaching.

Boston College #18.
Vanderbilt, Iowa, and Ohio State
Next up we have 8-2 Vanderbilt, 6-2 Iowa, and 5-2-1 Ohio State, in that order. That's how an AP poll likely would have rated them in 1928, and it works fine.

Vanderbilt lost to #1 Georgia Tech and #12 Tennessee, and they defeated 6-3 Colgate, 7-2 Texas, 6-3-1 Tulane, and 4-3-1 Kentucky (who tied 9-0-1 Tennessee). Iowa got a big win over #14 Minnesota, but they lost their finale at 3-4-1 Michigan to blow a share of the Big 10 title. Their other loss came to #13 Wisconsin, and their other big win came at 5-2-1 Ohio State. Ohio State's other loss came to #8 Illinois in their finale, which cost them an outright Big 10 title, and they were also tied by 5-1-2 Princeton. They had 3 wins over good but unrated teams, Northwestern, Michigan, and Indiana.

Vanderbilt #19, Iowa #20, and Ohio State #21.
Washington and Washington State
7-4 Washington had a better relevant record than Ohio State did, as all their losses came to rated teams (#3 Cal, #4 Stanford, #5 Oregon, and #6 Oregon State), while Ohio State took an upset tie to unrated 5-1-2 Princeton. But Ohio State beat 3 good teams, while Washington's only accomplishment this season was a 6-0 victory over 7-3 Washington State in their finale. Similarly, WSU had just one win of merit, if a big one, 9-7 over #6 Oregon State at home. I suspect that Washington and Washington State were both better than this area of the top 25, and both could be viably rated as high as the top 10, but a lack of quality wins gives reason to keep 'em down here. Neither would have likely been rated at all in an AP poll top 25 for 1928.

Washington #22, Washington State #23.
Washington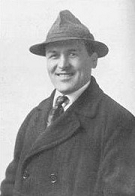 Washington was coached by Enoch Bagshaw (pictured above), who had played for the team 1903-1907, throwing Washington's first completed forward pass in 1906. He was the first former player to coach football at Washington. He had coached Everett High School 1909-1920, where his teams suffered just one loss, and that one by a single point. His 1920 team was hailed as a high school national champion. They crushed Washington's freshman team, and they beat St. Martins College 19-0. On Thanksgiving Day, they hosted East High School of Salt Lake City and won 67-0. Then on January 1st, 1921, they hosted East Technical High School of Cleveland and won 16-7. Bagshaw was hired to coach at Washington the next year, and his better Everett players followed him over the ensuing years.

A particularly noteworthy Everett graduate was Hall of Fame halfback George Wilson, who played for the Huskies 1923-1925. Washington went 28-3-3 in those 3 seasons and played in 2 Rose Bowls. When he graduated, Washington just replaced him with another Hall of Fame halfback, Chuck Carroll (pictured below), who played 1926-1928. Carroll scored 32 touchdowns in his career, and this season he scored a school record 17 (he scored 6 of them in one game against the University of Puget Sound, another school record). He was a consensus All American. After World War 2, Chuck Carroll would serve as King County Prosecuting Attorney for 22 years.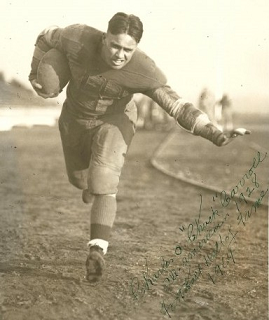 Bagshaw started out 3-4-1 in his first season at Washington, but then he went 51-8-4 over his next 6 campaigns. Washington would have been top 25 for 5 straight years coming into this season, and they started 5-0 in 1928, but then they dropped 4 games to Oregon, Oregon State, California, and Stanford before recovering for a win over 7-3 Washington State in their finale. Those 4 losses all came to teams ranked in the top 6 of this top 25, but fans have no perspective, and there was a great outcry after the season for Bagshaw to be relieved of his coaching duties. Even the students voted that he be fired. Finally, in the Fall of 1929, Bagshaw announced his retirement, effective at the end of the 1929 season.

Washington fell apart in that last season, going 2-6-1, and that finished Bagshaw's career at 63-22-6 (1921-1929). Bagshaw was replaced by Hall of Fame coach James Phelan, fresh off an 8-0 season at Purdue, and he went 65-37-8 at Washington 1930-1941. You'll note that that is significantly worse than Bagshaw did, so take that, irrational Husky fans of 1929. Phelan also took Washington to 1 less Rose Bowl than Bagshaw did. Sometimes, the grass actually turns out to be a little browner on the other side.
Pittsburgh and West Virginia
Rounding out the top 25 are 6-2-1 Pittsburgh and 8-2 West Virginia, about where an AP poll would have placed them. An AP poll probably would have rated West Virginia higher because they had a better straight record and they beat Pittsburgh 9-6 on the road, but Pitt actually had the better relevant record. West Virginia lost their opener 7-0 to minor team Davis & Elkins (7-2-1), and Pitt tied #17 Nebraska 0-0 on the road. Since Nebraska is rated higher than both, that tie plus West Virginia's upset loss gives Pitt a relevant record that is effectively half a game better than West Virginia's despite the head to head result.

Pitt's other loss came 6-0 at home to #7 Carnegie. Their tie at Nebraska was the only thing they accomplished this season. West Virginia's other loss came 10-0 at #10 Georgetown. In addition to beating Pitt, they won 17-0 at 6-1-2 Lafayette, though Lafayette was a minor or mid-major team, and nowhere near top 25 caliber.

The main contenders for 8-2 West Virginia's #25 slot were 8-1 Penn and 8-1 Florida. Penn would have been very highly rated in a 1928 AP poll, probably in the top 10, but this was a team that, unlike West Virginia, accomplished little to nothing this season. Like West Virginia, Penn took an upset loss (to unranked 5-3-1 Navy-- who lost to Davis & Elkins, the team that upset West Virginia), but Penn did not beat a top 25 team, their one notable win being a 7-0 decision over 5-2-1 Harvard. Penn also had a close win over 2-7 Chicago, while West Virginia had no close wins over unrated opponents. West Virginia being rated ahead of Penn is a slam dunk.

8-1 Florida would have had a shot at making #25 in a 1928 AP poll, but I think they would have had little chance of being rated higher than West Virginia (or Pittsburgh). Florida's one loss came to #12 Tennessee, by just 13-12 in their finale, but that was their only impressive result. Their "big" win came 27-6 over 8-3 Clemson, which was pretty much worthless. They struggled to beat 4-5-1 North Carolina State. Maybe Florida was a top 25 team powerwise, but due to their incredibly weak schedule, we'll never know.
Pittsburgh #24, West Virginia #25.
West Virginia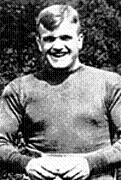 West Virginia first emerged on the big time football stage thanks to a transcendent player rather than a coach. Hall of Fame fullback Ira Rodgers (pictured) played for West Virginia 1915-1917 and 1919, and the team went 24-8-4 during this time and would have been rated in a top 25 his last 2 seasons. He was a consensus All American in 1919, West Virginia's first, and he led the nation in scoring that year with 19 touchdowns (still a school record) and 33 extra points. He also added 11 touchdown passes, which remained a school record until 1949. For his career, he scored 42 touchdowns and passed for 24.

Rodgers would remain at West Virginia the rest of his life, teaching, coaching baseball, and coaching a bit of football as well. He was an assistant to coach Clarence Spears 1921-1924, during which time West Virginia was 30-6-3, and would have been highly rated in a top 25 the last 3 of those years. Then Rodgers took over as head coach at West Virginia in 1925, guiding them to an 8-1 finish in his initial season that would have been good for a top 5 ranking, the height of their Golden Age. He went 33-19-6 in a short stint 1925-1930, then coached war-depleted teams 1943-1945 to an 11-12-2 record, rendering him 41-31-8 for his career.

1928 was the end of West Virginia's Golden Age window of football power, though, as this would be their last top 25 appearance until the 1953 season, for which their 8-2 team makes #25 in my fixed and expanded AP poll top 25. West Virginia's longest period of football success has been modern, 1981 to the present.
Others Receiving Votes
Here are the teams closest to making this top 25.
Pennsylvania 8-1
As stated above, 8-1 Penn probably would have been rated in the top 10 of an AP poll in 1928, but they just didn't do anything to merit that, and they didn't even compare well to #25 West Virginia. Their loss came to unrated 5-3-1 Navy, and their only win of value came 7-0 over 5-2-1 Harvard. They beat 2-7 Chicago just 20-13 at home
.
Florida 8-1
Also covered above, 8-1 Florida's only loss came 13-12 in their finale at #12 Tennessee, and that was their most impressive result

:

a loss. Their best win, 27-6 over 8-3 Clemson, was nearly worthless, as Clemson lost to the Citadel and to 5-4 Mississippi. Florida only won 14-7 over 4-5-1 North Carolina State. Their close loss to Tennessee indicates a potential top 25 team, but the rest of their schedule was garbage and tells us little to nothing about them.

Alabama 6-3
I think 6-3 Alabama did more to merit a top 25 slot than Florida did, and one could viably rate Alabama ahead of West Virginia, but I went with the choice an AP poll would have made in 1928. Like Florida, Alabama lost a close game (15-13) to Tennessee. Their other losses came to #1 Georgia Tech and #13 Wisconsin. They beat 5-4 Mississippi 27-0, 4-3-1 Kentucky (who tied Tennessee) 14-0, and 6-2-1 LSU 13-0. Alabama would make my own top 25.
Kentucky 4-3-1
4-3-1 Kentucky tied 9-0-1 Tennessee (#12) 0-0 in their finale, which is a terrific outcome, but they didn't get any good wins. Their losses came to #19 Vanderbilt, 6-3 Alabama, and 5-3 Northwestern (covered next).
Northwestern 5-3
5-3 Northwestern, like Alabama, could viably be rated in a top 25 for 1928, and I looked at Northwestern vs. West Virginia a long time, but again, I ultimately went with the choice an AP poll would have made for this season. Northwestern had a big upset win over #14 Minnesota and a big upset loss to unrated 4-4 Indiana. Their other 2 losses came to #8 Illinois and #21 Ohio State, and they defeated 4-3-1 Kentucky and 5-2-1 Purdue (covered next)
. Northwestern would make my own top 25.
Purdue 5-2-1
5-2-1 Purdue tied #13 Wisconsin, and that's about all they accomplished, as their schedule was very weak. Their losses came to #14 Minnesota and 5-3 Northwestern. Purdue would make my own top 25, right behind Northwestern.
Texas 7-2
SWC champion Texas finished 7-2, comparable to West Virginia's 8-2, and I looked a long time at putting Texas at #25 as a token Southwest representative, or at least tied with West Virginia for #25, but the problem is that I think Alabama and Northwestern did more to deserve a spot in the top 25, and obviously those teams did not quite make it. The SWC played too few intersectional games, so we can't really know how strong the conference was.

Texas lost 13-12 at home to #19 Vanderbilt, and their other loss was an upset, 6-2 at home to 6-3-1 Southern Methodist. SMU lost just 14-13 at #16 Army, so that looks good for the SWC, but 7-2 Arkansas lost 25-0 to 5-4 Mississippi, and that looks very bad. In fact, if not for that game, I would likely be ranking Texas here.

Texas had a nice trio of wins, 20-7 over 7-2 Arkansas, 6-0 at 8-2 Baylor, and 6-0 at 8-2 TCU. I came very close to putting them at #25, but an AP poll likely would not have ranked them, and I would not put them in my own top 25, so Texas ends up falling short.
1928 Top 25
1) Georgia Tech 10-0
2) Southern Cal 9-0-1
3) California 6-2-2
4) Stanford 8-3-1
5) Oregon 9-2
6) Oregon State 6-3
7) Carnegie 7-1
8) Illinois 7-1
9) Detroit 9-0
10)
Georgetown 8-2
11) New York 8-2
12) Tennessee 9-0-1
13) Wisconsin 7-1-1
14) Minnesota 6-2
15) Notre Dame 5-4
16) Army 8-2
17) Nebraska 7-1-1
18) Boston College 9-0
19) Vanderbilt 8-2
20) Iowa 6-2
21) Ohio State 5-2-1
22) Washington 7-4
23) Washington State 7-3
24) Pittsburgh 6-2-1
25) West Virginia 8-2
Others Receiving Votes
:
Pennsylvania 8-1
Florida 8-1
Alabama 6-3
Kentucky 4-3-1
Northwestern 5-3
Purdue 5-2-1
Texas 7-2