Home
1927 College Football National Championship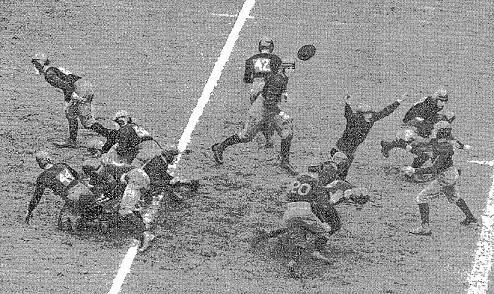 1927's story of the year was the suspension of Yale's star halfback, Bruce Caldwell. He had led them to a 5-1 start, including huge wins over Army (finished 9-1) and Dartmouth (7-1), but 4 days before Yale's game with 6-0 Princeton, a Providence newspaper reported that he had played in 2 games for Brown's freshman team in 1923, and according to Yale's eligibility rules, that meant that he was not eligible to play in 1927. After a brief investigation, Yale withdrew him from the team, despite protests from across the nation. Even Princeton and Harvard, Yale's last 2 opponents, requested that he be allowed to play out the season, but Yale was a stickler for rules. Despite the loss of Caldwell, Yale rallied in the 4th quarter to beat Princeton 14-6 (pictured above is Yale quarterback Johnny Hoben throwing a completed pass in that game), then they beat Harvard 14-0 to finish the season 7-1.

This is the last year for which Yale claims a mythical national championship, but the consensus retroactive choice for 1927 MNC is 7-0-1 Illinois, who took an early upset tie against 4-3-1 Iowa State.
Here is how the "major selectors" listed in the NCAA Records Book, all selecting retroactively, see the 1927 college football national championship (omitting math/computer ratings,
which are not generally accepted as MNCs
)

:
7-0-1 Illinois

:
Helms
,
National Championship Foundation,
Parke Davis
7-1 Yale

:
CFB Researchers

The best-publicized math formula rating of the time, Dickinson, had Illinois #1, and 1927 was also the debut season for Deke Houlgate's math formula system, which had 7-1-1 Notre Dame #1 (he also did retroactive ratings for 1885-1926).

I don't consider 7-1-1 Notre Dame to be an MNC contender, but in addition to 7-0-1 Illinois and 7-1 Yale, I will be looking at the following 3 teams for the 1927 MNC

:

9-1 Georgia, 7-0-1 Texas A&M, and 10-0 Centenary. Georgia was beaten 12-0 by 8-1-1 Georgia Tech in their finale, losing the Southern Conference title, but they were the team that beat Yale, and they had just 1 loss, so that makes them a contender worth looking at. Texas A&M was tied by 4-3-2 Texas Christian on the road, but they defeated 8-1 Arkansas 40-6, 7-2 Southern Methodist 39-13, and 6-2-1 Texas 28-7, and the SWC had its best season to this point. Centenary was a small Shreveport college that went 4-0 against SWC teams, including wins over 7-2 SMU and 4-3-2 TCU, the team that tied Texas A&M.


All rankings in the following article, except as noted, come from my 1927 top 25, which is based on a hypothetical post-bowl AP poll (within logical reason of course)
.
Other Great Teams in 1927
1927 was deep in great teams. As usual, 7-1-1 Notre Dame had one of the best teams of the season, but they were crushed by 9-1 Army 18-0, and Army lost at Yale 14-10. Notre Dame was also tied by 6-0-2 Minnesota, who took an upset tie at 3-4-1 Indiana. Pittsburgh finished the regular season 8-0-1, tying 7-0-2 Washington & Jefferson, and there was some debate as to whether Pitt or Yale was the mythical Eastern champion, but Pitt lost to 8-2-1 Stanford by the slim margin of 7-6 in the Rose Bowl, leaving them 8-1-1. 7-1 Dartmouth and 6-1 Princeton both lost to Yale, but both also won the rest of their games in routs.

8-1-1 Georgia Tech was stomped at Notre Dame 26-7, and they were tied by 8-1-2 Vanderbilt, but they won the Southern Conference when they finished their season with that huge win over 9-1 Georgia. 8-0-1 Tennessee was also tied by Vanderbilt, and they shared the Southern Conference title with Georgia Tech, though they did not defeat a good team. Vanderbilt took their loss to 6-2-1 Texas.

8-1-1 Southern Cal was tied by 8-2-1 Stanford, but like 8-1-1 Pittsburgh, they were knocked out of the MNC race by a 7-6 loss, USC's coming to Notre Dame at Chicago's Soldier Field on November 26th. Southern Cal had lost to Notre Dame 13-12 in 1926 by missing both extra points, and they lost this one on a missed extra point and a controversial call that denied them what had looked to be a safety. It was 1927's game of the year, with an estimated 117,000 fans in the stands (and some estimates going over 120,000). It was a big year for college football attendance in general, as a record 30 million fans attended games nationwide.
A Hypothetical AP Poll for 1927
College football historian Bob Kirlin thinks
7-0-1 Illinois
would have been voted #1 in a final regular season AP poll, but I disagree. I think it would have been 7-1 Yale. Still, it is possible that Illinois would have won the vote, as they did have a better straight record than did Yale. 8-0-1 Pittsburgh did too, and they would have had a very small chance of finishing the regular season #1, but even if they did, they would have fallen in a post-bowl poll due to their Rose Bowl loss. Texas A&M was 8-0-1, but they probably would not have been ranked in the top 10
.


I have no idea what Kirlin based his opinion on, as I just haven't seen 1927 writers touting Illinois as the season's "national champion." But there was no consensus among national writers for

any

team as national champion of 1927. Most writers I have seen who addressed the issue felt that there was no clear national champion in 1927. But here is why I think Yale would have been voted #1 in a final post-bowl AP poll for the 1927 season...

Yale had 2 consensus All Americans, and only Southern Cal had as many. Illinois had none. Yale had 5 players who made a first-team AA list, and Illinois had 3. Army, who also had 3, was 9-1 and beat 7-1-1 Notre Dame 18-0. They lost only to Yale, and I don't think Illinois would have even been ranked #2 in a final 1927 AP poll-- I think it would have been Yale #1, Army #2.

Illinois had only one big win on the season, beating 6-2 Michigan 14-0. It was their only victory over a winning major opponent. However, in addition to beating 9-1 Army, Yale defeated 7-1 Dartmouth and 6-1 Princeton, both of whom won all the rest of their games by more than a touchdown. And while Illinois had a better straight record than Yale did, their tie came to a weak 4-3-1 Iowa State team, whereas Yale's loss came 14-10 to 9-1 Georgia.

And then there's Yale halfback Bruce Caldwell's eligibility controversy. That was national news, prompting sports editors coast to coast to weigh in on whether he should have been suspended from the team or not (most thought not). When Yale defeated previously unbeaten Princeton without him, it was seen as a tremendous heroic effort. Meanwhile, Illinois' season was effectively over after October, as they spent the the month of November yawning past a trio of 4-4 teams by an average score of 14-2. Although I've already granted that it's possible that Illinois would have been voted #1, frankly, it seems

extremely

unlikely to me that they would have been.
Yale 1927
| | | |
| --- | --- | --- |
| Bowdoin (2-4-2) | 41-0 | |
| Georgia (9-1) | 10-14 | #5 |
| Brown (3-6-1) | 19-0 | |
| Army (9-1) | 10-6 | #2 |
| Dartmouth (7-1) | 19-0 | #13 |
| Maryland (4-7) | 30-6 | |
| Princeton (6-1) | 14-6 | #13 |
| at Harvard (4-4) | 14-0 | |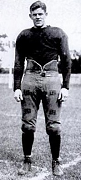 Yale
had been the 20th century's first "team of the decade," winning mythical national championships in 1902, 1905, 1906, 1907,
and 1909, but they fell back a bit after that until Hall of Fame coach Tad Jones, the quarterback for 3 of those teams 1905-1907,
took over the helm in 1920.
Jones went 57-15-4 as head coach at Yale, and t
hey were a strong MNC contender at 8-0 in 1923. They were 6-0-2 and 5-2-1 the next 2 seasons, but then they fell back to a mediocre 4-4 in 1926, and Yale alumni started to agitate for a coaching change. Tad Jones was uncharacteristically undiplomatic in his response

:

"Those yellow-bellies are not going to crucify me... This criticism is coming from shyster lawyers, poor doctors and dentists, and eighteen-dollar-a-week clerks who think they know more football." Jones nevertheless got sick of it, and resigned effective the end of the 1927 season. But it was a Pyrrhic victory for the shysters, quacks, and clerks, because 1927 was the last season of greatness for Yale.


Yale had 2 consensus All Americans, guard and captain Bill Webster and center John Charlesworth, and they might have had a third in star halfback Bruce Caldwell (pictured) had he not been suspended from the team for the last 2 games. He was still a nonconsensus AA, making first team on 2 lists. In just 6 games, he led the team in rushing with 674 yards (5.3 per carry) and in passing with 372. He scored 7 touchdowns, passed for another 3, and drop-kicked a 46 yard field goal.
End Dwight Fishwick and tackle Sidney Quarrier were also nonconsensus AA, and guard Waldo "Wade" Greene would be nonconsensus AA in 1929. None of Yale's players are in the Hall of Fame, which is a first for a Yale MNC contender (the 1923 team had 3), and in fact 1927 is highly unusual in that 4 of our 5 MNC contenders had no Hall of Fame players (only Texas A&M had one).


Yale finished 7-1 while playing 4 top-notch teams this season

:

9-1 Georgia, 9-1 Army, 7-1 Dartmouth, and 6-1 Princeton.

The Georgia Game
After a 41-0 warm-up win over Bowdoin, Yale hosted Georgia. This was Georgia's 5th straight year traveling up to New Haven to play Yale, and they were 0-4 in the previous games by a total score of 101-13, so of course Yale was a 14 point favorite to win a 5th time. Neither team had been very good in 1926, Yale finishing 4-4 and Georgia 5-4, so there was little interest in this game, though in hindsight it would prove to be one of the best games of the year. Certainly no one expected that these 2 teams would finish the season a combined 16-2. A light rain fell, and only 18,000 fans attended, less than 1/4 the number that would show up to watch Army take on Yale 2 weeks later
.

The wet ball was a big key to this game, though it only appeared to affect Yale

:

they lost 7 fumbles, Georgia none. Early in the game, Georgia fullback Herdis McCrary recovered a Bruce Caldwell fumble at the Yale 35, and from there Georgia drove to a 12 yard touchdown pass to end Ivy "Chick" Shiver for a 7-0 lead. McCrary then recovered a fumble by Yale fullback Duncan Cox at the Yale 20, and Georgia drove to the 2 yard line, but they were halted there. Yale tied the game on a 75 yard touchdown drive late in the opening quarter, Bruce Caldwell throwing to end Stewart Scott for 30 yards to the Georgia 20, then throwing again to Scott for the score from there.

In the 2nd quarter, Duncan Cox burst through the line and ran for 63 yards to the Georgia 17. Yale then drove to the 2 yard line, but they were stopped there. After the punt out, Caldwell tossed a 31 yard pass to set up a 35 yard Cox field goal, and Yale led 10-7, though not for long. Georgia's Bobby Hooks hit a big 59 yard pass to Frank Dudley, Herdis McCrary covered the remaining 7 yards to the end zone with a series of line plunges, and Georgia was back in front 14-10. On the last play of the half, Duncan Cox intercepted a Bobby Hooks pass at the Yale 20, and then he successfully evaded all of Georgia's tacklers and was in the clear, but Hooks chased him down from behind at the Georgia 16. That kept the score 14-10 at the half, and that was how the game would end as well.

Yale put their 2nd string on the field for the 3rd quarter, and neither team threatened to score. Yale's starters returned for the 4th quarter, and their fresh legs drove to 4 serious scoring threats, but they came up empty each time. Duncan Cox lost a fumble inside the Georgia 5 yard line, Frank Dudley recovering, and twice Yale was stopped on downs inside the Georgia 5, once pushing to within a yard of paydirt. In the final minute of play, Yale drove to the Georgia 10, and threw a pass into the end zone that was caught by Stewart Scott, but he was out of bounds, and the ball went to Georgia on their 20 yard line. Georgia ran 2 plays before the clock ran out.

Yale had 12 first downs to Georgia's 5 (14-6 according to one source), and they outgained Georgia by about 100 yards (one Georgia book has Yale outgaining them 253 yards to 201, but that source is missing at least 50 yards of passing for Yale, which would put them over 300 yards). But the key number for this game was 7

:

7 Yale fumbles and 7 Yale trips to at least the Georgia 10 that resulted in no points. This was easily the biggest win in Georgia's history to this point, and a turning point in this series

:

Georgia would proceed to go 5-1 against Yale 1928-1934. In New Haven, this first loss to Georgia was seen as a new low for Tad Jones and Yale, and alumni carping reached a fever pitch. Little did they know that Georgia would finish 9-1, and better yet, Yale 7-1 against a very daunting schedule.
Army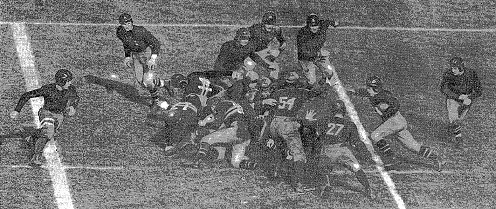 Yale beat Brown (3-6-1) 19-0, and then powerful Army paid a visit to the Yale Bowl. Led by Hall of Fame backs Red Cagle and Light Horse Harry Wilson (Wilson is pictured above carrying into the Yale line), Army was one of the best teams in the country 1926-1927. Had there been an AP poll in 1927, they would have probably been #2 behind Notre Dame coming into this game, while Yale likely wouldn't have been rated at all. It need hardly be said that Army was favored, but the odds were a surprisingly close 10-7
. 77,000 showed up for this one.

Yale drove 65 yards for a touchdown in the opening quarter. They had been stopped on 4th down at the Army 35, but Army was offside, giving Yale's drive renewed life. Bruce Caldwell then threw a 30 yard touchdown pass to tackle Sidney Quarrier. An Army back was there in coverage, but the big, tall Quarrier was able to grab the ball over his head. In the 2nd quarter, Army recovered a fumble at the Yale 18 yard line. They drove to the 1, but 2 runs were snuffed out there. Army then returned the punt-out to the Yale 26, and proceeded to drive down to the 7, where a 4th down pass was knocked down by Bruce Caldwell in the end zone. The score thus remained 7-0 at the half.

In the 3rd quarter, Yale launched a march that reached the Army 10 yard line before it was stopped. Later, Quarrier blocked an Army punt and recovered it at their 38 yard line to set up an eventual 46 yard drop-kick field goal by Bruce Caldwell, bumping the lead to 10-0. Army responded with their only extended drive of the game, and as the final quarter opened, they hit a 22 yard pass that carried to the Yale 3. This time, they successfully pushed the ball over the goal, but a bad snap foiled the extra point, and it was 10-6. That drive appeared to have expended Army's energies, though, as Yale controlled the rest of the game. Yale capped the contest with a long, slow march that reached the Army 15 when time was called.

Yale has never since won a game as big as this one. Army won out to finish 9-1, including a huge 18-0 smackdown of 7-1-1 Notre Dame. Army would have finished ranked in the top 3 of a post-bowl AP poll for 1927, probably #2 behind Yale.

Dartmouth
Yale didn't have much time to savor the win, as 5-0 Dartmouth came to town the next week.
Dartmouth's spread passing attack had captured a mythical national championship in 1925, smashing all 8 opponents by a total score of 340-29. They fell back to 4-4 in 1926 due to the graduation of their superstar passer/runner, Swede Oberlander, but they were back to form this season, and had beaten their first 5 opponents by an average score of 42-4, including a 47-7 pummeling of Temple (who finished 7-1). Dartmouth was a 5-4 favorite in this game, but the 58,000 fans who attended were treated to an impressive rout by the home team.

Yale handled Dartmouth's seemingly unsolvable passing attack as though it were a first-grade addition problem. What's 1+1+1+1+1+1? It's the number of Dartmouth passes Yale intercepted, halfback Ned Decker nabbing 4 of them himself (one source says he had 5). Dartmouth completed just 7 of 26 attempts. Meanwhile, Yale rolled up 283 yards of rushing to 94 for Dartmouth. The first downs were close, Yale with 15 and Dartmouth 13, but Dartmouth got most of theirs against the Yale reserves in the 2nd half, with the game already out of reach.

Yale took the opening drive to the Dartmouth 20 before they were stopped. Later, Dartmouth's star halfback Alton Marsters intercepted a Bruce Caldwell pass and returned it 52 yards to the Yale 8 yard line, but Yale held and Dartmouth missed a field goal. Later, a promising Dartmouth drive ended with an interception at the Yale 29 yard line. Late in the 1st quarter, Bruce Caldwell hit end Dwight Fishwick with a 33 yard pass, but that drive was ultimately stopped half a foot from the goal line. Yale substitute back John Garvey had a big 2nd quarter. He plunged into the line 7 times in 9 plays on a drive from midfield and scored the touchdown for a 6-0 lead. Later, Garvey surprised Dartmouth with a quick kick that went from his own 35 to the Dartmouth 3. The ensuing punt-out carried only to the Dartmouth 28, and Garvey went to his plunging work again, bulling inexorably forward until he scored again to make it 12-0 at the half.

Dartmouth blocked 2 Caldwell punts in the 3rd quarter, driving to the Yale 10 after one of them before fumbling the ball away. Later, Dartmouth fumbled again at their own 23, and then Caldwell carried every play until he crossed goal to close the scoring at 19-0.


Dartmouth won out to finish 7-1, including a 53-7 mauling of rival Cornell in their finale, and I have them #13 in my hypothetical 1927 AP poll.

Princeton
Yale beat Maryland (4-7) 30-6, and then Princeton came to New Haven at 6-0. Their schedule had not been very impressive, but they had won every game by more than a touchdown, and they had beaten Ohio State (4-4) 20-0. As I wrote at the outset of this article, Yale's star halfback Bruce Caldwell was suspended from the team just days before the game when it was learned that he had played 2 games for Brown's freshman team in 1923, leaving him ineligible to play in 1927 according to Yale's eligibility rules. With Princeton hoping to claim a mythical national championship, this was the biggest game played between members of the "Big Three" in years, and temporary stands were added to the Yale Bowl so as to cram in 80,000 fans.

Princeton spent a good portion of the opening quarter on a long, slow march from their own 25, reaching the Yale 15 when the quarter ended. They opened the 2nd quarter with the longest gain of the drive, 11 yards on a double pass, and pushed it into the end zone 2 plays later. The extra point was blocked, but they led 6-0, and the score would remain as such until the latter stages of the final quarter. Yale had a strong answering drive, quarterback Johnny Hoben twice hitting end Stewart Scott for 12 and 17 yard gains, but after attaining a first down at the Princeton 4 yard line, 4 line plunges left them inches short of the Princeton goal line. On their next drive, Yale drove to the Princeton 3 yard line, but they were stopped again.

Neither team was able to do much in the 3rd quarter, and it wasn't until midway through the 4th that Yale bust out the game's big play. On 4th and 11 from the Princeton 46, Johnny Hoben hit end Dwight Fishwick with a bomb touchdown pass, and the extra point gave Yale a 7-6 lead. The drive had started at the Yale 20, and a pair of 17 yard passes had moved it to midfield to set up the winning strike. Ned Decker recovered a Princeton fumble at their 20 on Princeton's answering drive, and from there Yale drove to a 7 yard touchdown run on 4th down to clinch the game 14-6. Princeton drove to the Yale 23 and threw 4 straight incompletions to finish the clock.

Princeton outgained Yale 274 yards to 254, and they had a big first down edge, 19-10, but they also had 3 turnovers to Yale's 1, and all those first downs only got them close to the Yale goal line once, when they scored. Yale had 4 scoring threats. I have Princeton ranked #13 for 1927.

Yale finished their season with a 14-0 win at 4-4 Harvard. You can see film clips from that game here.
Illinois 1927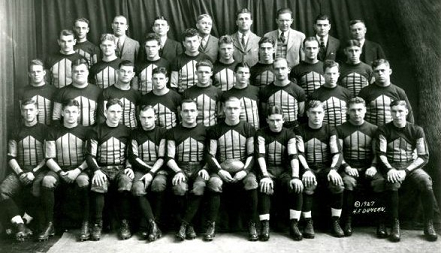 | | | |
| --- | --- | --- |
| Bradley (6-3) | 19-0 | |
| Butler (4-3-1) | 58-0 | |
| Iowa State (4-3-1) | 12-12 | |
| at Northwestern (4-4) | 7-6 | |
| Michigan (6-2) | 14-0 | #10 |
| at Iowa (4-4) | 14-0 | |
| Chicago (4-4) | 15-6 | |
| at Ohio State (4-4) | 13-0 | |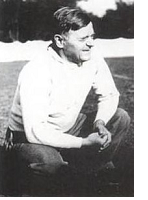 Illinois should have called themselves the "Four Year Locusts" rather than the Illini, as they were very close to following that schedule in winning mythical national championships in 1914, 1919, and 1923, and here they are claiming another one for 1927. I covered their Hall of Fame coach, Robert Zuppke (pictured at left), in most detail in the 1914 article. Zuppke's success was nearing the end of the line, and after going 7-1 and 6-1-1 the next 2 seasons, he would go just 41-52-2 over his final 12 years
.



This Illinois team did not have much in the way of great players. They were known nationally as the "Starless Team," and their most famous former player, Red Grange, called them "the team of nobodies from nowhere," but they were incredibly deep, and substituted constantly throughout games so as to always have fresh players on the field. Center and captain Robert Reisch was a nonconsensus All American, making first team on half a dozen lists. Another 2 players made first team on 1 list each

:

tackle Albert "Butch" Nowak and guard Russ Crane. Nowak would be the captain in 1928 and a nonconsensus AA again, making first team on 8 lists. Crane would continue as a nonconsensus AA in 1928 (2 lists) and 1929 (1 list).

Notice that these were all linemen. Another pair of substitute linemen would become nonconsensus AA in future seasons

:

guard Leroy Wietz in 1928 and tackle Lou Gordon in 1929. Gordon went on to a 9 year career in the NFL, winning a title with Green Bay. It was after the graduation of the last of these linemen, Lou Gordon and Russ Crane following the 1929 season, that Illinois' football program fell off a cliff.

Like Yale, Illinois had no Hall of Famers on the team.
Illinois' Season
Illinois started the season with 3 cupcakes, but the third went off-script and bit back. After beating Bradley 19-0 and Butler 58-0, Illinois was tied by Iowa State 12-12. ISU had a big day running straight into, over, and through the Illinois line, while Illinois was unable to do the same, and they had to go to the air to manage a tie. They could have won had they hit either extra point try, but then the same could be said of ISU. Illinois connected on just 9 of 21 extra point attempts the entire season, so kicking wasn't exactly their forte.

Iowa State finished 4-3-1, and they weren't bad-- their 3 losses came 6-0 at 6-2 Nebraska, 13-6 to 7-2 Missouri, and 34-0 at 6-3 Marquette. But they weren't good either, beating no winning opponent, and really accomplishing nothing of note this season other than tying Illinois. They were not close to a top 25 caliber team.


Illinois followed that poor showing with another at Northwestern the next week, but at least they were able to kick an extra point, thereby winning 7-6.
This was the first game in an annual series between these 2 teams that has continued unbroken to this day.
Due to Illinois' tie with ISU and Northwestern's 7-1 finish and Big 10 title in 1926 and 3-0 start in 1927, including a 19-13 win at Ohio State, Northwestern was actually favored in this game, and 50,000 fans showed up to cheer them on.

Northwestern started well behind star fullback Leland "Tiny" Lewis, who plunged into the line for good gains and outpunted Illinois. In the 2nd quarter, Lewis uncorked a 65 yard punt that went to the Illinois 1. Northwestern returned the ensuing punt-out to the Illinois 15, and they were in business. A pass took the ball to the 3, and Tiny Lewis plunged over goal from there. But Lewis missed the ultimately critical extra point, and so the lead was but 6-0. Illinois answered on their next drive. Quarterback Dwight Stuessy went into the game to throw the ball, and he connected on 3 passes, the last caught by another substitute, end Walter Jolley, for a touchdown. Tackle Butch Nowak kicked the extra point that made the difference.

Tiny Lewis was lost to an ankle injury on the 2nd play of the 3rd quarter, and with him went all hope for Northwestern. Their punts were now poor, and Illinois now gained in that department. No one else could break through the Illinois line on the ground, so Northwestern had to go to the air, hitting just 4 of 19 passes and losing the ball on frequent interceptions. But Illinois went nowhere on offense, hitting just 2 of 20 passes in the 2nd half themselves, and gaining no first downs. Their best threat came from recovering a fumble at the Northwestern 20 in the 3rd quarter, but no points came out of it. Northwestern was able to hit one bomb for 40 yards to the Illinois 20 in the 4th quarter, but they threw an interception on the next play.

Northwestern had already come into the game minus their starting center, and they lost 2 more starters in this game, so their season circled down the drain afterward. They lost their next 3 games, the last by 18-7 to 3-4-1 Indiana, and they finished 4-4. They would not have been close to ranked in a final AP poll for 1927.

Michigan
Next up was Illinois' game of the year, Homecoming against Michigan. Michigan was coming in at 4-0 by a total score of 89-0, and they had won the Big 10 title the previous 2 seasons (sharing the last with Northwestern), so they were favored, but 67,000 fans cheered their team on to its 2nd straight upset win over a defending Big 10 champion. Illinois won 14-0 despite producing very little offense in this game.
The first touchdown was set up by a muffed punt at the Michigan 7 yard line in the opening quarter. Substitute end Garland Grange, infinitely less famous than his older brother Red, recovered the muff, and fullback Jud Timm carried the ball over goal to cap the short touchdown drive. In the 3rd quarter, Russ Crane blocked a punt, and Ernest Schultz fell on the ball for a touchdown. Neither team was able to mount a scoring threat in this game aside from those 2 breaks.

Michigan halfback Louis Gilbert was injured and missed this game, the only one he missed on the season. He was their passer, kicker, and punter, and Fielding Yost, ever the supreme braggart where his players were concerned (or even himself), called Gilbert the greatest punter of all time. Yost seemed to think that all the best all-time players at any position had played for him. In any case, certainly Gilbert's absence made a difference, taking some of the value off of this win for Illinois. Michigan lost 13-7 at home to 6-0-2 Minnesota in their finale to finish 6-2. Their big victory-- the only one over a winning major opponent-- came 27-12 over 6-3 Navy. I have Michigan ranked #10 for 1927.

Illinois spent November beating a trio of 4-4 teams

:

14-0 at Iowa, 15-6 over Chicago, and 13-0 at Ohio State (the last won by a pair of 25 yard touchdown passes).
Georgia 1927
| | | |
| --- | --- | --- |
| Virginia (5-4) | 32-0 | |
| at Yale (7-1) | 14-10 | #1 |
| Furman (10-1) | 32-0 | (#26-33) |
| (neutral site) Auburn (0-7-2) | 33-3 | |
| at Tulane (2-5-1) | 31-0 | |
| (Jacksonville) Florida (7-3) | 28-0 | |
| Clemson (5-3-1) | 32-0 | |
| Mercer (5-4) | 26-7 | |
| at Alabama (5-4-1) | 20-6 | |
| at Georgia Tech (8-1-1) | 0-12 | #8 |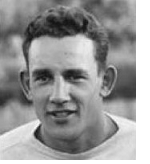 This team would come to be known as the "Dream and Wonder Team," a lame spin on California's "Wonder Teams" from the early part of the decade. The head coach was George "Kid" Woodruff, who had been Georgia's quarterback 1907-1908 and 1910-1911, and who coached at Georgia for 5 years 1923-1927 for a salary of just a dollar a year. Aside from this one season of dreams and wonders, he was rather mediocre, going 21-15-1 in his other seasons, but he had an impressive trio of assistant coaches who had all played for Knute Rockne at Notre Dame

:

Harry Mehre, Jimmy Crowley, and Frank Thomas
. Mehre went on to become the head coach at Georgia and Mississippi. Crowley was one of the famed Four Horsemen, and would have great success as head coach at Fordham in the next decade. Frank Thomas would go on to win a national championship as a Hall of Fame head coach at Alabama.


Georgia was nationally famous in 1927 for having the best pair of ends in the country

:

Tom Nash (pictured at left) and Ivy "Chick" Shiver
. Tom Nash was a consensus All American, Georgia's first, and he went on to a 7 year pro career, winning 3 NFL titles with the Green Bay Packers. Chick Shiver was the captain and a nonconsensus AA-- kept from being consensus by Michigan's Bennie Oosterbaan, who was a 3rd-time consensus AA this season. Both Georgia ends were huge for their time, and in fact both had played fullback in high school. Neither is in the NFF Hall of Fame, but both are enshrined in the Georgia Sports Hall of Fame.

Unheralded fullback Herdis McCrary led the team with 13 touchdowns

:

7 runs, 5 catches, and 1 fumble return. He recovered a fumble to set up Georgia's first touchdown and scored the 2nd in their huge 14-10 upset win at Yale.

Georgia's Season
The centerpiece of Georgia's season was that win at Yale, as described in the Yale summary above. It was easily the biggest win in school history to that point. Georgia went on to a 9-0 start, pummeling their other 8 opponents by a total score of 234-16, before the roof caved in at Georgia Tech in their finale.

The week after the win at Yale, Georgia returned home to face Furman, a strong mid-major team that had gone 8-1-1 and beaten Georgia 14-7 the previous season. This time Georgia raced to a 19-0 halftime lead and won 33-0, largely on big plays. They totaled 288 yards of offense, but had only 8 first downs. Furman totaled just over 100 yards. The final score here was impressive because Furman finished 10-1, and they outscored their other 10 opponents by a total of 283-27. Their schedule was weak, but they did give 9-1 North Carolina State their only loss. Of course, NC State's schedule was also weak, and they didn't beat anyone of value. Furman would not have been ranked in a final 1927 AP poll. They were probably a #26-40 type team, and maybe they were even top 25 in ability, but with their schedule it is difficult to know how good they were.

The rest of Georgia's schedule prior to the Georgia Tech game was not very impressive, but Georgia did away with their weak opponents impressively enough. They beat 7-3 Florida 28-0 in Jacksonville and
5-4-1 Alabama 20-6 in Birmingham. Tom Nash had a big game against Alabama, catching 4 passes for 75 yards, scoring 2 touchdowns, and grabbing an interception. The next week they were off to Atlanta for what was essentially a conference championship game on December 3rd.
Georgia Tech
Georgia Tech came into the finale at 7-1-1, having lost 26-7 at 7-1-1 Notre Dame
and having been tied at 8-1-2 Vanderbilt (who tied 8-0-1 Tennessee and lost to 6-2-1 Texas). But GT was 6-0-1 in conference play, so the winner of this game was going to take the conference championship. Atlanta was gripped by football fever, and not a hotel room was available that weekend. 37,000 fans attended, a record for the South, and far more than that wanted tickets.

Georgia sources like to contend that Georgia Tech watered down the field the night before, a timeless home underdog trick, but it was raining on gameday, so the field was going to be muddy regardless. Georgia outgained GT 189 yards to 129, and they had 10 first downs to 4 for GT, but they also handed out 6 turnovers to GT's 2. Georgia's normally strong passing attack was particularly oppressed, gaining just 45 yards and giving up 4 interceptions. Georgia Tech won 12-0 thanks to a pair of big plays, a 42 yard touchdown pass in the 2nd quarter and a 58 yard interception return that set up an 8 yard touchdown run in the 3rd.


Had there been an AP poll in 1927, I'm thinking that Georgia Tech would have risen to #11-15 in the final poll, and that Georgia would have dropped to #6-10. I have Georgia #5 and Georgia Tech #8.
Texas A&M 1927
| | | |
| --- | --- | --- |
| Trinity-Texas (4-5-1) | 45-0 | |
| Southwestern-Texas (4-2-1) | 31-0 | |
| (Dallas) Sewanee (2-6) | 18-0 | |
| Arkansas (8-1) | 40-6 | (#26-33) |
| at Texas Christian (4-3-2) | 0-0 | (#26-33) |
| Texas Tech (5-4) | 47-6 | |
| at Southern Methodist (7-2) | 39-13 | #20 |
| at Rice (2-6-1) | 14-0 | |
| Texas (6-2-1) | 28-7 | #24 |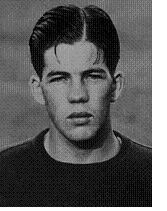 Texas A&M had gone 8-0 in 1917 and 10-0 in 1919
under Hall of Fame coach Dana X. Bible, and I covered him in my 1919 MNC article. The National Championship Foundation selected A&M as a 1919 MNC team, but I do not even see the Aggies as a legitimate

contender

for the 1919 MNC. Still, 10-0 is 10-0-- good stuff. By 1927 Bible was nearing the end of his 11 season run as head coach of Texas A&M, during which time he went 72-19-9 and won 5 SWC titles. He would continue this success at Nebraska and Texas over the next couple of decades, winning 6 Big 6 titles and another 3 SWC titles. But in all that time, though he amassed 198 wins, he never won a widely-recognized MNC. Perhaps this is the year people need to recognize.

Texas A&M was led by Hall of Fame quarterback Joel Hunt (pictured at left). He was widely known in 1927 as the best player in the Southwest, but no All American selectors actually saw him play, so he didn't make first team on anyone's list. He made 2nd or 3rd team AA on 4 lists due to the stories about him coming out of Texas, but Southern Cal's Morley Drury, who played in the game of the year against Notre Dame in Chicago (he missed the extra point that cost them the game 7-6), was impossible to supplant at first team on AA lists at quarterback.

Joel Hunt had been good in 1925 and 1926 (he was all-Southwest all 3 years he played), but in 1927 he rose to greatness, scoring 19 touchdowns and 128 points on the season (Drury scored 76 while playing one more game). Hunt was a great runner, passer, punter, kicker, and defensive back. John Heisman, coaching at Rice this season, called him "the best all-around back I've ever seen." Based on that, perhaps we should retroactively award Joel Hunt the Heisman for 1927.

Against 8-1 Arkansas, Hunt scored 3 touchdowns (one on a 100 yard kickoff return), threw a 30 yard touchdown pass, and set up another touchdown with a 45 yard pass. Playing 7-2 Southern Methodist for the SWC title, he scored 3 touchdowns, averaged 40 yards on punts, and grabbed 4 interceptions. For his career he scored 30 touchdowns, a school record that lasted more than 50 years.
Texas A&M's Season
Outside of their tie with 4-3-2 Texas Christian, 8-0-1 Texas A&M's performance this season was very impressive. They held warm-up opponent Trinity-Texas to 2 first downs in a 45-0 opening win, beat another pair of cupcakes 31-0 and 18-0, then destroyed Arkansas 40-6, the 8-1 Razorbacks' only loss of the season. Arkansas played a weak schedule, and wouldn't make an AP poll's top 25 in 1927, but I think they were probably top 25 quality.

The next week the Aggies were handcuffed to a scoreless tie at Texas Christian, which at the time didn't seem very surprising (TCU had been strong for years), but in hindsight became rather inexplicable (Texas A&M ended up stomping on 3 teams that went 2-0-1 against TCU). Texas A&M had the better of the game, but could not score. Their strongest threat came with a 17 yard Joel Hunt run to the TCU 1 yard line, but 4 plays later TCU had pushed A&M back to the 5. Hunt had a good day running, hit a few big passes, and intercepted a TCU pass to stop a scoring threat. TCU finished 4-3-2, but they were much better than their straight record would indicate, and like Arkansas, I think they were probably top 25 quality.

Texas Tech (5-4) jumped to a 6-2 lead on the Aggies the next week, but A&M hit 16 of 33 passes for 348 yards, Hunt scored 3 touchdowns, and the Aggies won 47-6. Texas A&M then traveled to Southern Methodist for the Southwest's game of the year. SMU featured Hunt's competition for best player in the Southwest, quarterback Gerry Mann (who is also in the Hall of Fame), and SMU was unbeaten in SWC play, so this game was for the SWC title. But the game provided no drama as Texas A&M romped to a 25-0 lead and won 39-13. SMU finished 7-2, and I have them #20 in a hypothetical AP poll, but I think they were probably closer to top 10 power-wise.

Texas A&M next won 14-0 at Rice (2-6-1), then finished the season with a 28-7 rout of Texas (6-2-1). In the finale, Joel Hunt set up his own touchdown plunge with a 39 yard pass, threw a 22 yard touchdown pass for a 14-0 first quarter lead, added another touchdown pass in the 2nd, and ran for the last touchdown in the 4th. I have Texas #24 for 1927.
Because Texas A&M didn't play any intersectional games, their MNC chances rest entirely on how strong the Southwest region was this season. So how strong was the Southwest?
The Southwest
The Southwest was known at this time for its prolific passing attacks. Teams would throw more than 30 passes in a game, eye-popping numbers for people reading articles about it in the rest of the country. By the 1930s, Southern Methodist coach Ray Morrison was unduly credited for developing this style of play, largely because he took SMU to play high-profile intersectional games across the country, so his teams gave many national writers their first exposure to the Southwestern style of offense. During his tenure at SMU, they played intersectional games against Missouri, Nebraska, Army, Notre Dame, Indiana, Navy, St. Mary's-California (when they were a top 25 caliber team), Syracuse, and Fordham, most of those games on the road.

But the pass-happy offenses of the Southwest likely had their genesis with Bennie Owen's Oklahoma teams of the 1910s, as refined by Sam McBirney and Francis Schmidt at Tulsa in the same decade.

The rest of the country viewed the aerial game of the Southwest as a novelty act. The Southwest would not be taken seriously as a football region until the 1930s, when they won a number of big intersectional games and eventually produced 2 national champions, Texas Christian in 1938 and Texas A&M in 1939. And had there been an AP poll in 1935, SMU likely would have finished #1 (but they then lost 7-0 to Stanford in the Rose Bowl).

In the 1920s, however, the Southwest was not respected. They had struggled to separate themselves from the minor teams around them, and 1919-1926, teams in the Southwest Conference took a total of 40 losses and ties to the following teams

:

St. Edwards, Trinity, Howard Payne, Austin, Daniel Baker, Hardin Simmons, Phillips, Hendrix, Ouachita, Oklahoma Baptist, Southwestern (Texas), Southwestern (Kansas), Central Oklahoma, Creighton, Emporia State, and Texas State. But most of these losses and ties took place in the early part of the decade, and by the mid-1920s such results were much less common (just 7 of the 40 occurred 1924-1926).

In significant intersectional games, the SWC ruled over the Southeast, but as I've indicated in previous articles, the Southeast was one of the weakest football regions in the nation, and the Southwest did not fare well against other regions. 1919-1926, the Southwest Conference went 24-14-4 in significant games against the Southeastern region, but they went 0-3 against the Great Lakes, 0-3 against the East, and 7-18-2 against the Missouri Valley, which was itself a level below the Great Lakes and Eastern regions. So overall the SWC was 31-38-6 in significant intersectional games 1919-1926. But 1927 was a different story.
The Southwest in 1927
In 1927, Baylor (2-7) and Rice (2-6-1) were bad, but the rest of the conference was quite strong and did not suffer upsets to minor teams (unless you count 10-0 Centenary as minor). Moreover, the SWC went 5-1 in significant intersectional games, the 1 loss taken by 2-6-1 Rice at 6-2-2 Loyola-New Orleans. The SWC was 2-1 against the Southeast and 3-0 against the Missouri Valley. Two of these wins were particularly significant. 7-2 Southern Methodist stomped on Missouri Valley champion Missouri 32-9, and Missouri finished 7-2 with wins over 6-2 Nebraska, 4-3-1 Iowa State, and 4-4 Northwestern. The consensus choice for 1927 MNC, Illinois, was tied by Iowa State, and they only beat Northwestern 7-6 (Missouri beat them 34-19).

6-2-1 Texas also defeated 8-1-2 Vanderbilt 13-6 in Dallas. Vanderbilt tied both 8-0-1 Tennessee and 8-1-1 Georgia Tech, and of course GT defeated 9-1 Georgia, who defeated 7-1 Yale. So you see, Texas A&M and Centenary both sit atop victory chains that put them over all the other national championship contenders for 1927. And it doesn't work the other way-- you cannot find any victory chain that puts Illinois, Yale, or Georgia ahead of Texas A&M, despite A&M's tie with 4-3-2 TCU.

There were 6 strong teams in the Southwest region this season

:

10-0 Centenary, 8-0-1 Texas A&M, 8-1 Arkansas, 7-2 Southern Methodist, 6-2-1 Texas, and 4-3-2 Texas Christian. These 6 teams did not lose or tie any game except against each other, which is why there is no victory chain that can get at them from outside the region. Now here's the surprising part-- all 6 of these teams were led by Hall of Fame coaches, and 4 of them featured Hall of Fame players. Illinois, Yale, and Georgia had no HoF players.

I've already summarized Texas A&M, and I'll be covering Centenary next, but here is some information on the other 4 strong Southwest teams:

8-1 Arkansas: The head coach was Francis Schmidt, a Nebraska grad who had gone 8-0-1 and 10-0-1 at Tulsa 1919-1920. He went 41-21-3 at Arkansas, then took off at TCU 1929-1933, going 45-6-5 and winning 2 SWC titles. He then went 39-16-1 at Ohio State and won 2 Big 10 titles. For his career, he was 156-58-11. In 1927, Arkansas brought home 2 of the SWC's 5 significant intersectional victories, 33-20 over 4-4 Oklahoma State and 28-0 over 4-4-1 Louisiana State in Shreveport. Their only loss was 40-6 at Texas A&M. They had a Hall of Fame player in end Wear Schoonover.



7-2 Southern Methodist:

The head coach was Ray Morrison, who had played quarterback for Dan McGugin at Vanderbilt 1908-1911. He went 84-44-23 in 15 years at SMU, winning 3 SWC titles. His best seasons were 9-0 in 1923, 8-0-1 in 1926, and 9-1-1 in 1931. He went on to succeed McGugin at Vanderbilt, and finished his career at Temple. Overall he was 155-130-34 for his career. In 1927, SMU lost 39-13 to Texas A&M and 21-12 at Centenary, but no one else got close to them, as they outscored their other 7 opponents by a total of 242-20, including the aforementioned 32-9 rout of 7-2 Missouri. Quarterback Gerry Mann, who threw the ball all over the place, is in the Hall of Fame.



6-2-1 Texas:

Their head coach, Clyde Littlefield, isn't actually in the NFF Hall of Fame, but he was inducted into the now-defunct Helms Foundation HoF, and he is also in the National Track and Field HoF. He went 44-18-6 in a short 7 year career at Texas, winning 2 SWC titles, and he won 25 SWC titles in his long and remarkable career as track and field coach at Texas.
In 1927, Texas lost 14-0 to SMU and 28-7 to Texas A&M, and they were tied by 4-3-2 Texas Christian. Their big win was the aforementioned victory over 8-1-2 Vanderbilt, and they also stomped on 3-5 Kansas State 41-7 to complete the SWC's sweep of the Missouri Valley this season.



4-3-2 Texas Christian:

The head coach was Matty Bell, who had played end at Centre 1916-1918. He went 33-17-5 at TCU 1923-1928, his best seasons 7-1-1 in 1925, 6-1-2 in 1926, and 8-2 in 1928. And this team, sandwiched in the middle of those 3 years, was much better than its 4-3-2 record would seem to indicate. Bell moved on to Texas A&M 1929-1933, and SMU 1935-1941 & 1945-1949, winning 3 SWC titles and totaling 143-87-16 for his career. He became best known for his work at SMU, the highlight seasons there being 12-1 in 1935 (and a Dickinson system national championship), 8-1-1 in 1940, 9-0-2 in 1947, and 9-1-1 in 1948. Assistant coach Dutch Meyer, a TCU grad, is also a Hall of Fame coach. He went 109-79-13 as head coach at his alma mater 1934-1952, winning 4 SWC titles and a national championship in 1938. In 1927, TCU tied Texas and Texas A&M, starting out 4-0-2, but then they lost their last 3 games 10-3 to Arkansas, 7-3 at Centenary, and 28-6 to SMU. End Rags Matthews is in the Hall of Fame.


Had there been an AP poll in 1927, I think these teams would have been ranked as such

:

Texas A&M #15, Centenary #21-25, SMU #21-25, Arkansas #25-35, Texas #26-35, TCU unranked. Applying a minimum of logic to those rankings gives us Texas A&M #7, Centenary #19, SMU #20, Texas #24, and Arkansas and TCU #26-33. However, it would actually be logically viable to rank all 6 teams in or very near the top 10. As an example, Vanderbilt would have been ranked higher than Texas in an AP poll, but given that Texas beat them, how fair is that?
Centenary 1927
| | | |
| --- | --- | --- |
| Millsaps (3-8) | 26-0 | |
| Southern Methodist (7-2) | 21-12 | #20 |
| Florida Southern (2-5-1) | 26-0 | |
| at Baylor (2-7) | 9-6 | |
| Birmingham-Southern (3-6) | 27-7 | |
| at Rice (2-6-1) | 33-7 | |
| Texas Christian (4-3-2) | 7-3 | (#26-33) |
| Louisiana Tech (3-5) | 33-0 | |
| Louisville (4-4) | 59-2 | |
| Sam Houston State (4-4-1) | 27-0 | |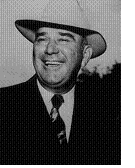 Centenary, a small school in Shreveport, Louisiana, went 10-0 in 1927, which alone wouldn't put them in MNC contention-- Loyola-New Orleans went 10-0 in 1926, and they would not even make a top 25 for that season. But Centenary did not just beat up on minor teams-- they also went 4-0 against SWC teams, and in a year when the SWC was unusually strong (as per the above). Centenary also happened to have a Hall of Fame coach at the helm-- Homer Norton (pictured at left), who went on to greater fame at Texas A&M 1934-1947, winning 3 SWC titles and A&M's only consensus national championship in 1939.

Norton was a Birmingham Southern grad who started coaching at Centenary in 1919, but his teams went just 4-7 over his first 3 years, so he switched over to basketball coach to make room for Bo McMillin. A Hall of Fame player at Centre, McMillin came to Centenary fresh off
the famous 1921 Centre team that had gone 10-1 and upset Harvard 6-0. Because of his name value, hiring him as football coach brought national attention to Centenary, and he turned out to be as strong a coach as he was a player, going 8-1, 10-1, and 8-1 in his 3 years of coaching there 1922-1924. He went on to a career record of 140-77-13, mostly at Indiana. Assisting the young man, Homer Norton learned how to coach football, and things were different in his second stint at Centenary. He led them to 10-0 this season, 8-1-1 in 1930, 8-0-1 in 1932, and 8-0-4 in 1933 while frequently playing major teams. Norton was 61-22-9 at Centenary 1919-1921 and 1926-1933, and overall he was 143-75-18 for his career.

Several Centenary players went on to play in the pros, but their 2 best were not among them. Guard Thomas "Dutch" Binion was the captain, and many years later, after Homer Norton had already coached Texas A&M to a national championship, Norton said that Binion was the best player he ever coached. Binion went on to become the coach and athletic director at Pascagoula, Mississippi, where the field is still named for him. He is in the National Athletic Directors Association Hall of Fame.

But Centenary's key player was quarterback/halfback Jake Hanna. Hanna had been a star player at Byrd High School, just 6 blocks from Centenary, and he could run the 100 in 10.3 seconds. He was offered a scholarship by Knute Rockne to come to Notre Dame, but Centenary hired his coach, George Hoy, as an assistant, and most of Hoy's players at Byrd followed him to Centenary, including Hanna. This was his first season at Centenary, and Jake Hanna alternated with veteran backs in the backfield, but he was the player who delivered Centenary's biggest wins this season, over SMU and TCU. He completed an amazing 16 passes in the 4th quarter to beat SMU 21-12, and he scored a 4th quarter touchdown to beat TCU 7-3.

After the season, Texas A&M challenged Centenary to come play them in 1928, and Centenary won that game 6-0 on a touchdown pass from Jake Hanna. He was named an AP honorable mention All American that season. He scored 41 touchdowns in his career, and he is in the Louisiana Sports Hall of Fame. Of course, one can't help but think that if he'd gone to Notre Dame, he would have been consensus AA, and in the NFF HoF.

Centenary's Season
Centenary's schedule was similar to Lafayette's in 1926. They played 4 major teams, all from the SWC, and 2 of them were bad

:

2-7 Baylor and 2-6-1 Rice. So they essentially played a 2 game schedule, and they played both those opponents at home

:

7-2 Southern Methodist and 4-3-2 Texas Christian.

After beating Millsaps 26-0 in their opener, they hosted Southern Methodist (7-2), their biggest game of the season. SMU had gone 8-0-1 in 1926, and they were unbeaten over their previous 15 games. Centenary completed a barrage of passes in the 4th quarter to win 21-12, their most impressive result. SMU finished 7-2, losing to Texas A&M at home 39-13.

Centenary beat Florida Southern 26-0, then traveled to Baylor for the first of just 2 road trips on the season. They edged Baylor 9-6, and Baylor finished 2-7, so this was easily Centenary's worst performance of the season. SMU beat Baylor 34-0.

Centenary then easily dispatched a pair of cupcakes, 27-7 over Birmingham-Southern and 33-7 at Rice (2-6-1), and that brought them to their second game that mattered, hosting TCU. TCU held a 3-0 lead into the 4th quarter, but Centenary came back to win 7-3, and then they ran out the clock on a drive to the TCU 6. TCU finished 4-3-2, but they are of course the team that tied 8-0-1 Texas A&M.

Centenary wrapped up their season by beating a trio of weak opponents by an average score of 40-1.

Selecting the 1927 Mythical National Champion
Here are the significant games for our 5 contenders.
The opponent rankings
come from my 1927 top 25, which is based on a hypothetical post-bowl AP poll (within logical reason of course)
.
Yale 7-1



#5 Georgia (9-1)

10-14


#2 Army (9-1) 10-6
#13 Dartmouth (7-1) 19-0
#13 Princeton (6-1) 14-6

Illinois 7-0-1



Iowa State (4-3-1)

12-12


at Northwestern (4-4) 7-6
#10 Michigan (6-2) 14-0

Georgia 9-1



at #1 Yale (7-1) 14-10
(#26-33) Furman (10-1) 32-0
at #8 Georgia Tech (8-1-1)

0-12



Texas A&M 8-0-1



(#26-33) Arkansas (8-1) 40-6
at (#26-33) Texas Christian (4-3-2)

0-0


at #20 Southern Methodist (7-2) 29-10
#24 Texas (6-2-1) 28-7

Centenary 10-0



#20 Southern Methodist (7-2) 21-12
at Baylor (2-7) 9-6
(#26-33) Texas Christian (4-3-2) 7-3

Yale defeated their weak opponents (non-top 40) by an average score of 26-2, Illinois defeated theirs 20-3, Georgia 29-2, Texas A&M 31-1, and Centenary 30-3.

As I said earlier,
all 4 of Texas A&M's listed opponents were likely better than the AP poll would have ranked them, and in fact
it would be logically viable to rank all 6 of this season's strong Southwest teams in or very near a top 10 for 1927. That would be an extreme, but so would a 1927 AP poll's likely ranking of these teams.

Again, SMU won 32-9 over 7-2 Missouri, who won 13-7 at 4-3-1 Iowa State, who tied Illinois on the road. And Missouri won 34-19 at 4-4 Northwestern, where Illinois won just 7-6. Texas beat 8-1-2 Vanderbilt 13-6 in Dallas, Vanderbilt tied 8-0-1 Tennessee and 8-1-1 Georgia Tech, GT beat Georgia, and Georgia beat Yale.

Regardless, once you've given the tables above a good look, it should be pretty clear that the consensus choice for 1927 MNC, Illinois, is easily the least deserving of these 5 contenders.

Eliminating Illinois
First of all, Illinois' upset tie with Iowa State was a worse result than the upsets suffered by Yale, Georgia, and Texas A&M, and Centenary was not upset at all. ISU's 4-3-1 record may look similar to TCU's 4-3-2, but these teams were not the same. ISU lost 34-0 to 6-3 Marquette, who lost 8-0 to 4-4 Oklahoma State and 14-0 to 6-1-1 Creighton (who also lost to Oklahoma State). TCU did not take such a loss-- their losses came to 8-1 Arkansas, 7-2 SMU, and 10-0 Centenary. And in addition to tying Texas A&M, TCU also tied 6-2-1 Texas, and they defeated 5-4 Texas Tech. Furthermore, Illinois was tied by ISU at home, and Texas A&M was tied by TCU on the road. So Illinois definitely lags in this department.

On top of that, Illinois also had the poor 7-6 effort at 4-4 Northwestern. Yale, Georgia, and Texas A&M did not have such a weak result other than the one upset each took. In fact, all 3 were very impressive performance-wise. Centenary, on the other hand, had an even worse result, the 9-6 win at 2-7 Baylor, but of course they did not take an upset tie or loss. The only thing Illinois had going for them was an impressive 14-0 win over 6-2 Michigan, but it was their only impressive win, and their only win over a major winning team. Yale defeated 3 Michigan-level opponents, and arguably better ones, since Yale gave each their only loss. Georgia defeated a better opponent too (Yale), and on the road, and they beat a second decent opponent (10-1 Furman) as well. Texas A&M may not have played a team as strong as Michigan (though for all we know, SMU was), but they defeated 3 top 25 caliber opponents and 5 winning teams.

I don't know why Illinois became such a favorite MNC selection for 1927 by retroactive organizations. Perhaps it goes back to the Illini being #1 in the well-publicized Dickinson ratings for that season. But the retro selectors must not have looked very closely at this season, because Illinois is just a poor choice.
Eliminating Georgia
Georgia is a tougher case, because they defeated Yale 14-10 on the road, and both teams finished with 1 loss. And you know how I am about head-to-head results. But that was Georgia's only big win. The Furman win was nice, but no big deal. And their loss at Georgia Tech was decisive (12-0) and came in their finale. That also creates a circle of great teams in 1927

:

9-1 Georgia won at 7-1 Yale 14-10, Yale beat 9-1 Army 10-6, Army beat 7-1-1 Notre Dame 18-0, Notre Dame beat 8-1-1 Georgia Tech 26-7, and Georgia Tech beat Georgia 12-0. The only scores there that weren't decisive were Georgia's over Yale and Yale's over Army.

But it wasn't just that the score wasn't decisive in Georgia's win at Yale. Yale dominated the game, outgaining Georgia, doubling them in first downs, and advancing far more scoring threats, but they lost an uncharacteristic 7 fumbles in the rain. One could say that Georgia was simply better at handling the ball in rain, except that what happened to Yale later happened to Georgia in their finale at Georgia Tech.

Yale also defeated 7-1 Dartmouth and 6-1 Princeton, both of whom won the rest of their games by more than a touchdown each. Georgia had no such wins to add to their victory at Yale.

Given how badly Notre Dame beat Georgia Tech, I think Dame should be rated higher than Georgia, and they almost certainly would have been in a 1927 AP poll. Army, who beat Notre Dame 18-0, belongs ahead of Dame, and Yale beat Army.

Eliminating Centenary
This case is even tougher. Would I be eliminating Centenary if it was LSU, as an example, playing the same schedule? Would I be eliminating them if anyone had ever named them an MNC for 1927? I really don't know. It's easy to eliminate a team no one cares about. Of course, it would be just as easy to go ahead and include them in a 3-way title. But unlike Lafayette in 1926, I just don't think that Centenary quite merits sharing an MNC.

They did defeat TCU, who tied Texas A&M. But they barely won 7-3, rallying in the 4th quarter at home. Texas A&M's tie came at TCU, and when you account for average home field score differential, Texas A&M's performance was perhaps better. Still, a win is a win and a tie is a tie. But on top of that, there was Centenary's 9-6 win at 2-7 Baylor. Now Baylor was just bad. TCU won 14-0 at Baylor, and SMU beat Baylor 34-0. Centenary's performance at Baylor was certainly no better a performance than A&M's tie at TCU, and I would call it decidedly worse.

Unlike Texas A&M, Centenary did not play any good teams on the road, and if the Baylor result is any indication, they would have had a lot of trouble winning if they had. Both of Centenary's wins of value were at home. The other was SMU, and they had a big 4th quarter to pull away for the 21-12 win. Texas A&M played SMU on the road, and they slaughtered them from the get-go, jumping out to a 25-0 lead and winning 39-13.

If that were all, I could see Centenary deserving at least a share with Texas A&M, but in addition to all that, Texas A&M beat 8-1 Arkansas 40-6 and 6-2-1 Texas 28-7. That gives A&M twice as many strong opponents, 2 of them on the road, and those performances were simply spectacular. So goodbye to Centenary... and now that I've written all that down, the decision no longer seems quite so tough.

Going back to the comparison of Centenary 1927 to Lafayette 1926, that Lafayette team played both their strong opponents on the road, and their performance was impeccable-- no weak wins against bad teams.
Yale vs. Texas A&M
This breaks down to Yale's better schedule/wins vs. Texas A&M's better record. Yale defeated 3 top 13 teams and lost 14-10 to a 4th. Texas A&M defeated 2 #20-25 teams and a near-rated team, and they were tied by another a near-rated team. That looks very good for Yale. A 4 point loss to a #5 team is no worse a result than a tie with a #26-33 team, and in that light Texas A&M did not have a better record after all. And Yale gave 3 powerful teams their only loss, which trumps A&M's 3 big wins. So, Yale #1? Not so fast, my friend...

Texas A&M's tie came on the road. Yale only played 1 road game the whole season, at mediocre Harvard, so all 4 of their tough games were at home. Texas A&M's 39-13 win over SMU was also on the road, and that brings up another point. Texas A&M's performance, outside of their one tie, was, to quote myself, "simply spectacular." 40-6 over Arkansas, 28-7 over Texas. Serious beatings going on down there. And of course, there is the issue of how strong the Southwest really was-- none of the region's good 6 teams were beaten or tied by an outsider, so maybe the 3 strong teams Texas A&M defeated were #21-33, or maybe they were all top 10 caliber. Not to beat a dead horse, but Texas beat Vanderbilt, who tied Georgia Tech, who beat Georgia, who beat Yale. But there is no victory chain leading from Yale to Texas A&M.

And then there is the issue of the weakening East, which began its long slow slide into football mediocrity this season. In significant games, the East had its first losing season against the South, 1-2, and the East also lost 6-7-1 against the Great Lakes, 1-3 against major Missouri Valley teams, and 0-2-1 against the West. They split 1-1-1 against the mid-Atlantic, bringing the East to 9-15-3 overall (15-16-4 in all games, which includes wins by major teams over minor ones).

On the other hand, I'm not sure that East information matters much in this case, since the 3 powerful Eastern teams Yale beat were unquestionably good. For Princeton and Dartmouth, you could question

how

good, since both played mostly weak Eastern teams. But they routed those teams, and Princeton beat 4-4 Ohio State 20-0. Then there's 9-1 Army, who gave Notre Dame their only loss 18-0. Texas A&M just did not beat a team like Army.

I think you could go with either Yale or Texas A&M at #1, so we have another split MNC here.

Dana X. Bible won a legitimate mythical national championship after all.
Awards Ceremony
1927 #1:

7-1 Yale and/or 8-0-1 Texas A&M


National Co-champion:

Yale or Texas A&M if the other one is alone at #1


Contenders:

9-1 Georgia and 10-0 Centenary

These are the awards I have been handing out for each season, except seasons when there are no contenders. For this purpose, what I mean by a contender is a team that I think is very close to being worthy of sharing the national championship. A team that you could make an argument for, even if that argument is weak. But the contenders are teams that I myself do not see as national champions.


I can't list 7-0-1 Illinois as a contender because I cannot see

any

legitimate reason for them to be named a mythical national champion for this season. Georgia beat Yale. Centenary was 10-0 and beat the team that tied Texas A&M. Those are reasons. But if someone can come up with one good reason why Illinois should even be considered for #1, please e-mail me, as I'd love to know what I'm missing here. Unfortunately, none of the organizations listed in the NCAA Records Book who selected Illinois gave a reason that I can find.

This has been, for me, the most interesting season that I have looked at so far. Like most people, when I first looked it over some 25 years ago, I assumed Illinois to be the MNC because they played in the powerful Big 10 and they had the best record of the contenders-- like everyone else, I dismissed 8-0-1 Texas A&M out of hand. But when I looked more closely at Illinois and their opponents, it quickly became apparent that they were not at all an MNC team.

At that point, I was thinking that it came down to Yale vs. Georgia, and after looking at their opponents, it was Yale. The last thing I did, out of diligence, was to look closely at teams like 8-1 Georgetown, 7-1 Colorado State, 8-1 Tulsa, and 8-0-1 Texas A&M. I almost dismissed Texas A&M when I saw that 2 of their key opponents lost to Centenary. But just in case, I thought I'd better investigate Centenary. This was before the internet, and their "SID" did not respond to letters, so I had to drive to Shreveport to research them. I was quite surprised to find that they were 10-0, and were coached by Homer Norton, who would win the MNC at Texas A&M 12 years later.

The Southwest suddenly looked very strong, what with SMU crushing Missouri and Texas beating Vanderbilt. The last thing I did was to look at the coaches and players for the strong 6 Southwest teams, and I have to say that I was shocked to see that all 6 teams were led by Hall of Fame coaches, all of whom became famous in later decades, often heading up other teams. Shocked and elated-- obviously it wasn't just an anomaly that these teams had such a good year. For the college football researcher, this sort of thing is found gold. No one paid attention to these teams at the time because these coaches were not yet that well known or respected. And no one paid attention in later decades because most of these coaches became famous while coaching different teams in the 1930s.

This season is a perfect example of why thorough and expansive research is necessary when selecting national champions for long-ago seasons.
Grading the Selectors
I have been grading the NCAA Records Book's selectors for each season, and keeping a grade point average, so we can see who is relatively good at selecting national champions and who is not. And although I do not consider computer ratings to be legitimate national championship selectors, I have been including them in this section as well, just for comparison's sake.
I am grading on a scale of 0-5 (5 being the best).

Billingsley, Dickinson, Helms, the National Championship Foundation, and Parke Davis all selected Illinois
.

Grade: 0.1



The Boand and Poling systems crowned Georgia.

Grade: 0.7




Both of Sagarin's rating systems had Texas A&M #1.

Grade: 5.0

The College Football Researchers Association selected Yale.

Grade: 5.0

Houlgate's math formula anointed 7-1-1 Notre Dame.

Grade: 0.0



Congratulations to the College Football Researchers Association on their astute and obviously well-researched selection of Yale-- I had castigated them last time out for their dumb selection of Alabama for 1926. As for Sagarin's computers tabbing equally worthy Texas A&M, sigh, it's another regrettable triumph for machine over man.

Georgia has a case for at least sharing an MNC with Yale, having beaten them, but the problem with selecting Georgia is that they compare very poorly with Texas A&M, and they don't ultimately have a good case vs. the Aggies.

Grade point averages 1919-1927
(the Dickinson and Poling systems will join the list when they've selected champions for at least half as many years as the others)
:
| | |
| --- | --- |
| 1) Sagarin-ELO (math system) | 3.87 |
| 2) Boand (math) | 3.60 |
| 3) College Football Researchers Association | 3.52 |
| 4) Helms | 3.29 |
| 5) Sagarin (math) | 3.27 |
| 6) Houlgate (math) | 3.07 |
| 7) National Championship Foundation | 3.04 |
| 8) Parke Davis | 2.86 |
| 9) Billingsley (math) | 1.86 |

How the systems that selected champions for 1901-1918 did

:



| | |
| --- | --- |
| 1) Houlgate (math system) | 4.5 |
| 2) Helms | 4.3 |
| 3) Parke Davis | 4.2 |
| 4) National Championship Foundation | 3.7 |
| 5) Billingsley (math) | 3.6 |