Top 25 Rankings 1901-1935
1932 National Championship
Home
1932 College Football Top 25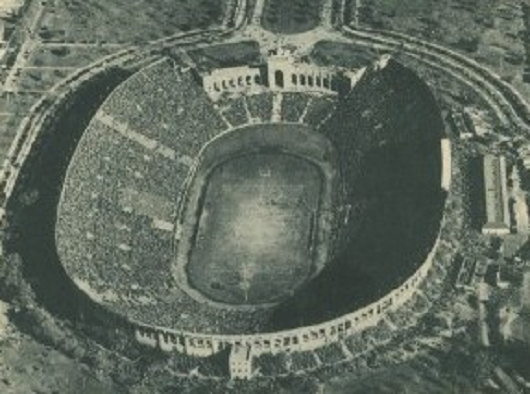 Pictured above is the Los Angeles Memorial Coliseum hosting the 1932 Southern Cal-Notre Dame game. The stadium had hosted the Olympics in the Summer, for which its iconic Olympic cauldron torch had been added, along with additional seats that pushed capacity over 100,000. That came in handy when 7-1 Notre Dame arrived to challenge 8-0 Southern Cal in 1932's game of the year. USC won 13-0, then pounded 8-1-2 Pittsburgh 35-0 in the Rose Bowl to repeat as mythical national champion. Sharing the MNC in 1932 was 8-0 Michigan. 9-0 Colgate, however, fell just short. A detailed comparison of the 3 teams can be found in my 1932 national championship article
.

A post-bowl AP poll for the 1932 season would certainly have placed 10-0 Southern Cal at #1, and 8-0 Michigan #2, so that's where we'll start here. As for 9-0 Colgate, while it's feasible that 7-0-1 Purdue would have been ranked higher, and possibly even 9-0-1 Tennessee, both of those teams obviously took an upset tie, and Colgate did not, and on top of that, Colgate's performance was perfect this season. So Colgate takes #3, which they likely would have done in an actual AP poll anyway.

The full hypothetical post-bowl AP poll top 25 for 1932, fixed to make logical sense of course, follows the article below.
#4: Purdue vs. Tennessee
7-0-1 Purdue would likely have been rated just ahead of 9-0-1 Tennessee, and Purdue defeated more top 25 opponents and performed better than did Tennessee, so that's fine. Purdue #4, Tennessee #5.

Pittsburgh and Notre Dame
I believe that 8-1-2 Pittsburgh and 7-2 Notre Dame would have been next in line, and Pitt beat Notre Dame 12-0, so it's Pittsburgh #6, Notre Dame #7
.
#8: Army vs. Brown
8-2 Army lost to #6 Pittsburgh and #7 Notre Dame, and 7-1 Brown lost to #3 Colgate. I'm not sure which team a 1932 AP poll would have rated higher. Writers seemed to more highly esteem Army, but Brown had the better straight record, which has always been worth a lot to AP poll voters. I'll go with Army here though, because they had just 1 close win, while Brown had 4, 2 of them over rather poor opponents (Springfield and 2-2-3 Yale).

Army #8, Brown #9.

#10: Texas Christian vs. Auburn
10-0-1 Texas Christian and 9-0-1 Auburn both took an upset tie, and again, it is difficult to say which team would have been rated higher in a 1932 AP poll. My guess would be Auburn, as they sported a pair of All Americans, including Hall of Fame halfback Jimmy Hitchcock. However, despite their record, Auburn was rather unimpressive this season. They did not beat a top 25 team, or even one that was close, and they were tied by 5-4-2 South Carolina in Birmingham in their finale. On top of that, they had 3 close wins over weak opponents. TCU's schedule wasn't much better, but all of their wins came by more than a touchdown, so their performance was vastly better. Their tie came to 6-3-1 LSU, a better team than South Carolina, and it was on the road and early in the season. And they at least defeated a near-"rated" team in 8-2 Texas.

Texas Christian easily merits the #10 slot over Auburn, and in fact Auburn's resume is so poor that they do not even merit #11. For that spot, let's look to the Big 10...

Wisconsin, Ohio State, Minnesota, and Northwestern
Next up we have 6-1-1 Wisconsin, 4-1-3 Ohio State, 5-3 Minnesota, and 3-4-1 Northwestern. Wait, did I just say

3-4-1

? Yep. But let's discuss these teams in order.

Wisconsin lost by 1 point at #4 Purdue, and they took their tie at 4-1-3 Ohio State. They had 2 close wins, but 1 of them came over 5-3 Minnesota, a top 25 team. Easily a better resume than 9-0-1 Auburn. The extra loss Wisconsin took is irrelevant when comparing Wisconsin to Auburn, being that Auburn did not even play a top 25 team
.

Ohio State was tied by 3-4-1 Indiana, an upset as egregious as Auburn's against South Carolina, but OSU made up for their upset by tying #6 Pittsburgh and 6-1-1 Wisconsin, both ranked higher than Auburn of course. That is far more than Auburn accomplished. OSU's loss came to #2 Michigan, so again, it is irrelevant when comparing Ohio State to Auburn. OSU also defeated 6-2 Penn, another top 25 team.

5-3 Minnesota lost only to #6 Purdue (by 7), #2 Michigan (by 3), and 6-1-1 Wisconsin (by 7), so they took no upsets, and that means that despite the fact that they were 5-3 and Auburn 9-0-1, they had a better relevant record than Auburn did, since Auburn took the upset tie. Minnesota also defeated 7-1-1 Nebraska, while Auburn, again, defeated no rated opponents.

And that brings us to 3-4-1 Northwestern vs. 9-0-1 Auburn. Now, you may be saying, "A 3-4-1 team being rated higher than a 9-0-1 team? Are you crazy?" But if Auburn had played Northwestern's schedule, I have no reason to think that they would have done as well as 3-4-1, and there is plenty of reason to believe that they would have done worse. All 4 of Northwestern's losses came to teams ranked higher than Auburn at this point (#2 Michigan, #7 Notre Dame, Ohio State, and Minnesota), and they tied #4 Purdue, which is itself more than Auburn accomplished. They also beat 5-4 Illinois 26-0, and Illinois will fall just outside this top 25. Northwestern's games against unrated opponents were all routs, while Auburn struggled against unrated opponents. Their straight records are

completely

the product of the incredibly different strengths of schedule these 2 teams faced.

So we have Wisconsin #11, Ohio State #12, Minnesota #13, and Northwestern #14. Does that mean Auburn is #15? Not quite. But before I get to that, here are a couple of mini-profiles of 2 of these Big 10 programs...

Wisconsin
1896-1932, Wisconsin had been one of the power teams in the Big 10, but they were very different from the other power teams in the conference in that they had never had an iconic longtime coach. Michigan had Fielding Yost, Minnesota Henry Williams, Ohio State John Wilce, Chicago Amos Alonzo Stagg, and Illinois Robert Zuppke. Wisconsin's coaches didn't stick around long, so Wisconsin had been through 12 different winning coaches through 1931. But 1932 was the end of the line for Wisconsin as a power team, at least for a while.

1932 was the first season for head coach Clarence Spears, who did well this season (6-1-1), but would plummet to 13-17-2 in his 4 years here. Most of Wisconsin's following coaches would also post losing records until Barry Alvarez revived the program in the 1990s (though Wisconsin did have a strong period in the 1950s and early 1960s).

But 1901-1932, had there been an AP poll, Wisconsin would have finished rated most of those years, and they produced perfect records and MNC contenders in 1901 and 1912. So this season, one of the nation's top programs was waving goodbye to elite status. Pretty much forever.

Northwestern
Northwestern, on the other hand, has never really been a power team in the Big 10 over an extended period of time, and in fact they have a losing record all time. They've been doing all right in recent years, and barely have a winning record 1995 to present. They were also competitive under Hall of Fame coach Ara Parseghian 1956-1963, again barely posting a winning record during that time. But their "golden age" was their strongest period, running 1925-1941. They went 81-49-8 during this time and won 4 Big 10 titles, half their historical total.

Three successive coaches posted winning records here during this time. Glenn Thistlethwaite got the ball rolling with a 21-17-1 record 1922-1926, winning the conference in his last year here, but then Wisconsin hired him away. He went 26-16-3 at Wisconsin 1927-1931. Dick Hanley went 36-26-4 at Northwestern 1927-1934, winning 2 conference titles, in 1930 and 1931. He was, of course, the coach this season. After him came Hall of Fame coach Lynn "Pappy" Waldorf, who went 49-45-7 here 1935-1946, winning 1 conference title, in 1936. Waldorf went 157-89-19 overall, coaching at Oklahoma State, Kansas State, and most notably, California, in addition to Northwestern. He had much more success at all the other schools, and brought home a total of 7 conference titles in those tenures. But of course, he was facing far weaker competition at those schools.

Nebraska, Auburn, and Alabama
7-1-1 Nebraska performed even more poorly against unrated teams than 9-0-1 Auburn did, so this one's close, but Nebraska didn't actually take any upsets against those teams. Nebraska's loss came 7-6 at #13 Minnesota, and they tied #6 Pittsburgh, so their relevant record was effectively a full game better than Auburn's. They should be rated higher. Nebraska's relevant record was the same as 3-4-1 Northwestern, but Northwestern performed far better. As an example, Nebraska beat Iowa 14-13, and Northwestern beat them 44-6. So Northwestern > Nebraska > Auburn.

Then we get to 8-2 Alabama, and finally, here is a team that Auburn can be viably rated ahead of. Personally, I would rate Alabama higher, because they performed better, they beat 2 top 25 teams (6-1-2 Vanderbilt and 6-2-1 St. Mary's) to none for Auburn, and they also beat a couple more good teams in 6-2-1 George Washington and 8-1 Virginia Tech. However, Alabama did take an upset loss to 4-5-1 Georgia Tech, a team Auburn defeated, and Auburn just took an upset tie. An AP poll would surely have rated Auburn higher, if only because of the illusion of their 9-0-1 straight record, so I'll let the hypothetical voters of 1932 have their way here.

Nebraska #15, Auburn #16, and Alabama #17.
Nebraska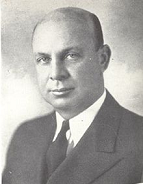 Nebraska had been ruling the Missouri Valley region from the beginning. They won 21 conference titles 1907-1940, and had there been an AP top 25, they would have been ranked most years 1901-1940 (in fact they actually were ranked in 4 of 5 AP polls 1936-1940). They posted several perfect records, 3 of which were MNC contending teams (1903, 1913, and 1915).

Nebraska had a very high national profile at this time because, in addition to winning their conference most years, they played a very heavy intersectional schedule 1901-1940, introducing themselves to the country from coast to coast. They played a highly publicized series with Notre Dame 1915-1925, splitting it 5-5-1, and they played another 62 games against Great Lakes/Big 10 teams, 29 games against East Coast teams (mostly powerhouse Pittsburgh), 9 games against West Coast teams, 15 games against Rocky Mountain teams, and 5 games against Texas teams. This was quite an unusual amount of travel for those days.

The coach this year was Hall of Famer Dana X. Bible (pictured), who had previously gone 72-19-9 at Texas A&M 1917 and 1919-1928, winning 5 SWC titles and 2 school-claimed MNCs (1919 and 1927-- I only recognize the latter). He was 50-15-7 at Nebraska 1929-1936, winning 6 Big 6 titles in his 8 years, and then he moved on to Texas, where he won 3 more SWC titles, finishing with an overall record of 198-72-23. Nebraska had one nonconsensus All American this season, center Lawrence Ely.

Nebraska continued to dominate their region until WWII dawned, finishing the 1940 season in the Rose Bowl, but after that the program went into a long, deep coma of losing before Hall of Fame coach Bob Devaney resurrected the program's corpse in 1962.

Michigan State, Vanderbilt, and Pennsylvania
7-1 Michigan State was a mid-major team at this time, so they might have been rated behind teams like 7-1-1 Columbia,
7-1-1 Washington State
,
6-1-2 Vanderbilt,
and
6-2 Penn
had there been an AP poll in 1932. But Michigan State's only loss came to #2 Michigan, while Columbia and Washington State were each tied by unrated opponents. Vanderbilt was also tied by an unrated opponent, but they made up for it by tying 9-0-1 Tennessee (# 5), so they had the same relevant record as Michigan State. However, Vanderbilt did not defeat a top 25 (or nearly rated) opponent, while MSU defeated 6-2 Fordham on the road.

As for Penn, they took no upsets, and they did at least defeat a nearly rated team (5-2-1 Cornell), but they struggled to beat 4-4 Dartmouth, while MSU had no close wins except against 6-2 Fordham and 8-2 Detroit. So we'll bring MSU in next.

Vanderbilt would likely have been rated higher than Penn in a 1932 AP poll, and that works fine. Michigan State #18, Vanderbilt #19, and Penn #20.
Washington State, Columbia, Fordham, and St. Mary's (California)
7-1-1 Columbia might have been rated relatively highly due to their nice straight record, but they were not very impressive. Like Penn, their big win came against nearly-rated Cornell (5-2-1), but they did nothing else of note, and they were tied by unrated 4-4-1 Syracuse in their finale. 6-2 Penn took no upsets. 7-1-1 Washington State took an upset tie, like Columbia did, but their tie came against nearly-rated 6-2-2 Washington, and WSU played a tougher schedule, beating 7-3-2 Cal and 6-4 UCLA, both on the road. WSU should be rated higher than Columbia.

6-2 Fordham took an upset loss, 3-0 at 4-2-2 Boston College, so Columbia can be viably ranked ahead of them. St. Mary's (California) had a strong season, beating 6-3 Santa Clara, 6-4 UCLA, and 6-3-1 Oregon, but they lost at Fordham, so they should come in behind the Rams.

Washington State #21, Columbia #22, Fordham #23, and St. Mary's #24. One slot left to fill.

Washington State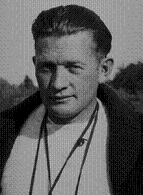 Washington State was not exactly a West Coast powerhouse during this time period, but they were pesky and often top 25 caliber. The coach was Hall of Famer Orin "Babe" Hollingberry (pictured), who went 93-53-14 at WSU 1926-1942, which gives him the records for most wins and longest tenure in WSU history. He created the East-West Shrine game and coached the West team 18 times, including the inaugural edition in 1925.

Hollingberry won the PCC in 1930 and took WSU to the Rose Bowl. Had there been an AP poll in these years, WSU may have been rated up to 6 times in 8 years 1926-1933.

This year's star player was halfback George Sanders, who made 2nd and 3rd team All American lists. He had also played for WSU's 1930 Rose Bowl team.
#25: Tulane, Cornell, Centenary, Washington, or Illinois?
Contending for the last spot are 6-2-1 Tulane, 5-2-1 Cornell, 8-0-1 Centenary, 6-2-2 Washington, and 5-4 Illinois.

I suspect that Tulane would have been the highest rated of these teams in an AP poll, but their big problem is that they lost to 6-3-1 Louisiana State, who lost to 8-0-1 Centenary. Centenary took an ugly tie with 1-6-2 Arkansas, but they beat 8-2 Texas in addition to LSU, and ultimately the Centenary > LSU > Tulane victory chain moves them to the front of the list. Texas, who lost only to Centenary and #10 TCU, and who defeated 7-3 Rice (who defeated LSU), should be ranked ahead of Tulane as well, but since there's only one spot left in this top 25, that matter is moot.

Cornell took an upset tie, giving them the same relevant record as Centenary, but Cornell did not defeat a major winning team, whereas Centenary beat a couple of teams sitting just outside this top 25.

6-2-2 Washington tied #21 Washington State, but they also tied unrated Oregon (6-3-1), and they lost to unrated California (7-3-2), so their relevant record was effectively half a game worse than Centenary's on the season.

5-4 Illinois did not take any upsets, so their relevant record was half a game better than Centenary's, but Illinois did not beat a major winning opponent, so they accomplished nothing on the season. Centenary, again, defeated 2 strong teams.

Centenary may have been a mid-major, but they played 6 major teams this season (Texas, Mississippi, SMU, Texas A&M, LSU, and Arkansas), the same number Washington and Illinois played, and 2 more than Cornell played. Centenary #25.
Others Receiving Votes
Here are the teams closest to making this top 25. 6-2-1 Tulane, due to belonging ranked behind 6-3-1 LSU, does not make this list.

Texas 8-2
Texas lost to #10 TCU and #25 Centenary, and they defeated 7-3 Rice.
Washington 6-2-2
Washington may have been a top 25 team power-wise. They lost to #1 Southern Cal by just 3 points, they tied #21 Washington State, and they defeated 6-4-1 Stanford and 6-4 UCLA. But they also took a loss to 7-3-2 Cal and a tie to 6-3-1 Oregon, both unrated.
California 7-3-2
Cal defeated the aforementioned Washington, and they tied #24 St. Mary's, but they took an upset loss to 6-3 Santa Clara, and they were tied by 6-4-1 Stanford
.
Illinois 5-4
All of Illinois' losses came to rated teams (#2 Michigan, #14 Northwestern, #11 Wisconsin, and #12 Ohio State), and they defeated 7-1 Miami-Ohio 20-7, but Miami was a minor team, and Illinois beat no one that mattered this season.
Cornell 5-2-1
Cornell lost to #20 Penn and #22 Columbia, and they tied 2-2-3 Princeton. They beat no one of value
.
1932 Top 25
1) Southern Cal 10-0
2) Michigan 8-0
3) Colgate 9-0
4) Purdue 7-0-1
5) Tennessee 9-0-1
6) Pittsburgh 8-1-2
7) Notre Dame 7-2
8) Army 8-2
9) Brown 7-1
10) Texas Christian 10-0-1
11) Wisconsin 6-1-1
12) Ohio State 4-1-3
13) Minnesota 5-3
14) Northwestern 3-4-1
15) Nebraska 7-1-1
16) Auburn 9-0-1
17) Alabama 8-2
18) Michigan State 7-1
19) Vanderbilt 6-1-2
20) Pennsylvania 6-2
21) Washington State 7-1-1
22) Columbia 7-1-1
23) Fordham 6-2
24) St. Mary's (California) 6-2-1
25) Centenary 8-0-1
Others Receiving Votes
:
Texas 8-2
Washington 6-2-2
California 7-3-2
Illinois 5-4
Cornell 5-2-1