Home
1932 College Football National Championship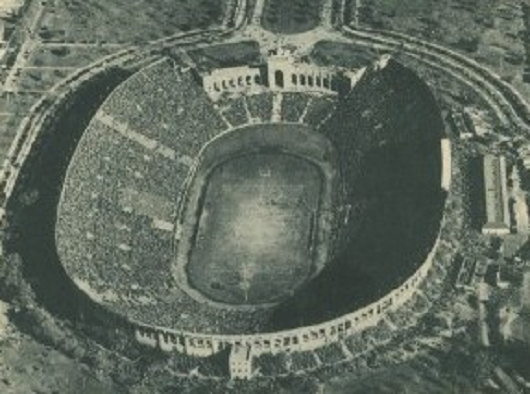 Pictured above is the Los Angeles Memorial Coliseum hosting the 1932 Southern Cal-Notre Dame game. The stadium had hosted the Olympics in the Summer, for which its iconic Olympic cauldron torch had been added, along with additional seats that pushed capacity over 100,000. That came in handy when 7-1 Notre Dame arrived to challenge 8-0 Southern Cal in 1932's game of the year. USC won 13-0, then pounded 8-1-2 Pittsburgh 35-0 in the Rose Bowl to repeat as mythical national champion. But like 1931, it's not unanimous, and like so many years, Parke Davis is the lone naysayer.

Here is how the "major selectors" listed in the NCAA Records Book, all selecting retroactively, see the 1932 college football national championship (omitting math/computer ratings, which neither I nor anyone else recognize as constituting titles)

:



10-0

Southern Cal

:

Helms,

National Championship Foundation, CFB Researchers,

Parke Davis

(tie)


8-0 Michigan

:

Parke Davis

(tie)




9-0 Colgate

:

Parke Davis

(tie)



Parke Davis' 3-way tie is shocking, not because he selected Michigan and Colgate, but because he also selected Southern Cal, the only time he ever deigned to select a West Coast team as national champion. But Parke Davis' picks aren't bad this time out, so I will be summarizing all 3 of these teams and measuring each to see if an imaginary crown fits. If there had been an AP poll in 1932, Michigan would have had an outside shot (let's say 10%) of being #1 at the end of the regular season, but Southern Cal would have easily been #1 in a post-bowl poll.

This year's major teams that came to close to perfect seasons (all ratings in this article, except as noted, come from my hypothetical 1932 AP poll top 25)

:



Southern Cal 1932
Utah (6-1-1)
35-0
(#40-50)
Washington State (7-1-1)
20-0
#21
Oregon State (4-6)
10-0
Loyola-Marymount (4-4)
6-0
at Stanford (6-4-1)
13-0
(#31-39)
California (7-3-2)
27-7
(#26-30)
Oregon (6-3-1)
33-0
(#31-39)
at Washington (6-2-2)
9-6
(#26-30)

Notre Dame (7-2)
13-0
#7

Rose Bowl


Pittsburgh (8-1-2)

35-0

#6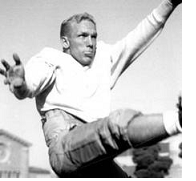 The "Thundering Herd" was coming off their first legitimate MNC in 1931, and the school claims another for 1928, though I disagree with that one. I covered their Hall of Fame coach, Howard Jones, in the 1928 article.
Southern Cal had graduated both of their 1931 consensus All Americans, guard/kicker Johnny Baker and quarterback/punter Gus Shaver, and Hall of Fame halfback Erny Pinckert and end Garret Arbelbide were gone as well. The offense was hit hard, plummeting from 33 points per game in 1931 to 20 in 1932. Luckily, the bulk of their incredible line returned, and the defense gave up just 13 points all season, enabling them to go 10-0 in 1932, Howard Jones' only perfect season at USC. That stretched their winning streak to 20 games.



The key returnees on the line were Hall of Fame tackle Ernie Smith (USC's only consensus AA this season), Hall of Fame tackle Tay Brown (captain and nonconsensus AA), Hall of Fame guard Aaron Rosenberg (consensus AA 1933), and guard Larry Stevens (nonconsensus AA 1933). This simply had to be the best line in college football this season.

The only significant backfield returnee was prolific offensive backup quarterback Orv Mohler, but he suffered a neck injury and couldn't play much, chipping in just 264 yards rushing and 2 touchdowns on the season.

There was only one significant new player this season, and the offense rested heavily on him

:

Hall of Fame quarterback Irvine "Cotton" Warburton (pictured). He led the team in rushing and scoring in 1932 and 1933, and was a consensus AA in 1933. He wasn't actually a starter this season, but that's because he was small, 5' 7" and 145#, and Howard Jones wanted to keep him from getting too beat up. So Cotton Warburton was handled like Notre Dame's backs, usually coming in for the 2nd quarter. He became a film and television editor, eventually winning an Academy Award for

Mary Poppins

.
Southern Cal's Season
In both their MNC seasons 1931-1932, Southern Cal opened with a strong mid-major opponent rather than the traditional auto-win cupcake. That bit them in 1931, as they lost their opener to 8-2 St. Mary's. They did not, however, have that kind of struggle this year with 6-1-1 Utah, smothering them 35-0. Utah ruled the Rocky Mountain Conference, and had gone unbeaten 3 straight years 1928-1930, after which they set their sights on making a name for themselves against major Pacific Coast teams. That did not go so well, resulting in losses to Washington and Oregon State in 1931, and this rout in 1932. Utah would not have made a top 25 this season, and though they might have been ranked 1929-1930, looking back we can see that they probably weren't that good those seasons either.

Southern Cal's next game was against Washington State, who would end up being the 2nd best team in the PCC this year. This game wasn't much of a struggle either, USC winning 20-0. WSU went on to best 7-3-2 Cal, 4-6 Oregon State, and 6-4 UCLA in close road wins, and they were tied at 6-2-2 Washington. That put them at 7-1-1 on the season, and I have them ranked #21 on the season.


USC started to fall asleep at the wheel after that, beating 4-6 Oregon State just 10-0, then putting on their worst performance of the season in a 6-0 win over 4-4 Loyola Marymount before 55,000 perplexed fans. Cotton Warburton scored the winning touchdown with just 5 minutes left to play in the game
.

That brought Southern Cal to the meat of their conference schedule, 4 straight games against good-but-not-great PCC teams (all of them fall just outside the top 25 for 1932)
. They won 13-0 at 6-4-1 Stanford, 27-7 over 7-3-2 California, and 33-0 over 6-3-1 Oregon. Their toughest challenge in this stretch came in the mud at 6-2-2 Washington on Thanksgiving Day.

The mud made moving the ball difficult, but Southern Cal got on the board in the 2nd quarter with a 29 yard field goal from a difficult angle off the foot of halfback Cal Clemens. Early in the 4th quarter, Cotton Warburton scored a touchdown to make it 9-0, but the earlier field goal proved critical when Washington hit a 5 yard touchdown pass to make the final score 9-6. That was the 2nd and final touchdown USC gave up this season.
Notre Dame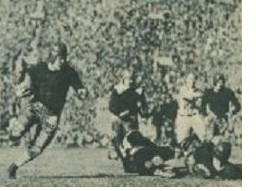 Southern Cal had a 16 day break before 7-1 Notre Dame came to town for a December 10th game at the Coliseum. Notre Dame had lost to Pittsburgh, but they'd handily won the rest of their games (average score in wins 36-1), including a 21-0 beating of 8-2 Army at Yankee Stadium in their previous outing. This was the 5th straight year that the winner of this game would claim a national championship (though, as already noted, I don't recognize USC's claim to be 1928 champs). Attendance estimates for the 1932 game were generally around 100,000.

Notre Dame outgained Southern Cal 217 yards to 130 and 12 first downs to 4, but they gained most of that yardage on their side of the 50, crossing midfield just 3 times. They also turned the ball over 3 times to USC's once, and USC outgained them in the kicking game, twice putting quick kicks inside the Notre Dame 5 yard line. Southern Cal won 13-0, the touchdown drives set up by a long punt return and a fumble recovery.

Southern Cal was allowed 12 men on the opening kickoff

:

Senior Orv Mohler, injured for most of the season, held the ball, then stayed out of the play itself. Both teams durdled around in the 1st quarter, advancing no real threats, though field position advantage lay with Southern Cal. Notre Dame sent in their regular backfield for the 2nd quarter, and USC sent in Cotton Warburton. Homer Griffith, who had started for USC at quarterback, moved to fullback, where he would be a key player in this game. Midway through the 2nd quarter, Warburton returned a punt 37 yards, and then he ran a fake reverse for 22 yards to Notre Dame's 30 yard line. The next 3 plays went nowhere, but on 4th down, Homer Griffith hit halfback Bob McNeish (another 2nd quarter sub) for a 31 yard touchdown pass. That was USC's only completion of the game in 8 attempts. Ernie Smith kicked the extra point, and it was 7-0.

In the 3rd quarter, Notre Dame lost a fumble at their 26, and Southern Cal drove from there to a Griffith touchdown to make it 13-0. In the final period, USC drove to the Notre Dame 28, where Smith was short on a field goal try. Notre Dame then went to the air, advancing their best threats of the game. Four passes took them to the USC 5, where a running play was drowned for a loss, and the next pass was intercepted by Griffith. After the punt-out to the 37, Notre Dame hit another pass to the 13, then went to the running game again, but they were halted at the 9.

That finished Notre Dame at 7-2. They rank #7 for 1932.
The Rose Bowl
8-0-2 Pittsburgh was invited to play Southern Cal in this season's Rose Bowl.
Pitt had played a very rugged schedule

:

the ties came to 4-1-3 Ohio State and 7-1-1 Nebraska, and they defeated 7-2 Notre Dame, 8-2 Army, 6-2 Penn, and 6-4-1 Stanford.
Their 1929 team had gone 9-0 in the regular season before getting trounced 47-14 by Southern Cal in the 1930 Rose Bowl, the worst defeat in school history, and revenge was on their minds. What they got instead was an eerie case of deja vu all over again, and a new school record for worst beating.
83,000 attended the game.

Southern Cal bombed them 35-0, most of that coming as Pitt fell apart in the 4th quarter. USC took their first drive 60 yards for a score, quarterback Homer Griffith throwing a 33 yard touchdown pass. The Trojans drove to the Pitt 13 late in the 2nd quarter, but came up empty, so it remained 7-0 at half. Early in the 3rd quarter, Griffith intercepted a pass at his own 33. USC then drove to the Pitt 11, where they were halted again. But Pitt fumbled the ball right back, and this time USC converted the chance with a 1 yard touchdown pass to Griffith. This was his 2nd straight big game, and in fact Griffith was named MVP of the Rose Bowl.

Quarterback Cotton Warburton (Griffith again moved to fullback when Warburton came into the game in the 2nd quarter) scored a pair of touchdown runs in the 4th quarter, and the substitutes blocked a punt to set up the last touchdown. Ernie Smith was 4 for 4 on extra point tries. USC outgained Pitt 288 yards to 193 and 22 first downs to 9, and Pitt had 6 turnovers to USC's 2. Pitt coach Jock Sutherland's diagnosis

:

"They had too much power for us at the guard and tackle positions." Yeah, that's 4 All Americans and 3 Hall of Famers right there.

With their 8-1-2 finish, Pittsburgh ranks #6 for 1932.

The Associated Press game article

:

"While the contest had no official championship rating, many football fans regarded it as a national titular contest. After the game, Coach Jock Sutherland of Pittsburgh said Southern California should be regarded as the national champion.
"

Michigan 1932
| | | |
| --- | --- | --- |
| Michigan State (7-1) | 26-0 | #18 |
| Northwestern (3-4-1) | 15-6 | #14 |
| at Ohio State (4-1-3) | 14-0 | #12 |
| Illinois (5-4) | 32-0 | (#26-30) |
| Princeton (2-2-3) | 14-7 | |
| at Indiana (3-4-1) | 7-0 | |
| Chicago (3-4-1) | 12-0 | |
| at Minnesota (5-3) | 3-0 | #13 |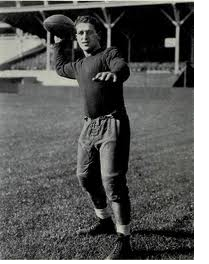 Ever the bridesmaid, never the bride.
Michigan previously contended for mythical national championships in 1901, 1902, 1903, 1904, 1918, 1922, 1923, and 1925, though I only selected them as national co-champions for 1902 and 1918, and it is unlikely that they would have finished #1 in an AP poll in any of those seasons (or this one)
. Hall of Famer Fielding Yost had been the head coach for all of those great teams through 1925, but now he was the athletic director. The coach was now Harry Kipke, a Hall of Fame halfback who had starred on the 8-0 1923 team. Kipke went 31-1-3 and won 4 straight Big 10 titles 1930-1933, and the school claims MNCs for 1932 and 1933. After that, however, things went sour, and he was just 10-22 1934-1937. He finished 46-26-4 at Michigan 1929-1937, and a 3-4-1 season at Michigan State in 1928 made it 49-30-5 for his career.

Hall of Fame quarterback Harry Newman (pictured) was a unanimous All American,
the Helms Athletic Foundation player of the year, and he won the Douglas Fairbanks trophy as the national MVP. He went on to a 5 year pro career, and was all-pro in 1933. Newman scored all of his team's 22 points over the last 3 games of the season.

Hall of Fame tackle Frank Wistert would make consensus AA in 1933, and would be named the Big 10's baseball MVP. He was the first of 3 Wistert brothers who played tackle and wore #11, and all 3 were All Americans and are in the Hall of Fame (Albert and Alvin were the other 2). Their joint jersey number has been retired.

Center Chuck Bernard was nonconsensus AA, and would join Wistert as a consensus AA in 1933. Future president Gerald Ford was his backup both seasons. End and fullback Ted Petoskey was also nonconsensus AA, in both 1932 and 1933.

End Ivan "Ivy" Williamson was the captain, and first team All Big 10 in 1931 and 1932. He would go on to coach Lafayette and Wisconsin, gong 54-24-4 and taking the Badgers to the 1953 Rose Bowl. He continued as Wisconsin's athletic director until 1969, unfortunately overseeing a great decline in the Wisconsin football program.

Halfback Herman Everhardus, the "Flying Dutchman," would be All Big 10 in 1933, leading the conference in scoring that season.
Michigan's Season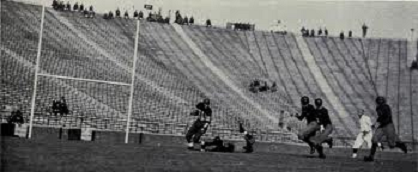 Fielding Yost had helmed quite a few impressive scoring machines at Michigan, but they struggled in that department after his retirement as head coach. For 12 straight years 1927-1938 they failed to score 20 points a game in a season, and this year they averaged just 15. But like Southern Cal, they had a strong defense, and that enabled them to go 8-0. Also like Southern Cal, they opened the season with a strong mid-major opponent, Michigan State. This game was no contest, a 26-0 win, but MSU won out to finish 7-1, including victories over 6-2 Fordham and 8-2 Detroit. I have them ranked #18 for the season, though an actual AP poll would have likely placed them more like #20-25.

Michigan next beat 3-4-1 Northwestern 15-6. NW obviously would not have been ranked in an AP poll, but if I were to fix that poll, they definitely would be-- that's why I have them ranked #14 for 1932. Their other losses came to 5-3 Minnesota, 4-1-3 Ohio State, and 7-2 Notre Dame, and they tied 7-0-1 Purdue and defeated 5-4 Illinois 26-0.

Michigan then went to Columbus for their biggest game of the year at 4-1-3 Ohio State, winning 14-0. OSU was tied by 3-4-1 Indiana, but they also tied 8-1-2 Pittsburgh and 6-1-1 Wisconsin, and they romped 6-2 Penn 19-0. They are ranked #12 for the season.

Michigan pummeled 5-4 Illinois (pictured above), a #26-30 type team, 32-0, and at this point Michigan looked like a juggernaut. But then they struggled down the stretch, staggering through a much less impressive set of 4 opponents in close game after close game.
Staggering Down the Stretch
Princeton was coming off 3 losing seasons, going 4-16-2 during that time, and they went 2-2-3 this season, so their trip to Michigan was not expected to be a pleasant one. But Princeton was a year away from a big resurgence under first-year coach Fritz Crisler, a future Michigan coach and Hall of Famer, and they gave Michigan and 30,000 fans all they wanted in this game. Princeton had 7 first downs in the first half to Michigan's 1, and they converted a Harry Newman fumble at his 15 into a touchdown for a 7-0 lead. Michigan scored a safety when a Princeton back muffed a punt and recovered it in his end zone, and it was 7-2 at the half.

In the 3rd quarter, end Ivy Williamson blocked a punt at the Princeton 10, and center Chuck Bernard covered the ball in the end zone for an 8-7 lead. Michigan made it 14-7 on a 9 yard Harry Newman touchdown pass, their only pass of the day, but Newman missed his 2nd extra point try, so Princeton remained in range. They made things tense with a drive deep into Michigan territory, but then threw an interception with a minute to play.

Michigan continued to look ill in a 7-0 win at 3-4-1 Indiana the next week. Harry Newman won the game in the 3rd quarter, starting with a punt return to the Indiana 48. He then faked a pass and took off for 34 yards. Michigan drove to the 1, where fullback Ted Petoskey was stopped twice before Newman carried the ball wide and over goal, then kicked the extra point. Indiana was held to 97 yards of offense, and they threw 5 interceptions in 13 attempts.

The game against 3-4-1 Chicago was a similarly weak performance. Harry Newman returned a punt 70 yards for a touchdown in the 2nd quarter, but it remained 6-0 until the final minute of play, when Newman scored on a 28 yard run following a fake pass to make the final score 12-0.

There was reason to worry heading into the finale at 5-2 Minnesota, who had lost close games to 7-0-1 Purdue and 6-1-1 Wisconsin, but had beaten 7-1-1 Nebraska. 30,000 fans watched a game almost entirely devoid of offense. Michigan totaled just 2 first downs and 85 yards, but a Minnesota fumble at their 23 set up the game winner. Michigan drove to the 4, and with less than a minute left in the first half, Harry Newman booted a field goal just inside an upright. That was fortunate, as Michigan was under 50% on extra point attempts this season. Neither team got inside the other's 30 in the 2nd half, but Minnesota back Pug Lund broke free once, slipping and falling when he tried to evade the last defender with a shot at him, Harry Newman.

That finished Minnesota at 5-3. I have them ranked #13 for 1932.

After the season, there was a huge media push for Michigan to play Southern Cal in the Rose Bowl. Michigan kept practicing after their last game, awaiting word from the Big 10 head office on lifting the conference's ban on post-season games, but the Big 10, unfortunately, turned down the request.

Colgate 1932
| | | |
| --- | --- | --- |
| St. Lawrence | 41-0 | |
| Case (7-2) | 27-0 | |
| Niagara | 47-0 | |
| at Lafayette (3-5) | 35-0 | |
| at New York (5-3) | 14-0 | (#35-45) |
| Penn State (2-5) | 31-0 | |
| Mississippi College (4-4) | 32-0 | |
| at Syracuse (4-4-1) | 16-0 | |
| at Brown (7-1) | 21-0 | #9 |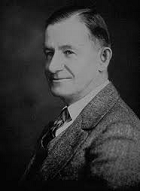 I actually selected Colgate as a co-national champion before, for 1916
. In the following 12 years, 1917-1928, they went 53-28-3, and would have been ranked about 5 times had there been an AP poll (twice in the top 10). Hall of Fame coach Andy Kerr (pictured) took them up a notch immediately upon his hire in 1929, going 8-1 that year, 9-1 in 1930, 8-1 in 1931, and 9-0 this season. He went 47-5-1 1929-1934, and Colgate was top 25 caliber all 6 of those seasons. Unfortunately, the wheels came off after 1934, and Colgate would never again field a top 25 team. Kerr ended up 95-50-7 at Colgate 1929-1946, and 137-71-14 overall at 4 schools.

This season, Colgate was "unbeaten, unscored on, and uninvited"... to the Rose Bowl, an invitation they had been hoping for. They are the last major team to shut out all their opponents in a season

;

Duke 1938 and Tennessee 1939 both did it in the regular season, but both then lost to Southern Cal in the Rose Bowl. One can't help but think that the same fate would have befallen Colgate 1932 had they not been uninvited. They outscored opponents 264-0 and allegedly outgained them 1581 yards to 255. Yes, they supposedly gave up just 255 yards for the entire season! However, I have not researched that stat myself, so take it with a grain of salt-- I know that PSU gained 83 and NYU 70, so that would mean their other 7 opponents totaled 102, which seems rather unlikely.

Colgate had 2 nonconsensus All Americans, guard and captain Bob Smith and end Clay Anderson. Anderson went 209-23-6 as a coach at Montclair High School in New Jersey, and then 46-20-3 at Montclair State, winning 5 conference titles in 7 years.

Colgate ran a gimmicky rugby-like offense that featured laterals all over the field, like a modern day team trying to score on the last play of the game.
Colgate's Season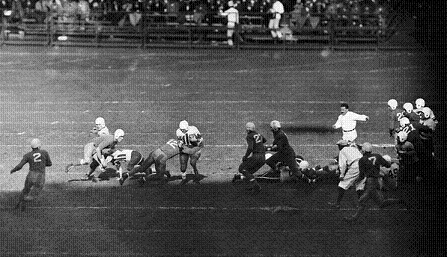 Colgate's schedule featured just 4 major teams, and 2 of them, 2-5 Penn State and 4-4-1 Syracuse, weren't much of a challenge this season (though Syracuse did tie 7-1-1 Columbia, so they weren't worthless). As such, Colgate effectively played a 2 game schedule. The first of these was game 5, against NYU at Yankee Stadium in front of 35,000 fans (pictured above, Colgate in the partially white jerseys). Colgate halfback Whitey Ask threw a 53 yard touchdown pass on the opening drive, then an interception set up an Ask touchdown run early in the 2nd quarter, and Colgate won 14-0. NYU was held to 3 first downs and 70 yards.

NYU finished 5-3, but they were no better than a #35-45 level team.

The other real game was the finale at Brown, both teams coming in unbeaten and untied. Temporary stands allowed a crowd of 26,000 into the game. In the 2nd quarter, a 55 yard Whitey Ask punt went out of bounds at the Brown 6, and the ensuing punt-out only went to the 34. 3 plays later, Ask threw a 19 yard pass to the Brown 7, and on 4th down Colgate pushed over the touchdown to lead 6-0. The extra point was blocked. In the 2nd quarter, Brown used 2 pass interference penalties to move from their 22 to the Colgate 1, but on the last play of the half, Brown was stopped 2 inches short of the goal line.

Bob Smith blocked a 3rd quarter punt out of the end zone for a safety, making it 8-0, and Colgate tacked on 2 more touchdowns in the 4th quarter for a 21-0 final score.

At 7-1, Brown would have been ranked #6-10 in a final AP poll had there been one in 1932, but it is highly doubtful that they were actually that good. They edged Springfield, 2-2-3 Yale, 6-2-2 Holy Cross, and 7-1-1 Columbia, and only Columbia was top 25 caliber, if barely so. Nevertheless, I have Brown ranked #9.

Their season over as of November 19th, Colgate awaited a hoped-for Rose Bowl invite, but that invitation fell to 8-0-2 Pittsburgh, who had played a

far

tougher schedule (8-2 Army, 4-1-3 Ohio State, 7-2 Notre Dame, 6-2 Penn, 7-1-1 Nebraska, and 6-4-1 Stanford)
.
Southern Cal vs. Michigan vs. Colgate
Here are the significant games for our contenders in 1932.
The opponent rankings
come from my 1932 top 25, which is based on a hypothetical post-bowl AP poll (within logical reason of course)
.


Southern Cal 10-0
Michigan 8-0
Colgate 9-0

Utah (6-1-1)
35-0
(#40-50)
Washington State (7-1-1)
20-0
#21
Loyola (California) (4-4)
6-0
Unranked
at Stanford (6-4-1)
13-0
(#31-39)
California (7-3-2)
27-7
(#26-30)
Oregon (6-3-1)
33-0
(#31-39)
at Washington (6-2-2)
9-6
(#26-30)
Notre Dame (7-2)
13-0
#7

Rose Bowl


Pittsburgh (8-1-2)

35-0

#6

| | | |
| --- | --- | --- |
| Michigan State (7-1) | 26-0 | #18 |
| Northwestern (3-4-1) | 15-6 | #14 |
| at Ohio State (4-1-3) | 14-0 | #12 |
| Illinois (5-4) | 32-0 | (#26-30) |
| Princeton (2-2-3) | 14-7 | Unranked |
| at Indiana (3-4-1) | 7-0 | Unranked |
| at Minnesota (5-3) | 3-0 | #13 |

| | | |
| --- | --- | --- |
| at NYU (5-3) | 14-0 | (#35-45) |
| at Brown (7-1) | 21-0 | #9 |

Against opponents that would have fallen outside the top 50, Southern Cal defeated 2 teams by an average score of just 8-0, Michigan defeated 3 teams by an average of 11-2, and Colgate defeated 7 teams by an average of 33-0. USC was odd, beating non-top 50 teams by an average of 8 points, top 50 teams by an average of 21, top 25 teams by an average of 23, and top 10 teams by an average of 24.

Let's start with the obvious problem here, mid-major Colgate and their schedule that featured 5 minor teams, 2 good opponents, and just 1 top 25 caliber opponent. Their performance was perfect, certainly better than Southern Cal's or Michigan's, as both those teams struggled against bad opponents, and Colgate did beat a (potentially) top 10 caliber team in 7-1 Brown. That makes them a strong contender. But their schedule was just too far below USC's and Michigan's. Like Centre 1919 and Centenary 1927, I think Colgate was very close to deserving a share of the title, but not quite close enough.

I did select mid-major Lafayette as a 1926 co-champion despite a weak schedule, but all the teams they were up against for the MNC that year took a loss or a tie, which is obviously not the case in 1932. I do think Colgate's case is very close to as good as Lafayette's for 1926, and I can't fault someone too much for selecting Colgate to share the 1932 title with USC and Michigan, but in the end, I disagree with rewarding a team for playing a ridiculously weak schedule when there are 2 teams with perfect records who played strong schedules.

Like Alabama 1925, Colgate really needed the Rose Bowl invite to have a shot at a legit MNC, but unlike Alabama 1925, they did not get it. Shutting out every opponent is nice, but it's a matter of trivia. Nebraska accomplished the same thing in 1902, but it didn't get them a share of the MNC with Michigan and Yale that season. If Brown were at least

certainly

a top-shelf opponent, I would select Colgate for the share. But Brown, though 7-0 heading into their game with Colgate, had not been impressive. They struggled repeatedly against mediocre opponents, and though a 1932 AP poll would have voted them into the top 10, their results look more like those of a #20 team that benefited from a weak schedule.

The East in general was weak, in decline since 1927. They went 3-1 against the West Coast this year, which was nice, but the East was 2-16-2 against the Great Lakes region, which was a complete debacle. And that's 5-17-2 against the 2 regions combined.

Sorry Parke Davis, but Colgate is eliminated.

Southern Cal vs. Michigan
Looking over the table above, you may conclude that Southern Cal was a slam-dunk for #1. They played 8 top 50 opponents to Michigan's 5, and more critically, they played 2 top 10 opponents to Michigan's none. They had one poor performance against a weak team, but Michigan had 2 such performances, and USC's came early while Michigan's came late. USC finished very strongly, while Michigan was weak throughout the entire 2nd half of their season. But let's look at all that more closely.

USC played a bunch of "near-rated" teams, which is what gives them the 8 to 5 lead in top 50 opponents, but Michigan played more top 25 caliber opponents, 4 to 3. Since top 25 teams are more of a threat, I'd call that a wash. And USC's 2-0 advantage in top 10 opponents is based on where the AP poll would have ranked the involved teams-- but in this case, it is not necessarily correct. Michigan opponents Ohio State and Minnesota could both be logically, viably ranked in the top 10, and in fact both could be viably ranked higher than Pittsburgh and Notre Dame, USC's toughest opponents.

First of all, 6-1-1 Wisconsin had a better straight record than Pitt (and Notre Dame), and could be ranked higher than both. They were tied by 4-1-3 Ohio State, but so was Pitt, and Pitt took another upset tie, against Nebraska, while Wisconsin suffered no other upset. In fact, Wisconsin beat Minnesota, who beat Nebraska. That's where the Gophers come in. They were 5-3, a worse straight record than Pitt, but their 3 losses came to 8-0 Michigan, 7-0-1 Purdue, and 6-1-1 Wisconsin, and all 3 losses were close. Since they beat Nebraska, who tied Pitt, Minnesota could be fairly ranked higher than Pitt.

Then there's 4-1-3 Ohio State. Their tie with Pitt came in Pittsburgh, so you could see that result as an advantage for OSU. Ohio State was tied by 3-4-1 Indiana, but they also tied 6-1-1 Wisconsin to make up for it, while nothing makes up for Pitt's tie with Nebraska. OSU won 20-6 at Northwestern, who beat Iowa 44-6, and Nebraska won just 14-13 at Iowa. And OSU won 19-0 over 6-2 Penn, whom Pitt beat just 19-12. So yeah, OSU could be ranked higher than Pitt.

I'm not saying that Minnesota and Ohio State

should

be ranked higher than Pitt and Notre Dame, just that they

could

be. At the least, we can see that there wasn't really a substantive difference between Minnesota/Ohio State and Pittsburgh/Notre Dame, so Southern Cal had no substantive schedule advantage here. In fact, Michigan had the tougher challenge, since they played Ohio State and Minnesota on the road, while USC played Notre Dame at home and Pitt in the Rose Bowl.

As for Michigan's twin poor performances, keep in mind that Princeton (coached by Fritz Crisler, and a year away from going 9-0) and Indiana were major teams, while Loyola-Marymount was not. And USC did have another close game, at Washington. If there is an advantage here for Southern Cal, it is

very

slight.

However, there is no answer to the fact that Southern Cal finished far stronger. Michigan was great over their first 4 games, but weak over their last 4, and their offense in particular was simply putrid down the stretch. Because of that, I cannot see how Michigan could logically be ranked #1 alone. These two teams were close enough that both could be ranked #1 in a tie, but if you were to choose only one to be #1, I think that team would have to be Southern Cal. Needless to say, though, whichever route you want to go with for #1, these teams should be considered co-national champions for 1932.
Awards Ceremony
1932 #1:

10-0 Southern Cal, or USC in a tie with 8-0 Michigan


National Co-champion:

Michigan if Southern Cal is alone at #1


Contender:

9-0 Colgate

These are the awards I have been handing out for each season, except seasons when there are no contenders. For this purpose, what I mean by a contender is a team that I think is very close to being worthy of sharing the national championship. A team that you could make an argument for, even if that argument is weak. But the contenders are teams that I myself do not see as national champions.
As I've already implied, this was a big year for the Great Lakes region, which went 16-2-2 in significant games against the East, leaving them in the dust and effectively ending a decades-long debate about which of the 2 regions was the best. They were just 1-1 against the West Coast, but the West was 1-3 against the East, and just 5-6 in all significant intersectional games. That looks great for Michigan vs. Southern Cal, but bear in mind that Michigan did not play the other best teams in their own region, 7-0-1 Purdue, 6-1-1 Wisconsin, or 7-2 Notre Dame, and they did not play a strong team from outside their own region. Southern Cal, on the other hand, played the best teams from their region, one of the top teams from the Great Lakes region (Notre Dame), and one of the top teams from the East (Pittsburgh). They also played the best team from the Rocky Mountain region (Utah), though that was of little more than trivial interest.
Grading the Selectors
I have been grading the NCAA Records Book's selectors for each season, and keeping a grade point average, so we can see who is relatively good at selecting national champions and who is not. And although I do not consider computer ratings to be legitimate national championship selectors, I have been including them in this section as well, just for comparison's sake.
I am grading on a scale of 0-5 (5 being the best).


Parke Davis selected Southern Cal, Michigan, and Colgate to share the title.

Grade: 3.6




Dickinson's system and Sagarin's ELO-Chess system went with Michigan (probably because neither system measures performance at all).

Grade: 4.2


Everyone else selected Southern Cal.

Grade: 5.0



Grade point averages 1919-1932 (Dunkel and Williamson do not have enough selections to be fairly included)
:
1) Sagarin-ELO (math system)
4.21
2) Boand (math)
4.10
3) College Football Researchers Association
4.05
4) Helms
Poling (math)
3.90
6) National Championship Foundation
3.74
7) Dickinson (math)

3.53

8) Houlgate (math)
3.40
9) Sagarin (math)
3.26
10) Billingsley (math)
2.98
11) Parke Davis
2.61

How the systems that selected champions for 1901-1918 did

:



| | |
| --- | --- |
| 1) Houlgate (math system) | 4.5 |
| 2) Helms | 4.3 |
| 3) Parke Davis | 4.2 |
| 4) National Championship Foundation | 3.7 |
| 5) Billingsley (math) | 3.6 |