Home
1931 College Football National Championship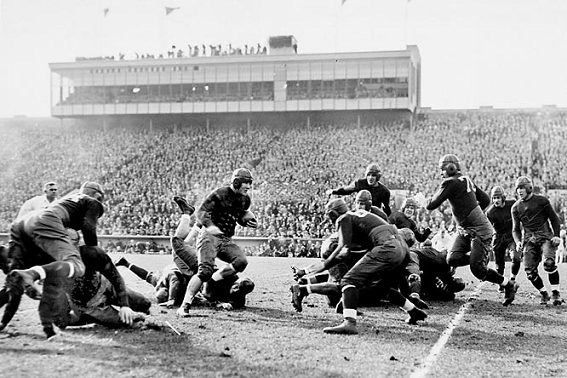 Pictured above is 1931's game of the year, 6-1 Southern Cal at 6-0-1 Notre Dame. Notre Dame had not lost in 26 games, and they carried a 14-0 lead into the 4th quarter. But USC came roaring all the way back, kicking a 33 yard field goal with a minute left for a monumental 16-14 victory. After that USC won out, beating 5-3-1 Washington 44-7, 9-2 Georgia 60-0, and 11-1 Tulane 21-12 in the Rose Bowl. They would certainly have finished ranked #1 in an AP poll had there been one in 1931.


Here is how the "major selectors" listed in the NCAA Records Book, all selecting retroactively, see the 1931 college football national championship (omitting math/computer ratings, which neither I nor anyone else recognize as constituting titles)

:
10-1

Southern Cal

:
Helms
,
National Championship Foundation,
CFB Researchers
8-1 Pittsburgh

:
Parke Davis
(tie)
9-1 Purdue
:
Parke Davis
(tie)

As usual, the only one keeping this from being unanimous was Parke Davis, contrarian extraordinaire. He did the same thing to California in 1920, Notre Dame in 1924, Alabama in 1925, Georgia Tech in 1928, and Notre Dame in 1929. He made a good call in 1925, but his against-the-grain picks in the other years, as well as this one, are largely a waste of time. Southern Cal's schedule and performance were so strong this season that not selecting them to even share the MNC is a sign of either extreme bias against them or a severe mental disability. In either case, this is just one more example of why Davis' MNC selections deserve no respect.

8-1 Pittsburgh isn't a bad pick. They were beaten 25-12 at 8-2-1 Notre Dame, but they won each of the rest of their games by more than a touchdown, including 26-0 over 8-2-1 Army and 40-0 over 8-2 Nebraska in their last 2 games. As such, I will be summarizing Pitt and comparing them to USC in this article. 9-1 Purdue, on the other hand, lost at mediocre 5-4-1 Wisconsin, and they struggled to get by 2-6 Illinois, 3-5-1 Carnegie, and 2-6-1 Chicago. They only defeated 1 winning major opponent, beating 7-1-1 Northwestern 7-0 in their finale. Southern Cal, by contrast, lost their opener to an 8-2 team that would have finished ranked about #11, and they defeated 10 winning opponents and 6 top 25 caliber opponents, so Purdue is so far away from comparing well to them that the Boilermakers are not even worth discussing in depth in this article.

The only other team I will be summarizing in this article is Tennessee. They went 9-0-1 for the 3rd time in 4 years, and all 3 years it was Kentucky who tied them. This year Kentucky finished 5-2-2 and would not have been ranked in an AP poll, which hurts Tennessee's cause, but the Volunteers defeated 9-1 Alabama 25-0, and they won 13-0 at 6-3-1 NYU in their finale.


All rankings in the following article, except as noted, come from my 1931 top 25, which is based on a hypothetical post-bowl AP poll (within logical reason of course).
Other Strong Teams in 1931
I think 7-1 Harvard's case for sharing a mythical national championship (MNC) is also better than Purdue's, though I'll not be fully summarizing them. They beat 8-2-1 Army 14-13, 6-4 Texas 35-7, 5-3-1 Dartmouth 7-6, and 7-2-1 Holy Cross 7-0, but they lost 3-0 to 5-1-2 Yale in their finale. Army was the only team they defeated who would have finished ranked in an AP poll, so their schedule and performance were not strong enough for them to lose their last game and still share in an MNC for 1931.

Tulane went 11-0 in the regular season under head coach Bernie Bierman, who would soon move on to Minnesota and win 5 consensus MNCs 1934-1941. But Southern Cal denied Tulane an MNC in the Rose Bowl. As indicated, 7-1-1 Northwestern's MNC hopes ended in their finale against Purdue, and 9-1 Alabama, co-MNC of 1930, was drubbed 25-0 by Tennessee. 8-1 Colgate lost 13-0 at 6-3-1 NYU, and 7-1 Cornell lost 14-0 at 5-3-1 Dartmouth, and neither played a tough enough schedule to put them in MNC contention with those losses.
7-1-1 Syracuse lost to Colgate, and
7-1-1 Columbia lost to Cornell, and the 2 teams tied each other to end the season.

8-1-1 Michigan was tied by 5-3-1 Michigan State, and they lost to 6-3 Ohio State. 9-1-1 Southern Methodist was tied by 9-2-1 Texas Christian, and they lost 7-2 in their finale at 8-2 St. Mary's (California), the team who beat Southern Cal.
Southern Cal 1931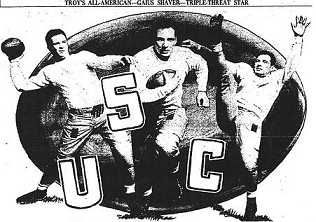 St. Mary's (8-2)
7-13
#11
Oregon State (6-3-1)
30-0
(#31-35)
Washington State (6-4)
38-6
(#31-35)
Oregon (6-2-2)
53-0
(#26-30)
at California (8-2)
6-0
#12
Stanford (7-2-2)
19-0
#15
Montana (1-6)
69-0
at Notre Dame (6-2-1)
16-14
#8
Washington (5-3-1)
44-7
(#26-30)

Georgia (8-2)
60-0
#13

Rose Bowl


Tulane (11-1)

21-12

#2
Known as the "Thundering Herd," Southern Cal had been fielding MNC-contending teams for years, going back to 1926, and the school claims an MNC for 1928, though I disagree with that one (and in fact everyone disagrees with it except for 2 computer rankings). I covered their Hall of Fame coach, Howard Jones, in the 1928 article.
Jones was 84-11-3 at USC 1925-1933, the best stretch of his coaching career. And most of those 11 losses were very close-- USC was outscored in them by a total of 61 points, less than 6 points a game. Their average score over those 9 years was 31-5. After opening this season with a loss to St. Mary's, USC won their next 25 games.



Southern Cal featured 2 consensus All Americans (7-1-1 Northwestern led the nation with 3), guard Johnny Baker and quarterback Gaius "Gus" Shaver. A Hall of Famer, Baker also handled the placekicking, and it was his 33 yard field goal that beat Notre Dame in the last minute. Gus Shaver is shockingly not in the Hall of Fame, though he appears to have been the leader of this MNC team. As shown in the

Los Angeles Times

clipping above, he was a "triple threat" back, a strong rusher, passer, and punter. He rushed for 936 yards on the season and scored 16 touchdowns. In the team's season-defining win at Notre Dame, he scored 2 touchdowns in the 4th quarter, then threw 2 passes for 73 yards to set up the game-winning field goal.

In addition to Baker, USC fielded 4 other Hall of Famers

:

tackle Ernie Smith, guard/tackle Aaron Rosenberg, tackle Raymond "Tay" Brown, and halfback Erny Pinckert. So 4 of their 5 Hall of Famers were linemen, telling you where the strength of the team lay. Ernie Smith became consensus AA in 1932, and he played in the pros for 5 years. Aaron Rosenberg was a part-time starter this season, and later became a consensus AA in 1933, then a successful movie producer in Hollywood after graduation. Tay Brown became team captain and a nonconsensus AA in 1932, and he later went 140-33-9 as head coach at Compton College. Finally, Erny Pinckert had been a consensus AA in 1930, then was nonconsensus AA this season, and he went on to a 9 year pro career, making the Pro Bowl twice. He was a blocking back, but he scored 2 surprise touchdowns on reverses in the 21-12 win over Tulane in the Rose Bowl, earning MVP honors.

Guard Larry Stevens ended up taking Aaron Rosenberg's starting position by mid-season, and he would be named a nonconsensus AA in 1933. End Garrett Arbelbide had been a nonconsensus AA in 1930.

And then there was backup fullback/quarterback Orv Mohler, largely unheralded but very productive offensively. He rushed for 754 yards and scored 12 touchdowns this season, and for his career he piled up 2025 rushing yards.
Southern Cal's Season
Southern Cal took their loss 13-7 in their opening game against St. Mary's (California). This was an upset, but it was not as big an upset as you might think looking back from today, because St. Mary's was a powerful and pesky mid-major back then. They had gone 8-1 the previous season, and 8-0-1 the season before that. They first emerged in 1924 under Hall of Fame coach Slip Madigan, going 8-1 and beating 9-2 Southern Cal 14-10. 1924-1930, they were 53-10-3, including wins over USC, Cal, Stanford, and Oregon. They would have been ranked in an AP poll's top 25 4 or 5 times during that stretch, and they would have likely finished in the top 10 in each of the 2 seasons before this one. So USC knew what to expect in this game-- it was no ambush, it was a clash of teams that might have been top 10 in a preseason AP poll had there been one, and 75,000 attended.

Southern Cal took an early 7-0 lead on an all-running drive in the opening quarter, Gus Shaver scoring the touchdown. Another strong Trojan drive was halted at the St. Mary's 14 yard line in the 2nd quarter, and USC soon had another scoring chance when they blocked the ensuing punt and took over at the 5 yard line. But that drive was stopped at the 1, and it remained 7-0 at the half. Taps were played at halftime for former Notre Dame coach Knute Rockne, who had died in a plane crash the previous Spring. St. Mary's coach Slip Madigan had played for Rockne at Notre Dame.


St. Mary's started throwing bombs in the 3rd quarter. They returned the opening kickoff to their 42, then scored a touchdown on 2 passes, the last from 44 yards out. The extra point try was blocked, but they soon took the lead 13-7 on a 30 yard touchdown pass
, and Southern Cal was unable to answer, their last chance falling incomplete in the end zone in the 4th quarter. St. Mary's fans rushed the field and tore down the goalposts. USC dominated the game, making 17 first downs to 5 for St. Mary's, but their inability to cash in their scoring opportunities came back to bite them when St. Mary's strung together just enough big plays in the 3rd quarter to win.

St. Mary's won 14-0 at California (8-2) the next week,
and they finished the season with wins over 6-2-2 Oregon and 9-1-1 Southern Methodist, but they were upset by 2 teams that weren't very good in consecutive weeks in early November, losing 10-0 to 6-3-2 Olympic Athletic Club and 12-0 to 3-4-1 UCLA. If there had been an AP poll in 1931, they might have finished in the top 10, but my guess would be #11.

USC put up big scores on good teams over their next 3 games, 30-0 over 6-3-1 Oregon State, 38-6 over 6-4 Washington State, and 53-0 over 6-2-2 Oregon. None of those teams would have finished ranked had there been an AP top 25 in 1931, but Oregon would have been about #26-30, thanks to the publicity they got for a 14-6 win over 6-3-1 NYU in the Bronx. USC's next game was at Cal, their first road trip and their first "big" game since the opener against St. Mary's.

California
But the game at Cal was only "big" in retrospect. Cal had gone 4-5 the previous season and lost at USC 74-0, and they had been mediocre to start 1931, losing 14-0 to St. Mary's and barely getting by Santa Clara, the Olympic Athletic Club, and Washington State, whom USC had beaten 38-6. So USC was a heavy favorite, and only 55,000 fans attended, 25,000 fewer than the last time USC came to town. But Cal ended up giving them one of their toughest games of the year, and then proceeded to win out, finishing 8-2.

Cal dominated field position for most of the first half, but when USC finally turned that around, taking over at the Cal 46 in the 2nd quarter, the Trojans did what Cal could not

:

they finished a drive. End Ray Sparling ran for 5, Gus Shaver ran for 6, Orv Mohler ran for 24 and 1, and Sparling scored from 10 yards out. That made it 6-0, and it was all the scoring the game saw.

Cal went on to beat 5-3-1 Washington 13-0 and 7-2-2 Stanford 6-0, and they traveled all the way to Atlanta to beat 2-7-1 Georgia Tech 19-6 the day after Christmas. An AP poll would have ranked them about #12 for 1931.

USC next beat 7-2-2 Stanford 19-0 and 1-6 Montana 69-0 (Montana was USC's only losing opponent). Stanford's other loss came to Cal, and they were tied by the Olympic Athletic Club and 5-3-1 Washington, but they won a pair of big intersectional games, 13-0 over 7-3 Minnesota and 32-6 over 5-3-1 Dartmouth in Boston Thanksgiving weekend. I have Stanford ranked #15 for 1931. Next up for Southern Cal was 1931's game of the year.
Notre Dame
This was Southern Cal's first trip to Notre Dame Stadium, which had debuted the season before. Notre Dame was the 2-time defending national champion, riding a 26 game unbeaten streak. Southern Cal was the last team to beat them, 27-14 in the 1928 finale, but Notre Dame had won 4 of 5 games in the series. Notre Dame came into the game 6-0-1, tying 7-1-1 Northwestern 0-0 in rain and mud at Soldier Field and defeating 8-1 Pittsburgh 25-12. A 3rd straight MNC was already considered a done deal by the press, and it need hardly be said that Notre Dame was a prohibitive favorite to win.

Southern Cal and Notre Dame had played before over 100,000 fans at Soldier Field in Chicago in 1927 and 1929, but only half that could fit into Notre Dame Stadium, so it was a difficult ticket to get. Millionaires and high-level politicians filled the lower rows. Luckily for the nation's "99%," the game was nationally broadcast on radio, and it was filmed so that it could be shown in movie theaters (in Los Angeles, at least, where it would be the most popular movie in town the next few weeks).

At first the game played out like it was supposed to, Notre Dame forging a 14-0 lead. They drove 55 yards for a touchdown in the 2nd quarter, then took the opening drive of the 2nd half 63 yards to the end zone in just 4 plays. The 14-0 lead held until the 4th quarter, and the usual story of this game tells of Notre Dame suddenly falling apart in that final period, but actually the game started to turn on Southern Cal's first drive of the 3rd quarter. Southern Cal started moving the ball then, and marched 60 yards after the kickoff before they were halted at the Notre Dame 10. But that put field position in their favor, and later in the quarter they launched a drive that was not halted. They moved to the shadows of the Notre Dame goalposts, then Gus Shaver scored USC's initial touchdown early in the 4th quarter. Unfortunately, Johnny Baker's extra point try was blocked, bringing to mind 3 games in recent years when Notre Dame had beaten Southern Cal by 1 missed extra point (1926, 1927, and 1929).

A huge penalty was key to Southern Cal's next touchdown drive. Pass interference turned a long incompletion into a 32 yard penalty, putting the ball at the Notre Dame 24. It was one of 10 penalties called on Notre Dame for 89 yards, while USC had no penalties. After the game, a few of Notre Dame's players complained about the penalties, but after coach Hunk Anderson got hold of them, they all adopted the party line

:

"No excuses, no alibis. Southern Cal played the better game." Gus Shaver ended the drive with his 2nd touchdown, from 10 yards out, and USC was down just 14-13.

Their last chance came at their own 10 yard line with a couple of minutes to play. Gus Shaver hit Ray Sparling with a 50 yard pass, then he connected with Bob Hall for a 23 yarder, putting the ball at the Notre Dame 17 in a hurry. Those were the first 2 passes USC had completed all game. On 3rd down, thinking that Notre Dame would be too worried about a potential touchdown pass to whole-heartedly rush the kicker, USC attempted a field goal, and Johnny Baker's 33 yarder went through with a minute left for the 16-14 win.


The game was statistically even, but Notre Dame's offense was almost all on the ground, as USC's line pressured them into 1 for 10 passing. USC had 3 more turnovers than Notre Dame did, but as already noted, the penalties all went against Notre Dame
. One history book says that Notre Dame coach Hunk Anderson, thinking the game was in hand at 14-0, put in his substitutes in the 4th quarter, and the rules of the time prevented the return of the regulars as USC came back. This is not accurate. For one thing, most of USC's initial touchdown drive took place in the 3rd quarter. For another, Anderson did not send the subs in wholesale in the 4th quarter. He substituted throughout the 4th quarter, a few players at a time, and the reason he did so was because USC's line had completely worn his regulars out, and the Trojans were already moving up and down the field on the regulars. I don't think Anderson ever thought this game was in hand.

Notre Dame was upset again the next week, falling 12-0 to 8-2-1 Army in Yankee Stadium, so they finished a disappointing 6-2-1, but they still would have been ranked in the top 10 of a 1931 AP poll, and I have them #8.

Season's End
When Southern Cal returned from Notre Dame, an estimated 300,000 people mobbed the train station and the route back to campus. The week that followed was chaotic celebration, but luckily they had a 2 week break to come back to Earth for their last 2 games in December. There was some debate about whether 7-1 Southern Cal or 7-0-1 Northwestern was the nation's best team, but a nationwide series of post-season charity games (to alleviate Great Depression joblessness and poverty) ended that debate. All Big 10 teams had an extra conference game added to their schedules, the headliner being Northwestern against 8-1 Purdue at Soldier Field, and Purdue upset them 7-0.

USC defeated 5-3-1 Washington 44-7 a week later, and then on December 12th they really made a statement with an eye-popping 60-0 obliteration of 8-2 Georgia. USC rolled up 486 yards of offense, all on the ground, and they had no turnovers, while Georgia suffered 6, one of them an interception returned 80 yards for a touchdown.

Georgia's other loss had come 20-7 to 11-0 Tulane, Southern Cal's opponent in the Rose Bowl. The 60-0 outcome might have hurt Georgia quite a bit in an AP poll had there been one at the time, but they had a big 26-7 win at 5-1-2 Yale, who would have been highly rated due to a season-ending win over 7-1 Harvard and a tie with Army, both top 10 teams. Georgia belongs ranked ahead of Yale, and I have them ranked #13 for 1931. After the Georgia game, there was little to no debate about who the nation's best team was. Going into the Rose Bowl, USC would have been #1 in an AP poll, their opponent Tulane #2.

The Rose Bowl
Tulane had gone 9-0 in 1929 and 8-1 in 1930, and this season they won their 3rd straight Southern Conference championship. Hall of Fame coach Bernie Bierman was 36-10-2 at Tulane, but after this season he was hired away by Minnesota, where he would go 63-12-5 over the next 10 years, winning 7 Big 10 titles and 5 consensus MNCs. Bierman was Tulane's 2nd straight Hall of Fame coach, as Clark Shaughnessy had previously won Southern Conference titles in 1920 and 1925. This season, Tulane had one close game, 7-0 over 7-3 Texas A&M, and they won the rest of their games by more than a touchdown each. 7 of their opponents had winning records. In December, 6-4 Washington State came to New Orleans, and Tulane beat them 28-14 (USC had beaten them 38-6). The team featured consensus AA and Hall of Fame end Jerry Dalrymple and nonconsensus AA halfback Don Zimmerman.


Southern Cal was a big favorite, especially since they had done much better against common opponents Georgia and Washington State, but 11-0 Tulane had high hopes for this game because the South was 3-0-1 in Rose Bowls since Alabama broke the ice with a win following the 1925 season. However, Southern Cal was 2-0, and that would stretch to 8-0 before they finally lost a Rose Bowl. Tulane, meanwhile, ended up taking the first of 6 straight Rose Bowl losses for the South. 75,000-83,000 attended what was essentially a national championship game.

Tulane had little trouble moving the ball, but they had a lot of trouble scoring. They outgained USC 351 yards to 216 and 18 first downs to 11, and USC even turned the ball over 2 more times than Tulane did, but the Trojans won by maximizing their scoring chances. Their only completed pass of the game, for 27 yards, fueled a touchdown drive in the 2nd quarter. Gus Shaver followed it up with a 22 yard run, and end Ray Sparling scored the touchdown on a reverse, making it 7-0 at halftime. USC added 2 more touchdowns in the 3rd quarter, both scored on reverses by blocking back Erny Pinckert. It was the only play USC had that featured him as a ball carrier, and Tulane AA end Jerry Dalrymple was fooled both times. The first touchdown went for 30 yards, and not long after Tulane fumbled the ensuing kickoff at their 28, Pinckert scored again from 23 yards out. He was untouched on both runs.

That was pretty much game over at 21-0, but Tulane refused to quit. They answered USC's 3rd touchdown on their next drive with an 11 yard touchdown pass. Johnny Baker, who was 3 for 3 on extra points for USC, blocked Tulane's extra point attempt. Reserve halfback Harry Glover had a 49 yard run in the drive, and he led all rushers in the game with 139 total. In the 4th quarter, Dalrymple recovered a fumble at the USC 35, and Glover scored a touchdown to cap a slow, tough drive from there. Glover threw a pass into the end zone for the extra point, but Pinckert knocked the attempt down, and the final score was thus 21-12.

Tulane was greatly praised by writers from across the nation after the game, and many felt that, despite the score, Tulane was at least as strong a team as USC. Although they lost, 11-1 Tulane would have held on to a #2 ranking in a post-bowl AP poll ahead of 9-0-1 Tennessee and 8-1 Pittsburgh.
Pittsburgh 1931
| | | |
| --- | --- | --- |
| Miami-Ohio (4-5) | 61-0 | |
| at Iowa (1-6-1) | 20-0 | |
| West Virginia (4-6) | 34-0 | |
| Western Reserve (3-5-1) | 32-0 | |
| at Notre Dame (6-2-1) | 12-25 | #8 |
| at Penn State (2-8) | 41-6 | |
| Carnegie (3-5-1) | 14-6 | |
| Army (8-2-1) | 26-0 | #7 |
| Nebraska (8-2) | 40-0 | #25 |
Pittsburgh had ruled the college football world under Hall of Fame coach Pop Warner before and during WWI, and after they fell back from the top for a few years, Hall of Fame coach
Jock Sutherland brought them back to the top of the East, at least, by 1925 (I covered Sutherland in that article). They contended for an MNC that season, and the school claims MNCs for 1929 and this season based on Parke Davis' ridiculous selections. Bear in mind, this is like a team today claiming national championships because Beano Cook--alone--says they are. Following the 1929 season, they lost to Southern Cal 47-14 in the Rose Bowl, and as for this season, you can compare them to USC yourself presently. Following the 1932 season, they would take their only loss 35-0 to USC. 1925-1931 Pittsburgh was 50-10-5, and they would improve to 48-5-6 over the following 6 seasons, claiming another 3 MNCs over that time.

Tackle Jess Quatre was their 1 consensus All American, and he played pro for 4 years after graduation. End Joe Skladany became consensus AA in 1932 and 1933, and he is the lone player in the Hall of Fame. Halfback Warren Heller became consensus AA in 1932 and played pro for 3 years. He
led the team in rushing and passing 3 straight years 1931-1933, and he was also the kicker and a good blocker and defensive back.
Tackle James MacMurdo won a spot on a fan-voted AA team and played pro for 6 years. Center Ralph Dougherty was a nonconsensus AA this season

;

he forewent the pros to become a surgeon
.
Pittsburgh's Season
None of Pitt's games were decided by a touchdown or less. They went 8-1, losing 25-12 at 6-2-1 Notre Dame and routing all their other opponents but for one game, a lackluster 14-6 win over 3-5-1 Carnegie.

The trip to Notre Dame was their first real game, following wins by 61-0 over Miami-Ohio, 20-0 at 1-6-1 Iowa, 34-0 over 4-6 West Virginia, and 32-0 over Western Reserve. Notre Dame killed them through the air, Marchy Schwartz tossing 3 touchdown passes to go with his 11 rushes for 76 yards. As discussed in the USC section above, Notre Dame is ranked #8 for 1931.

Pitt beat another couple of poor teams, 41-6 at 2-8 Penn State and the aforementioned 14-6 win over 3-5-1 Carnegie, before finishing their season with a pair of very impressive wins, 26-0 over 8-2-1 Army and 40-0 over 8-2 Nebraska. All 4 of Pitt's touchdowns against Army came via the passing game. Army followed up their loss to Pitt with a big upset win over Notre Dame, and that would have gotten them into the top 10 of a final AP poll. I have them #7, and Nebraska #25.
Tennessee 1931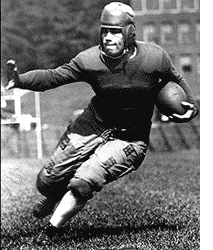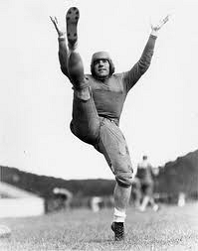 | | | |
| --- | --- | --- |
| Maryville (5-2-2) | 33-0 | |
| Clemson (1-6-2) | 44-0 | |
| Mississippi (2-6-1) | 38-0 | |
| Alabama (9-1) | 25-0 | #5 |
| at North Carolina (4-3-3) | 7-0 | |
| Duke (5-3-2) | 25-2 | |
| Carson-Newman (6-1-1) | 31-0 | |
| Vanderbilt (5-4) | 21-7 | #21 |
| at Kentucky (5-2-2) | 6-6 | (#31-35) |
| at New York (6-3-1) | 13-0 | (#26-30) |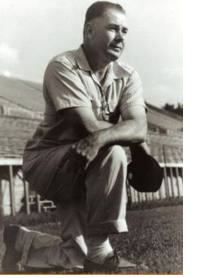 Tennessee was led by Hall of Fame coach Bob Neyland (pictured at left).
He had played at end for Army's 1914 MNC team. After taking over at Tennessee in 1926, he immediately transformed Tennessee into a Southern powerhouse, going 43-2-3 1926-1930, with exactly 1 loss or tie each season, and he was 9-0-1 both this season and the next. He coached at Tennessee in 3 stints, 1926-1934, 1936-1940, and 1946-1952, going 173-31-12. That places him in the top 10 for all-time FBS coaching win percentage. He won 2 Southern Conference and 5 SEC titles, and the school claims 4 MNCs during his tenure, though only 2 are legitimate. He only once had a perfect season, 11-0 in 1938, though his teams finished 11 other seasons with exactly 1 loss or tie. Tennessee's stadium was designed by and is named for him.

On the field, Tennessee was led by 3 Hall of Famers

:

halfback Gene McEver, halfback Beattie Feathers, and guard Herman Hickman. McEver and Feathers both came from Bristol High School in Bristol, Virginia.

Gene McEver (pictured above, at left) had been a consensus All American in 1929, but he had missed 1930 with a leg injury, and he was not quite the same after that. As a sophomore in 1928, he had returned a kickoff 98 yards for a touchdown in a 15-13 win over Alabama. He scored 130 points in 1929, and for his career he totaled 276 points, both still school records. Tennessee was 27-0-3 during his 3 years, all 3 ties coming to Kentucky.

Sophomore Beattie Feathers (pictured above, at right) would make consensus AA in 1933. He scored 6 touchdowns this season that were 60 yards or longer, and he totaled 32 touchdowns and 1888 yards rushing in his 3 years. After graduation he went on to a 7 year career in the NFL, and in 1934 he was the first player to rush for over 1000 yards. He averaged 8.44 yards per carry that season, a record for over 70 years.

Herman Hickman's defensive work impressed writer Grantland Rice when Tennessee played a December 5th charity game at NYU, winning 13-0. That got Hickman on Rice's All American list, and that's likely what ultimately got him into the Hall of Fame. That's why teams from across the nation liked to play games in New York City in the 1920s and 1930s, before television did the job of bringing teams and players to the attention of national writers. Hickman played pro football for 3 years, then became a pro wrestler.
Tennessee's Season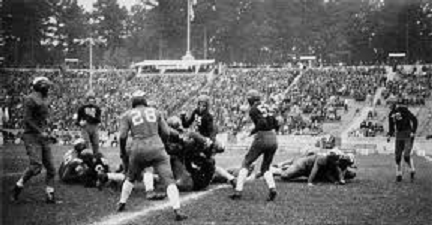 Tennessee warmed up with 3 bad teams, beating them by a combined 115-0, before hosting Alabama on the third Saturday of October. Alabama had gone 10-0 in 1930, sharing the MNC with Notre Dame, and they had started the 1931 campaign with their own trio of wins over bad teams, beating them by a combined 150-12. This was expected to be a great game, but Tennessee won handily, 25-0, scoring touchdowns in the 1st and 3rd quarters and 2 in the 4th. Gene McEver scored 3 of the touchdowns, and he had a great defensive game as well. Alabama won out after that, and though their schedule was weak, they would have finished ranked about #5 in an AP poll had there been one in 1931.

As often happens, Tennessee followed their best performance with one of their worst, a 7-0 win at mediocre 4-3-3 North Carolina (the game pictured above). Tennessee outgained them 193 yards to 114 and 12 first downs to 5, but neither team's offense was impressive. Tennessee's touchdown was set up by a fumble recovery at the UNC 25. Sophomore fullback Herman Wynn combined with sophomore halfback Beattie Feathers on runs to the 1 yard line, and Wynn carried the ball over from there. Herman Hickman kicked the extra point.

Tennessee had much less trouble beating 5-3-2 Duke 25-2, Carson-Newman 31-0, and 5-4 Vanderbilt 21-7. Due to their record, Vanderbilt would not have been ranked in an AP poll's top 25 in 1931, but if I were to fix that poll, they end up #21. Their losses came to 9-0-1 Tennessee, 11-1 Tulane, 9-1 Alabama, and 8-2 Georgia. They won
26-21 at 6-3 Ohio State, and they whipped 8-1-1 Maryland 39-12.

Kentucky
That brought Tennessee to their regular season finale at Kentucky, whom they had been playing on Thanksgiving Day since 1913. That tradition would end in 1940, when Vanderbilt was moved to the finale game. Kentucky had already spoiled perfect Tennessee seasons 3 times by tying them, in 1916, 1928, and 1929, and this season they did it again. Each of these 3 ties in the last 4 years cost Tennessee a share of the Southern Conference title.

All of this game's action took place in the 4th quarter. Kentucky held a slight advantage in yardage and first downs through the first 3 periods, but in the 4th quarter Tennessee halfback Beattie Feathers broke loose, going around right end and cutting back left for a 71 yard touchdown run. They missed the extra point (definitely a Tennessee weakness this season), so the lead was but 6-0. Later in the quarter, Kentucky captain and tackle Ralph "Babe" Wright blocked a Beattie Feathers punt at the Tennessee 33, knocking the ball back to the 16, where Kentucky end Butch Kreuter scooped it up and took it in for the touchdown. They too missed the extra point, leaving the game tied 6-6.

Tennessee came right back behind the running of Gene McEver, moving from their 25 to the Kentucky 5, but 4 McEver plunges from there left the ball half a foot from the goal line. Kentucky punted out, and Tennessee returned the ball to the Kentucky 15, but there was only time for a couple of plays. Tennessee threw an incompletion, then an interception on the last play of the game.

Kentucky finished 5-2-2. They lost a razor-close 9-7 game at 9-1 Alabama, and they tied 8-1-1 Maryland, but they lost to 5-3-2 Duke, and they didn't actually defeat any major winning opponents this season. They were a good team, but it's unlikely that they would have made an AP poll's top 25, and they certainly didn't belong in a top 25.

That wasn't quite it for Tennessee, though, because they went up to New York City to play NYU in a charity game on December 5th. Tennessee won 13-0 on a pair of big plays, Beattie Feathers running 65 yards for one touchdown, and quarterback Deke Brackett returning a punt 75 yards for the other. NYU finished 6-3-1

;

like Kentucky, they were good, but not quite top 25 caliber. They did give 8-1 Colgate their only loss, so let's call them #26-30.
Southern Cal vs. Pittsburgh vs. Tennessee
Here are the significant games for our contenders in 1931.
The opponent rankings
come from my 1931 top 25, which is based on a hypothetical post-bowl AP poll (within logical reason of course)
.
Southern Cal 10-1
Pittsburgh 8-1
Tennessee 9-0-1

St. Mary's (California) (8-2)

7-13

#11
Oregon State (6-3-1)
30-0
(#31-35)
Washington State (6-4)
38-6
(#31-35)
Oregon (6-2-2)
53-0
(#26-30)
at California (8-2)
6-0
#12
Stanford (7-2-2)
19-0
#15
at Notre Dame (6-2-1)
16-14
#8
Washington (5-3-1)
44-7
(#26-30)
Georgia (8-2)
60-0
#13

Rose Bowl


Tulane (11-1)

21-12

#2

| | | |
| --- | --- | --- |
| at Notre Dame (6-2-1) | 12-25 | #8 |
| Army (8-2-1) | 26-0 | #7 |
| Nebraska (8-2) | 40-0 | #25 |

| | | |
| --- | --- | --- |
| Alabama (9-1) | 25-0 | #5 |
| at North Carolina (4-3-3) | 7-0 | Unranked |
| Vanderbilt (5-4) | 21-7 | #21 |
| at Kentucky (5-2-2) | 6-6 | (#31-35) |
| at NYU (6-3-1) | 13-0 | (#26-30) |

Against teams that would have fallen outside the top 35, Southern Cal defeated 1 team (Montana) 69-0, Pittsburgh defeated 6 teams by an average of 34-2, and Tennessee defeated 6 teams by an average of 30-0.

I think the table above says it all. Southern Cal's schedule was massively tougher than Pitt's or Tennessee's. Even if you toss out the block of "near-rated" teams they played, USC still played 6 top 25 caliber opponents, more than Pitt and Tennessee played combined. Yet despite the much tougher schedule, they outscored their opponents by an average of 28 points per game, more than Pitt's 27 and Tennessee's 22. And they defeated the team likely to have finished #2, Tulane, by 9 points.

USC also had no weak performances outside of their loss, whereas Pitt had the 14-6 home win over 3-5-1 Carnegie and Tennessee the 7-0 win at 4-3-3 North Carolina.

Tennessee had a better straight record, but it is questionable whether tying Kentucky was a better result than losing to #11 St. Mary's (or at #8 Notre Dame, in Pitt's case). And USC's upset came in their opening game, while Tennessee's came on Thanksgiving Day.


I don't think there's any real debate to be had here. It's Southern Cal, all alone on the throne.
Awards Ceremony
1931 #1:

10-1 Southern Cal


National Co-champion:

None


Contenders:

8-1 Pittsburgh and 9-0-1 Tennessee

These are the awards I have been handing out for each season, except seasons when there are no contenders. For this purpose, what I mean by a contender is a team that I think is very close to being worthy of sharing the national championship. A team that you could make an argument for, even if that argument is weak. But the contenders are teams that I myself do not see as national champions.
Though there was a gigantic gap between USC's achievements and those of the other 2 contenders, I do think that Pitt and Tennessee did enough to merit "contender" status here. Pitt's last 2 games, 26-0 over a top 10 caliber team and 40-0 over a #25 team, were very impressive. Of course, it's hard to ignore the fact that USC defeated Pitt 47-14 two years prior, and that they pummeled them again 35-0 the season after this one. As for Tennessee, their 25-0 whipping of 9-1 Alabama may have been the most impressive result by any team this season. Like Pitt, Tennessee would eventually meet USC in a Rose Bowl-- the Volunteers went 10-0 in the regular season in 1939, shutting out every opponent, only to lose 14-0 to 8-0-2 Southern Cal in the Rose Bowl.
Grading the Selectors
I have been grading the NCAA Records Book's selectors for each season, and keeping a grade point average, so we can see who is relatively good at selecting national champions and who is not. And although I do not consider computer ratings to be legitimate national championship selectors, I have been including them in this section as well, just for comparison's sake.
I am grading on a scale of 0-5 (5 being the best).


Parke Davis selected Pittsburgh and Purdue to share the title. No Southern Cal at all.

Grade: 0.1




Everyone else selected Southern Cal.

Grade: 5.0


0.1 was a kind grade for Parke Davis, who is nevertheless now the worst selector for 1919-1931 (see the chart below).

This was the debut season for Paul Williamson's math formula rating. He was from New Orleans, and was a member of the Sugar Bowl Committee. I don't know what went into his formula, but looking at his results over the years, I'm guessing his system gave teams extra points for being from the South and for playing in the Sugar Bowl. His system ran until 1963.

Grade point averages 1919-1931 (Dunkel and Williamson do not have enough selections to be fairly included)
:
| | |
| --- | --- |
| 1) Sagarin-ELO (math system) | 4.22 |
| 2) Boand (math) | 4.03 |
| 3) College Football Researchers Association | 3.98 |
| 4) Helms | 3.82 |
| 5) Poling (math) | 3.76 |
| 6) National Championship Foundation | 3.65 |
| 7) Dickinson (math) | 3.48 |
| 8) Houlgate (math) | 3.28 |
| 9) Sagarin (math) | 3.12 |
| 10) Billingsley (math) | 2.82 |
| 11) Parke Davis | 2.54 |

How the systems that selected champions for 1901-1918 did

:



| | |
| --- | --- |
| 1) Houlgate (math system) | 4.5 |
| 2) Helms | 4.3 |
| 3) Parke Davis | 4.2 |
| 4) National Championship Foundation | 3.7 |
| 5) Billingsley (math) | 3.6 |