Home
1942 College Football National Championship
Pictured above is Wisconsin halfback Elroy "Crazylegs" Hirsch carrying the ball in the biggest game of 1942, a 17-7 win over Ohio State. Unfortunately for the Badgers, the Buckeyes would have the last laugh, because Wisconsin had already tied 7-2-2 Notre Dame, and the week after their big win over OSU, they were tripped up 6-0 at 6-4 Iowa, and that allowed 9-1 Ohio State to slip by 8-1-1 Wisconsin for #1 in the final AP poll.

But Wisconsin's loss wasn't the only good fortune OSU depended on to claim #1. In the season's final week, #1 Boston College (8-0) suffered a shocking 55-12 loss to their archrival, 5-4-1 Holy Cross, and #2 Georgia Tech (9-0) was destroyed 34-0 by their archrival, Georgia. That finished Georgia off at 11-1, but 9-1 OSU had been ranked #3 going into that weekend, Georgia #5, and the Buckeyes held them off for the top spot in the last poll. Wisconsin finished #3.
Here is how organizations listed in the NCAA Records Book see the 1942 mythical national championship (omitting math/computer ratings, which are not generally accepted as MNCs)

:




Ohio State
:
AP Poll
,

National Championship Foundation,
CFB Researchers
Wisconsin

:
Helms

Helms presumably selected Wisconsin because of their 17-7 head-to-head win over Ohio State, but that win is trumped by the upset loss and tie Wisconsin took. The only way Wisconsin could be considered a national champion after those upsets is if they had played a significantly tougher schedule and/or performed significantly better, but that was just not the case. They went 3-1-1 against top 25 caliber teams, OSU 5-1, and they outscored their opponents by an average of just 15-7, OSU 34-11. The week after Wisconsin's loss to 6-4 Iowa, they edged 1-9 Northwestern 20-19. They are not a contender for the 1942 MNC at all, and Wisconsin does not claim this Helms "title."

11-1 Georgia does claim a share of the 1942 MNC, and though no human selected them, 9 of the 11 math-based systems listed in the NCAA Records Book had Georgia #1 for 1942. They are definitely a contender.

Boston College had been overrated to begin with. They did not beat a top 25 caliber team this season, and they followed up their 55-12 upset loss in their regular season finale with a 37-21 loss to 8-3 Alabama in the Orange Bowl. Similarly, Georgia Tech lost 14-7 to 9-2 Texas in the Cotton Bowl.
10-1 Tulsa took their only loss 14-7 to 9-1-1 Tennessee in the Sugar Bowl. They did not defeat a top 25 caliber team, and they are not an MNC contender.
Georgia defeated 7-4 UCLA 9-0 in the Rose Bowl, but that result would not have pushed them past Ohio State even if there had been a post-bowl poll.

It's a 2-team race-- time to look a little more closely at those 2 teams. All rankings in the following article, except as noted, come from my 1942 fixed AP poll.
Ohio State 1942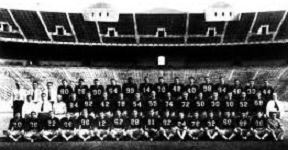 | | | |
| --- | --- | --- |
| Fort Knox | 59-0 | |
| Indiana (7-3) | 32-21 | #23 |
| Southern Cal (5-5-1) | 28-12 | #25 |
| Purdue (1-8) | 26-0 | |
| at Northwestern (1-9) | 20-6 | |
| at Wisconsin (8-1-1) | 7-17 | #3 |
| Pittsburgh (3-6) | 59-19 | |
| Illinois (6-4) | 44-20 | #20 |
| Michigan (7-3) | 21-7 | #9 |
| Iowa Pre-Flight (7-3) | 41-12 | (#21) |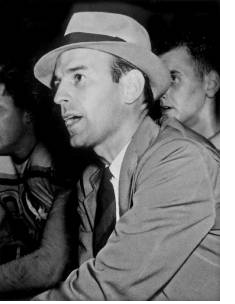 Ohio State had been a minor team playing mostly other minor Ohio schools through 1912. In that time, they did not defeat a Western Conference (Big 10) opponent, though they tied Illinois and Indiana in 1902 and Michigan in 1910 (Hall of Famer Howard Jones was OSU's coach in 1910). They did defeat Vanderbilt, a Southern powerhouse at the time, in 1908 and 1909.

Ohio State joined the Western Conference in 1913, and that was also the debut season for Hall of Fame coach John Wilce, who built OSU into a major player. They went 7-0 in 1916 to win their first conference title, though their schedule wasn't nearly strong enough for MNC contention. They went unbeaten again the next season, but a tie in their finale at Auburn left them 8-0-1. In 1919 they appeared to be headed for their first MNC, but they lost a close, dramatic game to Illinois in their finale to finish 6-1. In 1920, they went 7-0, but then they got stomped by MNC California in the Rose Bowl. OSU fell back to mediocre after that, but Wilce still ended up 78-33-9 with 3 conference titles in his 16 years there.

Ohio State came back and fielded a top 25 caliber team for 13 straight years 1928-1940, but rarely top 10, and not much of a threat to win an MNC. That all changed with the hire of head coach Paul Brown (pictured at left) in 1941. He went 6-1-1 in 1941 (#8), then 9-1 this season to bring home OSU's first national championship. This was the year Ohio State transitioned from a B-level power to A-level, where they have been ever since.

Prior to taking the wheel at Ohio State, Paul Brown had been an exceedingly successful high school coach, going 80-8-2 at Massillon 1932-1940 and winning 6 state championships. They had been 2-10 the year before he took over
, but by the time he left, they were a high school powerhouse with a $300,000 stadium that could seat all of the residents of Massillon, and they had a higher attendance than every college in Ohio except Ohio State. Brown only coached at Ohio State for 3 seasons, and his war-depleted 1943 team went just 3-6, so he was but 18-8-1 at OSU overall. He then went 15-5-2 as coach of Great Lakes Navy 1944-1945.

His next head coaching position, and the one for which he is now most famous, was with the Browns-- he was their first-ever coach, of course, and the one for whom the team was named. He went 111-44-5 there, winning his conference 10 straight years and capturing 3 NFL championships. In 1968 he co-founded the Bengals and became their first coach. He ended up 166-100-6 for his career, and he is in the pro Hall of Fame.
The Players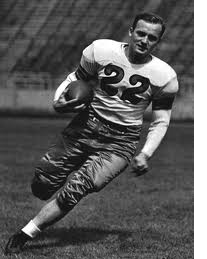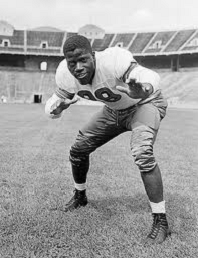 Ohio State had lost most of the players from their 6-1-1 1941 squad, and this season they featured 24 sophomores, 16 juniors, and just 3 seniors, so expectations were not high. However, this Ohio State team was loaded with notable players, starting with Hall of Fame halfback Les Horvath (pictured above at left), who went on to win the Heisman Trophy at quarterback in 1944. He was a reserve halfback this season, but got in a good amount of playing time. Joining him in the Hall of Fame is tackle Bill Willis (pictured above at right). At this time, black students were not allowed to live on campus, so Willis was a commuter. He would be a nonconsensus AA in 1944, and then one of the first 4 black players in the NFL since 1933, playing for Paul Brown's Browns 1946-1953 and being named an all-pro all 8 years. He is also in the pro Hall of Fame.

Ohio State did not have any consensus All Americans this season, but they had 3 nonconsensus AA

:

guard Lindell Houston, end Bob Shaw, and tackle Chuck Csuri. Houston played for Paul Brown at Massillon High School, then at OSU, and finally with the Browns 1946-1953 (matching Bill Willis' years there). Shaw also played pro ball for 8 seasons, and led the NFL in touchdown catches in 1950 with 12. Csuri was the team MVP. He was later awarded a Bronze Star for heroism at the Battle of the Bulge, and became a pioneer in the field of computer graphics and animation.

Guard Bill Hackett would be a consensus AA in 1944, and end Jack Dugger would be a nonconsensus AA in 1944. End Dante Lavelli only started one game, against Southern Cal, and he was injured and knocked out for the season in that game, so it was his whole OSU career, but he went on to an 11 year pro career with-- who else?-- the Browns 1946-1956. He is in the pro Hall of Fame.

Fullback Gene Fekete led the Big 10 in rushing with 550 yards and in scoring with 52 points (he was also the kicker), and he finished 8th in the Heisman voting this season.

Ohio State's Season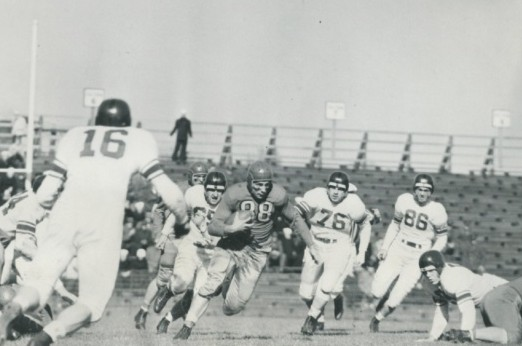 Ohio State outscored their opponents 337-114 this season. Only Georgia scored more points, but they played one more game in the regular season, and their 33.4 per game average fell just below OSU's 33.7. Ohio State's 337 points was a school record that stood until 1969. OSU opened with a 59-0 beatdown of military team Fort Knox, outgaining them 507 yards to negative 5, and with that they served notice that they were a powerhouse this season. All of their wins would come by more than a touchdown
.

Indiana gave the Buckeyes a lot more trouble the next week. There were 5 lead changes in this game, but OSU's superior depth won out as they outscored Indy 13-0 in the 4th quarter to rally for a 32-21 win. Ohio State had been running a single wing offense under Paul Brown, but in the 2nd half of this game they surprised Indiana with the T formation. They would run the T formation about 25% of the time from here on out. OSU outgained Indy 449 yards to 257 and 19 first downs to 10. Fullback Gene Fekete was the offensive star, rushing for 132 yards and 3 touchdowns.

Indiana ended up 7-3 this season, and they are ranked #23 in the 1942 fixed and expanded AP poll.
Southern Cal came to town next. They were 0-1-1, having lost to Tulane (4-5) and tied Washington (4-3-3), but they were still a big name, so 56,000 spectators showed up, a large crowd given wartime restrictions. The Trojans opened the scoring in the first quarter, but OSU answered with 28 straight points to win 28-12. Halfback Paul Sarringhaus hit end Bob Shaw for a 64 yard touchdown pass , and backup halfback Tommy James hit Shaw for a 40 yard touchdown pass to make it 14-6 at the half. Gene Fekete had a game-leading 78 yards rushing, and he hit all 4 extra point tries. After this game, Ohio State moved to #1 in the next AP poll.

Southern Cal finished 5-5-1, but they beat a good military team in St. Mary's Pre-Flight (6-3-1), and more importantly, they romped Washington State (6-2-2, #17 in actual final AP poll), so I have the Trojans ranked #25 in the fixed AP poll.

Ohio State next romped Purdue (1-8) 26-0, then took their first road trip, to Northwestern (1-9). Northwestern had been the only team that had beaten them the previous season, and the Wildcats gave a tough fight for their homecoming crowd, but OSU prevailed 20-6. After Ohio State stopped a pair of Northwestern drives at the OSU 2 and 21 yard lines, Fekete scored the first touchdown on a plunge in the final minute of the first half, set up by a 38 yard Sarringhaus run. Sarringhaus scored the next touchdown in the 4th quarter, but Northwestern quarterback Otto Graham tossed a 28 yard touchdown pass to close the gap back to a touchdown, 13-6. Sarringhaus scored again on Ohio State's answering drive to put the game away. He totaled 145 yards rushing, Fekete 128.

The Bad Water Game
Ohio State hit the road again the next week, playing their second straight homecoming game, this time Wisconsin's. Wisconsin was 5-0-1, tying Notre Dame (7-2-2) and beating Marquette (7-2), Missouri (8-3-1), and strong military team Great Lakes Navy (8-3-1). Wisconsin's coach was Harry Stuhldreher, quarterback of Notre Dame's famed Four Horsemen backfield of 1924, and like Paul Brown, he was a Massillon native. The Badgers featured 3 Hall of Fame players

:

halfback Elroy "Crazylegs" Hirsch, fullback Pat Harder, and end Dave Schreiner.

This was the game of the year, but luckily for Ohio State, it didn't end up deciding the mythical national championship. Unluckily for them, they took an old train to the game, one that had not been used for years-- and its drinking water had not been changed out for years. Half the team was hit with dysentery and either could not play, or could not play at full strength. A stadium-record crowd of 45,000 showed up at Camp Randall for a Halloween game that was broadcast nationally and around the world-- the largest radio audience for a football game to this date.

Crazylegs Hirsch got loose for 59 yards to set up the game's first score, a Pat Harder plunge. Harder added the extra point, and later kicked a 37 yard field goal for a 10-0 halftime lead. That was pretty much the game, but Ohio State drove 96 yards for a touchdown in the 4th quarter to momentarily close the gap to a dramatic 10-7. Wisconsin, however, answered immediately, driving 66 yards for the clinching touchdown. Hirsch hit Dave Schreiner for 12 yards, then for 14 to paydirt, and Harder hit the extra point for the 17-7 final score. This was Wisconsin's first win over Ohio State since 1918.

As happens all too often, however, Wisconsin followed up their season high with their season low, dropping a 6-0 decision at Iowa (6-4, #22) the next week. In that game, Harder appeared to score a touchdown, and the linesman signaled as such, but the head referee overruled him, and time ran out in the half to end Wisconsin's only scoring threat. Ohio State's national championship rests on that one apparently-too-close-to-call play, because Wisconsin finished the season 8-1-1, stuck at #3 in the final AP poll. Wisconsin was even worse the week after the Iowa game, edging 1-9 Northwestern 20-19, so I'm not thinking they were national championship material to begin with. Just very good most weeks.

Michigan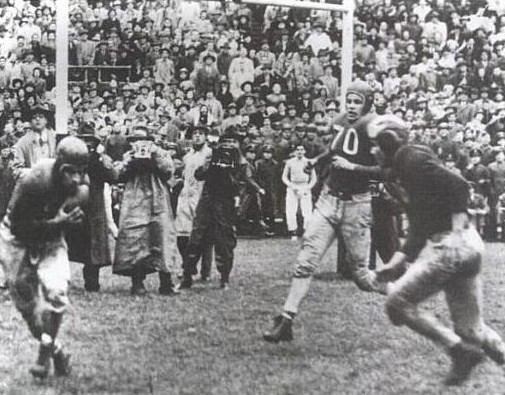 Ohio State recovered from the big game much better than Wisconsin did, running wild over Pittsburgh (3-6) 59-19, Fekete rushing for 139 yards on just 3 carries. Then they whipped Illinois (6-4, #20) 44-20 before a crowd of 68,000 in Cleveland. That brought Ohio State to their own homecoming game, against archrival Michigan. Michigan was coming off a huge 32-20 win at Notre Dame (7-2-2), their first game against the Irish since 1909.

71,000 showed up to watch their Buckeyes despite rain falling throughout the game. Michigan stuffed Ohio State's running game, but the Buckeyes just went to the air to win this one. Chuck Csuri blocked a punt at the Michigan 35 to set up a 10 yard touchdown pass from Les Horvath to Paul Sarringhaus (pictured above) in the 2nd quarter. Michigan drove to the OSU 1, but the half ran out on them there, leaving OSU up 7-0. Paul Sarringhaus hit end Bob Shaw for a 60 yard touchdown pass to make it 14-0 in the 3rd, but Michigan answered on their next drive, marching 64 yards to make it a 1-score game again, 14-7. In the 4th quarter, Michigan fumbled the ball away at their own 32, and Sarringhaus hit Horvath for a touchdown pass on the next play. Gene Fekete kicked his 3rd extra point to make the final score 21-7.

Michigan outgained Ohio State 268 yards to 257, but they turned the ball over 5 times to none for OSU, and OSU's 6 of 8 passing for 142 yards and 3 touchdowns was huge. Michigan finished 7-3 and ranked #9 in the final AP poll.

That would normally have been the end of the season, but it being World War 2 and all, Ohio State closed out this season with a game against a strong military team, the Iowa Pre-Flight Seahawks. The Seahawks came into the game 7-1, their only loss to Notre Dame (7-2-2). They were coached by Bernie Bierman, who had won the last 2 national championships and 5 of the last 8 as coach of Minnesota. Iowa Pre-Flight featured former college all-stars who had played for Michigan, Texas, Pittsburgh, Wisconsin, Minnesota, and Ohio State, and they were favored, but Ohio State jumped out to a 27-6 halftime lead and pummeled them 41-12. Iowa Pre-Flight finished 7-3, and I would say that they were comparable to a #21 ranked team on the season.

When #1 Boston College and #2 Georgia Tech finally took losses in rivalry games the same week, the way was cleared for Ohio State to return to #1 in the final poll.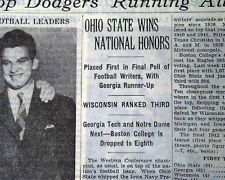 Georgia 1942
at Kentucky (3-6-1)
7-6
(Macon) Jacksonville NAS (9-3)
14-0
(#30-40)
Furman (3-6)
40-7
(Memphis) Mississippi (2-7)
48-13


Tulane (4-5)
40-0
#14

at Cincinnati (8-2)
35-13
(#30-40)
Alabama (8-3)
21-10
#6

(Jacksonville) Florida (3-7)
75-0
Tennessee-Chattanooga (7-4)
40-0
(Columbus) Auburn (6-4-1)
13-27
#13
Georgia Tech (9-2)
34-0
#4

Rose Bowl


UCLA (7-4)

9-0

#18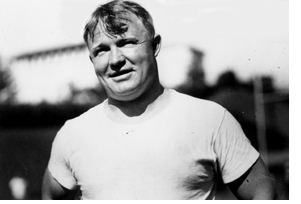 Georgia's first finish in a top 25, had there been an AP top 25, would have been 1920, when they went 8-0-1. That team tied 5-2-2 Virginia, who was not at all a top 25 team, but Georgia's straight record would likely have gotten them ranked about #21-25 (I have them #21). The next year they got ambitious and took on Harvard and Dartmouth, losing both games, but they tied 7-0-1 Vanderbilt to finish 7-2-1, and would have been ranked #21-25 again (I have them #23). The coach during this time was Herman Stegeman, who went 20-6-1 in a brief 3-year career.

He was followed by George Woodruff 1923-1927, who was mediocre until his final season, going 30-16-1. In 1923 Georgia started playing Yale in New Haven every year, losing their first 4 games up there, but in 1927 they got a breakthrough 14-10 win
over a Yale team that finished 7-1 and claims an MNC. Georgia finished 9-1 that year, and the school claims an MNC itself for 1927, though I disagree with that one. If there had been an AP poll in 1927, Georgia would have finished about #6 (I have them #5). Still, it was a breakthrough season for Georgia, and they would go 3-1 against Yale through the rest of that series.

In the 1930s, Georgia fielded 4 top 25 caliber teams, but none that were top 10. In 1939 they hired Hall of Fame coach Wally Butts (pictured), and he would stick around through 1960, going 140-86-9 with 4 SEC titles and 2 school-claimed MNCs (this season and 1946). But his teams weren't consistently strong, only 7 of his 22 seasons being worthy of a top 25 finish.

Georgia had gone 9-1-1 in 1941, capped with a 40-26 win over TCU in the Orange Bowl and a #15 ranking in the fixed AP poll. Their best player returned for 1942, and expectations were high this season.

The Players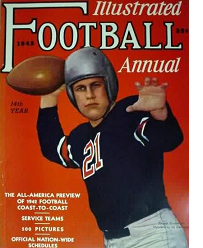 Georgia's star player was Hall of Fame halfback Frank Sinkwich (pictured above at left), a consensus All American in 1941 and 1942. He finished 4th in the Heisman vote in 1941, and this year he won it, the SEC's first Heisman recipient. Moreover, he was the AP athlete of the year for all sports. Sinkwich was born in Croatia and raised in Youngstown, Ohio, but somehow Georgia got him out from under Ohio State's nose. In 1941 he led the nation in rushing with 1103 yards, then capped that with a spectacular performance in Georgia's Orange Bowl win over Texas Christian. He was 9 of 13 passing for 243 yards and 3 touchdowns, and he rushed for 139 yards and another touchdown. He came into this season as the Heisman favorite, and he did not disappoint.

Georgia leaned heavily on its passing game this season, and Sinkwich was the main triggerman, throwing for 1392 yards and 10 touchdowns. He also rushed for 795 yards and 17 touchdowns, giving him a total offense of 2187 yards, then an NCAA record. For his career, he totaled 2271 rushing with 30 touchdowns and 2331 passing with another 30 touchdowns. After college, he was all-pro in 1944 and 1945, and the NFL MVP in 1945, but a knee injury that season ended his career early.

And Georgia had another Hall of Fame halfback in Charlie Trippi (pictured above at right). Trippi was a back-up for much of this season, but he saw heavy play and racked up 1239 yards of total offense. He started two games, against Auburn and in the Rose Bowl (in place of an injured Frank Sinkwich), where he was the leading rusher with 115 yards and was the game's MVP. After returning to Georgia from service in the military, Trippi would be a consensus AA in 1946 and winner of the Maxwell Award. He played for the Chicago Cardinals 1947-1955, was a 3-time All-Pro, and he is in the Pro Hall of Fame.

End George Poschner was a nonconsensus AA this season. He went to high school with Frank Sinkwich, and Sinkwich had accepted a scholarship to attend Georgia under the condition that Poschner be given one as well. Poschner was injured by machine gun fire at the Battle of the Bulge in 1945 and lost both legs and several fingers. He was awarded the Bronze Star, Distinguished Service Cross, and Purple Heart.

11 players from this team were drafted by the NFL over the next 2 seasons. Frank Sinkwich was the #1 player taken in the next NFL draft, and back Lamar Davis was the 12th player taken.
Georgia's Season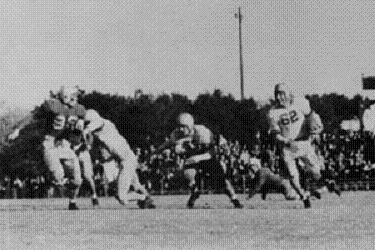 Georgia led the nation in total offense this season with 429.5 yards per game, but it took them a while to get rolling. Georgia's weakest performance of the season was their opener, a 7-6 win over Kentucky (3-6-1) in Louisville. Sinkwich missed a field goal attempt, and Georgia had 4 turnovers. One of those, a Sinkwich fumble, set up Kentucky's touchdown in the 3rd quarter. Kentucky scored in 4 plays, but their extra point try was blocked, the ultimate difference in this game. In the latter half of the final quarter, Georgia put together a 63 yard drive to a 3 yard Sinkwich touchdown run, and Leo Kosta's extra point provided the victory. Georgia outgained Kentucky 266 yards to 115, the big advantage coming in the passing game (120 to 9), but turnovers almost did Georgia in. Sinkwich rushed for 79 yards and passed for 111, most of his team's total.

Georgia was much better holding onto the football the next week against strong military team Jacksonville NAS (9-3) in Macon, Georgia. Typical of the better military training camp teams during World War 2, Jacksonville NAS was composed of former college and even NFL players. Georgia dominated Jacksonville NAS statistically much as they had Kentucky, 274 yards (200 passing) to 115, but this time they won much more easily, 14-0. Two Sinkwich passes were dropped in the end zone. Jacksonville NAS was comparable to a #30-40 type team.

Georgia hit its stride over the next 4 games, routing Furman (3-6) 40-7, Mississippi (2-7) 48-13, Tulane (4-5) 40-0, and Cincinnati (8-2) 35-13. Despite their poor straight record, 4-5 Tulane is ranked #14 in the fixed AP poll for 1942, as all of their losses came to top 25 caliber teams, and they defeated 5-5-1 Southern Cal (#25), 7-2-1 Rice (#15), 5-2-2 North Carolina, and 6-4 Vanderbilt. 8-2 Cincinnati's only other loss came to #7 Tennessee, so they may have been a top 25 team power-wise, though their 8 wins came over minor teams.

Alabama
Georgia's next game was a big one, against 5-0 Alabama on Halloween before 33,000 fans in Atlanta. Alabama had dealt Georgia their only loss in 1941, and Georgia had not beaten them since 1929 (though the teams didn't play each other much). This season Alabama had beaten Mississippi State (8-2, #12) 21-6, Tennessee (9-1-1, #7) 8-0, and Kentucky (3-6-1) 14-0.

Alabama led 10-0 in this game going into the 4th quarter, and that's when Frank Sinkwich took over. He hit passes for 20 and 19 yards, then for 14 on 4th and 4 at the Alabama 33 to keep the drive alive. He hit 2 more passes, the last for 14 yards to his high school teammate George Poschner for a touchdown, and they were down just 10-7. Alabama fumbled on their 31 on their next possession, but Sinkwich gave it back on an interception.

On Georgia's next possession, Sinkwich completed another 4 passes, the last for another touchdown to Poschner, and Georgia led 14-10 with 5 minutes left in the game. Alabama then fumbled, and halfback Andy Dudish caught the ball in the air and returned it 29 yards for a touchdown, clinching the game 21-10. Alabama took to the air on their next drive, reaching the Georgia 7 before the final whistle blew.

Georgia totaled just 63 yards rushing, but Sinkwich was 18 of 37 passing for 231 yards. He was 9 of 24 in the 1st half, 9 of 13 in the 2nd (all 9 coming on the 2 touchdown drives to take the lead). Sinkwich's passing surpassed Alabama's total offense (199). #1 Ohio State lost to Wisconsin this weekend, and Georgia moved to #1 in the next AP poll. It was the first time an SEC team had ever been #1 in a weekly AP poll.

Alabama played another unbeaten team in Atlanta 2 weeks later, Georgia Tech (then 7-0, finished 9-2), dropping that game 7-0. Then they lost 35-19 to another Georgia team, Georgia Pre-Flight (7-1-1). But they romped on 8-2 Boston College 37-21 in the Orange Bowl to finish 8-3, and they are ranked #6 for 1942.

Georgia followed up their big win with a pair of big scores, 75-0 over Florida (3-7) and 40-0 over Tennessee-Chattanooga (7-4), but in Columbus they met their Waterloo...

Ambushed by Auburn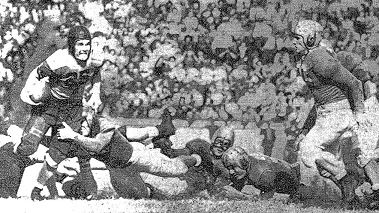 Georgia had been playing Auburn in Columbus since 1916, and the two teams had been playing each other since the first-ever season of football for each, 1891. Through 1941, Auburn barely led the all-time series 21-20-5, and Georgia was 13-10-1 in the series in Columbus. These teams would continue to meet each other in Columbus through 1958.

Auburn came into this game just 4-4-1, with a loss at 3-7 Florida and a tie at 5-3-1 Georgetown, but they had upset 7-3 Louisiana State (#11) 25-7 the week before, and this week they ambushed Georgia on both sides of the ball to engineer a shocking 27-13 upset of the nation's #1 team. On offense, Auburn had been running the single wing all season (and for decades), but for this game they unveiled a T-formation offense with a highly varied package of intricate misdirection plays that they had been practicing all year just for this game. They ran the ball almost exclusively, but Georgia had a lot of trouble figuring out who had the ball, and just couldn't quite stop it.

On defense, Auburn surprised Georgia by frequently dropping their tackles into pass coverage and blitzing their ends, a precursor to the "zone blitz" that became popular in the 1990s. They put heavy emphasis on switching up coverages and rushing the passer, correctly diagnosing Georgia's offense as dependent on the passing game to score. Georgia's scouting of Auburn and preparation for the game were rendered completely useless.

Still, Georgia scored early in the opening quarter to take a 6-0 lead, and all seemed normal at that point. Frank Sinkwich and Charlie Trippi did most of the work on that drive, and Sinkwich scored the touchdown. But Auburn responded with a 13 play, 80 yard touchdown drive to take the lead 7-6, and they drove 71 yards for another touchdown in the 2nd quarter for a 14-6 halftime lead. In the 4th quarter, Auburn returned a punt 35 yards to the Georgia 18 and drove to a touchdown from there, making it a daunting 20-6 lead.

Georgia was soon set up by a bad Auburn punt, taking over at the Auburn 27. Sinkwich was sacked for a 9 yard loss, but he rebounded with a 36 yard touchdown pass to close the gap to 20-13. Auburn responded with a drive to the Georgia 16, but they were stopped there, and Georgia had one more shot to salvage a tie. However, Sinkwich was sacked, then sacked again, fumbling the ball in the end zone, and Auburn recovered for the clinching touchdown and 27-13 win.

Auburn racked up a huge 355 yards of offense, all of it on the ground, while Georgia totaled but 227, 190 through the air. Auburn finished the season 6-4-1, and they are ranked #13.

Big Finish
Georgia fell to #5, but they didn't have much time to stew on it, because the next week they were hosting Georgia Tech, 9-0 and ranked #2, in their biggest game of the season. A Rose Bowl bid would go to the winner, and a brass band was on hand to play "California Here I Come" after the game. Heading to California was Georgia, who destroyed Georgia Tech 34-0. More importantly, this win delivered Georgia their first SEC title. Frank Sinkwich ran for 72 yards and threw for 107, and Charlie Trippi got loose for an 87 yard run and threw a 38 yard touchdown pass. Georgia outgained Tech 492 yards to 150 and 20 first downs to 8. It was the best performance by any team this season.

Georgia Tech headed to the Cotton Bowl, where they were upset 14-7 by 9-2 Texas. That finished Tech at a disappointing 9-2, but they are ranked #4 for the season thanks to big wins over #5 Notre Dame and #6 Alabama.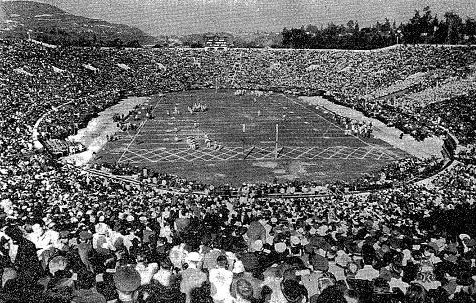 Georgia's Rose Bowl opponent was UCLA, coming in at 7-3 and ranked #13. This was the first Rose Bowl for both teams. 93,000 attended (as shown above). Frank Sinkwich was hobbled with a pair of sprained ankles, but Charlie Trippi started in his place and was the game's MVP with 115 yards rushing. Wally Butts was adamant that his star player, Frank Sinkwich, score a touchdown, so the pattern of this game was that Charlie Trippi would lead his team down the field, and then Frank Sinkwich would limp onto the field to kill the drive.

Trippi led Georgia to the UCLA 27 on the opening drive, then Sinkwich replaced him and lost yards from there. Sinkwich hit some passes to get another good drive going, but then he threw an interception at the UCLA 18 that was returned to the Georgia 30. In the 2nd quarter, Trippi returned and led his team to the UCLA 3, where Sinkwich replaced him again and got stuffed. It remained 0-0 at the half. The 3rd quarter followed the same pattern. Late in the quarter, Trippi moved Georgia to about the 20, where Sinkwich replaced him yet again. Sinkwich hit a couple of short passes to put the ball on the UCLA 4, then tried to run it in and fumbled the ball away.

UCLA attempted a punt-out on the next play, the first play of the final quarter, and Georgia blocked it for a safety and a 2-0 lead. The way Georgia was smothering UCLA's offense, that was pretty much the game. But Sinkwich finally got his touchdown. Georgia intercepted UCLA at about their 25, and Sinkwich was sent in again, except that this time Trippi moved to the other halfback spot instead of coming out. The two worked the ball downfield, and Sinkwich barely pushed the ball over the goal line from 2 yards out to make the final score 9-0. Both players then came out, but UCLA was done in, and the back-ups drove the ball to the UCLA 7 by the time the final gun sounded.

Georgia outgained UCLA 373 yards to 159 and 24 first downs to 5. UCLA finished 7-4 and ranked #18 in the 1942 fixed AP poll.
Ohio State vs. Georgia
Here are the significant games for Ohio State and Georgia in 1942. The opponent rankings
come from my fixed AP poll for 1942
. For the military opponents, I approximated their power level in parentheses.


Ohio State 9-1
Georgia 11-1

| | | |
| --- | --- | --- |
| Indiana (7-3) | 31-21 | #23 |
| Southern Cal (5-5-1) | 28-12 | #25 |
| at Wisconsin (8-1-1) | 7-17 | #3 |
| (Cleveland) Illinois (6-4) | 44-20 | #20 |
| Michigan (7-3) | 21-7 | #9 |
| Iowa Pre-Flight (7-3) | 41-12 | (#21) |

at Kentucky (3-6-1)
7-6
Unranked
(Macon) Jacksonville NAS (9-3)
14-0
(#30-40)
Tulane (4-5)
40-0
#14
at Cincinnati (8-2)
35-13
(#30-40)
Alabama (8-3)
21-10
#6
(Columbus) Auburn (6-4-1)
13-27
#13
Georgia Tech (9-2)
34-0
#4

Rose Bowl


UCLA (7-4)

9-0

#18

Ohio State defeated the rest of their opponents by an average of 41-6, and Georgia beat their non-top 40 opponents by an average of 42-5.

Well, this definitely looks like a shared MNC, and I left Ohio State #1 in the fixed AP poll, so obviously I think that's a viable option. The only remaining question is whether or not Georgia is also a logically viable option for #1. And I think that Georgia is definitely an option to be #1 in a tie with Ohio State. But Georgia #1 and Ohio State #2? That is a difficult question. It's close.

Georgia's only real argument is the fact that they played a tougher schedule than did Ohio State. But it wasn't

much

tougher. Georgia played 7 top 40 caliber opponents to Ohio State's 6. But OSU played 6 top 25 caliber opponents to Georgia's 5. What makes Georgia's schedule tougher, then, is mostly the fact that they played 5 road games and 3 at neutral sites, while Ohio State played 2 road games and 1 "neutral" site (Illinois in Cleveland). Given that OSU's 2 worst performances were their 2 road games, I think this difference is certainly relevant
.

On the other hand, only 1 of Georgia's 5 road games was played against a top 25 opponent (#18 UCLA in the Rose Bowl). They played all of their other rated opponents in the state of Georgia. So in the end, this argument for Georgia is not very strong.

I think Ohio State's arguments are much more compelling

:



Georgia's 34-0 win over #4 Georgia Tech is certainly more impressive than any of OSU's wins, but I would find that a lot more compelling if it weren't for the fact that Georgia Tech lost their next game to Texas (who lost to 1-9 Northwestern!).

So I can't see a good reason for Georgia to be rated higher than Ohio State
.
Awards Ceremony
1942 #1:

9-1 Ohio State, or Ohio State in a tie with 11-1 Georgia


National Co-champion:

Georgia if Ohio State is alone at #1


Contender:

None

These are the awards I have been handing out for each season, except seasons when there are no contenders. For this purpose, what I mean by a contender is a team that I think is very close to being worthy of sharing the national championship. A team that you could make an argument for, even if that argument is weak. But the contenders are teams that I myself do not see as national champions.
Grading the Selectors
I have been grading the NCAA Records Book's selectors for each season, and keeping a grade point average, so we can see who is relatively good at selecting national champions and who is not. And although I do not consider computer ratings to be legitimate national championship selectors, I have been including them in this section as well, just for comparison's sake.
I am grading on a scale of 0-5 (5 being the best).


The Helms Foundation crowned Wisconsin.

Grade: 0.0


The AP poll, the College Football Researchers Association, the National Championship Foundation, and the Boand and Dunkel math systems all went with Ohio State. Grade

: 5.0



The other 9 math-based systems all came up with Georgia.

Grade: 4.2



Grade point averages 1936-1942 (Berryman will be added when the system has selected at least half as many champions as the others)

:




1) Boand (math system)




College Football Researchers Association




5.0

3) AP Poll
National Championship Foundation
Poling (math)


Billingsley (math)

4.9

7) DeVold (math)
4.8
8) Litkenhous (math)
4.4

9)

Sagarin-ELO (math)


Houlgate (math)

4.2

11)

Dunkel (math)

3.74

12) Sagarin (math)
3.67

13) Helms Foundation

3.63

14) Dickinson (math)
3.0

15)

Williamson (math)

2.6

Grade point averages 1919-1935
:
| | |
| --- | --- |
| 1) Boand (math system) | 4.26 |
| 2) College Football Researchers Association | 4.22 |
| 3) Poling (math) | 4.11 |
| 4) Helms | 4.09 |
| 5) Sagarin-ELO (math) | 4.06 |
| 6) National Championship Foundation | 3.96 |
| 7) Dickinson (math) | 3.49 |
| 8) Houlgate (math) | 3.35 |
| 9) Billingsley (math) | 3.34 |
| 10) Sagarin (math) | 3.28 |
| 11) Parke Davis | 2.77 |

How the systems that selected champions for 1901-1918 did

:



| | |
| --- | --- |
| 1) Houlgate (math system) | 4.5 |
| 2) Helms | 4.3 |
| 3) Parke Davis | 4.2 |
| 4) National Championship Foundation | 3.7 |
| 5) Billingsley (math) | 3.6 |