Home
1945 College Football National Championship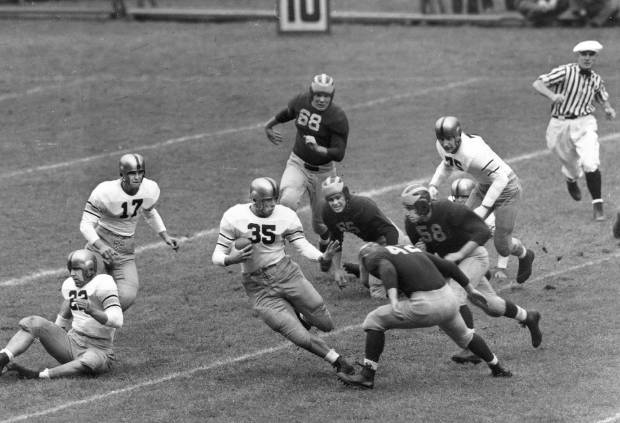 Pictured above is Army's Heisman winning fullback Doc Blanchard carrying the ball in a 28-7 win over 7-3 Michigan (#6) in the Bronx. Army went 9-0 for the second consecutive year, and again no one came close to them. This time their average score was 46-5, and 6 of their 9 opponents ended up ranked (#3, #6, #7, #8, #9, and #19 in my fixed AP poll). For the 2 seasons 1944 and 1945, Army's average score was 51-5, and they played 10 final-ranked teams, 9 of those in the top 10. It is the most dominating 2 year run in college football history, and both Army teams are considered to be amongst the greatest college football teams of all time.

Here is how organizations listed in the NCAA Records Book see the 1945 mythical national championship (omitting math/computer ratings, which are not generally accepted as MNCs)

:





Army

:

AP Poll

,

National Championship Foundation (tie), CFB Researchers

, Helms
Alabama

:

National Championship Foundation

(tie)



Much like they did with Army and Ohio State for 1944, the National Championship Foundation splits the 1945 MNC between Army and Alabama. Alabama was 10-0, and I'll be taking a look at them in this article. Oklahoma State also posted a perfect record, 9-0, but I will not be covering them in detail in this article, as their schedule and performance just weren't good enough for MNC consideration in a year that featured a juggernaut like Army. But I'll take a brief look at OSU right here...

Oklahoma State was known as Oklahoma A&M at this time, and they were a mid-major, playing in the Missouri Valley Conference. The coach was Jim Lookabaugh, who went a mere 58-41-6 1939-1949, but Oklahoma A&M briefly arose from mediocrity in 1944 and 1945. They went 8-1 in 1944, capped by a 34-0 rout of TCU in the Cotton Bowl, and though they were unranked in the original AP poll, I have them #6 in the fixed poll for that season. This year they went 9-0 and finished ranked #5 in the AP poll (#4 in the fixed poll), and they capped this season with another bowl rout, 33-13 over St. Mary's (#11) in the Sugar Bowl. These were by far the two greatest seasons in Oklahoma A&M history to this point.

The star of the 1944/1945 teams was Hall of Fame halfback Bob Fenimore. He was a consensus All American this season and finished 3rd in the Heisman vote behind Army's Doc Blanchard and Glenn Davis. He led the nation in rushing with 1119 yards, and he led the nation in total offense in both 1944 and 1945 (1758 and 1641 yards). For his career he totaled 4627 yards of total offense, and on the other side of the ball he snagged 18 interceptions, still the school record.

Oklahoma A&M's best game this season was that 33-13 rout of #11 St. Mary's (6-2) in the Sugar Bowl. Their other big win was less impressive, 12-6 over #14 Tulsa (8-3) at home. Those were the only winning teams they played, and they struggled to get by 3-7 Arkansas 19-14. Army played 6 top 25 teams, Alabama played 4, and nobody came within a touchdown of either team all year. In fact, the closest anyone got to Army was 3 touchdowns. Oklahoma A&M was not really close to being an MNC contender. So let's turn our attention to our contenders, Army and Alabama.

All rankings in the following article, except as noted, come from my 1945 fixed AP poll.
Army 1945
| | | |
| --- | --- | --- |
| Louisville Field | 32-0 | |
| Wake Forest (5-3-1) | 54-0 | #19 |
| (Bronx) Michigan (7-3) | 28-7 | #6 |
| Melville PT Boats | 55-13 | |
| (NYC) Duke (6-2) | 48-13 | #9 |
| Villanova (4-4) | 54-0 | |
| (Bronx) Notre Dame (7-2-1) | 48-0 | #8 |
| at Penn (6-2) | 61-0 | #7 |
| (Philadelphia) Navy (7-1-1) | 32-13 | #3 |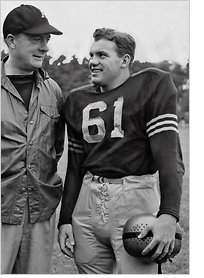 This team was practically the same as Army's equally dominating MNC winner from the year before, and I covered their Hall of Fame coach Red Blaik and most of the players in my 1944 national championship article
. They lost a pair of nonconsensus All Americans from that team, guard Joseph Stanowicz and Hall of Fame quarterback Doug Kenna, but everyone else I listed in the 1944 article returned, and they replaced Kenna this season with another Hall of Fame quarterback, Arnold Tucker.

Tucker, who had played for Miami (Florida) in 1943, saw time as a backup in 1944, but he did not letter. He was a nonconsensus AA this season and the next. 1946 was his most productive season, 618 yards passing and 9 touchdowns, and he grabbed 8 interceptions as a defensive back, still the school record.

Two key newcomers this season were halfback Tom "Shorty" McWilliams and Hall of Fame guard Joe Steffy. "Shorty" McWilliams was .actually 6' 3", tallest man in the backfield. He had played for Mississippi State in 1944, and this was his only season at Army. With the war over, it was safe for him to resign and return to Mississippi State 1946-1948, wartime eligibility policies giving him 5 seasons of play. He was all-SEC in each of his last 3 years at MSU. Joe Steffy (pictured at left with coach Red Blaik) had played at Tennessee in 1944. He was a backup this season, but would be captain in 1946 and 1947. He was named a consensus AA and won the Outland Trophy in 1947.


All 11 Army starters made a first-team AA list this season, but that's because the Newspaper Editors Association made their entire AA team Army's starters. Cute. But Army did field an impressive 6 legitimate first-team AA players, and an even more impressive 4 were consensus choices. The consensus AA were fullback Doc Blanchard, halfback Glenn Davis, tackle Tex Coulter, and guard John Green, and the nonconsensus AA were end Hank Foldberg and tackle Albert Nemetz. Doc Blanchard scored 19 touchdowns and led the nation in scoring, and he won the Heisman Trophy this season. Glenn Davis set an unbreakable record with 11.5 yards per carry, and he was 2nd in the Heisman vote.

Army wasn't able to match most of the records they had set in 1944, but they still led the nation in offense at 462.7 yards per game and in scoring with 45.8 points per game, and they set a record for team yards per rush at 7.6. This was the first season that Army was known as the "Black Knights.
"

Army's Season
Army routed all their opponents again this season, pushing their winning streak to 18 games, none of them close. In 1944 they had played 4 top 10 teams, Duke, Penn, Notre Dame, and Navy. They played those same teams this year, but they also added to the schedule Wake Forest (8-1 and #17 in 1944) and Michigan (8-2 and #3). Clearly Army was playing not only for a mythical national championship, but for a place in college football history. And they earned it
.

They opened with a 32-0 warmup win over military training camp team Louisville Field, then whipped Wake Forest 54-0. Wake Forest finished 5-3-1 and ranked #19 in the AP poll, and they remain in that spot in the fixed poll. Wake's other losses came to Tennessee (#10) and Duke (#9). They took an upset tie to 2-4-3 South Carolina, but they defeated 6-3-1 Clemson (#25) on the road in their finale, then avenged the upset with a 26-14 win over South Carolina in the Gator Bowl.
Army's next game was a big one, against Michigan in the Bronx. It was the first athletic contest of any kind between Army and Michigan, and 63,000 were on hand to witness it. Michigan coach Fritz Crisler, who would soon revolutionize football with a 2 platoon system, whole separate teams for offense and defense, was already experimenting with "platoons" this season. Lines and linebackers rotated in and out for offense or defense, and Army coach Red Blaik was so impressed by it that he would soon try a 2 platoon system himself, and in fact the term "2 platoon" for the system originated at Army. But not this season.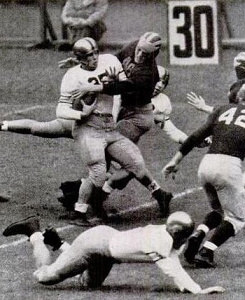 Army thoroughly dominated Michigan, but they "only" won 28-7 because they blew 5 scoring threats by fumbling the ball away. Michigan returned the favor at a key point themselves, fumbling as they were driving for the tie while still down just 14-7. Doc Blanchard had a 69 yard touchdown, Glenn Davis a 70 yarder, and the duo totaled 370 yards rushing (Blanchard is pictured carrying the ball in this game above, and also at the top of this article). Michigan finished the season 7-3, and I have them #6 for 1945. Their other losses came to 9-0-1 Indiana (#5) and 7-1-1 Navy (#3), and they defeated 6-4-1 Great Lakes Navy, 4-4-1 Northwestern (#18), 7-3 Purdue (#15), and 7-2 Ohio State (#16).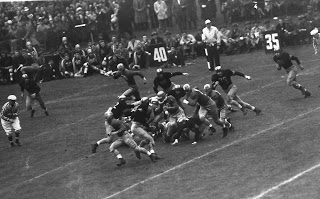 Army dispatched another military training camp team, Melville PT Boats, 55-13, then they romped on Duke (6-2, #9) 48-13 in New York City. Duke's other loss came to #3 Navy, and their one "big" win came over #19 Wake Forest. Army next beat 4-4 Villanova 54-0, and then it was back to the Bronx to face Notre Dame before a crowd of 75,000 (the game pictured above). The Irish came into the game 5-0-1 and ranked #2 in the AP poll, their tie coming against Navy (Dame was stopped an inch short of the goal line on that game's final play). But Army had humiliated Notre Dame 59-0 in 1944, and they dealt them a similar beating, 48-0, this year. Notre Dame finished 7-2-1, and I have them #8 for 1945. They were upset by 6-4-1 Great Lakes Navy in their finale. Their best result was the tie with Navy, their best win 34-7 at 4-4-1 Northwestern (#18).

Army then went to Philadelphia and destroyed Penn 61-0 in front of 73,000 rubberneckers. Blanchard and Davis scored 3 touchdowns each, and Army intercepted 4 passes. Penn finished 6-2, #7 for 1945. Their other loss came 14-7 to Navy on a last second touchdown pass, and their one big win came 32-7 over 8-1 Columbia (#22). Two weeks later, Army returned to Philadelphia to face 7-0-1 Navy in their finale (the game pictured below).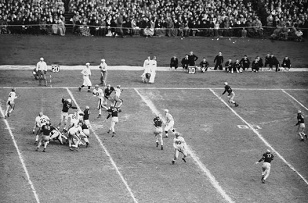 For the second consecutive season, Army was ranked #1 and Navy #2 in the AP poll coming into this game. Some writers were calling this another "Game of the Century" beforehand. A huge crowd, 102,000, came to witness history in the making, and few were surprised to see Army prevail rather easily, 32-13. Doc Blanchard and Glenn Davis came into this game with 16 touchdowns apiece on the season, but on this day Blanchard captured the national scoring title, and possibly the Heisman with it, by scoring 3 touchdowns to Davis' 2. Navy finished 7-1-1 and ranked #3. They tied #8 Notre Dame, and they defeated #9 Duke, #7 Penn, and #6 Michigan.
Alabama 1945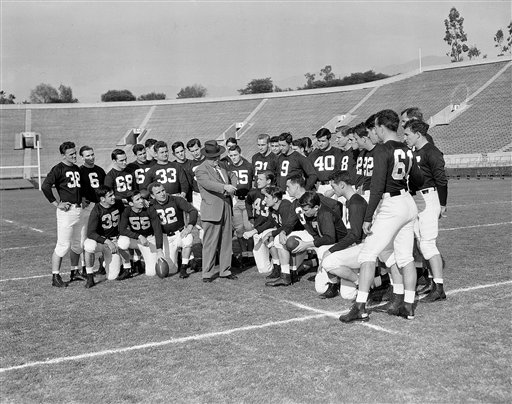 at Keesler Field
21-0
at Louisiana State (7-2)
26-7
#12
(Montgomery) South Carolina (2-4-3)
55-0
Tennessee (8-1)
25-7
#10

Georgia (9-2)
28-14
#13

at Kentucky (2-8)
60-19


at Vanderbilt (3-6)
71-0
Pensacola NAS
55-6
Mississippi State (6-3)
55-13

Rose Bowl


Southern Cal (7-4)

34-14

#21
Alabama had been a power team in the South for decades, and the school claims national championships for 1925, 1926, 1930, 1934, and 1941, though I do not recognize the 1926 claim, and no one aside from Alabama recognizes the utterly ridiculous 1941 claim. Hall of Fame coach Frank Thomas (pictured above with his team at the Rose Bowl) was nearing the end of his terrific run at Alabama, and I covered him in the linked 1934 national championship article.

Alabama's players were not nearly as heralded as Army's, and in fact Alabama did not even have as many players drafted by the NFL as 9-0 Oklahoma State did. There were just 2 notable players on this team, but both are Hall of Famers
.

Halfback Harry Gilmer was the offensive star. He was a nonconsensus All American (but made first team on 7 lists!) and led the nation with 13 touchdown passes, adding another 9 touchdowns on the ground. He was a terrific 65% on his passes and carried for 7 yards a pop. His total offense of 1457 yards was 2nd in the nation to Oklahoma State's Bob Fenimore. For his career Gilmer totaled 2894 yards passing for 26 touchdowns and 1673 yards running for another 24 touchdowns. He went on to a 9 year pro career.

Center Vaughn Mancha was Alabama's lone consensus All American this season. He was Florida State's athletic director 1960-1972.

Alabama may have been relatively ignored in the shadow of the Army juggernaut, but this team performed incredibly well, and no opponent came within a touchdown of them this season. Alabama fielded the top defense this year at 109.9 yards per game.
Alabama's Season
Like Army, Alabama defeated all of their opponents by more than a touchdown this season. They opened with a pair of road games, winning 21-0 at military training camp team Keesler Field and 26-7 at Louisiana State (7-2, #12). Harry Gilmer threw 3 touchdown passes to end Rebel Steiner in the latter affair. LSU took their other loss 27-20 to 6-3 Mississippi State (unrated), and their one big win came 32-0 over 9-2 Georgia (#13).

Alabama routed 2-4-3 South Carolina 55-0 in Montgomery, and then they set off for Birmingham to face Tennessee in their game of the year. Tennessee was missing their best 2 players for this game, so it wasn't actually much of a matchup, but Alabama performed like they were supposed to given the circumstances, taking a 19-0 halftime lead and winning 25-7. This was Tennessee's only loss

;

they finished 8-1 and are ranked #10 for 1945. But Tennessee's only notable win came just 7-6 over 5-3-1 Wake Forest (#19), so Alabama's best win doesn't hold much value for them.

Alabama was in Birmingham again the next week, facing Georgia, who was just coming off an ugly 32-0 loss to LSU at home. Georgia star Charlie Trippi had a great game, but Alabama survived it with a 27-14 win. Gilmer hit 13 of 19 passes for 121 yards and 3 touchdowns, and he also grabbed an interception from Georgia. Georgia won out to finish 9-2, capped by a 20-6 win over 8-3 Tulsa (#14) in the Oil Bowl in Houston, and the Bulldogs are #13 for 1945. Georgia also beat 6-3-1 Clemson (#25) 20-0 and 9-1-1 Miami-Florida (#20) 27-21 on the road.

Alabama then went into stomping mode, crushing 2-8 Kentucky 60-19 (Gilmer rushed for 216 yards on just 6 carries), 3-6 Vanderbilt 71-0, Pensacola NAS 55-6, and 6-3 Mississippi State (unrated) 55-13. But their season wasn't over, as they received and accepted their 6th invitation to the Rose Bowl (the game pictured below).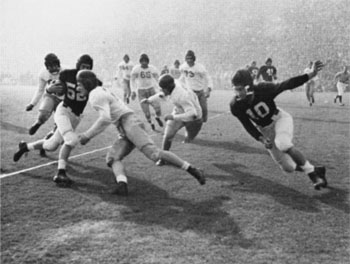 The Rose Bowl had been very good for Alabama. They were 4-1-1 in the game, and the school claims MNCs for 4 of those seasons. Their opponent, Southern Cal, was even better in Rose Bowls, 8-0, but USC was coming into this one a very unimpressive 7-3, and so it was little surprise, except perhaps to Trojan fans, when Alabama whipped them 34-14. It was 27-0 when USC accomplished their initial first down in the game. Alabama outgained them 351 yards to 41, holding USC to 6 yards rushing.

That left Southern Cal 7-4, and I have them #21 for 1945. Their other losses came 33-0 to San Diego Navy, 13-7 at Washington (6-3, unrated), and 26-0 to St. Mary's (6-2, #11). They did not beat a rated opponent.
Army vs. Alabama
Here are the significant games for Army and Alabama in 1945. The opponent rankings
come from my fixed AP poll for 1945
.


Army 9-0
Alabama 10-0

| | | |
| --- | --- | --- |
| Wake Forest (5-3-1) | 54-0 | #19 |
| (Bronx) Michigan (7-3) | 28-7 | #6 |
| (NYC) Duke (6-2) | 48-13 | #9 |
| (Bronx) Notre Dame (7-2-1) | 48-0 | #8 |
| at Penn (6-2) | 61-0 | #7 |
| (Philadelphia) Navy (7-1-1) | 32-13 | #3 |

at Louisiana State (7-2)
26-7
#12
Tennessee (8-1)
25-7
#10
Georgia (9-2)
28-14
#13

Rose Bowl


Southern Cal (7-4)

34-14

#21

Army defeated the rest of their opponents by an average of 47-4, and Alabama beat theirs by an average of 53-6.

Alabama's predicament is similar to that of Ohio State in 1944 (as well as Pitt in 1917). Almost any other year, Alabama would be a slam dunk MNC.
Ohio State 1944 had one advantage over Alabama 1945, a victory over a top-notch opponent (#3 Michigan). However, Alabama 1945 had an advantage over Ohio State 1944

:

perfect performance. Unlike Ohio State 1944, Alabama 1945 won all their games by more than a touchdown. They were unthreatened.

One could also argue that Tennessee might have represented a top-notch opponent, regardless of where they were ranked, since Alabama gave them their only loss. But Tennessee's only other rated opponent was #19 Wake Forest, and they only beat them 7-6 at home, so that argument doesn't get very far. Army beat Wake Forest 54-0. Tennessee was also missing their 2 best players when Alabama played them, and that cuts the whole argument off at the ankles.


9-2 Georgia accomplished more than Tennessee, and was probably a better team, but they were trounced 32-0 by LSU. 7-2 LSU was upset by a mediocre unrated Mississippi State team, and LSU also barely won 9-7 at 4-6 Georgia Tech
. Notre Dame beat Georgia Tech 40-7, and Army beat Notre Dame 48-0.

Because of their performance, I do think that Alabama had a better case for sharing an MNC than Ohio State 1944 or Pittsburgh 1917 had. But their schedule was just not impressive enough to merit sharing an MNC with Army 1945, who played and destroyed 5 top 10 teams. And it's not as though Alabama didn't have an opportunity to play a tougher schedule. Army added Wake Forest and Michigan to their schedule this season, teams that had been 16-3 in 1944, and their schedule had already been looking mighty tough. Alabama added South Carolina (3-4-2 in 1944) and Vanderbilt (did not play football 1943-1944), worthless. And come bowl time, Alabama accepted a bid to the most prestigious bowl, the Rose, but that stuck them with a nearly worthless opponent. Had they gone to the Sugar Bowl instead, they would have been facing 8-0 Oklahoma State, and a win over them would have strengthened their case immensely.

As it is, I just can't see Alabama sharing an MNC with the Army juggernaut.
Awards Ceremony
1945 #1:

9-0 Army


National Co-champion:

None


Contender:

10-0 Alabama

These are the awards I have been handing out for each season, except seasons when there are no contenders. For this purpose, what I mean by a contender is a team that I think is very close to being worthy of sharing the national championship. A team that you could make an argument for, even if that argument is weak. But the contenders are teams that I myself do not see as national champions.

As previously stated, and as I said about Ohio State in 1944, this Alabama team would have earned at least a share of an MNC for almost any other season. I'm surprised that the school doesn't claim an MNC for it, as this team has a far better case than their 1941 team.
Grading the Selectors
I have been grading the NCAA Records Book's selectors for each season, and keeping a grade point average, so we can see who is relatively good at selecting national champions and who is not. And although I do not consider computer ratings to be legitimate national championship selectors, I have been including them in this section as well, just for comparison's sake.
I am grading on a scale of 0-5 (5 being the best).


The National Championship Foundation split the MNC between Army and Alabama. Grade

:

3.6



Everyone else selected Army
. Grade

: 5.0



Grade point averages 1936-1945

:




1) Boand (math system)




College Football Researchers Association




5.0

3) AP Poll


Poling (math)


Billingsley (math)

4.92

6) DeVold (math)
4.89
7) National Championship Foundation
4.64
8) Litkenhous (math)
4.57

9)

Houlgate (math)

4.4

10)

Dunkel (math)

4.12

11) Sagarin (math)
4.07

12) Helms Foundation

4.04

13) Berryman (math)
4.03
14) Sagarin-ELO (math)
3.9
15) Williamson (math)
3.3

16)

Dickinson (math)

3.0

Grade point averages 1919-1935
:
| | |
| --- | --- |
| 1) Boand (math system) | 4.26 |
| 2) College Football Researchers Association | 4.22 |
| 3) Poling (math) | 4.11 |
| 4) Helms | 4.09 |
| 5) Sagarin-ELO (math) | 4.06 |
| 6) National Championship Foundation | 3.96 |
| 7) Dickinson (math) | 3.49 |
| 8) Houlgate (math) | 3.35 |
| 9) Billingsley (math) | 3.34 |
| 10) Sagarin (math) | 3.28 |
| 11) Parke Davis | 2.77 |

How the systems that selected champions for 1901-1918 did

:



| | |
| --- | --- |
| 1) Houlgate (math system) | 4.5 |
| 2) Helms | 4.3 |
| 3) Parke Davis | 4.2 |
| 4) National Championship Foundation | 3.7 |
| 5) Billingsley (math) | 3.6 |