Home
1941 College Football National Championship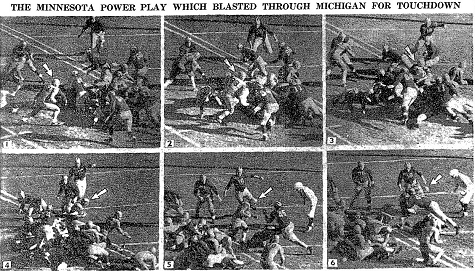 Pictured above is Minnesota's touchdown that beat 6-1-1 Michigan 7-0. Minnesota finished 8-0 and ranked #1 in the AP poll for the 2nd straight year, giving them 5 mythical national championships (MNC) in 8 years 1934-1941. Minnesota is a unanimous selection as 1941 MNC among
organizations listed in the NCAA Records Book (omitting math/computer ratings, which are not generally accepted as MNCs).

Duquesne also finished 8-0, including a big 16-0 win over SEC champion Mississippi State (8-1-1, #12 in fixed AP poll), but their schedule was otherwise bereft of competition, and they struggled to win against Villanova and St. Vincent's (Pennsylvania). They are ranked #6 in the fixed AP poll, and they are not a contender for the MNC.

Alabama actually claims an MNC for this season, despite the fact that they were 9-2, ranked #20 in the AP poll (they rise to #13 in the fixed poll), and they finished tied for 5th in the SEC with 8-2 Vanderbilt, who beat them. This has to be the worst MNC claim of all time, utterly senseless. The claim is based on Alabama finishing #1 in the relatively obscure Houlgate math formula, and it is the only MNC claim a school has made based on Houlgate (Sagarin is far more respected, and no school claims an MNC based on Sagarin). No school has ever rescinded an MNC claim, so I suppose Alabama is stuck with this one, but it seems to me that it would be much less embarrassing for Alabama to rescind the claim than to continue with their ridiculous "1941 national champions" charade.

8-0-1 Notre Dame blew a share of the 1941 MNC when they tied 5-3-1 Army (#22 fixed AP poll) at Yankee Stadium. They are #2 in the fixed AP poll. Duke was 9-0 at the end of the regular season and ranked #2 in the AP poll, but they were shocked 20-16 by 8-2 Oregon State (#19 fixed AP poll) in the Rose Bowl, despite the fact that the Rose was held in Duke's home stadium in Durham this year because of the attack on Pearl Harbor. Duke falls to #10 in the fixed AP poll. Much like the previous season, 6-1-1 Michigan would have won at least a share of the MNC this year if they had beaten Minnesota. They are #3 in the fixed AP poll.

There are no contenders to Minnesota's crown this year, so they are the only team I will be summarizing here.
All rankings in the following article, except as noted, come from my 1941 fixed AP poll.
Minnesota 1941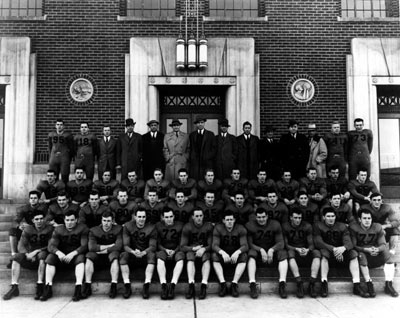 | | | |
| --- | --- | --- |
| at Washington (5-4) | 14-6 | |
| Illinois (2-6) | 34-6 | |
| Pittsburgh (3-6) | 39-0 | |
| at Michigan (6-1-1) | 7-0 | #3 |
| Northwestern (5-3) | 8-7 | #7 |
| Nebraska (4-5) | 9-0 | |
| at Iowa (3-5) | 34-13 | |
| Wisconsin (3-5) | 41-6 | |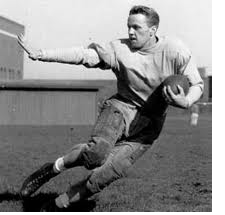 Minnesota had won 3 consecutive MNCs 1934-1936 and another in 1940, so this season makes 5 in 8 years, matching Yale's 1902-1909 run. No program has done it since, though Alabama is working hard on it as I write this. I covered Minnesota's Hall of Fame coach, Bernie Bierman, in my 1934 national championship article.


Minnesota had graduated Hall of Fame halfback Sonny Franck, but all of the rest of the players I covered in the 1940 article returned this season, led by another Hall of Fame halfback, Bruce Smith (pictured at left). He won the Heisman this year. A ridiculous 16 players from this year's roster were drafted by NFL teams over the next 2 years.

Through 1941, Minnesota was one of the top all-time football programs, and 1934-1941 they stood alone atop the college football world. But 1941 was the end of that long ride. Bernie Bierman left to serve in the armed forces, and though he returned after WWII ended, things were never quite the same. 1945-1950, he went 30-23-1, which isn't bad, but he was 1-7-1 in 1950, and Minnesota fired him. That was probably the worst coaching fire in history, and Minnesota has been suffering from the bad karma ever since. Their next coach went 15-11-1 in a short 3-year tenure, which is about the same as Bierman's 30-23-1 his last 6 years, and all 11 coaches that Minnesota has had since then have posted worse records than that.

Minnesota is recognized as an MNC for 1960, since they finished #1 in the AP poll, but they then lost the Rose Bowl, so I do not recognize that team as an MNC
. But at least they were close-- otherwise, the last 75+ years has been rather unkind to Minnesota.
Minnesota's Season
Minnesota opened their 1941 season with a 14-6 win at 5-4 Washington, Bruce Smith scoring both touchdowns. Then they crushed a pair of losing teams 34-6 and 39-0. That brought them to back-to-back games against top 10 opponents, the only rated teams they played this season
.

For the 2nd year in a row, the Michigan game was for the Big 10 title and the MNC. This time the game was played in Ann Arbor. Bruce Smith starred again, getting off a 78 yard punt and throwing a 43 yard pass completion to set up the touchdown that won the game 7-0. Michigan blew a shot at the tie when a receiver dropped a long pass at the Minnesota 1 yard line. The Wolverines tied 6-1-1 Ohio State in their finale, finishing 6-1-1 and ranked #3 in the fixed AP poll for 1941.

Bruce Smith had been injured in the Michigan game, and did not play in the second half, and he could go only go in for a few plays in the next week's game against Northwestern. This was Minnesota's toughest game of the season. 64,000 fans showed up to set a new Minnesota attendance record.
Minnesota dominated the game statistically, outgaining Northwestern 238 yards to 101 and 139 kick return yards to 33, but the Gophers barely won 8-7, and they needed some help from the referees to secure that slim edge. Minnesota drove early to the Northwestern 17, but threw an interception. They still scored first, thanks to a Northwestern snap that sailed out of their own end zone for a safety. In the 2nd quarter, Northwestern halfback Otto Graham, a college and pro Hall of Famer, tossed a 73 yard touchdown pass that was negated by a penalty because tackle Leon Cook was lined up offside. Graham later hit a pass to the Minnesota 32, then connected again for a touchdown from there, and Northwestern led 7-2 at the half.

Minnesota halfback Bud Higgins rushed for 96 yards in Bruce Smith's absence, much of that coming on a 41 yard touchdown romp in the 3rd quarter that ultimately won the game 8-7. That play was set up by a poor 7-yard punt from Northwestern. Minnesota had rushed for no gain following the shanked punt, but then they quickly scrambled to the line of scrimmage and ran the next play before Northwestern was ready, leading to Higgins' winning touchdown. Minnesota recovered a fumble at the Northwestern 24 late in the game, then drove to the 4, but they were halted there.

Northwestern coach Pappy Waldorf was not happy with the officiating, and complained to the press in the week after the game that Minnesota's touchdown was scored on an illegal play, since they did not get "set" for 1 second prior to snapping the ball. Furthermore, while he conceded that his lineman was offside on the negated 73 yard touchdown pass, and therefore that call was technically correct, he complained that said lineman had been lined up in the same position several times prior, as shown in game pictures, and nothing was called until that touchdown play.

Northwestern finished the season 5-3, but they were quite a powerful 5-3 team. Their other losses came 14-7 to 6-1-1 Michigan and 7-6 to 8-0-1 Notre Dame, and they won 14-7 at 6-1-1 Ohio State. I have them ranked #7 for 1941.

Minnesota finished out the season by beating a trio of losers 9-0, 34-13, and 41-6.

Awards Ceremony
1941 #1:

8-0 Minnesota


National Co-champion:

None


Contender:

None

These are the awards I have been handing out for each season, except seasons when there are no contenders. For this purpose, what I mean by a contender is a team that I think is very close to being worthy of sharing the national championship. A team that you could make an argument for, even if that argument is weak. But the contenders are teams that I myself do not see as national champions.
Grading the Selectors
I have been grading the NCAA Records Book's selectors for each season, and keeping a grade point average, so we can see who is relatively good at selecting national champions and who is not. And although I do not consider computer ratings to be legitimate national championship selectors, I have been including them in this section as well, just for comparison's sake.
I am grading on a scale of 0-5 (5 being the best).


The Houlgate math formula ranked 9-2 Alabama #1.

Grade: 0.0


The Berryman and Williamson systems crowned 8-1-1 Texas. Grade

: 0.0



Everyone else selected Minnesota.

Grade: 5.0



Grade point averages 1936-1941 (DeVold and Berryman will be added when the systems have selected at least half as many champions as the others)

:




1) Boand (math system)




College Football Researchers Association




Poling (math)




Billingsley (math)

5.0

5) AP Poll


National Championship Foundation

4.9

7) Litkenhous (math)
4.4

8) Helms Foundation

4.23

9)

Sagarin-ELO (math)


Houlgate (math)

4.17

11) Sagarin (math)
3.6

12)

Dunkel (math)

3.5

13) Dickinson (math)
3.0

14)

Williamson (math)

2.4

Grade point averages 1919-1935
:
| | |
| --- | --- |
| 1) Boand (math system) | 4.26 |
| 2) College Football Researchers Association | 4.22 |
| 3) Poling (math) | 4.11 |
| 4) Helms | 4.09 |
| 5) Sagarin-ELO (math) | 4.06 |
| 6) National Championship Foundation | 3.96 |
| 7) Dickinson (math) | 3.49 |
| 8) Houlgate (math) | 3.35 |
| 9) Billingsley (math) | 3.34 |
| 10) Sagarin (math) | 3.28 |
| 11) Parke Davis | 2.77 |

How the systems that selected champions for 1901-1918 did

:



| | |
| --- | --- |
| 1) Houlgate (math system) | 4.5 |
| 2) Helms | 4.3 |
| 3) Parke Davis | 4.2 |
| 4) National Championship Foundation | 3.7 |
| 5) Billingsley (math) | 3.6 |