Home
1960 College Football National Championship


Pictured above is Washington halfback George Fleming advancing the ball on Minnesota in the Rose Bowl. #6 Washington upset #1 Minnesota 17-7, the 4th time the AP poll's #1 team lost its bowl game, and the 1960 post-bowl mythical national championship race was thrown into chaos. Four schools claim MNCs for 1960

:

8-2 Minnesota (regular season "champ"), 10-1 Washington, 10-0-1 Mississippi, and 8-1 Iowa. 10-1 Missouri doesn't claim one yet, but the way schools are retroactively naming themselves "national champions" for past seasons lately, they probably will eventually.

Here is how all of the organizations listed in the NCAA Records Book see the 1960 mythical national championship (omitting selections made by a single magazine or by math/computer ratings, which are not generally accepted as MNCs)

:





8-2 Minnesota

:

AP Poll

, UPI Poll (coaches), National Football Foundation




10-0-1 Mississippi

:

Football Writers Association of America

, CFB Researchers

,

National Championship Foundation
10-1 Washington

:

Helms

As you can see, Minnesota holds the 3 regular season "national championships," and 10-0-1 Mississippi is the consensus post-bowl choice. Minnesota, 8-2 and a bowl loser, is obviously not a legitimate candidate for us, but I will be covering 10-0-1 Mississippi (AP #2) and 10-1 Washington (#6) in this article. In addition, I will be covering 8-1 Iowa (#3) and 10-1 Missouri (#5). I went over these 4 teams in great detail in my article for the 1960 fixed AP poll, and I concluded there that the only logically viable options for #1 were Iowa and Washington. So obviously those 2 teams are, in my opinion, mythical national champions for the 1960 season.

However, it is possible that Missouri and Mississippi could be worthy of sharing the MNC despite not being viable at #1. That's how I assessed all of the following teams

:

Carlisle for 1911, Army 1916, Illinois 1923, Alabama 1925, Fordham 1937, and Boston College 1940

.



All rankings in the following article, except as specified, come from my 1960 fixed AP poll.

Iowa 1960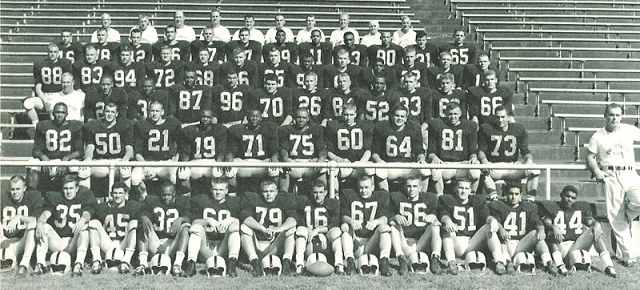 | | | |
| --- | --- | --- |
| Oregon State (6-3-1) | 22-12 | |
| at Northwestern (5-4) | 42-0 | #21 |
| at Michigan State (6-2-1) | 27-15 | #8 |
| Wisconsin (4-5) | 28-21 | |
| Purdue (4-4-1) | 21-14 | #11 |
| Kansas (7-2-1) | 21-7 | #9 |
| at Minnesota (8-2) | 10-27 | #3 |
| Ohio State (7-2) | 35-12 | #7 |
| at Notre Dame (2-8) | 28-0 | |
This is the 3rd appearance for Iowa in an MNC article since 1956. But if you're tired of Iowa, fear not, because this season was the end of their run. In that 1956 season, Iowa finished 9-1 and #2, and I felt that they were just short of meriting a share of the MNC. I covered their Hall of Fame coach, Forest Evashevski, in that article. Iowa finished 7-1-1 and #4 in 1957, then 8-1-1 and #2 in 1958. They were selected by the FWAA as an MNC for 1958, and I agreed that they deserved a share of that one. Iowa dipped to 5-4 and #23 in 1959, but this season they came roaring back with an 8-1 finish against, as usual, the toughest schedule (by far) faced by any of the MNC contenders. I have Iowa ranked #1 in the fixed AP poll for 1960.


This was the end of Iowa's run because Forest Evashevski was taking over as Iowa's athletic director, and the school foolishly would not allow him to be both the head coach and the athletic director. Iowa would be a poor football program for the next 20 years because of this decision, and they have never returned to being the kind of program they were 1956-1960.

The only notable player who remained from Iowa's 1958 MNC team was guard Mark Manders, a nonconsensus All American this season. Iowa had one other nonconsensus AA this year, halfback Larry Ferguson. He led the team with 665 rushing yards, he scored 6 touchdowns, and
he averaged 7.4 per carry (still the school record).
He had an 85 yard touchdown run in the opener against Oregon State, a 70 yard interception return at Northwestern the next week, and a 91 yard touchdown run against Ohio State. Unfortunately, a knee injury in 1961 seriously curtailed his career.

Quarterback Wilburn Hollis was All Big 10. He was the opposite of Iowa's superstar quarterback of 1958, Randy Duncan

:

Hollis was a weak passer (22 of 63 for 289 yards on the season) and a strong runner (477 rushing and a team-leading 11 touchdowns). As a result, Iowa's offense was weaker overall than it had been in 1958, but their ball control was better, and thus the defense was better this season. Hollis broke his wrist in the 2nd game of 1961, ending his career.

Center Bill Van Buren would be a nonconsensus AA in 1961.
Iowa's Season
Iowa opened against Oregon State at home, who had already begun the season with a 14-0 win at Southern Cal and was ranked #10. Iowa was #19. Iowa drove 85 yards for a touchdown in the first quarter and kicked a field goal in the 2nd to lead 9-0 at the half. Oregon State drove a short field for a touchdown in the 3rd quarter, and Iowa answered with a touchdown on their next drive. Oregon State came back with a 69 yard touchdown drive, but then the Beavers were spent. Iowa halfback Larry Ferguson scored on an 85 yard touchdown run in the 4th quarter to put the game away, final score 22-12. Oregon State finished 6-3-1, but they didn't beat anyone good, they lost to 2-7-1 Cal, and so OSU falls outside the top 25 for 1960
.

Iowa moved up to #8 in the next AP poll, then they hit the road to play another top 10 opponent, #6 Northwestern, who had won their opener 19-3 at Oklahoma. This game was no problem, as Iowa rushed for 303 yards and romped 42-0. Northwestern also lost to 8-2 Minnesota, 5-4 Michigan, and 6-2-1 Michigan State, but all in close games, and they defeated 5-4 Illinois and a good 4-5 Wisconsin team, finishing Northwestern at 5-4 and ranked #21.

Iowa moved up to #3, then hit the road again to face #13 Michigan State. The Hawkeyes jumped to a first half lead, as usual, 14-0, but Michigan State rallied for 2 touchdowns and a 2-point conversion to lead 15-14 in the 4th quarter. They were driving again when Iowa fullback Joe Williams played the hero, snatching a fumble out of the air and returning it 67 yards for a touchdown. Quarterback Wilburn Hollis added a late insurance touchdown, and Iowa won 27-15. Michigan State finished 6-2-1 and ranked #8.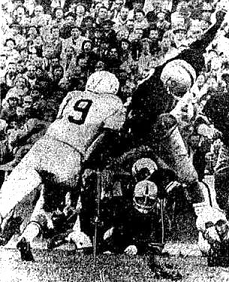 Iowa moved up to #2, then hosted yet another rated opponent, #12 Wisconsin (as pictured above), who was the defending Big 10 champion and was coming into the game at 3-0. The Badgers scored first, driving 74 yards in 17 plays for a 7-0 lead in the opening quarter. Iowa intercepted a pass to set up a touchdown to tie the game 7-7 in the 2nd quarter, and that was the halftime score. In the 3rd quarter Iowa traveled 69 yards in 14 plays, the last a 31 yard Wilburn Hollis touchdown run. Later, Iowa intercepted another pass and returned it to the Wisconsin 32. Two long touchdowns were negated by penalties, then Hollis connected on a pass to the 14. He scored the touchdown in 2 runs, and the game seemed safely in hand at 21-7 early in the 4th quarter. But it wasn't.

Wisconsin drove 75 yards, most of it on a 51 yard pass, to cut the lead to 21-13. Iowa fumbled away the ensuing kickoff, Wisconsin recovered the ball at the 19, and they quickly moved in for another touchdown from there, adding a pass for the 2-point conversion to tie the game up 21-21. So it remained until just less than 2 minutes remaining in the game. Iowa halfback Larry Ferguson returned a punt from his 20 all the way to the Wisconsin 29. Hollis then hit Ferguson on the next play for a touchdown, but it was negated by a penalty. So Hollis tossed a 34 yard touchdown to Sammie Harris, this pass bouncing off the fingertips of Wisconsin defender Bill Hess. Iowa won 28-21.

Hollis was the hero, rushing 19 times for 88 yards and 2 touchdowns, and hitting the winning touchdown bomb from 34 yards out late in the game. Wisconsin had 16 first downs to 13 for Iowa, and they outgained Iowa 259 yards to 240. The Badgers proceeded to lose 4 of their next 5 games, finishing 4-5 and unranked, but power-wise they were probably about #15. All five of their losses came to top 25 teams, and they defeated 4-4-1 Purdue (#11) and 5-4 Michigan (#12).

Six Straight Ranked Opponents, Six Straight Wins
Iowa barely slipped past Mississippi in the next AP poll, taking the #1 position for the first time in their history. Then they played their 5th straight rated opponent to start the 1960 season, hosting #10 Purdue, who was 2-1-1, but had tied UCLA (finished 7-2-1) and beaten Ohio State (7-2). This was Iowa's homecoming game, and it looked like it would be an easy one as the Hawkeyes built a 14-0 halftime lead, the key play a fumble on a sack that was returned 84 yards for a touchdown. Iowa pushed the lead to 21-0 in the 3rd quarter, and Purdue went to the air. They came back with touchdowns on a 76 yard drive in the 3rd quarter and a 91 yard drive in the 4th, but that still left them down 21-14, which is how it ended.

Purdue lost their next 2 games, but then won a huge upset 23-14 at Minnesota (8-2, #3) that had a major impact on this season. That upset enabled Iowa to salvage a share of the Big 10 title, and it was half of the 2 losses Iowa needed Minnesota to take for the Hawkeyes to be able to claim a share of the 1960 MNC. Purdue finished 4-4-1, but they were still ranked in the final AP poll, and they are ranked #11 in the fixed poll.

Iowa's streak of playing rated opponents barely continued as they next hosted #19 Kansas. This game played out a lot like the Purdue game, Iowa taking a 14-0 lead at half and making it 21-0 in the 3rd quarter, then Kansas waking up. But Kansas was stopped at the Iowa 2, 4, and 21 yard lines before finally scoring a late touchdown to make the final score 21-7. Kansas did not punt in the 2nd half, and outgained Iowa in that half 212 yards to 129. Iowa totaled 257 yards rushing.

Iowa thus started this season with 6 straight ranked opponents (ranked at time of game), 6 straight wins. Kansas was similar to Purdue in another way, as they pulled off a huge upset of Missouri (then ranked #1) in their finale, also clearing the way for an Iowa MNC. Kansas finished 7-2-1 and ranked #9.
Game of the Year at Minnesota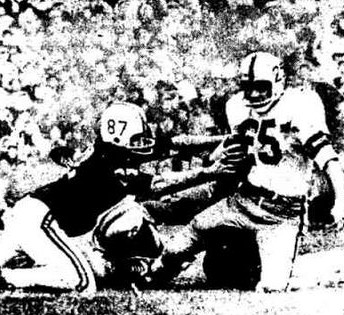 The one game Iowa lost this year was their biggest one, at Minnesota. Iowa was ranked #1, and Minnesota was 6-0 and ranked #3. On the opening drive of the game, Iowa had a bad snap on a punt, giving Minnesota the ball at the Iowa 14 (pictured above), and then the Gophers hit a touchdown pass on 3rd down for a 7-0 lead. Iowa hit a field goal in the 2nd quarter to close the gap to 7-3 at the half. Iowa then drove to a touchdown on their first possession of the 3rd quarter to take a 10-7 lead. Minnesota answered with an 81 yard touchdown drive, the key play a 28 yard pass on 3rd down, and they regained the lead for good at 13-10. Iowa lost a fumble at their 42 in the 4th quarter, and a Minnesota run into the line popped free for a 42 yard touchdown run. On their next drive, Iowa lost the ball again, at their 19, and Minnesota scored again, making the final 27-10.

Minnesota outgained Iowa 299 yards to 198. But the Gophers were upset 23-13 at home by 4-4-1 Purdue (#11) the next week, opening the door for the winner of the upcoming Iowa-Ohio State game to claim a share of the Big 10 title. Minnesota then got upset 17-7 by Washington (10-1, #2) in the Rose Bowl, finishing the Gophers at 8-2, ranked #3.




Iowa dropped from #1 to #5 in the next AP poll, and Ohio State came to Iowa City at 6-1 and ranked #3 (this game pictured above). So this was Iowa's 8th straight ranked opponent, and 5 of those had been ranked in the top 10! With a share of the Big 10 title up for grabs, Iowa throttled Ohio State, jumping to a 28-6 halftime lead, and halfback Larry Ferguson sealing the deal with a 91 yard touchdown run in the last quarter to make the final score 35-12. Iowa amassed 361 yards rushing in this game. Ohio State finished the season 7-2 and ranked #7.

Iowa moved past Minnesota again in the next AP poll, to #2 behind Missouri. The Hawkeyes then finally faced their first cupcake in their last game, winning 28-0 at 2-8 Notre Dame. They held the Irish to just 95 yards of offense. #1 Missouri was upset by Kansas on the same day, but #2 Iowa did not rise to #1, despite their easy win. In their typical irrational fashion, the AP sportswriters surged Minnesota back ahead of Iowa because Minnesota was invited to the Rose Bowl. Iowa fell to #2. They fell to #3 behind Mississippi in the last AP poll, but only 3.5 poll points behind them, so it's tough to say how a post-bowl AP poll would have gone, with #1 Minnesota losing.

I'd like to think the voters would have been smart enough to move Iowa, 4-1 against their own top 20, to #1 ahead of Mississippi, who was 1-0 against rated teams and had a tie with an unrated team. But... there's that irrational thing, and the FWAA writers weren't smart enough to select Iowa over Mississippi after the bowls (more on that terribly inconsistent choice later), so who knows?
Washington 1960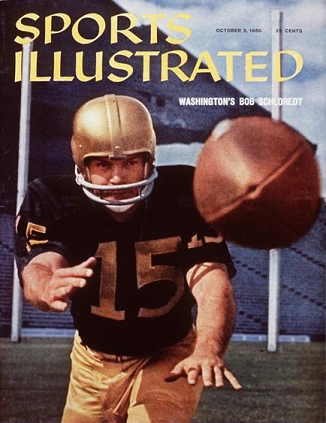 Pacific (4-6)
55-6
Idaho (1-9)
41-12
Navy (9-2)
14-15
#6
at Stanford (0-10)
29-10
UCLA (7-2-1)
10-8
#10
(Portland) Oregon State (6-3-1)
30-29
Oregon (7-3-1)
7-6
at Southern Cal (4-6)
34-0
California (2-7-1)
27-7
at Washington State (4-5-1)
8-7

Rose Bowl


Minnesota (8-2)

17-7

#3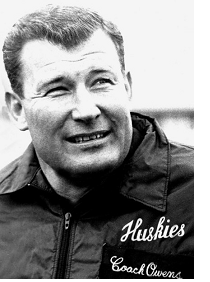 This season is Washington's first MNC, but the football program here had had some success in the past. They went unbeaten for 9 straight seasons 1908-1916 under Hall of Fame coach Gil Dobie. Then they went 58-12-4 under Enoch Bagshaw 1922-1928, with 2 Rose Bowl appearances. After that, Washington football was just okay over the next couple of decades, making the top 25 about once every 4 seasons. But in the 1950s, the program degraded from just okay to just bad, going 31-45-4 from 1951 through 1958. Then suddenly, Washington exploded for a pair of 10-1 seasons 1959-1960, each capped with a Rose Bowl victory
.

The coach was Jim Owens (pictured at left), who had been a Hall of Fame end at Oklahoma 1946-1949. He went 99-82-6 at Washington 1957-1974, winning 3 conference titles, but really his entire coaching career rested on this pair of 10-1 seasons, 1959-1960. Over the other 16 years of his career, Owens had a losing record!

Coming into 1960, Washington returned the entire starting lineup from their Rose Bowl appearance that had capped a 10-1 season the year before, plus another 10 lettermen, so they were expected to be a national championship contender before the season even started. They were ranked #3 in the preseason AP poll. Washington's great depth would serve them well as injuries ravaged the roster this season, particularly hitting the line.
Center Ray McKasson was the only player to make first team All America lists this season (nonconsensus). Backup center Ray Mansfield saw more playing time as the season progressed, and he would go on to a 14 year pro career. Guard Chuck Allen was All-conference twice, and started 29 of the 32 games he was here. He went on to a 12 year career in the NFL as a linebacker, and totaled 28 interceptions there.

Quarterback Bob Schloredt (pictured above on the cover of

Sports Illustrated

), who was blind in his left eye, was the star player. He was nonconsensus AA in 1959, and was a good passer, runner, defensive back, and punter. He had picked off 7 interceptions in 1959, and he averaged 40 yards per punt. But unfortunately for Washington, Schloredt would be lost in game 5 to a broken collarbone, and unable to return until the Rose Bowl game. He made the most of his return there, and became the first player to ever be named Rose Bowl MVP twice.

The loss of Schloredt would have hurt a lot more than it did were it not for the fact that Washington had senior quarterback Bob Hivner backing him up. Hivner had been the primary quarterback in 1958, and he was injured in 1959, enabling Schloredt to emerge in his place. Hivner was more of a passing quarterback and not a runner.

Halfback Charlie Mitchell led the team in rushing with 467 yards and in scoring with 5 touchdowns. He averaged 6.3 yards per carry. He was a big-play guy who scored on a 59 yard punt return against Stanford, an 85 yard kickoff return against Idaho, and a 36 yard touchdown run in a 30-29 win at Oregon State. He went on to a 5 year pro career, and later became Dr. Charlie Mitchell, chancellor of Seattle Community Colleges. Splitting time with him at halfback was George Fleming, a terrific kicker who was often sent into games for that purpose, but he was also a good runner and defensive back.
Washington's Season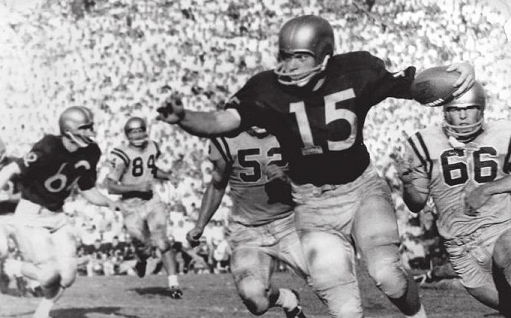 Washington's season was much more dramatic than Iowa's, or any MNC contender in 1960. But it didn't start out that way, as Washington began with 55-6 and 41-12 romps over cupcakes. The trouble began game 3, when #17 Navy came to town. #3 Washington was a 13 point favorite, and they would outgain Navy 275 yards to 207, but a bunch of improbable mistakes would cost the Huskies the game. Washington took an early 7-0 lead on a touchdown pass, and Navy answered with a touchdown drive of their own, but they missed the extra point, so Washington still led 7-6.

Early in the 2nd quarter, Washington scored a touchdown on 4th and goal from the 5, but the play was negated by offsetting penalties. The next play was stopped at the 1 yard line. Late in that half, Washington drove to the Navy 9, and the coaches were about to send George Fleming in to kick a field goal, but they decided there was time for one more pass into the end zone. Unfortunately, quarterback Bob Schloredt failed to see a wide-open back in the end zone, and also failed to throw the ball away, scrambling instead and getting tackled at the 4. That let time run out, with no field goal attempt.

In the 3rd quarter, Washington drove a short field to a touchdown, extending their lead to 14-6. Navy answered through the air, hitting passes for 15, 12, and 26 yards for the touchdown, cutting the lead to 14-12. So it remained until late in the 4th quarter, when a couple more Schloredt mistakes cost the Huskies a game that was practically over. First, on 3rd and 4, Schloredt had a clear field ahead for the first down, which would have enabled them to run out the clock, but he tripped and fell. Then, the punt snap was low, and Schloredt couldn't handle it, giving Navy the ball at the Washington 24 with the clock winding down. Navy had a touchdown pass called back due to a penalty, then they kicked a 31 yard field goal with 14 seconds left for the miracle 15-14 win.

Navy ended up having a surprising 9-2 season, losing 21-14 to Missouri (10-1, #4) in the Orange Bowl, and they are ranked #6 for 1960. Washington next mowed down a bad Stanford team 29-10 on the road, then #15 UCLA came to Seattle. Washington was ranked #13. UCLA still ran the old-fashioned single wing offense, driven by tailback Billy Kilmer, a future Hall of Famer and 18-year pro quarterback. This is the game where Bob Schloredt was lost for the season, breaking his collarbone trying to make a tackle in the 2nd quarter.

Bob Hivner came in at quarterback, and on his first offensive series, he led the Huskies 53 yards to a 38 yard George Fleming field goal. In the 3rd quarter, they drove 82 yards to a touchdown. UCLA came up empty on 3 trips inside the Washington 10 yard line in the 2nd half before finally scoring a touchdown late in the 4th quarter, adding a 2-point conversion to make the final score 10-8. UCLA outgained Washington by a lot, 358 yards to 192, but they just couldn't finish drives.

1-Point Wins
Washington would be living dangerously the rest of the season, following that 2-point win with a pair of 1-point wins, then adding another 1-point win in their finale. Next up was a trip to Portland to play #18 Oregon State, another team that ran the single wing offense, and driven by another tailback who was a future Hall of Famer. OSU's Terry Baker would win the Heisman Trophy in 1962. He scored 2 touchdowns in the opening quarter, but OSU went for 2 both times and came up empty, so it was just 12-0. Baker would produce 302 yards of total offense, but extra points would end up being the story of this game.

Washington came back with a touchdown in the 2nd quarter, but Oregon State's onslaught continued with a touchdown and field goal to push their lead to 22-7 at halftime. The Huskies came out of the locker room on fire, marching for a touchdown on their opening drive and Bob Hivner hitting a pass for the 2-point conversion to close within one score, 22-15. But on their next possession, Washington fumbled the ball away at their own 25, and OSU cashed in the opportunity for a touchdown and a 29-15 lead. Undaunted, Washington marched down the field again, 80 yards, and Hivner again hit a pass for the 2-point conversion, closing the gap to 29-23.

Washington thoroughly dominated the 2nd half, and they completed the rally with a 64 yard drive for a touchdown in the 4th quarter, the extra point giving Washington the lead 30-29. The man who kicked it, halfback George Fleming, intercepted an Oregon State pass to seal the deal. Washington scored 4 touchdowns, Oregon State 4 touchdowns and a field goal, but Washington won because they made both their 2-point tries and Oregon State missed both of theirs. Oregon State finished 6-3-1, but they did not beat a good team, they lost to 2-7-1 California, and they are not ranked for 1960.

Washington next came back home to face Oregon, another game they won by 1 point. Oregon's Bruce Snyder (future coach at California and Arizona State) scored a touchdown in the 3rd quarter, but Washington's Ray Mansfield blocked the extra point, which would prove to be crucial. Things looked dim as Oregon reached the Washington 20 late in the 4th quarter, but on 3rd and 4, Bob Hivner intercepted a pass at his own 5. Washington drove to midfield, and on 4th and 6 at the Oregon 47, Hivner hit halfback Don McKeta with a short pass, and he took it all the way for the touchdown. George Fleming again kicked the winning extra point, final score 7-6. Oregon lost 41-12 to Penn State (7-3, #23) in the Liberty Bowl to finish 7-3-1, and like Oregon State, they are not quite ranked in the top 25 for 1960.

Washington cut the dramatics in wins by 34-0 at Southern Cal and 27-7 over California, but they were back to their nailbiter ways in the finale against archrival Washington State (4-5-1) on a bitterly cold day in Spokane. This game was scoreless through 3 quarters, and WSU broke the ice with a touchdown pass early in the 4th quarter to go up 7-0. Washington returned the kickoff 38 yards to their 47, and 3rd string quarterback Kermit Jorgensen led them to a touchdown in 15 plays, almost all of them bashes right into the line, a test of wills. Bob Hivner was sent in to hit the 2-point pass to halfback Don McKeta for an 8-7 win.

The Rose Bowl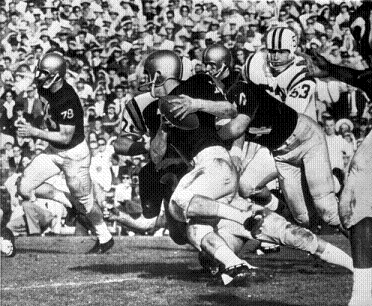 Minnesota was #1, Washington #6. The Big 10 had been 12-1 against the West Coast in Rose Bowls 1946-1958, but Washington had broken through for the West's 2nd win, against Wisconsin, following the 1959 season. What no one knew then was that the tide had turned, and the West Coast would go 24-9 against the Big 10 in Rose Bowls over 33 years. Bob Schloredt was back at quarterback for Washington, which meant more running and less passing. Washington also surprised Minnesota with sweeps they hadn't shown all year, and that the Gophers were not well prepared to defend. Schloredt had very quick and accurate pitches on the sweeps, an often underrated asset in a quarterback, and he also found big holes to run through on quarterback sneaks.

In the opening quarter, Minnesota punted from their own end zone, and George Fleming returned it to the Minnesota 34. Washington couldn't drive it much further, but Fleming kicked a 44 yard field goal, then a Rose Bowl record, for a 3-0 lead. Minnesota's next drive started out strong, but ended with Fleming nabbing an interception that he returned to the Minnesota 47 (pictured below). That and a punt that was downed at the Minnesota 8 kept the Gophers in poor field position.





Washington launched a 61 yard touchdown drive late in the 1st quarter. The score came early in the 2nd quarter, Schloredt throwing a touchdown pass on 4th and goal from the 3 yard line, putting the lead to 10-0. Later, Minnesota's best advance of the first half was stopped on downs at the Washington 33, and the Huskies drove from there for another touchdown. The key play came on 3rd and 1 from midfield, when Schloredt ran a simple quarterback sneak and popped out of the line free and clear for a 30 yard run (pictured below). Schloredt scored the touchdown at the end of the drive, and Washington led 17-0 at the half. The Huskies outgained Minnesota 158 yards to 61 in the 1st half, but they would spend the rest of the game emphasizing ball control and field position, and Minnesota would outgain Washington 192 yards to 35 in the 2nd half.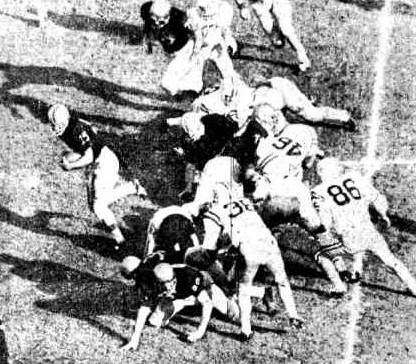 Halftime featured more entertainment than usual thanks to a famous
prank perpetrated by students from the California Institute of Technology. Washington fans were performing card stunts for the television audience, and at one point, when the cards were supposed to spell out "Huskies," they spelled out "Cal Tech" instead.


On their first drive of the 2nd half, Minnesota was stopped inches short of a first down at the Washington 35. Washington gave them another opportunity by fumbling the ball away at their own 32, and Minnesota scored a touchdown from there in 3 plays, cutting the lead to 17-7, but that's all the scoring this game would see. Minnesota put together one more long drive in the final quarter, but it ended in an interception on a fake field goal. Minnesota's critical failure this day came in the passing game, where they were 2 of 10 for 21 yards and 3 interceptions.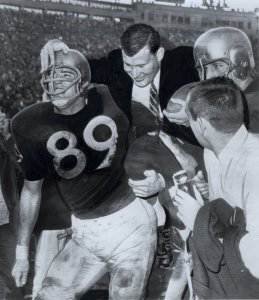 The Huskies carried coach Jim Owens off the field (as pictured above), and Schloredt was named the Rose Bowl MVP for the 2nd straight year. This was the 4th time an AP poll's #1 team lost its bowl game. Minnesota was finished at 8-2, and I have them ranked #3 for 1960, behind #2 Washington.
Missouri 1960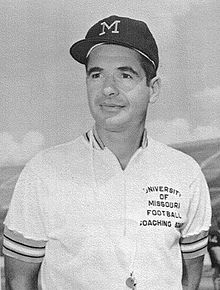 Southern Methodist (0-9-1)
20-0
Oklahoma State (3-7)
28-7
at Penn State (7-3)
21-8
#23
at Air Force (4-6)
34-8


at Kansas State (1-9)
45-0


Iowa State (7-3)
34-8


at Nebraska (4-6)
28-0
Colorado (6-4)
16-6
at Oklahoma (3-6-1)
41-19
Kansas (7-2-1)
7-23
#9

Orange Bowl


Navy (9-2)

21-14

#6
Missouri's football history prior to this season had been decidedly thin. They had
been top 25 caliber just 8 times 1901-1959, less than once every 7 years. That changed with the hire of Hall of Fame coach Dan Devine (pictured above), who had gone a terrific 27-3-1 at Arizona State 1955-1957. He went 92-38-7 at Missouri 1958-1970, winning 2 conference titles and going 4-2 in bowl games. Missouri was top 25 caliber 7 times in Devine's 13 years. After that, he went 25-27-4 as coach of the Green Bay Packers, then he came back to the college game, going 53-16-1 at Notre Dame 1975-1980 and winning a national championship in 1977. Overall, Devine was 172-57-9 as a college coach and 7-3 in bowl games.


End Dan LaRose was a consensus All American this year. He led the team with 10 catches for 151 yards and 2 touchdowns, but he was also the punter, and his main strength was defense. He went on to a 6-year pro career as a defensive end. The other end, Conrad Hitchler, would be a nonconsensus AA in 1962. Tackle Ed Blaine would be a nonconsensus AA in 1961. He went on to a 5-year pro career, was All-pro in 1964, and later became a doctor and pharmaceutical researcher back at Missouri.

Missouri's offense was based on well-coordinated power sweeps, and they had a great trio of backs to run them. Mel West and Norris Stevenson were the first black players ever at Missouri. West led the team in rushing for 3 straight seasons 1958-1960, and he had 650 yards and 5 touchdowns this year. Stevenson was close with 610 yards, and he also scored 5 touchdowns. Donnie Smith chipped in just 357 yards, but he was the short yardage specialist, and he led the team with 11 touchdowns.
Missouri's Season


Missouri opened the season 20-0 over Southern Methodist (0-9-1) and 28-7 over Oklahoma State (3-7), then the real season began with a trip to Penn State. Missouri came into the game ranked #19, PSU #20. Penn State was unable to convert their scoring chances in the opening quarter, but Missouri had no such troubles with their scoring chances in the 2nd quarter. End Dan LaRose caught a 14 yard touchdown pass to cap an 80 yard drive, and halfback Donnie Smith threw a 28 yard touchdown pass, the only one he would throw this season, and Missouri led 14-0 at the half.

Penn State hit a touchdown pass in the 3rd quarter and got the 2-point conversion to close within 14-8, but Norris Stevenson scored an insurance touchdown in the 4th quarter to make the final score 21-8. Penn State outgained Missouri 249 yards to 223, but they turned the ball over 5 times. Penn State went on to stomp 7-3-1 Oregon 41-12 in the Liberty Bowl (the game was held in Philadelphia then), finishing 7-3 and ranked #23.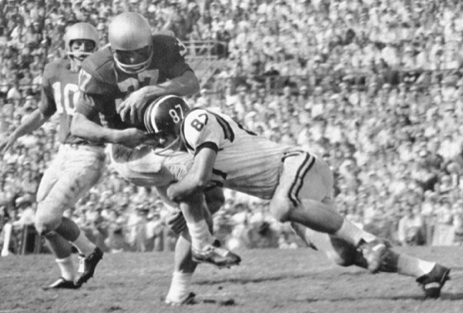 Missouri rolled over their next 6 opponents with very little resistance
, but none of those teams were good. Iowa State was 7-3, but they did not beat a major team with a winning record. 6-4 Colorado's best win came over a Border Conference team (akin to today's Mountain West), 7-3 Arizona, and the Buffs lost to 4-6 Air Force in their finale.




So Missouri cruised to a 9-0 record, no one coming within a touchdown of them, and they found themselves ranked #1 in the AP poll for the first time ever heading into their finale hosting archrival Kansas, who was 6-2-1 and unranked. But this was a fierce rivalry, the kind where you "throw out the records," as they say, and the game was a complete debacle for Missouri. Kansas ambushed Missouri with a 9-man line, giving them the pass, but Missouri was about as one dimensional in 1960 as an offense can get, averaging just 45.3 passing yards per game, so they went nowhere. Missouri got no first downs in a scoreless first half, and they were held to 114 yards of offense for the game.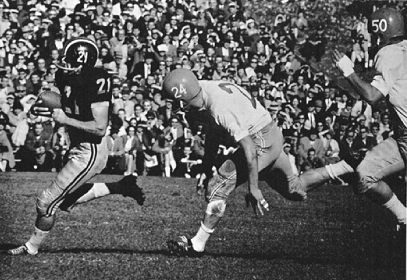 Kansas was stopped at the Missouri 3 in the first half, then missed a field goal to end another drive, and it remained 0-0 until the Jayhawks connected on a 47 yard field goal early in the 3rd quarter. They soon recovered a Missouri fumble at the 19 and hit a touchdown pass from there for a 10-0 lead. In the 4th quarter, Kansas drove 69 yards in 13 plays for another touchdown, and Missouri saved some face with a late touchdown pass to close the gap to 17-7. Kansas intercepted a desperation pass near the end, and instead of running out the clock, they threw a touchdown pass with 37 seconds left to make the final score 23-7.

Kansas thus won the Big 8. But only briefly. The NCAA had put Kansas on probation for a recruiting violation in October, and had given them a one year bowl ban. The player who was illegally recruited was halfback Bert Coan, and the conference would not vote on his eligibility until the end of the season. However, if they ruled him ineligible, Kansas would have to forfeit any game he played in after the NCAA decision. Kansas denied any wrongdoing, and they were confident that the vote would go their way after the season, so they went ahead and played Coan against Colorado and Missouri (he scored 2 touchdowns against Missouri). Well, the conference ruled him ineligible, Kansas forfeited their last two wins, and Missouri was now the conference champion. In fact, they were technically 11-0, though we, like the NCAA, will treat them as 10-1.


And technically, Kansas was 5-4-1, but we will go with the on-field results, where Kansas was 7-2-1, losing to 7-2 Syracuse and 8-1 Iowa. With those 2 opponents and Missouri, Kansas had played 3 teams that were ranked #1 this year. I have the Jayhawks ranked #9 for 1960.

The Orange Bowl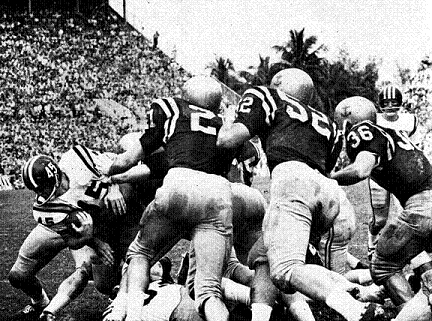 The Orange Bowl got a good matchup, #5 Missouri (9-1) vs. #4 Navy (9-1). Navy featured Heisman Trophy winning halfback Joe Bellino. Missouri moved easily to the Navy 3 early in the game, but then Navy end Greg Mather intercepted a lateral and returned it 96 yards for a touchdown. Missouri fumbled the ball away again on their next possession, but the game turned here when the Tigers returned an interception 90 yards for a touchdown and a 7-6 lead. Missouri drove to a 2nd quarter touchdown for a 14-6 halftime lead, and put the game away with a 4th quarter touchdown. The Tigers held Navy to minus-8 yards rushing in this game, and they held Bellino to 4 yards (Missouri end Dan LaRose pictured putting the clamps on him below), but Bellino did make a spectacular catch on a 27 yard touchdown pass late in the game that put the final score at 21-14.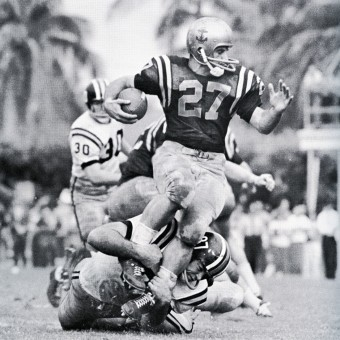 Missouri had 301 yards of offense, 296 rushing, and Navy totaled 168, all through the air. Missouri lost 3 fumbles, but Navy threw 4 interceptions. Navy, whose big win came 15-14 at 10-1 Washington, was finished at 9-2, and I have them ranked #6 for 1960. Missouri, at 10-1, is #4.
Mississippi 1960
at Houston (6-4)
42-0
(Memphis) Kentucky (5-4-1)
21-6
at Memphis (8-2)
31-20
at Vanderbilt (3-7)
26-0


at Tulane (3-6-1)
26-13


at Arkansas (8-3)
10-7
#14

Louisiana State (5-4-1)
6-6
Tennessee-Chattanooga (5-5)
45-0
at Tennessee (6-2-2)
24-3
Mississippi State (2-6-1)
35-9

Sugar Bowl


Rice (7-4)

14-6

#25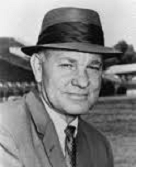 Prior to the arrival of Hall of Fame coach John Vaught (pictured at left) in 1947, Mississippi's football history had been even thinner than Missouri's. They had only been top 25 two times 1901-1946
, finishing #23 in 1940 and #20 in 1941. But they make the top 25 for 20 of the 25 seasons Vaught was head coach here, a simply amazing feat. Vaught, who had played guard for Texas Christian in the early 1930s, went 190-61-12 at Ole Miss 1947-1970 and 1973, winning 6 SEC titles, one of them in his first year here. These are the only SEC titles Mississippi has ever won in football. And Vaught's 20 finishes in the top 25 in 25 seasons are even more amazing when you consider that Ole Miss has been top 25 only 13 times in all of their other 89 seasons since 1901 (as of this writing, in 2015).

But Mississippi's best run under Vaught, and in their entire history, was in the middle of his tenure here, 1957-1963. Over these 7 years, Ole Miss was 64-7-4, and they were top 10 every year but 1958, when they were #11. They were top 5 for 4 straight years 1959-1962, and the school claims 3 national championships during those 4 years (though they are pretending that being #1 in a computer rating constitutes a "national championship"). It need hardly be said that Vaught, for whom their stadium is partially named, is the greatest coach in Ole Miss history, and given the stark difference between his success here and the entire rest of Mississippi football history, I would say that he was one of the greatest college football coaches of all time.


This Mississippi team had 3 All Americans who saw playing time at quarterback. The starter, Jake Gibbs, was a consensus All American and the SEC player of the year. He completed 61% of his passes for 970 yards and 12 touchdowns, and he rushed for 246 yards and 5 touchdowns. He scored both touchdowns in the 14-6 Sugar Bowl win over Rice. Gibbs went on to a 10 year Major League Baseball career, then came home to coach Mississippi baseball 1972-1990. His backup, Doug Elmore, would be the starter and an All American in 1961, and 3rd string Glynn Griffing would be the starter and an All American in 1962.

With 3 straight All American quarterbacks here, you may be wondering who the quarterback coach was. Well, I will tell you. It was Johnny Cain, Hall of Fame back who had played for Alabama's 1930 national championship team. He had gone 33-19-5 as head coach at Louisiana-Lafayette, then joined Vaught's staff at Ole Miss as quarterback and backfield coach from the beginning, remaining here as long as Vaught, 1947-1971. And this year's trio weren't the only All American quarterbacks Cain coached. There was Hall of Fame quarterback Charlie Conerly in the beginning (1947), and Hall of Fame quarterback Archie Manning in the end (1968-1970).

But back to this year's team. Guard Bookie Bolin would be a nonconsensus AA in 1961 and an 8-year pro, tackle Jim Dunaway would be a consensus AA in 1962 and a 10-year pro, and end Johnny Brewer, who caught 7 passes for 124 yards and 5 touchdowns this year, would also go on to a 10-year pro career.
Mississippi's Season
Mississippi started the season with a bang, throwing 6 touchdown passes in a 42-0 win at Houston (6-4), and that moved them up from #2 to #1 in the next AP poll. Ole Miss then went to Memphis for a game with Kentucky (5-4-1), who had lost their opener to Georgia Tech (5-5). Mississippi jumped to a 14-0 lead in this one, and they shut down Kentucky's running game, forcing Kentucky to go to the air in the 2nd half. That worked for one Kentucky touchdown, but on their next drive, the potential tying touchdown pass was dropped in the end zone. Ole Miss scored a 4th quarter insurance touchdown to make the final score 21-6.

It was back to Memphis the next week, this time to play a home team, Memphis (then known as Memphis State). Mississippi was 15-0 against Memphis, winning those games by an average score of 46-3, and the closest Memphis had ever come was 17 points, so Ole Miss was a 32 point favorite in this game. However, Memphis was a program on the rise, and they scored first in this game and led through 3 quarters before Ole Miss rallied for a pair of 4th quarter touchdowns to win 31-20. Memphis went on to finish 8-2, but they played the equivalent of a lower-division schedule, and they lost to the only other major team they played, 2-6-1 Mississippi State, 21-0. So they were not close to top 25 caliber.

That performance dropped Mississippi to #2, behind defending national champ Syracuse, in the next AP poll, but a 26-0 win at Vanderbilt (3-7) the next week moved Ole Miss back to #1. Then, like a yo-yo, they were back to #2 after a 26-13 win at Tulane (3-6-1), but this time for good. They did not get back to #1 the rest of this season.

Ole Miss next went to Little Rock to face their first ranked opponent of the season, #14 Arkansas. This was an annual rivalry game that had been going on since 1913. Arkansas scored first on a short touchdown pass in the 2nd quarter, and Mississippi made it 7-7 with a 57 yard touchdown pass from Jake Gibbs late in the 3rd quarter. Gibbs drove Ole Miss again in the closing seconds, and on the last play of the game, Mississippi attempted a 39 yard field goal that was hooking left, but was called good by referee Tommy Bell. A name that is infamous among Arkansas fans, who swear that the kick was not good, and that Tommy Bell was signaling that it was good right off the kicker's foot, before it started hooking left. Bell, it should be pointed out, was an SEC referee, and at this time Arkansas was a member of the SWC.

Rioting and brawls immediately broke out in the stands throughout the stadium, and Arkansas coach Frank Broyles said after the game, "Everybody in the park knew it wasn't good." He continued to be bitter about this game decades afterward, and after the 1961 game, this series, nearly 50 years old, was ended. The 2 teams didn't meet again in the regular season until 1981, when the annual series was resumed. And with Arkansas now in the SEC, the series has continued unabated since then.

Arkansas finished the 1960 season with a loss to Duke (8-3, #13) in the Cotton Bowl, putting the Razorbacks at 8-3 and ranked #14.

The Big Upset
Next up for Mississippi was a home game against Louisiana State, who was coming off of 4 straight losses. This was Mississippi's first game in Oxford this season, but that wasn't unusual

:

they used to play just 3 true home games per year back in these days, due to how tiny their stadium was. Most of their "home" games were played in Jackson or Memphis.

This series had been very significant in recent years. 11-0 LSU had given 9-2 Mississippi its first loss on the way to a national championship in 1958. 10-1 Mississippi lost a national championship in 1959 when Billy Cannon's famous punt return gave 9-2 LSU a 7-3 win, but Mississippi won a rematch 21-0 in the Sugar Bowl at the end of the season. And this would be the second straight season that LSU put the only blemish on Mississippi's record.

LSU drove early to the Mississippi 3, but missed an easy field goal from there. They recovered a fumble at the Mississippi 32, but Jim Dunaway blocked their next field goal attempt. Mississippi finally got going and drove to the LSU 5, where they too missed a field goal, leaving it 0-0 at the half. On the first play from scrimmage in the 3rd quarter, Bookie Bolin recovered a fumble at the LSU 24, and that set up a 39 yard field goal that gave Ole Miss a 3-0 lead. LSU drove for a touchdown late in the 3rd quarter, but they missed the fateful extra point try, leaving it 6-3.

In the 4th quarter, Mississippi was stopped on an advance to the LSU 37. Their last chance drive started at their own 23 with just 1:21 left in the game. But Jake Gibbs hit 4 passes, and Mississippi was good on a 41 yard field goal with 13 seconds remaining. Final score 6-6. LSU outgained Ole Miss, and they went on to win their next 4 games to finish 5-4-1. But all 5 wins came against opponents with losing records, the best of them being 3-6-1. So LSU was not close to top 25 caliber for 1960.

Mississippi wasn't challenged again in the regular season, winning 45-0 over Tennessee-Chattanooga (5-5), 24-3 at Tennessee (6-2-2), and 35-9 over Mississippi State (2-6-1). Tennessee had a nice record, and they were ranked #14 coming into the game, but they were tied by 5-4-1 Kentucky the next week, and they are not quite ranked in the top 25 for 1960. Tennessee did beat #15 Auburn (8-2) and #17 Alabama (8-1-2) in the first half of the season, but they lost to 5-5 Georgia Tech, and in addition to tying Kentucky, they tied 2-6-1 Mississippi State, and all 3 were unrated.

Sugar Bowl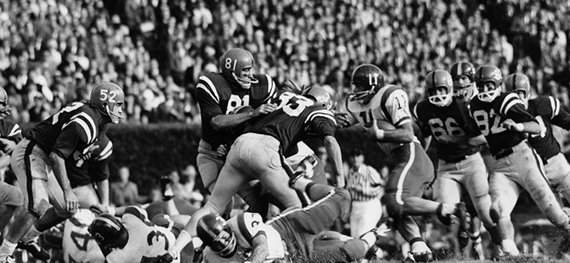 As usual, the Sugar Bowl was a garbage matchup, this time pitting #2 Mississippi against unrated 7-3 Rice. The problem was segregation. Teams with black players were not welcome in the Sugar Bowl, and that greatly restricted the potential teams that could be invited. And even when that hurdle was cleared, there would be a problem with the Southern schools themselves. This was Mississippi's 3rd appearance in the Sugar Bowl in the last 4 years, and Mississippi state law prevented the Rebels from playing against teams with black players. So the Sugar Bowl had lately become a matchup of SEC team vs. other Southern team.

Following the 1957 season, top 10 Mississippi was matched up with Texas (6-4-1, #19). The next year, #1 LSU played for a national championship against mediocre Clemson (8-3, #19). And the next year, the Sugar Bowl was a rematch of a regular season game. Lame. Yet none of those matchups were quite so lame as this year's.

Mississippi was a 10 point favorite, and they marched right down the field on the opening drive of the game and took an easy 7-0 lead, but nothing else would come easy this day. Rice drove to the Mississippi 10, but they threw an interception from there, and on their next drive into scoring position, they threw another interception, at the Mississippi 17. Another Rice drive was halted at the Ole Miss 31, and another went to the 13 before ending in a missed 30 yard field goal. Finally, late in the 3rd quarter, Rice drove 77 yards in 18 plays, scoring a touchdown on 4th down. They missed the extra point, so they were still down 7-6.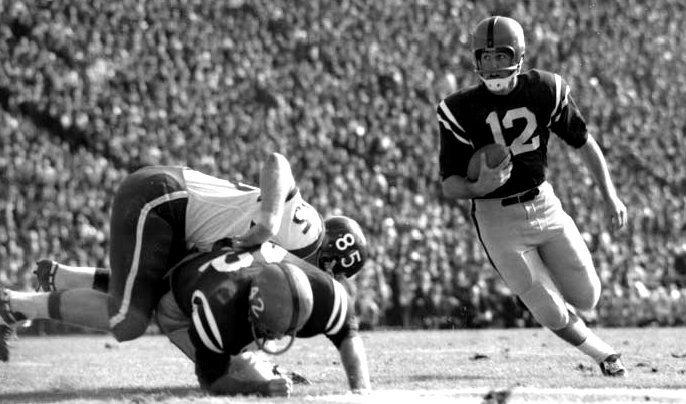 In the 4th quarter, Mississippi picked off another Rice pass at the Rice 11, but they were unable to score. Still, the field position was in their favor, and soon enough they drove a short field 43 yards for a touchdown on 4th and goal, making the final score 14-6 (quarterback Jake Gibbs, who scored both touchdowns, is shown carrying the ball in this game above). Rice outgained Mississippi 281 yards to 186, and they had 19 first downs to 13 for Ole Miss, but Rice also threw a big 4 interceptions. This game finished Rice at 7-4, and I have them ranked #25 for 1960.
Selecting the 1960 Mythical National Champions
Here are the significant games for our 4 candidates. The opponent rankings come from the 1960 fixed AP poll.


Iowa 8-1



Oregon State (6-3-1) 22-12


at #21

Northwestern (5-4) 42-0


at #8

Michigan State (6-2-1) 27-15
Wisconsin (4-5) 28-21


#11

Purdue (4-4-1) 21-14


#9

Kansas (7-2-1) 21-7


at #3

Minnesota (8-2)

10-27




#7

Ohio State (7-2) 35-12

Washington 10-1





#6

Navy (9-2)

14-15




#10

UCLA (7-2-1) 10-8
at Oregon State (6-3-1) 30-29
Oregon (7-3-1) 7-6
at Washington St (4-5-1) 8-7



Rose Bowl




#3

Minnesota (8-2) 17-7

Missouri 10-1





at #23

Penn State (7-3) 21-8


#9

Kansas (7-2-1)

7-23





Orange Bowl




#6

Navy (9-2) 21-14

Mississippi 10-0-1





at #14

Arkansas (8-3) 10-7
LSU (5-4-1)

6-6





Sugar Bowl




#25

Rice (7-4) 14-6


Iowa defeated their unrated opponents by an average score of 26-11, Washington defeated theirs by an average of 29-10, Missouri defeated theirs by an average of 31-6, and Mississippi defeated theirs 28-6.

As I said at the outset, Iowa and Washington are the only viable options for #1, and they are both MNCs for 1960. For details on why this is the case, see my
article on fixing the 1960 AP poll
. All that's left to be determined here is whether or not Mississippi and/or Missouri deserve a piece of the MNC as well.

It's very obvious from looking at the table above that Iowa has the strongest case here, especially when you consider the fact that although Wisconsin was 4-5 and unrated, they were a top 25 team power-wise, as all 5 of their losses came to rated teams, and they defeated 2 rated opponents. Washington does not compare well to Iowa at all, but Washington is a viable option for #1 for the simple reason that they beat Minnesota 17-7 in the Rose Bowl, and Minnesota beat Iowa 27-10 in November, so rating Washington #1, Minnesota #2, and Iowa #3 is viable. But Iowa is definitely the better and stronger choice for #1, and therefore I will be assessing the MNC cases of Mississippi and Missouri by comparing them to Iowa.

Mississippi's Case
Let's start with Mississippi, as they are pretty easy to eliminate. I covered a lot of this in my article on fixing the 1960 AP poll, but here are the problems with Mississippi

:



1) A tie with an unrated team is worse than a loss to a top 10 team. Selecting Mississippi just because they have the "best" record is overly simplistic. The other 3 teams all took their loss to a top 10 opponent, while Ole Miss took their tie to an unrated team, and at home to boot, so I would say that the other 3 teams actually have the better records here.

2) In the original AP poll, Mississippi played 1 rated opponent, Iowa 4, and in the fixed and expanded AP poll top 25, Mississippi played 2 and Iowa played 6. That is an overwhelming difference. Iowa's first 8 opponents, in a 9 game schedule, were all ranked at the time Iowa played them, with no week off.

3) Mississippi is the only candidate that did not defeat a top 10 team. They had no "MNC" type accomplishment at all.

4) Mississippi was unimpressive against the 2 rated teams they did play. Barely getting by #14 Arkansas is the performance of a #10 team, not #1. Beating #25 Rice by a touchdown is similarly #10 territory, not #1. Iowa defeated 3 different top 10 teams by more than a touchdown, and they trounced #21 Northwestern 42-0. Those are the performances of a #1 team. Mississippi doesn't have a single such result.

5) The Big 10 was 19-2-2 against nonconference opponents (87%), the SEC 34-7-1 (82.1%), yet the Big 10 only played 2 nonconference opponents that weren't major teams (Marquette and Detroit), while the SEC played

20

such games

:

Tennessee-Chattanooga (3 times), Houston (3 times), Memphis (2 times), George Washington, Furman, Tampa (2 times), Tulsa, Marshall, Xavier-Ohio, William & Mary (2 times), Texas Tech, Arkansas State, and Marquette. And on top of all that, Iowa played all 4 of the other Big 10 teams that were rated in the original AP poll (Ohio State, Michigan State, Minnesota, Purdue), while Mississippi did not play any of the other SEC teams that were rated (Alabama, Auburn, Florida).

This isn't even remotely close. Mississippi has no good argument for sharing an MNC at all. I can only assume that the 3 organizations that selected them did so solely because they had the "best" straight record, but if so, why not select 9-0 Yale or 11-0 New Mexico State as 1960 national champion?

But the really weird thing here is that the Football Writers Association of America is one of the organizations that selected Mississippi. Why is that weird? Look at their picks in the surrounding years...

The Wildly Inconsistent FWAA
For the 1957 season, the FWAA selected 9-1 Ohio State over 10-0 Auburn. For 1958, the FWAA selected 8-1-1 Iowa over 11-0 LSU. And for 1961, the FWAA selected 8-0-1 Ohio State over 11-0 Alabama.

And this season, 1960, just after and just before those selections, the FWAA selected 10-0-1 Mississippi over 8-1 Iowa.

So during this 5 year period, the

only

SEC team the FWAA selected was the one with the worst record. Not only that, but the SEC team they selected played 1 ranked team (original AP poll, which is all the FWAA would have to go on at the time), while Auburn 1957 played 3, LSU 1958 played 3, and Alabama 1961 played 2. So the only SEC team they thought was worthy was not only the one with the worst record, but the one that played the weakest schedule!

Iowa 1960, the only Big 10 team they did not select, played 4 ranked teams. Ohio State 1957 played 2, Iowa 1958 played 6, and Ohio State 1961 played 1. So only one played a tougher schedule, and that team went 8-1-1, while Iowa 1960 went 8-1.

The one time the FWAA selected an SEC team during this time happened to be the one time the SEC team didn't deserve it! How does that even happen? A "national championship" that is this inconsistent is poor and useless. Clearly the FWAA was just making arbitrary choices, and had no consistent criteria.

Missouri
Missouri had a stronger case for sharing an MNC than Ole Miss did, since they beat a top 10 team, played 1 more rated opponent, and performed better

:

Missouri's only close win came against #6 Navy, and they crushed #23 Penn State, while Mississippi had 2 close wins, over the #14 and #25 teams. But unfortunately for Missouri, it's Iowa we'll be comparing them to, not Ole Miss. So let's get to it.

Iowa played 6 ranked teams, Missouri played 3, and Iowa was 3-1 against top 10 teams (plus they beat #11 Purdue as well), Missouri 1-1. Still an overwhelming difference there. And while the Big 10 was better than the SEC this year, the difference between the Big 10 and Big 8 was far more vast, as the Big 8 was not a good conference at all. The Big 10, again, was 19-2-2 against nonconference opponents, and the Big 8 was 14-11, barely a winning record!

And Missouri's loss was much more damaging than Iowa's (or Washington's). Missouri's loss to Kansas came at home, it wasn't close, and the Tigers were never really in it. And Kansas did not defeat any other rated opponents. Furthermore, Iowa themselves defeated Kansas by 2 touchdowns 3 weeks before Kansas crushed Missouri. Iowa's loss to Minnesota came on the road, and while it wasn't close in the end, it was close until the 4th quarter. And Minnesota defeated 3 other rated teams aside from Iowa, and a 4th (Wisconsin) that could be rated. So Minnesota accomplished far more than Kansas, which is why they were rated #1 going into the bowls in the first place, and it is why, in the end, Minnesota is ranked #3 and Kansas #9.

So no MNC for Missouri. I recognize that Kansas is a rivalry game, but that loss was just too ugly, combined with Missouri's already far-weaker schedule. The bowl win against #6 Navy was nice, but that's all they've got, and all it really does is balance out the ugly loss in their previous game. They needed to outweigh it, like Iowa outweighed their loss with victories over 3 top 10 teams by 12, 14, and 23 points.

Washington
One last word on Washington. Missouri and Mississippi compare much better with Washington than they do with Iowa, due to the Huskies' 3 one-point wins over unrated teams, and also due to the fact that Washington's schedule was not nearly as tough as Iowa's was. It's true that Washington was lucky to draw Minnesota as an opponent, or they would not have had a shot at the MNC. Had Missouri or Mississippi drawn Minnesota as a bowl opponent and won, either would be an MNC.

Of course, who's to say that Missouri or Mississippi

could

have beaten Minnesota? The Gophers defeated 5 ranked teams, and all of their wins were dominating. That's why Washington's 17-7 Rose Bowl win over them was vastly better than any win by Missouri or Mississippi. But that wasn't Washington's only advantage over Missouri and Mississippi. Washington defeated 2 top 10 opponents, Missouri 1, Mississippi none. And Washington's 1-point loss to #6 Navy, early in the season, was much less damaging than Missouri's whipping by #9 Kansas in their finale, or Mississippi's tie with an unrated team.
Awards Ceremony
1960 #1:

8-1 Iowa or 10-1 Washington (the two should not be tied)


National Co-champion:

Iowa or Washington if the other is #1


Contenders:

10-1 Missouri and 10-0-1 Mississippi

These are the awards I have been handing out for each season, except seasons when there are no contenders. For this purpose, what I mean by a contender is a team that I think is very close to being worthy of sharing the national championship. A team that you could make an argument for, even if that argument is weak. But the contenders are teams that I myself do not see as national champions.

Mississippi barely qualifies as a "contender" here, in my opinion. Missouri was much closer to being worthy of sharing the MNC.
Grading the Selectors
I have been grading the NCAA Records Book's selectors for each season, and keeping a grade point average, so we can see who is relatively good at selecting national champions and who is not. And although I do not consider computer ratings to be legitimate national championship selectors, I have been including them in this section as well, just for comparison's sake.
I am grading on a scale of 0-5 (5 being the best).


The Poling math system rated Missouri #1. Grade

:

1.5



The Helms Foundation crowned Washington their national champ. Grade

:

5.0



The AP poll, UPI poll (coaches), National Football Foundation, and Football News magazine gave Minnesota a regular season national championship. Grade

:

0.0



The Berryman, Boand, and Litkenhous math systems, as well as both of Sagarin's systems, rated Iowa #1. Grade

:

5.0



All of the following went with 10-0-1 Mississippi

:

FWAA, CFB Researchers, National Championship Foundation, and the Billingsley, DeVold, Dunkel, and Williamson math systems. Grade

: 0.5


Grade point averages 1936-1960 (the UPI coaches' poll and the Football Writers Association of America will not be added until they have selected at least half as many champions as the others)

:




1) National Championship Foundation
4.68

2) Billingsley (math system)

4.62

3) DeVold (math)




4.60

4)

Houlgate (math)

4.53

5)

Poling (math)


4.47

6)

College Football Researchers Association




4.43

7) Sagarin-ELO (math)
4.37
8) Litkenhous (math)

4.29

9) Helms Foundation

4.28

10) Boand (math)
4.27
11) AP Poll
4.17

12)

Dunkel (math)

4.13

13) Sagarin (math)
4.12
14) Williamson (math)
3.76
15) Berryman (math)
3.30

Grade point averages 1919-1935
:
| | |
| --- | --- |
| 1) Boand (math system) | 4.26 |
| 2) College Football Researchers Association | 4.22 |
| 3) Poling (math) | 4.11 |
| 4) Helms | 4.09 |
| 5) Sagarin-ELO (math) | 4.06 |
| 6) National Championship Foundation | 3.96 |
| 7) Dickinson (math) | 3.49 |
| 8) Houlgate (math) | 3.35 |
| 9) Billingsley (math) | 3.34 |
| 10) Sagarin (math) | 3.28 |
| 11) Parke Davis | 2.77 |

How the systems that selected champions for 1901-1918 did

:



| | |
| --- | --- |
| 1) Houlgate (math system) | 4.5 |
| 2) Helms | 4.3 |
| 3) Parke Davis | 4.2 |
| 4) National Championship Foundation | 3.7 |
| 5) Billingsley (math) | 3.6 |