Home
1958 College Football National Championship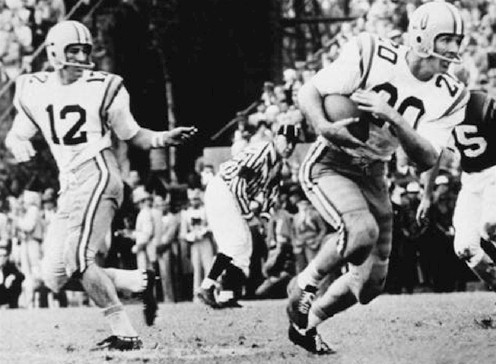 Pictured above is Louisiana State's star halfback Billy Cannon carrying the ball in the Sugar Bowl. The quarterback you see in the photo was knocked out of the game with an injury, so it was up to Cannon to throw the touchdown pass that defeated Clemson 7-0. That win finished LSU at 11-0, and they are an almost unanimous choice for the 1958 mythical national championship. But for the 3rd year in a row, we have at least one nay-sayer organization selecting a 1-loss Big 10 champion over a consensus choice that has a perfect record.


Here is how all of the organizations listed in the NCAA Records Book see the 1958 mythical national championship (omitting selections made by a single magazine or by math/computer ratings, which are not generally accepted as MNCs)

:




11-0 Louisiana State
:
AP Poll
,
CFB Researchers
,
Helms
,
National Championship Foundation
, UPI Poll (coaches)
8-1-1 Iowa
:
Football Writers Association of America
As you can see, this time the Big 10 champ had a loss

and

a tie! The FWAA, who also selected 9-1 Ohio State over 10-0 Auburn for the previous season, and who would go on to select 8-0-1 Ohio State over 11-0 Alabama for 1961, obviously

loved

themselves some Big 10 football! What I would love is to see a list of who was voting for the FWAA over this time period.

But the real question here is, Does Iowa have a case for the 1958 MNC? And the answer is yes, and it's a stronger case than Iowa had for 1956 and Ohio State had for 1957. Iowa's loss and tie both came to top 10 teams, and they defeated 2 other top 10 teams, while LSU did not even play a top 10 team. Iowa's schedule this season was

significantly

tougher than LSU's. So I will be comparing these teams in detail in the following article.

Other Candidates for 1958
I'm going to be looking at 8-1-1 Iowa's case for an MNC because they played an incredibly difficult schedule, but the following teams have no business contending for an MNC against 11-0 LSU.

8-0-1 Army, like LSU, did not play a top 10 opponent, and they were tied by unrated Pittsburgh (5-4-1). 9-0-1 Auburn, who had gone 10-0 and won the MNC the previous season, just missed out on repeating when they were tied by unrated Georgia Tech (5-4-1). Their schedule was much weaker than LSU's was anyway.


10-1 Oklahoma took an upset loss to 7-3 Texas (#16), and they played fewer rated teams than LSU did anyway. 9-0-2 Air Force, who tied Iowa, was knocked out of contention when they tied 8-2-1 Texas Christian (#9) 0-0 in the Cotton Bowl. 9-0 Southern Miss was the equivalent of lower-division at this time, so not a contender, but they were ranked #1 in the UPI "small college" coaches poll.

All rankings in this article, except as noted, come from my 1958 fixed AP poll.
Louisiana State 1958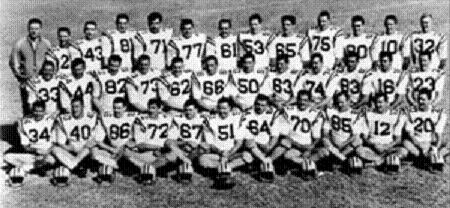 at Rice (5-5)
26-6
#14
(Mobile) Alabama (5-4-1)
13-3
Hardin-Simmons (6-5)
20-6
at Miami-Florida (2-8)
41-0


Kentucky (5-4-1)
32-7
#24

Florida (6-4-1)
10-7
#17

Mississippi (9-2)
14-0
#11
Duke (5-5)
50-18
at Mississippi State (3-6)
7-6
at Tulane (3-7)
62-0

Sugar Bowl


Clemson (8-3)

7-0

#19
Louisiana State's initial rise to football prominence can be primarily attributed not to a coach or to any players, but to a governor. Huey Long, Governor of Louisiana 1928-1932, made it his mission to improve Louisiana State as a school and as a football power. He diverted millions of dollars in state funds to the school, and in 8 years after he took office, LSU went from 1800 students to 6000, and the football team went from mediocrity to the Sugar Bowl, where they appeared following 3 straight seasons 1935-1937. Long helped recruit players for the team, and he was their biggest and most visible booster, even to the point of intrusive "advice" for the coaches.

Hall of Fame coach Biff Jones arrived at LSU the same year full-ride scholarships did, and he went 20-5-6 at LSU 1932-1934, but was chased off by the interfering Huey Long. Another Hall of Fame coach, Bernie Moore, moved up from assistant coach after Biff Jones left, and he took LSU to those 3 Sugar Bowls, going 83-39-6 at LSU 1935-1947. Alas, Huey Long would not get to witness Moore's success, as he was assassinated just before Moore's first season. When Moore left to become Commissioner of the SEC in 1948, LSU fell back to mediocre under head coach Gaynell Tinsley, who went 35-34-6 here 1948-1954.


Paul Dietzel (pictured below with his star player), who had been Army's line coach, was hired as head coach at LSU in 1955, and his first 3 seasons did not show much promise, as he went 3-5-2, 3-7, and 5-5. But this year he turned it all around thanks to a pair of big changes

:

The wing-T offense and a 3-platoon substitution system. In the Spring, Dietzel had invited Forest Evashevski, head coach of Iowa (who would of course end up being LSU's main rival for the this year's MNC!) to speak at an LSU coaching clinic. While Evashevski was there, he spent hours with Dietzel and his staff going over the wing-T offense, a hybrid of the single wing and T-formation. Evashevski even loaned film of Iowa running the offense to help LSU install it themselves.


As for the 3-platoon system, this was 3 separate teams of 11 players that Dietzel often substituted wholesale one for the next, the 2 backup teams soaking up minutes so as to keep his starters fresh when they were in the game, and to extend their health across the season. The "White Team" (front row in picture above) was the starting unit, the 11 best 2-way players on the roster, and they were generally on the field for about 60% of a game, more if it was a close one. The "Go Team" (middle row) was a set of 11 back-ups who were better at offense than defense, and the "Chinese Bandits" (back row) were a team of 11 back-ups who were better at defense than offense.

With these 2 changes, LSU took off, going 11-0 this season, and finishing ranked in the top 5 for 3 of 4 seasons 1958-1961, after which Paul Dietzel abruptly left to become the head coach at Army. He was 46-24-3 at LSU 1955-1961 with 2 SEC titles, but he did not have much success at Army, or at South Carolina after that, and his career record ended up being 109-95-5. Eventually he returned to LSU in a stint as athletic director 1978-1982.

The Players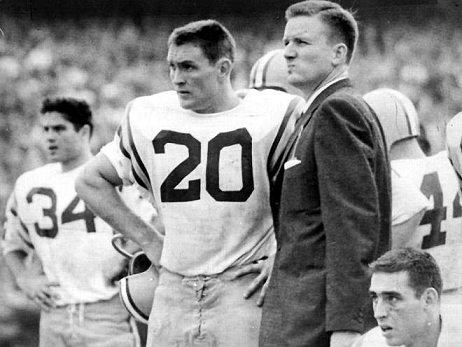 The star of the team was legendary Hall of Fame halfback Billy Cannon (#20 in picture above). He rushed for 686 yards (5.9 per carry) this season, and he was a consensus All American and the UPI Player of the Year, but he attained immortality on Halloween night the next season with a spectacular 89 yard punt return touchdown that beat Mississippi 7-3. That play won him the 1959 Heisman. He went on to an 11 year pro career, and in the 1980s he spent 3 years in prison for counterfeiting.

Center Max Fugler was a nonconsensus AA, and halfback Johnny Robinson went on to a terrific 13-year career as a safety in the AFL/NFL, totaling 54 interceptions.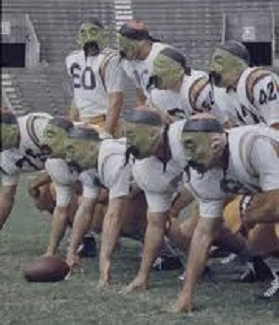 The Chinese Bandits (shown wearing rubber "Chinese" masks for a photo shoot in Life magazine) were composed of sophomores and career reserves, and though the unit held little in the way of talent, they were scrappy and played with high emotion. They first became famous for a goal line stand in the second game against Alabama, and that plus the unit's name captured the fancy of fans. They were the only one of the 3 units that did not give up a touchdown this season. The one notable "bandit" was tackle Mel Branch, who later played 9 years in the pros.

There were only 3 seniors on the entire roster.
LSU's Season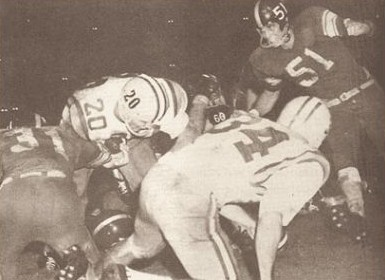 LSU opened their season with a 26-6 rout at defending SWC champion Rice (Billy Cannon shown bulling into the line in this game above), moving the Tigers into the next AP poll at #15. Rice ended up 5-5 this season, but they played 4 top 10 opponents, and wins over 7-3 Texas and 6-4 SMU have Rice ranked #14 in the fixed AP poll.

LSU hit the road again for game 2, a date in Mobile with Alabama. In the 2nd quarter, Alabama returned a Billy Cannon fumble from midfield to the LSU 5 yard line. Seeing that his starters were fatigued, Dietzel took them out and waved in the Chinese Bandits, and here a legend was born, because the bandits held Alabama to 1 yard gained in 3 tries, and the Tide had to settle for a field goal and a 3-0 halftime lead. LSU drove 67 yards in the 3rd quarter, halfback Johnny Robinson catching a 7 yard touchdown pass (shown below), and LSU took the lead 7-3. Cannon sealed the win early in the 4th quarter with a 12 yard touchdown run, making the final score 13-3. Alabama finished the season 5-4-1 and unranked.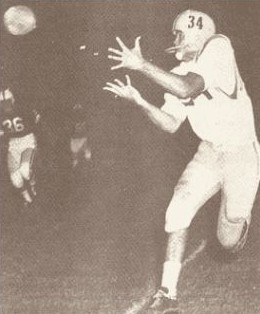 LSU next won 20-6 over Hardin-Simmons, 41-0 at Miami-Florida, and 32-7 over Kentucky (5-4-1, #24), after which they found themselves ranked #3 in the AP poll. Florida came to town next and gave LSU its first close game. In the opening quarter, a Florida end dropped a pass at the LSU 4, then Florida missed a field goal try, and both mistakes would end up critical. In the 2nd quarter, LSU drove 59 yards, Billy Cannon going over goal on 4th down from the 1 yard line for a 7-0 lead. So it remained until the 4th quarter, when a Billy Cannon quick kick went awry, going out of bounds at the LSU 25. Florida hit 2 completions to tie the game up 7-7. Florida was threatening again on their next drive, but Cannon intercepted a pass at his 18. From there LSU started to win the field position game, finally taking a punt at the Florida 43. They drove to the 19 and kicked a field goal to win 10-7.

Florida had more yards and first downs, but alas, fewer points. The Gators went on to finish 6-4-1, and though they didn't beat any rated teams, they are ranked #17 for 1958. This same weekend, #1 Army was tied by unranked Pittsburgh, and #2 Ohio State was tied by #13 Wisconsin, so LSU moved to #1 in the next AP poll for the first time ever.

That brought LSU to their biggest game of the year, and the biggest game to this point in LSU football history, hosting #6 Mississippi, who was also 6-0. In the 2nd quarter, Ole Miss recovered a fumble at the LSU 41, then drove to a first down at the 2 yard line. But in a key series in this game, LSU held them out of the end zone (the White Team, not the Chinese Bandits). Later, the Go Team came in and drove to the Mississippi 26, where they missed a field goal try. The Chinese Bandits were sent in, and they forced and recovered a fumble at the Mississippi 21. The White Team returned and drove the short field for a touchdown, scoring on a quarterback scramble from the 5 on 4th down.

LSU blocked a Mississippi field goal try in the 3rd quarter. Late in the final quarter, the Go Team recovered their own partially blocked punt for a first down at the Ole Miss 33, and they scored a touchdown on 3 plays from there, making the final score 14-0. LSU led in first downs 14-9 and in total yards 174-121. Mississippi took an upset loss at 4-6 Tennessee 2 weeks later, and they finished 9-2, but they didn't beat anyone very impressive this year (6-4-1 Florida and 5-4-1 Kentucky the best), so they're ranked just #11 (in both the original and fixed AP polls)
.

LSU's last 3 games were against bad teams, but sandwiched between a 50-18 beating of Duke and a 62-0 flogging of Tulane in their finale, LSU put forth their worst performance of the year against Mississippi State (3-6) in Jackson. It rained for 2 days before the the game, so it was played on a field of mud. MSU had beaten LSU in 5 of their last 6 meetings, and they were the aggressor early in this game. The Bulldogs were stopped at the LSU 5 and 7 yard lines in the opening quarter, and they missed a field goal from the LSU 13 early in the 2nd. The Go Team gave up a fumble at their own 23, and finally MSU cashed in an opportunity with a touchdown drive, though they missed the critical extra point. LSU finally woke up and answered with a drive to the MSU 17, but they came up empty, and it remained 6-0 at the half.

Early in the 3rd quarter, LSU recovered a fumble at the MSU 34, and drove to a touchdown pass on 4th down at the 5. The vital extra point was good, and LSU won by just that much, 7-6. But not without some more drama, because early in the 4th quarter, Cannon fumbled the ball away at his own 16, and MSU drove to the 10, but missed yet another short kick (0 for 3). MSU led in first downs 10-7 and in total yards 191-156.

The Sugar Bowl
The Sugar Bowl was hosting the #1 team in the country, but they wasted this good fortune when they selected as LSU's opponent #12 Clemson, an exceedingly poor matchup for a #1 team. Clemson was 8-2, but they had taken their losses to #15 South Carolina and to unrated Georgia Tech, they had not beaten any rated opponents, and they had struggled to win close games against 6 unrated teams. LSU was a 15 point favorite. The Sugar chose Clemson over #6 Air Force (then 9-0-1), which is too bad because Air Force's tie had come against Iowa, so a win by LSU over Air Force would have been the end of any argument for an Iowa MNC this season. But Dietzel had pressed for Clemson to be the choice behind the scenes, as he knew that they were the much easier opponent.

Late in the opening quarter, LSU drove 53 yards, but lost a fumble at the Clemson 22 to open the 2nd quarter. They soon forced a bad punt with a heavy rush, getting the ball back at the Clemson 29, then drove to the 12, but LSU's all-SEC quarterback Warren Rabb missed on 4 straight passes from there. LSU later marched to the Clemson 1, the drive highlighted by a 24 yard pass from Rabb to end Mickey Mangham and by a 33 yard Rabb run, but Rabb broke his hand on that run, a huge blow for LSU. But that wasn't all the ill-fortune LSU faced on this drive, because fullback Red Brodnax fumbled the ball just as he was going over goal from the 1, and Clemson recovered it in the end zone for a touchback. All those missed opportunities added up to a 0-0 tie at halftime.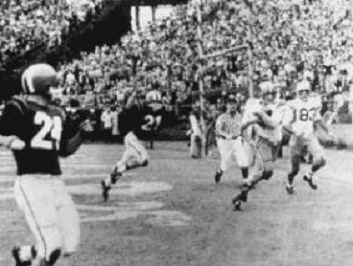 In the 3rd quarter, Clemson drove to the LSU 20, where they fumbled the ball away. Late in the quarter, a bad snap on a punt gave LSU the ball at the Clemson 11. A couple of runs netted a couple of yards, and then, with LSU's quarterback out, halfback Billy Cannon took it upon himself to throw the needed touchdown pass, which he did to end Mickey Mangham for a 7-0 lead that would hold up as the final score (touchdown catch shown above). Clemson threw their first completions on a 4th quarter drive that carried to the LSU 25, but here Dietzel replaced his tiring White Team with the Chinese Bandits, and they stopped the Clemson drive right there.
Clemson led in first downs 12-9 and in total yards 191-182. This finished them at 8-3, and I have them ranked #19 for 1958. So, it was another weak performance for LSU, who was held to just 2 first downs in the 2nd half. Still, better to win than to lose, and below you can see coach Paul Dietzel celebrating with Mickey Mangham, who caught the winning touchdown pass.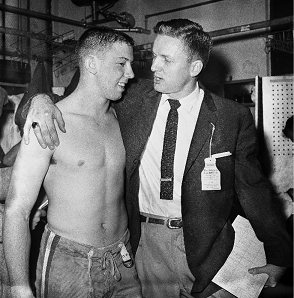 Iowa 1958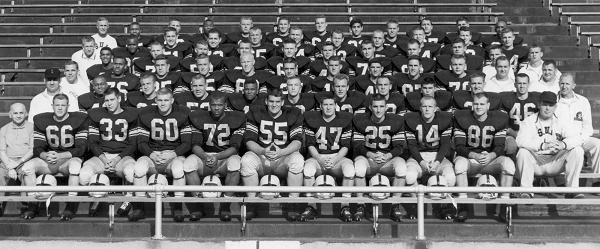 Texas Christian (8-2-1)
17-0
#9
Air Force (9-0-2)
13-13
#6
Indiana (5-3-1)
34-13
#23
at Wisconsin (7-1-1)
20-9
#7
Northwestern (5-4)
26-20
#22
at Michigan (2-6-1)
37-14


at Minnesota (1-8)
28-6
Ohio State (6-1-2)
28-38
#8

Notre Dame (6-4)
31-21
#13

Rose Bowl


California (7-4)

38-12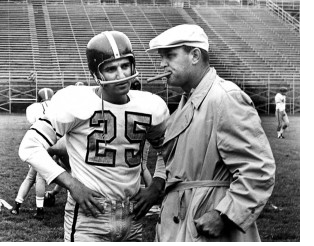 Iowa had gone 9-1 and posted a very strong argument for sharing an MNC with 10-0 Oklahoma in 1956, falling just short in my estimation. I covered their Hall of Fame coach, Forest Evashevski (pictured at left), in that national championship article. They were also strong in 1957 (7-1-1, #4), and here they are near the top again with an 8-1-1 record against a

very

rough schedule that featured 7 top 25 opponents in 10 games, 4 of them top 10. Iowa led the nation in total offense with 405.9 yards per game, which is downright amazing when you consider that schedule.

Iowa had graduated a pair of All Americans from their 1957 team, Hall of Fame tackle Alex Karras ('57 Outland) and end Jim Gibbons, huge losses, and yet they didn't seem to miss a beat. Hall of Fame quarterback Randy Duncan (pictured with coach Evashevski) had a tremendous season, leading the nation in completion percentage (59.2%), passing yards (1397), and total offense (1462). He was the Big 10 MVP, won the Walter Camp Award, and finished 2nd for the Heisman.


End Curt Merz was a nonconsensus All American this season, and caught 25 passes for 354 yards. The other end, Don Norton, would be a nonconsensus AA in 1959, and he caught 25 passes for 374 yards. Both went on to the pros, for 8 and 7 years respectively. Guard Mark Manders would be a nonconsensus AA in 1960.

Iowa had a terrific trio of rotating halfbacks, each of whom averaged at least 6.9 yards per carry. Willie Fleming was All Big 10 and rushed for 505 yards, added 134 receiving, and scored 10 touchdowns. He went on to a celebrated career in the CFL, and he is in the CFL Hall of Fame. Ray Jauch chipped in 524 rushing and 98 receiving, and he too went on to the CFL. His playing career was cut short by an injury, but he was a CFL head coach for 12 years. And then there was Bob Jeter, who rushed for 469 yards and caught passes for 117, scoring 6 touchdowns. He was the Rose Bowl MVP, running the ball 9 times for a record 194 yards. His 81 yard touchdown run was also a Rose Bowl record. Jeter went on to a 13-year pro career as a cornerback.
Iowa's Season
Like LSU, Iowa was unranked as they opened the season, and they began with a big one, hosting #6 Texas Christian. Turned out to be no problem, as they held the Frogs to 215 yards of offense and shut them out 17-0. TCU won the SWC, then tied Air Force (9-0-2, #6) 0-0 in the Cotton Bowl, finishing 8-2-1 and ranked #9.

Speaking of Air Force, that's who came to Iowa City next for what was intended to be a glorified scrimmage. Air Force was only in its 3rd season of fielding a football team at all, and the school had not yet graduated a senior class. They had been 3-6-1 the previous season. The game started as expected, Iowa scoring a touchdown on a 4th down screen pass early in the opening quarter, but Air Force answered with a 77 yard touchdown drive and controlled the rest of the half, scoring another touchdown in the 2nd quarter to lead 13-7 at halftime. In the 3rd quarter, Air Force continued to dominate, driving to a first down at the Iowa 5 yard line.

But here the game turned, as Iowa halted the Falcons at the 1 yard line, then proceeded to march 99 yards the other way to tie the game 13-13. Air Force blocked the extra point try that would have won the game. Iowa remained in command in the 4th quarter, but they were unable to score, first losing a fumble at the Air Force 9, then missing a 31 yard field goal attempt in the closing seconds of the game. Air Force outgained Iowa and had more first downs, and they also turned the ball over just once, Iowa 4 times. The Falcons won out in the regular season, then tied TCU (8-2-1, #9) 0-0 in the Cotton Bowl, finishing 9-0-2 and ranked #6.

The next week Iowa hosted Indiana, another supposed cupcake who went on to have a surprisingly good season, though Iowa rolled over them 34-13. Indiana would tie 6-1-2 Purdue (#10) in their finale, finishing 5-3-1 and ranked #24.

That brought Iowa, ranked #13 now, to their biggest game of the year at #4 Wisconsin. Wisconsin led 9-0 at half, setting up a field goal with an interception and scoring a touchdown on a 32 yard pass. Iowa came back in a hurry in the 3rd quarter, recovering a fumble to set up the first touchdown, returning an interception for another, and Randy Duncan hitting halfback Bob Jeter with a screen pass he took 68 yards for the insurance touchdown, putting the final score at 20-9. Wisconsin tied Ohio State (6-1-2, #8) the next week, and finished 7-1-1 and ranked #7.

Iowa, now ranked #7, went from one big game to the next, as Northwestern, coached by future Hall of Famer Ara Parseghian, came to town next at 4-0 and ranked #8. This was Iowa's 5th straight opponent that would end up being a top 25 team. It was Iowa's homecoming game, and a record 59,000 attended. Quarterback Randy Duncan starred, hitting 14 of 18 passes for 174 yards and 3 touchdowns, but Northwestern made a valiant effort at rallying for the upset. Iowa opened up a big lead of 20-0 as Duncan hit a touchdown pass in each of the first 3 quarters, connecting with Curt Merz for 18 and 22 yards, and with Don Norton for 21.

Northwestern finally came to life after the 3rd touchdown, returning the kickoff to their own 40 and driving to a 24 yard touchdown pass that cut the lead to 20-6. Soon after, they recovered a fumble at the Iowa 34 and drove the short field for another touchdown to make it 20-12. Iowa took the next kickoff and drove 73 yards, scoring what would be the deciding touchdown early in the 4th quarter. Northwestern took the next kickoff and drove to a score as well, hitting a dramatic 28 yard touchdown pass on 4th and 17, then scoring on a 2-point conversion (which was first introduced this season) to close the gap to 26-20. But that was the last threat Northwestern could mount. Late in the game, they hit a 10 yard pass on 4th and 8 from their own 8, then threw an interception that Ray Jauch returned to their 14. The game ended with Iowa at the goal line.

Iowa outgained Northwestern 402 yards to 267. Northwestern bounced back the next week with a huge 21-0 win over Ohio State (6-1-2, #8), but they were already having injury problems coming into the Iowa game, and the injuries kept mounting weekly after that, so they faded down the stretch, losing their last 3 games to finish 5-4 and ranked #22.

Ohio State
Iowa next rolled 37-14 at Michigan (2-6-1), notable only because Iowa had last beaten Michigan, Forest Evashevski's alma mater, a long 34 years ago. After a 28-6 win at Minnesota (1-8), Iowa clinched the Big 10 title and Rose Bowl bid, which may have led to a fatal lack of motivation heading into their next game hosting Ohio State.

Iowa was ranked #2, OSU #16. The Buckeye offense was unstoppable in this game, rolling up 462 yards of offense, 397 on the ground. OSU fullback Bob White carried 33 times for 209 yards, and halfback Don Clark ran for 152 on just 15 carries. But the Iowa offense was powerful too, led by Randy Duncan's Big 10 record 23 completions in 33 attempts for 249 yards, and Iowa answered every OSU touchdown with one of their own until it was 28-28 heading into the 4th quarter. But the last Buckeye touchdown they could not answer.

Bob White carried the ball 11 times in 14 plays, the last one going over goal, putting Ohio State ahead 35-28. Iowa's bid to answer was stymied when Dick LeBeau intercepted a pass at the OSU 30 and returned it to midfield. OSU drove to a late field goal, making the final score 38-28. OSU coach Woody Hayes said after the game, "A man can live 10 years on a victory like that."

Ohio State had been upset by Northwestern (5-4, #22), they tied both Wisconsin (7-1-1, #7) and Purdue (6-1-2, #10), and they finished 6-1-2 and ranked #8.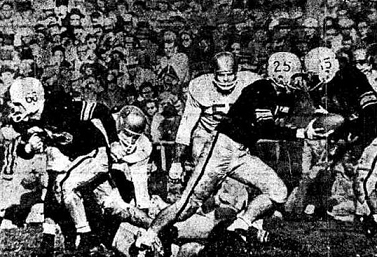 Iowa dropped to #6 in the next AP poll, then hosted #15 Notre Dame in their finale (game pictured above). By the NCAA's method of measuring strength of schedule (winning percentage of opponents), Notre Dame played the toughest schedule this year, Iowa the 2nd toughest. Like the previous game against Ohio State, this game featured a lot of offense and little defense. Iowa halfback Willie Fleming scored a pair of touchdowns in the 2nd quarter to stake Iowa to a 13-0 lead. Notre Dame got on the board with a 69 yard touchdown pass, and it was 13-7 at the half.

In the 3rd quarter, Iowa stopped a Notre Dame drive at their own 24, then drove it back 76 yards the other way for a touchdown and 19-7 lead. The key play was an 11 yard pass from Randy Duncan to end Don Norton on 4th down at the Irish 18. Notre Dame wouldn't go away, and early in the 4th quarter they moved 78 yards in 3 pass completions for a touchdown, closing the gap to 19-14. Randy Duncan hit Don Norton again, this time for a 53 yard touchdown, and on the next Notre Dame drive, Iowa intercepted the ball and returned it to the 1 yard line, and the game was effectively over. Notre Dame scored a late touchdown to make the final score 31-21. Iowa totaled 456 yards, Notre Dame 422, and Iowa had 6 turnovers, Notre Dame 5. Notre Dame finished 6-4 and ranked #13.
The Rose Bowl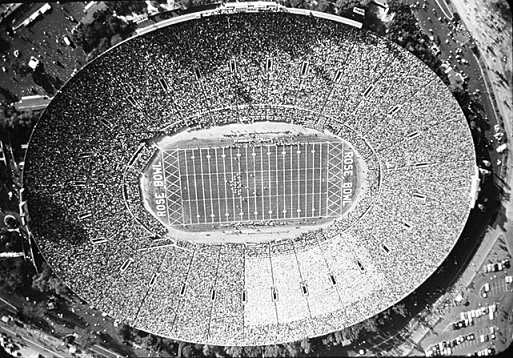 The Sugar Bowl matchup was bad, but the Rose Bowl matchup was even worse, as Iowa's opponent was Cal, who was coming in at 7-3 and ranked #16. But Cal was in no way a legitimate top 25 team, with losses to 6-4 Pacific, 3-5-1 Michigan State, and 6-4 Oregon State, and only one victory over a team with a winning record. And Iowa would be the first and only top 25 opponent Cal would face this season. The Big 10 was 11-1 against the PCC since they had become locked in to the Rose Bowl in 1946, and was about to go to 12-1. Iowa was favored by 18 1/2 points.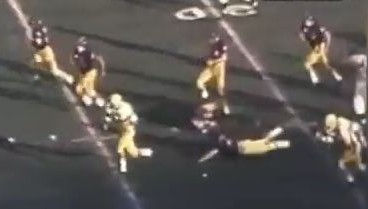 Team and bowl records fell as Iowa totaled 516 yards of offense and 429 rushing, led by Rose Bowl MVP Bob Jeter's 194 yards on just 9 carries (his 81 yard touchdown run pictured above). The other halfback, Willie Fleming, ran for 85 yards on 9 carries and scored 2 touchdowns. Iowa led 20-0 at the half, and won the game 38-12. That finished Cal at 7-4. They are not ranked in my fixed AP poll top 25 for 1958, nor are they even close.
Louisiana State vs. Iowa
Here are the significant games for Louisiana State and Iowa in 1958. The opponent rankings
come from my fixed AP poll for 1958
.


Louisiana State 11-0
Iowa 8-1-1

at Rice (5-5)
26-6
#14
Kentucky (5-4-1)
32-7
#24
Florida (6-4-1)
10-7
#17
Mississippi (9-2)
14-0
#11
at Mississippi State (3-6)
7-6
Unranked

Sugar Bowl


Clemson (8-3)

7-0

#19

Texas Christian (8-2-1)
17-0
#9
Air Force (9-0-2)
13-13
#6
Indiana (5-3-1)
34-13
#23
at Wisconsin (7-1-1)
20-9
#7
Northwestern (5-4)
26-20
#22
Ohio State (6-1-2)
28-38
#8
Notre Dame (6-4)
31-21
#13

Rose Bowl


California (7-4)

38-12

Unranked


LSU defeated their unranked opponents by an average of 32-6, and Iowa defeated theirs by an average of 34-11.


In the original AP poll's top 20, LSU had played 3 ranked teams (none top 10) and Iowa had played 6 (4 top 10). As you can see in the table above, in my fixed-and-expanded AP poll top 25 for 1958, LSU played a more impressive 5 ranked opponents and Iowa played 7. But one thing remains the same in both rankings

:

Iowa played 4 top 10 teams and LSU played none. And that is the crux of any argument Iowa has for sharing this MNC.

The Case For Iowa
It may seem crazy to think that an 8-1-1 team has any argument for sharing an MNC with an 11-0 team, but Iowa went 2-1-1 against top 10 teams, which you cannot compare to LSU because LSU did not play any. Yes, Iowa took a loss and a tie, but both came to teams that were higher ranked than any that LSU played. So Iowa's case rests entirely on the proposition that since Iowa's 2-1-1 record against top 10 teams cannot be fairly compared to LSU's 0-0, the loss and tie should be disregarded. In other words, we have no idea how LSU would have done against 4 top 10 opponents, and we shouldn't just assume that they would have done better than 2-1-1.

And when we compare the rest of Iowa's performances against LSU's, that comparison definitely comes out in Iowa's favor. Iowa only had one close game against teams outside the top 10 -- 26-20 over #22 Northwestern -- and that game was not that close, as you can see in the game summary above. LSU, on the other hand, had 3 close wins, 10-7 over #17 Florida, 7-6 over 3-6 Mississippi State, and 7-0 over #19 Clemson in the Sugar Bowl. LSU was outgained in all 3 games, and all were closer (as they played out) than Iowa's game with Northwestern. LSU beat Florida at home on a pair of unforced errors

:

a dropped pass at the goal line and a missed field goal. They beat Mississippi State by 1 point because MSU missed an extra point and 2 short field goal attempts -- and this was against a 3-6 team. The Clemson win was not as close as those 2 games, but it was still a 7-point win over a weak team, and it came in LSU's bowl game, giving it extra emphasis.

The 7-6 win over 3-6 MSU was a worse performance by far than Iowa's 10-point loss to #8 Ohio State. And even LSU's wins by 20-6 over 6-5 Hardin-Simmons and 13-3 over 5-4-1 Alabama, both unranked, were very unimpressive. Iowa stomped on all 3 unranked teams they played. And that brings up a point worth reiterating

:

Iowa faced 7 top 25 opponents in 10 games, and that is just nuts. Their opponents were 56-33-8 (61.9%), and LSU's were 57-53-3 (51.8%).

When I first looked at this season, many years ago, and saw that the FWAA awarded their national championship to 8-1-1 Iowa over 11-0 LSU, I thought that was crazy, and dismissed it as Big 10 bias. Now that I have looked much closer, however, I see the case for Iowa. I would still go with LSU at #1 myself, but I think that Iowa is also a viable choice as #1 for 1958, and of course deserves a share of the 1958 MNC
.

Let's compare Iowa 1958 to the Big 10 teams that just missed sharing MNCs with teams that had perfect records in recent years

:

9-1 Iowa in 1956, and 9-1 Ohio State and 8-1 Michigan State in 1957. Iowa 1958 may have had a worse straight record than all 3 of those teams, but their 2-1-1 record against top 10 teams was better than the 1-1 effort of Iowa 1956, and though Ohio State and Michigan State each went 1-0 against top 10 opponents in 1957, each of them was also beaten at home by a team that was ranked in the bottom of the top 25, which is much worse than going 1-1 against the top 10. And Iowa 1958 had 1 close win over a non-top 10 team (#22 Northwestern), while Iowa 1956 had 4 (2 unranked), Ohio State 1957 had 3 (1 unranked), and Michigan State 1957 had 2 (1 unranked). And of course, Iowa 1958 played a far tougher schedule than any of them.

The Case For LSU
So now you may be wondering, what is the case for LSU to be #1, or even

share

the MNC with Iowa? As I said, LSU would be my choice for #1, and to be honest, ultimately it's because, like almost everyone else, I'd prefer to see an 11-0 team at #1 over an 8-1-1 team. But LSU does have a logical case as well.

I looked at all the teams that finished in the top 5 of my fixed AP polls 1953-1963, and their winning percentage against teams that ranked #6-9 was 81.6%. Now, Iowa's top 10 opponents in 1958 all fell into that #6-9 range. And on average, at 81.6%, a top 5 team should go 3-1 against 4 such opponents. Iowa went 2-1-1. So while we can't assume that LSU would do better against 4 top 10 opponents than Iowa did, there is no reason to assume that they would do worse either. It looks like chances are that they would do better. On the other hand, when those 4 games are placed in a 9-game schedule that includes 7 top 25 opponents, with no weeks off, that 3-1 average for a top 5 team probably ends up looking a lot more like... Iowa's 2-1-1.

Also, LSU had a very strong defense, while Iowa had a defense that was mediocre at best, and this difference goes beyond their difference in schedule strength. Iowa gave up more than 400 yards in each of their last 2 regular season games, and for this time period, that is way too many yards for an MNC contender to be giving up against anyone. It's why they scored 28 on Ohio State at home and still lost. On the flip side, Iowa had the best offense in the country, but the difference here is that LSU still had a good offense. In other words, unlike Iowa's defense, LSU's offense wasn't bad.

And finally, while LSU did not defeat a top 10 team, they did beat #11 Mississippi, who was 9-2 and obviously very close to being top 10. And the only reason Iowa opponent Ohio State is in the top 10 is because Iowa lost to them. On the other hand, Ole Miss lost to 4-6 Tennessee, and their best win came 7-3 over #17 Florida in their bowl game, so that doesn't look like a top 10 team, and OSU should probably have been rated higher than them even if they had lost to Iowa. Still, the point is, there wasn't

that

much difference between Mississippi and Ohio State, and LSU beat Ole Miss 14-0, while Iowa lost by 10 points at home to OSU.

So. You could go with either team at #1.
Awards Ceremony
1958 #1:

11-0 Louisiana State and/or 8-1-1 Iowa


National Co-champion:

Louisiana State or Iowa if the other one is alone at #1


Contender:

None

These are the awards I have been handing out for each season, except seasons when there are no contenders. For this purpose, what I mean by a contender is a team that I think is very close to being worthy of sharing the national championship. A team that you could make an argument for, even if that argument is weak. But the contenders are teams that I myself do not see as national champions.
Grading the Selectors
I have been grading the NCAA Records Book's selectors for each season, and keeping a grade point average, so we can see who is relatively good at selecting national champions and who is not. And although I do not consider computer ratings to be legitimate national championship selectors, I have been including them in this section as well, just for comparison's sake.
I am grading on a scale of 0-5 (5 being the best).


The FWAA selected 8-1-1 Iowa as its national champion. Grade

: 5.0



Everyone else in the known universe went with 11-0 Louisiana State. Grade

: 5.0


Grade point averages 1936-1958 (the UPI coaches' poll and the Football Writers Association of America will not be added until they have selected at least half as many champions as the others)

:




1) National Championship Foundation
4.84

2) DeVold (math system)




4.79

3) Billingsley (math)

4.78

4)

Poling (math)


4.58

5)

College Football Researchers Association




4.57

6)

Houlgate (math)

4.53

7)

Dunkel (math)

4.47

8) Sagarin-ELO (math)
4.32
9) AP Poll
4.31
10) Sagarin (math)
4.26
11) Litkenhous (math)

4.23

12) Helms Foundation

4.21

13) Boand (math)
4.20
14) Williamson (math)
3.84
15) Berryman (math)
3.38

Grade point averages 1919-1935
:
| | |
| --- | --- |
| 1) Boand (math system) | 4.26 |
| 2) College Football Researchers Association | 4.22 |
| 3) Poling (math) | 4.11 |
| 4) Helms | 4.09 |
| 5) Sagarin-ELO (math) | 4.06 |
| 6) National Championship Foundation | 3.96 |
| 7) Dickinson (math) | 3.49 |
| 8) Houlgate (math) | 3.35 |
| 9) Billingsley (math) | 3.34 |
| 10) Sagarin (math) | 3.28 |
| 11) Parke Davis | 2.77 |

How the systems that selected champions for 1901-1918 did

:



| | |
| --- | --- |
| 1) Houlgate (math system) | 4.5 |
| 2) Helms | 4.3 |
| 3) Parke Davis | 4.2 |
| 4) National Championship Foundation | 3.7 |
| 5) Billingsley (math) | 3.6 |